Gluten-Free Vegan Cherry Cheesecake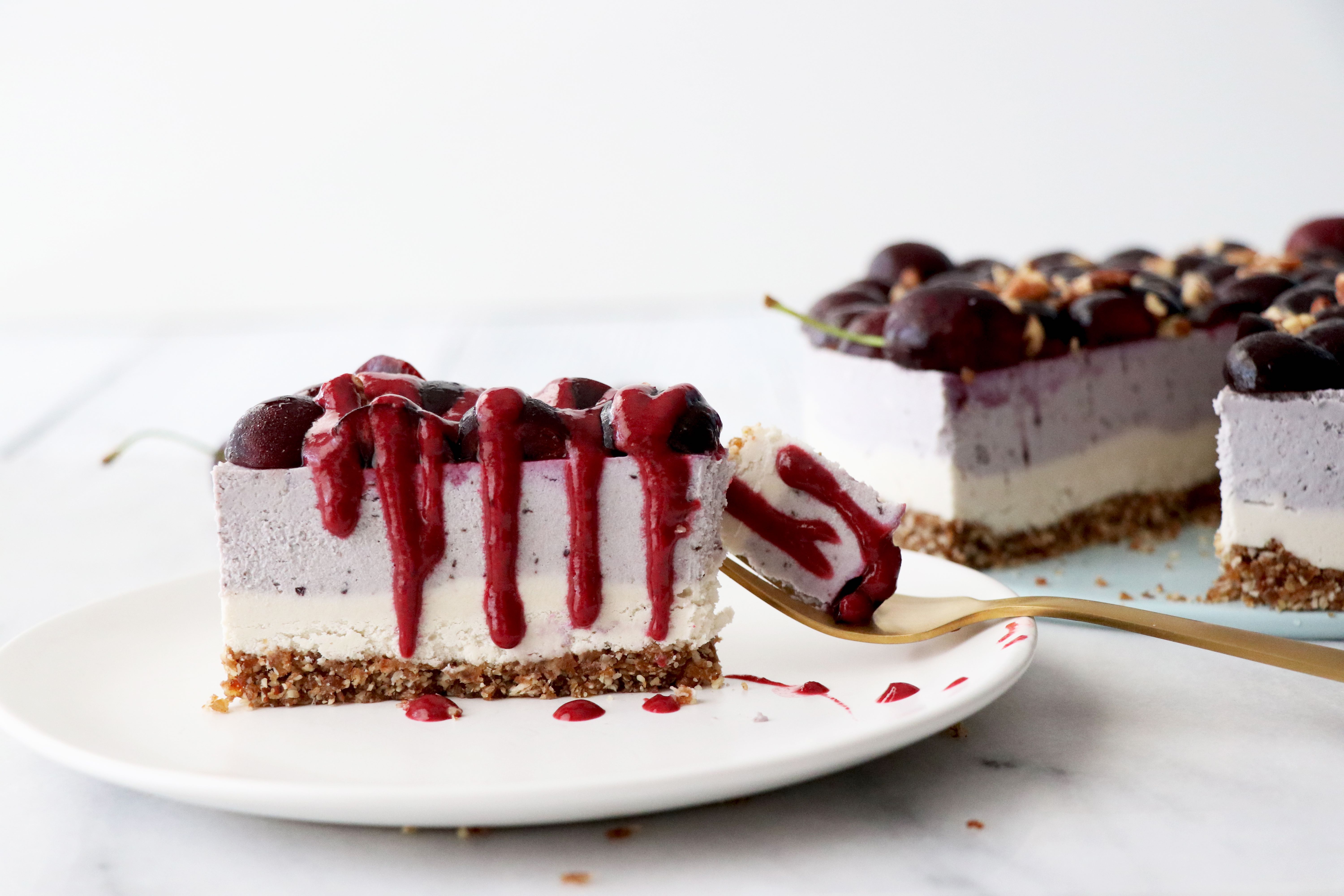 Cherries are a fantastic seasonal summer treat! They are packed with antioxidants and immune boosting nutrients such as Vitamin C! They also contain vitamin A (an important vitamin for eye health!), potassium, calcium and iron! They are delicious just as they are however I have to say that cherry cheesecake is one of my favorite ways to enjoy them!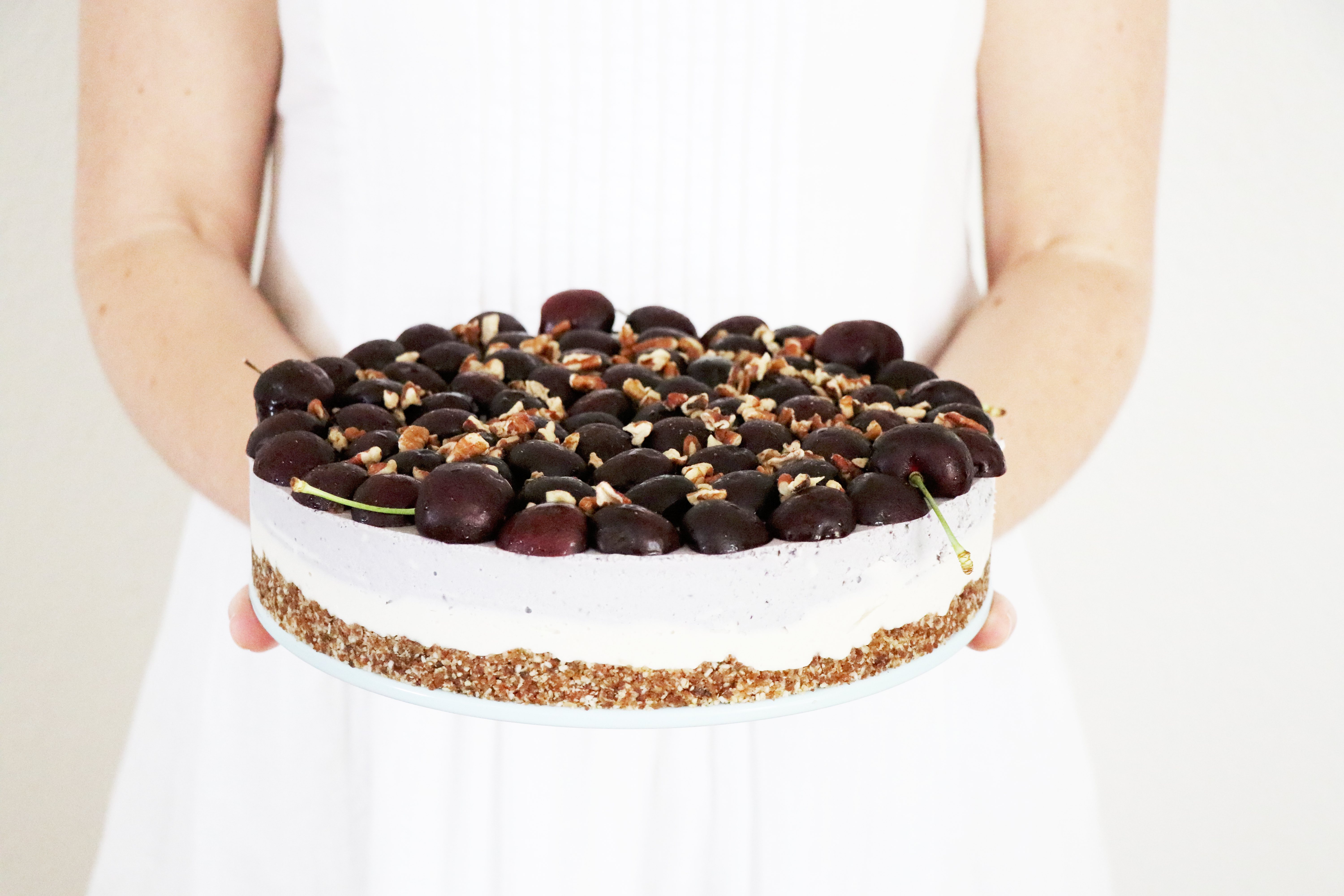 This recipe is gluten-free and vegan and made with a variety of nutrient dense real, whole food ingredients. The crust is made with a mixture of oats, nuts, dates & seasonings. The nuts add protein, fiber & nourishing fats!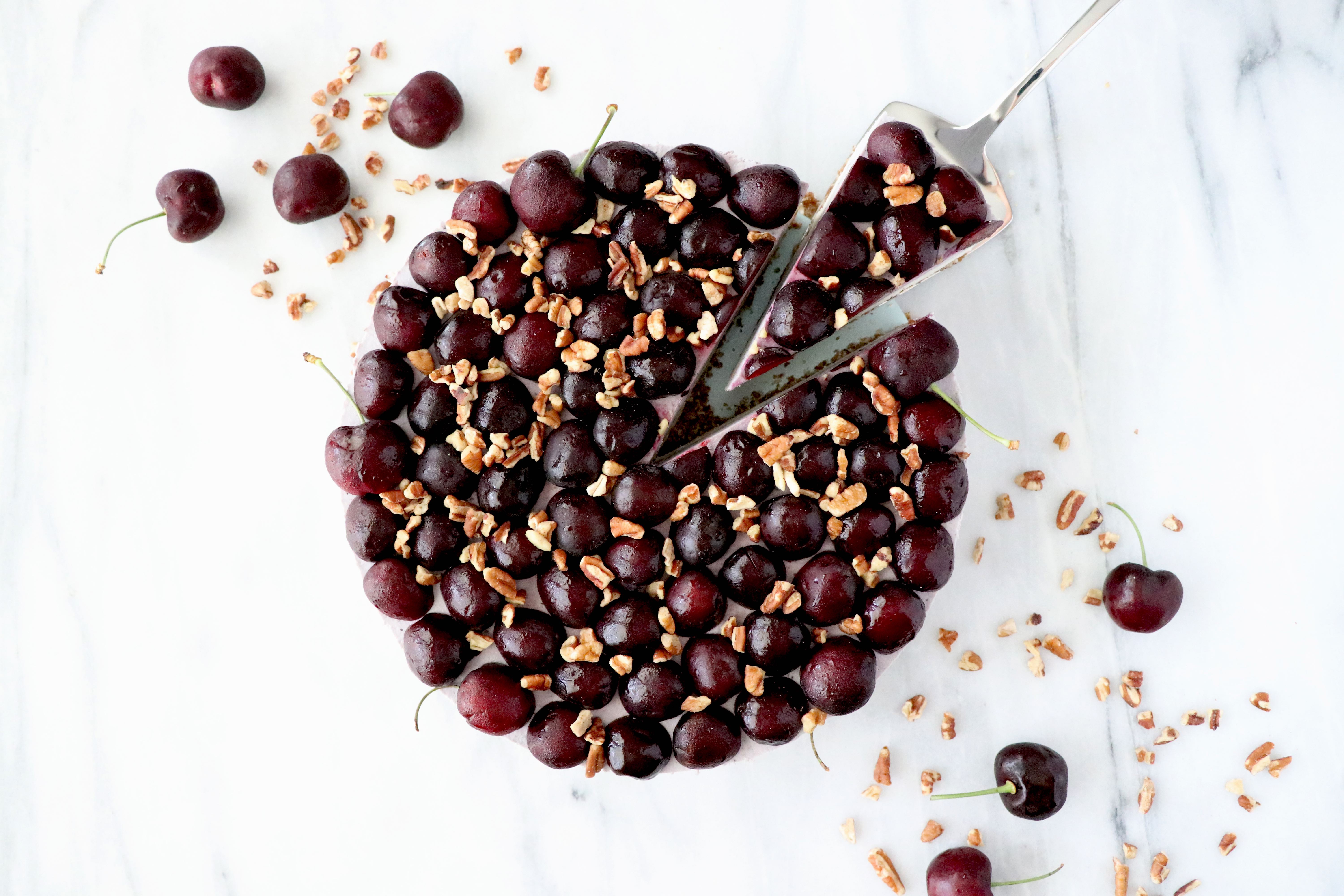 The cheesecake layers are made with cashews, coconut milk, coconut butter and cherries. Some may be concerned about the saturated fat level in coconut milk however did you know that there are different types of saturated fat and that they affect our body differently? Coconut contains a type of fat known as Medium Chain Triglycerides which are generally easier for the body to digest and use as a source of energy.
Fat is an important macronutrients for total body wellness and plant-based sources of fats, such as those found in nuts and coconuts, are a wonderful choice! Not only do they provide our body with fat (helping out hormones and cells function optimally) they also contain vitamins, minerals, fiber, antioxidants and more! Fat also helps the body manage blood sugar levels and appetite!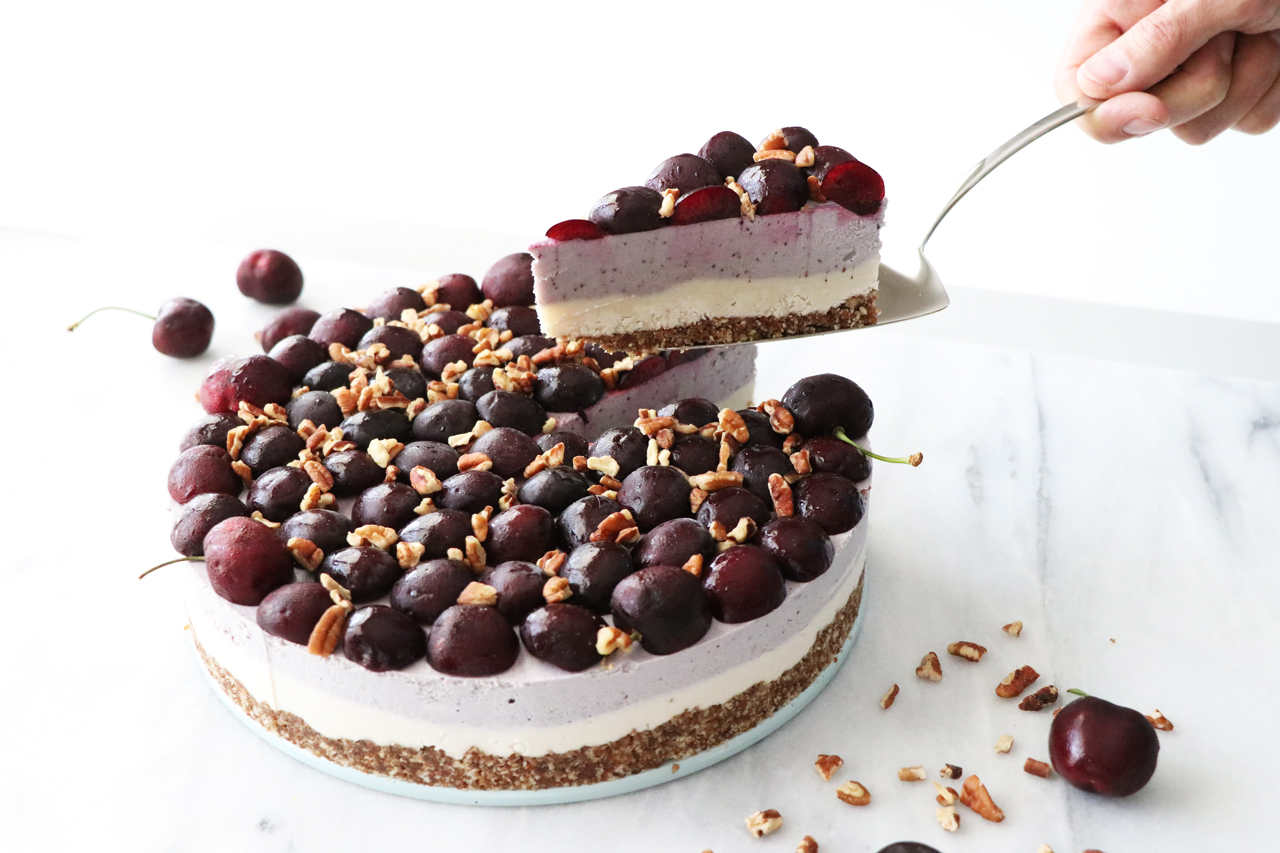 A well balanced diet packed with real, whole foods is key for overall health. Of course, life is more fun with treats and we love that this treat definitely satisfies our sweet tooth while nourishing our body with wholesome ingredients!
Just a tip, this recipe does require some prep the day before and then you will also need to freeze the cheesecake overnight before enjoying!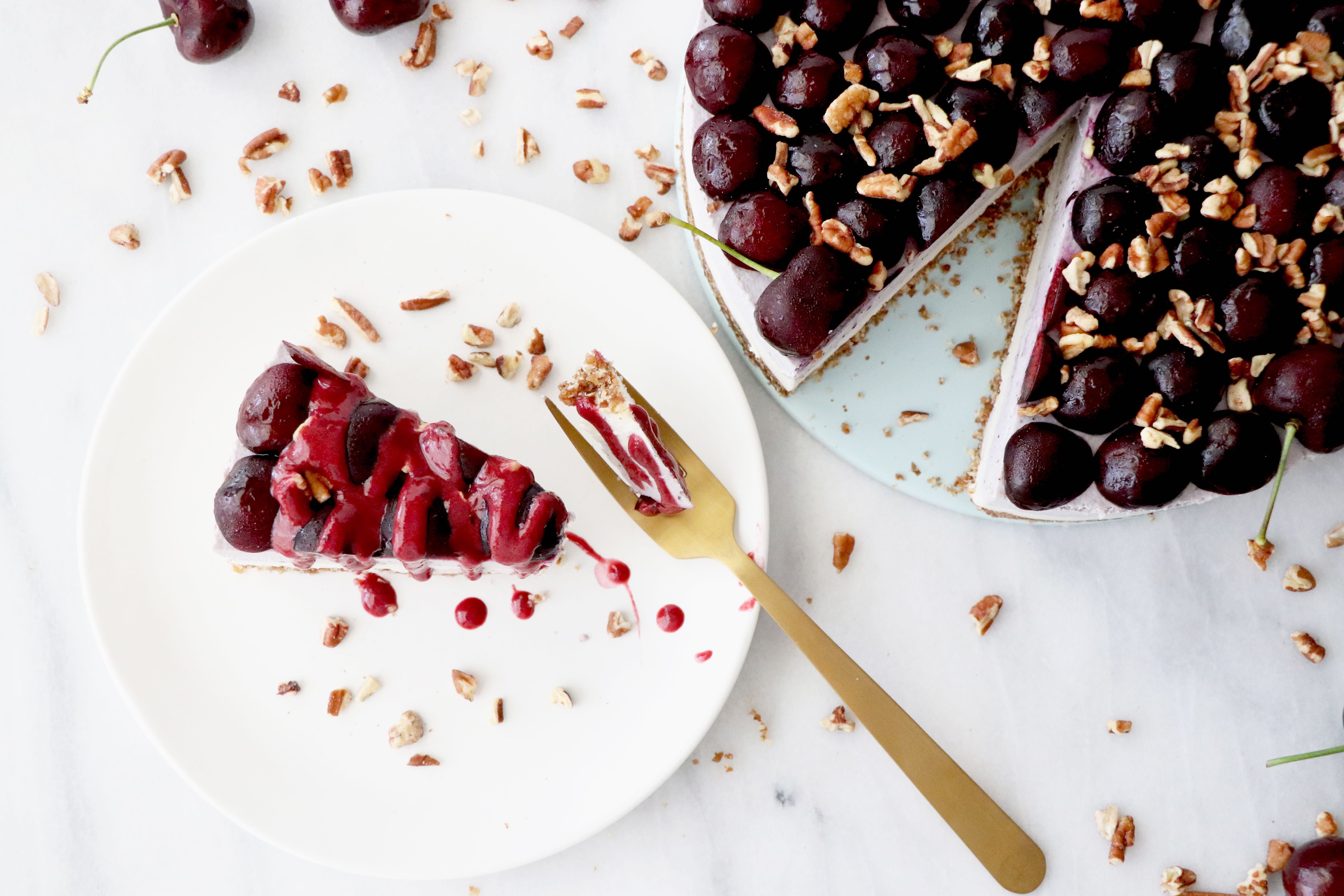 Cherry Pecan Vegan Cheesecake Recipe
This cherry cheesecake recipe is gluten-free and vegan and made with a variety of nutrient dense real, whole food ingredients.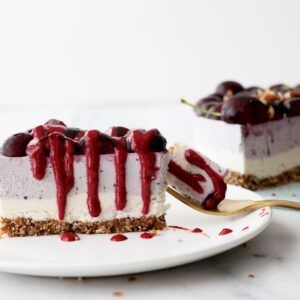 Ingredients
1

cups

Pecans

.5

cups

Gluten-free oats

.5

cups

Shredded coconut

1

tsp

Cinnamon

1

tsp

Cardamom

1

tsp

Vanilla extract

1

Generous pinch of sea salt

5

cups

Cashews, soaked in water overnight, then drained & rinsed

30

oz

(2 cans) of full fat coconut milk

2

tbsp

Coconut butter

Optional: Add a sweetener to the cheesecake layer, about a ¼ - ½ cup of any natural sweetener, such as coconut sugar or honey. I prefer this recipe unsweetened because the coconut cream provides a nice subtle sweetness.

2

cups

Pitted cherries

2

tbsp

Fresh squeezed lemon or lime juice

1

tbsp

Cornstarch or arrowroot powder

Pitted sliced cherries & pecan halves (use a little or as many as you like!)
Instructions
The Day Before: Add 5 cups raw cashews into a large bowl and add water until the cashews are fully submerged, cover and place in the fridge.

Also place in the refrigerator two cans of full fat coconut milk.

Day Of: Begin by making the crust; add all crust ingredients into a food processor and pulse for at least 60 seconds, until the mixture becomes sticky enough to easily hold together when squeezed between your fingers.

Spread crust mixture even across the bottom of a springform cake pan and press down with your hand.

Next, make the cheesecake layers. Remove the cans of coconut milk from the refrigerator.

Using a spoon scoop out only the solidified coconut cream layer at the top. Save the coconut water for smoothies!

Add the soaked cashews, coconut milk cream, coconut butter and optional sweetener (do not add the cherries yet!) into a food processor and pulse for 2-3 minutes until the mixture becomes silky smooth.

For safety, remove the top and unplug the food processor, then carefully scoop out half of the mixture and set aside.

Add the pitted cherries to the remaining half of the mixture.

Plug the the food processor back in, add on the lid and pulse until the cherries are fully blended into the mixture. This will create a creamy white layer and a creamy red-purple cheesecake layer!

Add the plain white cheesecake mixture into the springform pan on top of the crust and spread out evenly.

Next add the cherry layer and spread out evenly, give the pan a few taps on the counter to help the layers settle.

Place in the freezer for at least 6 hours or ideally overnight before removing from the springform pan and topping with cherries and pecan halves.

Keep stored in the freezer or fridge! If stored in the freezer, let the cheesecake sit on the counter for 5 - 10 minutes before enjoying.

To make the sauce: add all sauce ingredients to a small blender and blend until smooth.

Then simmer in a saucepan over low heat on the stovetop for 3 minutes, stirring constantly. Remove from heat and pour into a small dish, sauce will thicken as it cools.

Drizzle on top of cheesecake slices, enjoy!