Gluten-Free Baked Apple Cider Donuts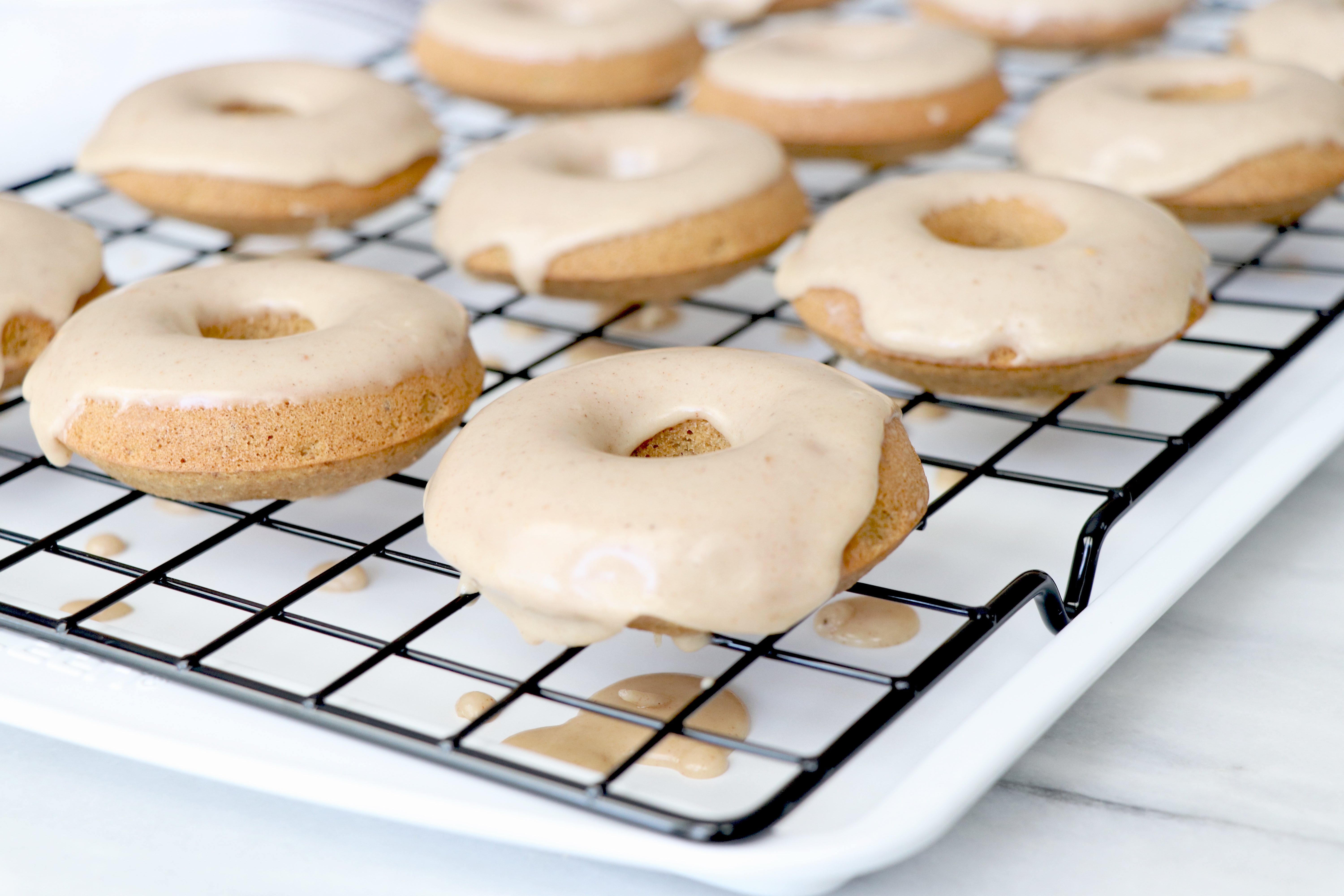 We love everything about Fall! The cool weather, scarves, pumpkins, warm drinks and especially apple cider donuts! Unfortunately, it can be hard to find a healthier version of this deep fried fall favorite. We are excited to share with you a baked (and gluten-free) version of this delicious donut that is sure to satisfy your fall cravings and also provide you with some nutrition.
Why are baked donuts a healthier option? Most donuts that are deep fried are cooked in partially hydrogenated vegetable oil or trans fats. Trans fats have been known to lead to inflammation and increase the risk of obesity, heart disease and stroke. Baking require little to no oil, which eliminates harmful trans fats and lowers the overall fat content.
One of the best parts about these baked donuts, is using farm fresh apple juice! You can juice or blend up local seasonal apples for this recipe or simply buy the best unfiltered apple juice you can find. We love consuming fruit in season when it's the freshest! Because in season fruit is fully ripe, it may also have more nutrients and antioxidants.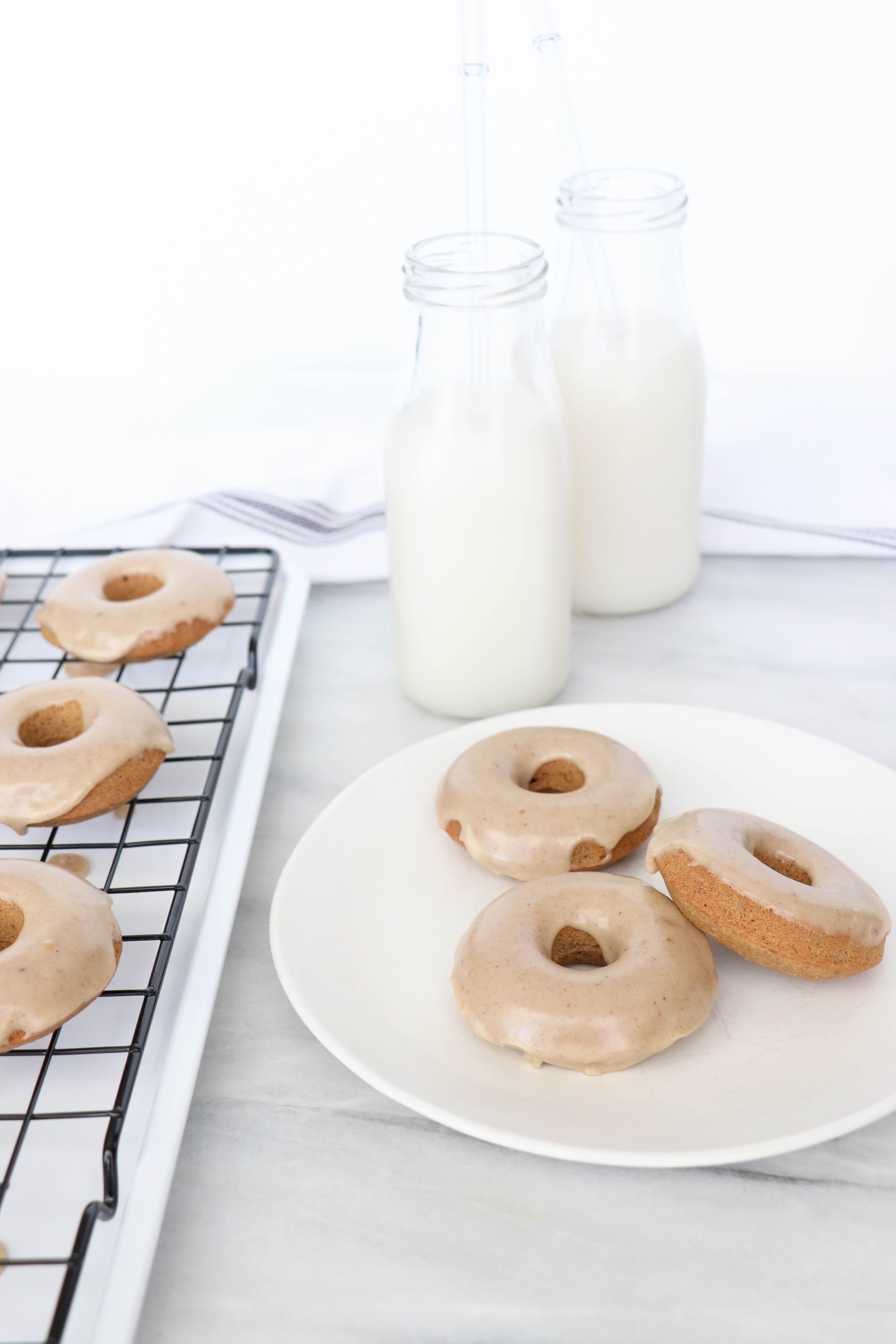 If you are not in the mood to use store-bought apple juice, you can easily make your own at home. While there are a ton of different apple varieties, truly any will work.
My go-to varieties are:
Honeycrisp
Gala
Fuji
Granny Smith
How to Shop For & Store Apples
When shopping, avoid apples with soft spots and bruises. Next, gently squeeze for firmness. If an apple is too soft, that indicates it may be overripe. The size does not matter so enjoy your fresh apples big or small! The best place to store apples is in a cool, dark place or in the fridge, which will help them stay fresh longer.
If you've really stocked up and need even more inspiration for enjoying your apples, check out these six fall apple recipes!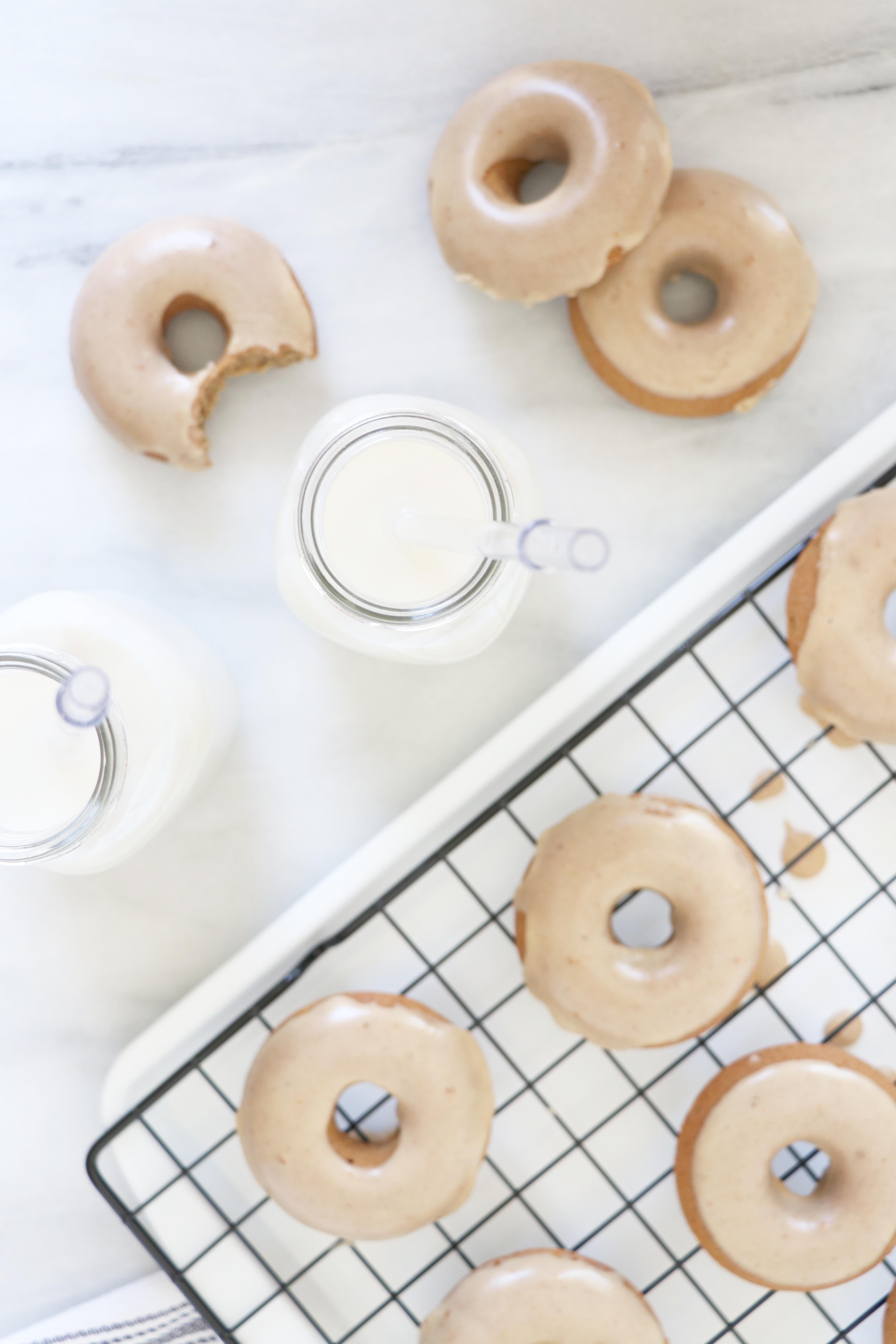 Nutrition & Health Benefits of the Recipe Ingredients
Apples: Apples are a great source of fiber and vitamin C. The fiber found in apples may help with improving blood sugar levels and overall digestion.
Tigernut Flour: Tigernut flour is actually not a nut at all, but a root vegetable! It is a great flour to use for baking since it is free of most allergens including dairy, grain, gluten, seed, nut and soy. It contains a resistant starch that is considered a pre-biotic, meaning it feeds the good bacteria found in your gut.
Brown Rice Flour: Brown rice flour is a gluten-free flour that is packed with fiber, protein, magnesium, iron and B vitamins.
Gluten-Free Baked Apple Cider Donuts Recipe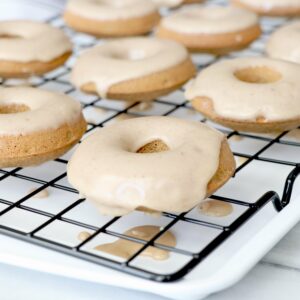 INGREDIENTS
Dry Ingredients:
1 cup all-purpose gluten-free baking mix
½ cup tigernut flour
½ cup coconut sugar
2 tablespoons ground flax seeds
1 teaspoon pumpkin pie spice
1 teaspoon baking powder
Wet Ingredients:
½ cup non-dairy milk
¼ cup apple juice
¼ cup coconut oil
1 teaspoon vanilla extract
Glaze Ingredients:
1 cup powdered sugar
½ teaspoon pumpkin pie spice
2 tablespoons apple juice
INSTRUCTIONS
Preheat oven to 350 degrees Fahrenheit, use convection setting if your oven has one.
In a medium bowl mix together all of the dry donut ingredients.
In a small bowl mix together the wet donut ingredients.
Pour the wet ingredients into the medium bowl with the dry and stir together until well mixed and no more lumps are present. Let sit for about 3 minutes as the flax seeds absorb water and thicken up the batter.
Pour donut batter into donut pan and bake in the oven for about 20 minutes.
Remove donuts from the oven and let sit for 5 minutes, then flip over onto a dry rack and let cool for 10 minutes.
Meanwhile add all glaze ingredients into a mixing bowl and whisk together until smooth.
Place donuts on the drying rack over a cookie sheet to catch drips, dip the rounded side of each donut into the glaze and place back onto the drying rack to let the glaze set.
Enjoy!