A Stunning Spring Lemon Blueberry Cake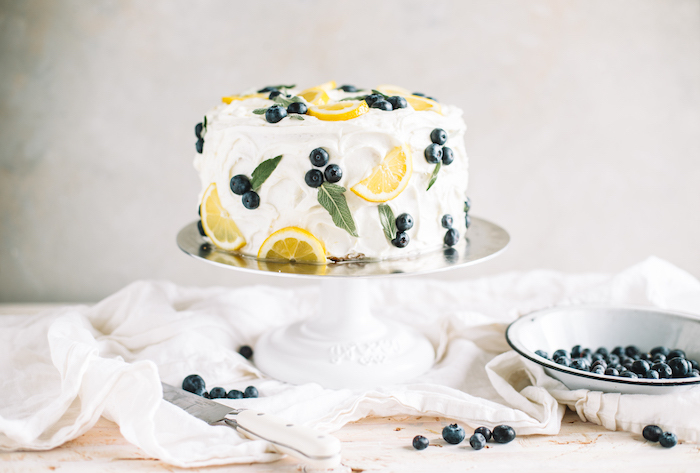 Confession time, I have been on a MEGA cake kick lately! Every now and then this happens to me and I am 100% going through a phase. I do think the start of spring has something to do with it because I just love spring cakes. A rich carrot cake and a gorgeous naked layer cake topped with spring blooms just do it for me during spring. The last few weeks I have struggled with what spring recipes to make (I'm a summer girl!) and whenever this happens I always go back to my roots… we're talking way back, my friends.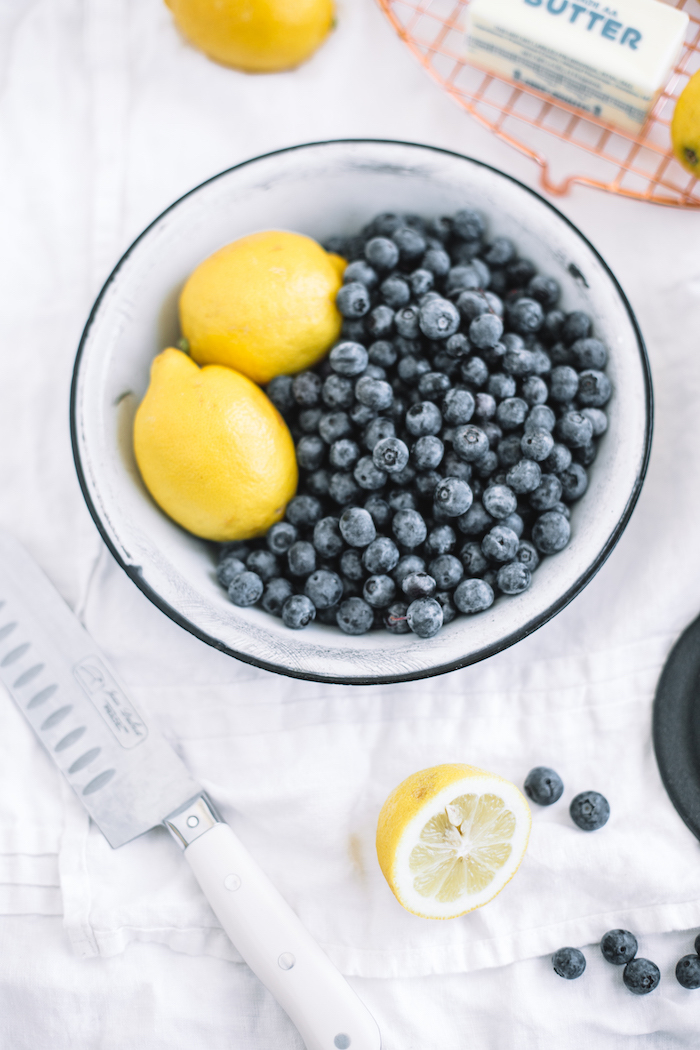 My cake baking skills started over a decade ago… Picture it: 15-year-old Elizabeth with braces, a polka dot tank top, and a piping bag that I thought I could literally do anything with. I was headed into Michael's Craft Store for my month long summer cake decorating course with Wilton. I couldn't have been more excited. The room was filled with eight stay-at-home moms, one old Italian man who owned a bakery, and teenage me!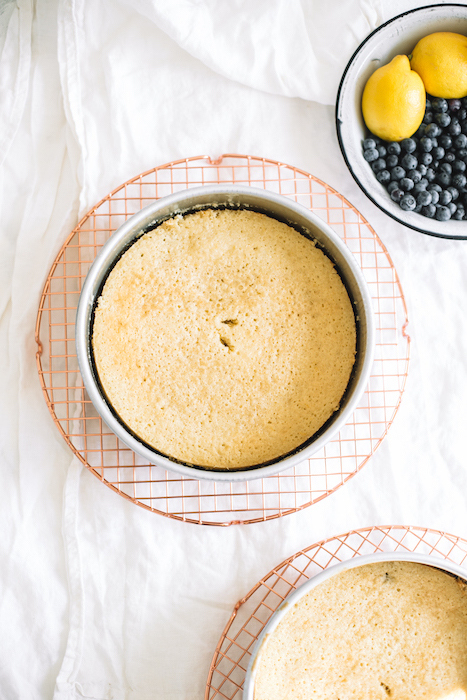 I had baked a few cakes at home and I even thought I was pretty good. Little did I know I was about to realize what an absolute amateur (and what a mess I was!). These moms looked like they had been decorating cakes for decades and while the little Italian man lacked creativity, his skills were that of a buttercream ninja.
I was so obsessed with my Wilton cake classes that summer; I soaked up so much knowledge that I still use today. If you're ever scared to try something new or take a class just know that A. You might suck at it and B. that is totally okay because you will learn SO much.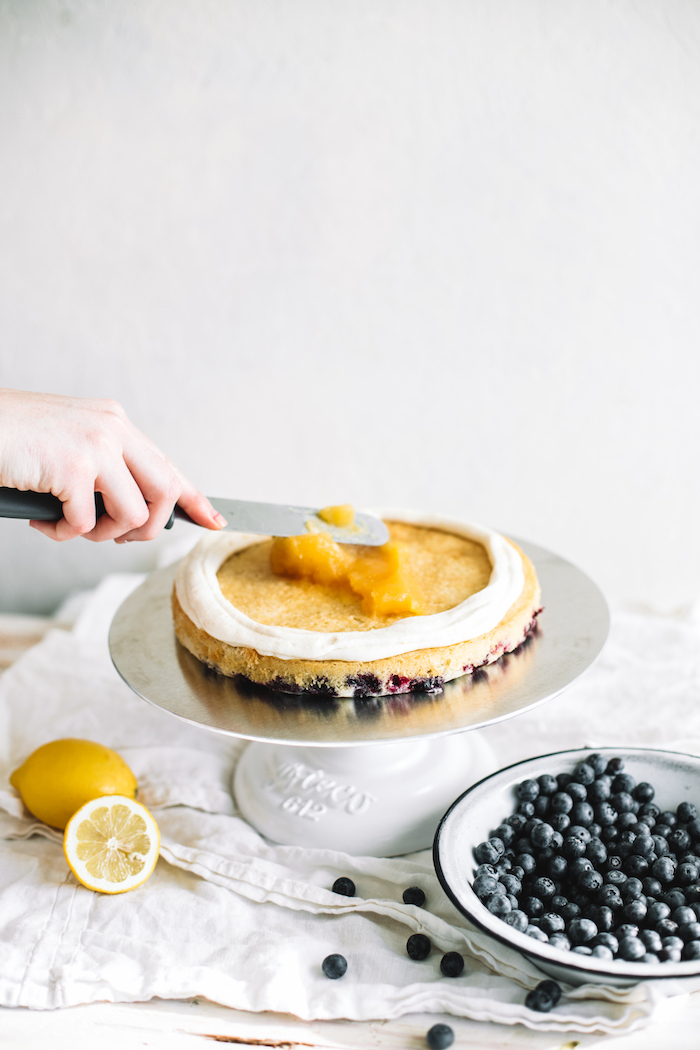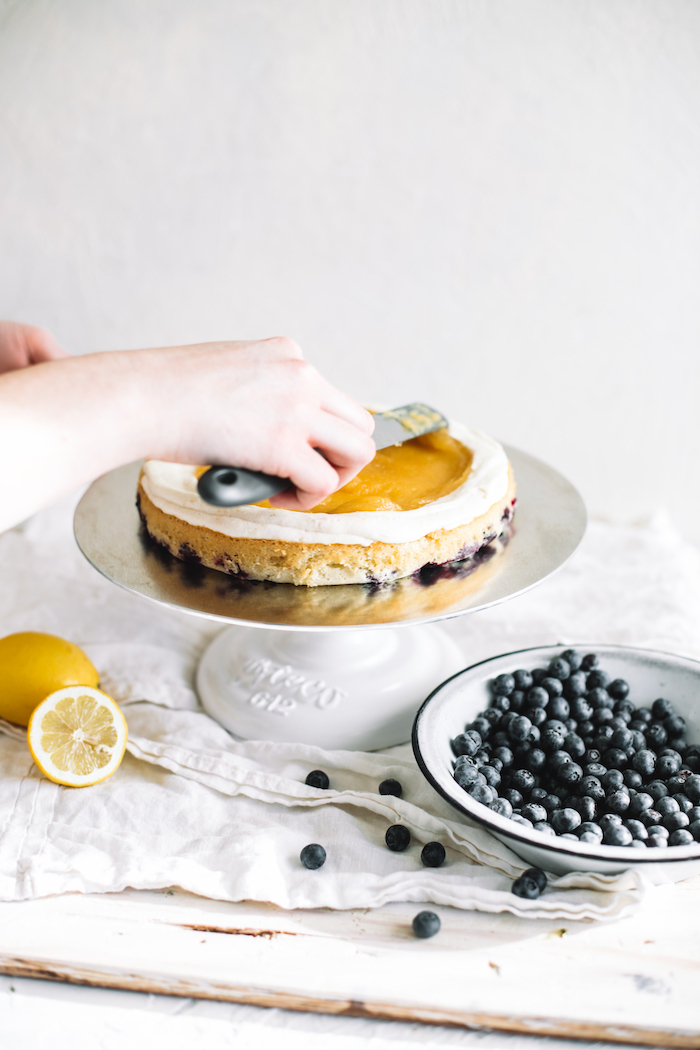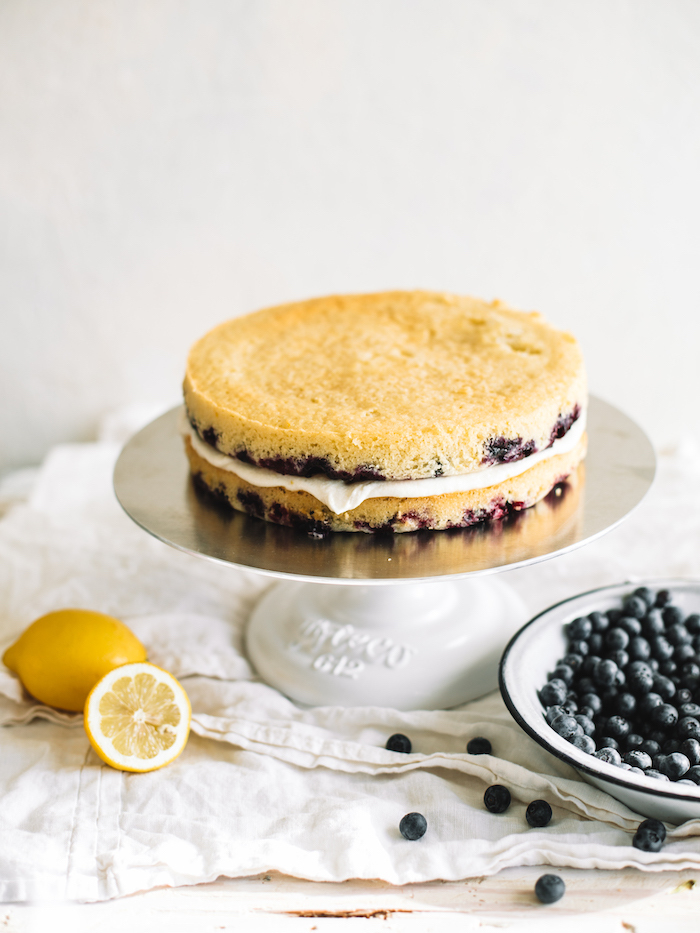 Every time I bake a cake (including today's Lemon Blueberry Cake with Lemon Buttercream) I think about that summer. One of the most important things that I learned was to master the classics. Things like sponge cakes, easy fillings (hello store bought lemon curd), and a tasty buttercream, is usually a crowd favorite.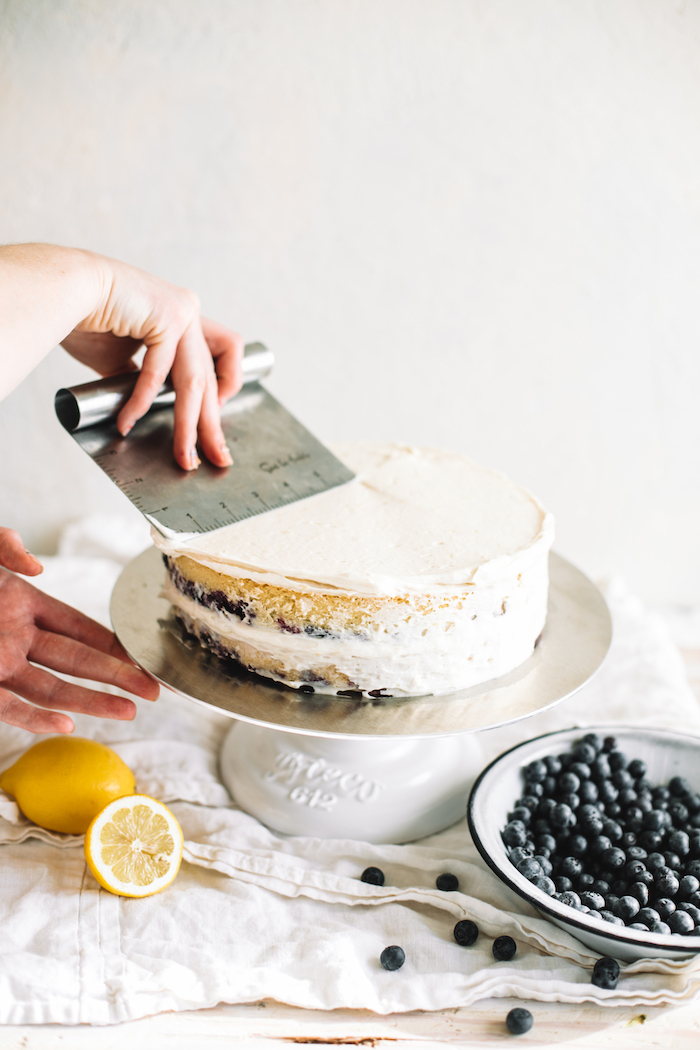 Today's Lemon Blueberry Cake is a perfect staple for the spring and summer months. The flavors are bright, the cake is moist, and blueberries, lemon slices and sage leaves are quick decorations that take your cake from homemade to Instagrammable. Enjoy!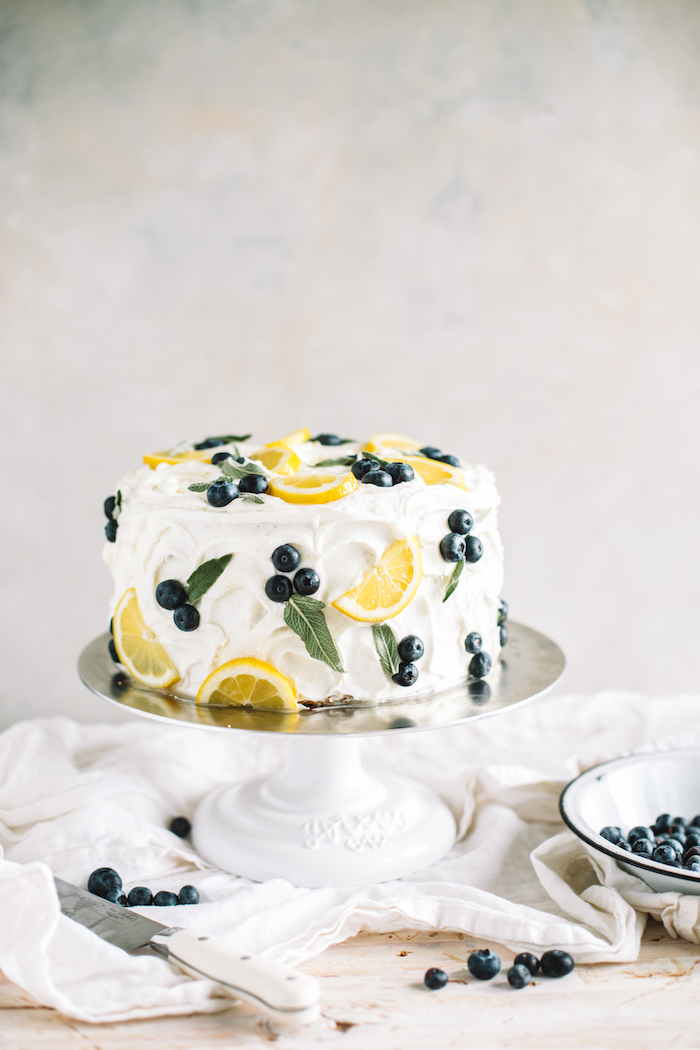 Lemon Blueberry Cake with Lemon Buttercream Frosting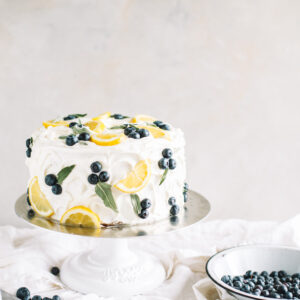 INGREDIENTS
For the Lemon Blueberry Cake:
1½ cups blueberries
2 tablespoons flour
1/3 cup of milk, room temp
3 eggs, at room temp
2 tablespoons fresh lemon juice
2 tablespoons fresh lemon zest
1 tablespoon vanilla extract
2 cups cake flour
1½ cups sugar
2 teaspoons baking powder
1 teaspoon salt
2 sticks (1 cup) unsalted butter
2 cups of lemon curd (store bought is okay)
For Lemon Buttercream:
2 sticks of unsalted butter, softened
6 cups of powdered sugar
1 Lemon, zested
3-4 tablespoons of milk
3-4 tablespoons of lemon juice
2 teaspoons of vanilla extract
½ Teaspoon of salt
INSTRUCTIONS
For Cake Layers:
Preheat oven to 350 F. Spray 2 9-inch cake pans with non-stick spray and set aside.
In a medium bowl or large measuring cup whisk together eggs, milk, lemon juice, vanilla extract and set aside.
In a separate bowl toss blueberries with flour until well coated and set aside for batter.
Using a stand mixer or a large bowl with a hand mixer, mix cake flour, sugar, baking powder, and salt on low until just combined. Add softened butter to flour mixture on low speed in (8) increments, blending after each addition. Mixture will be coarse and mealy.
Add in ½ of the egg mixture. Increase speed and beat on medium high for 1 minute or until light and fluffy. Reduce speed down to medium and add in the remaining egg mixture and beat until well incorporated into batter. Remove batter from mixer and gently fold in blueberries and lemon zest, do not over mix.
Divide the batter evenly into cake tins and smooth tops out with a spatula. Bake for 20-25 minutes or until a toothpick comes out of the cake clean or with a small amount of crumbs. Let cakes cool for 20 minutes out of the oven and then transfer to a cooling wire rack to cool completely before filling and frosting layers.
For Buttercream:
Beat butter on high until light and fluffy, 3-4 minutes. Add in vanilla extract, salt, lemon zest, lemon juice and 1 cup of powdered sugar. Beat until incorporated and light and fluffy.
Add in 1 cup of powdered sugar at a time, beating after every addition until fluffy. Add in 1 tablespoon of milk after each powdered sugar addition if frosting feels stiff. If you live in a drier climate you may need more milk and less milk for a more humid climate.
Trim uneven tops off of cake. Cut cake rounds in half and layer each layer with a rim of frosting and a thin layer of lemon curd. Trimming the cakes can be easier if they are very cold or slightly frozen (depending on how much time you have). Frost the outside and top off with more blueberries, lemon slices and sage leaves for an easy spring decoration.