French Countryside Living & Eating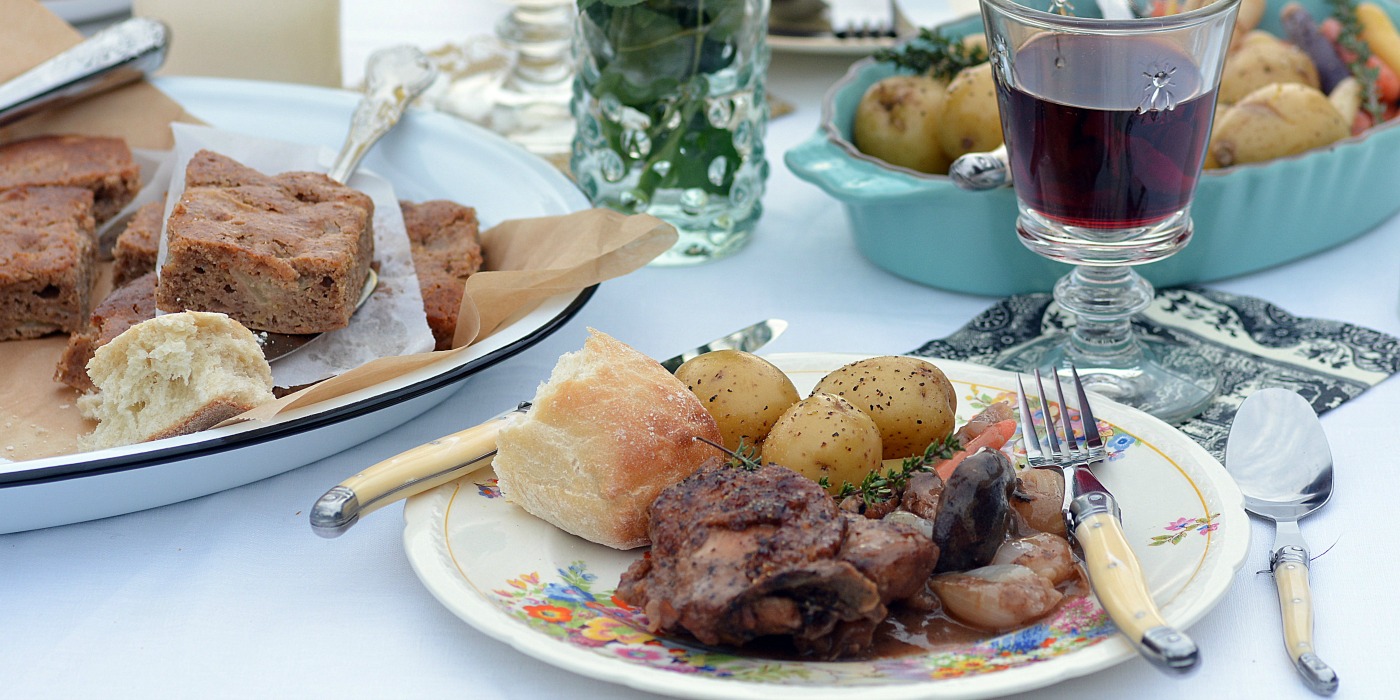 There are a two people that I love to watch eat. It's as if a form of artistry is happening as they hold their utensils, always having a knife in one hand, and a fork in another. A kind of precisely delicate 'dance' happens as the two utensils work in tandem—individual peas and maybe a small bite of meat are deftly placed onto the tines of the fork.
There's a slowness in the motions. No fast chewing or gulping. Time stands still between bites. Conversation, laughter, chatting. A leisurely relaxed aura permeates the air space. Whether we're sitting at the dining room table, at an outdoor café or a restaurant, it's magical. There's simply something romantic and ethereal about the entire experience of food and eating. Probably the person I love to watch eat most is Frenchie. And, second? My husband, Ben.
"Frenchie", as she is nicknamed, or Marie-Christine is a
dear and treasured friend. Born in Brittany, she came to America in her early
20s. Settling in the mountains of Colorado where she relishes outdoor sports,
nature, rustic life, and remote cabin living, she married a Boston boy and now
calls America her home. But, her soul lies back in Brittany where her family
still lives and where she returns several times yearly. I've learned so much about French eating,
cooking and living from Marie-Christine—being with her, sitting in her kitchen,
watching her cook, being in her home, listening to her stories of her life
growing up is like scooping me into a time capsule and placing me in the French
countryside in her small home village.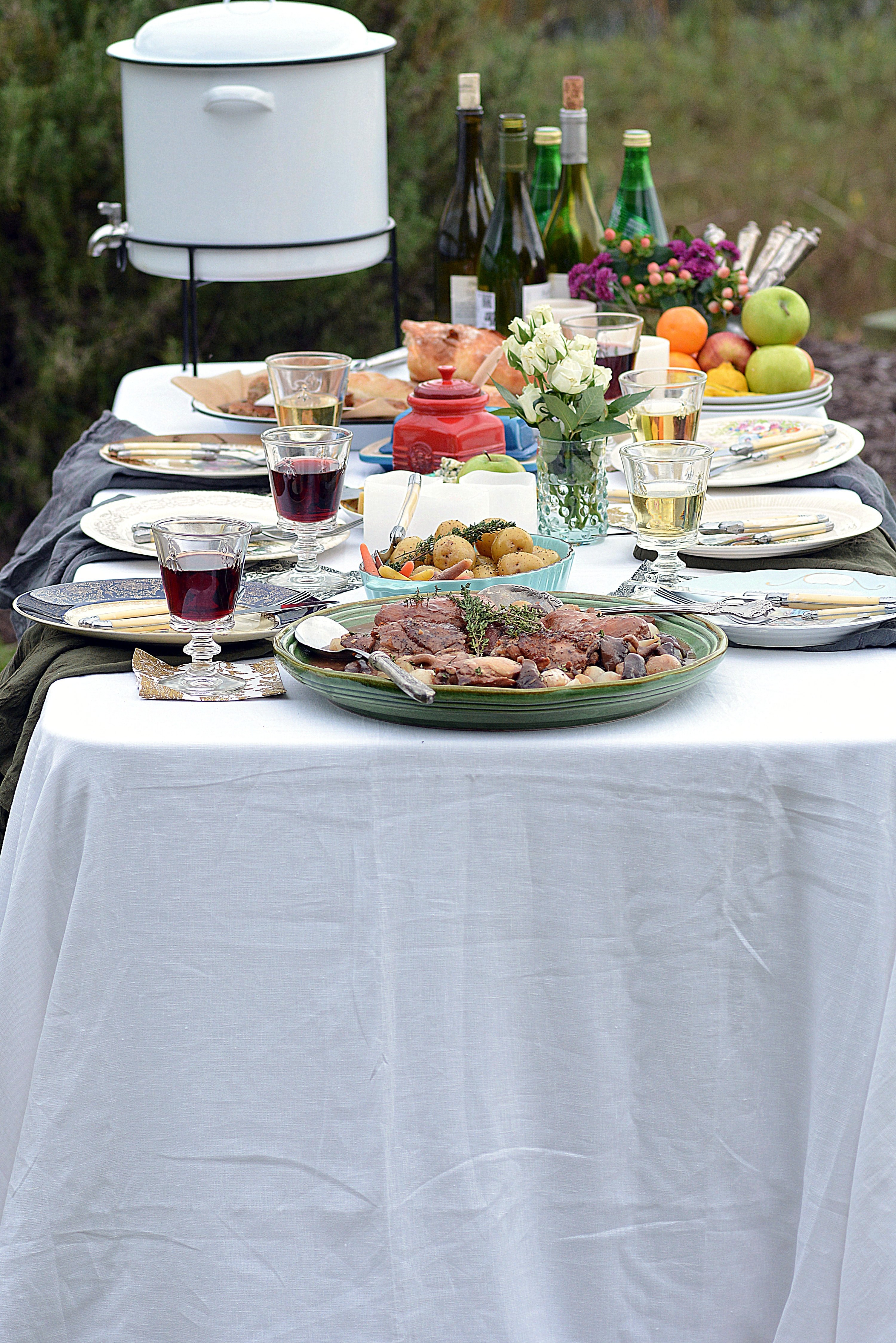 From an early age, French children are taught the art of
eating and enjoying good healthy food. Food and dining are an integral part of
their life and lifestyle. There's conversation as they eat and the topic can
oftentimes be the food—what's in it, how was it prepared. Then there's 'real
food'—not fake, take out, or fast food. And, fresh ingredients and things are
bought sometimes daily—not many huge grocery store or big box shopping trips
with a bulging cart or flatbed.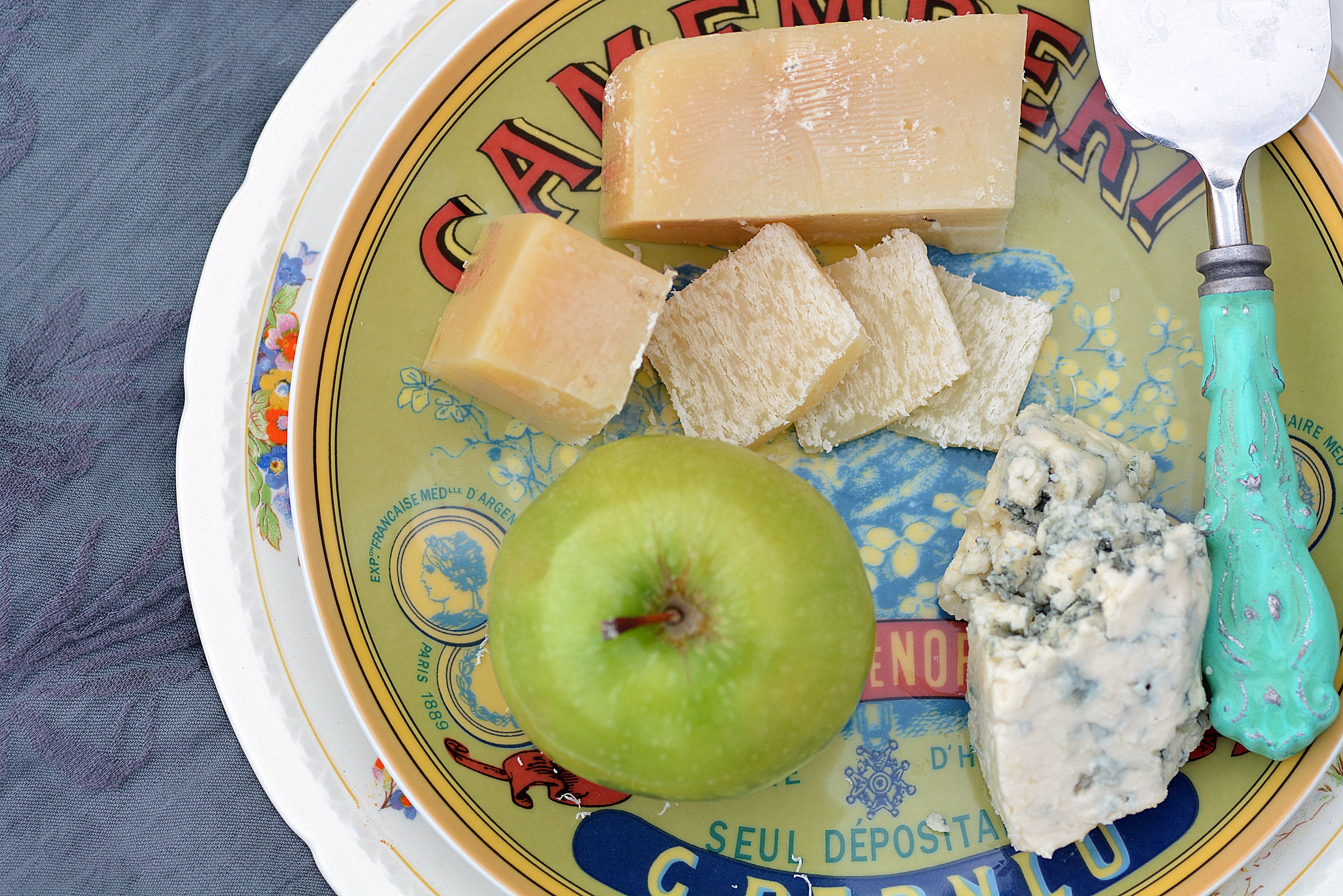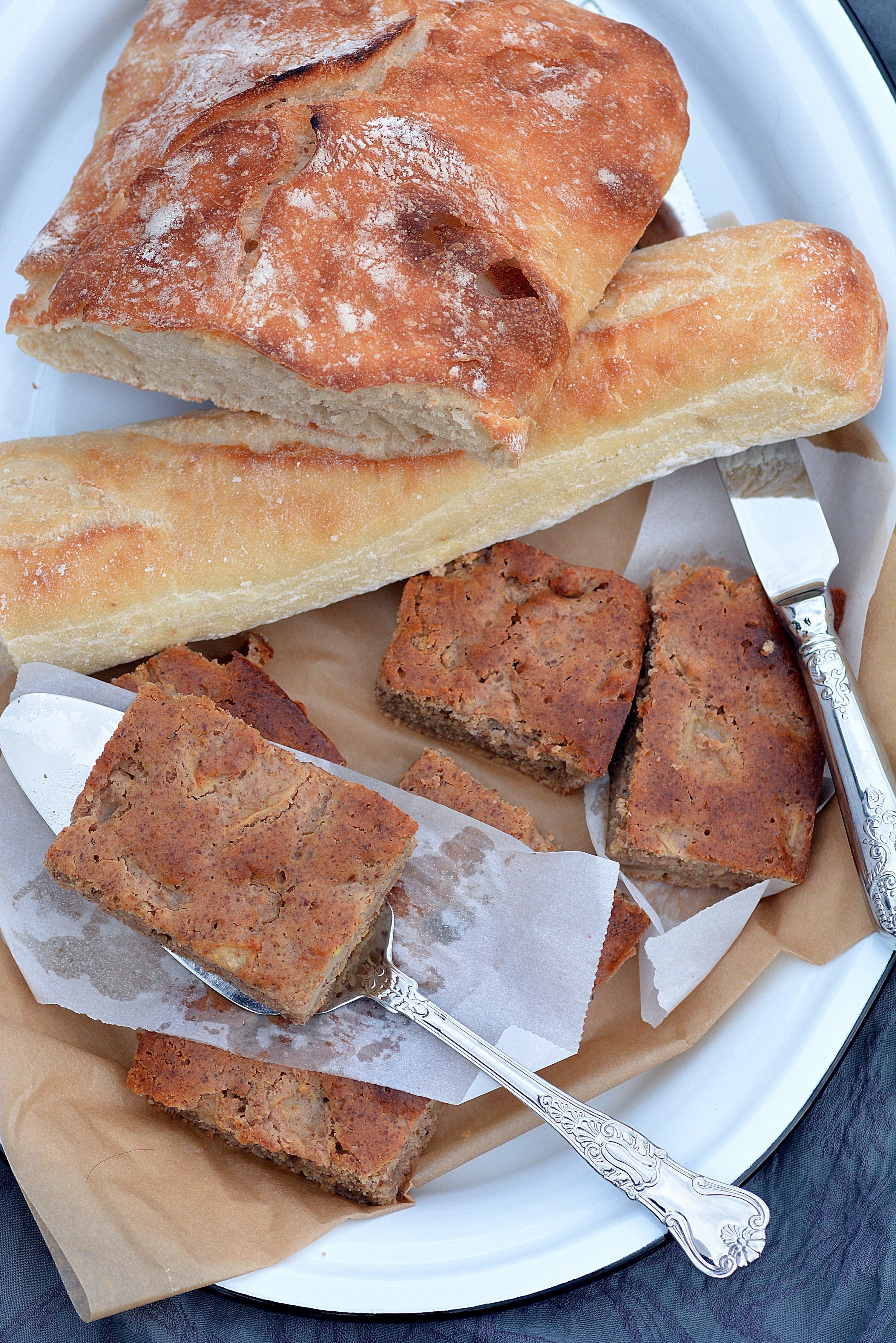 Food is eaten sitting down together, not in front of a television nor with cell phones in hand.
Generous portions are served—fruits, vegetables, meats, breads, cheeses. When
the kitchen closes, it's closed. Unlike Americans, there's little or no grazing
or snacking between meals. Breakfast is light, maybe a pastry or fruit, toast—or
on some occasions Croque Madame or Croque Monsieur! The midday meal can be
quite filling and the evening meal possibly lighter depending upon the family.
Bread is not a bad word. Baguettes are everywhere!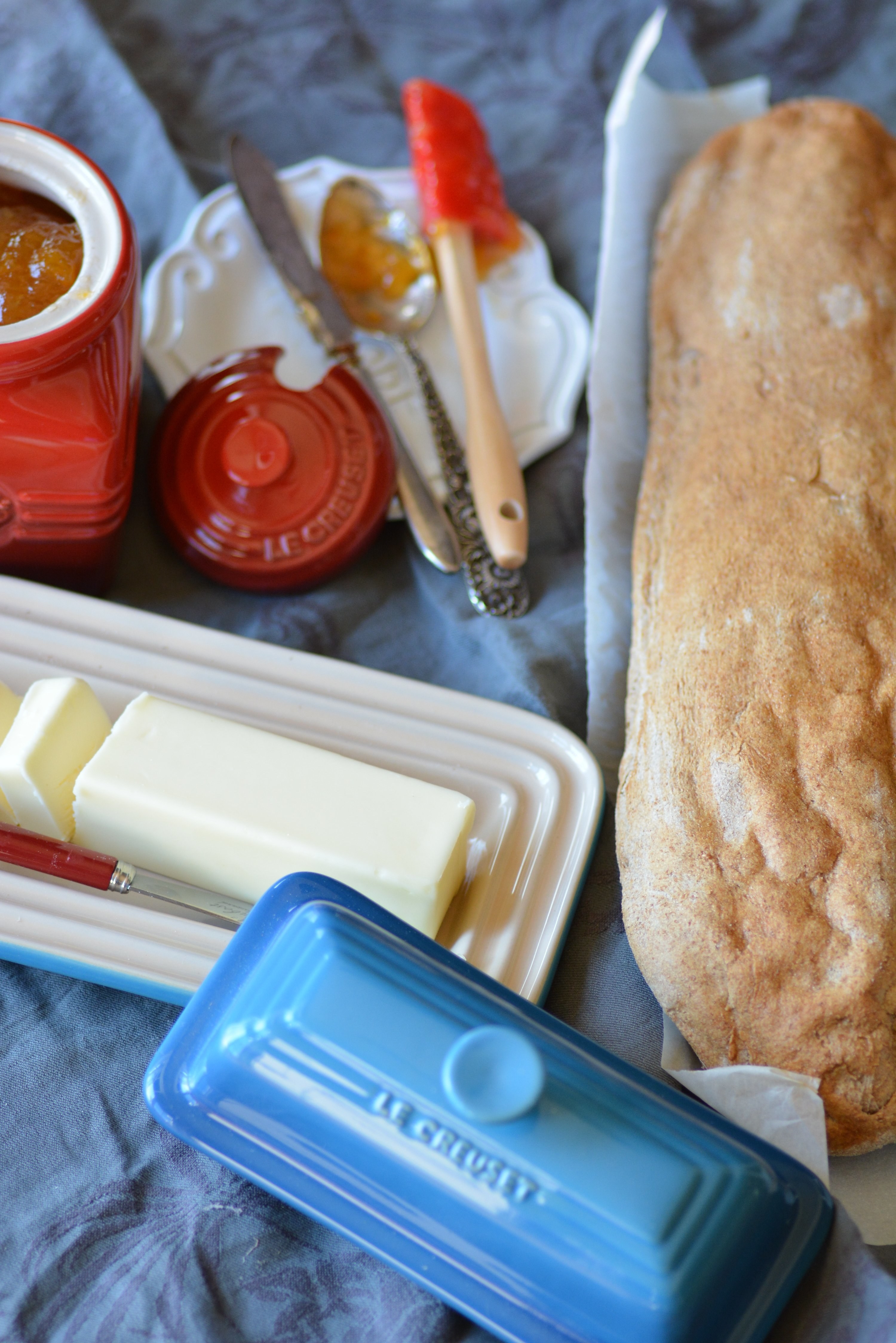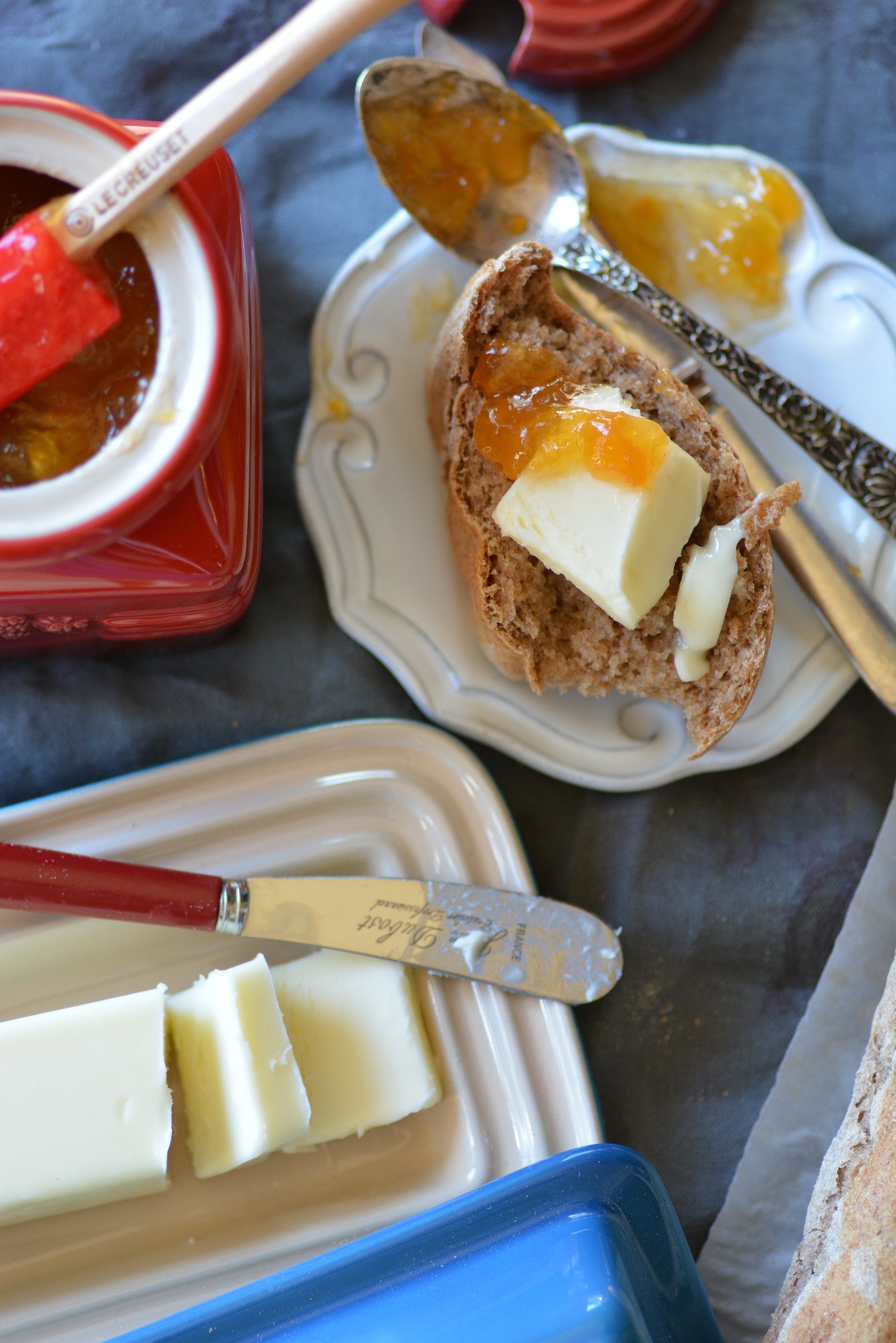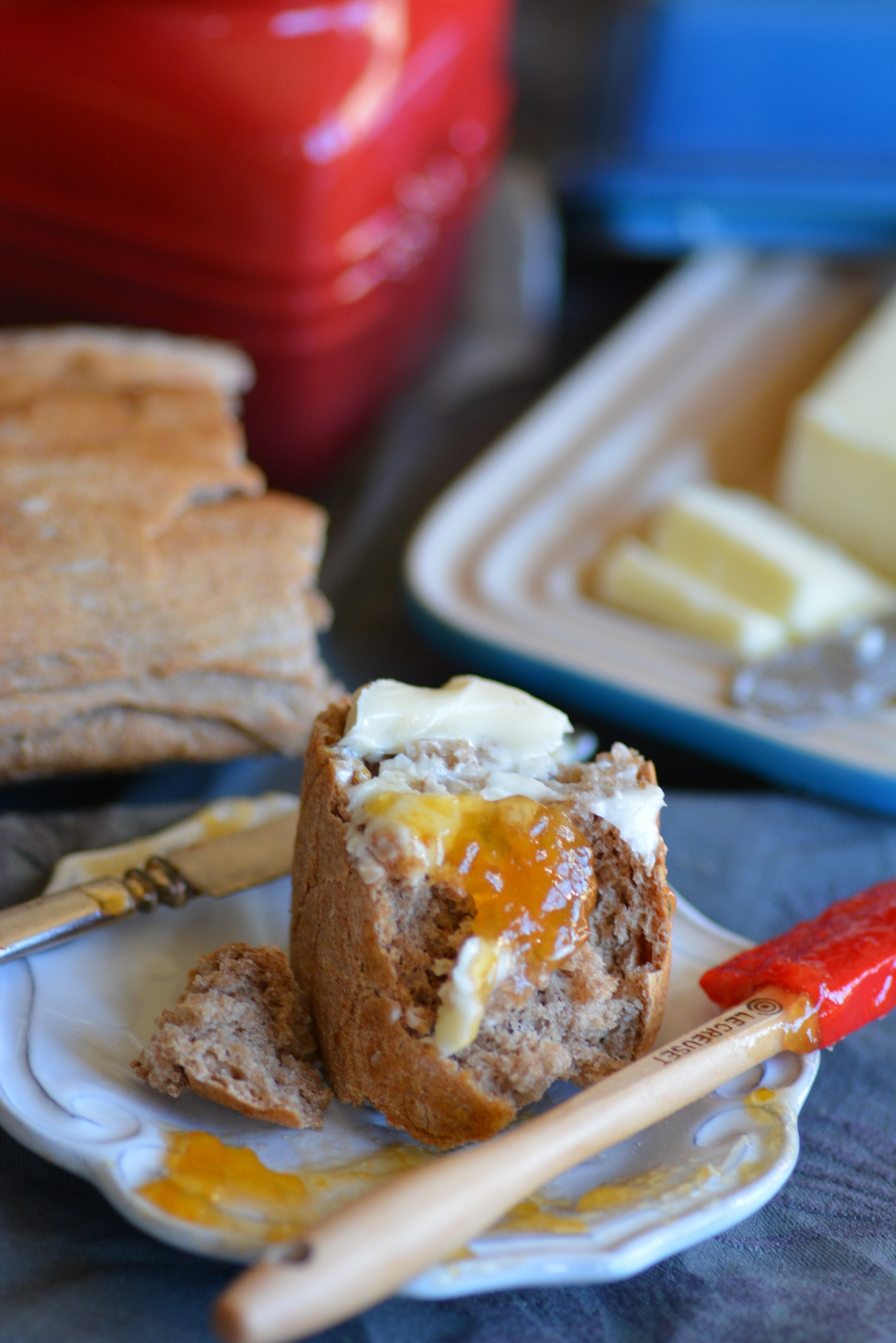 Great pride is taken by the French in their culinary
expertise, which can be simply learning from generations of mothers and
grandmothers cooking in the kitchen or possibly studying the fine art of
cooking in a culinary school. From the hands of these artisans come bowls,
platters, and skillets filled with healthy and scrumptious foods. The French seem to have discerning palates—maybe
that's because they're taught early on that food and eating is not a 'sin' but
something that explodes life! Meals are meant to be savored slowly, enjoyed
with friends and family, and actual communal social experiences. It is a time
to connect the souls and spirits of those who are seated at the table.
Beautiful serving pieces are used daily whether it's a soup
tureen or delicately patterned platter for meat. The table is set for a dining
experience. Colorful linens, real cloth napkins, table clothes, maybe vintage
pieces handed down from generations. Real china, possibly that has been in the
family for decades, is used. These dishes can be mismatched, chipped, and
well-worn evidencing layers of love heaped on them from use daily. Each, when
filled with an array of food, is work of art that delights the eye and warms
the belly.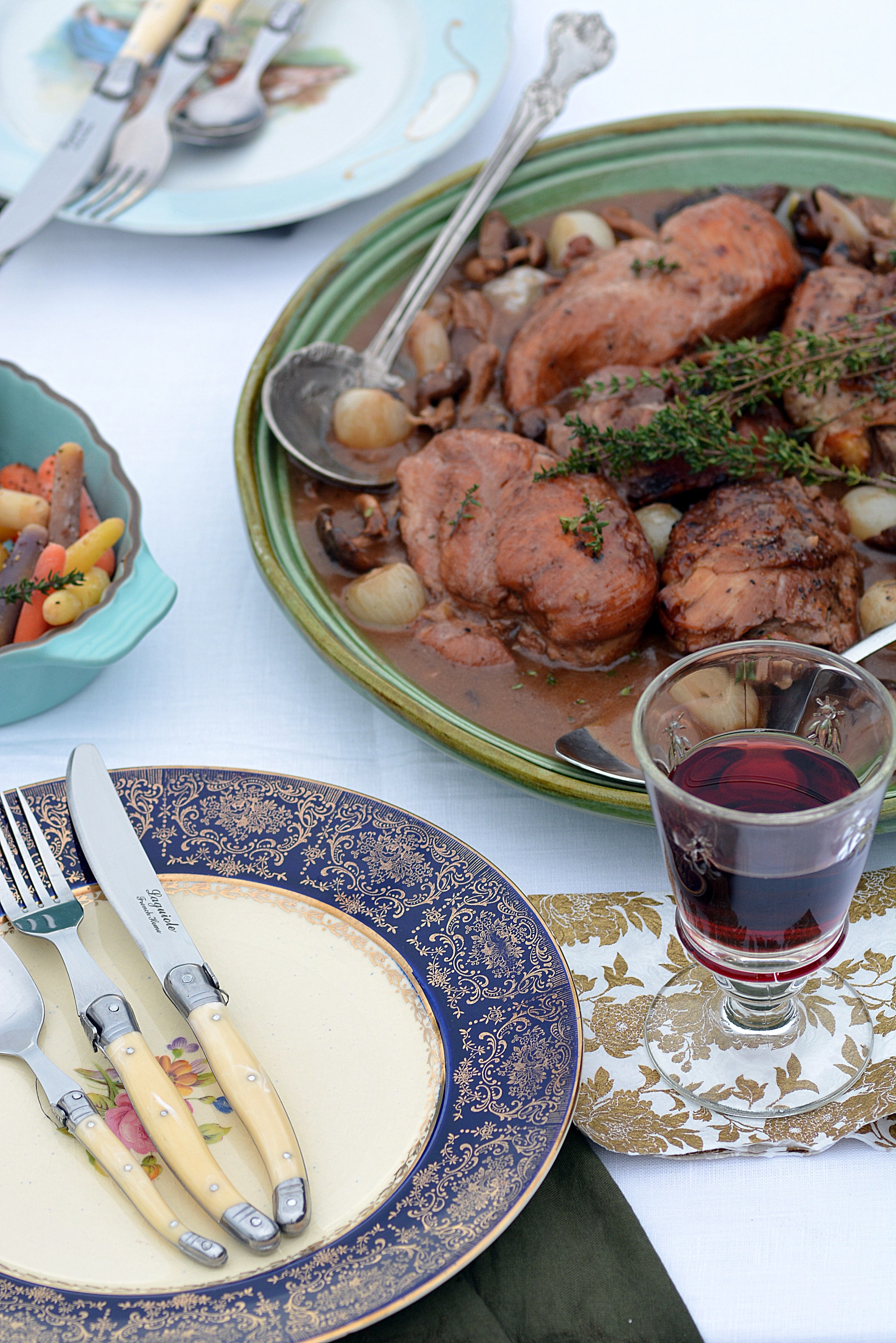 The types of foods eaten vary from region to region of
France with heavier game dishes in Normandy to lighter Mediterranean fare in
Provence. Three meals a day are eaten Walking and biking are modes of
transportation for the French whether they live in the city or countryside. They
work up great appetites. As a general
culture, weight issues related to eating too much food or the wrong kinds of
foods isn't a national epidemic.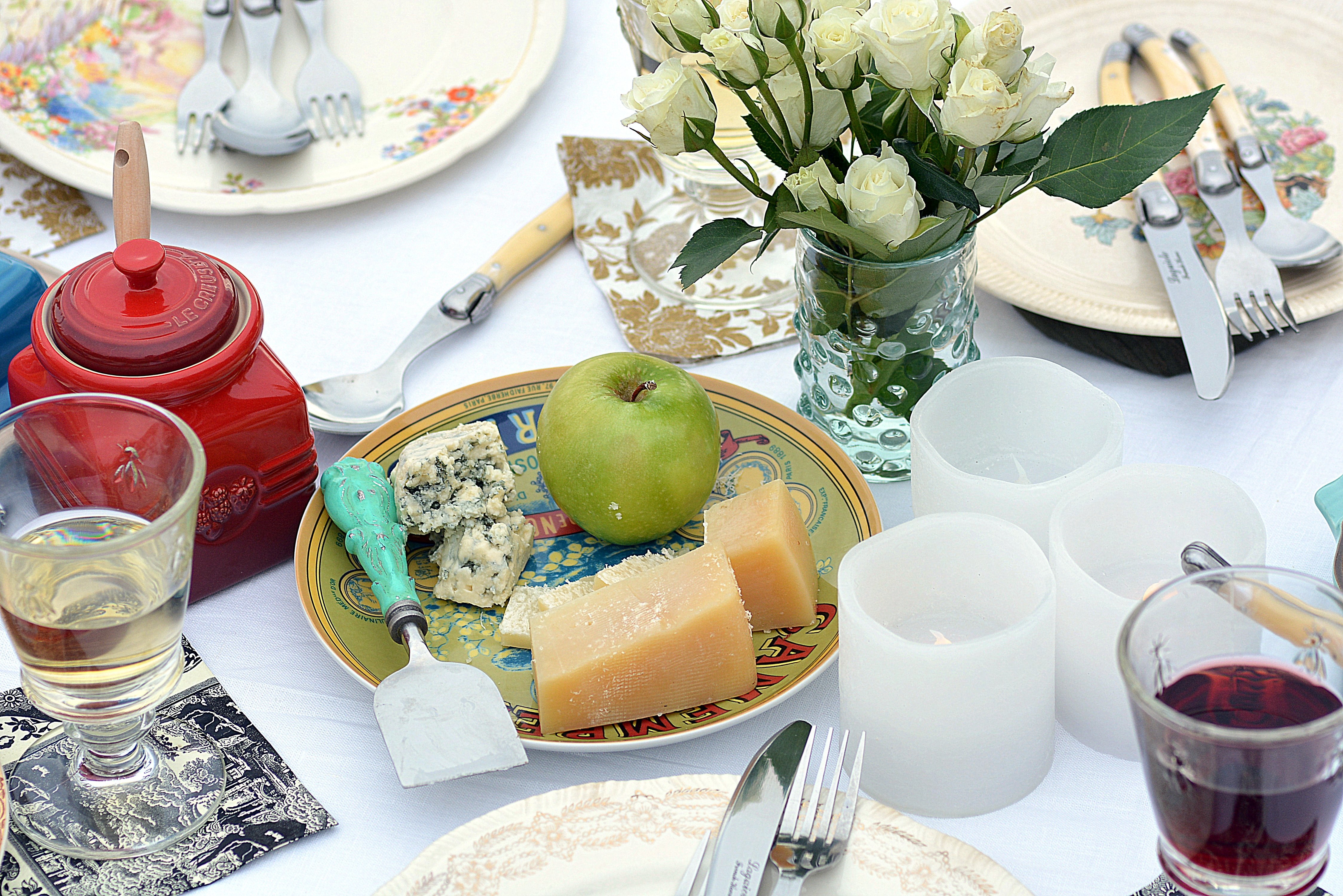 Stepping back. Slowing down. Letting food become more than
just fuel for the body but nourishment for the mind, spirit and soul. Yes, that
is the French countryside style of living and eating. Memories are made. Etched
deeply into the psyche around the kitchen table. Even if we can't do it every
day, maybe just one day a week would be the start of redefining what family is
all about and a reshaping of the next generation to what really matters in
life.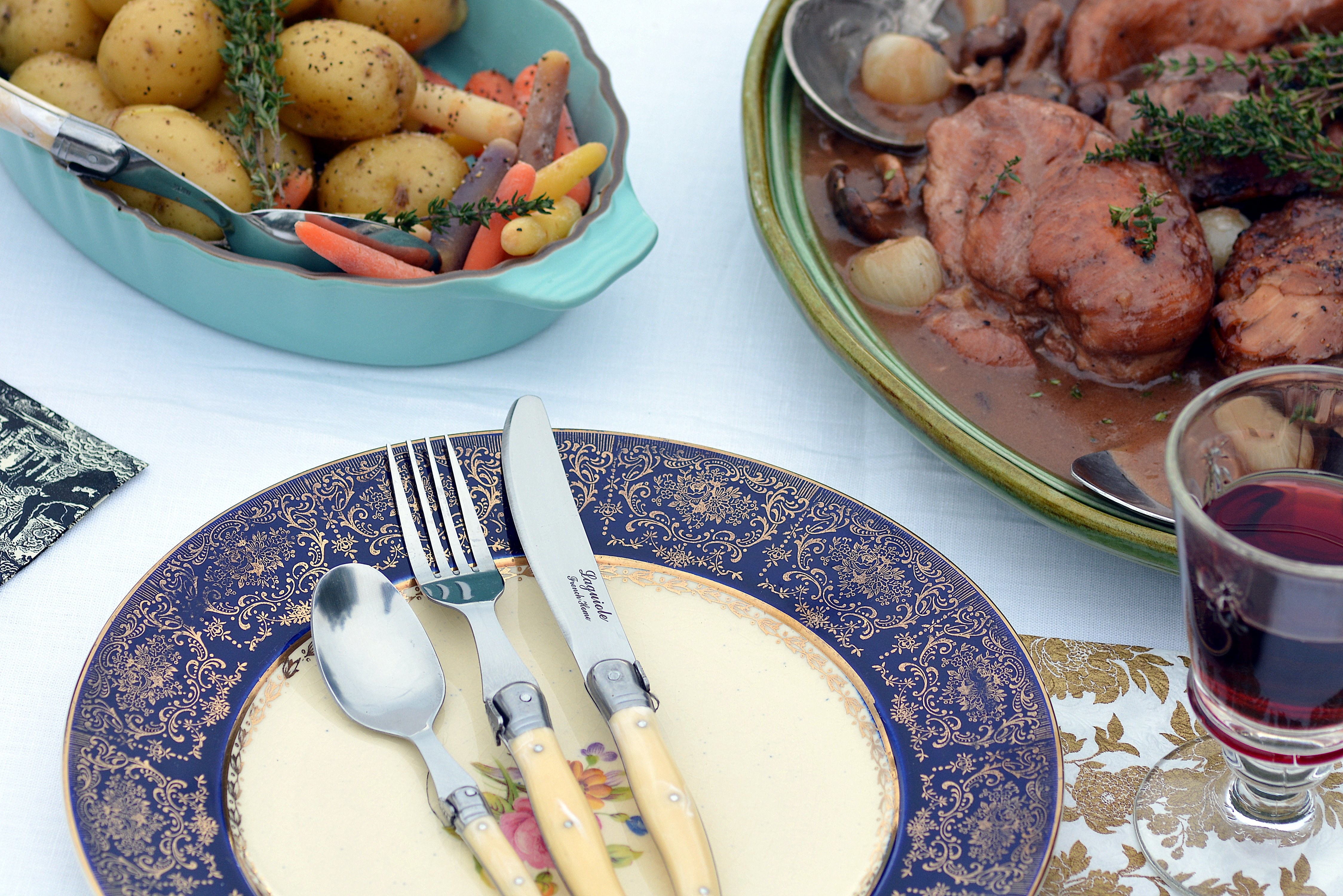 This Coq au Vin
recipe is authentic from Marie-Christine's, mother, Therese. Eighty-two, 100%
Celtic, she continues to live on their Breton homeland farm. Food is fresh from
her big garden. She's well-known in the village for her other French dishes as
well, buckwheat crepes, the traditional Brittany crepes and all her homemade
pates from different meats wild boar, rabbit, pork, duck, roe. Her fresh tuna
rillettes are 'legend' among friends.
Funny, witty and interested in everything and everyone, she
still travels to Colorado to visit Marie-Christine and her husband. She
continues to love rafting the Snake River in Wyoming or on the Colorado River.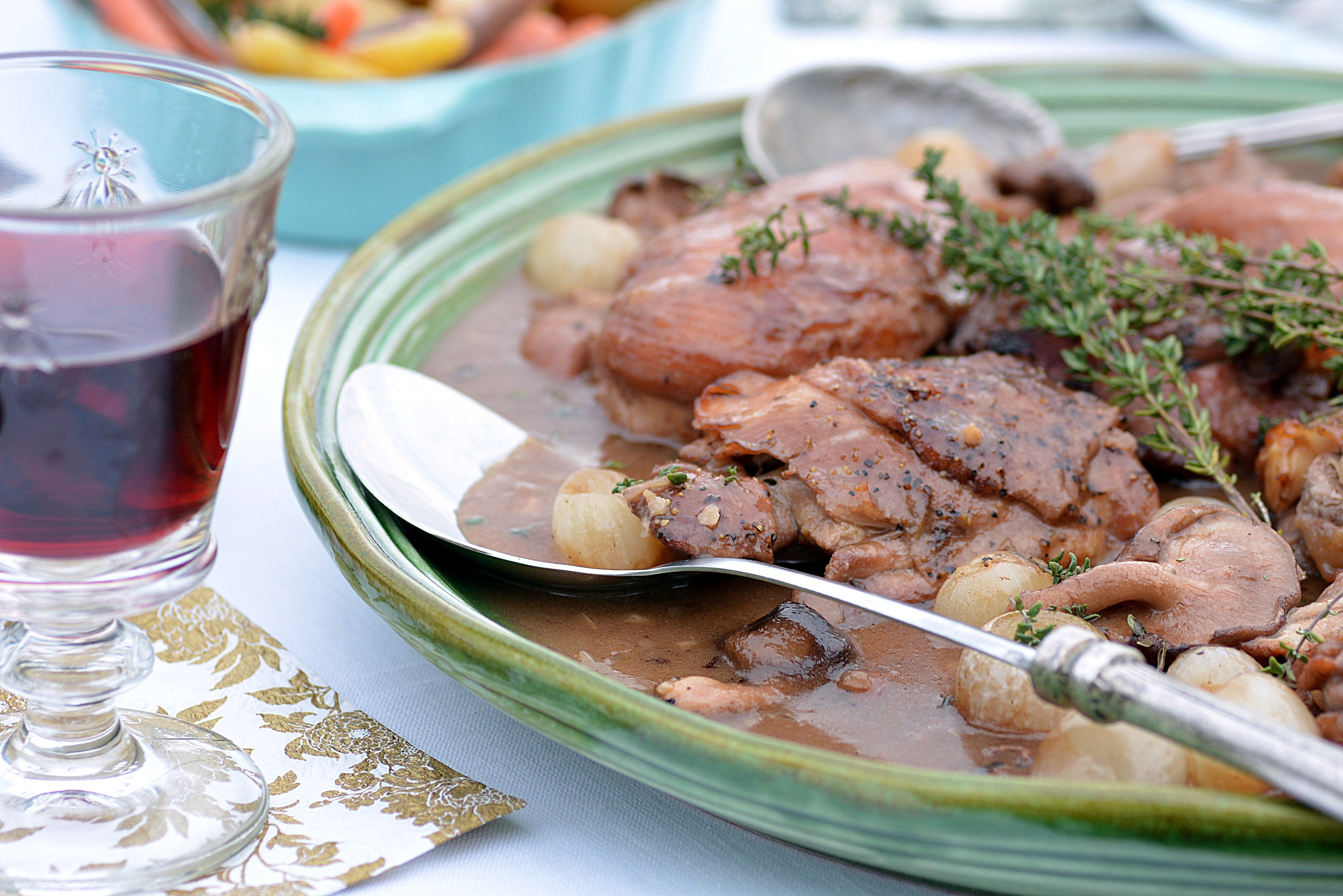 Their old French home is always open to neighbors and
friends who manage to stop by around lunch or dinner time. The well-worn 14
foot wooden farm table in their kitchen welcomes even strangers. There's no
rush when eating. A meal can last for hours, especially if there's some kind of
celebration. As Marie Christine says, 'Her food is infused with love and fun
and you get all dizzy from it!'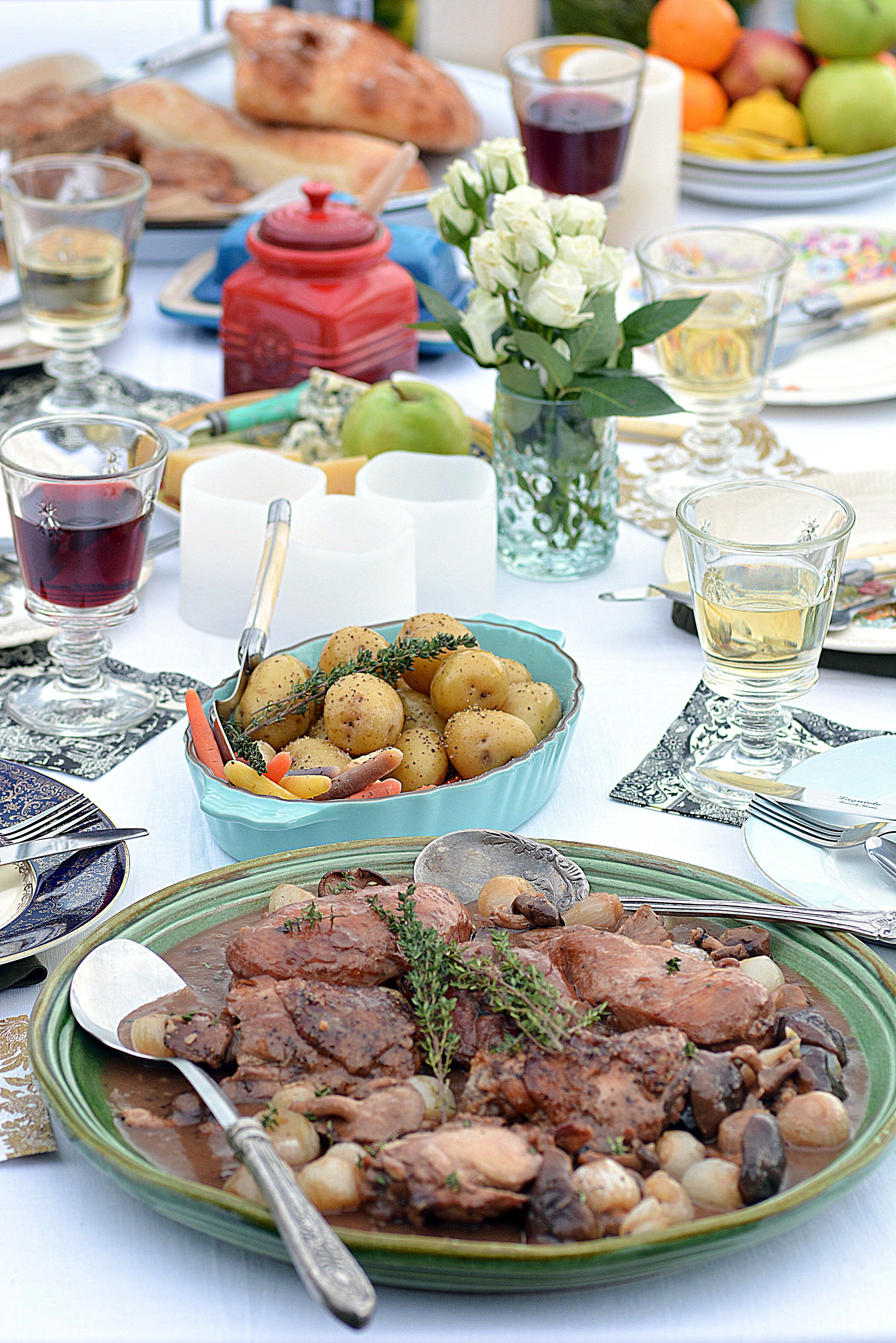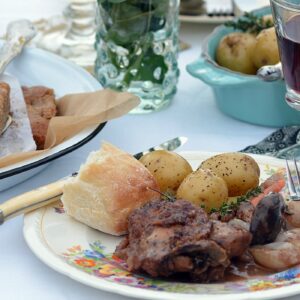 INGREDIENTS
3 lbs. chicken, your choice as to pieces, bone-in, skin on best (I used thighs and breasts.)
4 slices thick cut hardwood smoked bacon, fried, drippings reserved, bacon crumbled and set aside for garnish
3 Tbl. Butter, salted
1 sweet onion, medium, diced
2 Tbl. Garlic, sliced thinly
1 ½ tsp. sea salt
1 tsp. coarse ground pepper
1/3 cup cognac
¼ cup all-purpose flour
½ bottle burgundy wine
2 cups chicken broth
3 cups mushrooms, preferably shitake, crimini, oyster, chanterelle, however, you can use regular mushrooms (do not slice if small)
2 cups pearl onions
1 Tbl. Fresh thyme leaves + Fresh thyme sprigs
INSTRUCTIONS
In a large heavy Dutch oven pot over medium heat, blend together the bacon drippings and butter. Add the onions and garlic and sauté about 2-3 minutes. Using a slotted spoon, remove the onions and garlic to a bowl.
Turn heat to high. Salt and pepper both sides of the chicken. Put in the pot and brown on both sides. (This could take several minutes.)
Deglaze the pot with the cognac scraping all the good sticky tasty stuff from the sides and bottom. Reduce heat to medium high. Stack and push the chicken to one side of the pot (or take several pieces out temporarily), add the flour and whisk and cook about a minute. Add back the sautéed garlic/onions. Add the wine and chicken broth and gently blend into the liquid/gravy. Spread out the chicken in the pot.
Cover the pot. Put in a preheated 325 oven for 40 minutes. Remove and add the mushrooms, onions and sprinkle on the thyme. Cover and return to the oven for another 20 minutes.
Garnish the serving plate with sprigs of fresh thyme and bacon crumbles.
Side note: Marie-Christine says to serve with either boiled potatoes as her mother does or French fries. She prefers boiled potatoes!