Throw a Laid-Back Boozy Porch Party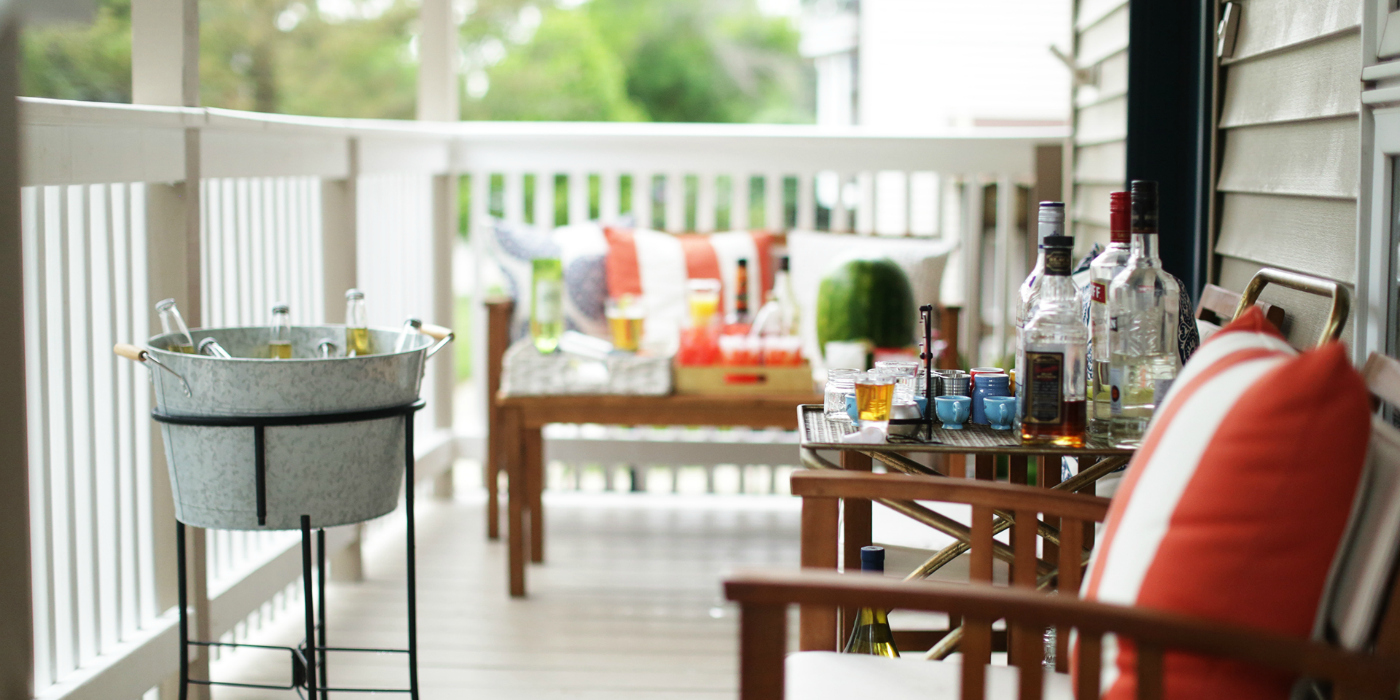 I can't even begin to tell you how much fun I had whipping up this Boozy Porch Party that was loaded with delicious adult beverages as well as fun drinking games. I literally felt like I was back in college, and not due to the amount of alcohol that was involved, but more so because it reminded me of my bartending days. I used to love getting creative trying to come up with drinks that people would love, and I'm pulling out a recipe from back in those days to share with you.
It's not every day you make a watermelon margarita that lives inside of a watermelon and is made directly from its fruit. This thing looks so cool that it is certainly sure to be the talk of the party, and the best part is that it is incredibly easy to make. First cut the top of the watermelon and then screw in the rubber legs to help hold it up in place. From there scoop out all of the watermelon and said it aside in a large bowl. Just know that there will be some chunks of watermelon leftover.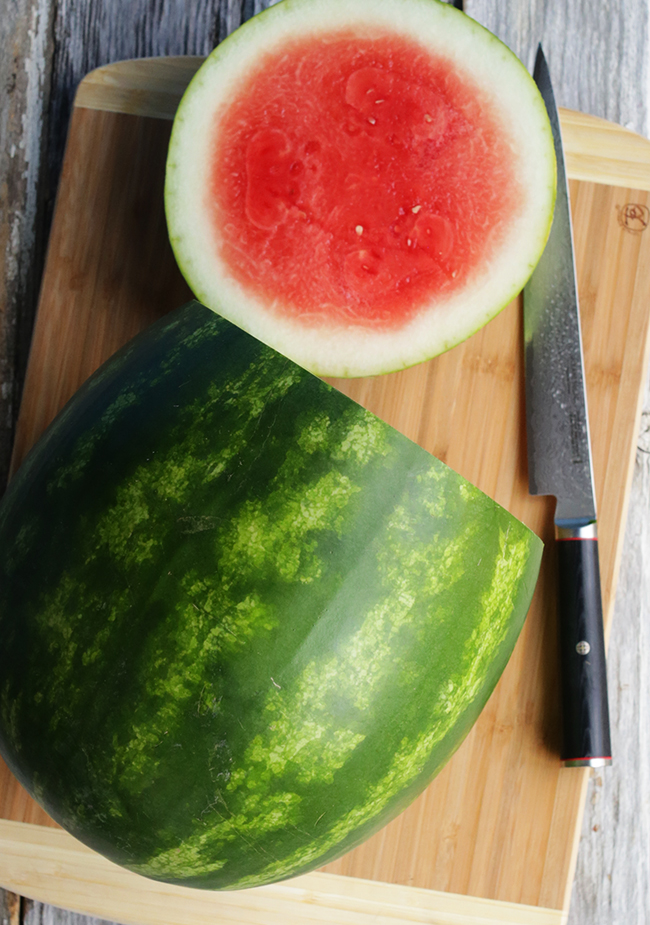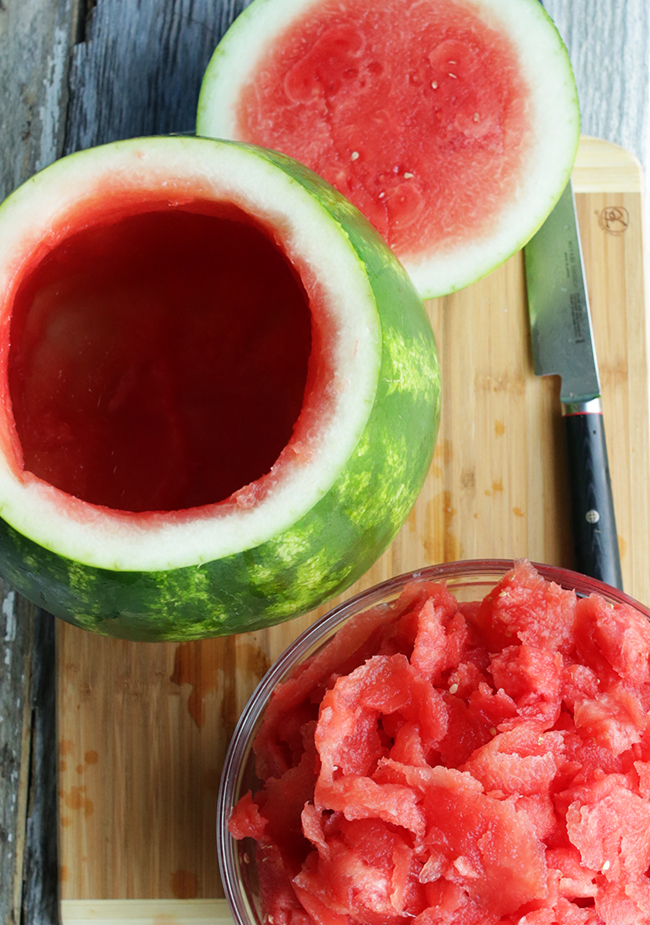 Once I got all of the fruit out I placed some in my Vitamix along with some sweet and sour, triple sec and of course tequila. Puree away!! Make sure that it's really smooth so that it pours freely out of the nozzle; If it's too chunky it will get stuck and you won't be happy when you have to stick your hand in there to remove it.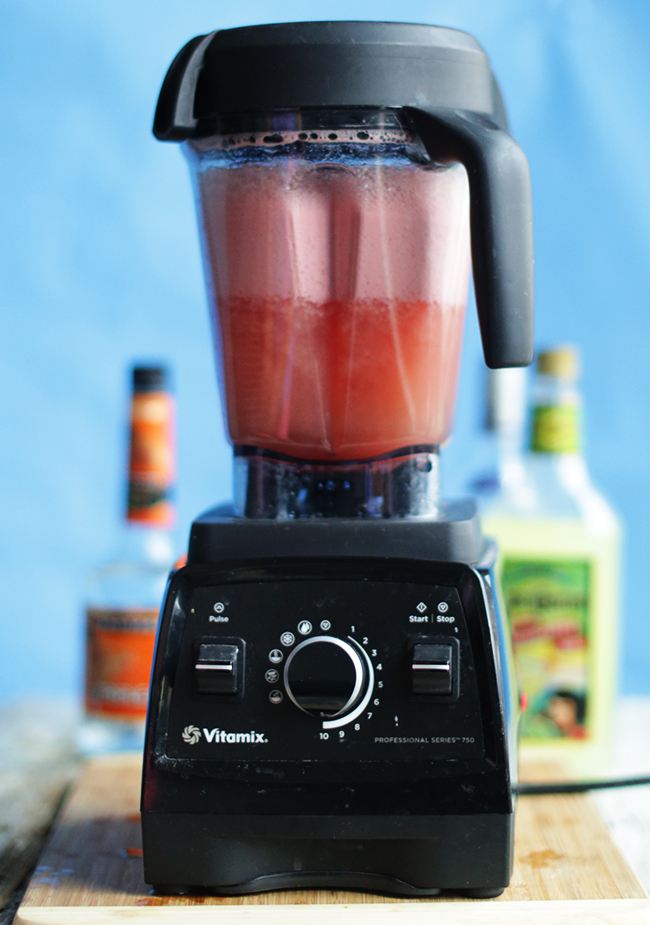 Pour the delicious margarita back in the watermelon, pop the top back on and boom you are set!! To wrap up the margarita, don't forget to dip the top of your glasses in lime juice and then sugar or salt. This part is totally up to you, just depends if you like salty or sweet with your margarita. Also try doing them in little shot glasses 🙂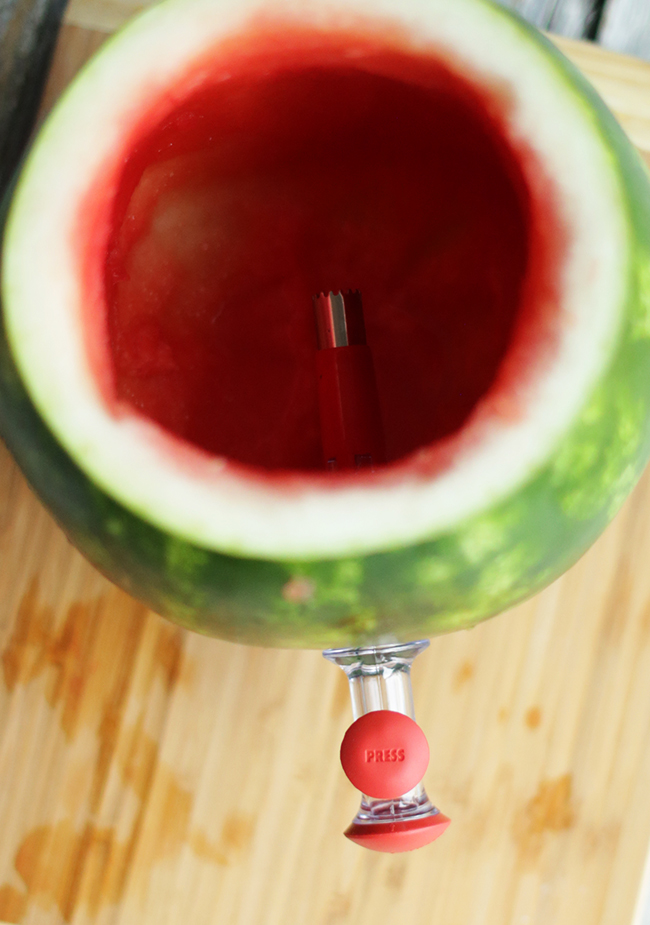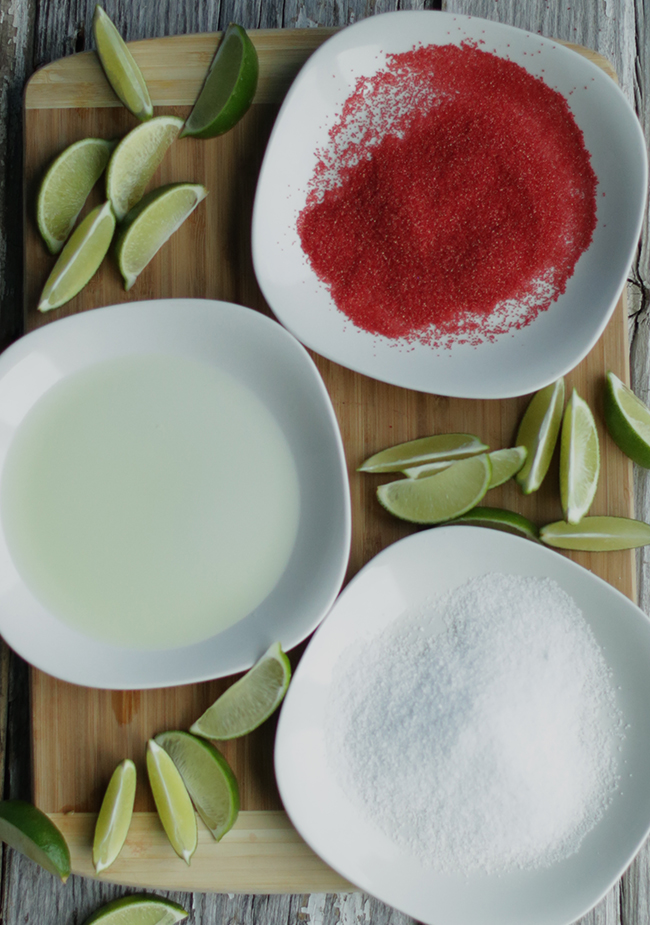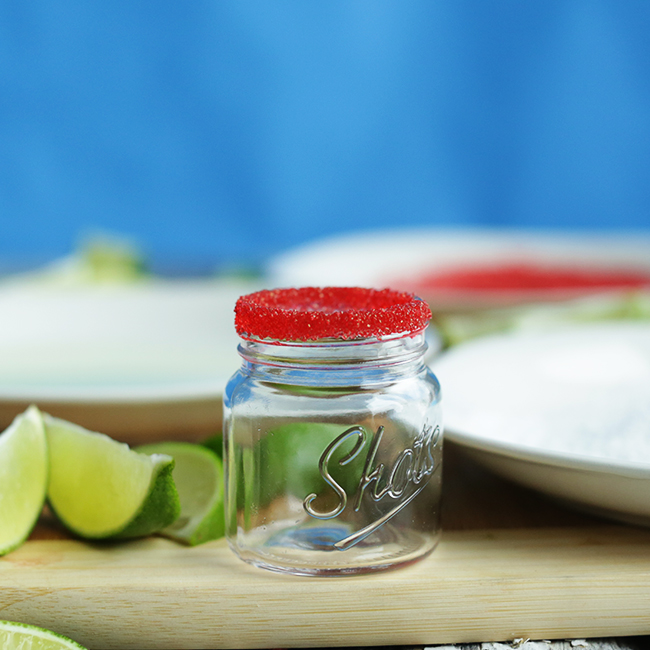 At this point it's good to start heading outside to set up this epic boozy porch party… Don't worry there are a few more drinks and a lot more fun on the way.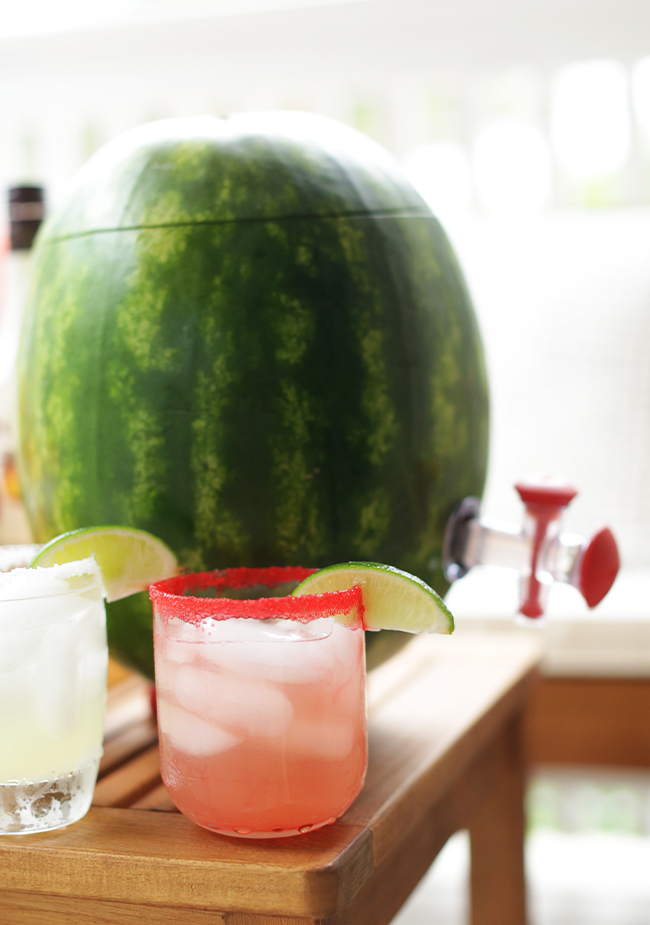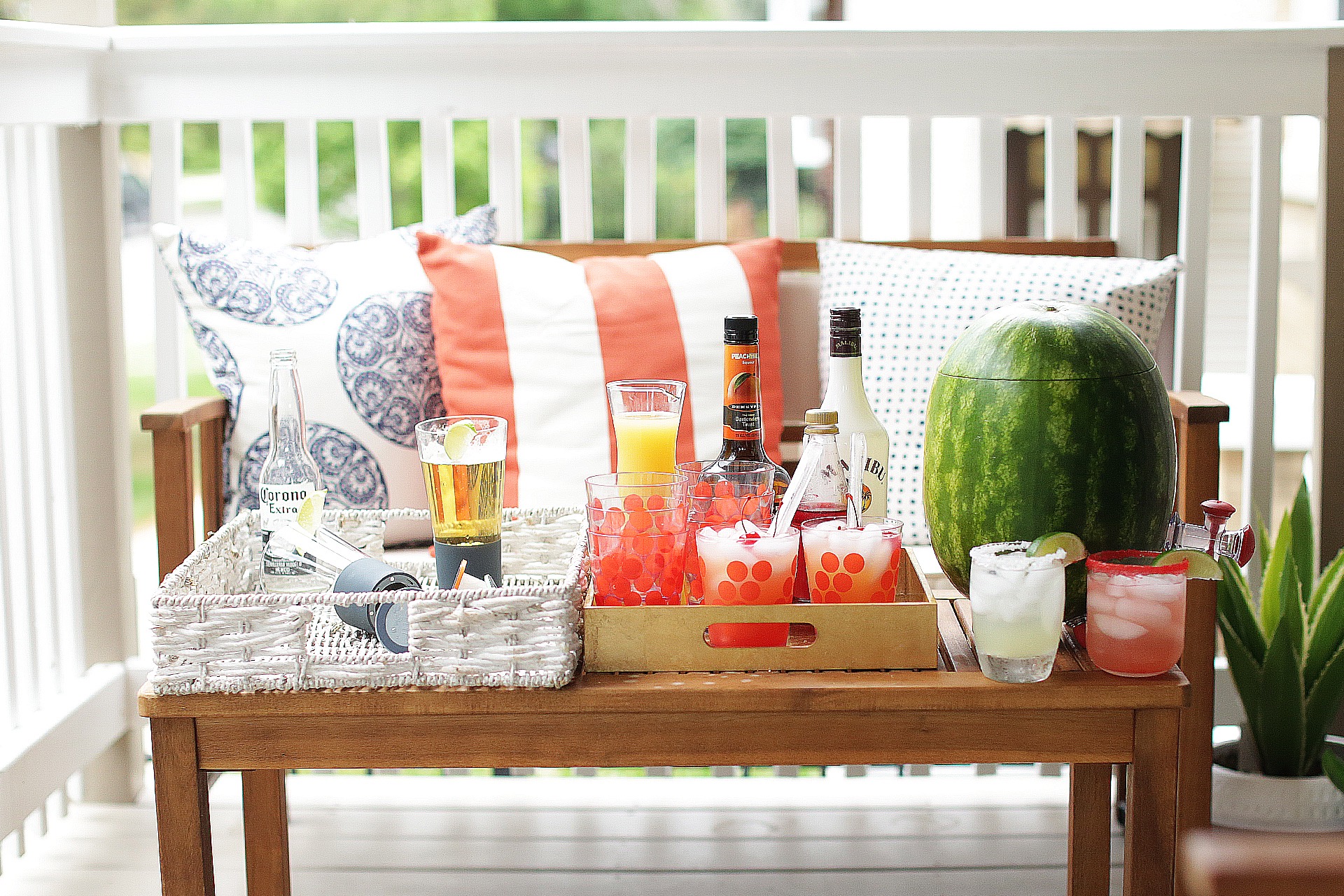 At this point it's good to start heading outside to set up this epic boozy porch party… Don't worry there are a few more drinks and a lot more fun on the way. Now to reveal the drink I used to make in college. I used to call it a peach sunset, well because quite frankly it looks like a sunset and is a little orange, brilliant I know. To make it mix together coconut rum, peach schnapps, orange juice, pineapple juice and a splash of grenadine. I garnish with a simple cherry but you can certainly get creative in this department with other fruits.
Hands down the coolest part of this drink is the ice straws. That's right, the straws are made of ice thanks to the molds that freeze them to be like straws that you can literally drink out of… SO COOL!!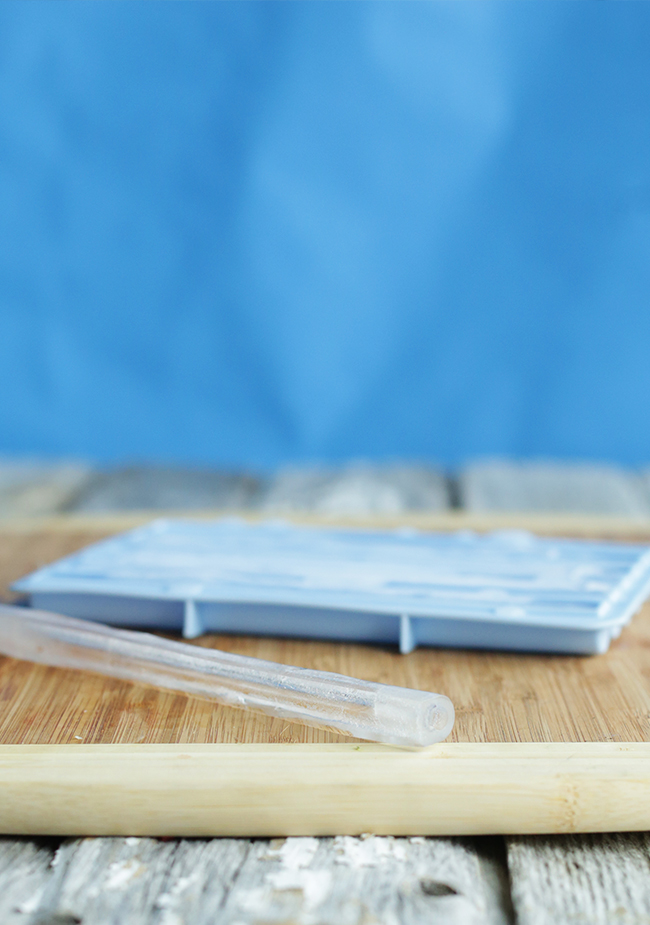 When it comes to drinking outside I always like to use plastic cups, and mostly because my wife Lindsay and I are hands down the clumsiest people we know and I am for sure bound to drop something. I'd much rather clean up a drink than broken glass everywhere so these Zak Designs plastic cups with frozen straw are perfect for my outdoor extravaganza.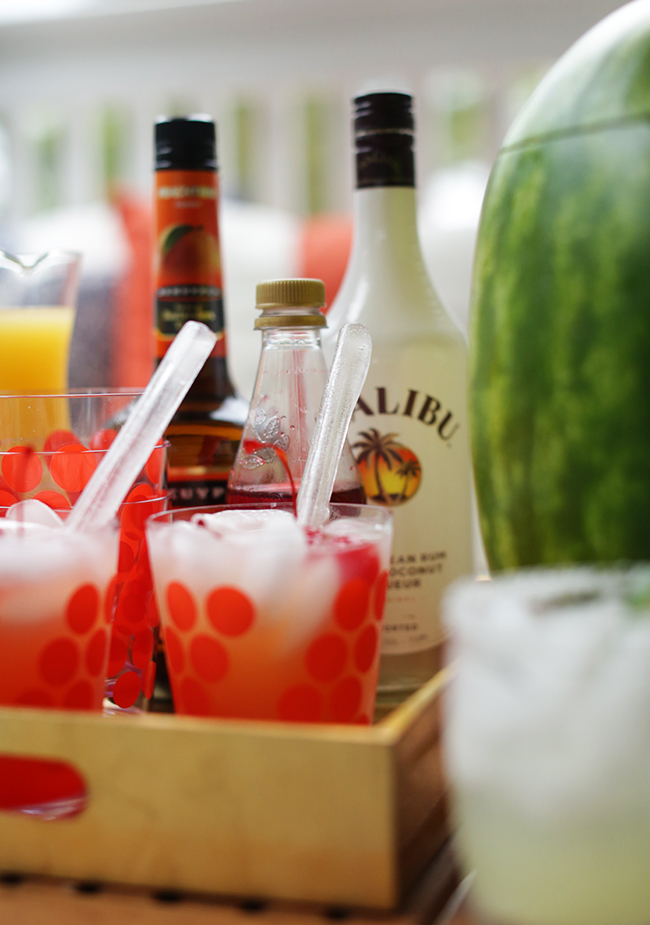 What would an outdoor party be without beer? It wouldn't plain and simple. I feel like summer time screams Mexican beer. It always reminds me of being somewhere hot like in Mexico or the Caribbean, so any way I can help bring some of that atmosphere up here to Chicago you'd better believe I'm going to do it. To make it easy to serve I used this amazingly handy steel party bucket with stand loaded with ice, beer, and sliced limes making it readily accessible and easy to consume. The tin holds ice well and it's a great piece to add some rustic style to the mix.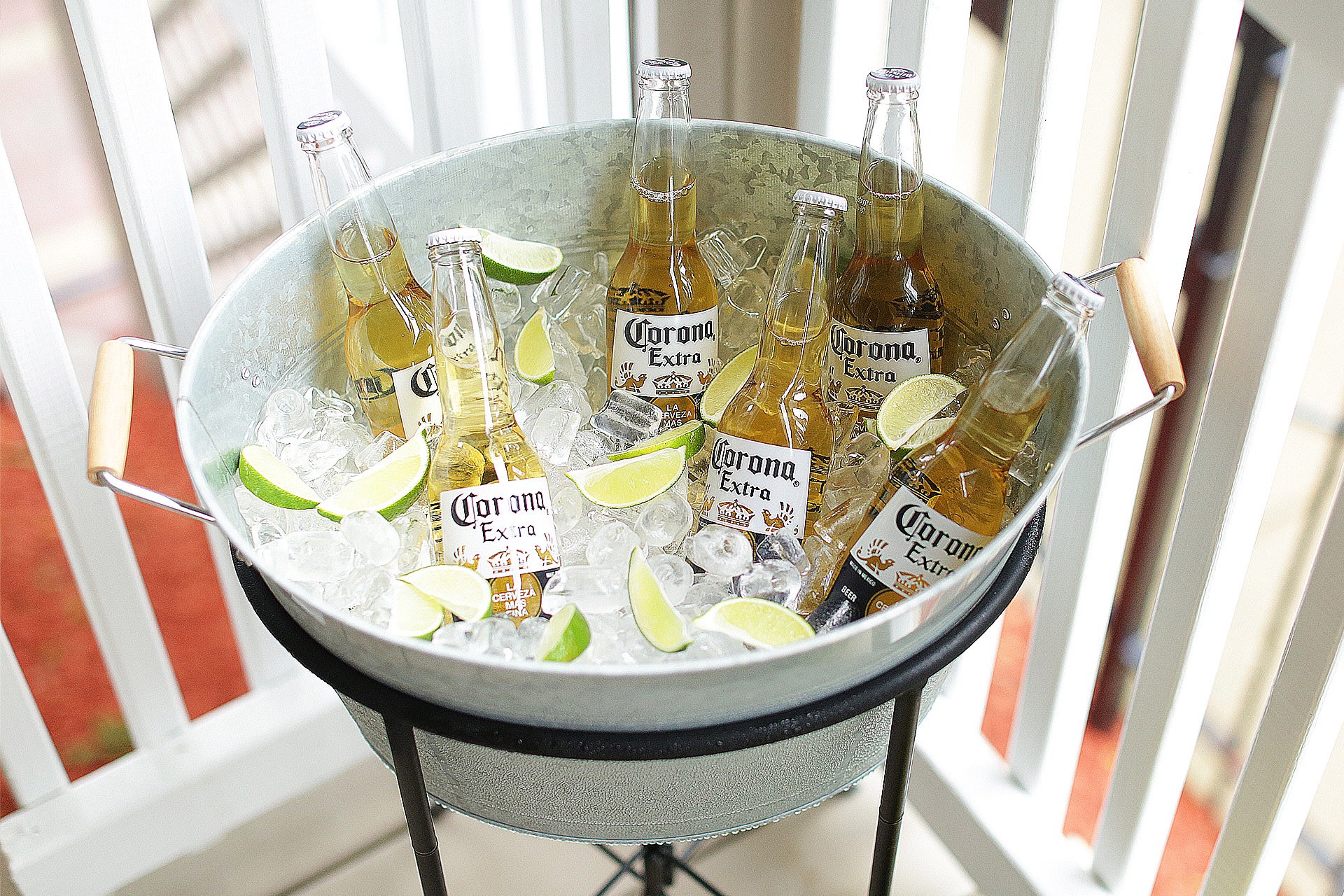 Since it's so hot outside your beer is sure to heat up quickly, but don't you worry one bit because they make glasses where you place in a frozen insert to the bottom which helps keep your beverage ice cold for almost 30 minutes. I seriously could have used this back in college while tailgating all day long. Believe me when I tell you, there is nothing worse than a warm to hot beer, nothing. The flavor is nasty and it's hardly refreshing. Do yourself a favor and pick up some of these Soiree Home pint glasses, you won't regret it.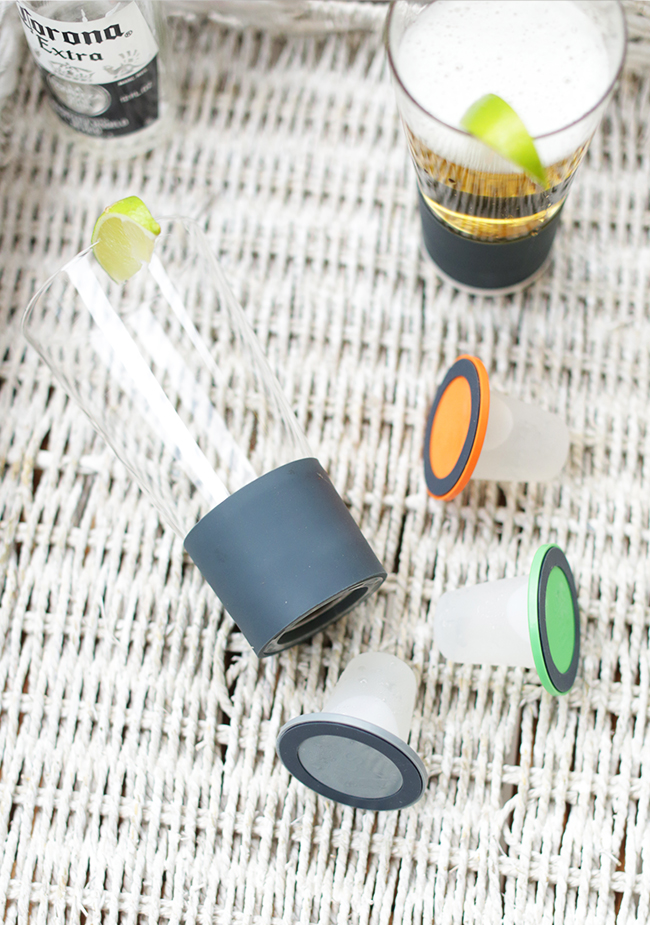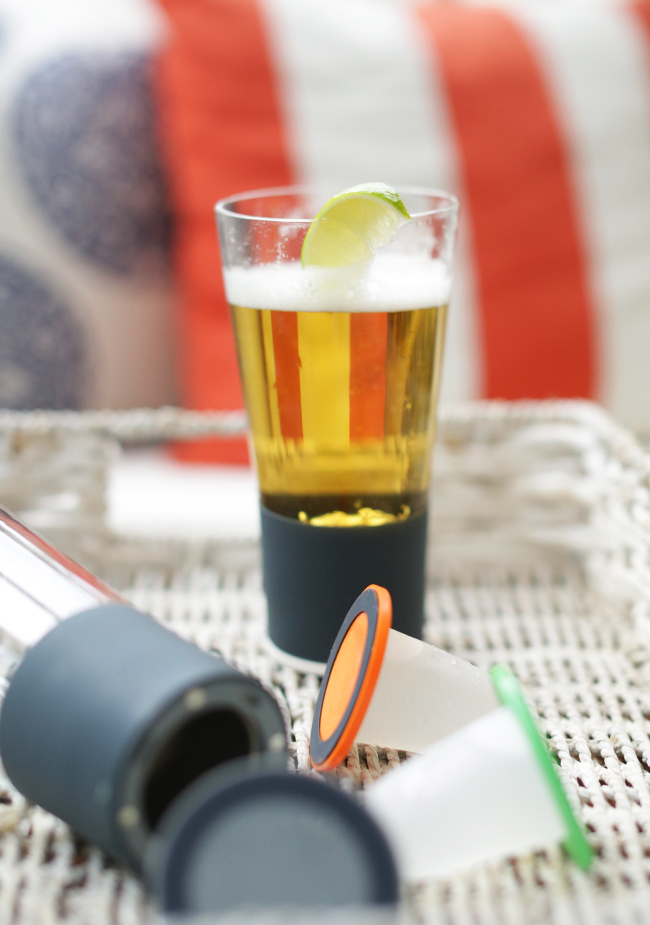 So once you've had a few beers, margaritas, peach sunsets, and a glass of wine, ok kidding, PLEASE DON'T DO ALL OF THAT!!! But seriously to have a little fun out there why not add a drinking game to the mix. Leave the beer pong table back in college along with flippy-cup because now you can literally spin a wheel to play a game of shots. It's like wheel of fortune with alcohol, cool right?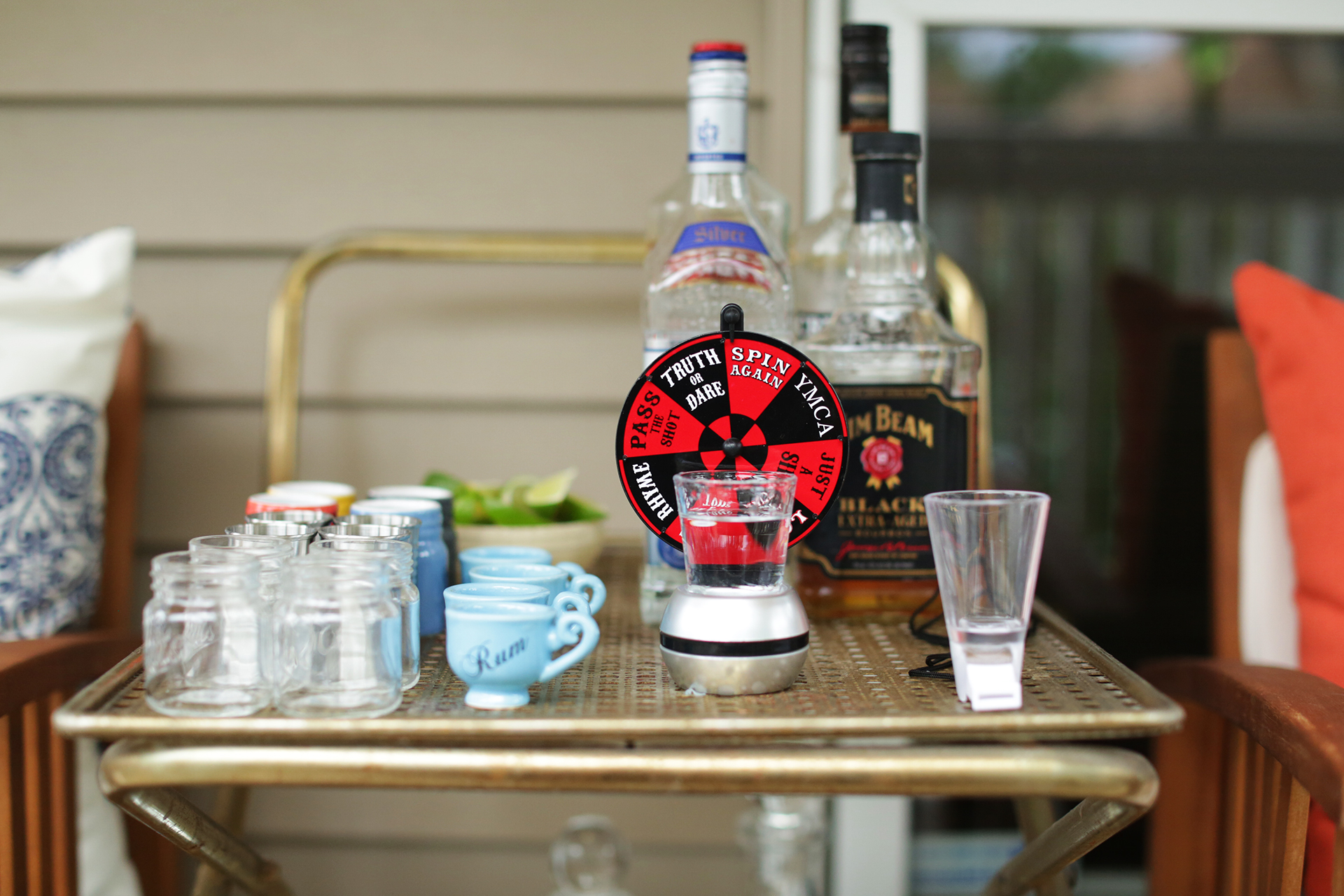 This is way fun because you have things like "Truth or dare" or "take a shot," "Rhyme" or "Pass the Shot." This thing could be dangerous but guaranteed to bring a load of laughs to your front porch!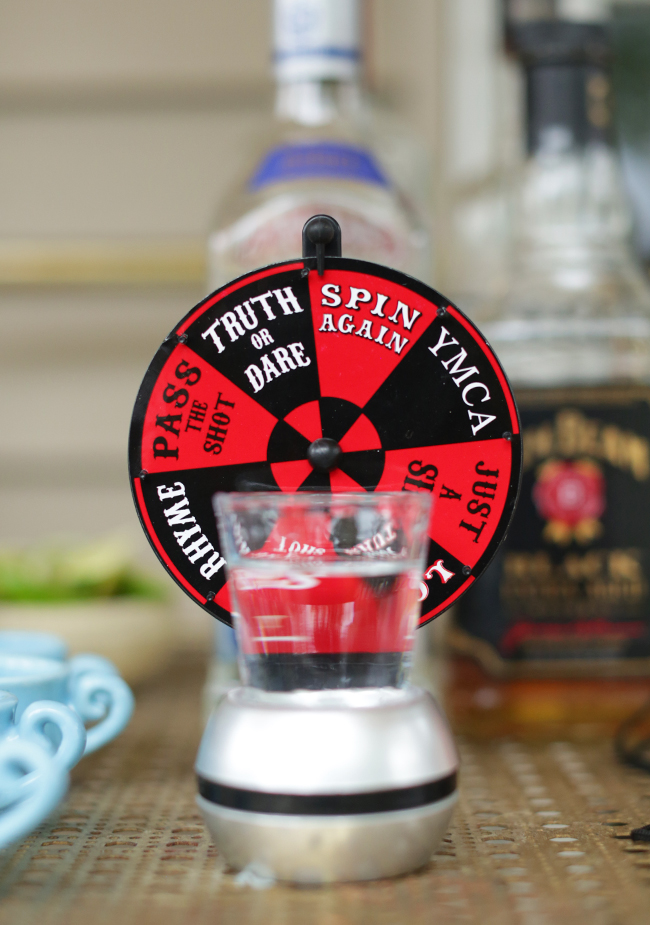 Or if you just need a shot, try blowing the whistle so someone can come fill up your necklace shot whistle with your desired liquor. Saves time 🙂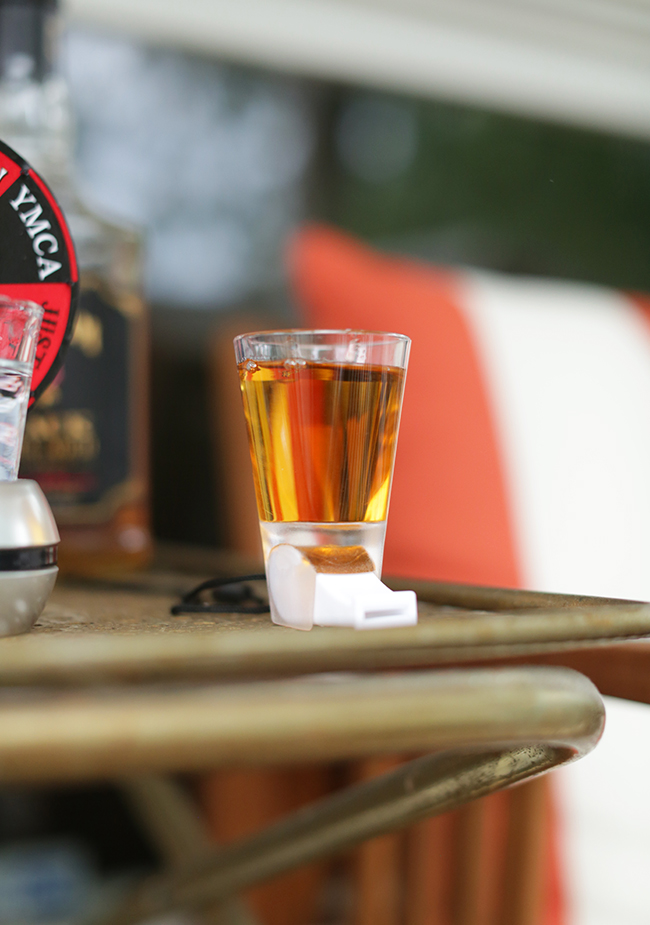 It's also really fun to have different shot glasses, so I used a combo of little glass barrels, mini mason jars, mini tin cans and tiny tea cups with the name of the alcohol that goes in them on the outside. This is such a cool way to keep your drinks separate and organized, not-to-mention add a ton of fun to your party.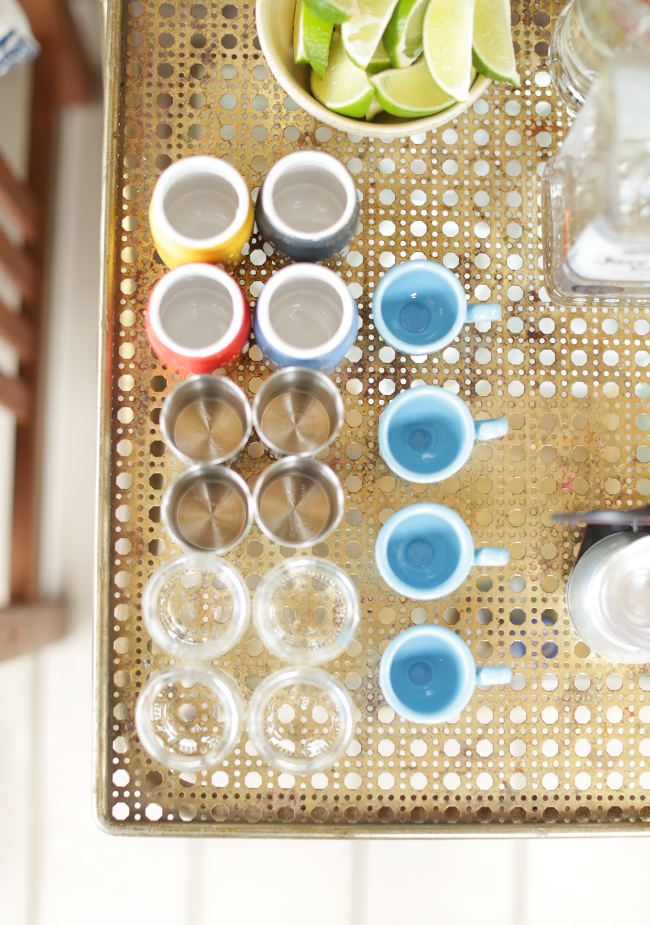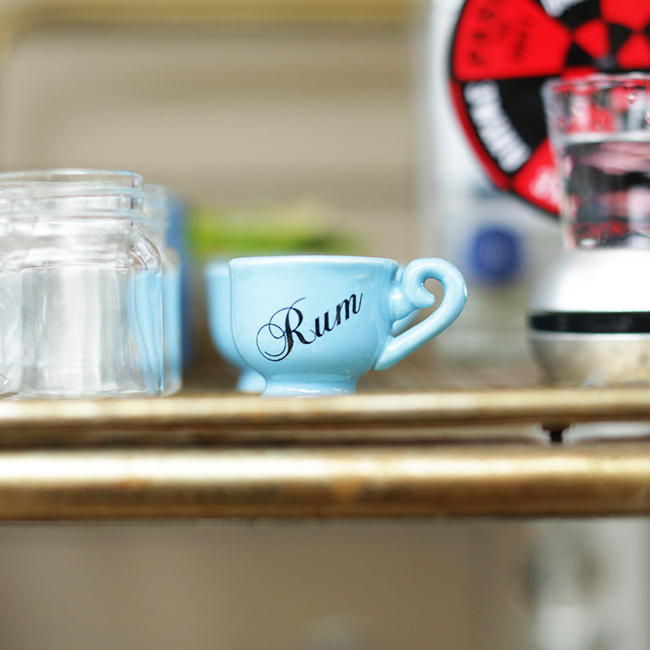 I served up all of my shots and straight liquors on a really cool old vintage drink cart that my wife had. Drink carts are for sure back in style, and while your reliving your college years playing shots truth or dare the cart will hopefully add a touch of class to your event and remind people that they can't do it like they used to so slow down.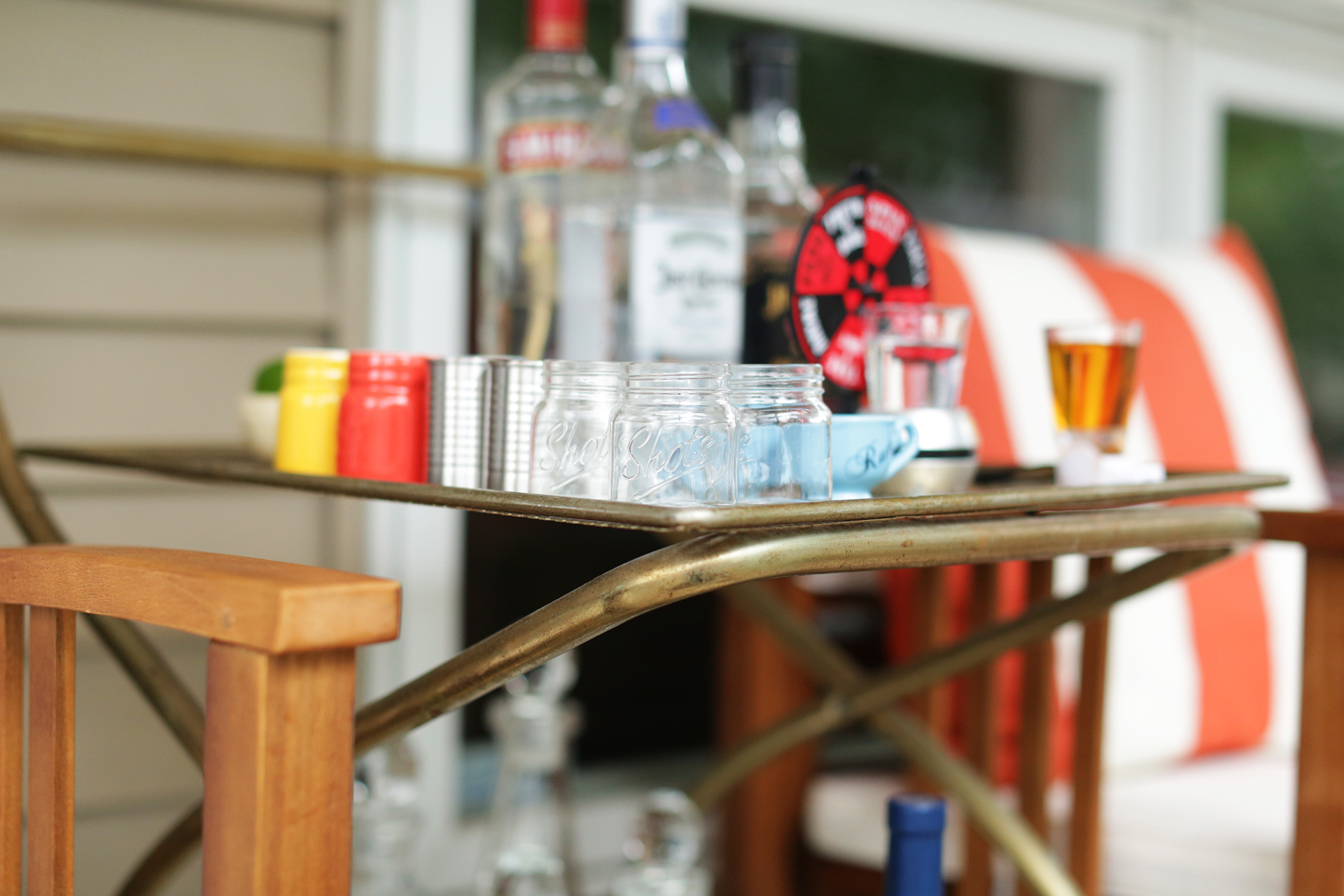 No matter if you have a big front porch, back deck, or a little area outside, all of these items will fit perfect outside to help spice up your party. Just remember parties like this are a marathon, not a sprint so take it easy and enjoy yourselves 🙂