Take Back Winter With These Family & Budget-Friendly Activities You Can Do Outside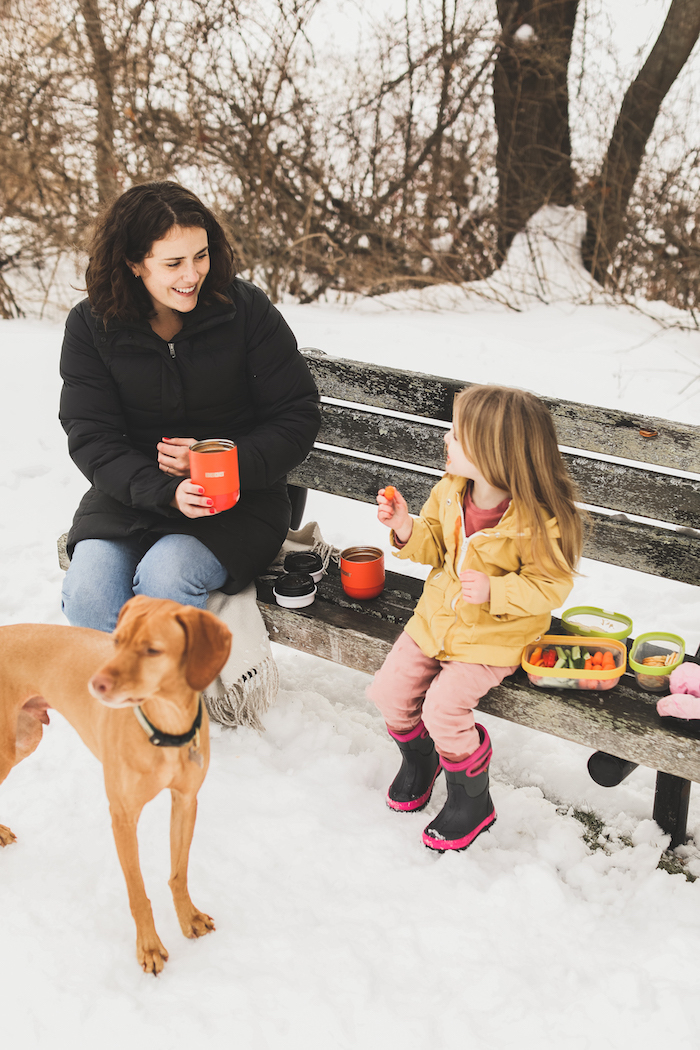 There's nothing harder than trying to come up with toddler-friendly activities in the middle of winter. After exhausting all the in-door play gyms, art centers, and quite frankly, my budget, I decided to take back winter. I too often found myself not wanting to go outside with the kids for fear of the cold and lack of inspiration. But I wanted so desperately to get back to basics with outdoor play.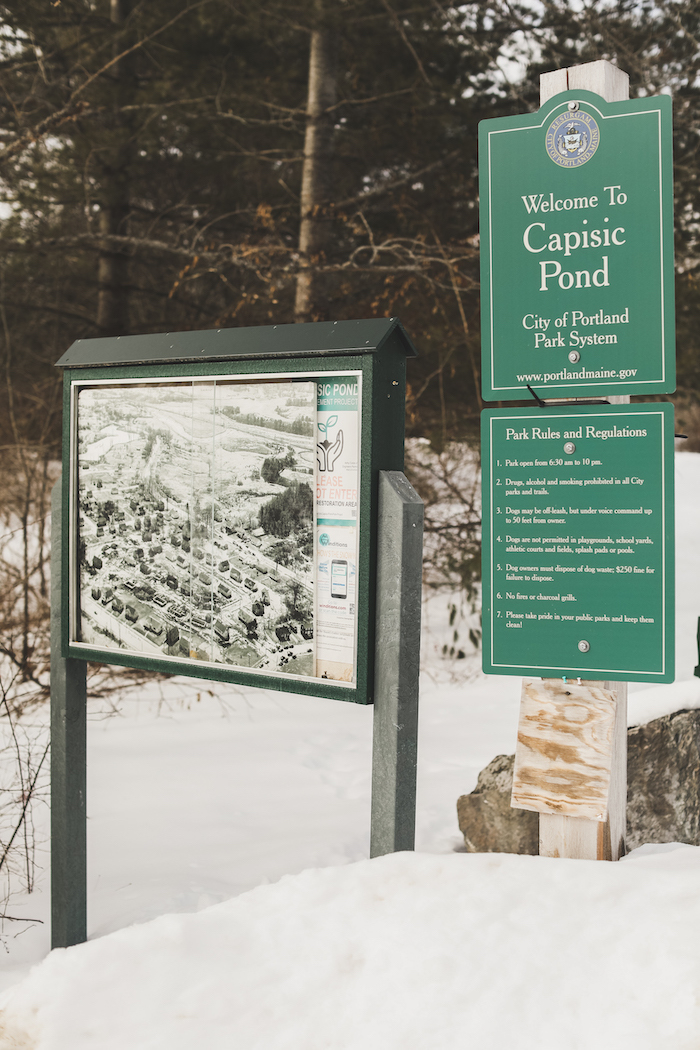 So, I asked myself, how could I make play more sustainable in February? We're lucky enough to live in Maine, where winter activities are definitely in high demand, and I want to nurture a genuine love of nature in my children. However, I recognize not everyone has access to scenic hikes and downhill skiing. Instead of writing a post about how amazing it is to live in Maine (which it is, but come on!), I wanted instead to write a post to encourage families, no matter where they live and what their budget, to get outside this winter with a few budget-friendly hacks.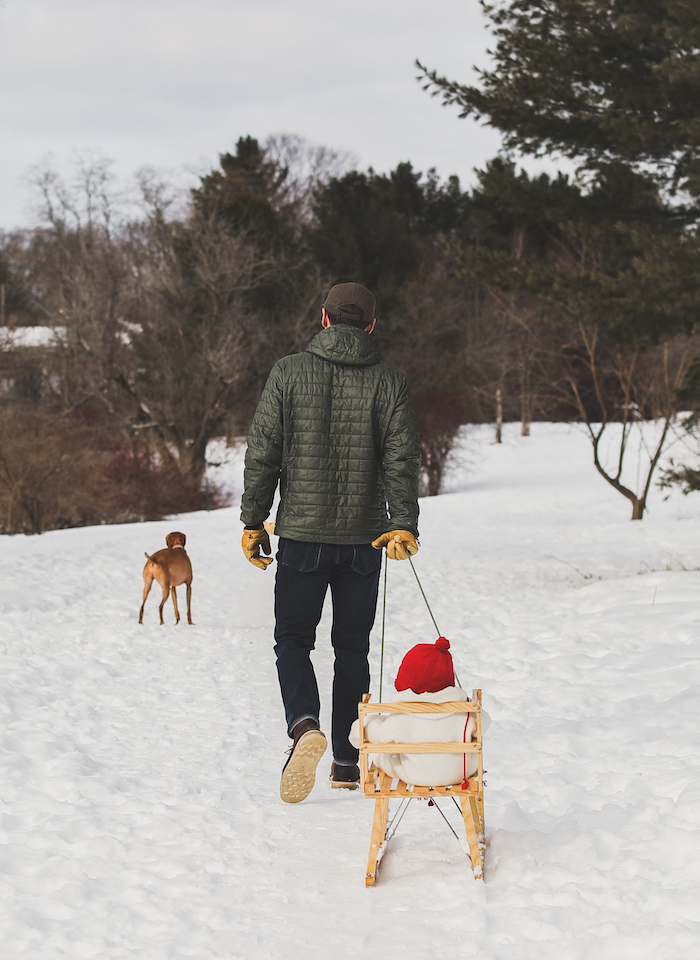 Here are three super simple ways to make, even the most basic activity, a little more exciting this winter season.
1. Pack a picnic.
Winter isn't exactly the season that screams "picnics" and I want to change that. Our fingers may be a bit chillier than they are in the summer, but packing smart lunches is absolutely the way to beat the cold. It fuels the kids to run around longer and keeps me from buying lunch while we're out and about.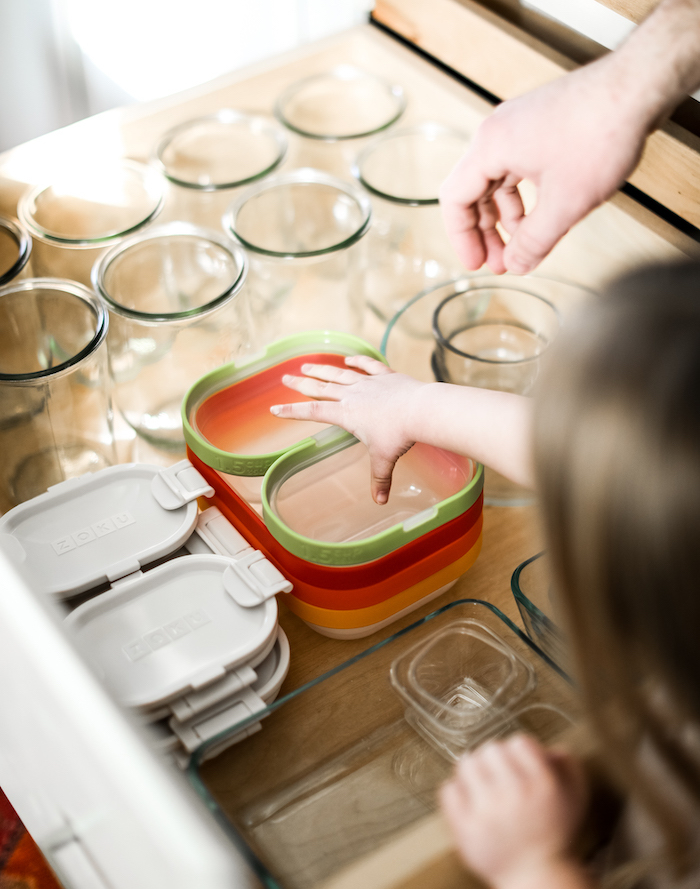 It's essential to have the right tools to make packing lunch as easy as possible, and I can't recommend the Zoku Neat Stack enough. The sizes are perfect for lunches and snacks, and they fit right into each other to nest and store, or to pack and play.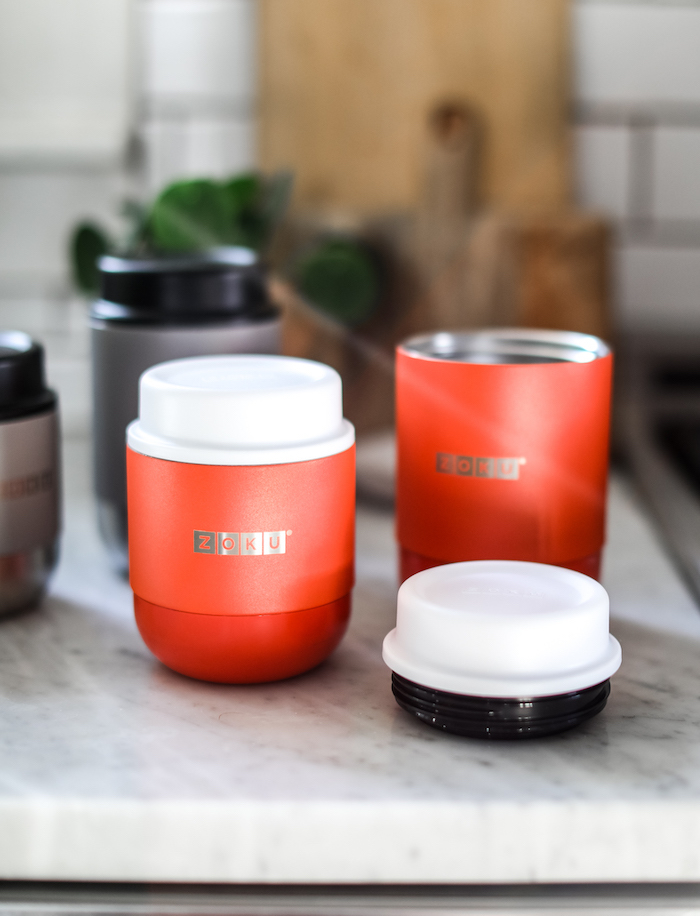 16-oz Neat Stack Food Jar

By Zoku

Shop Now
It's so important in the snowy weather to have insulated lunch containers to keep food, like budget-friendly tomato soup, warm. It makes all the difference to have a hot lunch while out playing around in the cold.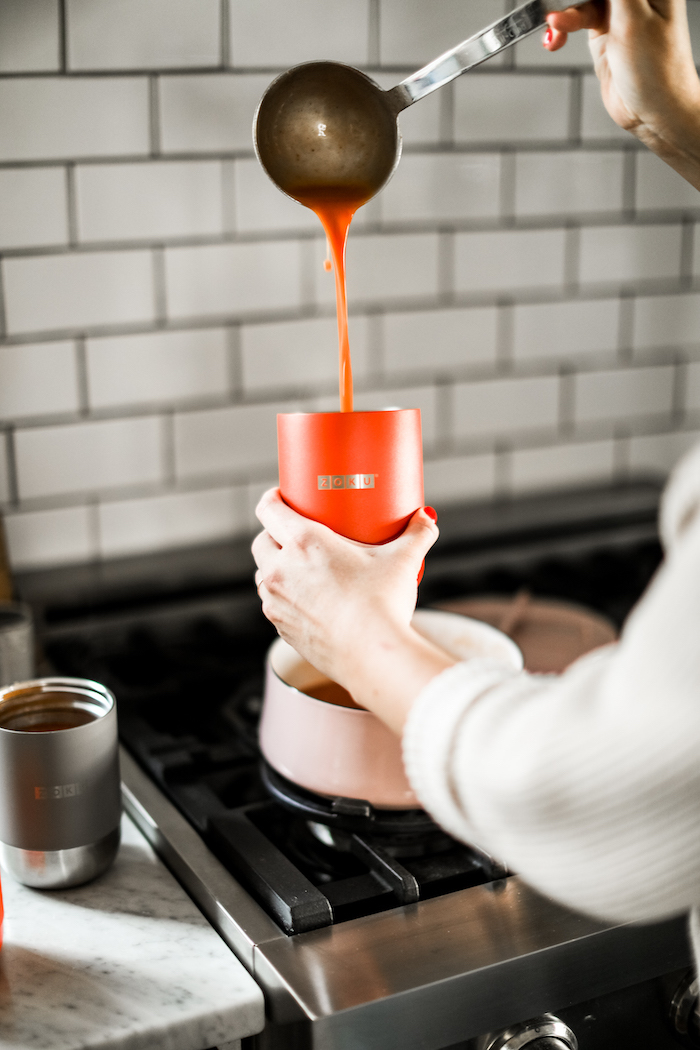 10-oz Neat Stack Food Jar

By Zoku

Shop Now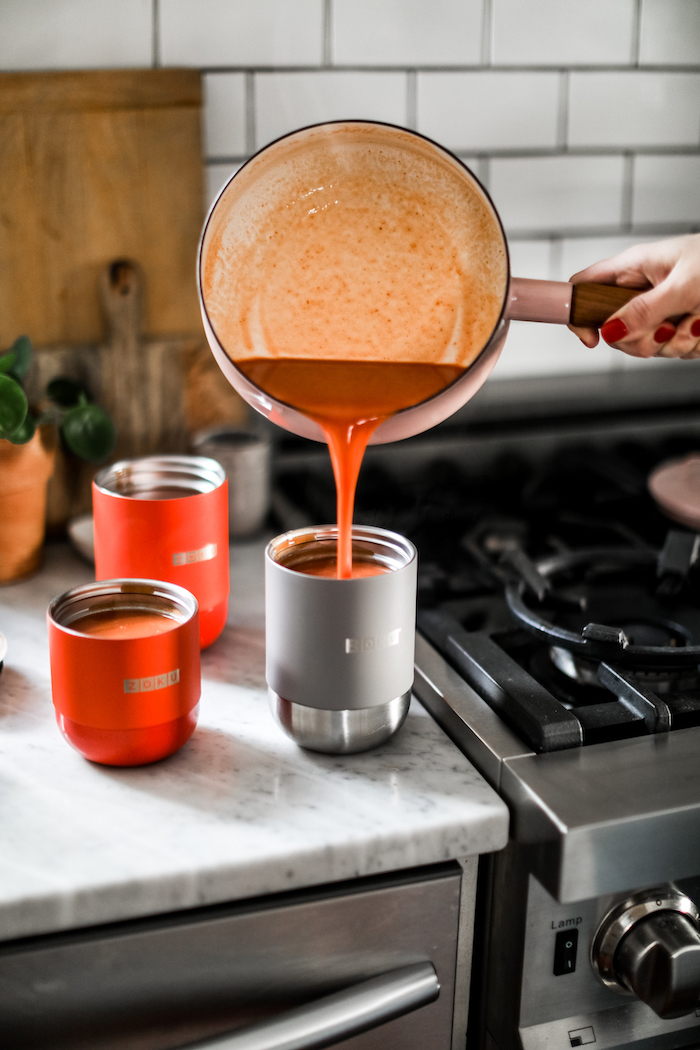 Kobenstyle Pink Saucepan

By Dansk

Shop Now
I highly recommend the following lunch & snack combinations:
A soup or a hot lunch like mac n cheese.
A dippable snack like hummus, bean dip, or dressing.
Crunchy cold fruit and veggie slices.
Crackers like pita chips or Wheat Thins.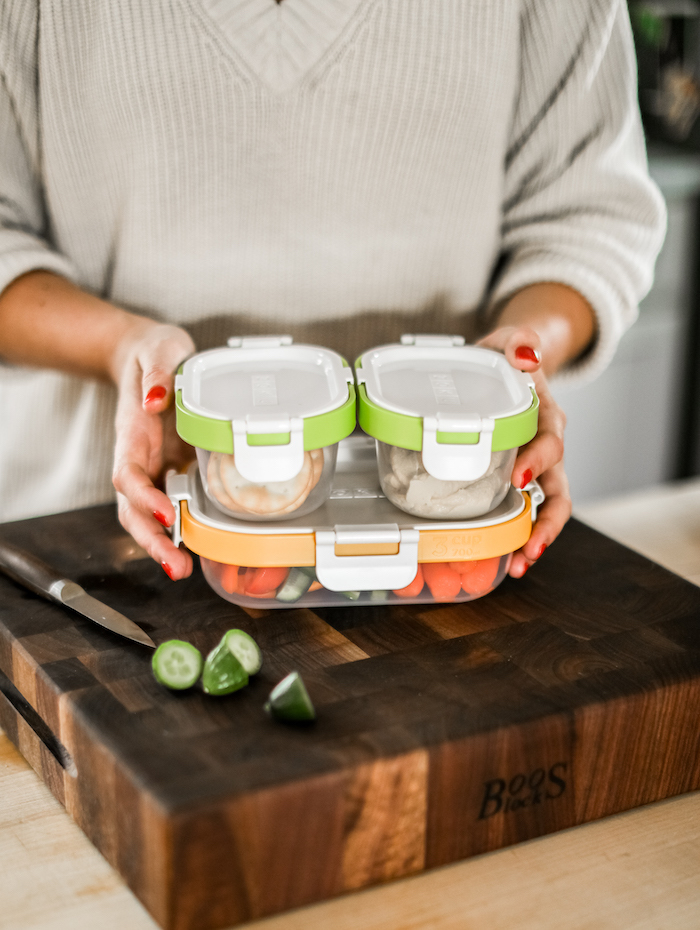 This winning combination keeps the kids interested with an array of flavors, temperatures, and textures while providing a lunch that keeps their energy up. A must for winter play.
2. Find free activities.
Next, think "free". While there are plenty of activities to participate in during the cold months, most of them come with a pretty hefty price tag. Make a list of outdoor areas in your town. Don't be afraid to Google search or ask around.
Here are a few activity ideas:
Skating. If you don't have a neighborhood pond, maybe there's a reduced rate at your local rink. Try Goodwill or thrift stores for expensive skates.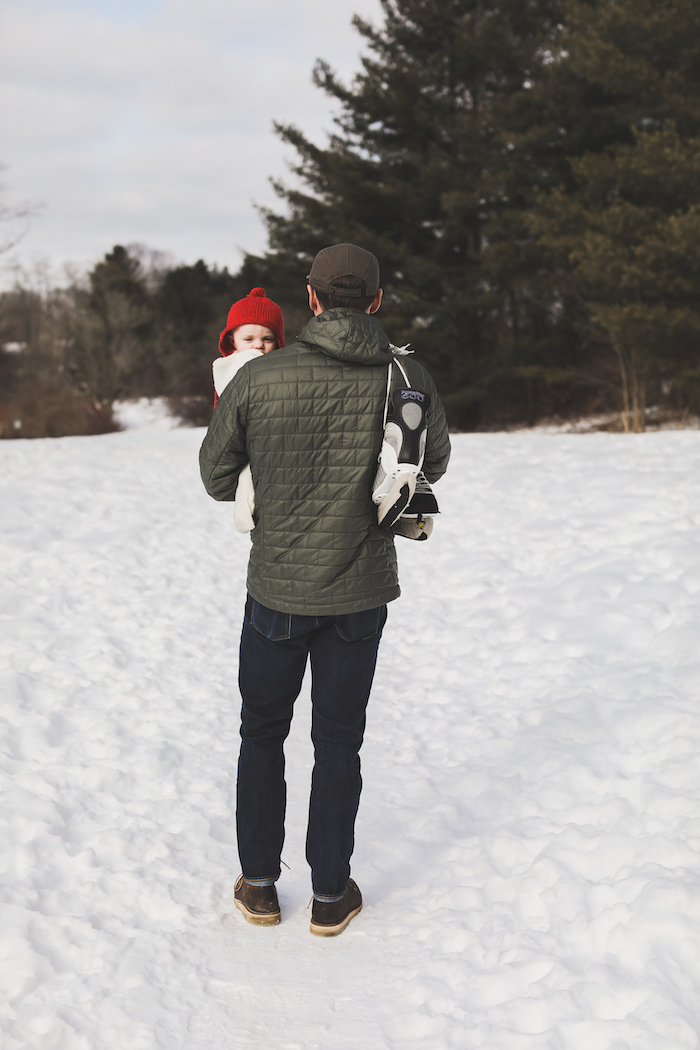 Snowball Fight: Try bringing food dye and making it technicolor.
Sledding. Sleds don't have to cost a fortune (break down a big box!) and are a great way to get the kids moving and laughing. Any small hill can produce enough thrills to keep kids playing for hours.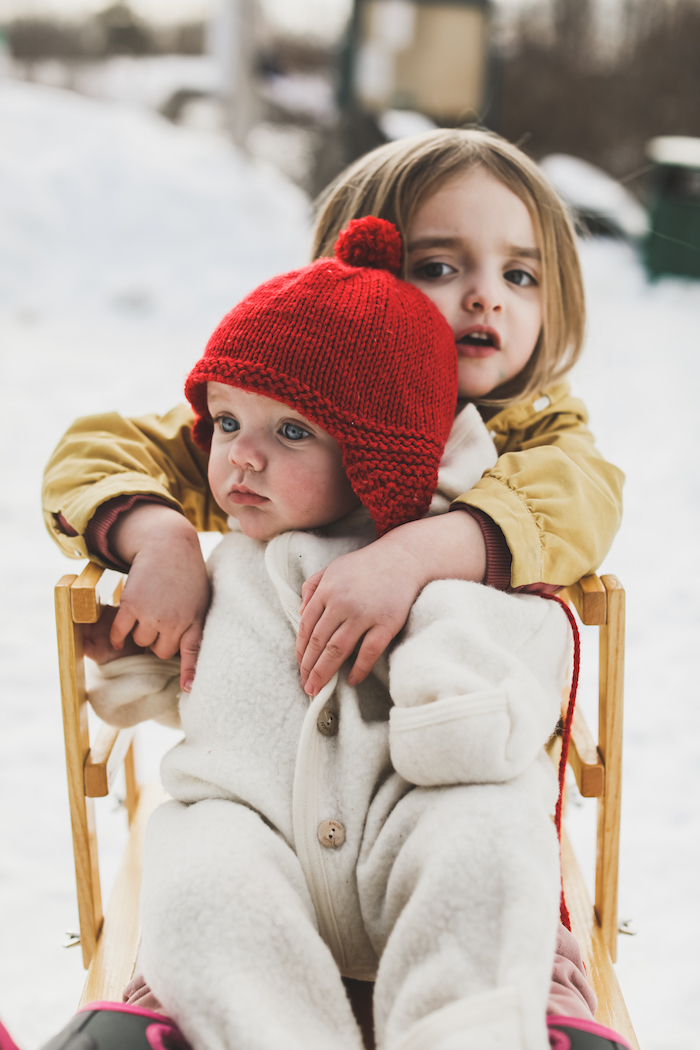 Nature Hunt: Pick a theme and take a nature-spotting walk. Maybe take binoculars and a note pad for an extra special experience.
Build a Snow Family or Snow Fort: Moving snow around is no light task. Building anything out of snow is sure to get the kids' energy out and can happen in any size yard.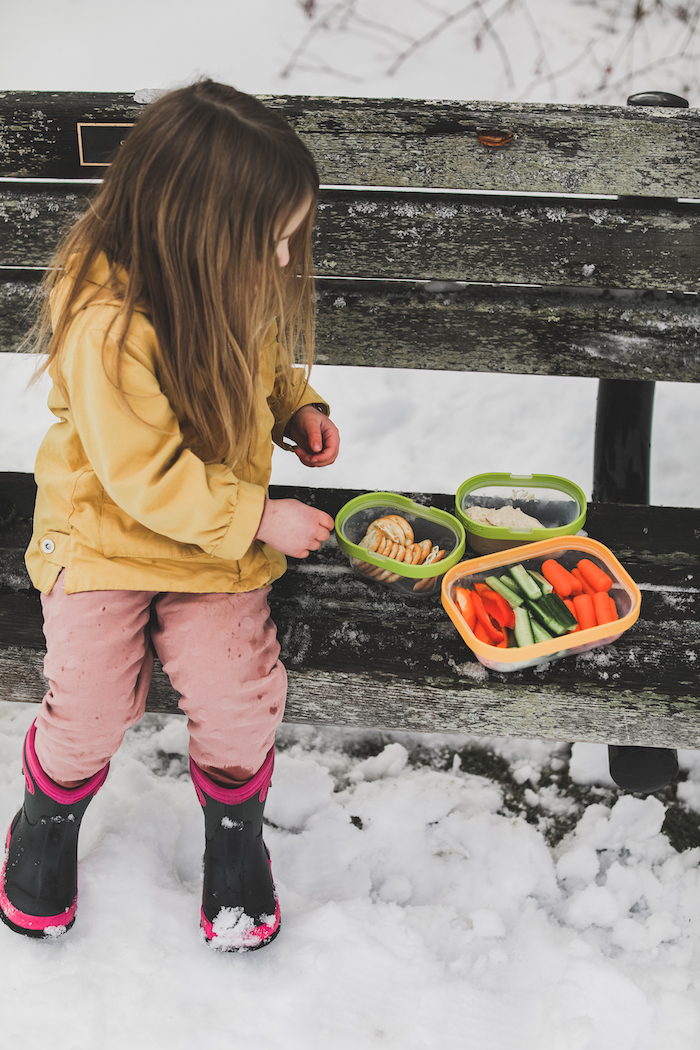 Playgrounds: Most playgrounds stay open year-round, and as long as there's no ice or dangerous conditions, go on and play! I recommend.
Science experiments: Pinterest is an excellent resource for age-appropriate science experiments. The cold weather can provide so many unique opportunities for curiosity and discovery – hello freezing water!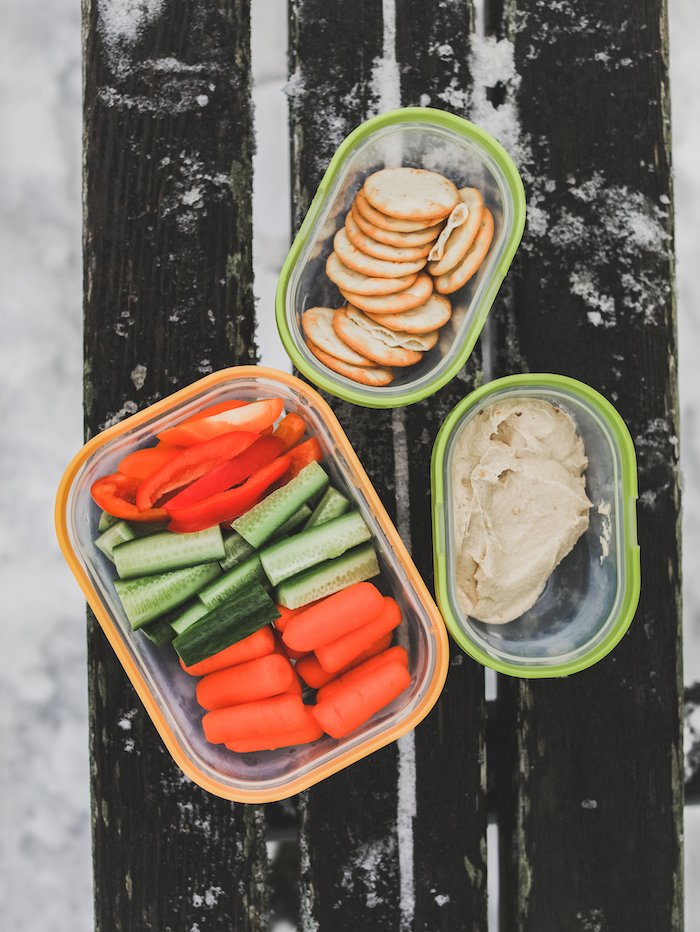 Thrift store inspiration: I mention it above, but go to your local thrift store to stock up on cold-weather essentials and picnic blankets to keep in your car or closet. Roam the aisles for inspiration on activities or DIY games and creations that will keep the kids excited to play out in the cold.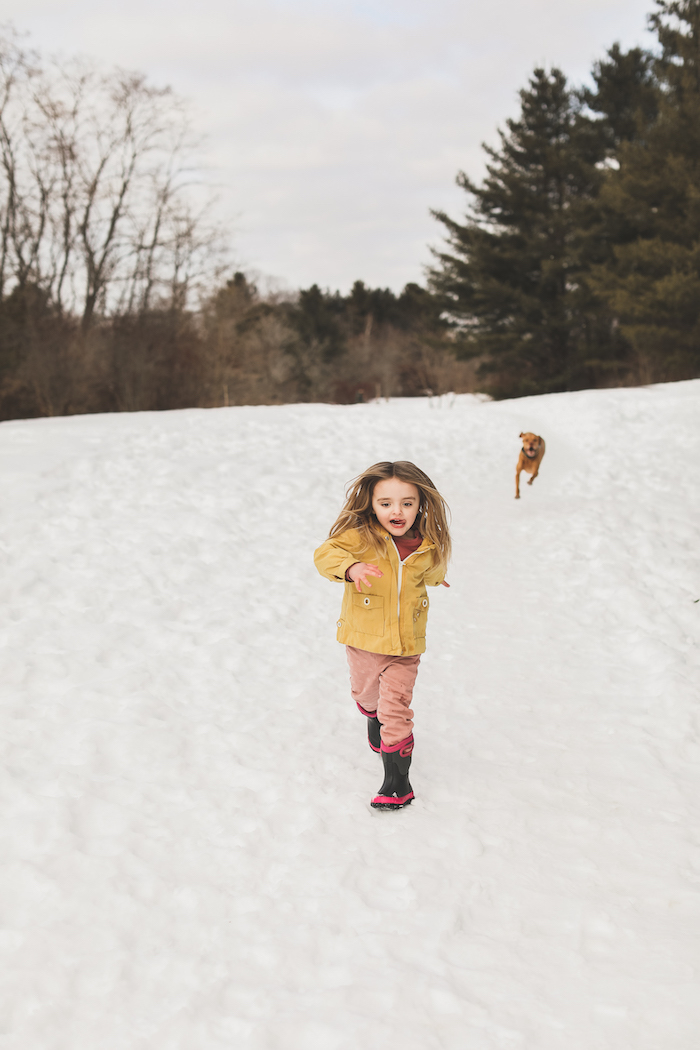 3. Thermoses.
Nothing ruins outdoor play like getting cold. While snow gear is, of course, an essential, packing a warm drink will hit the spot and extend the fun. Pack hot cocoa for the kids and coffee for the parents.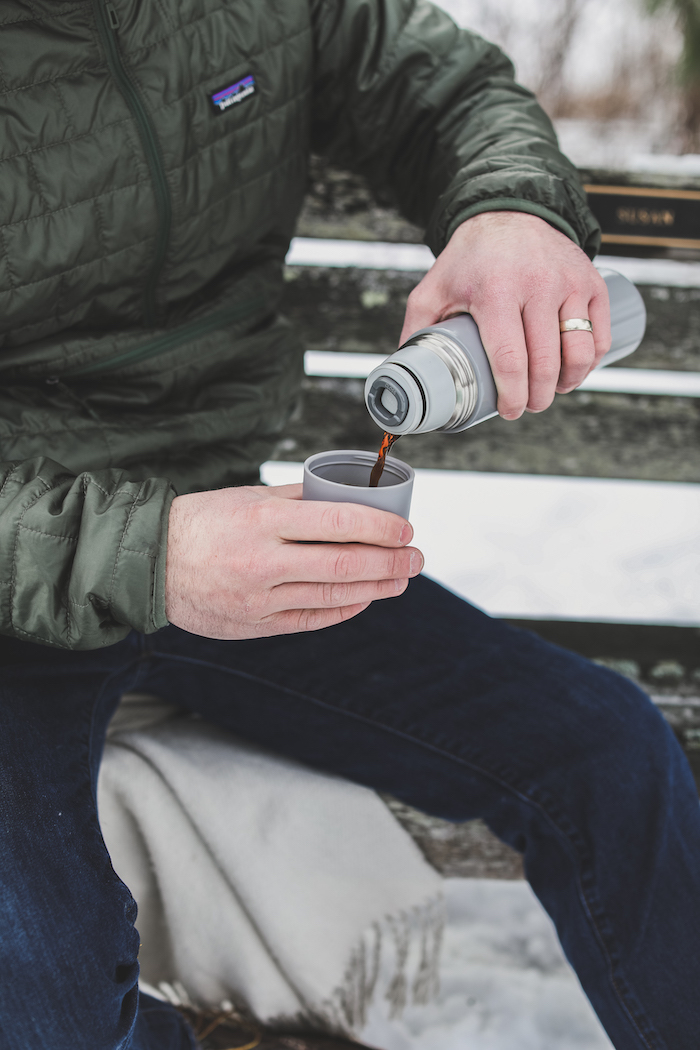 Leo Stainless Steel Thermos

By BergHOFF

Shop Now
We have one in every style from Berghoff and not only are they super functional, but they're also aesthetically pleasing, too. After lunch and lots of play, cap off the day of fun with a yummy drink that warms the body and soul.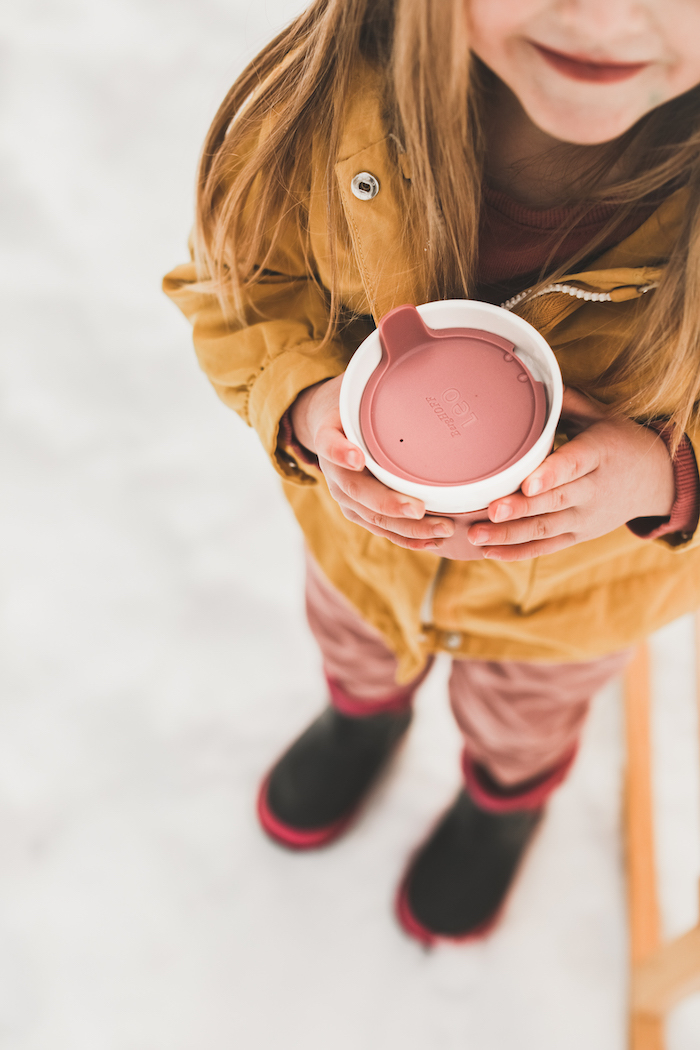 Porcelain Travel Mug

By BergHOFF

Shop Now
As a mom to a toddler and an infant, I find it all too easy to get stuck inside all winter. While the library is always free, not many indoor activities are and that can be a huge budget-drain.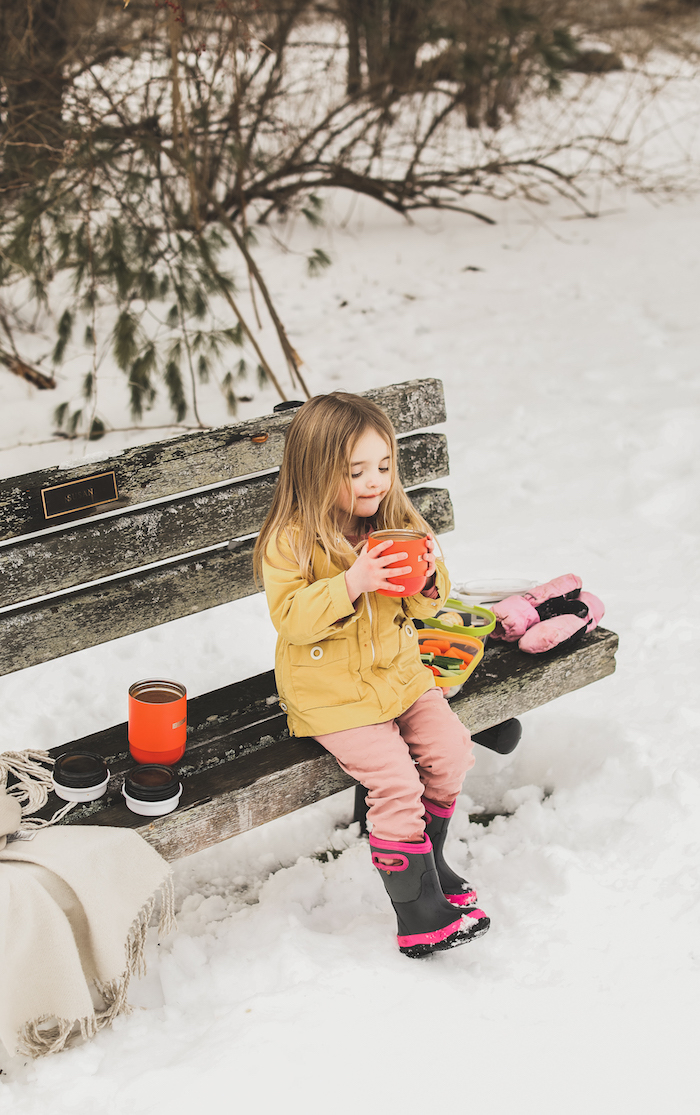 I experimented with what exactly it took to get outside more and it was actually quite simple and revolved around some food and creativity.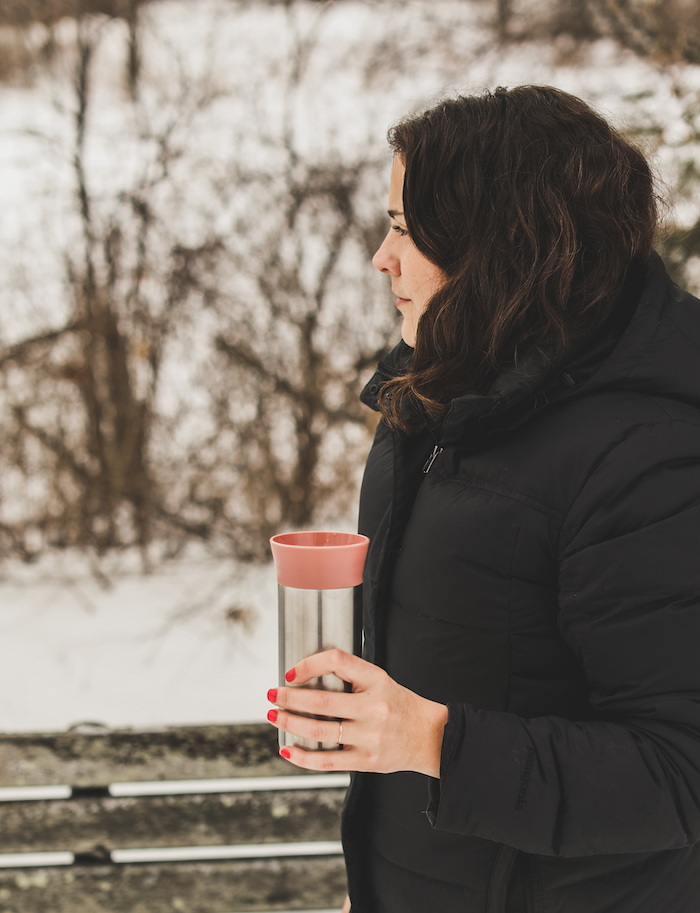 Leo Stainless Steel Pink Thermal Mug

By BergHOFF

Shop Now
I hope this post provides just the right kind of inspiration for you to take back winter with lots of picnics and play!