7 Products to Help You Keep Your House Clean, Even If You Have Pets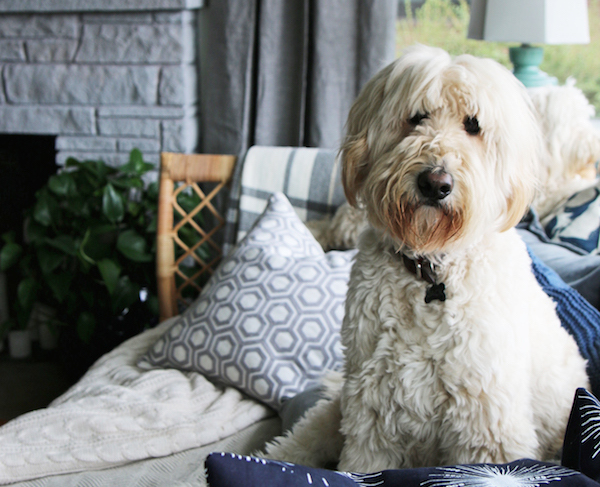 Keeping your house clean is one thing but keeping your house clean when you have pets, that is a whole other story. Today, I want to talk to you about some of my absolute favorite products for living at home with pets, which will make your life a lot easier.
We have two beautiful cats, Malee and Paislee. Malee is a Siamese Himalayan mix, which means she sheds a lot! I need to constantly make sure that the floors are vacuumed so that I'm not bringing in cat hair all the time or wearing it like an accessory. Now, I don't like vacuuming particularly, which is why I have the Neato Botvac Connected robot vacuum.
There are so many reasons to love this particular robot vacuum but I'm going to tell you a few of my favorites. First of all, it's got this brilliant D shape to it. A lot of robot vacuums are circular which means they can't effectively get into corners but this D shape allows it to get right into those edges. I also love that it's so easy to operate and it's Wi-Fi enabled, so you can effectively vacuum with the flick of your phone. If you don't have Wi-Fi, don't worry, you can just press the button and let it go and you can even schedule cleaning. So, you really can set it and forget it.
Dexas is always coming up with smart solutions for pets. The first one I want to talk about is the Collapsible Klip Scoop. It keeps your pet food fresh with the little chip clip on top and then, when you are ready to feed your dog or cat, you just pop out the little container, you scoop out the food and you clip your bag right back up. So, it's a really one-and-done solution.
Then there is the Mud Buster. I don't have dogs and I don't let my cats outside but if I did have a dog, I would definitely want to use one of these. It's this really cool paw cleaner. All you have to do is fill it with some water and then, you take each paw and you just quickly stick it into this container, give it a little swish and then, pull it out and towel dry the paws. It will help get rid of mud and dirt and debris very quickly and to be honest, it does feel pretty nice! If I were a dog, I would love this thing.
With pet hair, you also get pet dander, which are those tiny little dandruff flakes that come off of your cat or your dog; it honestly making me sneezy just thinking about it because I happen to be allergic to cats. A great way to make sure that my allergies are kept at bay is to have an air filter. The Blueair Classic 405 Air Purifier has a lot of great features. This is another smart product since it's Wi-Fi enabled, meaning that you can control it from your phone and you can also monitor indoor air quality directly from your phone. There's a little app and it kind of tells you what's going on indoors. So, you have people coming over or if you yourself suffer from allergies, you can make adjustments as needed.
It also has a HEPA filter. If you're not sure what a HEPA filter is, it is the best quality filtration that you can possibly get. So, anytime you're buying something that's designed to clean air or remove allergens from the air, you always want to make sure that you have HEPA on your side. Many filtration systems are loud which is why a lot of people don't like having them at home but the cool part about this one is, that it can get your air nice and clean while being really, really quiet. This is a really great choice for a midsize room. It cannot only clean the air but it will do it without you knowing.
I hate to break it to you but if you're a pet owner, you're probably going to end up with a pet stain and it's probably going to be in the place that you least wanted it. So, enter Urine Off. Yes, it's pretty obvious what it does. I've dealt with this myself, not fun, but having a product that actually works is really important and urine off is an enzyme cleaner. This product really works. It also comes with this little CSI style LED light so you can use it to actually find any of those hidden, you know, mistakes, accidents, whatever you want to call them. It's a very, very helpful product. You can use it on fresh stains, old stains, carpet and hard floor surfaces. The enzymes are designed to specifically attack pet urine, which is what you really need, when you're dealing with that stain because of course, if you don't clean it, you're going to get a reoffender.
When I leave the house, oftentimes, I am wearing my cat lady badge of honor, which I am not overly proud of, and that's a copious amount of pet hair. So, I have come to keep lint rollers in my car, in my purse right at the front door. I use them to clean up more than just my clothes, including sofas, upholstery or anything that needs a quick once over because pet hair really does get everywhere! The thing I love about these particular lint rollers, made by Vanish, is that they have zeolite minerals contained within the actual lint rolling papers and what that does is helps eliminate odors naturally. I love that because not only is it removing hair, but also it's removing pet smells and the coolest thing is, they have one that you can use for larger applications and extends up to four feet, so that certainly comes in handy.
Vanish also has the Brush N' Buff Glove and it's perfect for cleaning up loose hair, for brushing your pet, and also for bathing. Although I would never risk bathing a cat but you can certainly use it if you have a dog. It's got these nice silicone little fingers on there that feels really good when you're combing your pet and of course, it's very easy to clean.
I've used all of these products and they have definitely made cohabitating with a pet a lot easier. I hope they help you as well. I'd love for you to leave me a comment and let me know: What is your biggest pet challenge? I have pets, I know what I go through and I'd love to see what you guys go through. I hope you try out some of these products and love them as much as I do.
Lead Photo: The Inspired Room