Falling for Fall Party with Mini Sage Grilled Cheese & Pumpkin Soup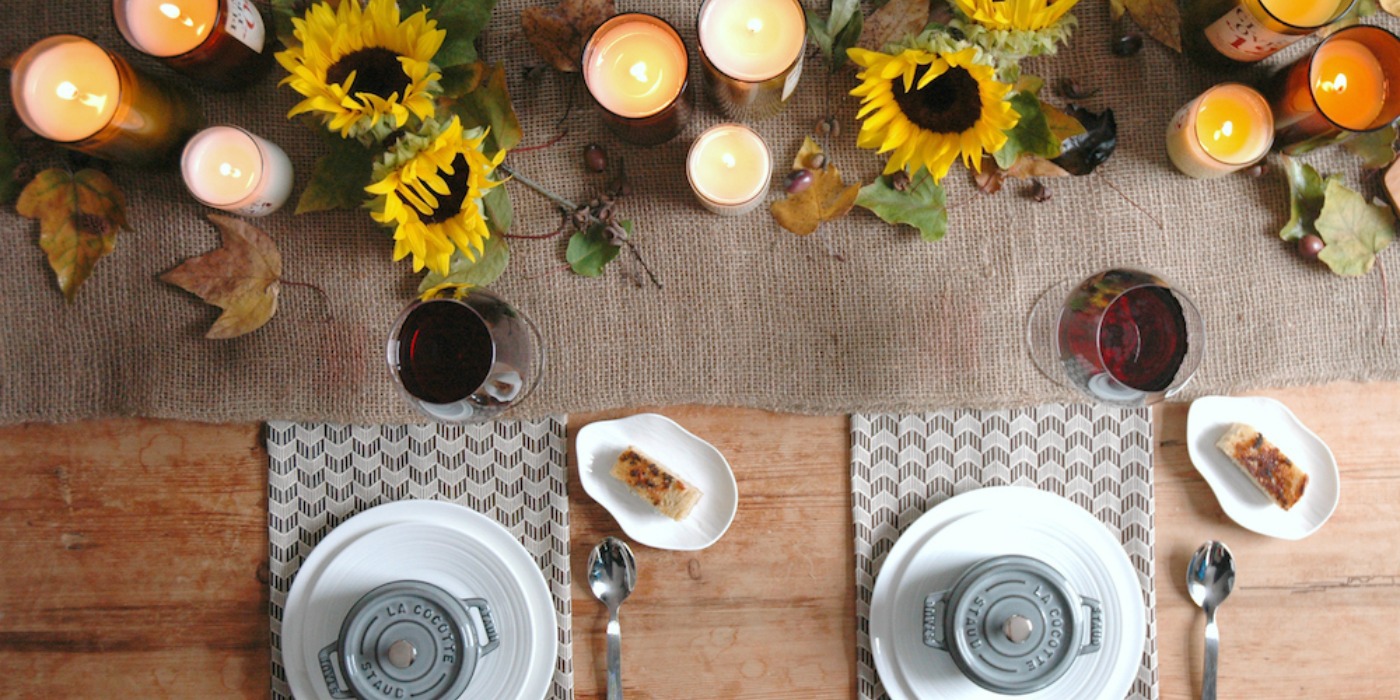 Fall is a season for falling – falling leaves, falling temperatures and for me, a time to fall back in love with your home. What better way to reconnect than to set the table, light a few candles and invite friends to gather around for a casual late afternoon meal of seasonally inspired comfort food – Pumpkin Soup and Mini Sage Grilled Cheese Sandwiches.
The elements for this table, like the menu, are inspired by the beauty of nature happening outdoors. Well, actually more than inspired. Leaves of all colors and acorn adorned twigs can be found right in your own backyard or collected on an autumn hike in the woods.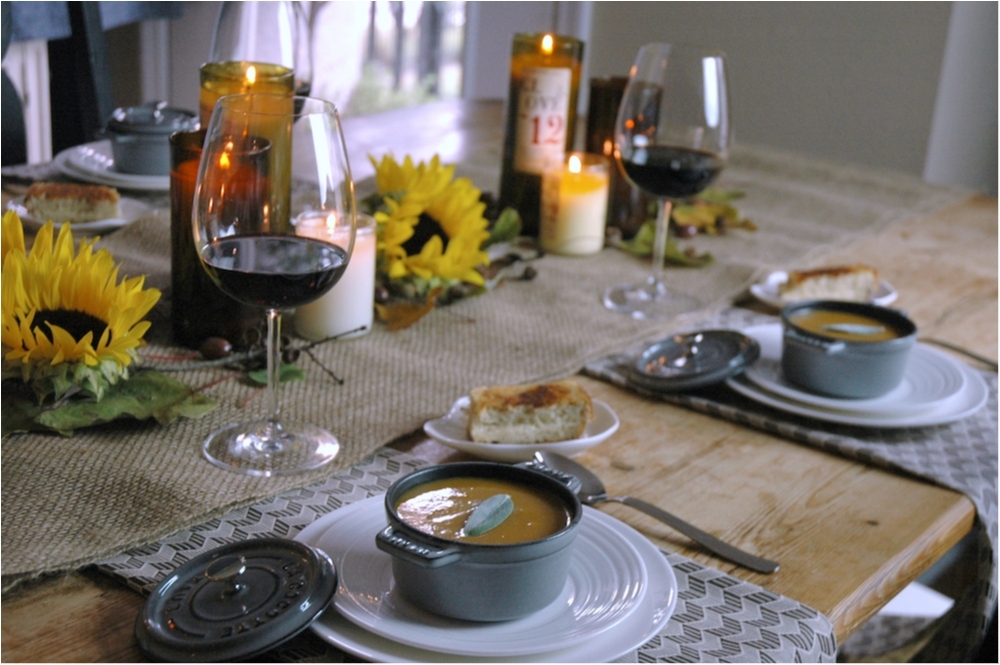 Begin by placing a burlap runner down the center of your table, top with candles of various sizes — the autumn collection from Stone Candles adds not only ambiance but also the classic fall scents of nutmeg, spice and clove — then casually spread your found elements on top, and fill in with the last of the sunflowers to create a long centerpiece to appeal to all of your guests' senses.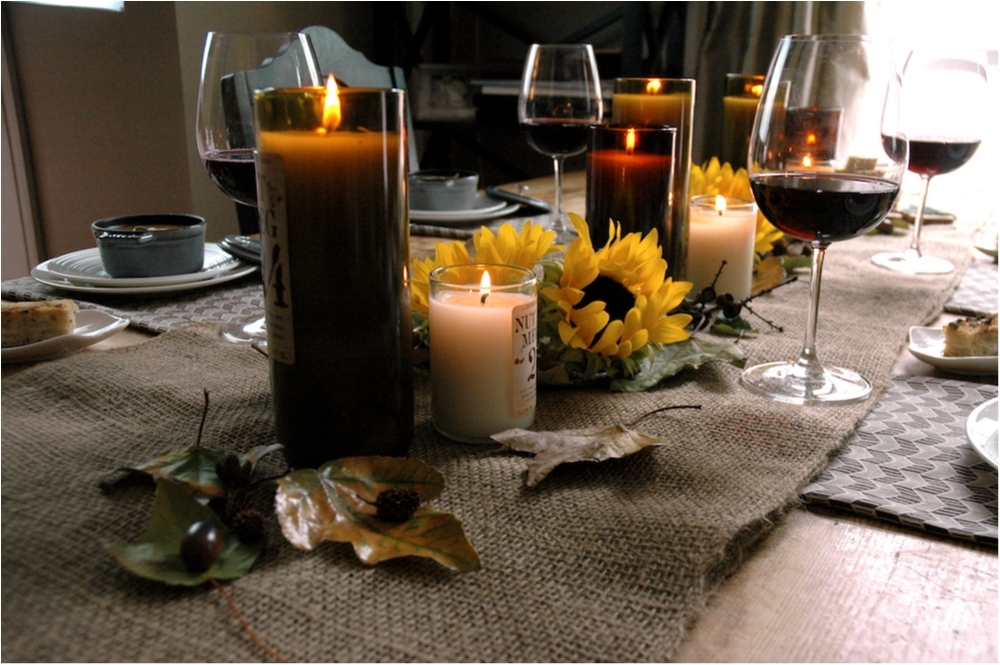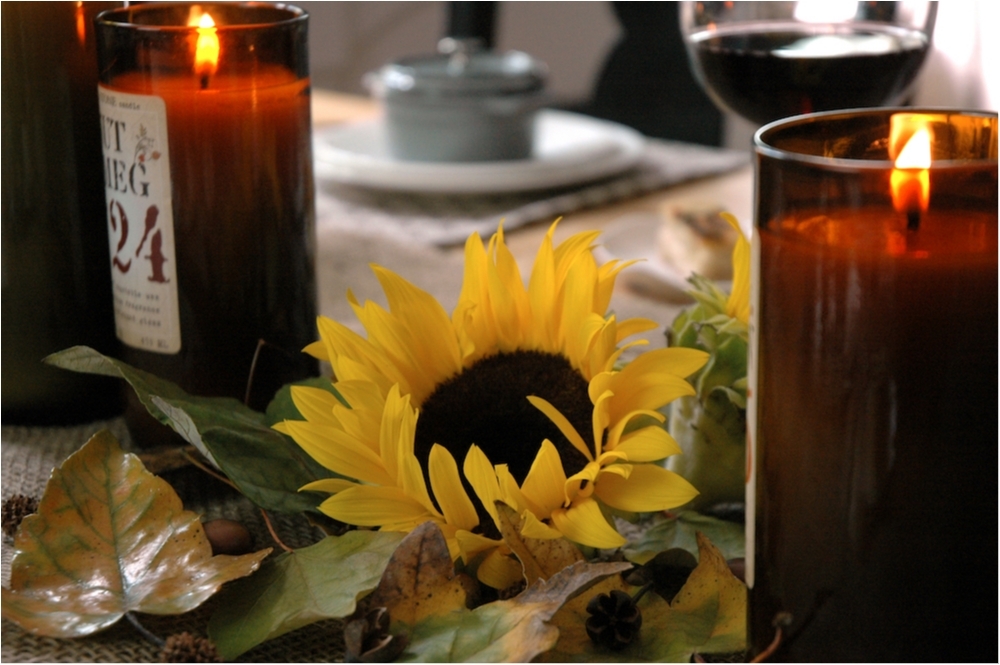 Rather than chargers, which could make this table feel more formal, use oversized napkins or hand towels to mark each placesetting. I fell in love with these kitchen towels from Design Imports and knew they had to be the star of my fall table as soon as I saw them. Feel free to mix and match patterns but try to keep the color palette consistent so the effect is calming – for this gathering we want people to linger at the table sipping wine and sharing stories.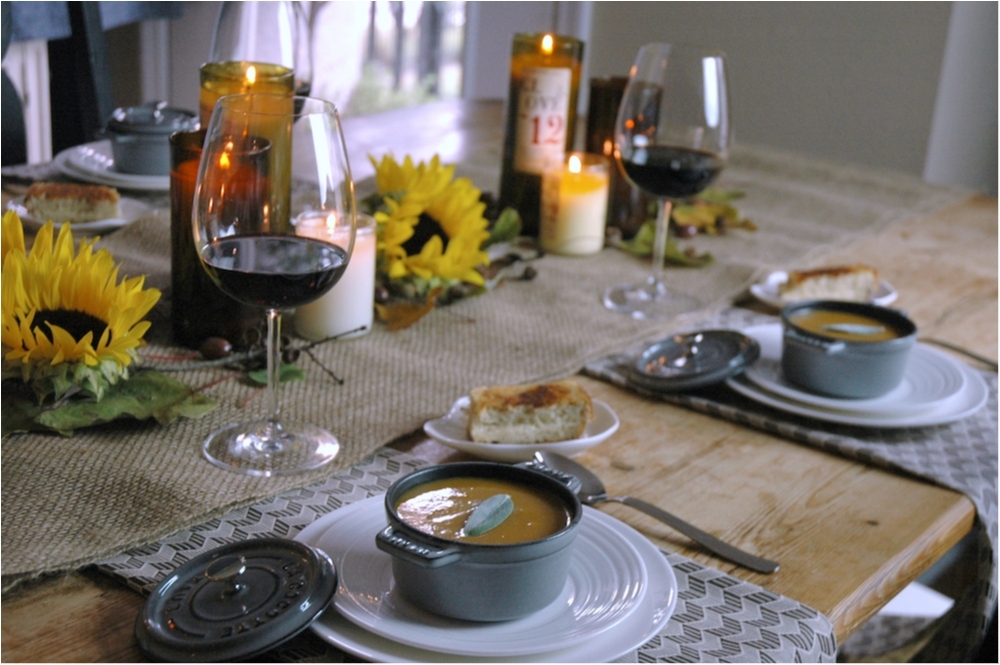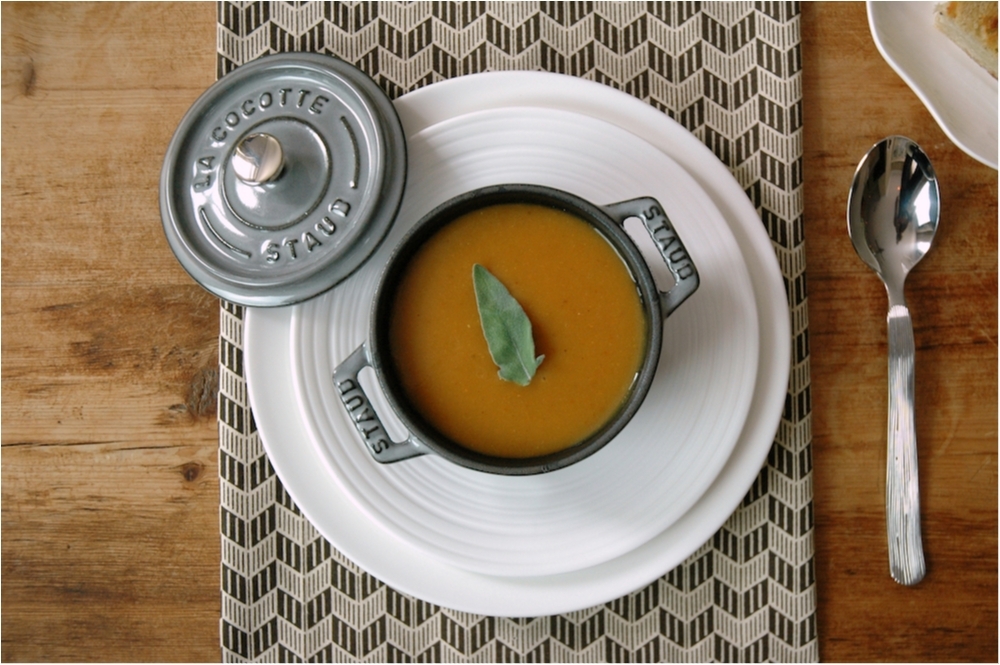 Staub Mini Cocottes are the perfect vessel to serve your pumpkin soup in as you can warm them ahead of time to keep the soup warm. To protect the table and linens from any small drips and to add height to your placesetting stack two white plates below the cocotte, then place a small side plate for the mini sage grilled cheese sandwiches at each setting just off to the right above your flatware. If you are able, keep in the natural theme going and select patterns that have organic details like the Ten Strawberry Street appetizer plates and Hampton Forge Birch Flatware, to enhance the rustic feel of your tablescape.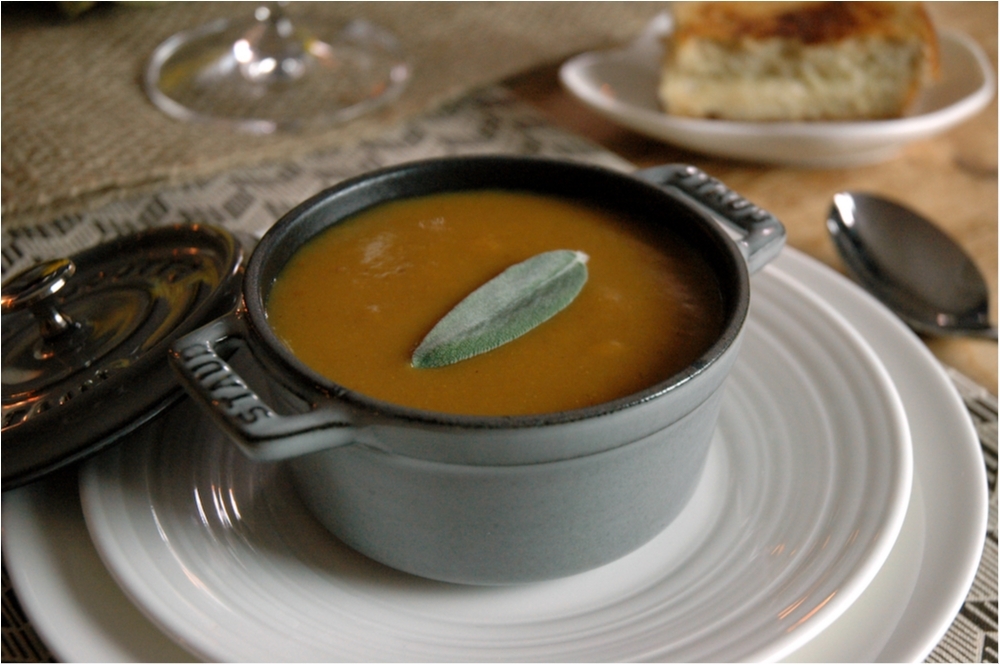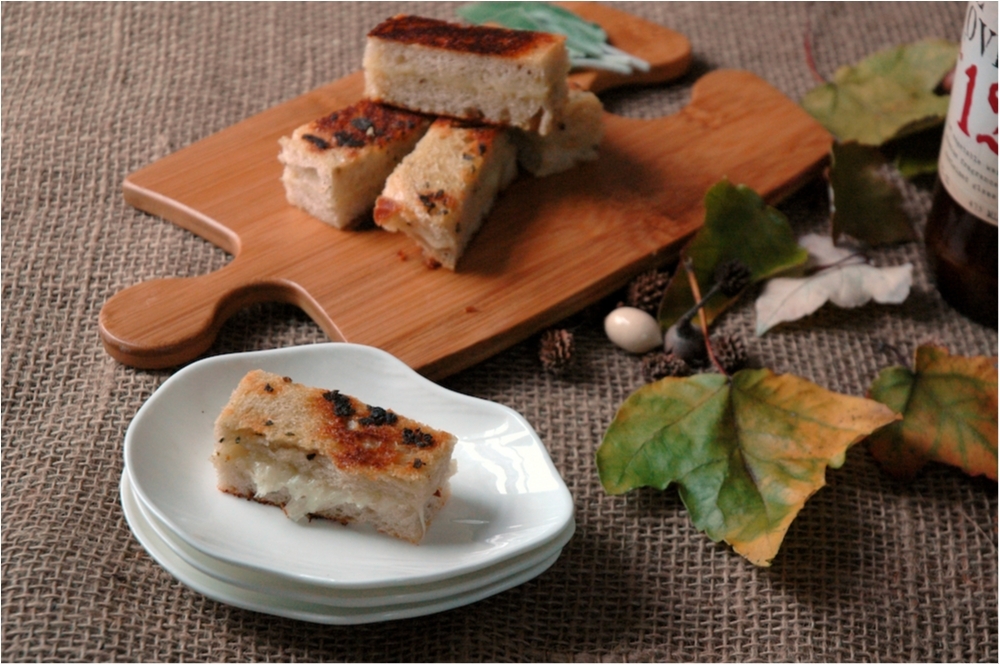 Mini Sage Grilled Cheese Sandwich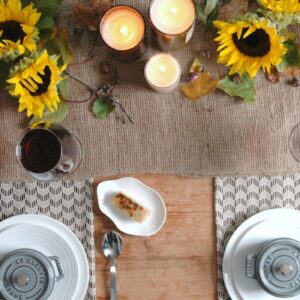 INGREDIENTS
12 - 15 sage leaves, finely chopped
2 tablespoons olive oil
2 tablespoons butter
8 slices of sourdough bread
12 ounces Comte cheese, grated
Fresh ground pepper
INSTRUCTIONS
In a small sauce pan, heat butter and olive oil, then add chop sage. Heat on low until warm and fragrant. Reduce heat and let sit while preparing the sandwiches.
Top 4 slices of bread with equal amounts of grated Comte cheese and top with remaining bread slices to form 4 sandwiches.
Heat a large skillet, or flattop, to medium high heat and add a teaspoon of the sage butter to the pan. Place one sandwich in the pan and heat until cheese begins to melt and bread begins to brown, approximately 3-5 minutes. Top bread with 1 teaspoon of sage butter and flip over to brown both sides. When cheese has melted, approximately 3-5 minutes, remove from pan onto a cutting board. Repeat until all sandwiches are cooked.
Cut crusts off the sandwiches and continue to cut into small rectangles. Each mini sandwich should be only 2-3 bites. Serve warm.
Note: Amount of cheese needed may vary based on the size and shape of your bread slices. When in doubt, I always opt for more cheese rather than less.