Applejack Cocktails That Will Get You Excited for Fall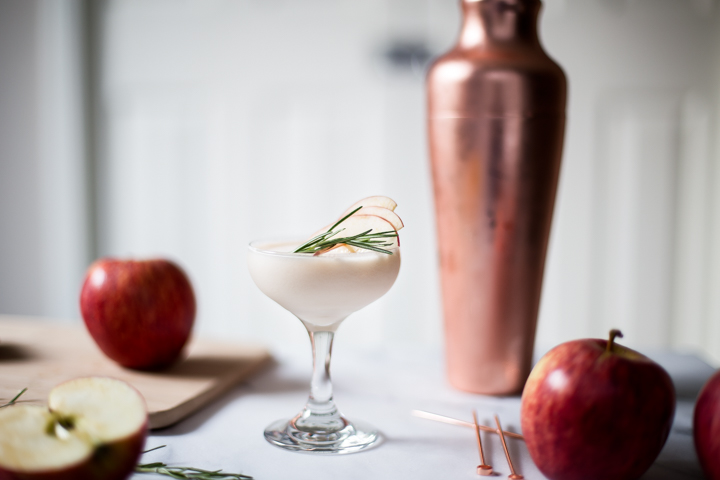 If you've never heard of applejack before, prepare for your wildest autumn cocktail dreams to come true. This apple-based liquor is America's oldest contribution to the spirit world, and has seen a meteoric rise in popularity the last few years for good reason. If I had to pick a favorite fall cocktail ingredient, this would be it.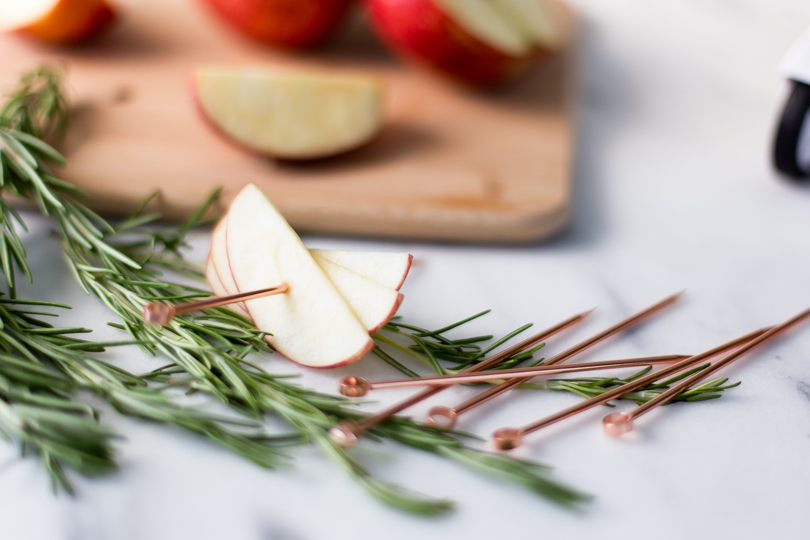 Pumpkin spice gets all the love when August starts to wind down and we turn our minds to fall flavors, but to me there's no better indication of early autumn than to see local apples start to appear in markets and fruit stands. If you're lucky enough to live near an orchard, make a point to get there this year — there's really no better way to immerse yourself fully in the season.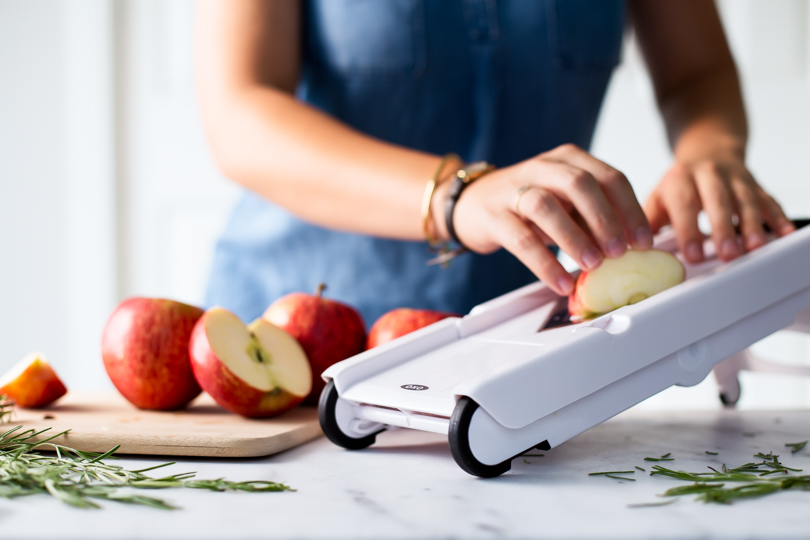 Since applejack is a liquor distilled from — you guessed it — apples, it's one of the easiest ways to add an autumnal note to any drink. Apple brandies like Calvados are unarguably smoother and more refined, but don't have the same bold backbone as applejack, which can stand up to the addition of sweeter ingredients, like the orgeat I use in this recipe.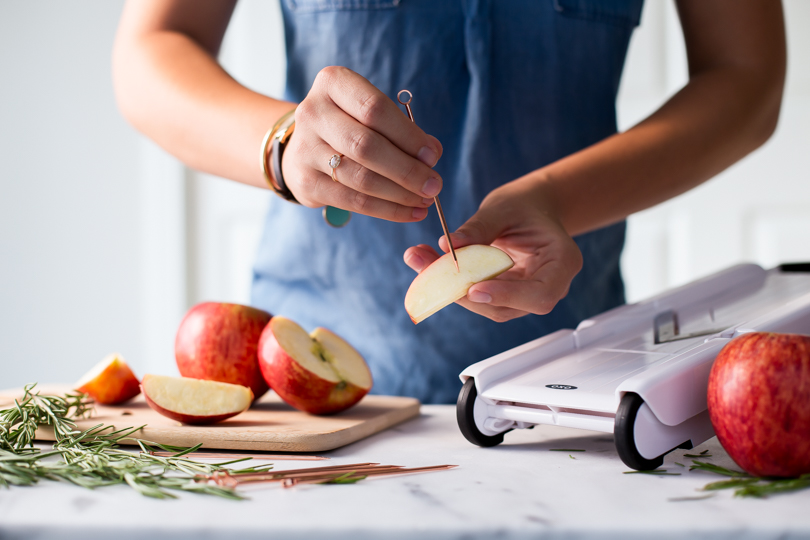 If you caught my post on Strawberry Rhubarb Pitcher Drinks, you know I'm obsessed with using my OXO mandoline to make garnishes. For so long, I was trying to get paper thin slices of fruit with a plain old peeler or paring knife. But unless you have some seriously impressive knife skills, you'll never get consistently perfect results. Did I mention they're incredibly easy to use? My sad, mandoline-less days are very much in the past, and you can bet that every gorgeous, perfectly sliced garnish I serve spent some time on the sharp edge of my favorite cutting tool.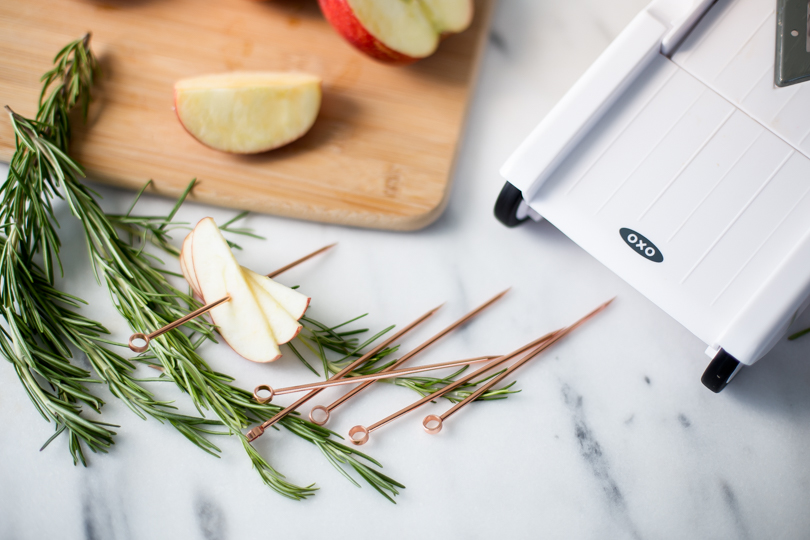 For this recipe, I use a mandoline to slice apples into thin, crisp slices, then spear them on a copper cocktail pick (this set from Viski is perfect for fall, amirite?!) and separate them slightly to make a pretty apple fan that you can munch on as you drink — win win.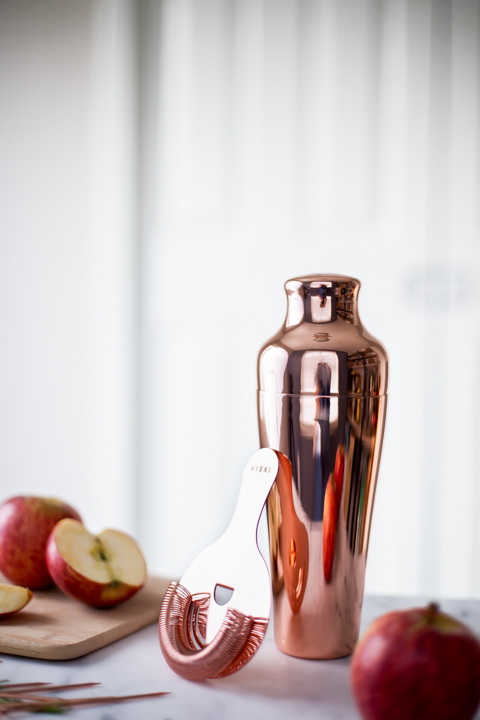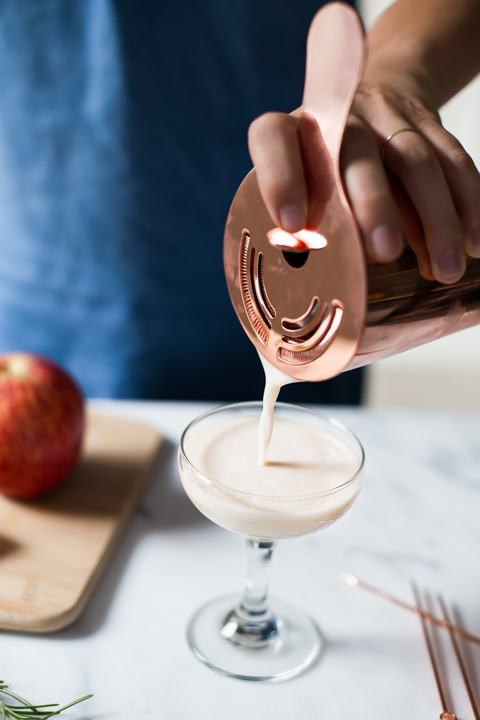 The apple fans look spectacular balanced on the side of my all-time favorite cocktail coupes from W&P Designs. These glasses live in a dedicated corner of my freezer, where they wait patiently to be filled with any and all of my drinks served "up" (no ice), like this one. The glass is thick enough to hold a good chill, which my thinner, more delicate coupes just can't do.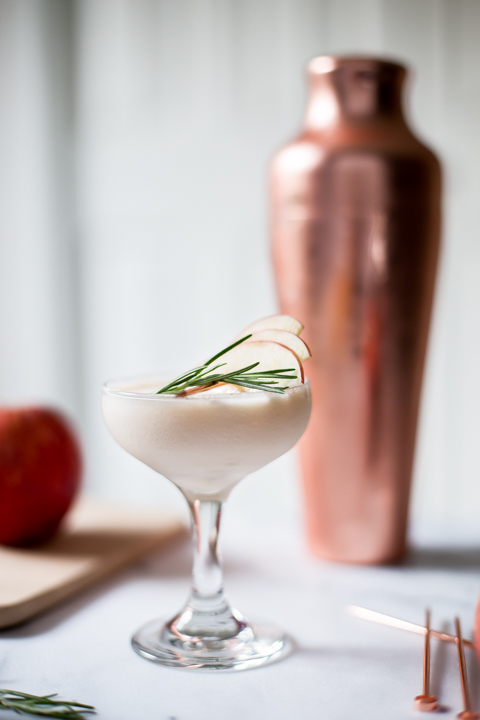 I like to make this cocktail as soon as the first fall apples hit the farmer's market, or better yet, after a visit to a local orchard with a bounty of apples I've picked myself. So throw your coupes in the freezer, grab a bottle of applejack (it's shelved with the apple brandies in most liquor stores), and snag some of fall's best fruit. Send off summer in style, and say hello to the crisp days of fall!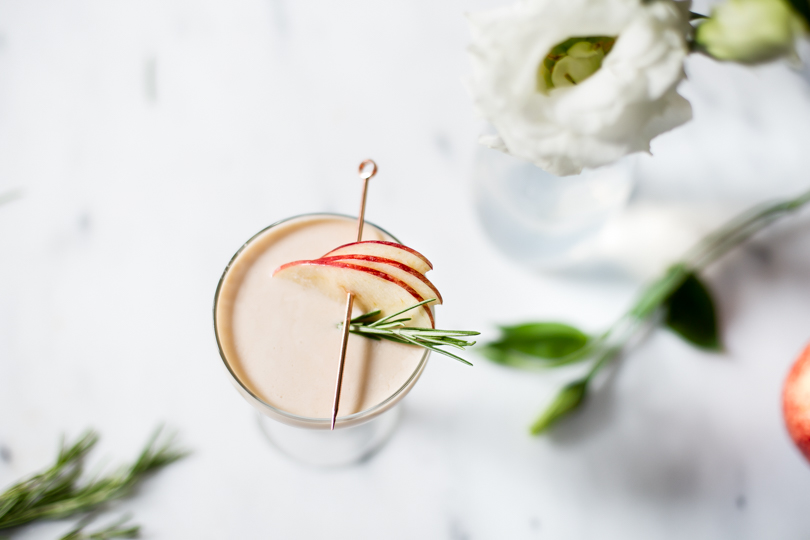 If you've never heard of applejack before, prepare for your wildest autumn cocktail dreams to come true.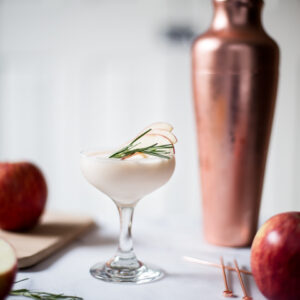 Ingredients
2

oz

Applejack

.5

oz

Fresh squeezed/strained lime juice

.5

oz

Good quality orgeat (like BG Reynolds)

.5

oz

Heavy cream

1

Dash angostura bitters

Pinch of salt
Instructions
Add everything to a cocktail shaker filled with ice, saving the cream for last.

Shake and strain into a coupe (ideally chilled in freezer beforehand).

Garnish with an edible apple fan or a pinch of freshly grated nutmeg.