Decorating Exposed Shelving: A Marriage of Style and Function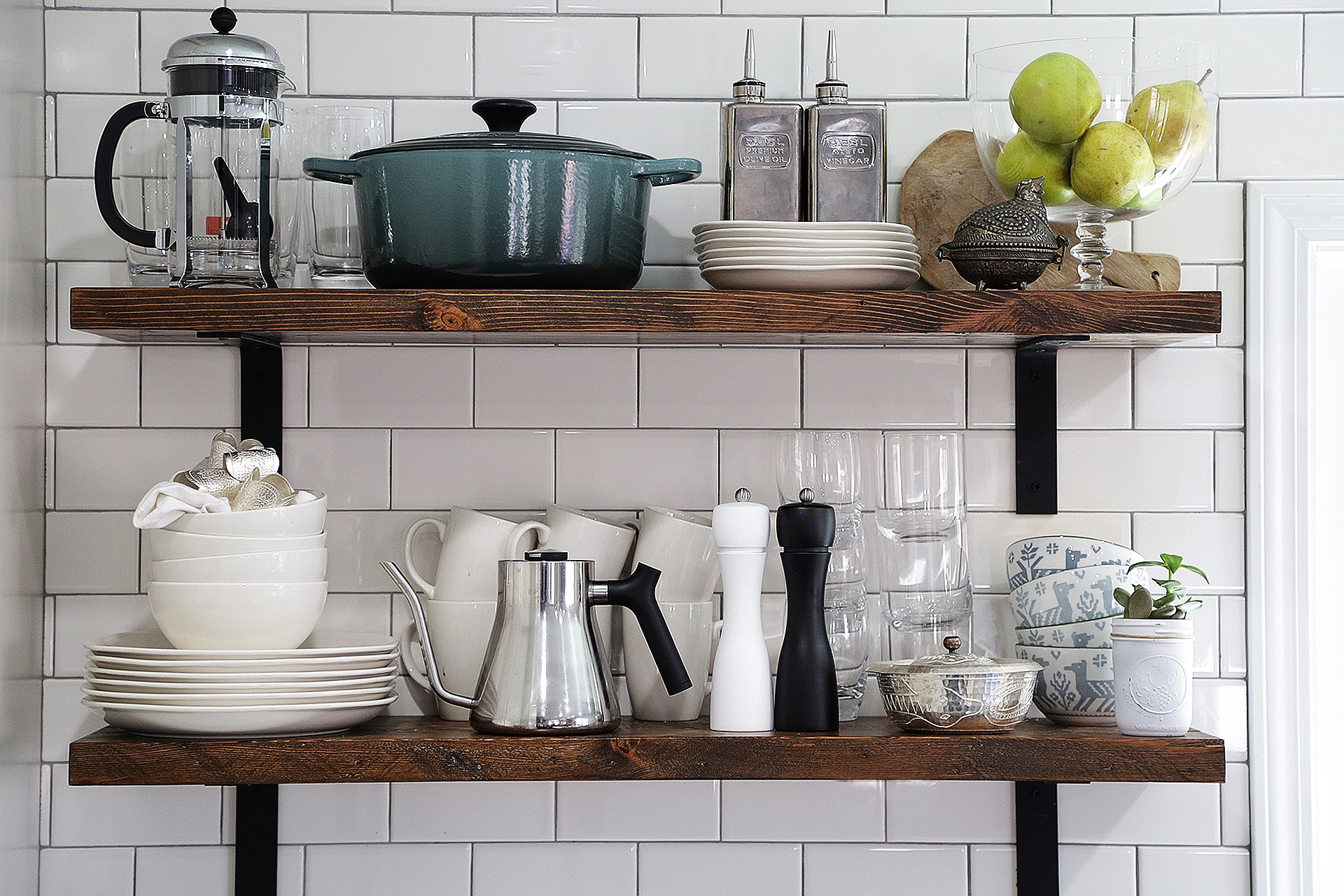 When a chef and an interior decorator decide to remodel their kitchen, you'd anticipate some major disagreements in terms of function vs. style. My husband, the chef, desperately wanted his rustic, industrial kitchen, and I had envisioned a light, comfortable and eclectic space. After changing our minds a million times on the backsplash, the color of the floor, and the hardware,
we finally had our dream kitchen!
Our blend of visions for our kitchen remodel had actually met somewhere in the middle and we agreed that it was mostly due to one thing… exposed shelving!! You've probably seen this trend recently and I have a feeling it's going to be making its way into more and more spaces. He could access his tools quickly, and I could display some of my favorite pieces on our 2 gorgeous reclaimed wood shelves.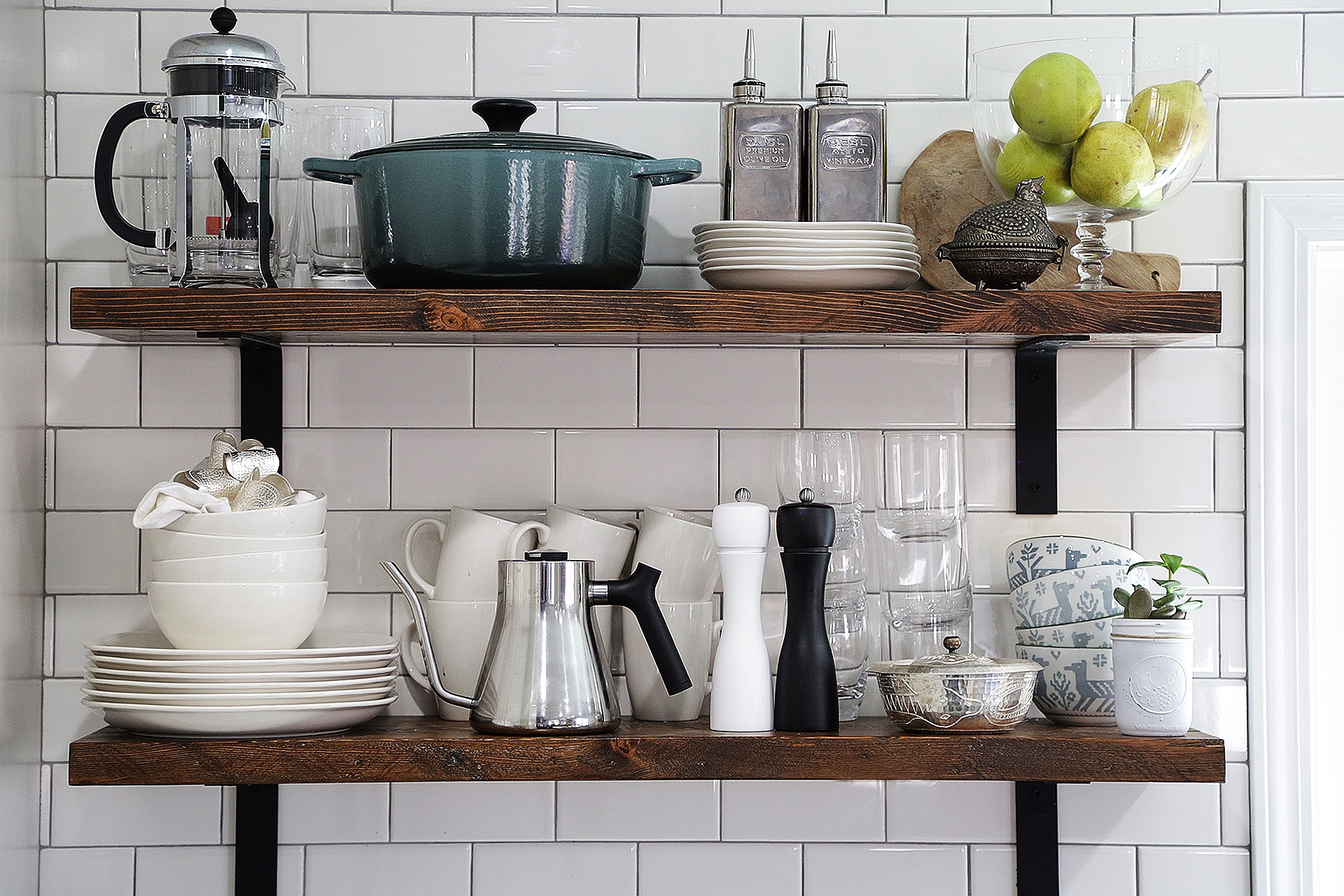 For me, styling these exposed shelves became the most fun part of finishing the kitchen. I was finally able to make our kitchen look and feel like it belonged in our home, rather than in a stark showroom. I started taking out all of my favorite things and laying them on the center island and I asked my husband what things he wanted on the shelves for convenient access.
There was a wonderful assortment of wood, glass and metal. I was smiling to myself thinking about other people styling their exposed shelves, as it involves climbing up on the counter countless times to rearrange things! I must have been up and down 30 plus times and my 3-year-old kept asking if she could climb up there with me! Finally, after two bruised knees and one broken glass, I was satisfied! Here's what made the cut in our exposed shelving style project…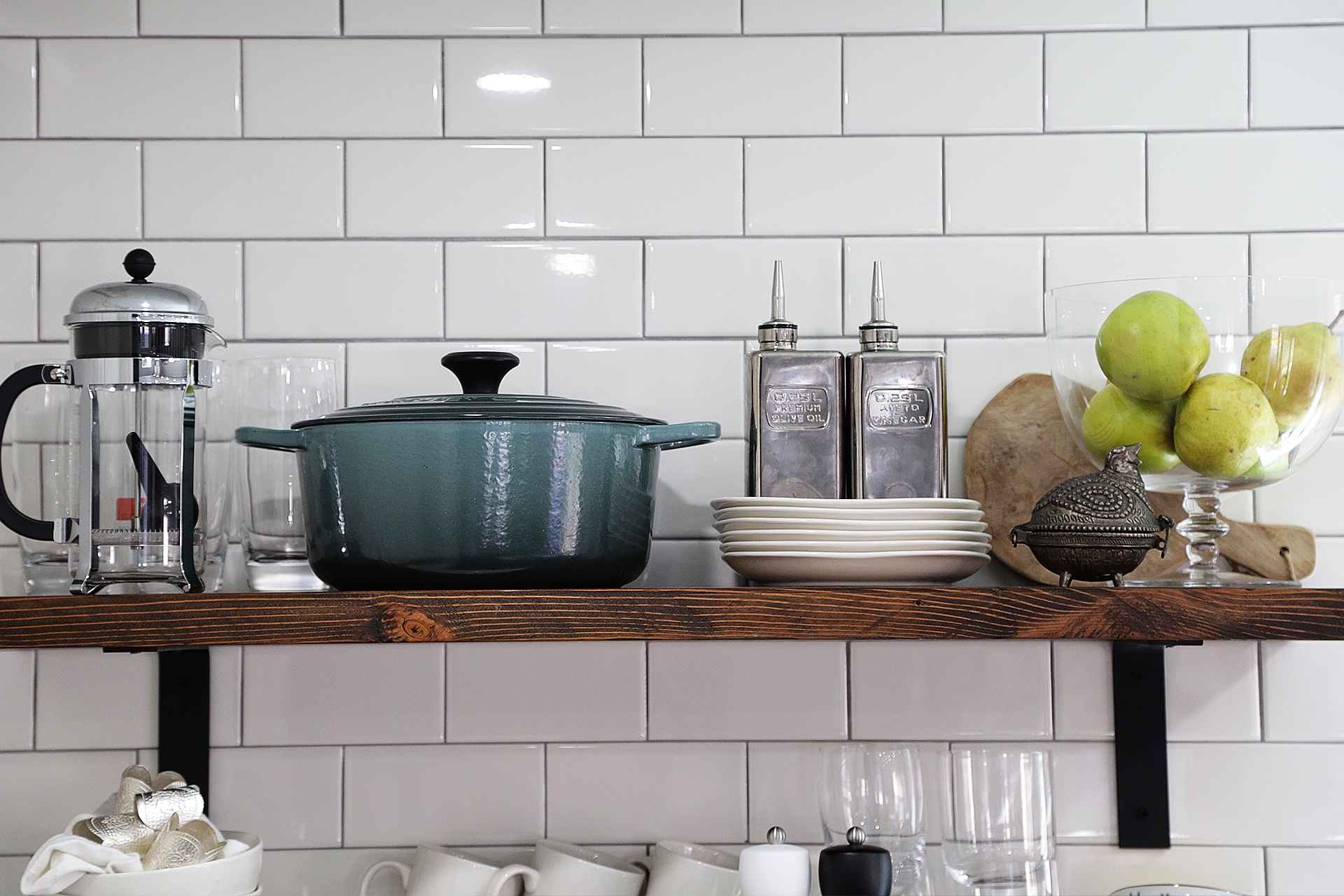 On the top shelf I included our Bodum French press with gorgeous chrome detailing and the Le Creuset dutch oven in color Ocean, which is the most amazing mix of blue/green and totally on trend. I also added classic Thomson off-white salad plates which I love because of the creamy color and curved edges and then placed the most stylish Luigi Bormioli oil and vinegar dispensers I've ever laid eyes on atop the plates. Next to that is a beautiful, large glass truffle bowl also by Luigi Bormioli filled with apples and pears for a pop of color.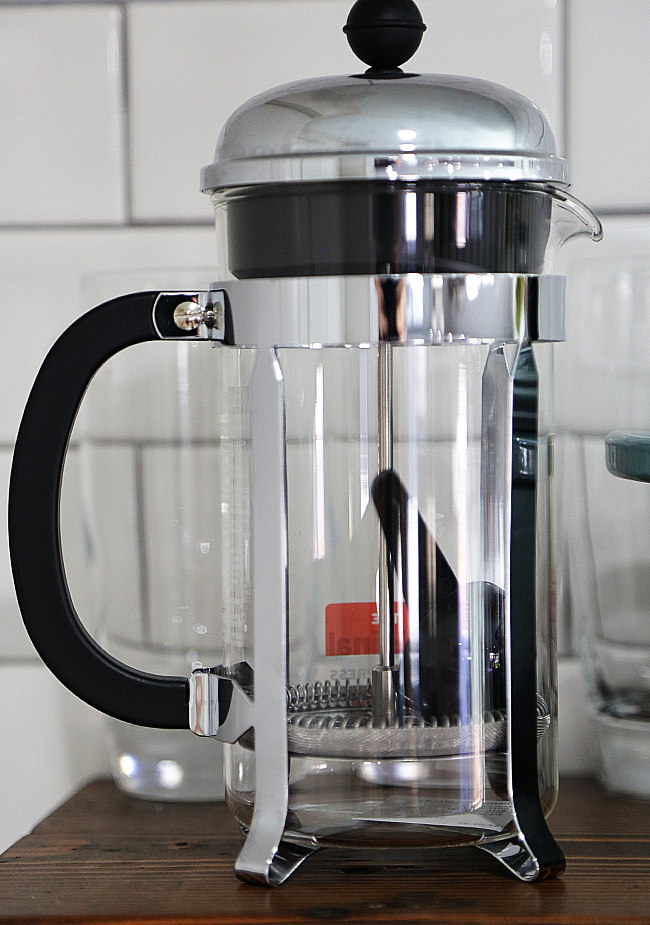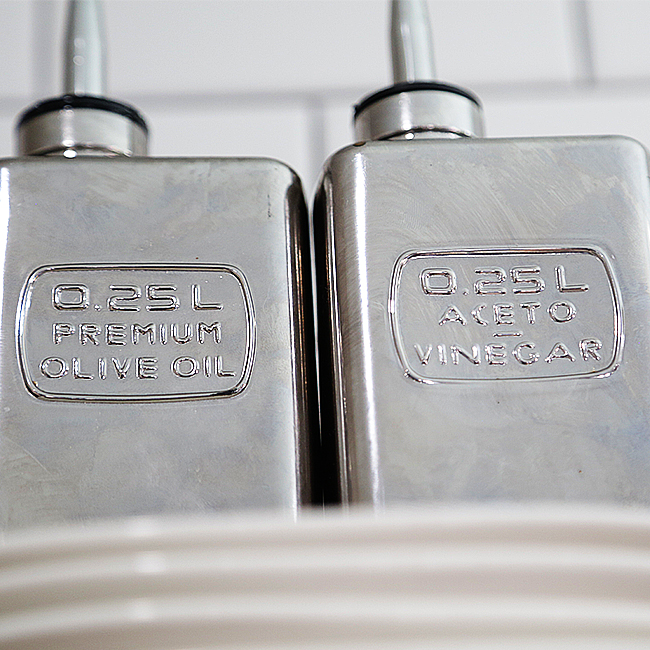 The bottom shelf includes the rest of the Thomson plates, bowls and mugs which we use on a daily basis. We've previously owned dinnerware that was too heavy or too fragile, but these seem to be just right! In front of the mugs is a kettle by Fellow which brings in a sculptural component and is so important to get that eclectic vibe. And because sometimes you just want something modern, simple, and durable, I chose Peugeot salt and pepper grinders. Even though they haven't changed their style in over 200 years, they're always in style. Behind those, are some Luigi Bormioli glasses which are great because they stack easily, have an ergonomic feel when you hold them and are perfect for everyday use.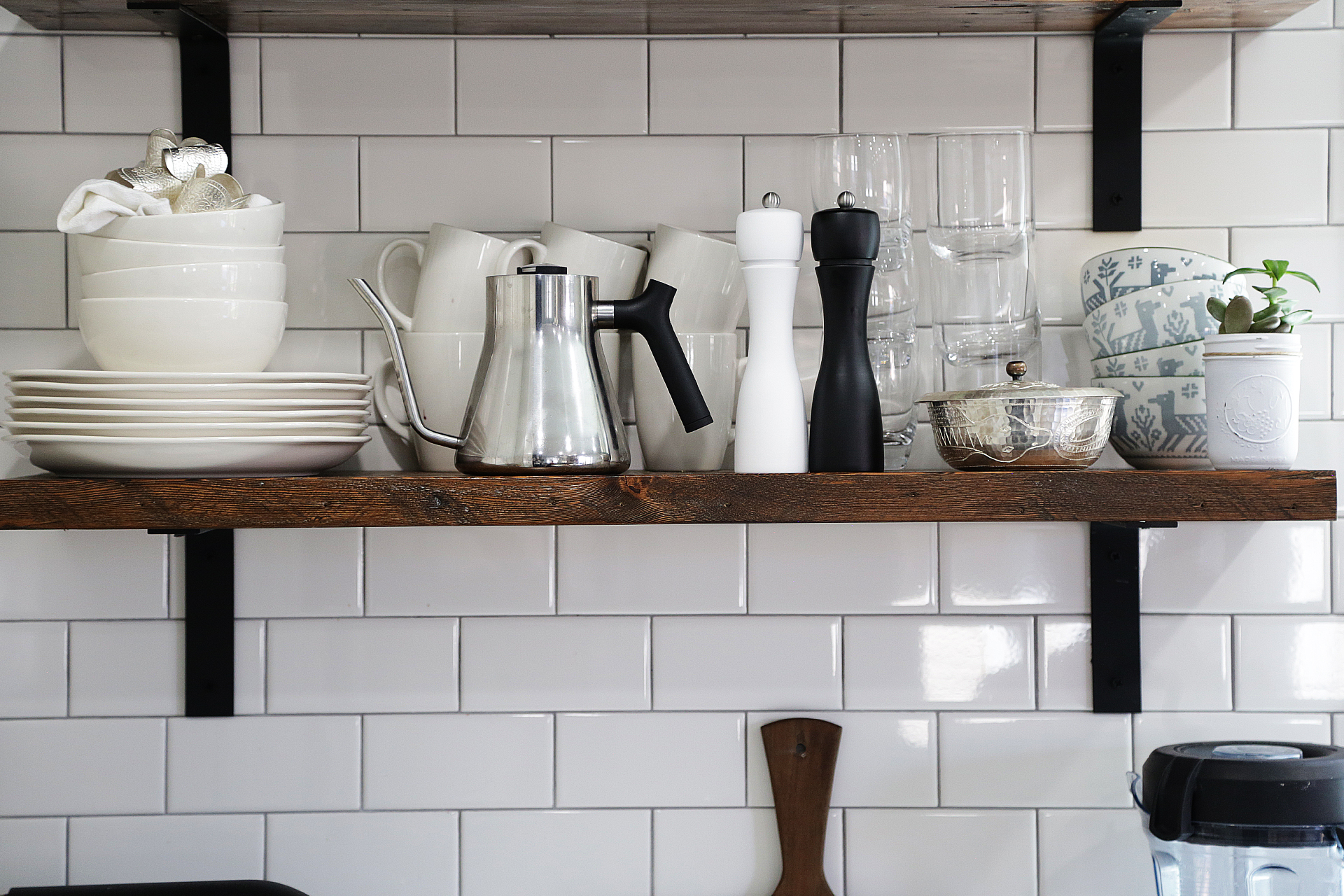 Lastly, I'm sure you noticed that beautiful and uniquely carved silver cocotte by Amoretti Brothers with the matching napkin holders inside the Thomson bowls. I'm totally obsessed with the hammered look and the snake carving and it gives the exposed shelf style a custom, collected look, which is basically my goal for every space I design!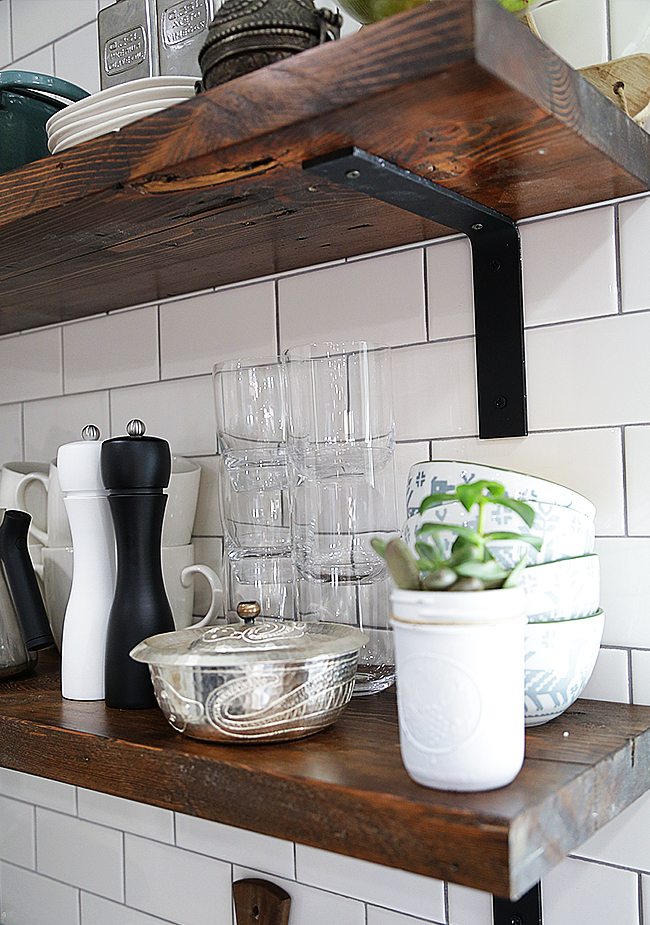 On the other side of our kitchen, there are two more exposed shelves that sit above "the chef's" prep table. All of our spices, flours, and baking ingredients are housed here in mason jars for a cohesive look that is simple, yet stunning! We let the color of the spices do all the work. We love how the uniformity of the matching jars creates a relaxed café atmosphere.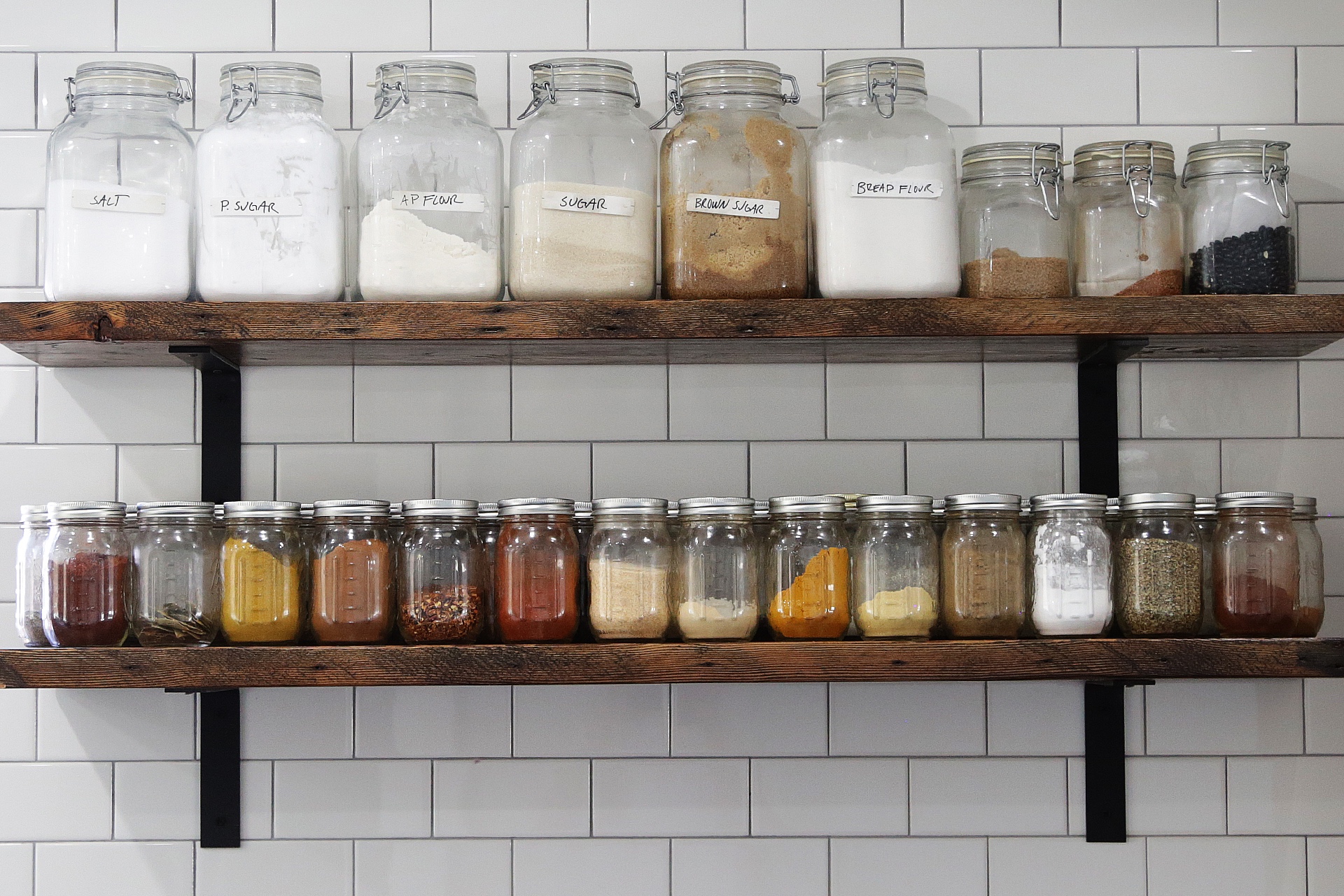 Our exposed shelving is the first thing people comment on when seeing our kitchen and we are so happy we chose this design for our home.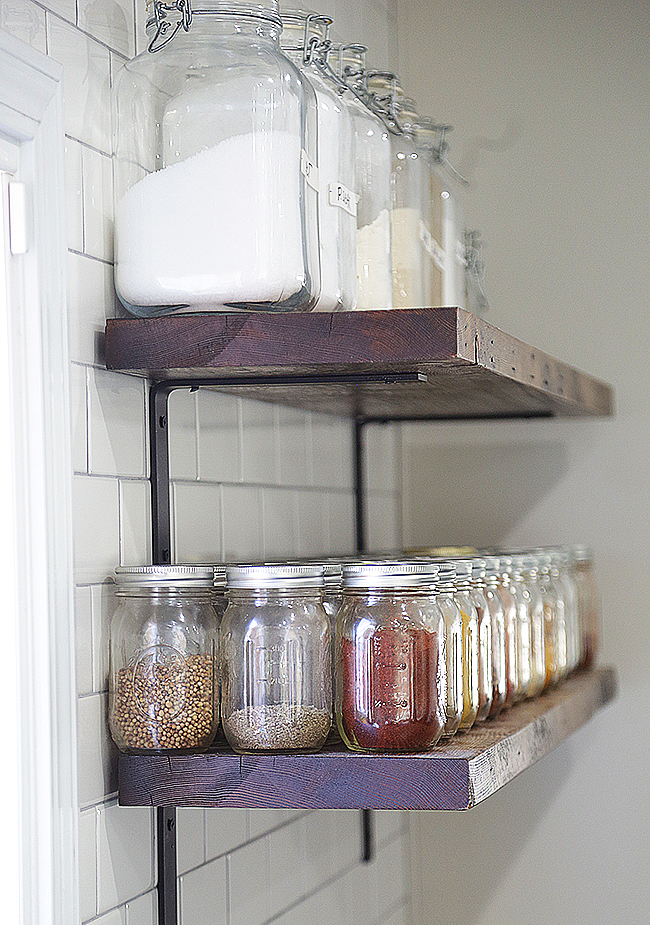 Shelf styling ended up being really fun and my husband and I were both happy with the outcome. His personality is most reflected in the Peugeot grinders since he tends to not change things if they are working… yes, that's why he watches the same movies over and over… and over again!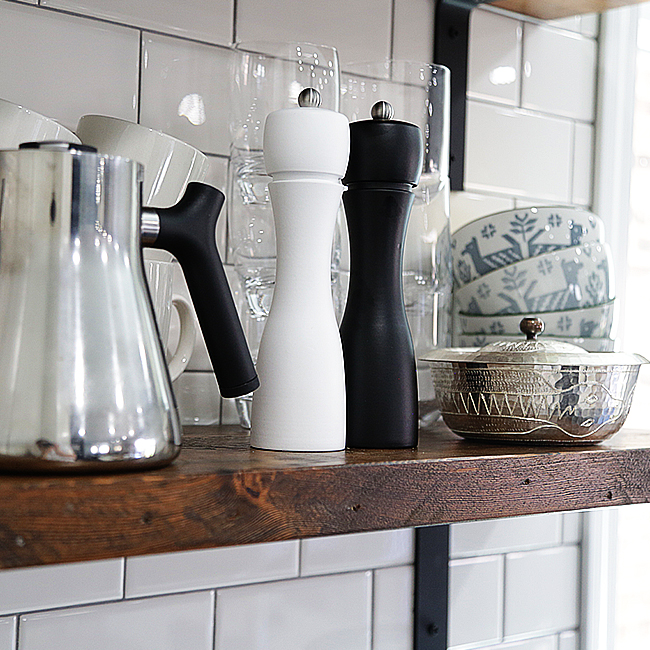 I resonate most with the Amoretti brothers cocotte because I like to be unique and don't mind being the center of attention – LOL!! Oh yeah, also the funny picture about being "hangry" is so very true of me and reflects my sense of humor… even though most of my family and friends would say I laugh way harder at my own jokes than they do! I'm getting all sentimental over here thinking about how these styled shelves are basically a reflection of our relationship, and that's why everything works together! He's more function and I'm more style, and together it's a perfect blend.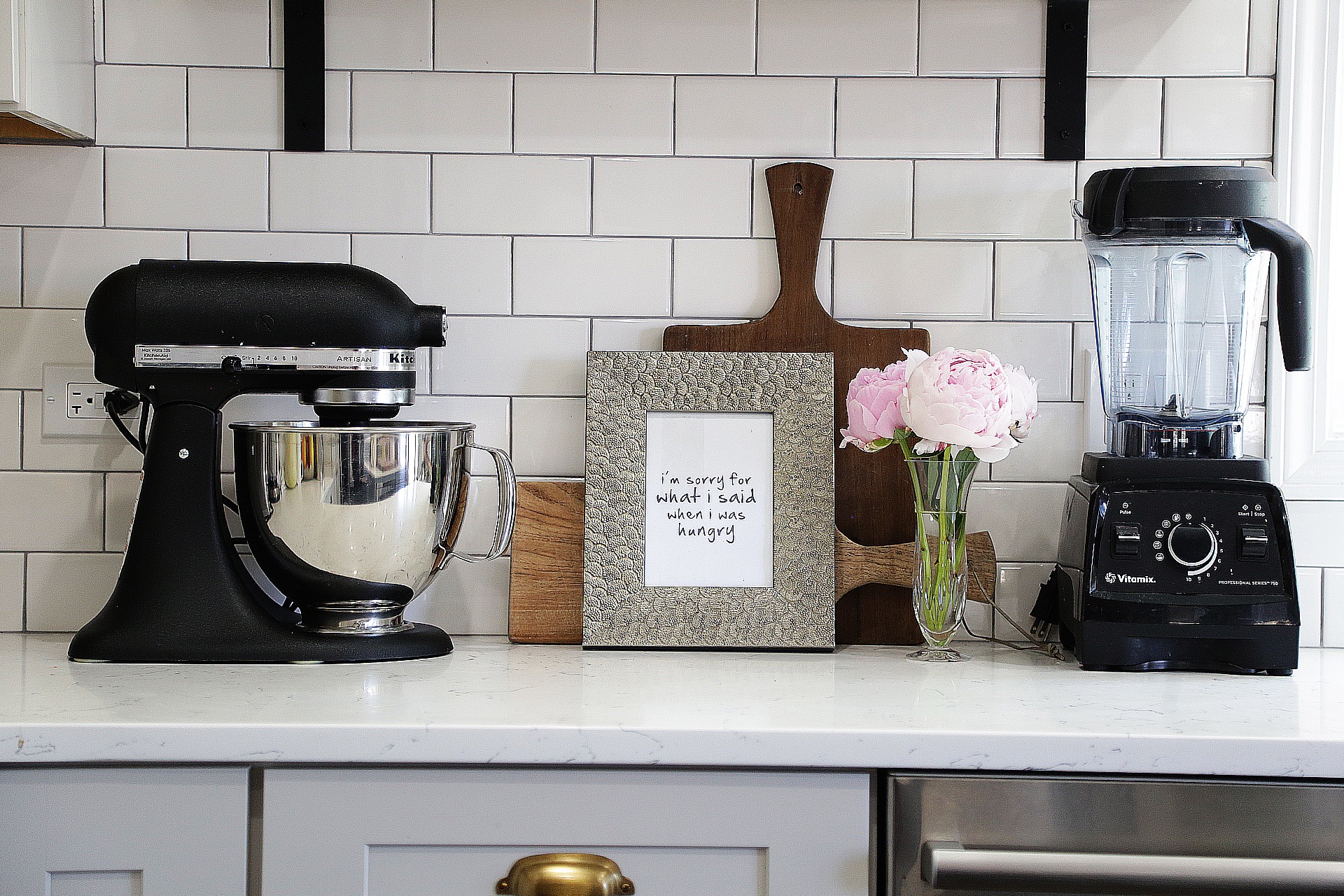 I'm pretty sure if I lived alone I'd have all cake stands and antique tea kettles on these shelves, and if it were up to my husband, he'd most likely have all wood and metal and something totally unnecessary that reminds him of his college glory days. The balance of rustic and feminine along with style and function was the best combination to fit our needs and lifestyle.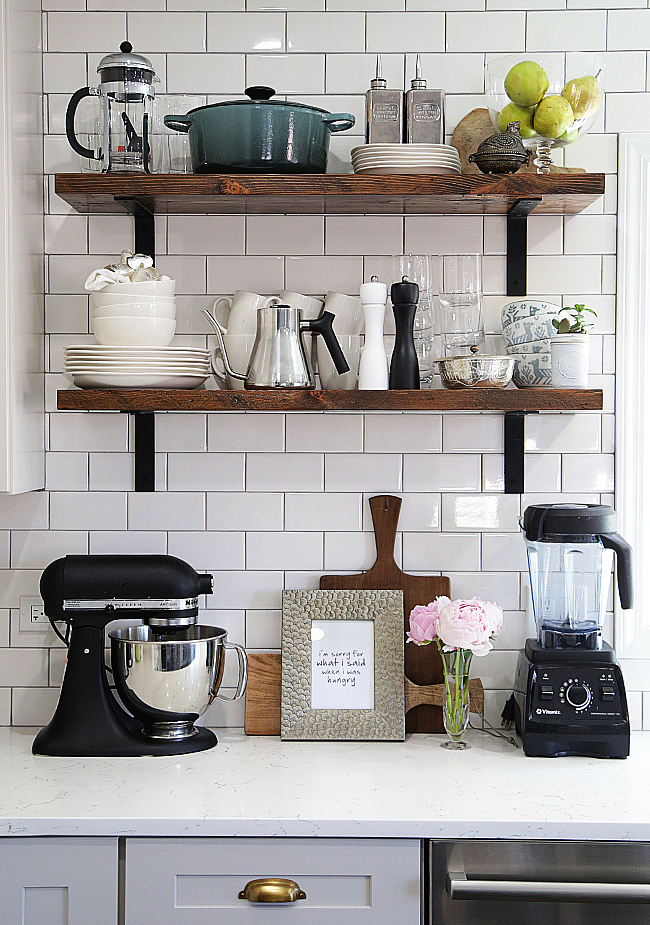 When styling your own shelves, follow these simple rules:
Use an assortment of materials
Layer your things in front of one another
Add something sculptural
Use color
Add your personality
Use a plant or fresh flowers
And most importantly… DON'T FALL OFF THE COUNTER!!!