Create An Outdoor Entertaining Space That You Can Use Through Fall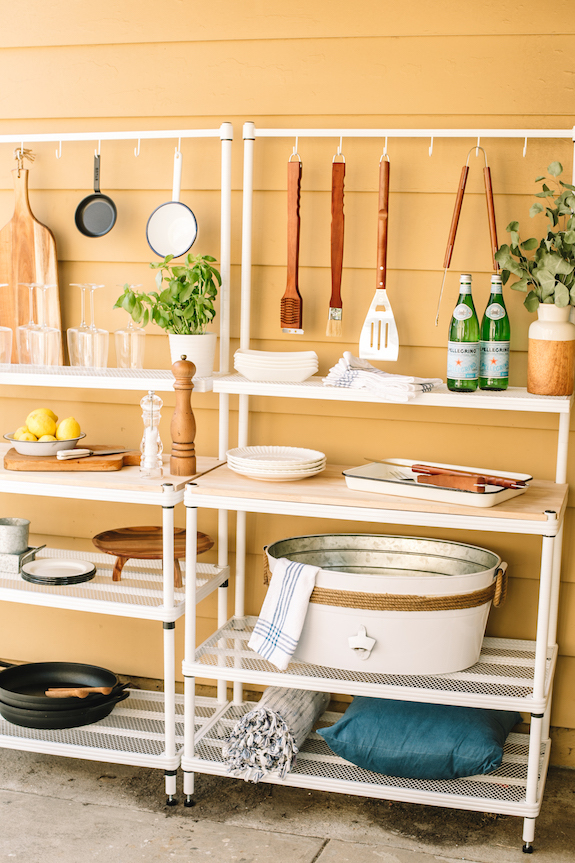 Here in California, outdoor entertaining is timeless. We are heading outside for BBQs, pizza oven nights and cozy evenings by the fire well into October. There are a few essentials that I keep close whether we're kicking off Labor Day or making s'mores in the fall.
Bar/Outdoor Buffet Space
I've always struggled at creating an outdoor epicenter to foster my 'bar' area and food buffet. That is until we replaced an empty space on our patio with these Design Ideas Meshwork Utility Units. Their versatile and chic design was one of the best (and affordable) furniture pieces we came across. These guys will have a home on our patio all year long.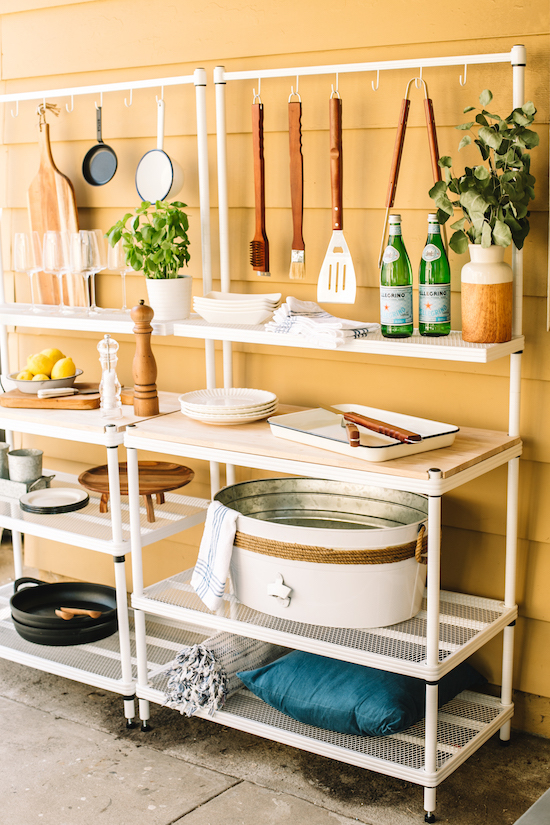 Meshworks Utility Unit

By Design Ideas

Shop Now
The wood tops are removable and I know they will make for an epic potting station in the spring. For now they are hosting bars during football season and s'mores making stations this fall.
Artisan Serving Plank

By Toscana

Shop Now
Beverage Area/Ice Bucket
An absolute must in my book! Before any gathering I always fill up a huge ice bucket with water sparkling water, beer, and chilled wine. No matter how behind you are with party prep this is a sure fire way to keep your guests busy (and hydrated) while you're finishing up final touches. I never met a self-serve bar I didn't love.
Big Platters
My favorite outdoor food platters are usually lightweight, white and durable. Meet one of your most friendly and durable outdoor serving materials: enamel.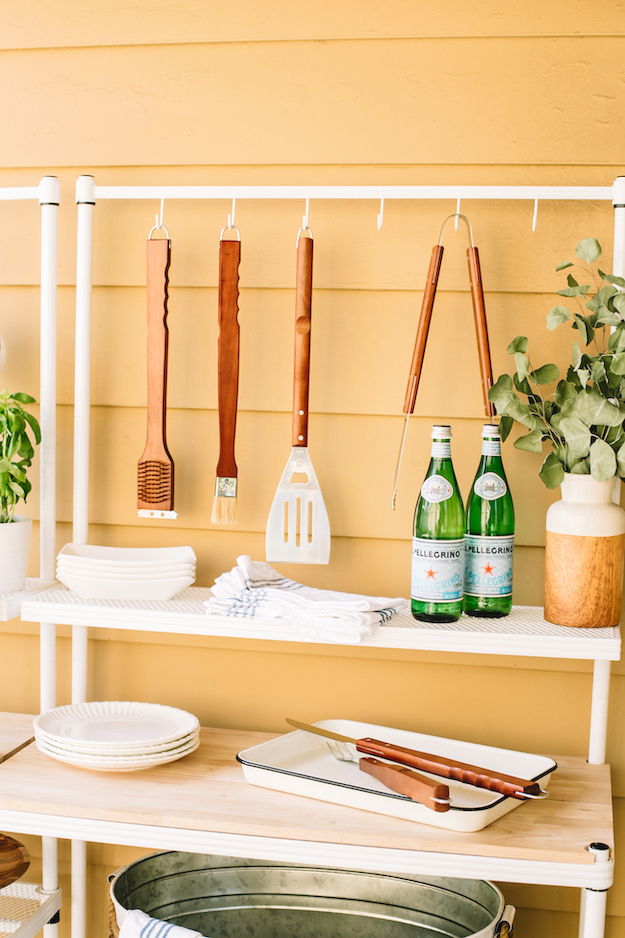 Enamel is the perfect blend of functional and flattering. Picture yourself walking away from the grill with a beyond heavy platter of BBQ'd meat. The last thing you need is a heavy platter to weigh you down even more. These enamelware platters are my go-to for anything outside. They are super cute, go well with everything and will never break or weigh you down!
Vintage Small Rectangular Platter

By Crow Canyon Home

Shop Now
Outdoor Speaker
I say this time and time again but other than a cold drink, music is probably your most important component to any good gathering. It keeps the mood flowing throughout the whole night and leaves any awkward silence at bay. If I have time I love creating a fun playlist for different types or parties or giving one of my pals this task if I'm feeling overwhelmed. Either way, you gotta have a good outdoor speaker!
Chic Plates & Snack Servers
These faux paper plate 'plates' just scream Game Day to me! I fell in love with these the moment I saw them. I have severely tried to cut down on my paper plates and plasticware usage. However there is something charming to them for casual gatherings. From the moment I saw these Fortessa ceramic boats and "paper" plates from their Food Truck Chic Collection, I knew I had to have them for that iconic backyard party feel.
Food Truck Paper Plate

By Fortessa

Shop Now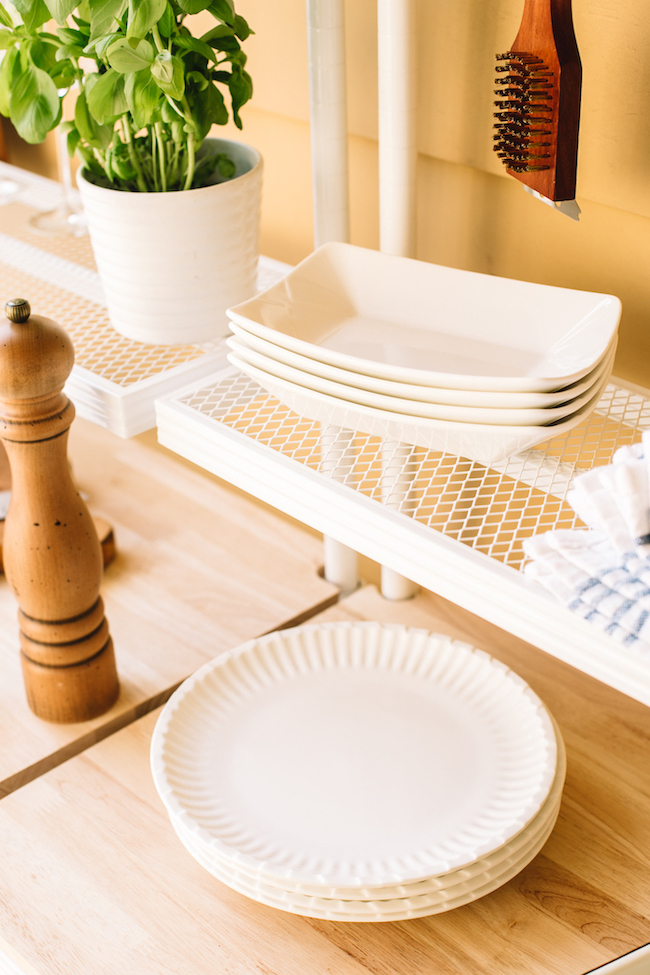 Food Truck Small Boat

By Fortessa

Shop Now
Grilling Utensils/Skewers
A well-stocked grill utensil set is essential for the season. Jared loves grilling up burgers on Sunday for a game day feast. This outdoor BBQ set from Oniva is one of my favorites! It's got all the essentials, plus some super sturdy skewer sticks which are perfect for marshmallow roasting for s'mores on a cozy night. I also keep a set of salt and pepper shakers out here for easy access.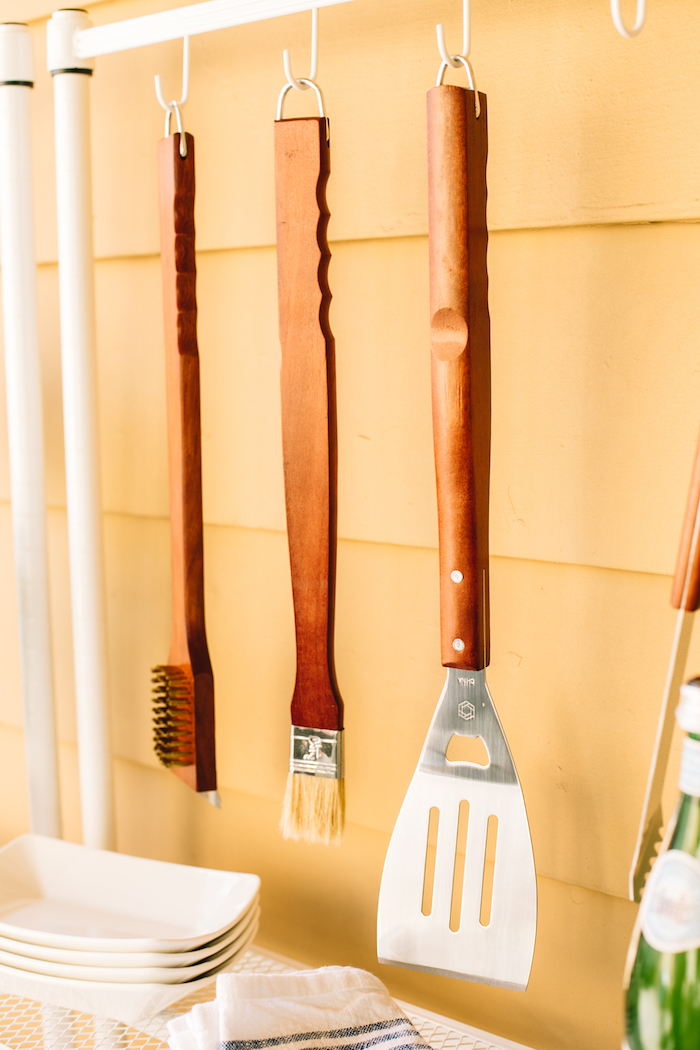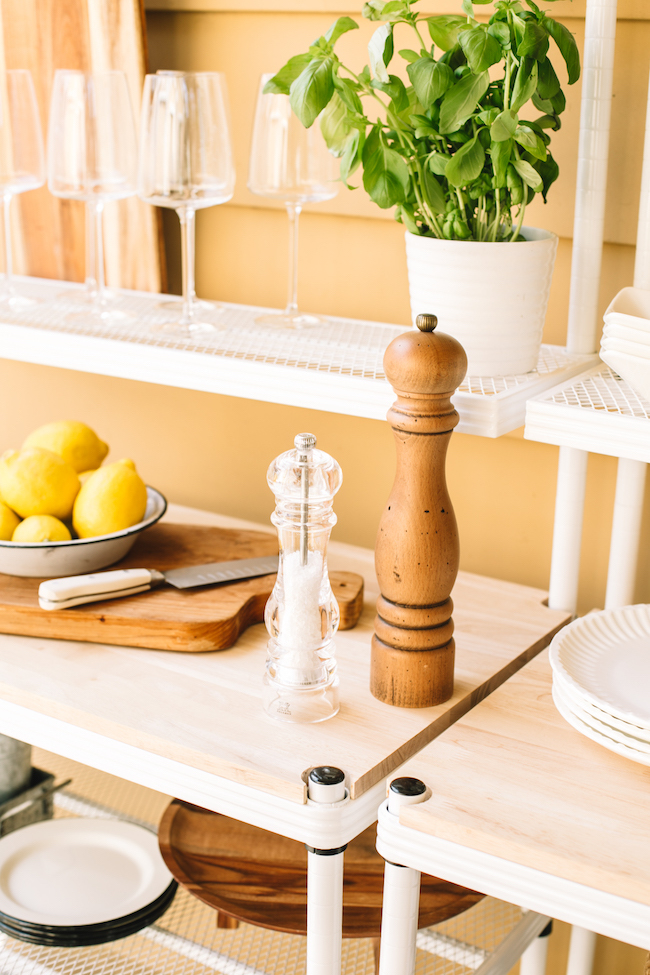 Paris Antique Manual Pepper Mill

By Peugeot Saveurs

Shop Now
Nancy Manual Salt Mill

By Peugeot Saveurs

Shop Now
Blankets & Pillows
Truthfully, entertaining in the fall is one of my favorite seasons. I don't have one friend that doesn't love ending the evening by a fire. We face some pretty rough summers here in California so were heading outdoors well until October for a casual, cozy evening. Be sure to deck your outdoor space with few durable pillows and throw blankets to keep your guests cozy.