Everything You Need for Your Dorm Room or Small Space Kitchen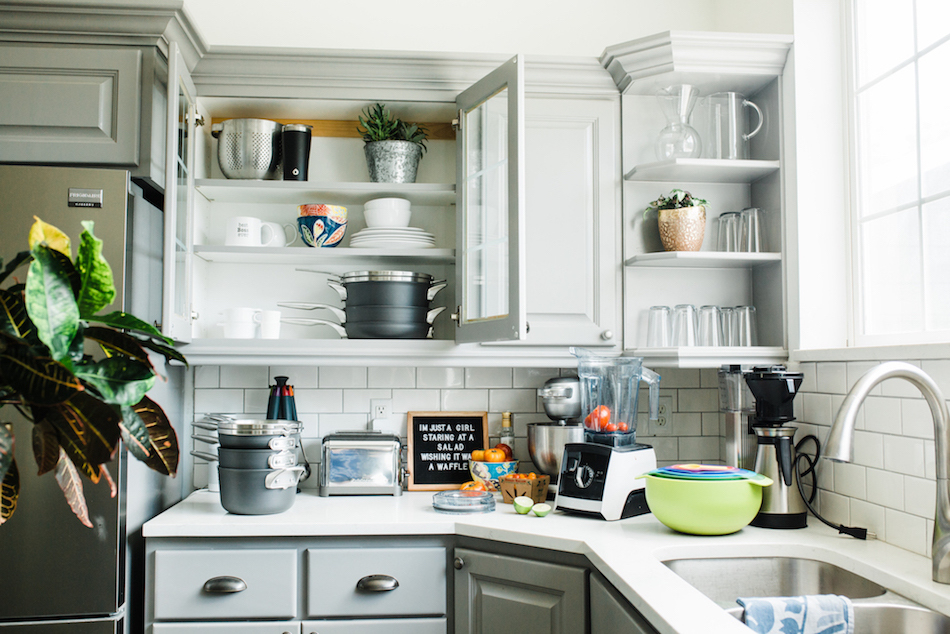 My two oldest children moved out of our family home this year and into their own downtown loft. I thought it would be sad to see my kids go, but watching them move off and into their own space has been quite the delight.
As soon as little sister set foot in the apartment, big brother was subjected to all of her most ambitious plans for life. A full wall dedicated to living plants. Midnight advice sessions for all of her college-bound friends. And a nightly home-cooked meal. Which, much to my son's chagrin was fully vegan. Little sister is a big foodie. So it was homemade tempeh tacos and falafel burgers every night.
Ask my son if it's been good to share space with his little sister and he will endearingly tease about how she runs a tight ship and expects him to clean it. Cooking in has helped them save money but it means a revolving door of needed ingredients and appliances. First it was a toaster. Then, an instant pressure cooker. A Vitamix. A Kitchen-Aid stand mixer. Within a matter of weeks, the countertops were filling up with gadgets, pots and appliances. And both bro and sis were starting to feel overwhelmed by the task of keeping it all organized.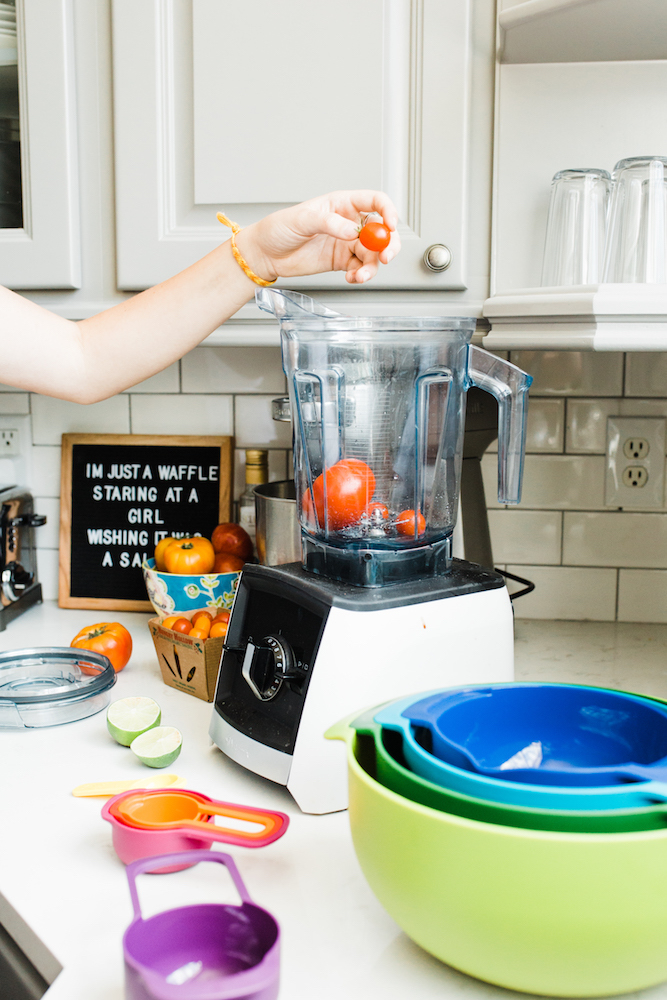 So we hit the internet and hunted down some space-saving options, finding some stylish options that have helped transformed their space.
One Bowl for Everything
First up, their previously mismatched bowl and measuring cup collection was swapped with the Joseph Joseph Nest 9 Mixing Bowls Set. With a colorful stacked set complete with a colander, mixing bowls, and measuring cups, the kids could clear out half a drawer and several shelves once this clever collection was in their kitchen.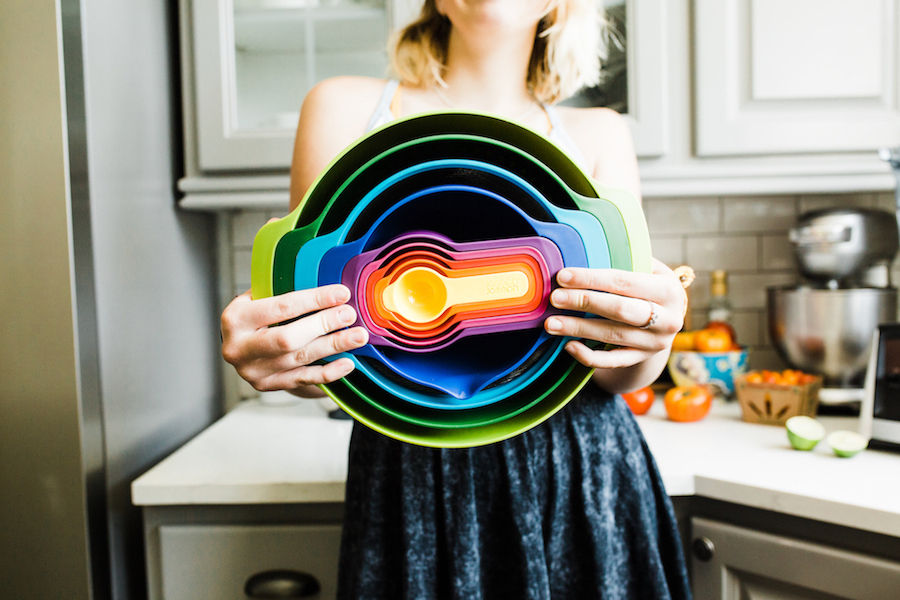 Ditch the Cluttered Drawers
With four tiny drawers in their dorm room kitchen, there were all sorts of items competing for space, and suddenly the best of intentions turned into a chaotic catch all. Spices, zip-top baggies, utensils, gadgets and serving tools were quickly topping out every drawer. So we ditched all the extras and pull serving utensils on the countertop with the Joseph Joseph Elevate carousel. Cool looking and convenient, each of these tools comes with a tool rest, so they can keep your prep surfaces mess-free while you cook. Pretty snazzy, claim the college kids.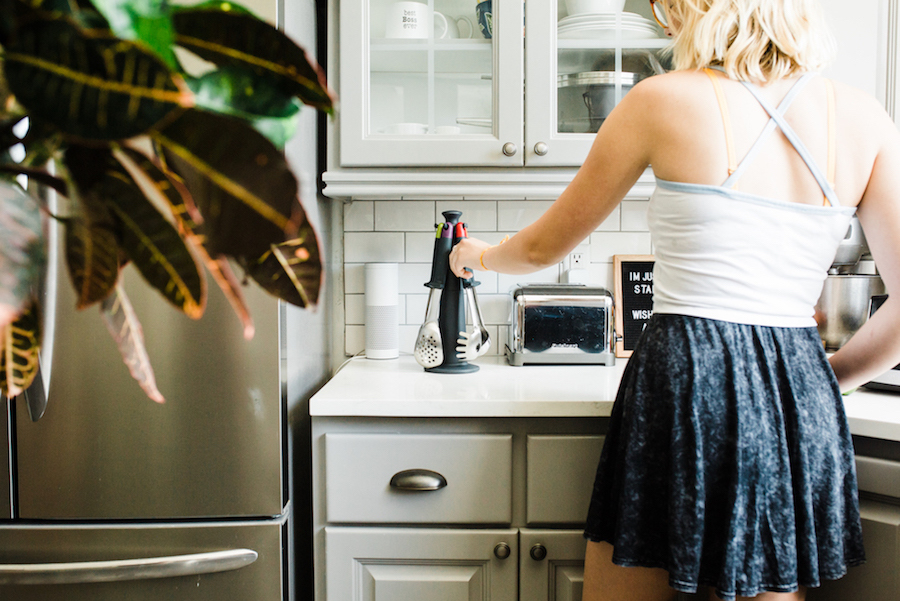 Put Pots in Their Place
Before we reorganized, every spare space was filled with mismatched pots and pans. Some with broken handles. Some with peeling teflon. Go to grab a skillet, and you'd inevitably start an avalanche of poorly put away pots.
The haphazard collection had to go. In its place, the beautiful Calphalon Stacking cookware set. A nesting collection of nonstick anodized aluminum fry pans, sauce pans and sauté pans. When we slid this single tower of pretty pots into place, the little sister patted big brother proudly on the back, "Oh my gosh! We are going to make the best vegan stir-fry in this one pot, fried tofu in the saucepan, and veggie egg rolls in the skillet!"
Big brother shrugged his shoulders and replied, "Cool. I'll be ready to do the dishes."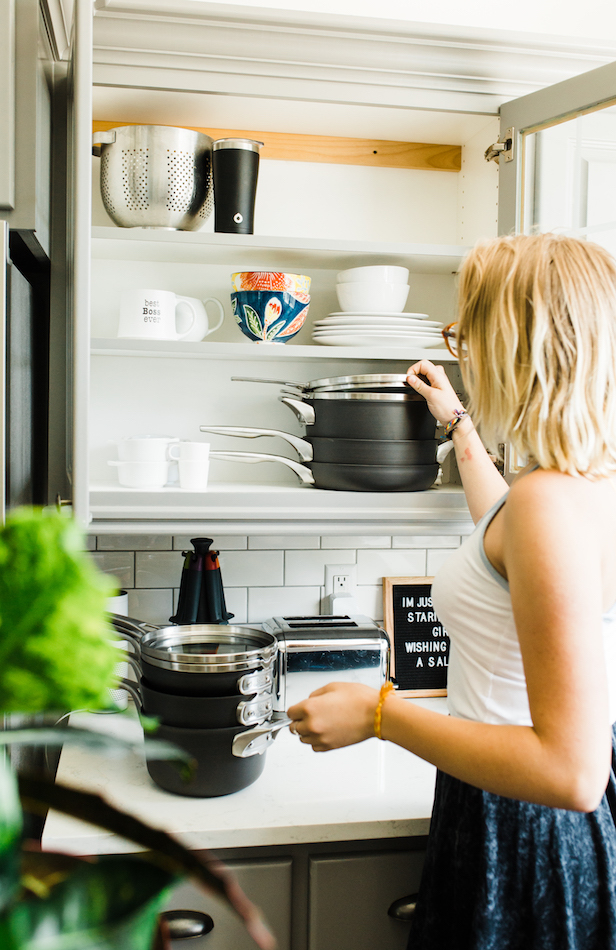 And with countertops cleared and drawers decluttered, it should be almost as easy as sharing your first dorm room kitchen with your eternally ambitious little sister.