Easy Veggie Stir-Fry Recipe with Brown Jasmine Rice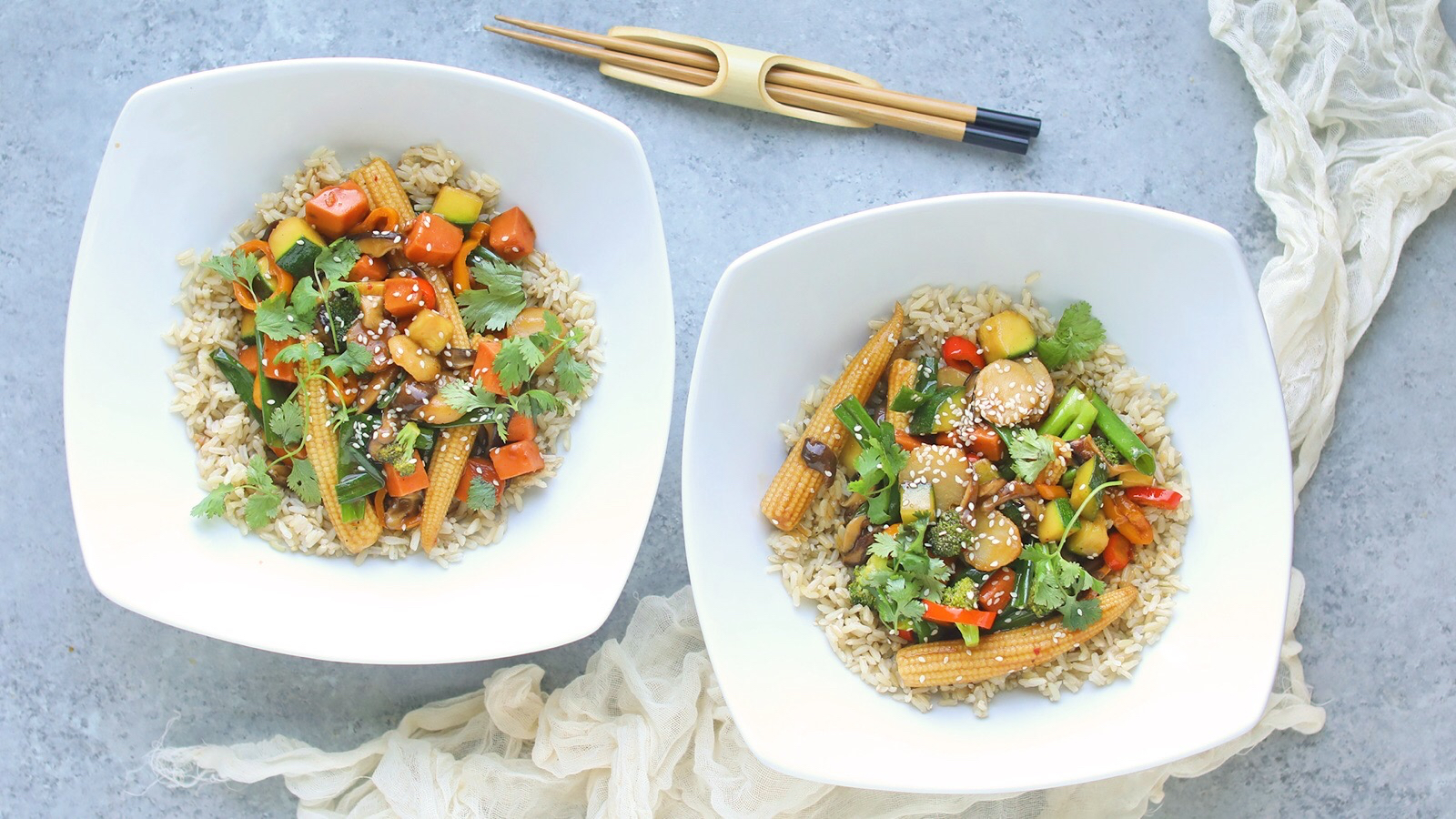 Since the start of the school year I've toned it down a bit and am making simpler recipes that are huge on flavor. Summertime is always lackadaisical in the food department. We were either eating out or I was making some extravagant four course meal that took all day to prepare.
Once September rolled around, I buckled down and started to make weeknight meals that were quick and easy that the whole family would enjoy. In addition, my wife and I have been trying to be more conscious of what we are putting in our bodies. My wife has taken this thing to the next level by remaining gluten and dairy-free and doing her best to be plant first. I was told that if she was going to eat this, the rice needed to be brown, so brown rice it is.
The art of stir-frying is exactly that, constantly stirring while frying over very high heat. I understand how some people can get worried that things are going to burn because when the pan is smoking, you know it's hot. You want to get your wok super hot over high heat before adding in your sesame oil and then your veggies. Since sweet potatoes take a little longer to cook I decided to cook those first by themselves for a few minutes before adding in all of the other vegetables.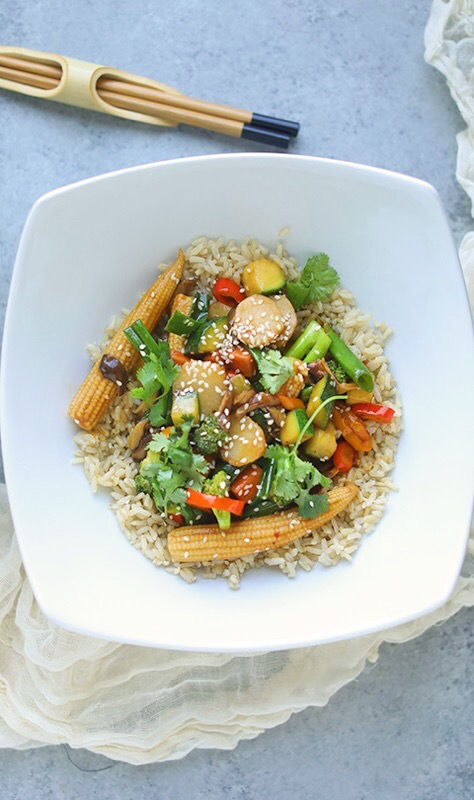 The trick is to keep the wok super hot while placing the wooden spatula to the bottom of the pan and using your other hand to rock the pan back and forth. Doing this ensures none of your ingredients stick to the bottom of the pan while quickly searing every part of each vegetable. You should never walk away from making stir-fry, or you'll risk eating mushy, overcooked vegetables. Stir-fry should be full of crisp, slightly cooked vegetables that still have color and all of their original fresh flavor.
You want to finish off this easy vegetarian stir-fry by mixing in the stir-fry sauce and don't worry, due to the cornstarch in the sauce it will immediately thicken. From there, just keep it warm over low heat before adding it to the top of the cooked brown jasmine rice. If you want tons of flavor in a recipe that is really easy to make, then this Easy Veggie Stir-Fry Recipe with Brown Jasmine Rice is definitely for you!
Easy Veggie Stir Fry Recipe with Brown Jasmine Rice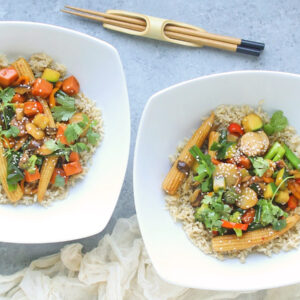 INGREDIENTS
For the Stir Fry Sauce:

½ cup of soy sauce
1 ½ teaspoons of sugar
3 tablespoons of sherry
2 tablespoons of sesame oil
1/3 cup of oyster sauce
1 teaspoon of chili garlic sauce
1 tablespoon of cornstarch
For the Vegetables:
3 tablespoons of sesame oil
1 peeled and large diced sweet potatoes
2 cups of julienne shiitake mushrooms
2 cups of trimmed broccoli florets
1 cup of sliced mini bell peppers
1 large diced green zucchini
1 15-ounce can of baby corn, drained
1 6-ounce can of water chestnuts, drained
1 cup of 1" thick sliced green onions
To serve:
6 cups cooked jasmine rice
Fresh cilantro leaves and sesame seeds for garnish
INSTRUCTIONS
Sauce: Whisk together in a medium size bowl, soy sauce, sugar, sherry, sesame oil, oyster sauce, chili garlic sauce, and corn starch until combined. Set aside.
Vegetables: Heat a wok over high heat for 1 to 2 minutes or until it begins to slightly smoke and then add in the sesame oil.
Next, add in the sweet potatoes and stir-fry for 3 to 4 minutes before adding in the mushrooms, broccoli, peppers, and zucchini and stir-fry for 2 minutes before adding in the cornichons, chestnuts, green onions and stir-fry for 2 more minutes.
Pour in the stir-fry sauce and cook for 2 to 3 minutes or until the vegetables are coated in the sauce and cooked.
Serve the vegetable stir-fry over the cooked brown jasmine rice and garnish with cilantro and sesame seeds.