Easy Maple & Pomegranate Glazed Roasted Beets with Goat Cheese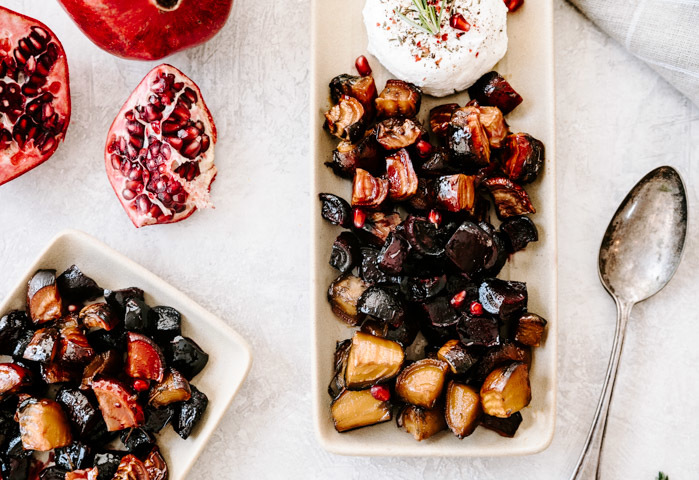 This recipe is a great one to have in your back pocket as a side dish for a party, or for yummy winter salads. There's a not-so-secret ingredient that may strike you as a bit, well, I'll just say unexpected: the maple. You may have guessed what that flavor is by now – yes, it's the pomegranate – but it actually comes from one of my favorite secret weapons in seasonings: pomegranate molasses.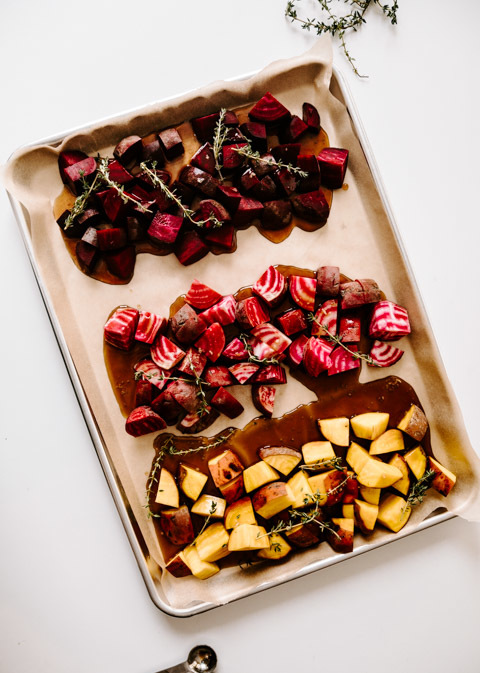 There's a really balancing earthiness that adds the perfect amount of sweetness without taking a savory dish too far. Luckily, beets can handle a bit of sweetness anyway which keeps the combination of maple and pomegranate in check. No matter how you decide to serve it, don't skip the goat cheese on this one because the addition of the creamy texture is absolutely my favorite part of these glazed beets.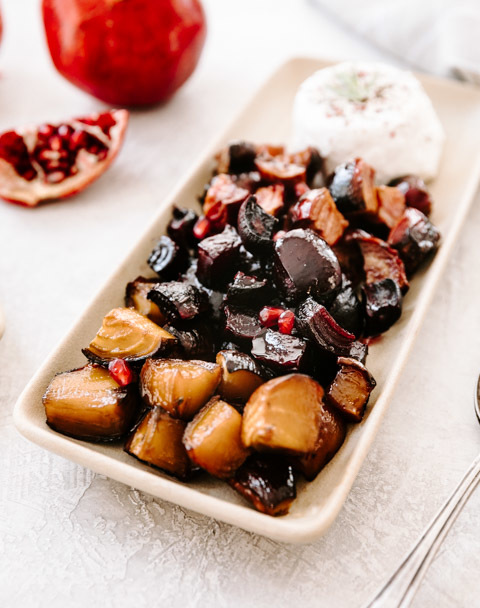 This recipe is a great veggie side because it's both delicious and good for you, too. You may be wondering, but what about all the sugar in the marinade? Don't fear the sugar here, beets are fiber rich and will help your body metabolize it just fine. Carbohydrates get a bad rap, but our body really has to have them to give us energy and help with not-so-basic functions like brain function. A great rule of thumb if you're concerned about sugar spikes is to always eat simple carbohydrates with protein and/or fiber, it will create balance and give you absolutely everything your body needs and can handle, sugar and all. Eating all foods in balance is exactly what our body wants and needs us to do!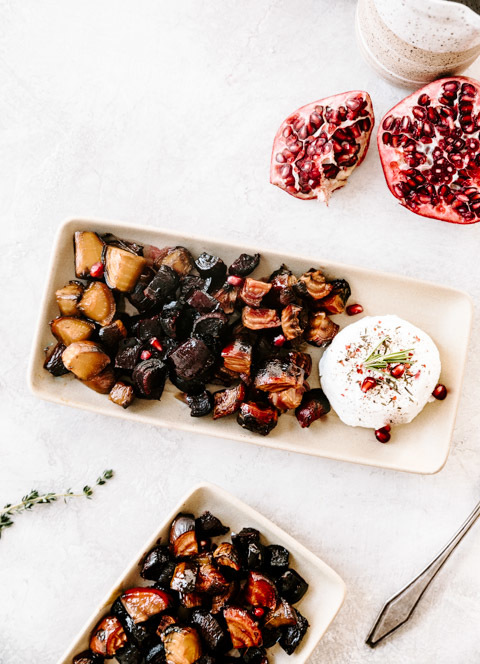 A few things to note:
The glaze starts as a liquid-y marinade and turns into a glaze as it bakes. Because beets take a little while to cook, I'm having you start on a low temperature to avoid burning the sugars in the glaze. After the first 40 minutes, the glaze will still be a liquid marinade and that's okay. Once you crank the heat to 400° it will thicken into a perfect glaze without burning before the beets are done. If you see any browning around the edges, that's okay and likely to happen, just try to avoid mixing it into the beets.
I like to cook with shoyu or tamari to avoid adding unnecessary gluten in soy sauce, however if you have soy allergy try coconut liquid aminos instead. They all basically taste the same and are definitely interchangeable in cooking depending on your allergens/needs.
If you decide to use different colored beets like I do, my trick to maintain the colors in each is to bake them in different sections on the same tray. If you mix them up with the marinade you'll likely lose the golden and lighter colors to the classic, highly staining purple beets.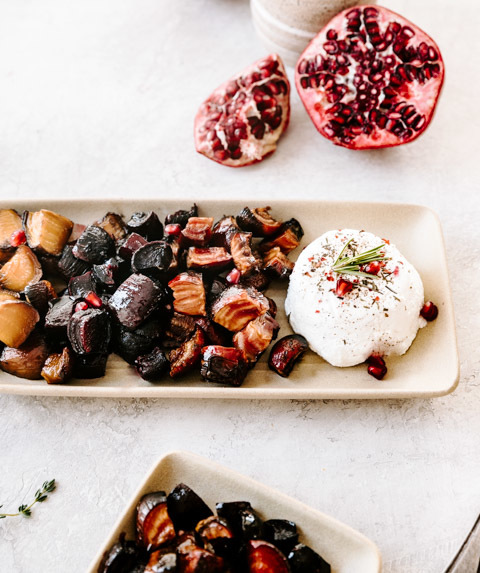 Easy Maple & Pomegranate Glazed Roasted Beets with Goat Cheese
This recipe is a great one to have in your back pocket as a side dish for a party or for yummy winter salads.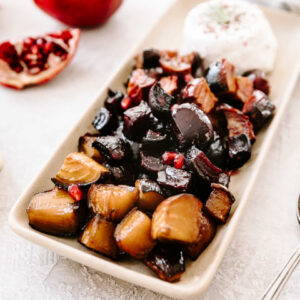 Ingredients
3

lb

beets, mix of different colors if available, scrubbed and chopped into 1" cubes

.75

cups

maple syrup

1

tbsp

rice vinegar

1

tsp

pomegranate molasses

.5

tsp

shoyu, tamari, or coconut liquid aminos

1

medium garlic clove, finely chopped

1

small bunch thyme

8

oz

goat cheese
Instructions
Preheat oven to 325° and line a baking sheet with parchment paper.

In a small bowl, mix to combine maple syrup, rice vinegar, pomegranate molasses, shoyu, and garlic.

If using tri-colored beets, place them in 3 separated sections on the baking sheet to avoid the colors bleeding. Pour liquid mixture over top of each section until it's been completely used. Place thyme on top and place in the oven.

Bake for 40 minutes and then turn up the heat to 400°. The glaze should still be rather fluid at this point. Stir and continue to bake for about 20-30 minutes until the glaze has thickened into a sticky consistency and the beets are tender.

While the beets bake, line a 1/3 cup measuring cup with plastic wrap then gently press in goat cheese to form a cylindrical shape. Garnish with fresh herbs and pomegranate seeds. Serve cooked beets with goat cheese on the side and enjoy!

Optional: skip step 5 and crumble cold over top of hot beets instead.
Nutrition
Serving:
1
g
Calories:
583
kcal
Carbohydrates:
79.7
g
Protein:
23.9
g
Fat:
21.2
g
Saturated Fat:
14.1
g
Cholesterol:
60
mg
Sodium:
466
mg
Fiber:
8.8
g
Sugar:
64.4
g