​Drink to Your Health: Creating Fruit and Vegetable Mocktails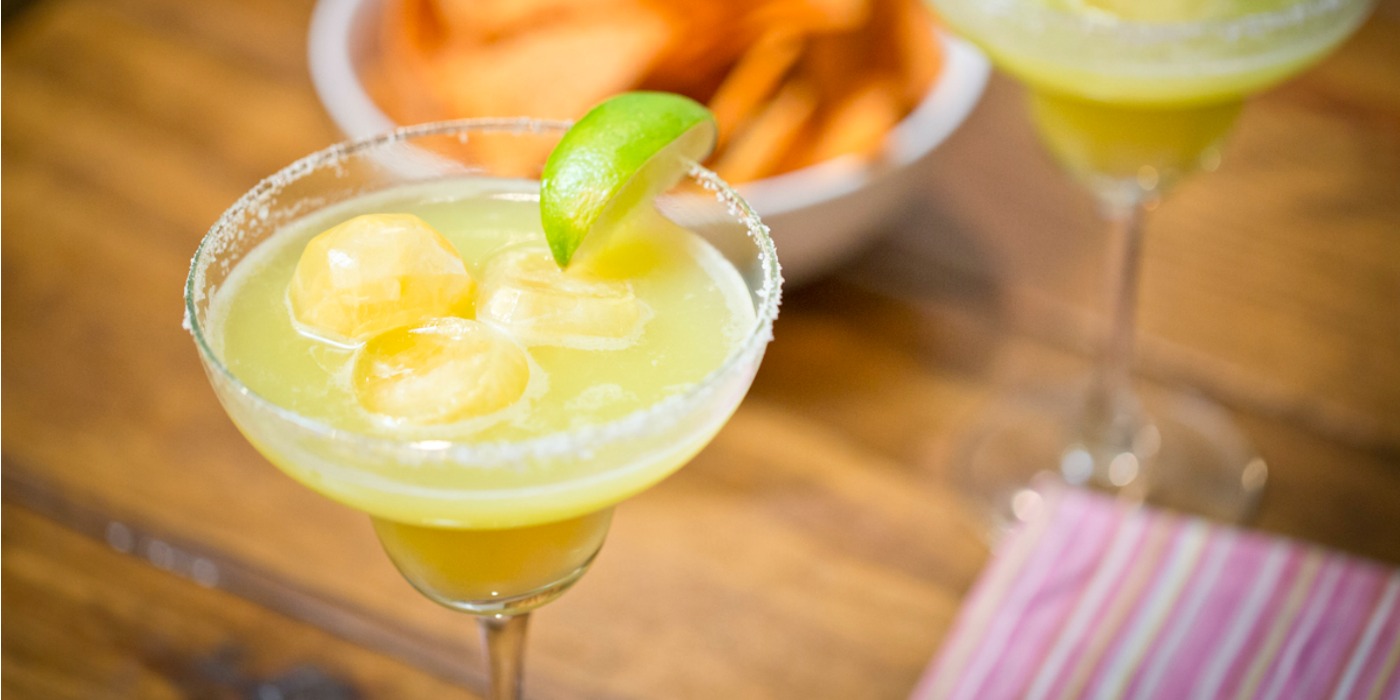 The trend of drinking fresh-pressed juice in the morning or for a midday pick-me-up seems to be sticking around. Why not? I mean, it's the easiest way to work lots of fruits and vegetables into your daily routine. Let's capitalize on this trend and make mocktails, not cocktails, the focus at a healthy gathering.
Everyone can enjoy these creative concoctions! All you do is dream up a few flavor combinations based on classic cocktails. Then, you decide on a creative way to present them to your guests using fancy glasses, traditional garnishes, and whimsical ice cube shapes.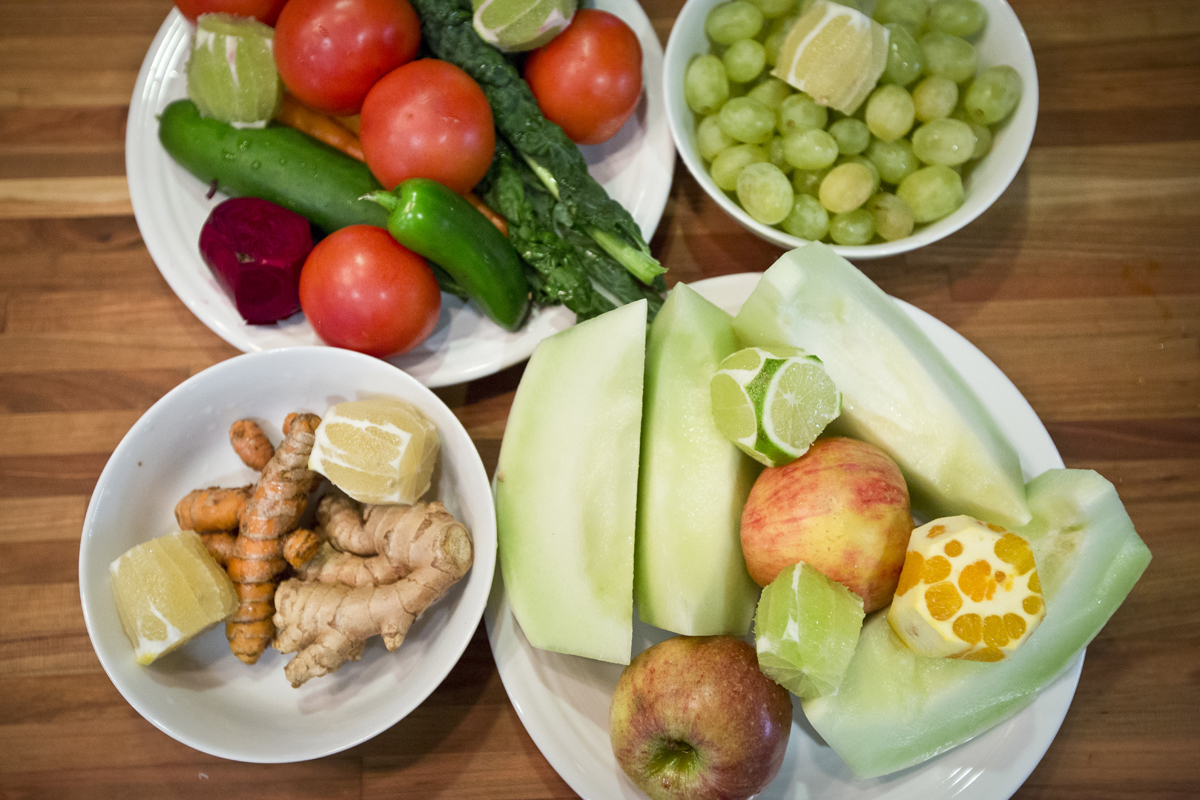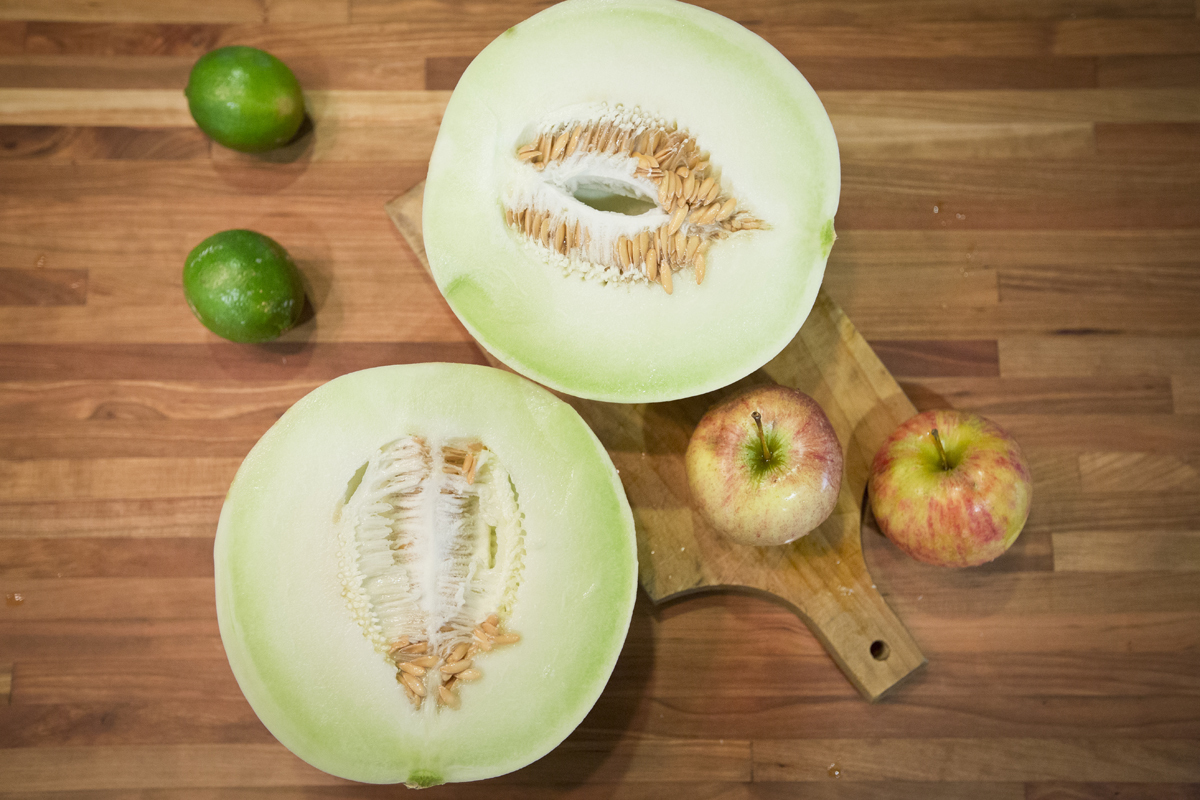 You'll need a juicer if you don't have one already. My Kuvings Slow Juicer has become my new favorite kitchen appliance. It's not the first juicer I've ever owned, but it is the most efficient. Even though it's called a slow juicer it processes fruits and vegetables just as quickly as my last juicer. Rather than shredding the vegetables and fruits, it pulls them in and crushes them using a giant corkscrew and a very powerful motor. You don't even really ever need to use the plunger. This crushing action renders more juice, which is evidenced by the small amount of dry pulp the juicer produces. In addition, it's been the easiest to operate and isn't too time consuming to clean.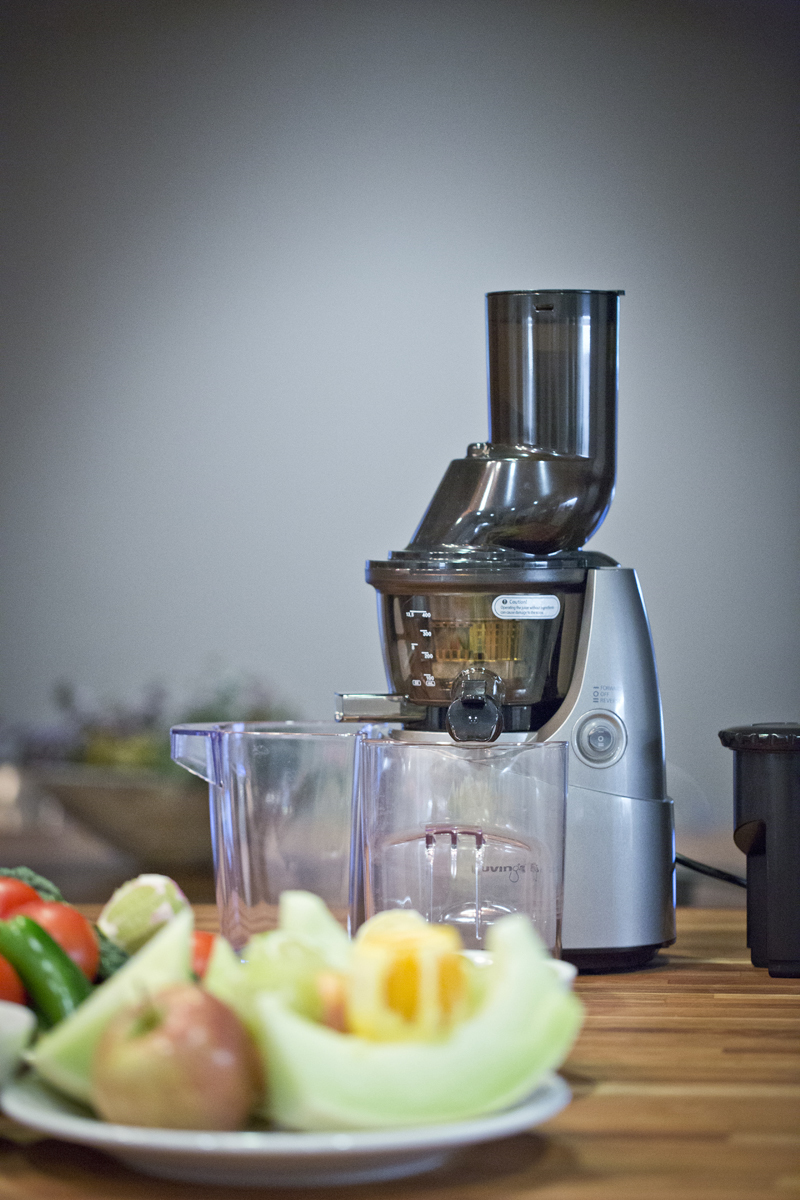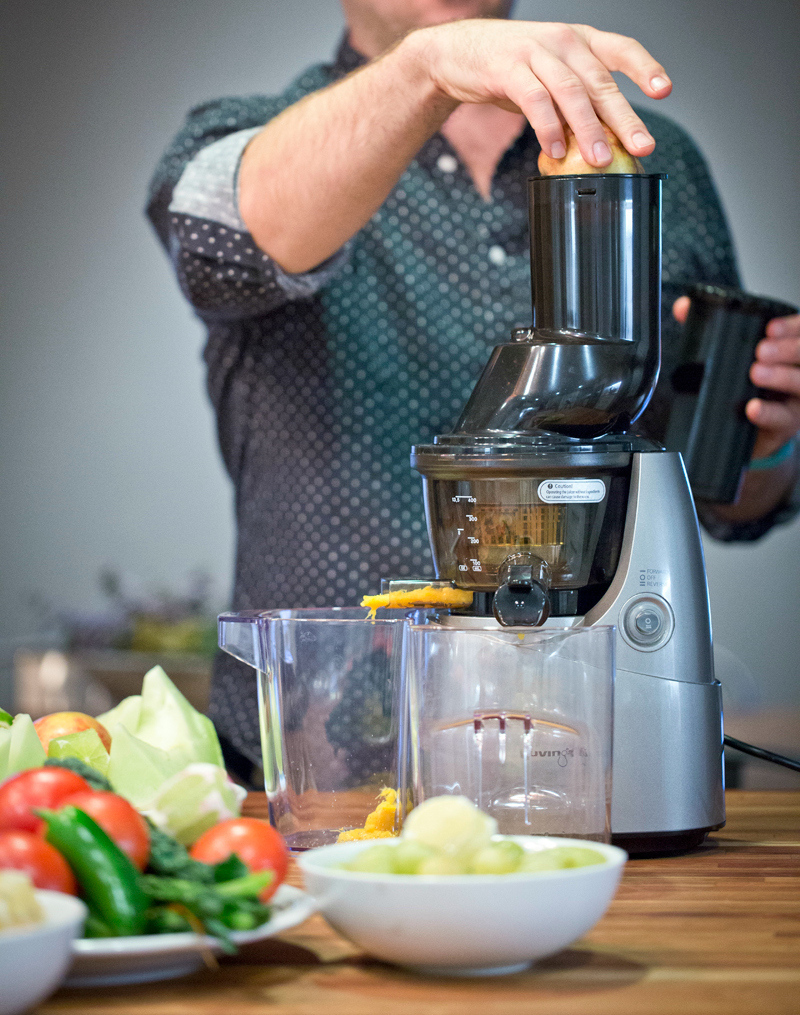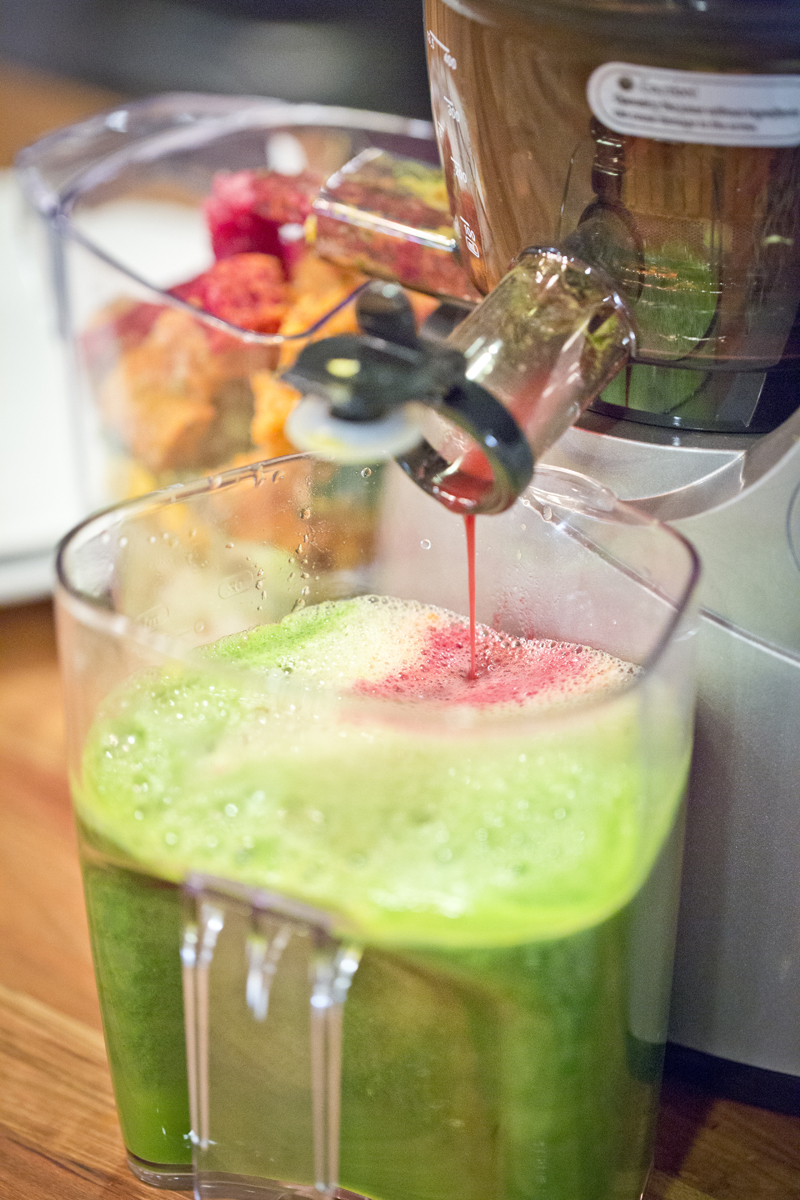 Once you decide on a flavor combination, traditional glassware completes the illusion and makes each drink feel very special. Luminarc glasses have the clean, modern style I favor. I was able to find just about any style you can imagine. It's good to have a few different types on hand. It's always great to have a good wine glass, and I love the delicate curves of these margarita glass and sturdiness of the rocks glasses.
Whimsical ice trays offer a fun way to make your juicer drinks even more creative. We froze juice from satsuma oranges in the Fred & Friends Cool Jewels Diamond Ice Tray and floated the blinged-out shapes in my Honeydew, Apple, and Lime Margarita. The usual room-temperature juices become more appealing and refreshing when they're ice-cold, and a Trudeau Cocktail Shaker with Measuring Cap is helpful to have on hand if you want chilled but not watered-down martini-style juice…shaken, not stirred.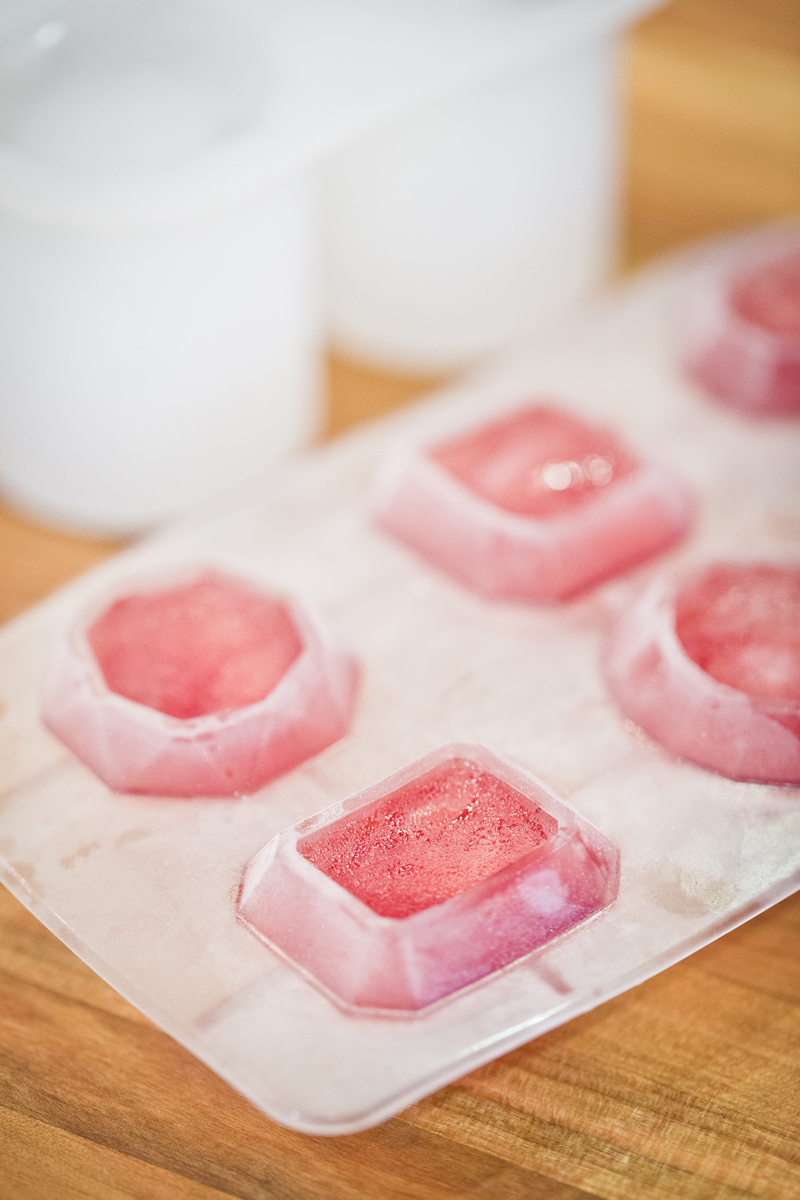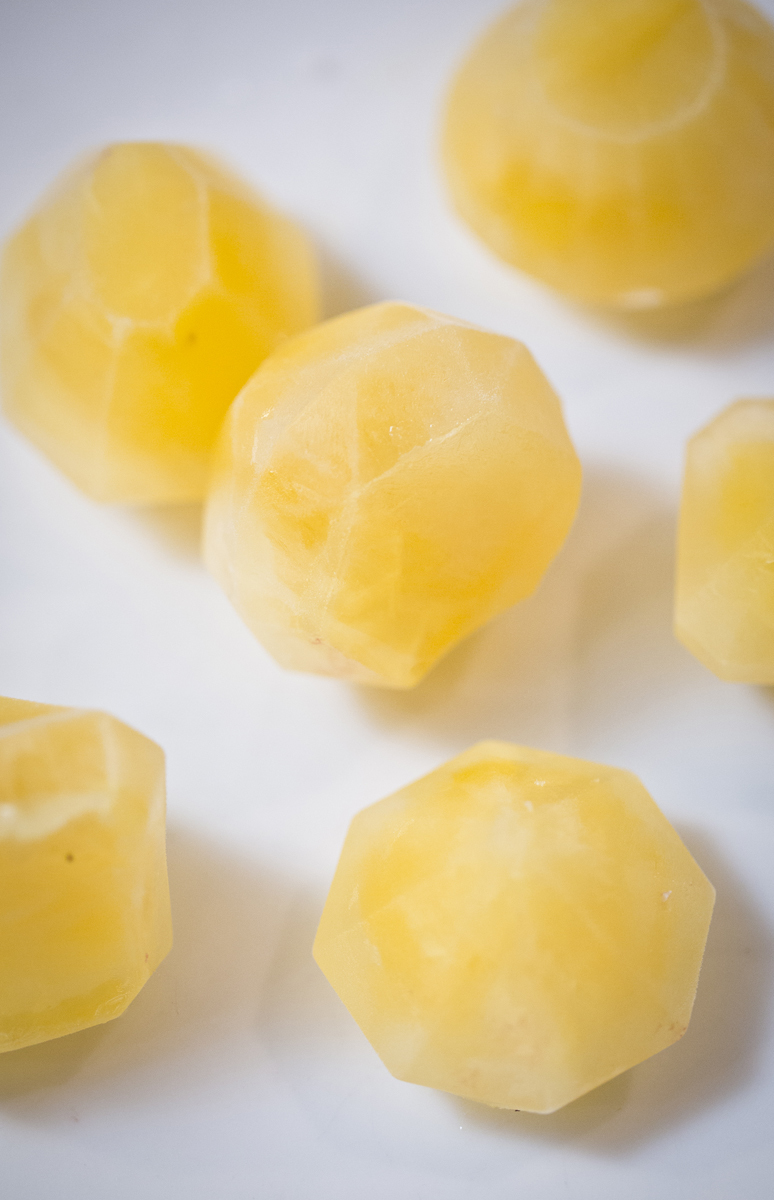 Get the party started with a shot of spicy ginger and turmeric served in a glass made of ice. That's right! This bracing drink is full of antioxidants and is a sure bet to fight inflammation. So if you have a headache or an injury, this is the drink for you. The vessel is made by freezing water in a food-grade silicone mold by Fred and Friends.
Try one of our mocktail recipes or make up your own the next time you're in the mood for fresh juice at home or when you host your next evening get-together this fall. You might be surprised by the positive reaction from some friends and family members–you know, the ones who sometimes roll their eyes about your healthy habits.
There's really no reason for fresh juices to be relegated to a sad plastic cup with a straw. Join in our mission to make juicing super cute so we can all raise a glass and drink to our health.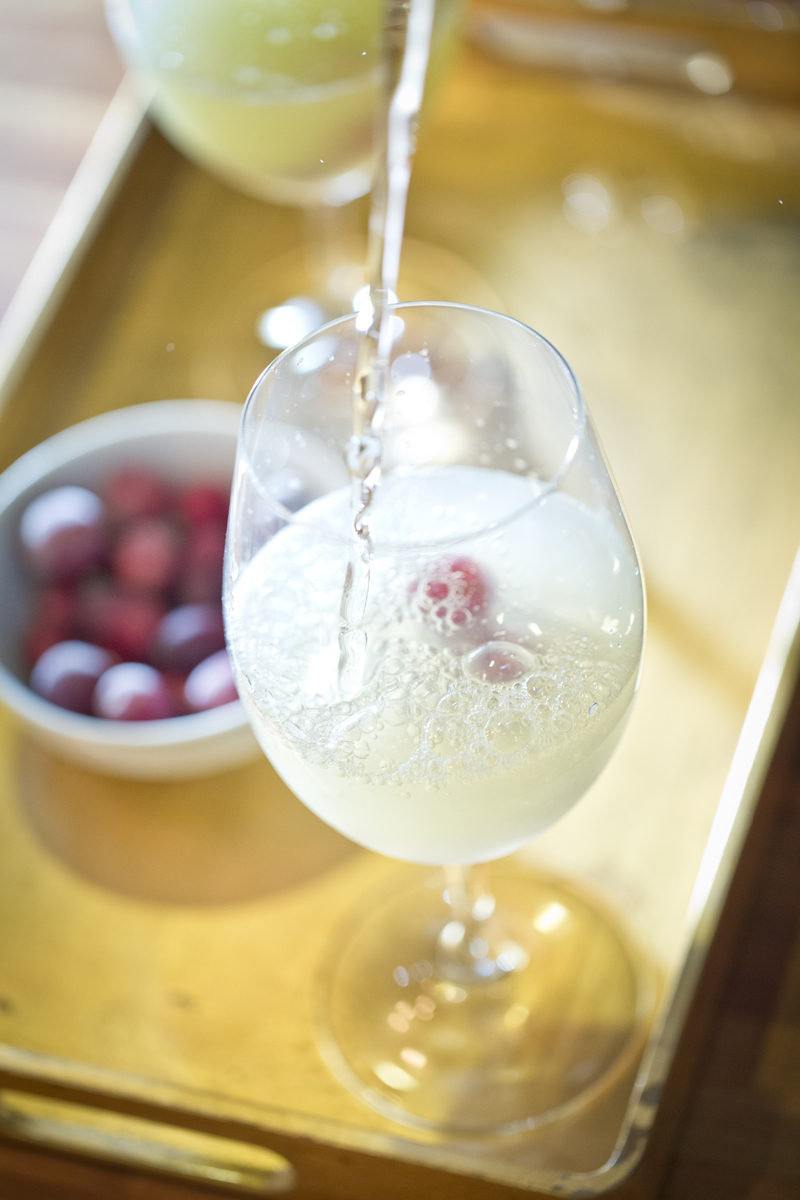 Green Grape Spritzer with Lemon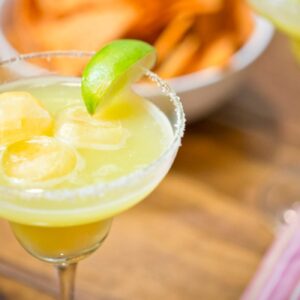 INGREDIENTS
1 cup red grapes (frozen)
2 cups green grapes
1 lemon (peeled)
12 ounces sparking water
INSTRUCTIONS
Freeze red grapes for at least 1 hour before serving.
Juice green grapes and lemon.
Add 1/2 cup juice to a wine glass, add 1/2 cup sparkling water and about 6 frozen red grapes.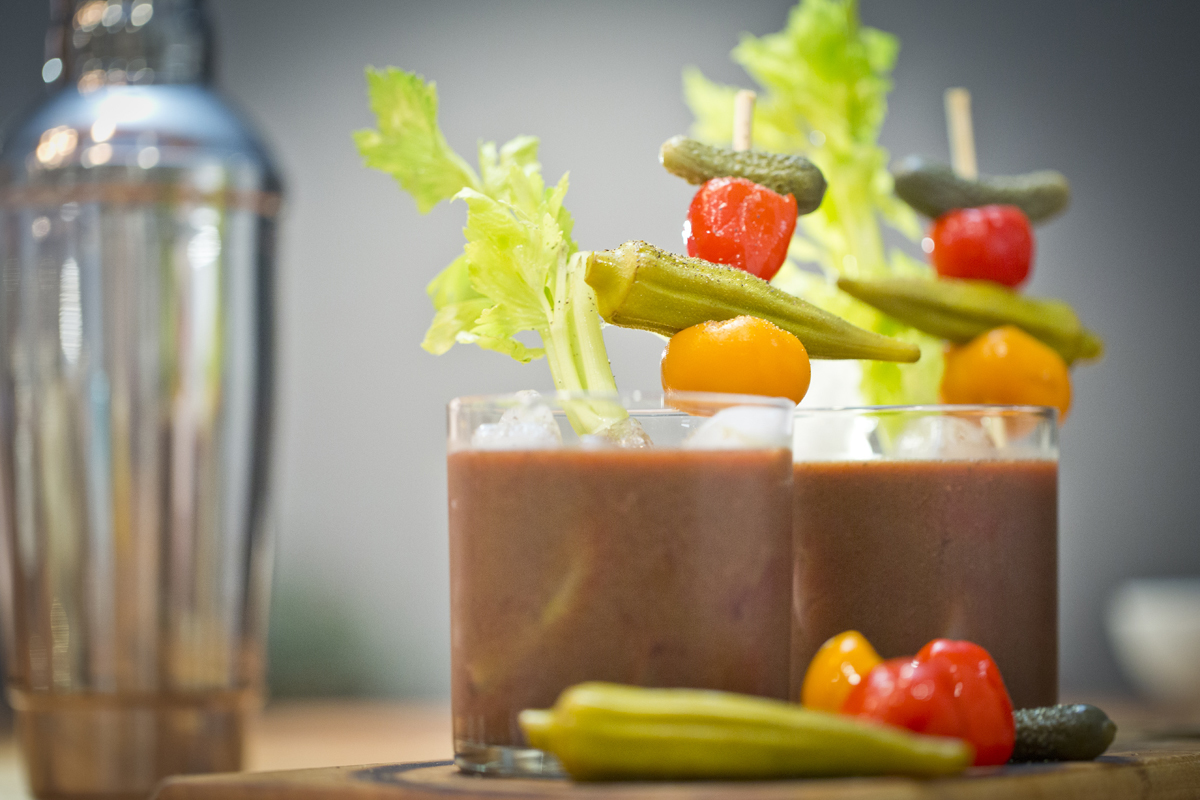 Spicy Beet Root Bloody Mary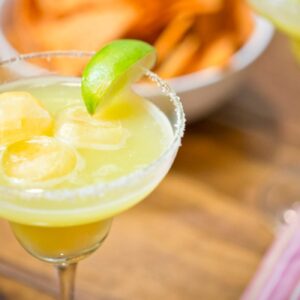 INGREDIENTS
1 medium red beet (peeled)
3 ribs kale
1 small cucumber
1 small green pepper
1 medium jalapeño
1 lime (peeled)
2 medium carrots (tops removed)
4-5 medium tomatoes (stems removed)
Pinch Kosher salt
Celery stalks, picked okra, gherkins, pickled peppers, and black pepper (to garnish)
INSTRUCTIONS
Juice beet, kale, cucumber, green pepper, jalapeño, lime, carrots, and tomatoes.
Stir in salt.
Serve over ice in a rocks glass garnished with pickles and black pepper.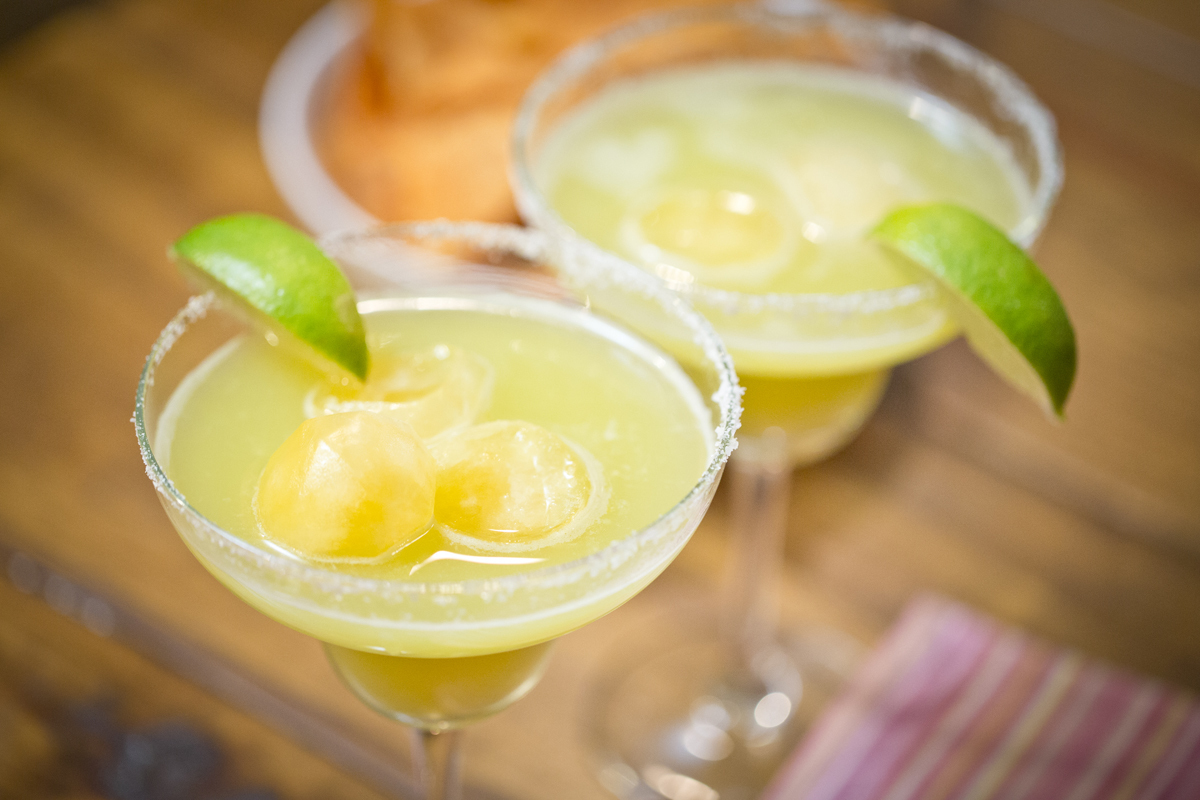 Honeydew, Apple, and Lime "Margarita"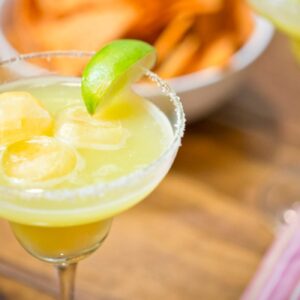 INGREDIENTS
Satsuma ice cubes (optional)
1/2 a medium honeydew melon (seeded)
2 limes (peeled)
1 orange (peeled)
2 medium apples (like Red Delicious)
Kosher salt, lime wedges (for garnish)
INSTRUCTIONS
Pour satsuma juice into ice molds and freeze for at least 1 hour before serving.
Juice honeydew, limes, orange, and apples.
Salt the rim of 2 margarita glasses.
Serve over satsuma ice cubes garnished with a lime.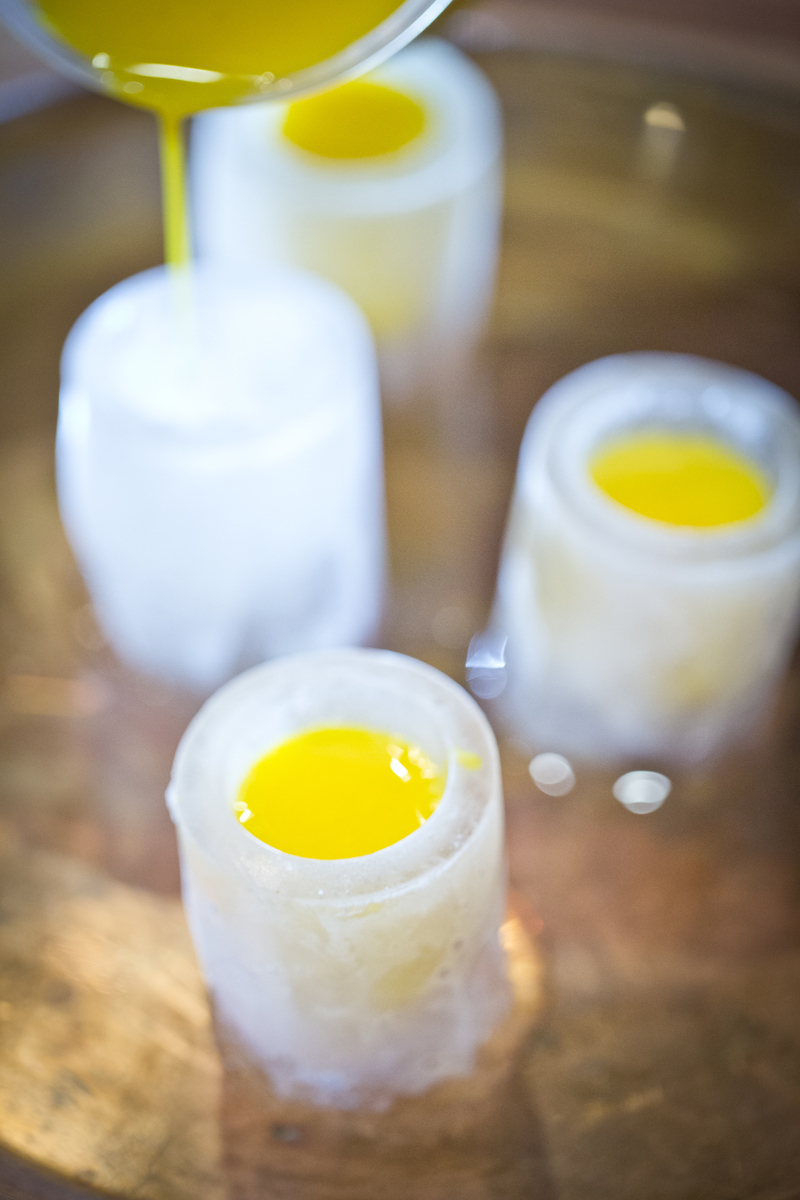 Ginger Shot with Lemon and Turmeric: A Powerful Shot of Anti-Inflammatories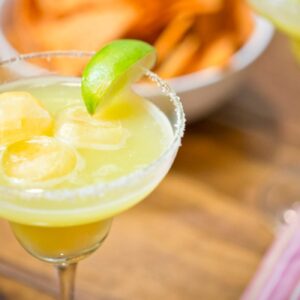 INGREDIENTS
1 two-inch piece of ginger
2 one-inch pieces of turmeric
1 lemon (peeled)
INSTRUCTIONS
Fill and freeze shot glass molds at least 2 hours before serving.
Juice ginger, turmeric, and lemon.
Serve in frozen shot glasses.