Delicata Squash with Dukkah, Ricotta, and Dried Cherries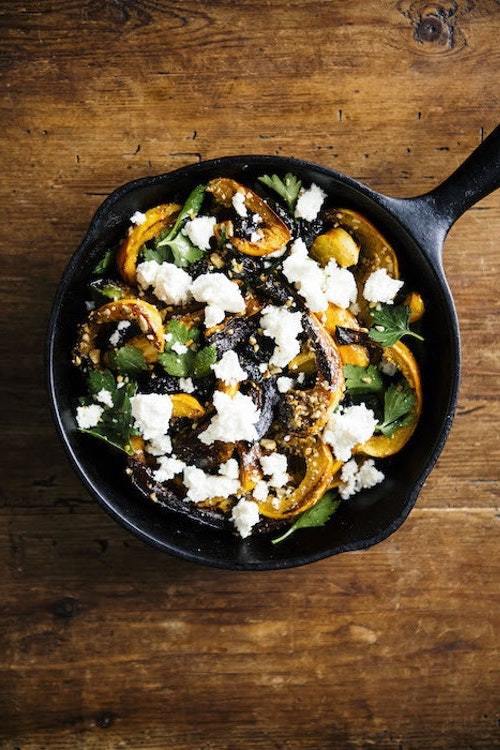 The following recipe is an excerpt from Ruffage by Abra Berens with permission by Chronicle Books, 2019
Delicata, festival, and acorn squash are my favorite types of squash because they have a thin enough rind that it can be eaten, skin and all. If using a thicker-skinned squash like butternut, peel the skin away with a vegetable peeler or knife and continue and described.
I like browning the squash in the pan to get good caramelization on the cut sizes. If the oven is already on, feel free to finish cooking the squash there to free up a burner. Also, note that if you cut the squash into large pieces (more than 1 inch thick) you will need to finish the squash in the oven after the initial sear because it will never cook all the way through without burning.
– Abra Berens
Delicata Squash with Dukkah, Ricotta, and Dried Cherries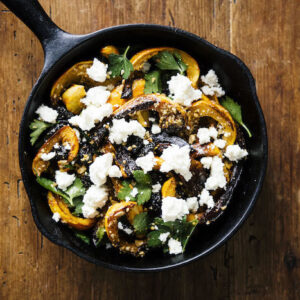 INGREDIENTS
For the Squash:
Neutral Oil
2 medium (2 lb) delicata, acorn, or festival squash, cut into half lengthwise, seeded and cut into half-moons or claws 1 to 2 inches thick
Salt and freshly ground pepper
½ cup dukkah (see recipe below)
½ cup dried cherries, tart or sweet
1 bunch parsley, 1½ cups stemmed, leaves left whole
4 oz ricotta or quark
For the Dukkah:
½ cup hazelnuts
½ cup almonds
½ cup pistachios
½ cup sunflower seeds
1 tsp cumin seeds
1 tsp coriander seed
1 Tbsp. smoked paprika
1 tsp salt
INSTRUCTIONS
For the Squash:
Heat a glug of neutral oil in a large frying pan over high heat.
When smoking hot, add the squash in a single layer, sprinkle with salt and pepper and allow to brown.
When brown, flip, add on an additional glug of oil and brown the other side. Do this in batches; if there is too much in the pan, the squash will steam and not brown evenly.
When the squash is tender and golden brown, transfer it to a large bowl and toss with the dukkah, cherries, and parsley.
Transfer the squash mixture to a serving platter. Dot with the ricotta and serve.
For the Dukkah:
Toast all the nuts until fragrant and let cool.
In a dry frying pan, combine the spices and toast over medium heat until fragrant
In a food processor chop the nuts until they are the texture of Grape-Nuts cereal
Add the spices and salt and blend
Store in an airtight container on the counter
Check out more recipes, ideas, and tips from Abra Berens' Ruffage Cookbook.