Curry Chicken Salad Stuffed Avocados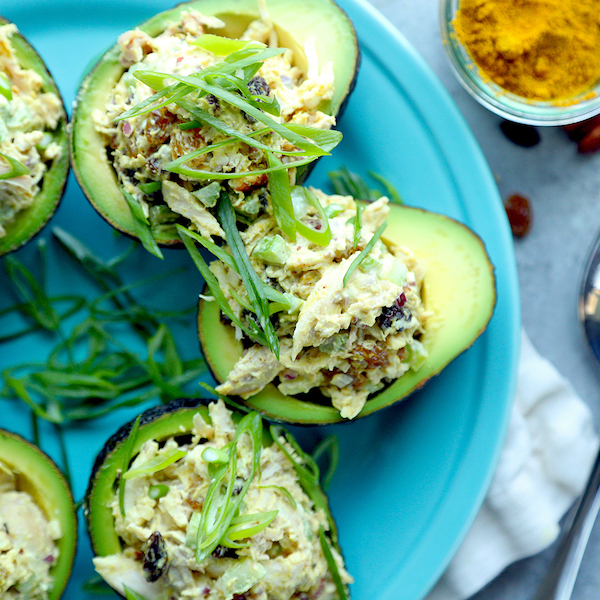 An easy go-to lunch, these stuffed avocados are filled with a simple and delicious chicken salad recipe. I also like the fact that the flavors can be dramatically changed just by tweaking a few ingredients.
It wasn't until I was about 12 years old when I finally had a really tasty chicken salad. It was at this little restaurant called Cuisine de Art in a small town where I went to high school in St. Louis. It was the first time I had ever had fruit in chicken salad and whoa was I blown away. They used sliced grapes in their chicken salad and that sweet acid cut so perfectly with the grilled chicken that it immediately became one of my favorite things to eat. In fact, ever since that first chicken salad sandwich, I will forever add in some sort of sweet (and/or slightly sour) fruit into my chicken salad.
We're trying to be a bit more health-conscious in our family, so bread carbs have unfortunately taken a back seat for now. Well, what better way to incorporate some healthy delicious fats into your diet then by using an avocado? I simply seeded it, scooped a bit of it out and added it in the curry chicken salad. The creaminess from the avocado gives it the most amazing rich flavor.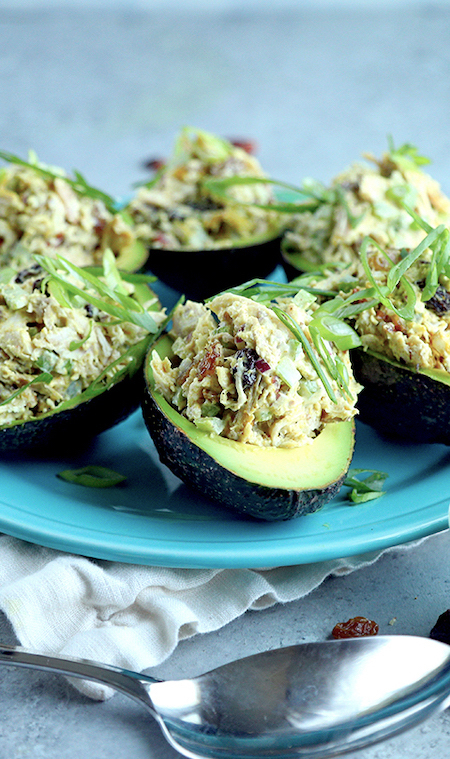 To also try and remain healthy I provided an option for the binding ingredient. You can either use mayonnaise or yogurt, but both provide excellent flavor. Well, that's all I got for now. Happy Chicken Salad making!
Curry Chicken Salad Stuffed Avocados Recipe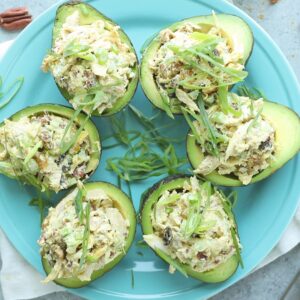 INGREDIENTS
1 skinned and pulled rotisserie chicken, chilled
4 small diced stalks of celery
½ peeled and small diced red onion
¼ cup of chopped pecans
2/3 cup of raisins
2/3 cup mayonnaise or yogurt
1 teaspoon of yellow curry powder
6 seeded and cut in half avocados
Kosher salt and fresh cracked pepper to taste
INSTRUCTIONS
In a large bowl combine all of the ingredients except for the avocados. Chill before serving.
Stuff each of the avocado halves with chicken salad.
Serve.