Shaved Fennel Salad Over Salmon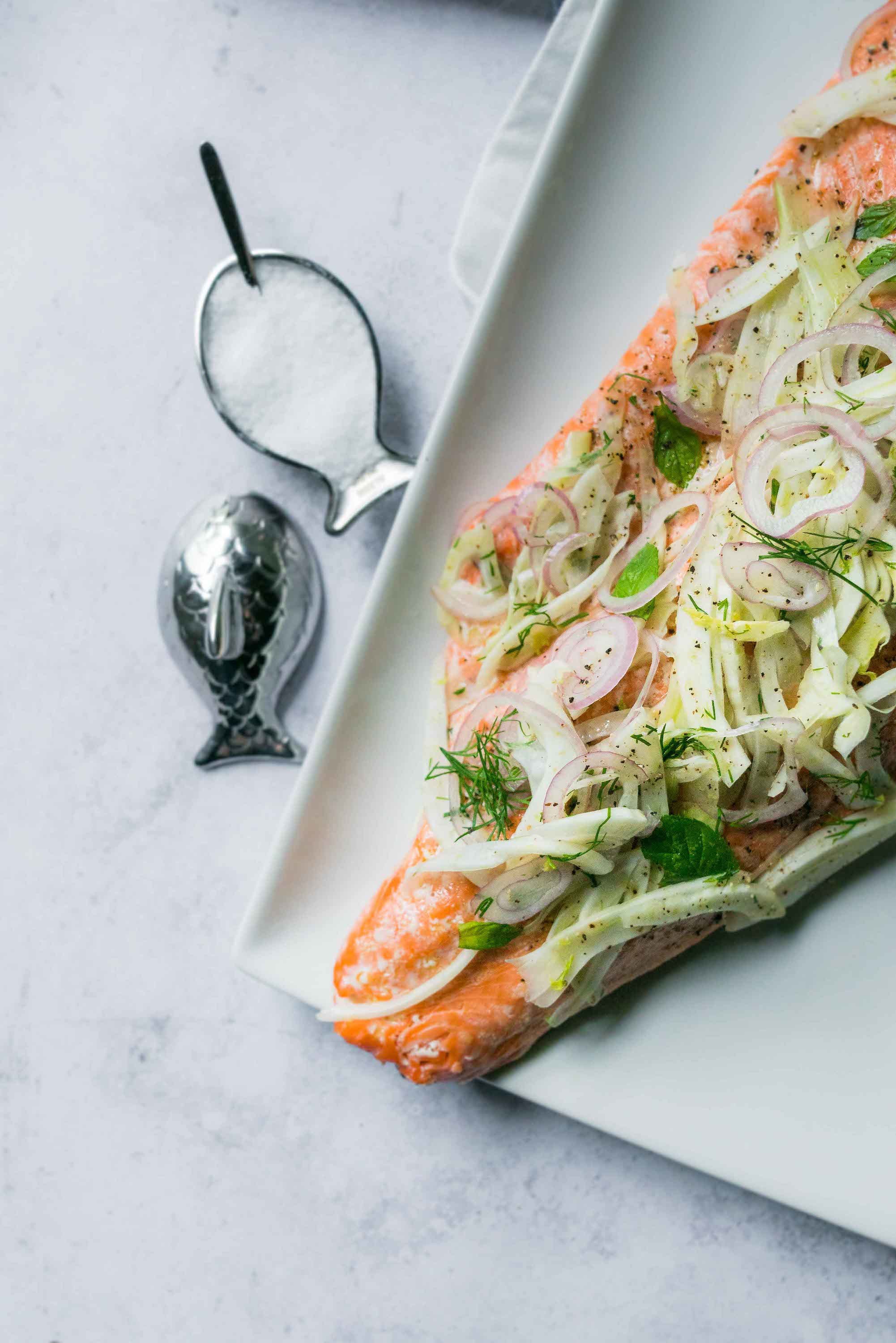 When it comes to recipes, I think like a food lover first and a dietitian second. When you're in school to become a dietitian, you spend years learning to create the "perfect meal" from a nutrition perspective. But the reality is that the circa 2008 nutrition education 'perfect meal' is boring and more often than not… just not even remotely tempting for an average person. Salmon. Brown rice. Broccoli. Sadness.
But please don't write off salmon for good. Or broccoli for that matter. This recipe for shaved fennel herb salad over wild salmon is one of those recipes that's inadvertently 'healthy'- a byproduct of really good flavors and cooking methods together. It's technically gluten free, pescetarian friendly and of course it boasts all of the major health benefits of fish. Like the fact that according to a UCLA study, people who eat fish frequently have a 14% larger brain hippocampus (for memory and learning).
Or that regular fish eaters are 20% less likely than others to suffer from depression, and it's such strong evidence that the American Psychiatric Association lists fatty acids found in fish as an 'effective part of depression treatment'.
And the American Heart Association also came out again in 2018 reaffirming that you definitely should be eating two servings of fish each week for heart health.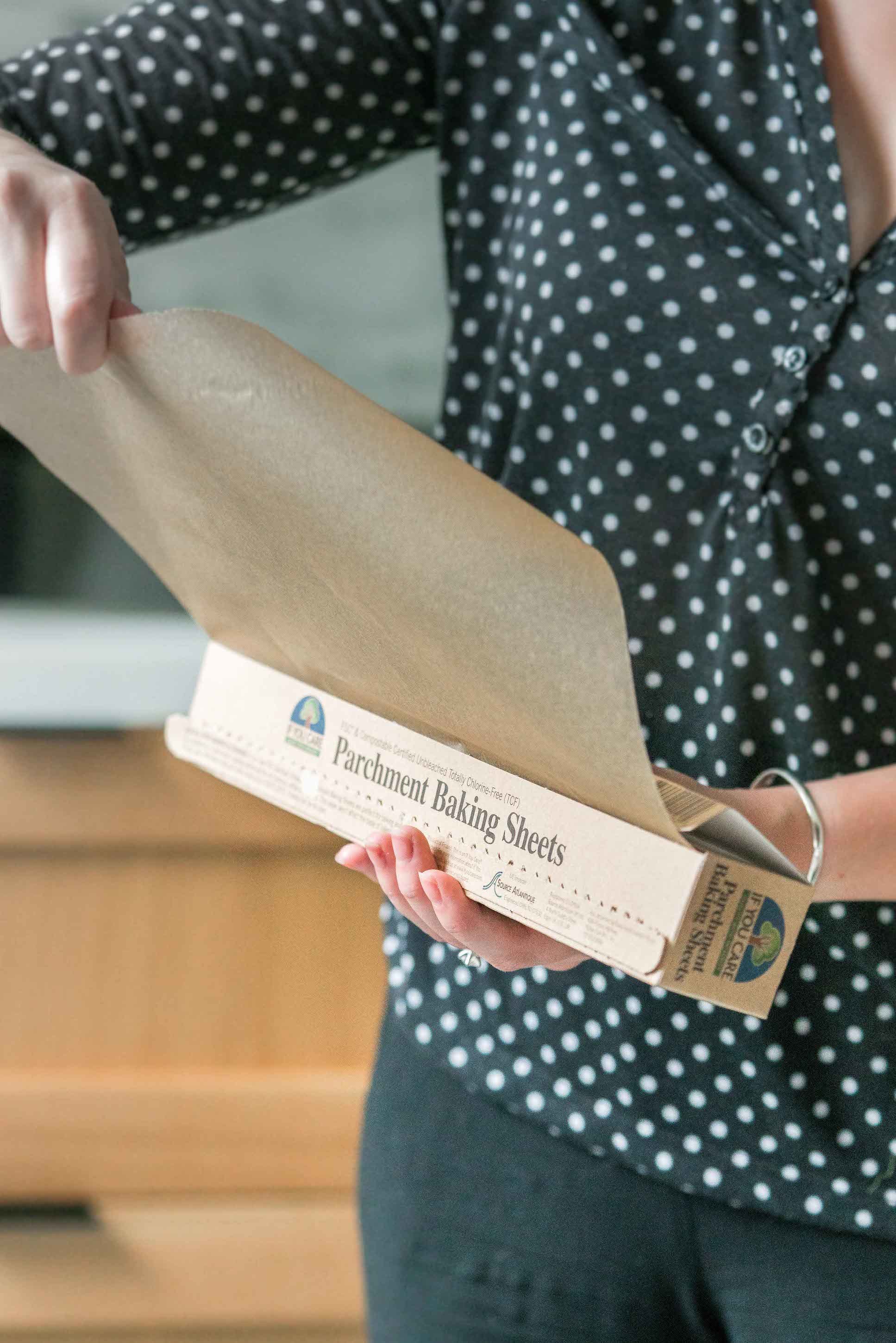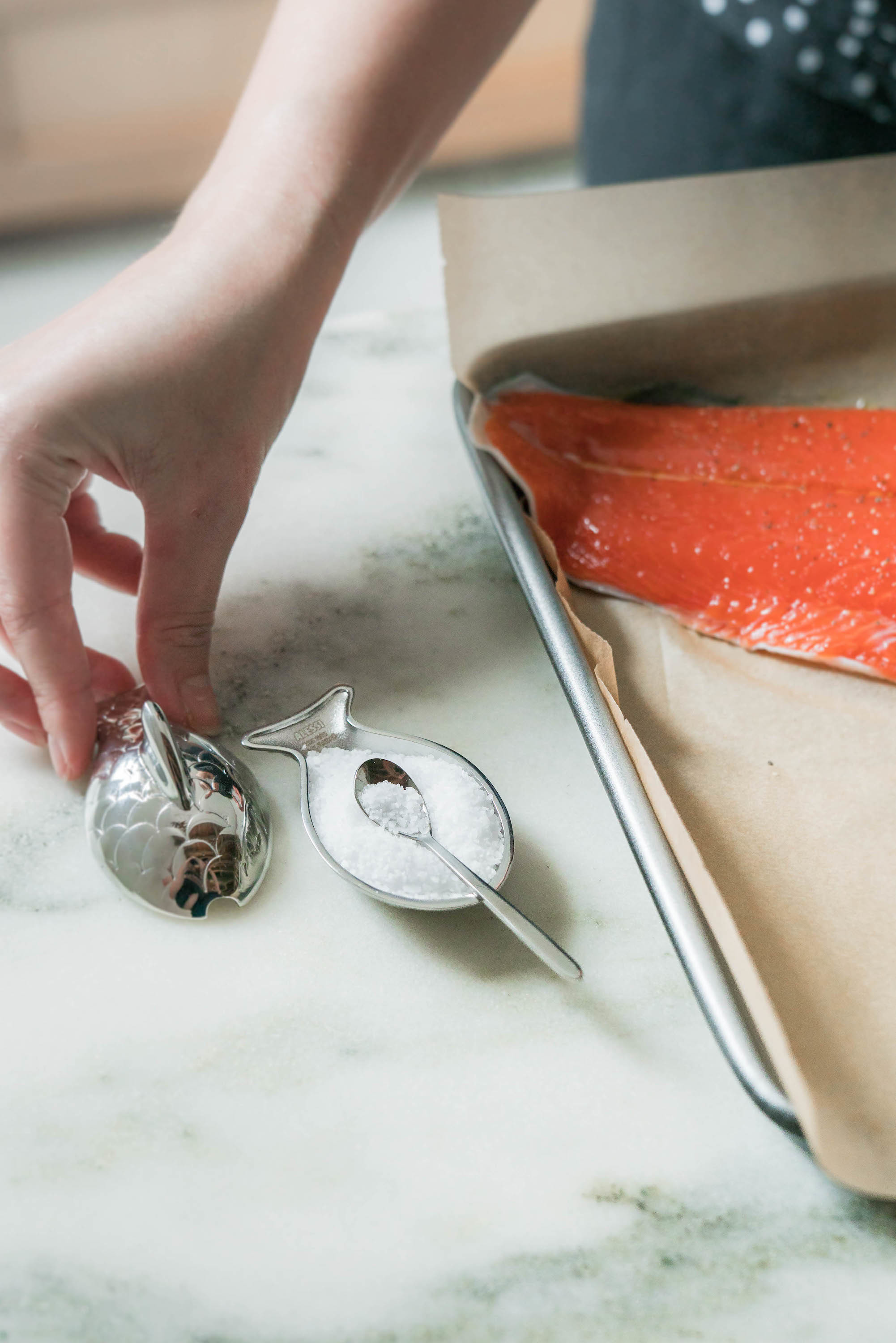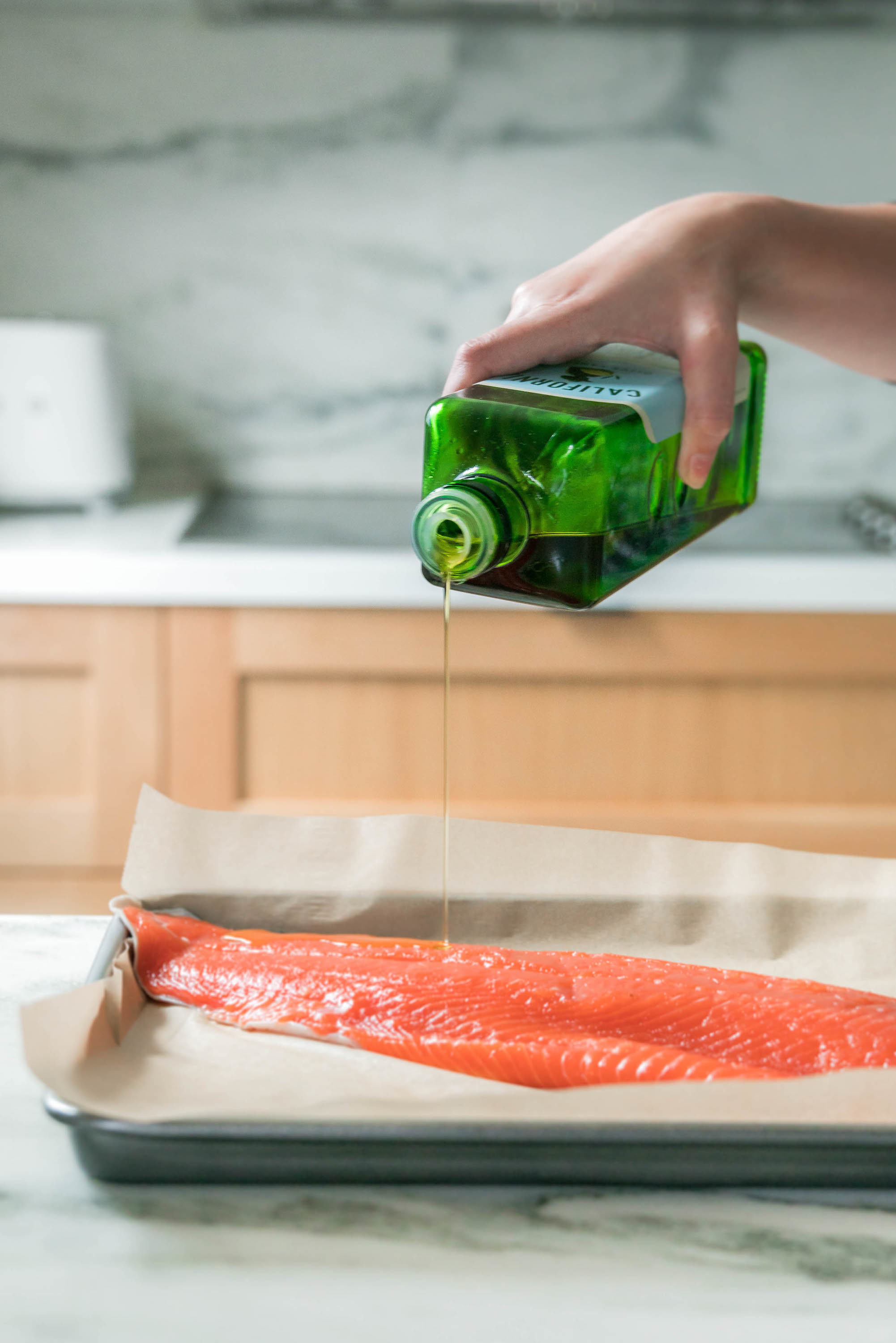 So…you get it. The list goes on and on. Fish is good for you. But the way I see it now, it's a delicious, versatile ingredient that gives you a lot to play with in the kitchen. And that's just important when you're a food lover as a life prioritization.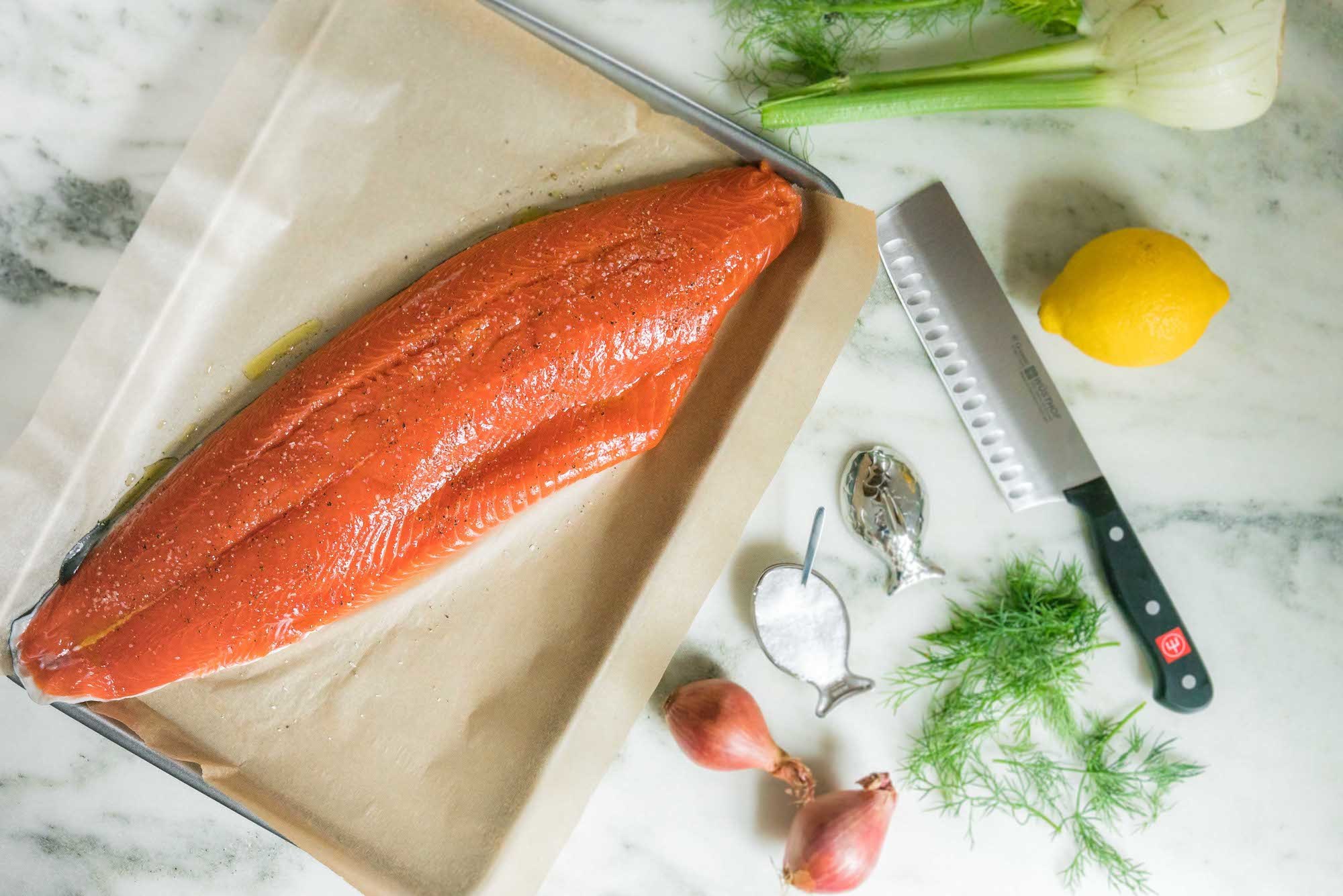 With the prevalence of friends, family and dinner guests likely requesting gluten free options, having a protein with a salad on top of, or under the main course makes your life so much easier. It looks amazing (it's basically a centerpiece if you're doing family style). You basically don't even need flowers or candles.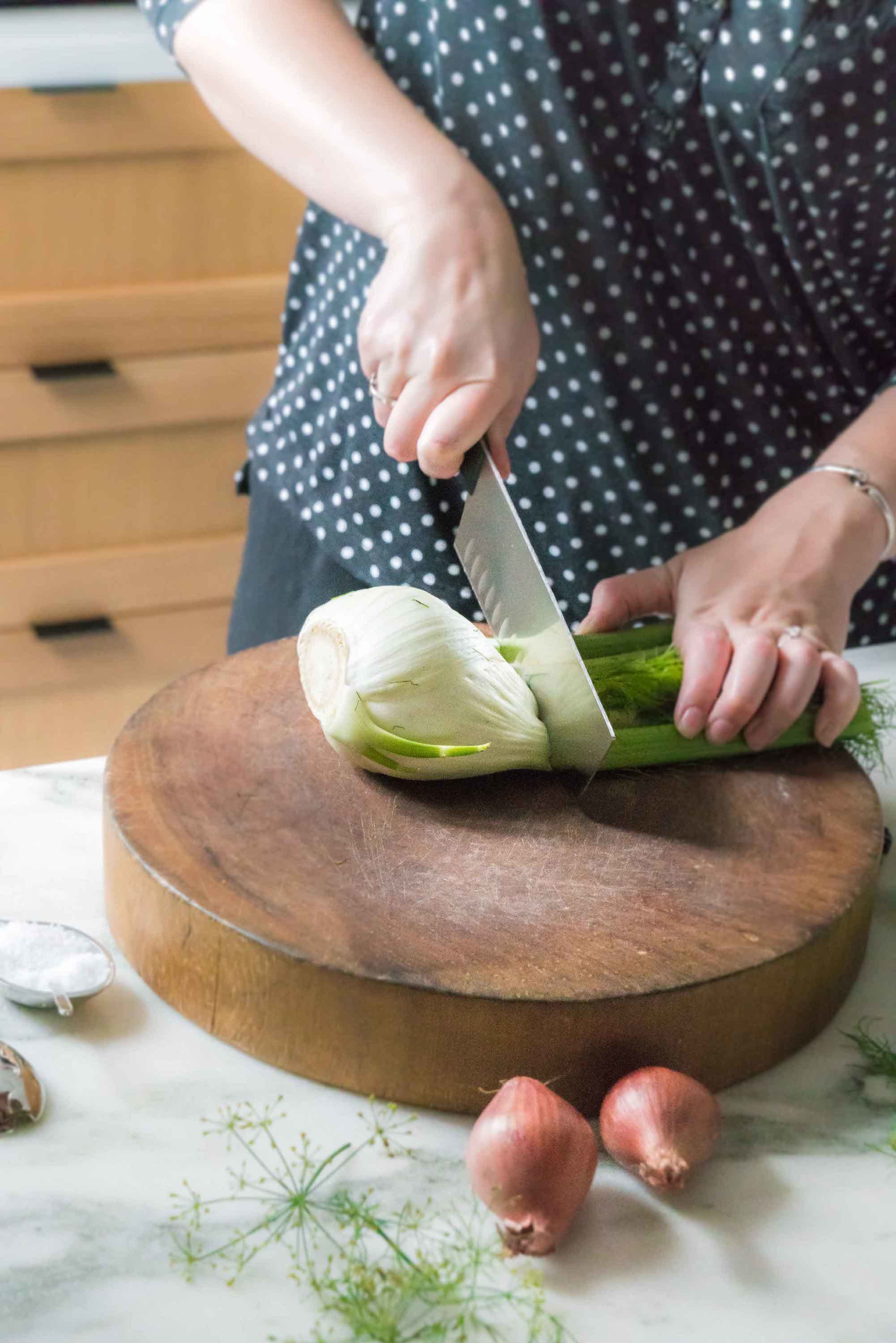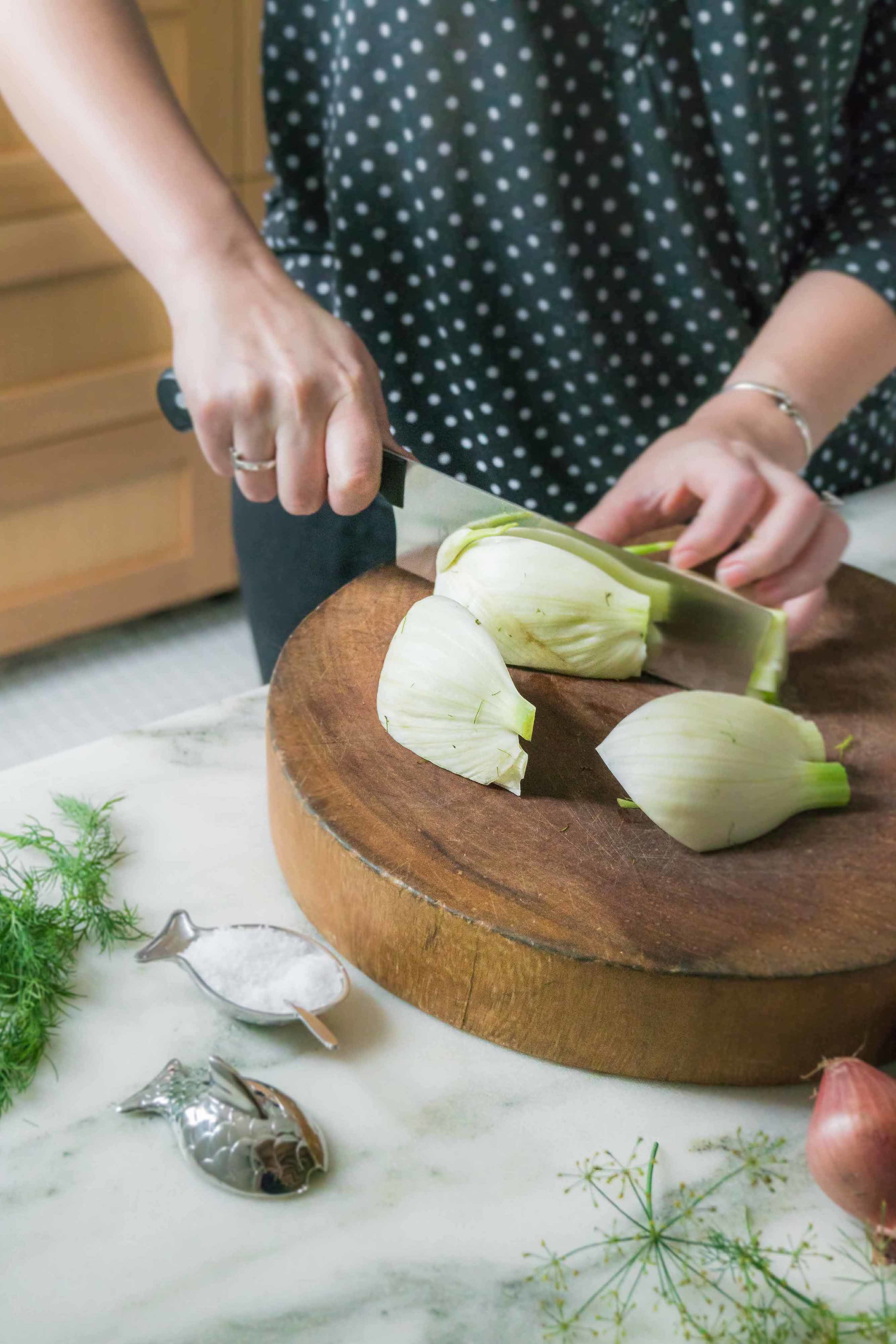 If you're new to using fresh fennel I would say the key is how you cut it. Rough, thick chunks aren't as appealing, or easy to eat as finely sliced, slaw-like bites. Because fresh fennel is so bright tasting, it's a great contrast for a fish like salmon where you would typically serve it with a bright citrus anyway!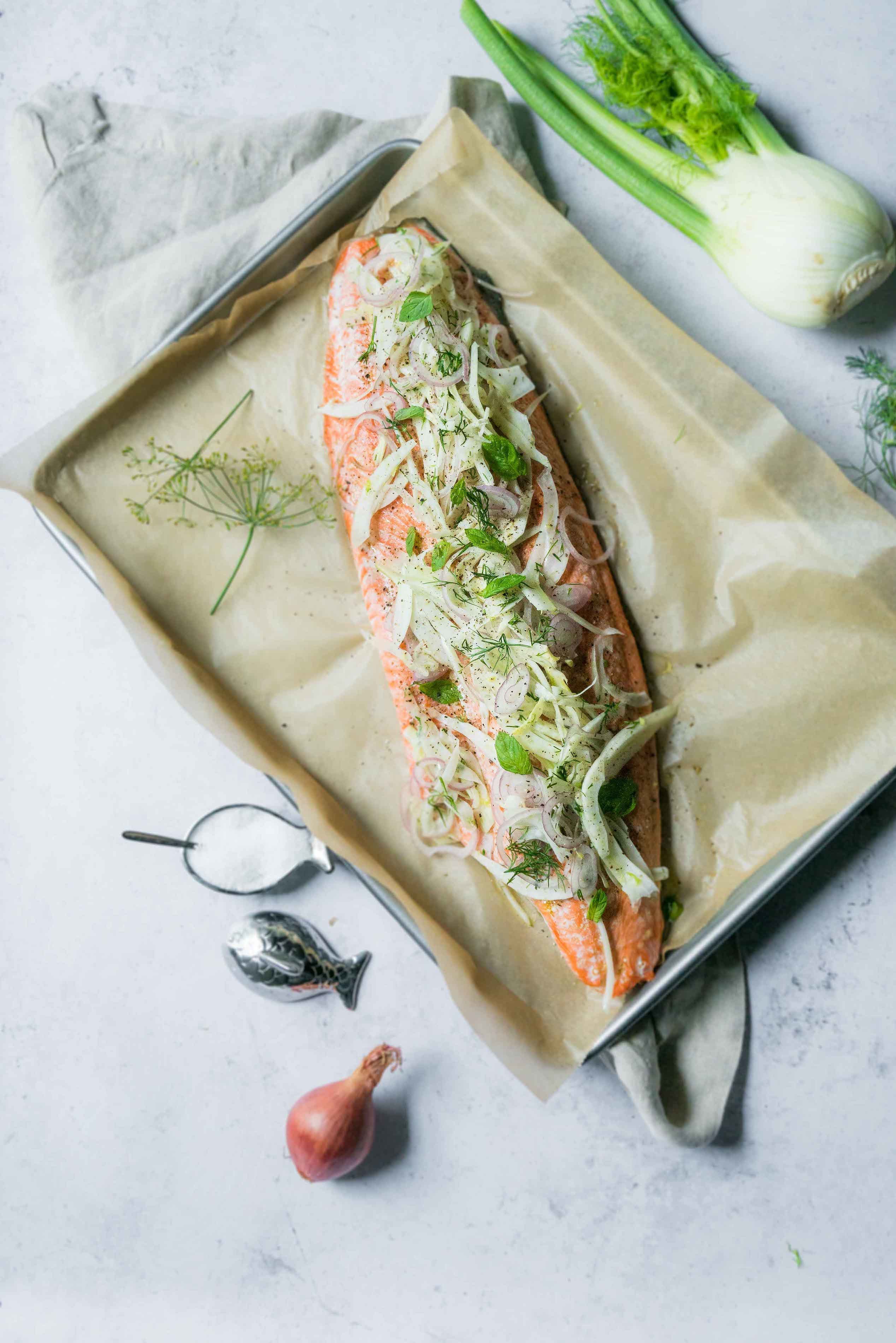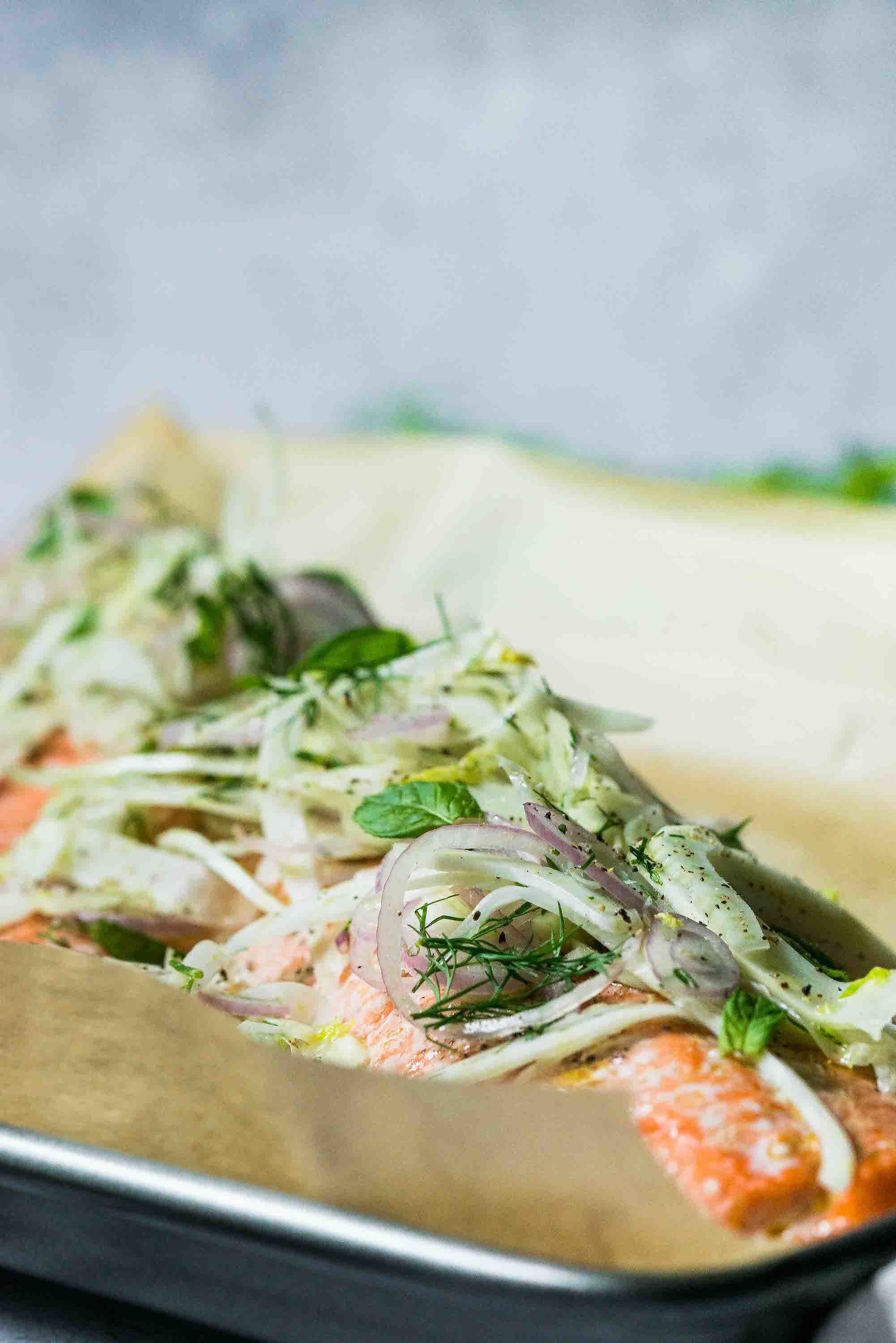 Shaved Fennel Salad Over Salmon
This healthy salmon dinner is so bright and fresh! Shaved fennel on top is a great contrast for a fish like salmon which you would typically serve with a bright citrus. Perfect for family style dining!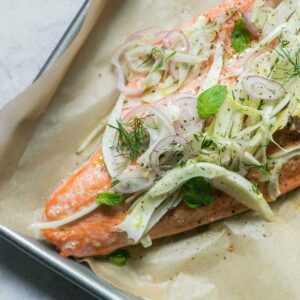 Ingredients
1

side fillet wild caught salmon (about 2 pounds)

.5

tbsp

extra virgin olive oil

1

tsp

kosher salt

A few cracks Freshly ground black pepper

1

fennel bulb

1

shallot

.5

lemon

1

tbsp

fresh mint leaves, torn

2

tbsp

fresh dill, chopped

1

tsp

sugar

.5

tbsp

apple cider vinegar or white wine vinegar
Instructions
Preheat the oven to 425° with a rack in the middle. Line a rimmed baking sheet with parchment paper.

Place the salmon scale side down and pat dry with paper towels. Drizzle with olive oil and season with salt and pepper.

Cook for about 12 minutes or until the internal temperature reaches at least 145 F.

To make the fennel salad, remove fennel tops. Cut the fennel bulb into quarters and slice thinly. Add to a large bowl with a thinly sliced shallot, juice of half a lemon, herbs, sugar and a splash of vinegar. Toss to combine. Serve on top of fish.
Nutrition
Serving:
4
g
Calories:
131
kcal
Carbohydrates:
4.1
g
Protein:
9.8
g
Fat:
8.6
g
Saturated Fat:
0.9
g
Cholesterol:
34
mg
Sodium:
411
mg
Fiber:
1.2
g
Sugar:
0.6
g