Cozy Up with Classic French Onion Soup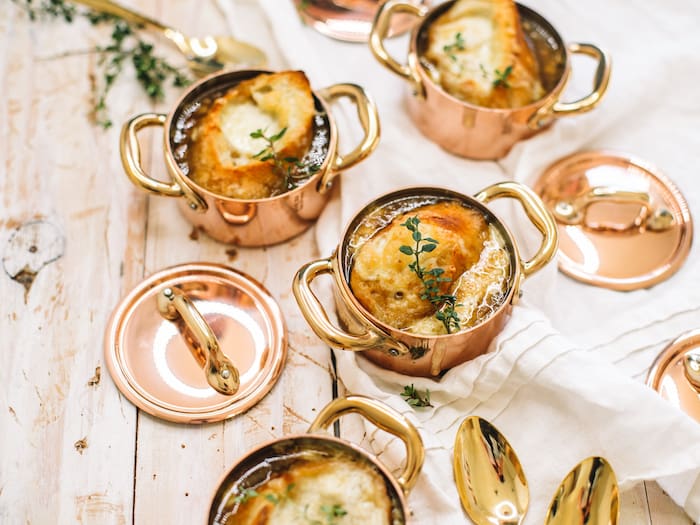 Ah we have all made it. It's the tail end of winter and the beginning of spring. Basically that weird period where I don't know if I should wear a sweater or a T-shirt, you feel me? Decisions, decisions.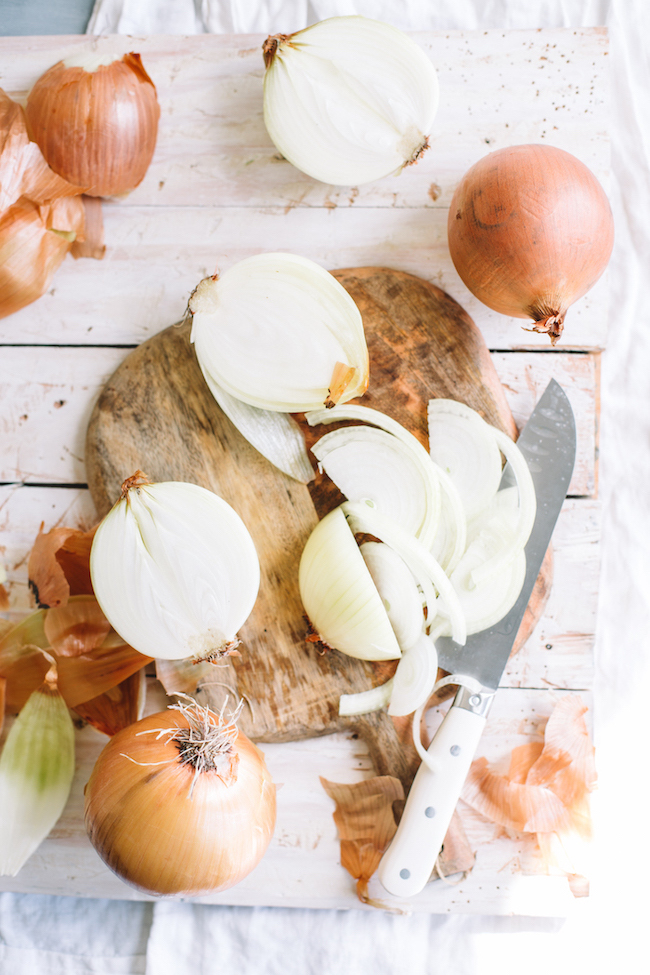 To rejoice in the rest of 'winter', I'm hunkering down this weekend to make a cozy classic that I can never get enough of: Classic French Onion Soup! Traditional French onion soup is a classic vegetarian soup that is usually topped off with shredded cheese and crusty bread. It screams winter and is filled with full-bodied flavor.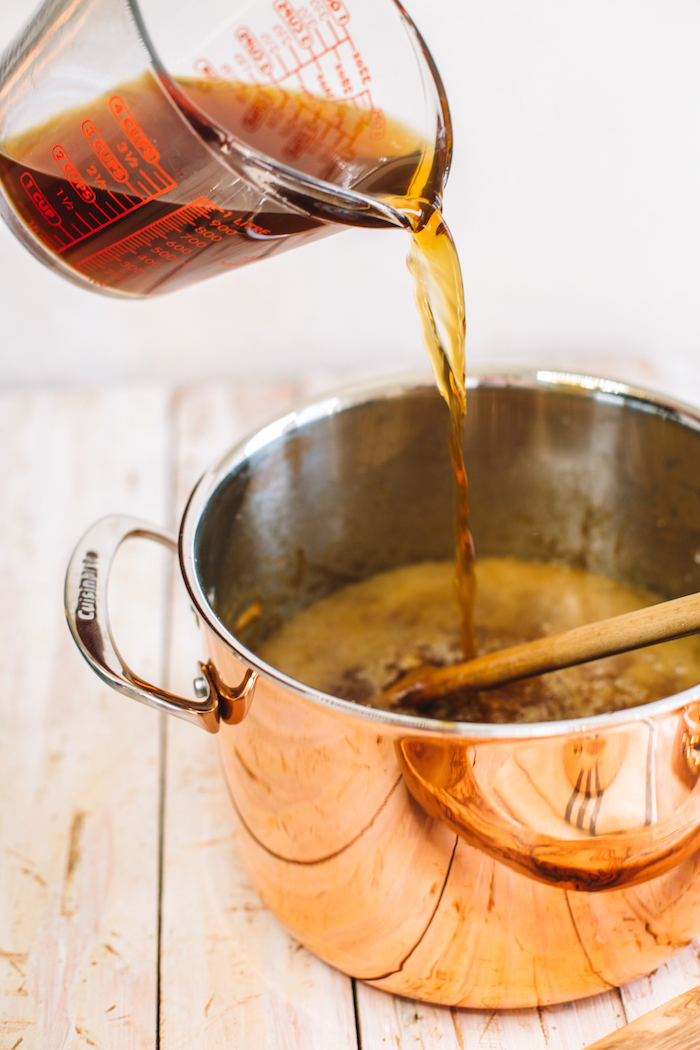 I think in most parts of the country everyone is pretty thrilled for spring but here in California we hold onto the 'winter' a little tighter, or at least I do. I only get to really cozy up a few months of the year and while I couldn't be more excited to uncover the patio furniture and get a fresh balayage… I'm going to stay in my winter cocoon for another week or two. If I ask any of my out of state friends what their least favorite part about California is they almost always say the traffic and the lack of seasons. While the traffic is undoubtedly terrible, I totally understand the seasons.
I don't know about you guys but most of my favorite comfort food dishes are usually made with beer or wine. I usually go about a classic French onion soup with a red wine bath for my onions (which you totally still could!) but this time I opted for beer in the recipe. The beer helps aid to the rich flavor of the soup and I find it's a lot easier to finish off a bottle of beer than a whole bottle of red wine!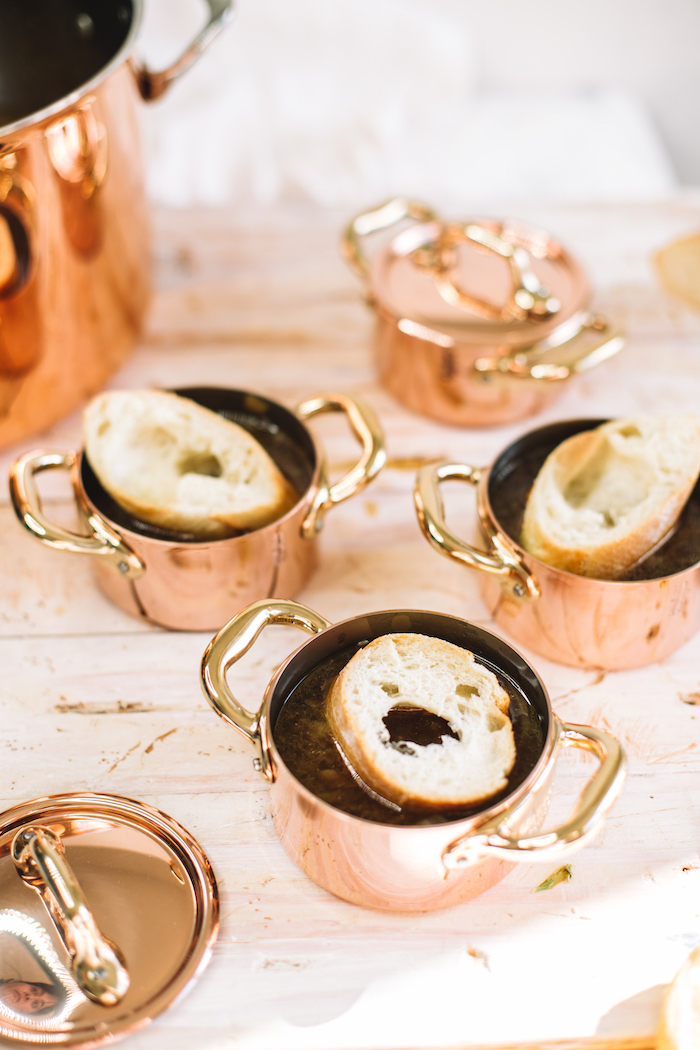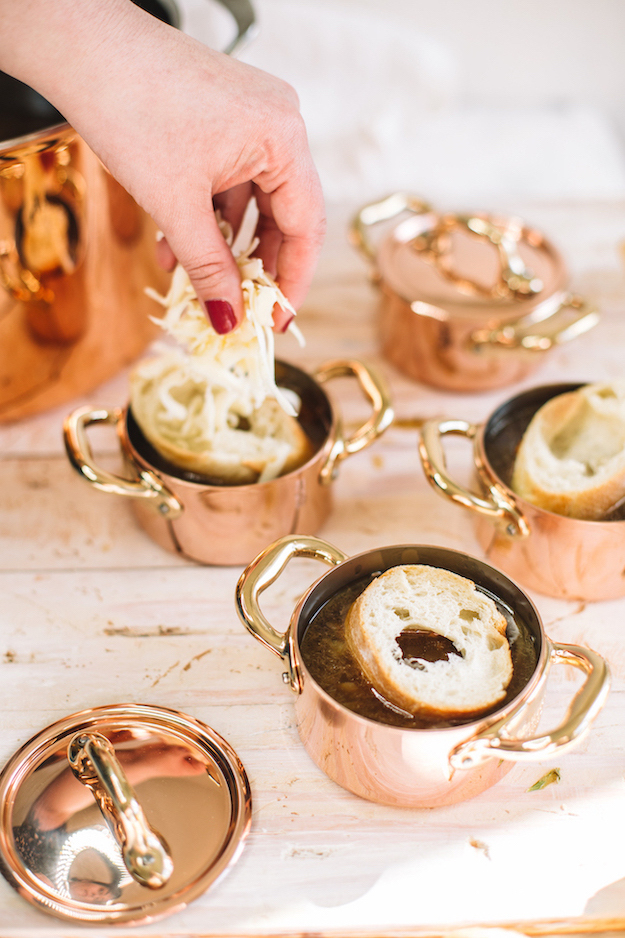 Pair this classic French onion soup recipe off with a gourmet-grilled cheese or a fresh salad for an easy weeknight dinner pairing.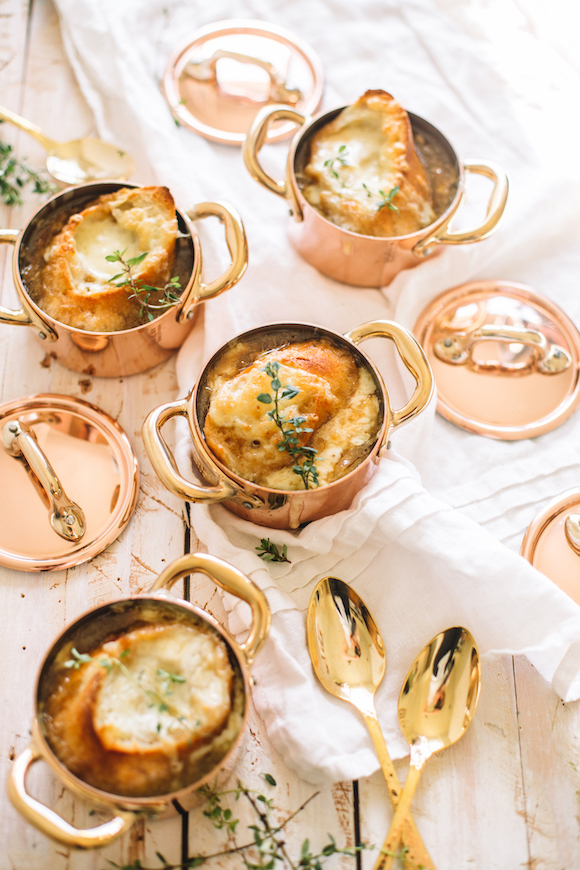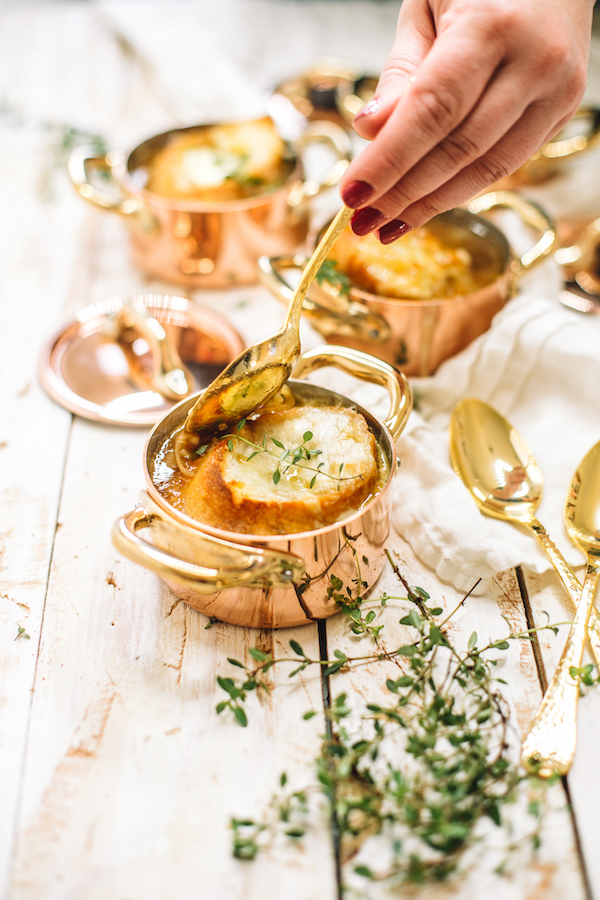 Classic French Onion Soup
This recipe is the perfect cozy, classic French Onion Soup. The classic vegetarian soup is topped off with shredded cheese and crusty bread.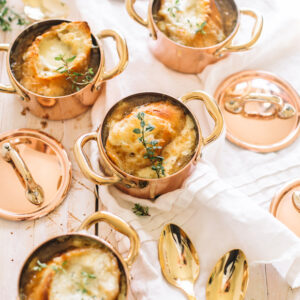 Ingredients
6

tbsp

unsalted butter

4

sweet onions, thinly sliced

2

cloves garlic, minced or grated

2

tbsp

brown sugar

1

tbsp

Worcestershire sauce

1.5

tbsp

all-purpose flour

1

cups

your favorite beer OR red wine

8

cups

beef broth or vegetable broth

2

bay leaves

4

fresh thyme sprigs, plus more for garnish

2

tsp

salt, or to taste

large pinch of pepper

1

French baguette, thinly sliced

2

cups

shredded Gruyère cheese
Instructions
Heat a heavy bottom Dutch oven or stockpot on medium heat.

Add in butter and heat until melted. Add in thinly sliced onions and heat on medium low for 30-40 minutes, stirring the onions occasionally.

After about 15 minutes of cooking, add in the brown sugar. Once onions are soft and have begun to caramelize, drizzle beer and heat on medium low heat until most of the liquid has evaporated.

Sprinkle flour, Worcestershire sauce and bay leaves over mixture and cook for 1-2 minutes.

Fill stock or dutch oven with 2 quarts of beer or vegetable stock. Add in thyme sprigs and simmer on low for 30-40 minutes.

Taste test soup for salt and pepper.

Preheat oven to 400 F. Remove thyme sprigs and bay leaves.

Transfer a few ladle fulls of soup to smaller copper cocottes. Top with a slice of baguette and shredded cheese.

Broil or bake for 5-10 minutes or until tops are golden brown and cheese is bubbly.
Nutrition
Serving:
1
g
Calories:
632
kcal
Carbohydrates:
32.2
g
Protein:
29.3
g
Fat:
38.1
g
Saturated Fat:
22
g
Cholesterol:
105
mg
Sodium:
3129
mg
Fiber:
3.3
g
Sugar:
10.5
g