The Best Campfire Cocktails & Snacks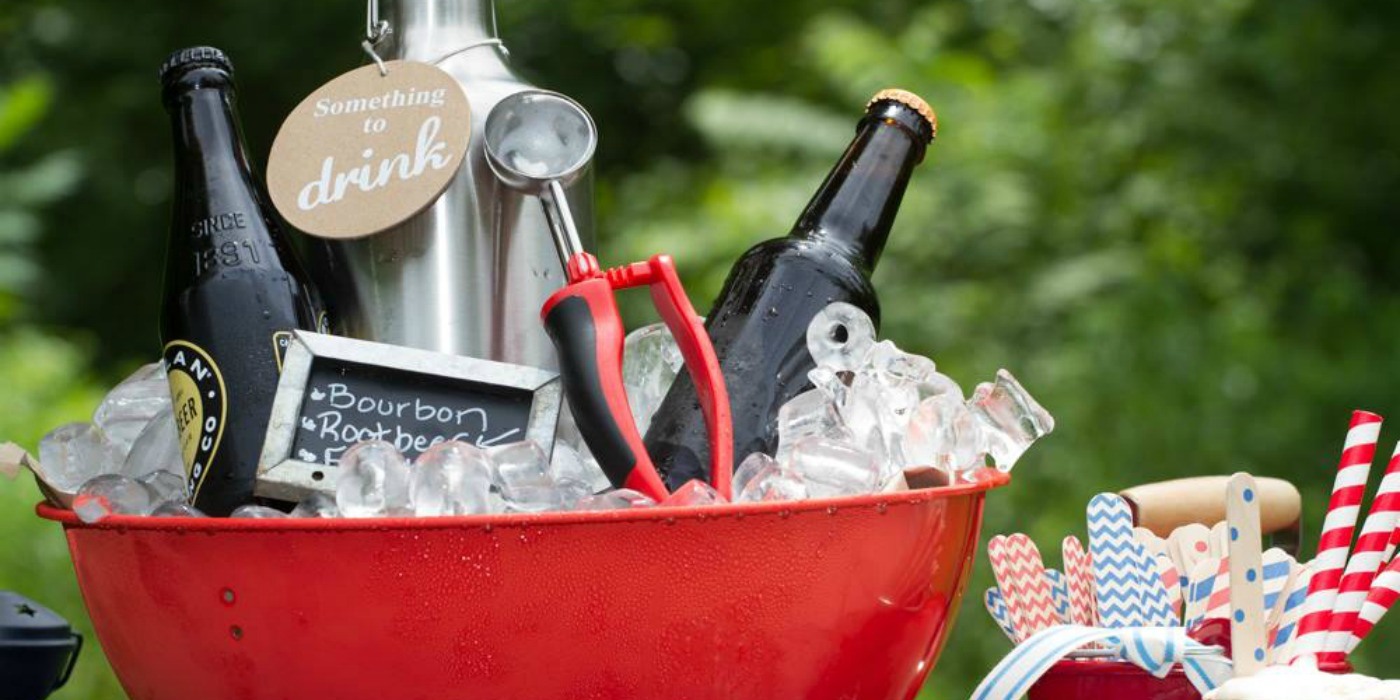 Do you love relaxing around a campfire with friends but are all tapped-out when it comes to the same 'ol marshmallow toasting?
Sure, old-school camping has its appeal, but it's so… Mayberry. The aesthetic of your natural surroundings are lovely, but camping can get a bit mundane and drab without a little flair. How about upping your campfire game with a Campfire Cocktail Party?! Here are some tasty recipes for cocktails and fireside nosh along with tips on creating the best campfire soiree ever!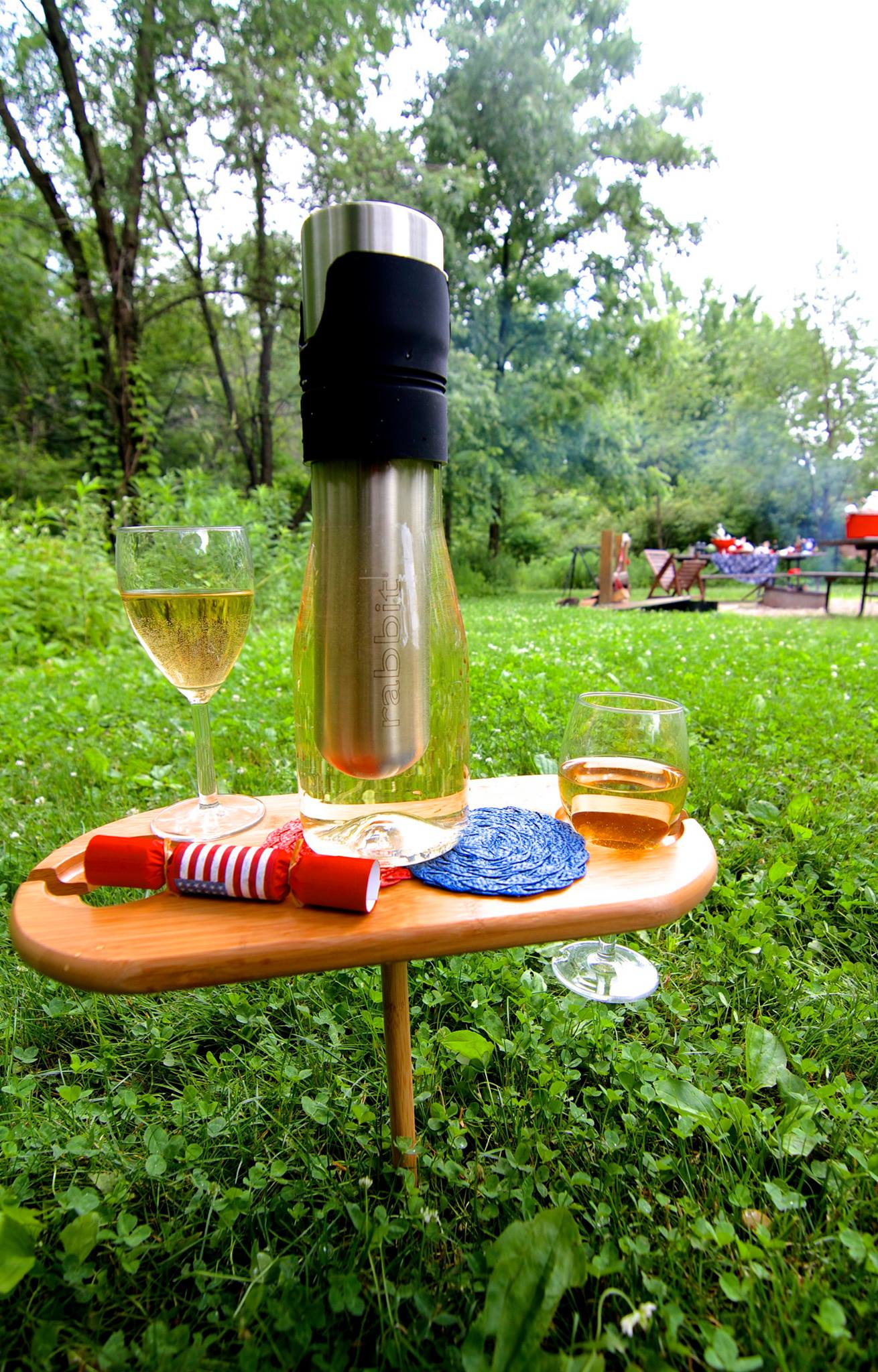 Campfire Cocktails
To get things started, there must be cocktails! Whether you are "glamping" in a posh Airstream, "roughing-it" under the stars in a sleeping bag, or just pitching a tent in your own backyard, your fellow "campsite" friends will be blown away by these fun campfire cocktails!
1. Bourbon Root Beer Ice Cream Floats
Almost every camping trip I have ever taken comes with extreme weather. Sometimes cold, sometimes hot, usually uncomfortably both in the same day… even under the cover of the shady trees, summer time camping inevitably includes heat and humidity. This drink with bourbon and ice cream was designed to help you keep your "cool." Plus, there's something a little "ranch-hand- chic" about drinking bourbon around a campfire. It's a "thing."
The fireside "flask" takes on new meaning with the beautiful Flip Top Stainless Steel Growler from Viski by True Fabrications . Holding and chilling your bourbon, the Flip Top provides optimal storage of any precious liquids for a big trek because it seals it all in. Not a drop will be leaked. Yay! The Flip Top Stainless Steel Growler is a key piece of equipment for everyday use or when you are throwing a swank cocktail party housed by mother-nature.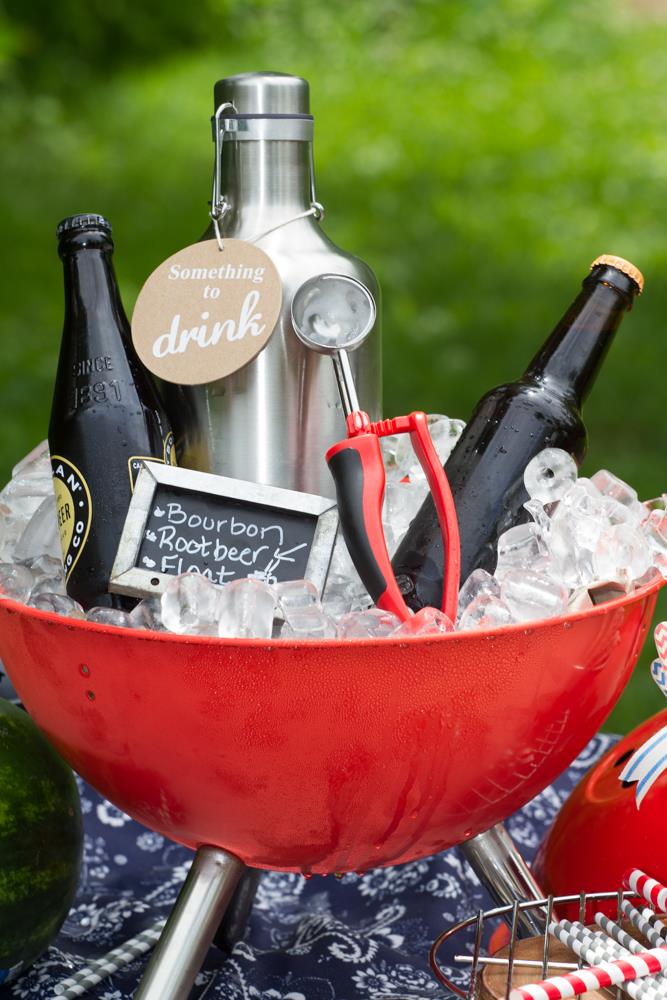 Bourbon Root Beer Ice Cream Floats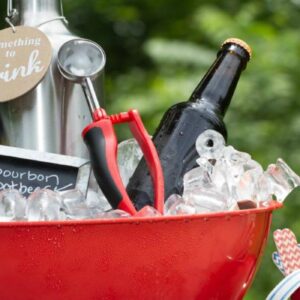 INGREDIENTS
Ingredients for a crowd:
1 bottle of your favorite Bourbon
1 pint of your favorite vanilla ice cream
12 bottles of your favorite artisan root beer
Some cute straws and a sturdy cup
INSTRUCTIONS
Directions for individual drinks:
2 oz of bourbon
2 small scoops of vanilla ice cream
¾ of a bottle of cold root beer
Put a cute straw in your cup… stir gently and enjoy!
2. French Lemonade Wine Spritzer
The Rabbit win e cooler is what makes this cocktail possible! What would we do without it? We will put up with the bugs, the dampness and sleeping on a rocky surface without an air mattress, but we will never, ever put up with warm wine spritzers! The Rabbit keeps drinks refreshingly crisp and cool. One of my favorite things is to tell great stories around the campfire.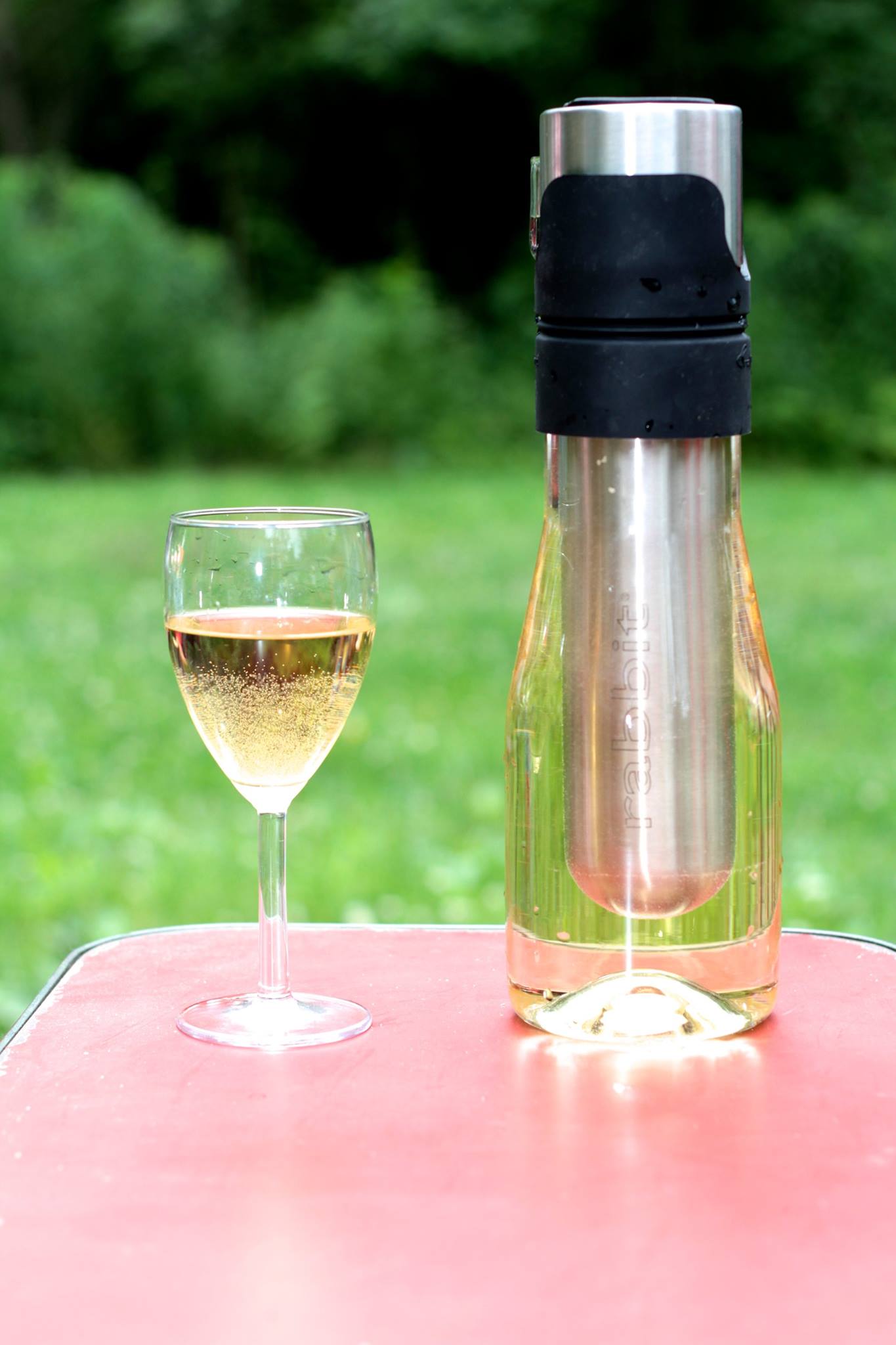 I usually need my hands to express my hilarious stories so the perfect companion in this situation is the High Stakes Picnic Table by True Fabrications. This helpful beauty is portable, as you can stick it in the ground wherever you decide to mingle. The cool thing? It holds my nosh and TWO, count 'em, two! glasses of vino spritzer. Having a perfectly chilled wine spritzer out among the chirping birds and the fresh sounds of nature with good friends while being free to be wildly entertaining? Now that's what memories are made of!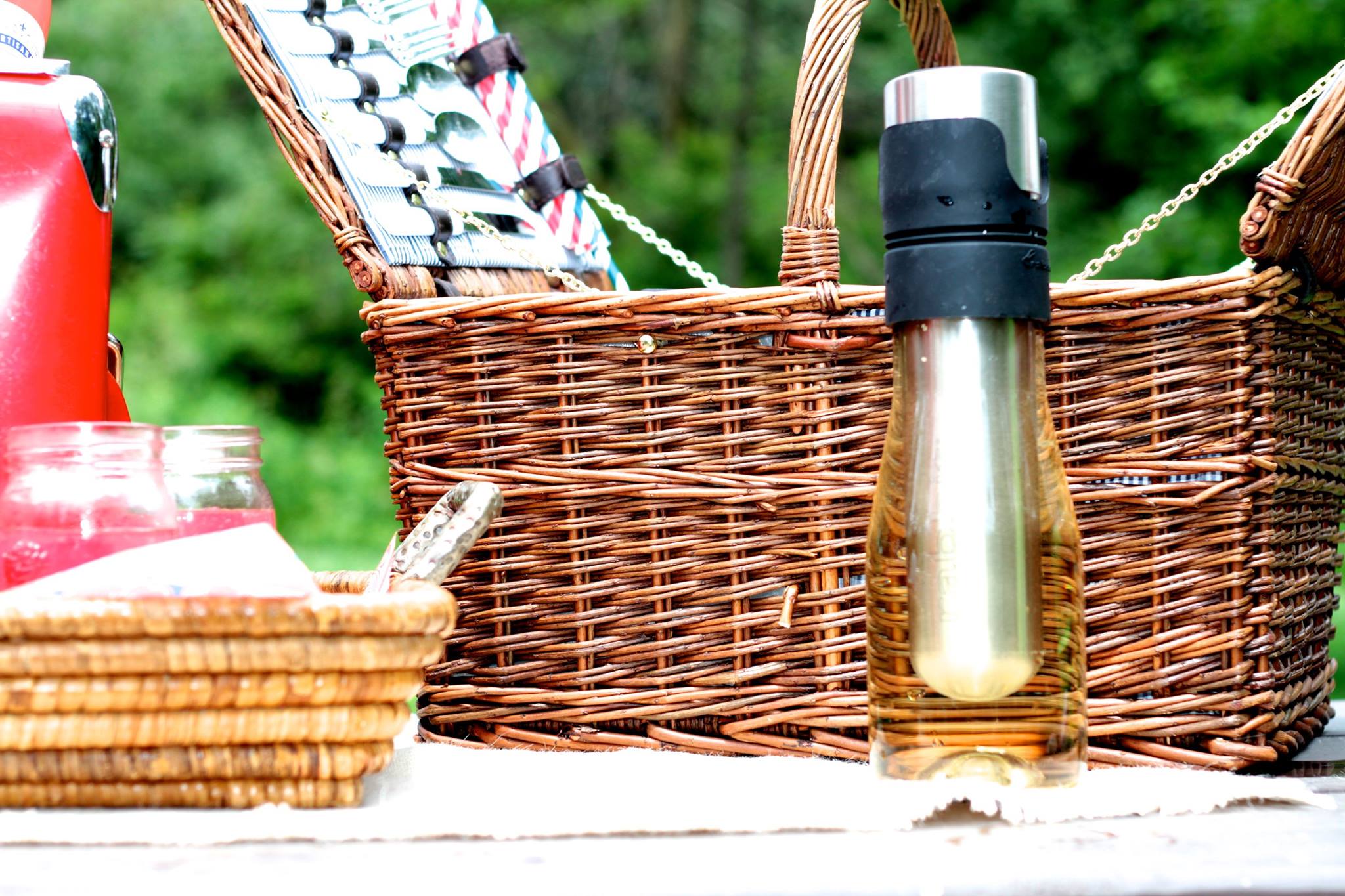 French Lemonade Wine Spritzer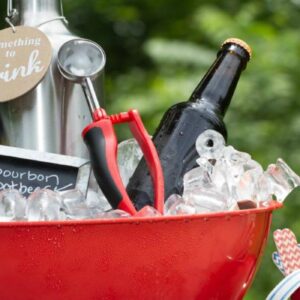 INGREDIENTS
3 parts white wine
1 part sparkling lemonade
INSTRUCTIONS
This really is an easy drink to make, which besides being freshy-fresh, is another reason to make it.
Ready for the ease? You don't even need to write this down…To make this refreshing spritzer stir together 3 parts of an aromatic white wine such as Sauvignon Blanc, to one part sparkling lemonade.
Sparkling Lemonade can be accomplished in two ways. 3 parts lemonade to 1 part club soda or… you can just buy a pre-made French sparkling lemonade from World Market or Trader Joe's. I prefer to keep it simple and go with the pre-made because we have enough to do and the premade is delicious! Whichever way you go, mix it all together in the Rabbit Wine Cooler to serve. The centerpiece of the cooler keeps the wine spritzer at the perfect temperature.
3. Blackberry Lemonade
Have some rascals running around or campers that do not imbibe? This will be their jam! (pun intended – read the recipe) Here is a simple and "berry-good" drink that everyone will enjoy!
Again, let's keep this simple by making a vat of this delicious drink in this super cute Red Checked Jug with Spout by Design Imports .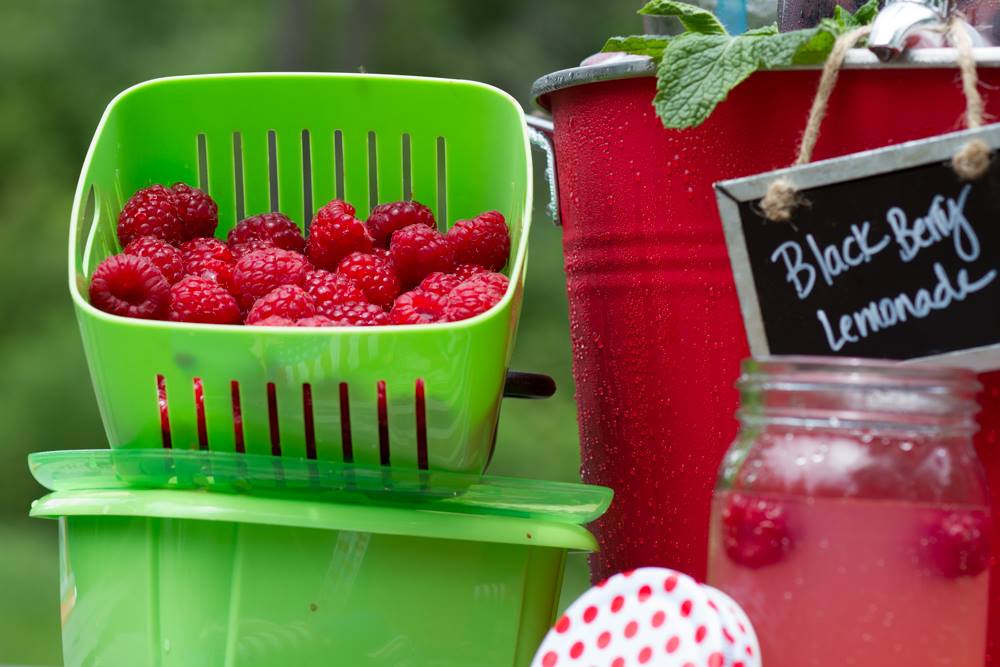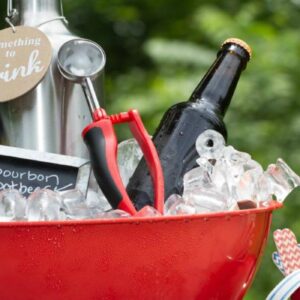 INGREDIENTS
2 oz. of your favorite blackberry jam
1 pint of blackberries
2 gallons of store bought Lemonade
1 liter of Club Soda
Optional: 1 pint of raspberries and an additional pint of blackberries for a colorful garnish. I like to place a few whole blackberries and raspberries in each drink
INSTRUCTIONS
Gently stir all of the ingredients together, garnish with berries, put on ice and let the spout flow! Enjoy!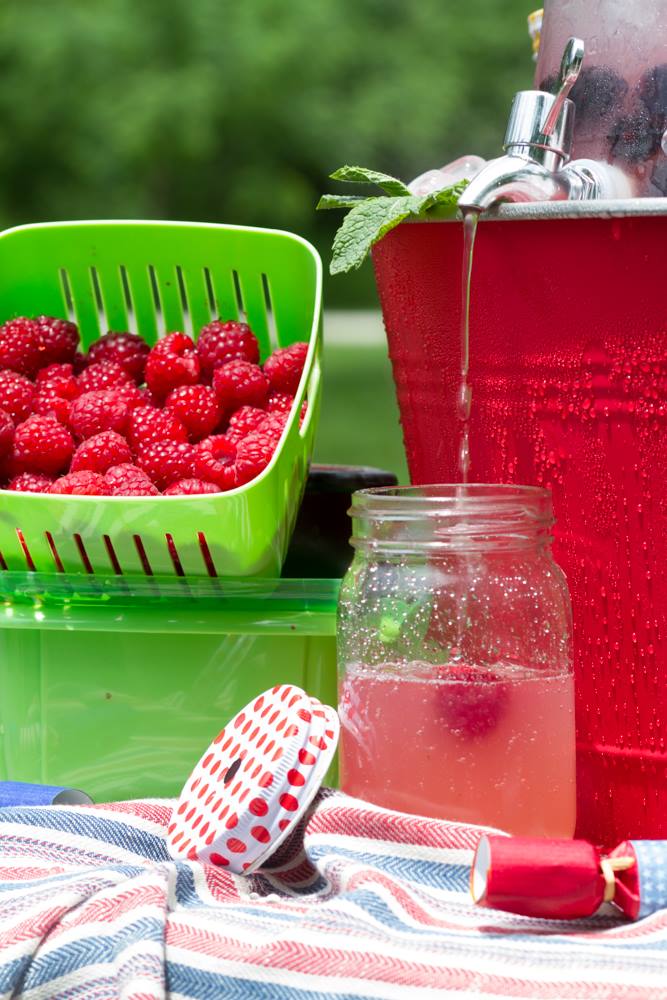 Oh Yeah! Campfire Snacks
We have that BIG fire right there in the center of things, so let's cook up some smoky delicious vittles!
1. Open Flame Char Oysters
You will get raves when you share this tasty campfire riff on the classic Louisiana Charred Oyster. Watching the open flame licking up the sides of the Cast Iron Outset Oy ster Pan , the smoke of the fire surrounding the oysters as the cheesy oyster liquor bubbles, add in a kiss of the outdoors and you have an unexpected yet delicious fireside snack that you will be excited to serve.
(Plan on 2 to 5 medium oysters per person)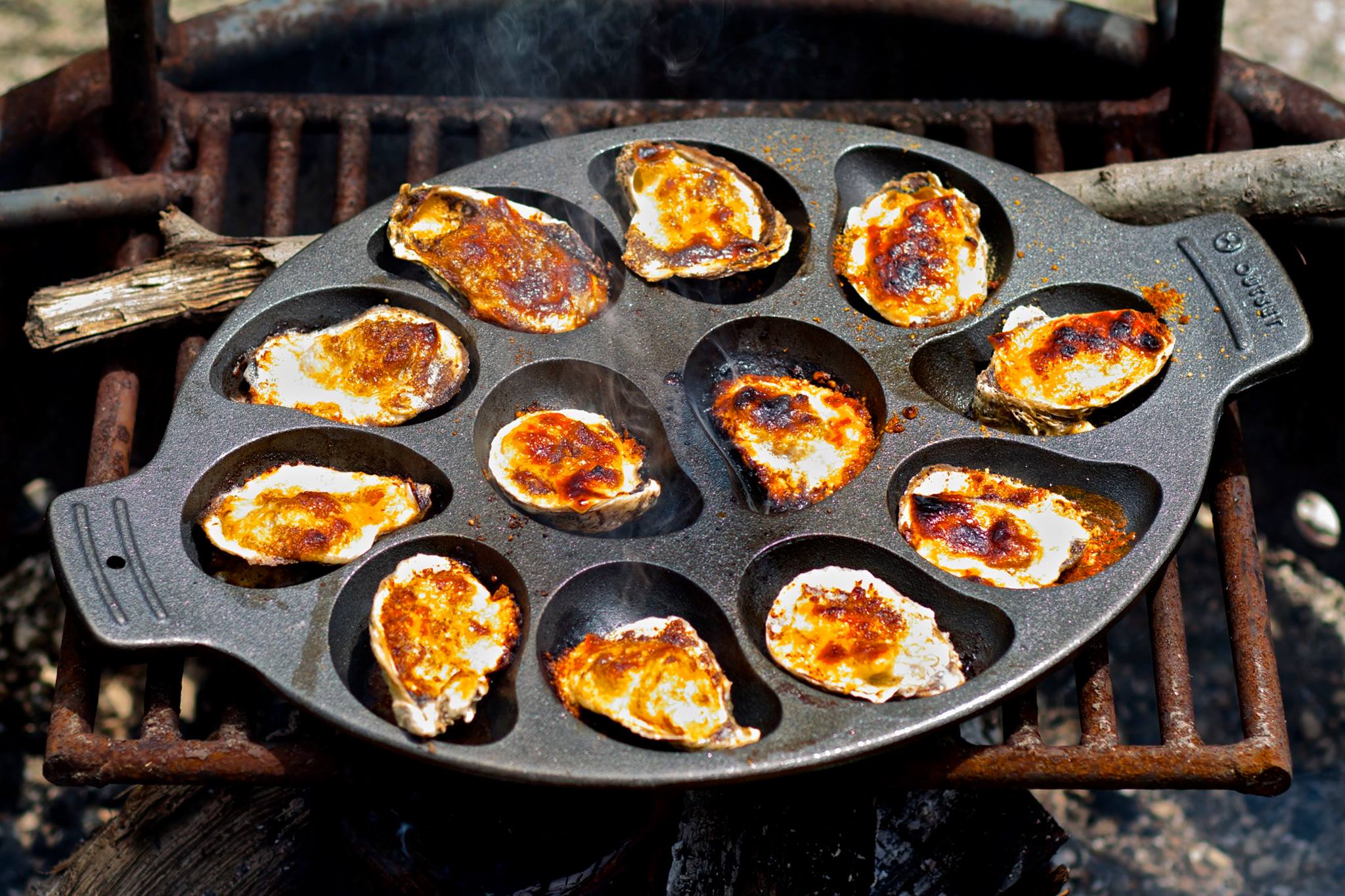 Hosting a campfire? These campfire cocktails & snacks are must-haves for your next get together!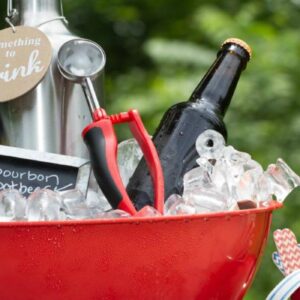 Ingredients
2

cups

Grated Parmesan cheese

1

cups

Grated mozzarella cheese

2

tbsp

Granulated garlic

2

Lemons, zested and juiced

1

Stick unsalted butter

1

cups

Fresh lemon juice

.5

cups

Hot sauce

.5

cups

Worcestershire sauce

.25

cups

Chopped garlic

24

Oysters, shucked on the half shell using the handy-dandy Hutzler Oyster Knife

1

Loaf of Italian bread, sliced, buttered and charred on fiery grate!
Instructions
For the Cheese Topping: Mix the Parmesan, mozzarella, garlic, lemon juice, lemon zest and parsley in a bowl and reserve.

For the Garlic Butter: Place the butter, lemon juice, hot sauce, Worcestershire, chopped garlic, granulated garlic and 1/2 cup water into a small pot on the stove.

Slowly melt and whisk ingredients until incorporated. Ladle this into a thermos to be used at the campsite! Making things ahead makes parties a lot more fun for the host, yay!

For Preparing the Oysters: To make your life easy, prepare the oysters ahead of time. Shuck the oysters.

If you have never shucked an oyster before, you will need an oyster shucker. I have a really cute Hutzler Oyster knife that looks like an oyster! #socute.

Place your shucked oysters in a super cool Outset Cast Iron Oyster pan.

Top each oyster with a liberal amount of the cheese mixture.

Take the top of the shell and place it over the shucked, dressed oyster and wrap the pan with tin-foil.

Then place the oysters in a cooler with crushed ice around it.

Once you are ready to serve, bring the oysters out of the cooler for 10 min prior to putting them on the fire.

For Charring the Oysters: First things first, get that fire roaring!

Lay down a grate over the flames. Place your prepared oyster pan (foil removed) on the grate for 7-10 min. until the cheese is melted.

You will need long tongs and a sturdy oven mitt for pulling the pan off the grate.

Remove the oysters from the grate with tongs and place them onto a cookie sheet or a heat-proof surface.

Ladle some melted garlic butter over the oysters and serve with grilled bread to soak up the juices and butter!

Make sure to spritz with a little lemon to add a touch of brightness. So fresh and delicious!

OR: Not in the mood to shuck and make ahead? You can simply place un-shucked oysters in your pan, then, place on the campfire and wait about 5-10 min. for them to sizzle, spit, and pop open.

Serve them with a spritz of lemon, hot sauce and maybe, if you like, cocktail sauce.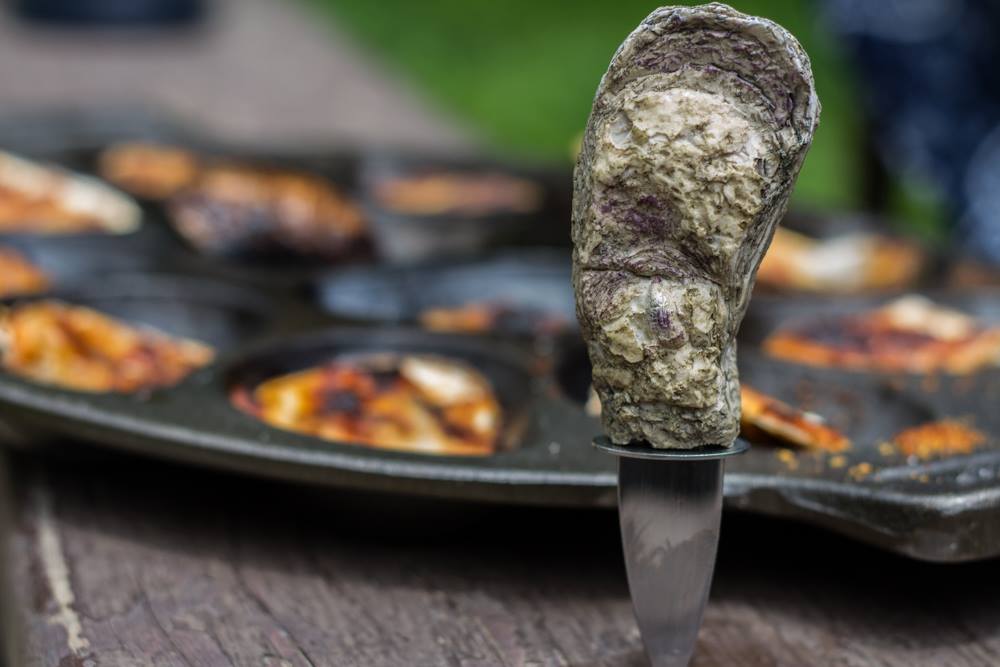 2. The Slurping Watermelon
Only 5 ingredients – Watermelon, Lime, Tequila, Honey and Mint – this easy recipe makes a refreshing fruit salad that doubles as a cocktail! Guess what? It's perfect to enjoy while "glamping!"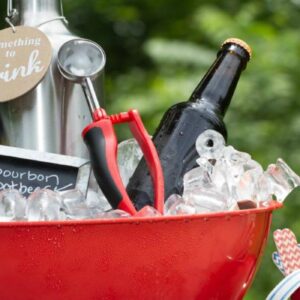 INGREDIENTS
1 large watermelon, rind off, diced into 1 inch cubes
4 limes- Juiced
¼ cup of honey
Chiffonade of one bunch of mint leaves
1 cup of your favorite tequila
Optional: Sea salt
INSTRUCTIONS
In a large bowl gently toss the above ingredients. Scoop the mixture into extra small canning jars that are small enough to be individual servings for the guests. Close the top and place on ice in your cooler. I attach a fork with kitchen twine to each jar so that you can easily pull them out of the cooler in the adorable wicker picnic basket and serve ready-to-go!
Sprinkle a little bit of flaky sea salt on the top of each individual salad for an extra taste sensation!
By the way, slurping the spiked "watermelon" juice is encouraged!
3. S'mores Cookie Sandwich
We all love our s'mores, but they can be a lot of work. Let's face it: it's hard to hold a cocktail while roasting a marshmallow! These pre-made s'mores sandwiches are super convenient at the campsite because they have all of the favorite s'mores flavor and nostalgia but none of the "burnt marshmallow" drama. Since these treats are so delicious "who"… "who"…. will keep an eye on the plate to make sure no varmints steals our sweets away? Our woodland friend (that we have named "Bubba") from Design Imports is a cute ceramic owl lantern that holds a citronella candle as he keeps guard on our table while we focus on more important things like taking a bite of our S'mores Cookie Sandwich. Bubba says, "You will need napkins for this treat!"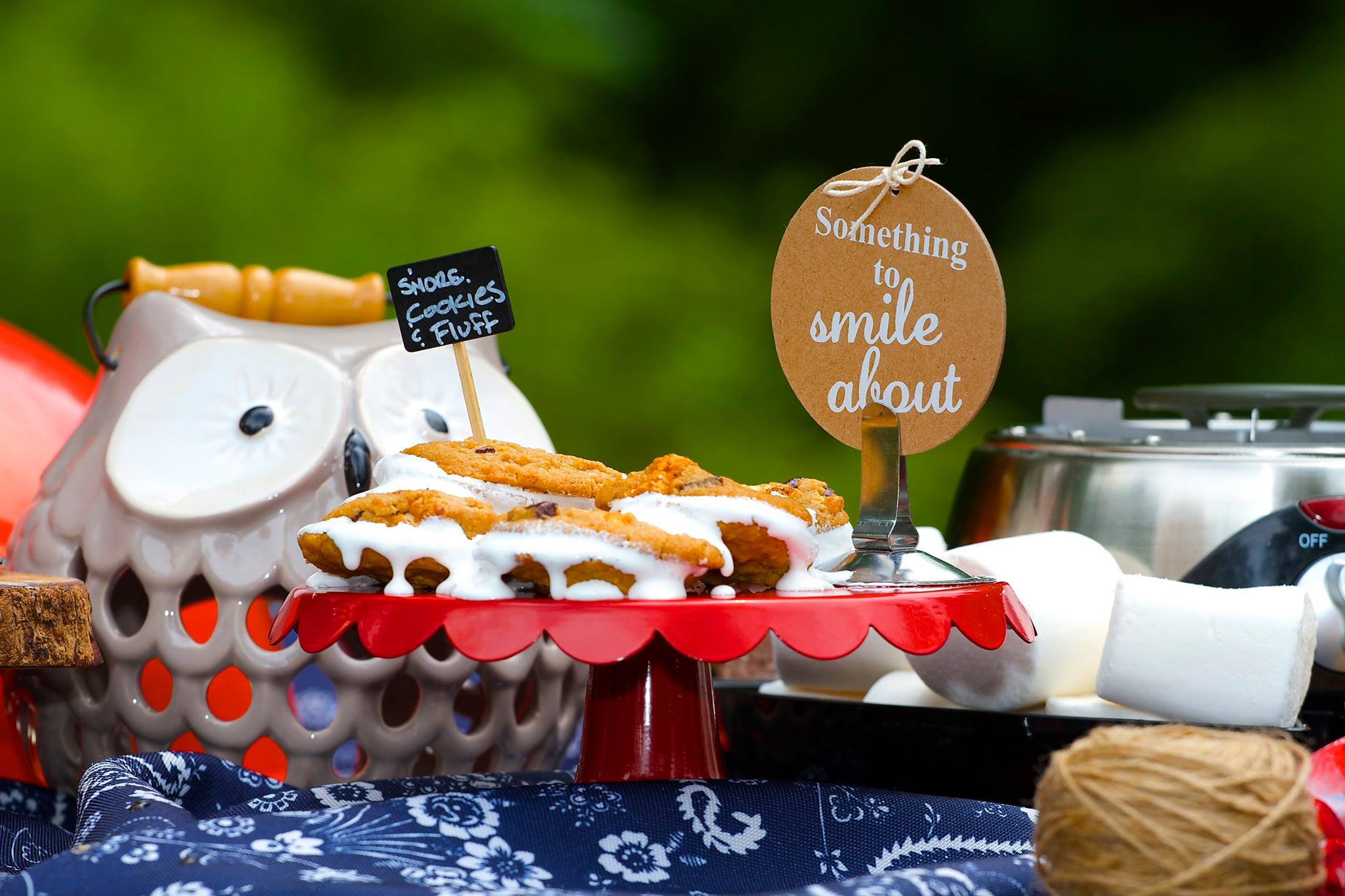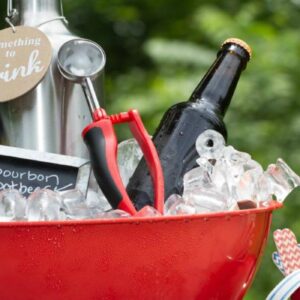 INGREDIENTS
3/4 cup butter, softened
1/2 cup sugar
1/2 cup packed brown sugar
2 eggs
1 teaspoon vanilla extract
1-1/4 cups all-purpose flour
1 cups graham cracker crumbs
1/2 cup of chocolate graham cracker crumbs
1/2 teaspoon baking soda
1/4 teaspoon salt
1/2 cup of semi-sweet chocolate chips or larger chunks
1 6-8 oz. jar of marshmallow fluff
INSTRUCTIONS
In a bowl, cream the butter and sugars until light and fluffy. Beat in the eggs and vanilla. Combine the flour, graham cracker crumbs, baking soda and salt to mixture. Stir in chocolate chunks.
Using a tablespoon, drop the dough 2 in. apart onto ungreased baking sheets. Bake at 375° for 8 min. Cool.
Add a smear of (about a tablespoon) of marshmallow fluff to the bottom of one S'more Cookie and sandwich it with the bottom of another…Voila! You have a S'mores Cookie Sandwich! I suggest you freeze these and keep them in a cooler to thaw prior to serving at your campfire soiree!
A last bit of Campfire Cocktail advice…
Light up your ice with the very cool, Igloo Party Bar Powered by LiddUp!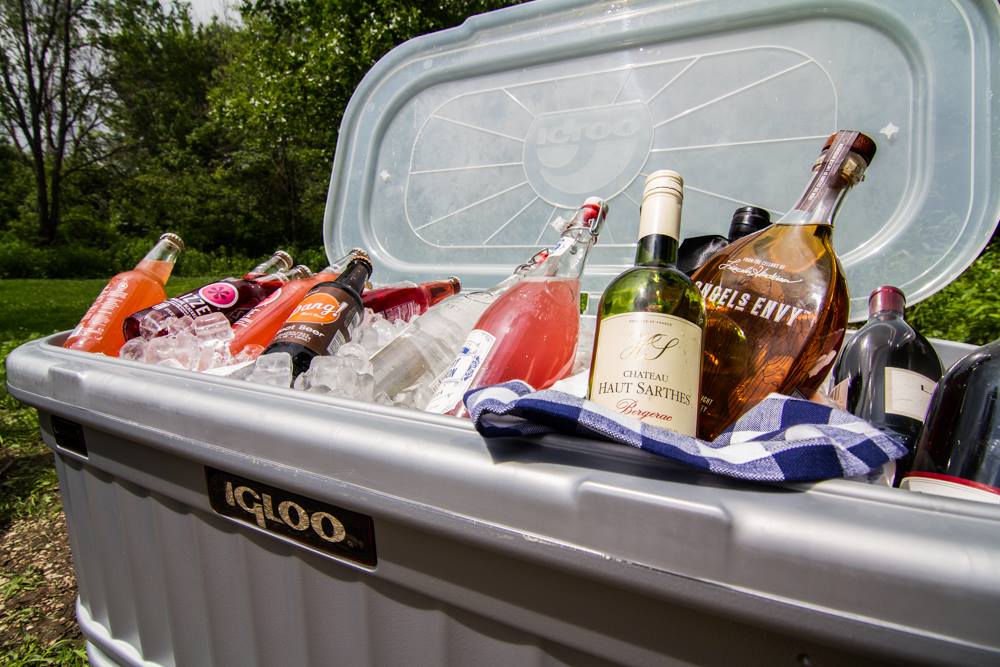 Shhhh… When darkness falls, there is the hush of the forest and the sound of the fire crackling in the background with quiet conversation and soft music. It's the ultimate relaxation while enjoying a simply perfect campfire cocktail party. You get up to get another cold beverage. As you lift the lid, you hope to get something you like as you blindly swoosh your hand around the darkness of the cooler. Oh wait, that's at someone else's campfire cocktail party! Not this one, because we have the Igloo Party Bar !!!
This super cool "center-of-all-things" beverage party bar, lights up from the inside! The lid is detachable so there's always a clear path to this ice chest "extraordinaire". Want to move this full cooler at a whim, say to the opposite direction of wafts of smoke from the fire (cough, cough) or just to have it closer to you for easy access as you "social butterfly" around? No fear, this lovely insulated bar has casters! Nothing drab or mundane about this campfire companion!
Also Shown: Hutzler Berry Box , Twine Seaside Wicker Picnic Set , Twine Country Home Striped Paper Straws , Design Imports Nautical and White Checkers Napkin