Butternut Squash Chili with Gluten-Free Cornbread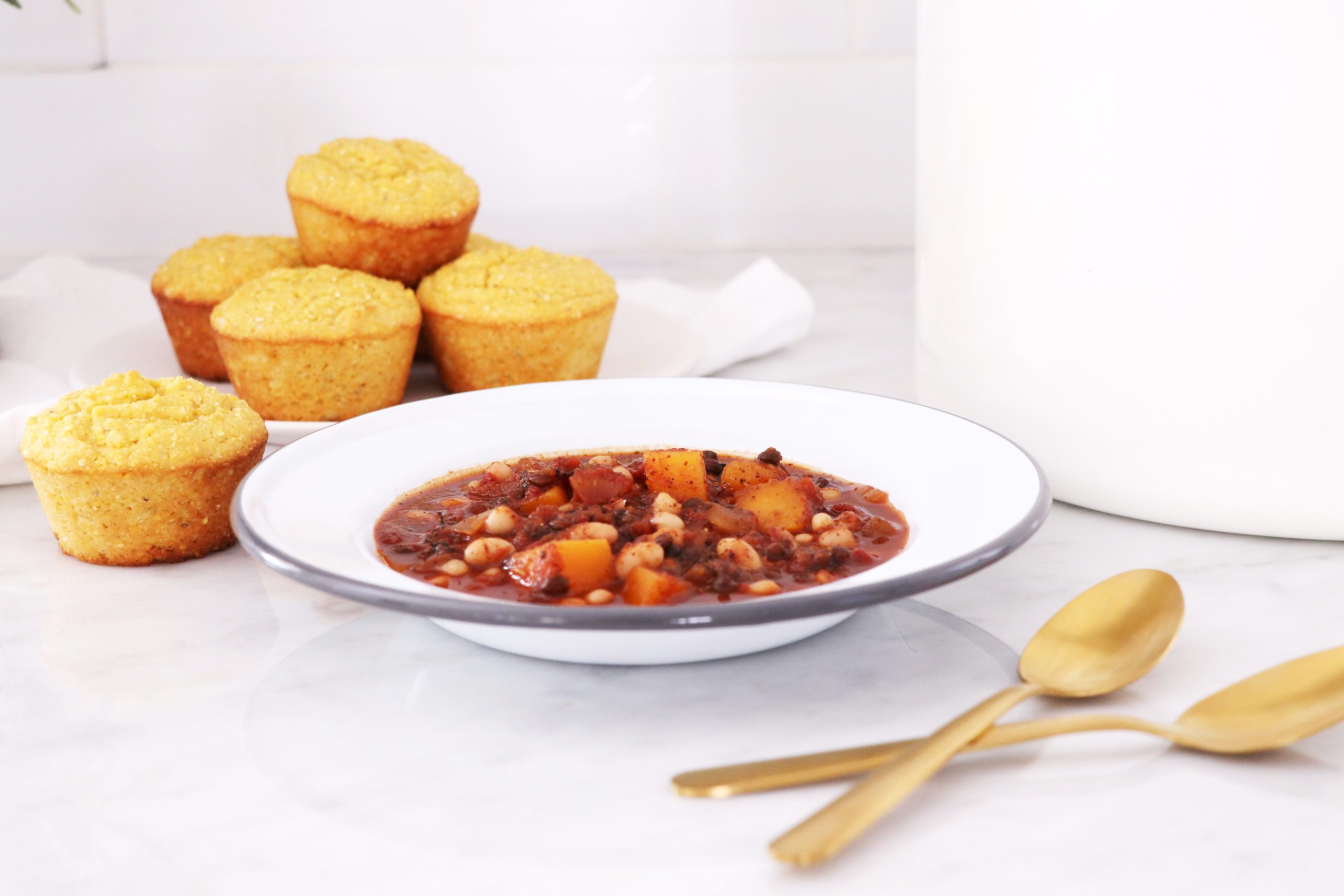 It's that time of year when it's chilly outside and nothing sounds better than a warm cup of chili inside by the fire! One of my favorite Fall & Winter meals is chili with a side of cornbread.
Today I'm sharing how to make a plant-based, gluten-free, homemade chili that is packed with flavor and protein. It makes amazing leftovers for days and days! This chili also freezes well for those who love to meal prep and is made with plant-based ingredients for a boost of fiber, vitamins, and minerals!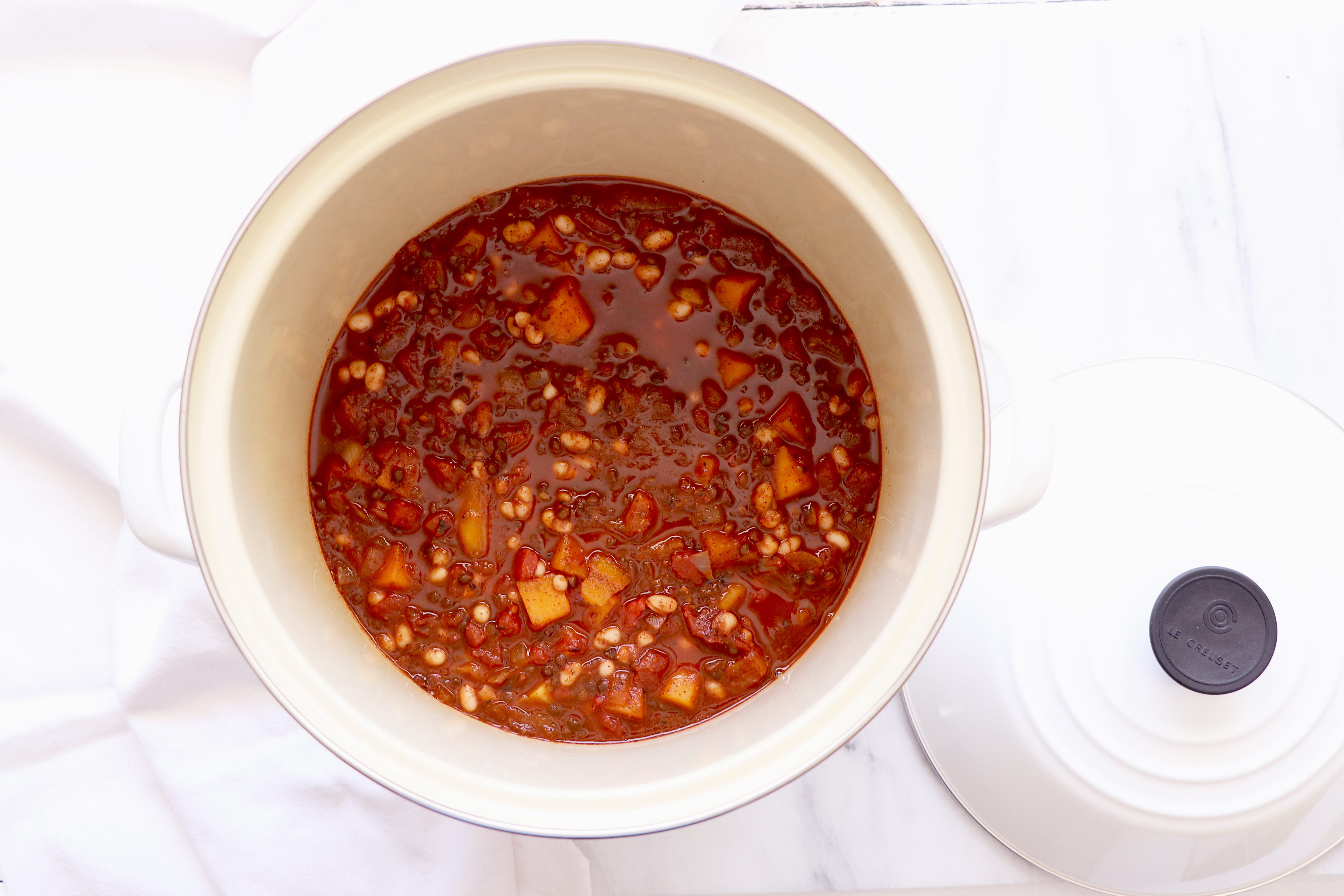 Plant-Powered Chili
A plant-based diet focuses on eating real, whole foods such as fruits, vegetables, whole grains, legumes, nuts & seeds with little to no animal products. Eating a plant-based diet has been scientifically proven to help prevent, manage, and even reverse diet-related diseases both in the short-term and long-term. While some individuals enjoy a 100% vegan plant-based lifestyle, you do not have to eat vegan to benefit from eating more plants!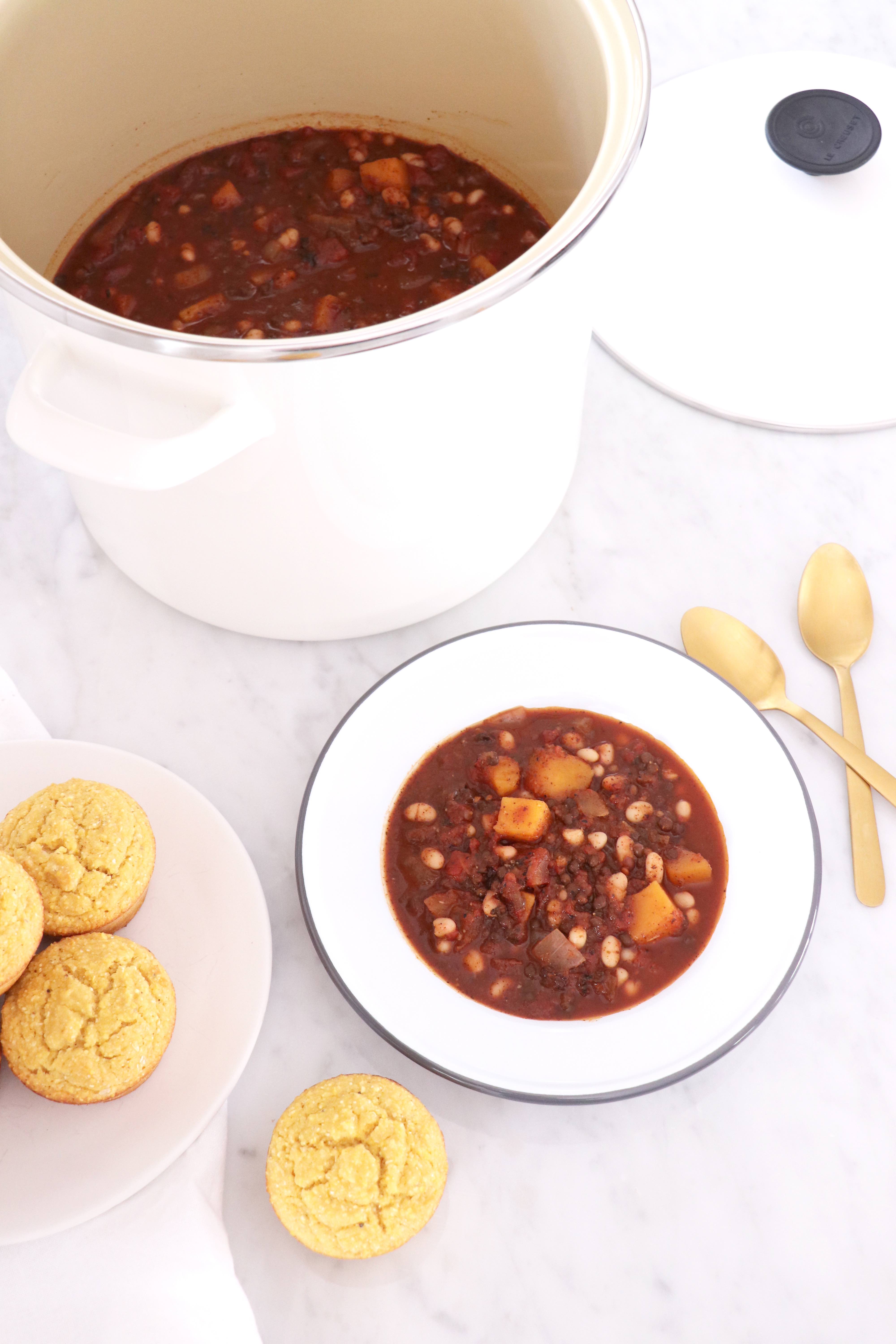 What is Gluten?
This chili is also gluten-free! More and more individuals are eating gluten-free or grain-free these days for various reasons such as an autoimmune disease, Celiac Disease, a gluten sensitivity, or for other personal health reasons.
Gluten is a protein found in many grains such as wheat, barley, and rye. It gives grain products their structure and elasticity. Gluten itself has no nutritional benefit but whole grains do. Whole grains contain B vitamins, fiber, and iron.
Celiac Disease is an autoimmune response to gluten. When a person with Celiac Disease consumes gluten, his or her body launches an autoimmune response that attacks the small intestine. Celiac Disease is not a simple sensitivity. People with Celiac Disease should not consume gluten.
Some people may not have Celiac Disease, yet they do have what is called a gluten sensitivity and these individuals feel better when they do not eat gluten.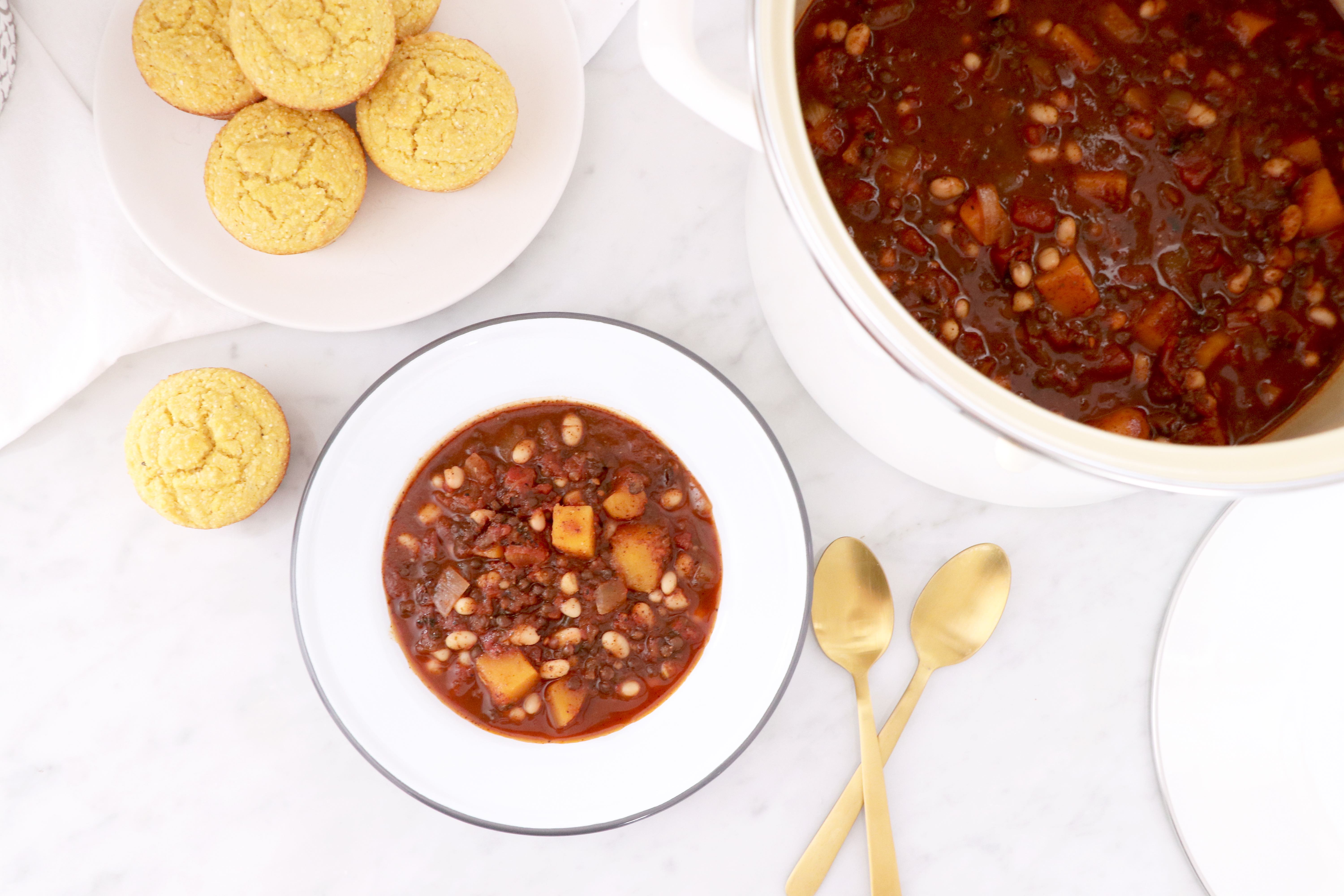 Good news, this Vegetarian Chili and Cornbread is a delicious AND gluten-free dinner!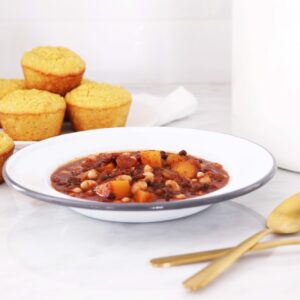 INGREDIENTS
1 cup cornmeal
⅓ cup coconut flour
3 teaspoon baking powder
1 teaspoon sea salt
¼ cup honey
3 eggs, room temperature
½ cup non-dairy milk
2 tablespoons coconut oil
INSTRUCTIONS
Preheat oven to 350 degrees.
Add the cornmeal, coconut flour, baking powder, and sea salt into a large bowl and whisk together.
Add the eggs, honey, milk and coconut oil to a small bowl and mix well.
Pour the wet ingredients into the dry and mix well.
Pour batter into pan of choice.
Bake 17-19 minutes or until lightly browned.
Cool completely to properly set up.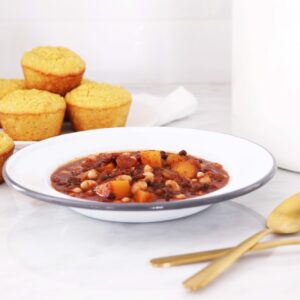 INGREDIENTS
1 tablespoon coconut oil
1 small white onion, diced
2 cups diced butternut squash
28-ounces of crushed tomatoes
2 cups vegetable stock
4 tablespoons chili powder
2 teaspoons oregano
2 teaspoons garlic powder
2 teaspoons cumin
2 teaspoons black pepper
2 tablespoons sea salt
1 (15-ounce) can of lentils, drained
1 (15-ounce) can of kidney beans, drained
INSTRUCTIONS
In a large soup pot over medium heat coconut oil. Add onion and butternut squash, sauté for 8 to 10 mins, until the onions start to brown.
Add crushed tomatoes, vegetables stock and all of the spices. Simmer for 30 minutes.
Add beans and simmer for 10 minutes.