Buttermilk Skillet Apple Pie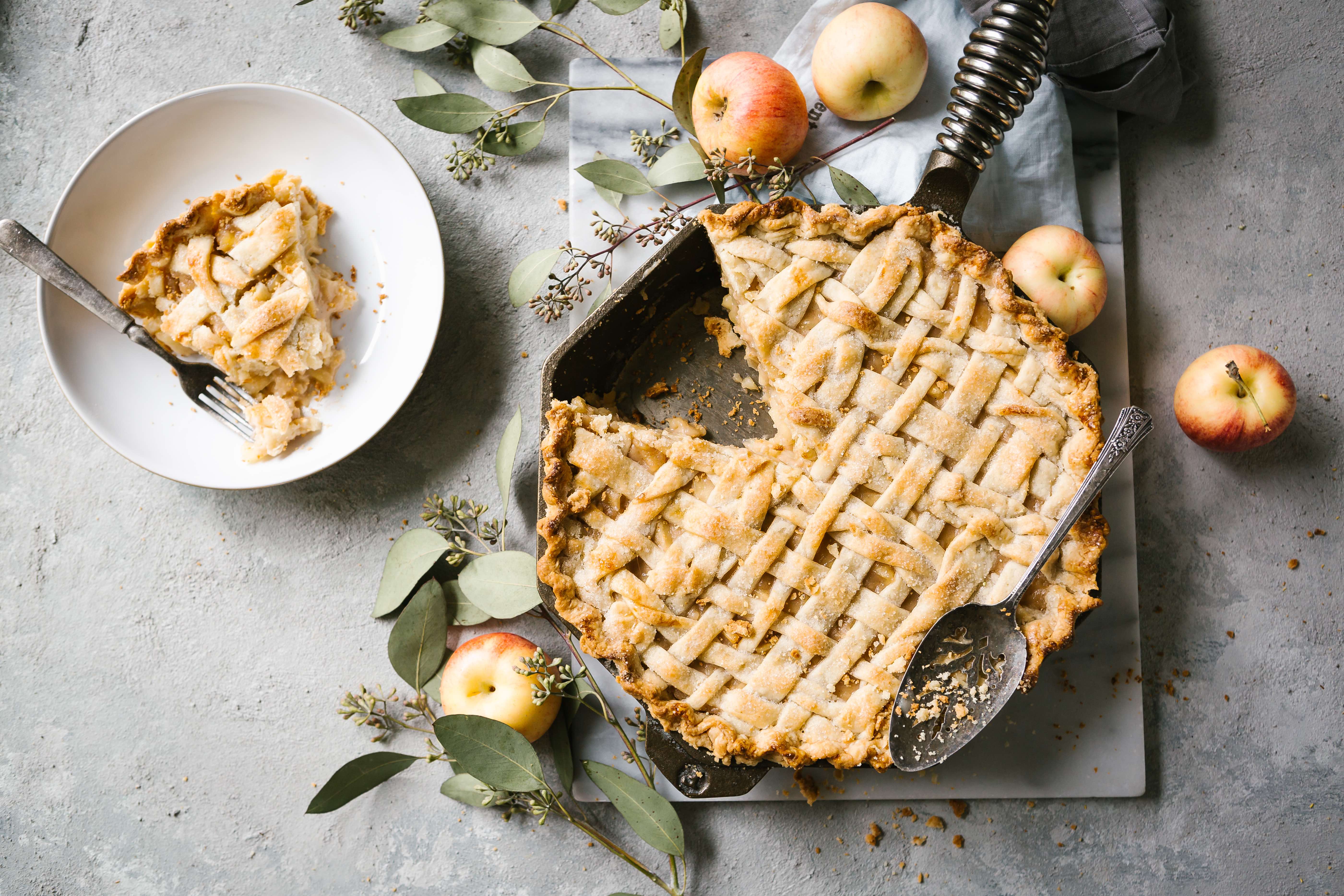 Autumn is officially here. We can tell because blankets are a welcome cover at night, instead of a suffocating nuisance. Mornings are cold enough for hot coffee. A drive across the city is now lined with the slightest hints of rubied leaves. The garden is swollen with zucchini the size of the 11-pound baby our neighbor brought home in June. And the u-pick schedule at the local orchards is open every day of the week, there are just that many apples and pumpkins to pick.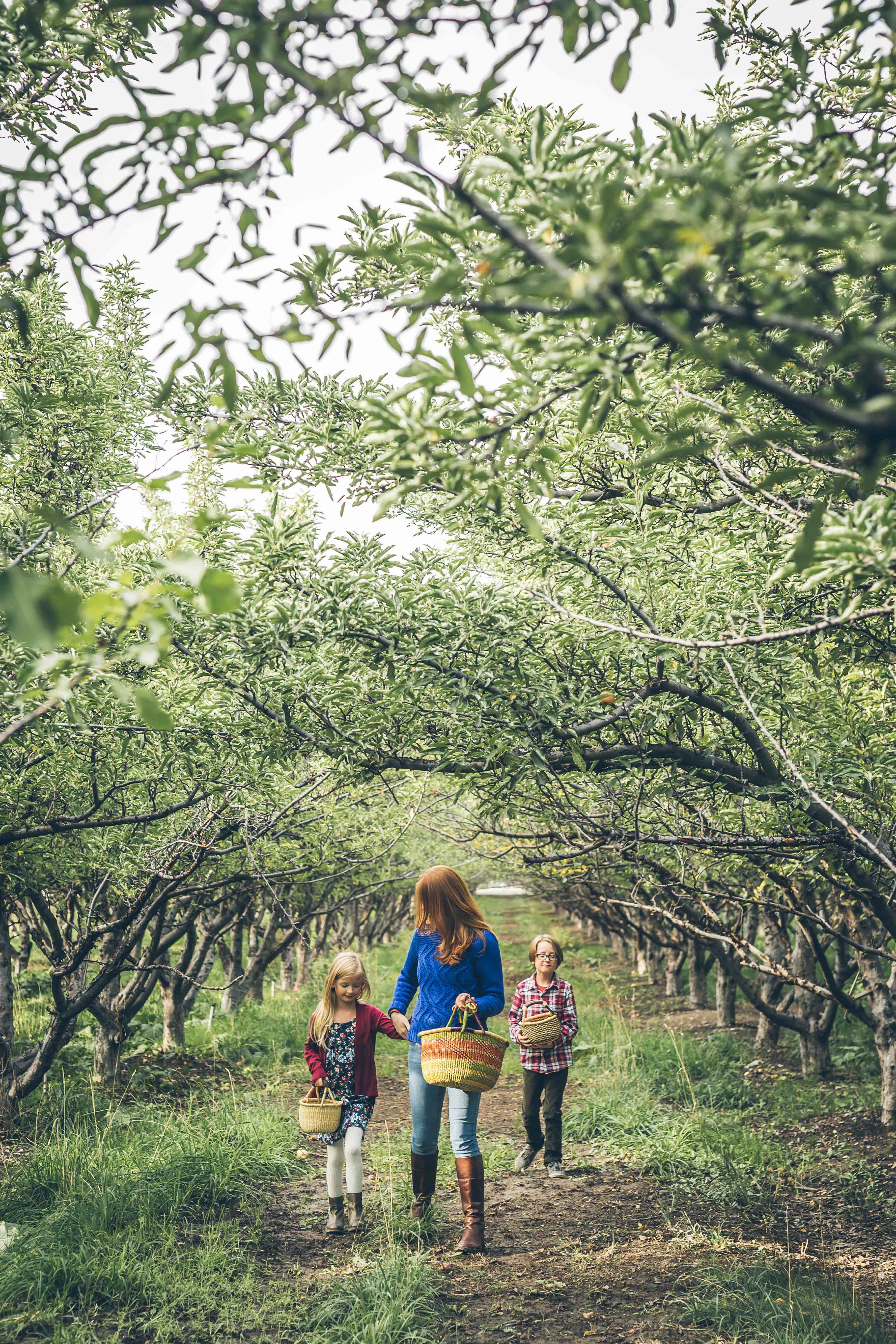 It's all the good things, wrapped up into a single season. And we plan to enjoy every minute of it. Rather than wasting away in front of our screens, we Sharpie-d favorite family events into the calendar. So downtime can be spent doing the things that matter most.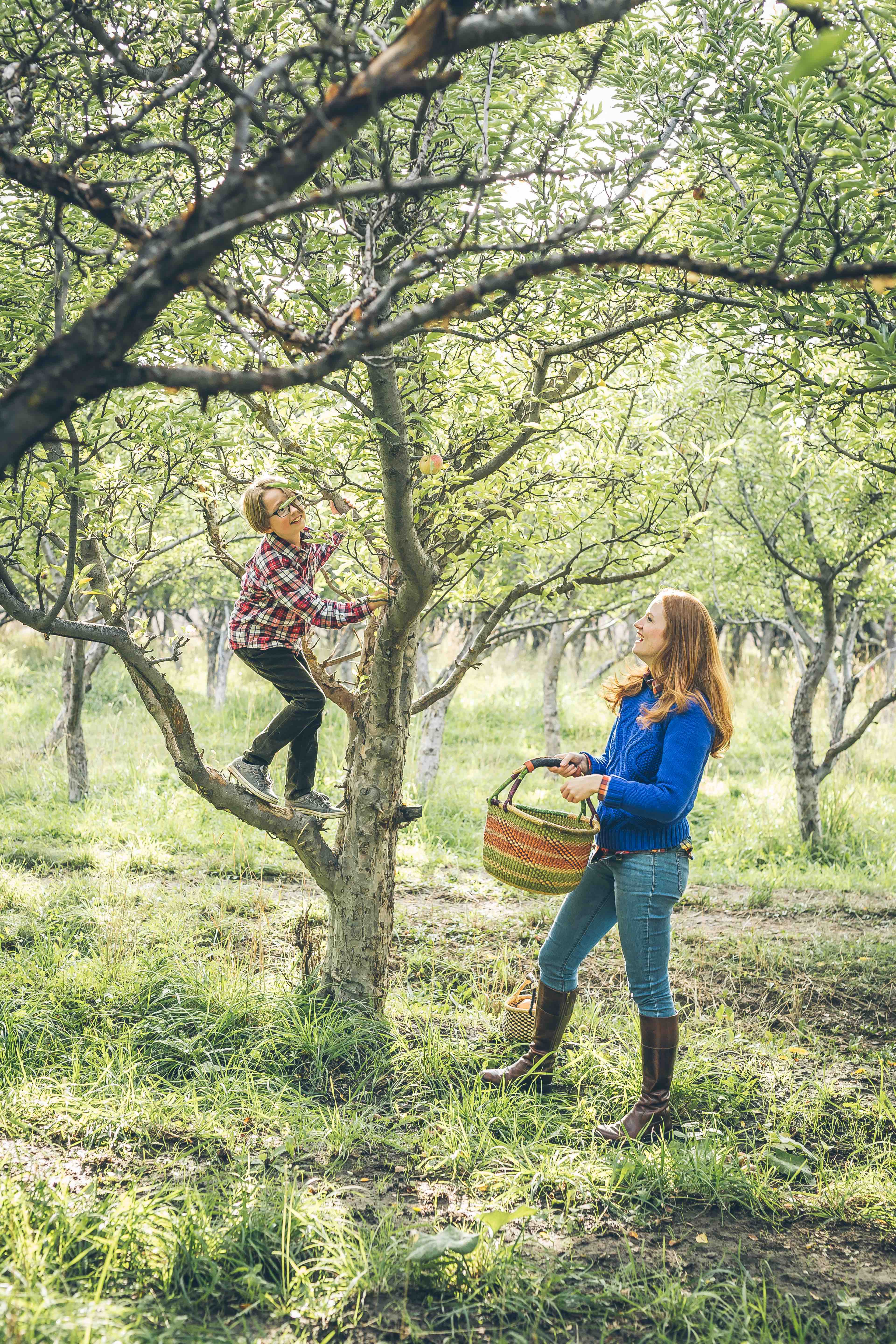 Top of everyone's list? A Saturday trip to pick apples. We pulled on our sweaters, loaded up the trunk with Blessing Baskets and took the long route through the canyon. Because this sort of event is the type you take slow. The kids love it as much as the parents do. So no rushing it from start to finish. Just a playlist of mellow tunes, an afternoon without hurry or worry, and apples for breakfast (and snack time) (and lunch).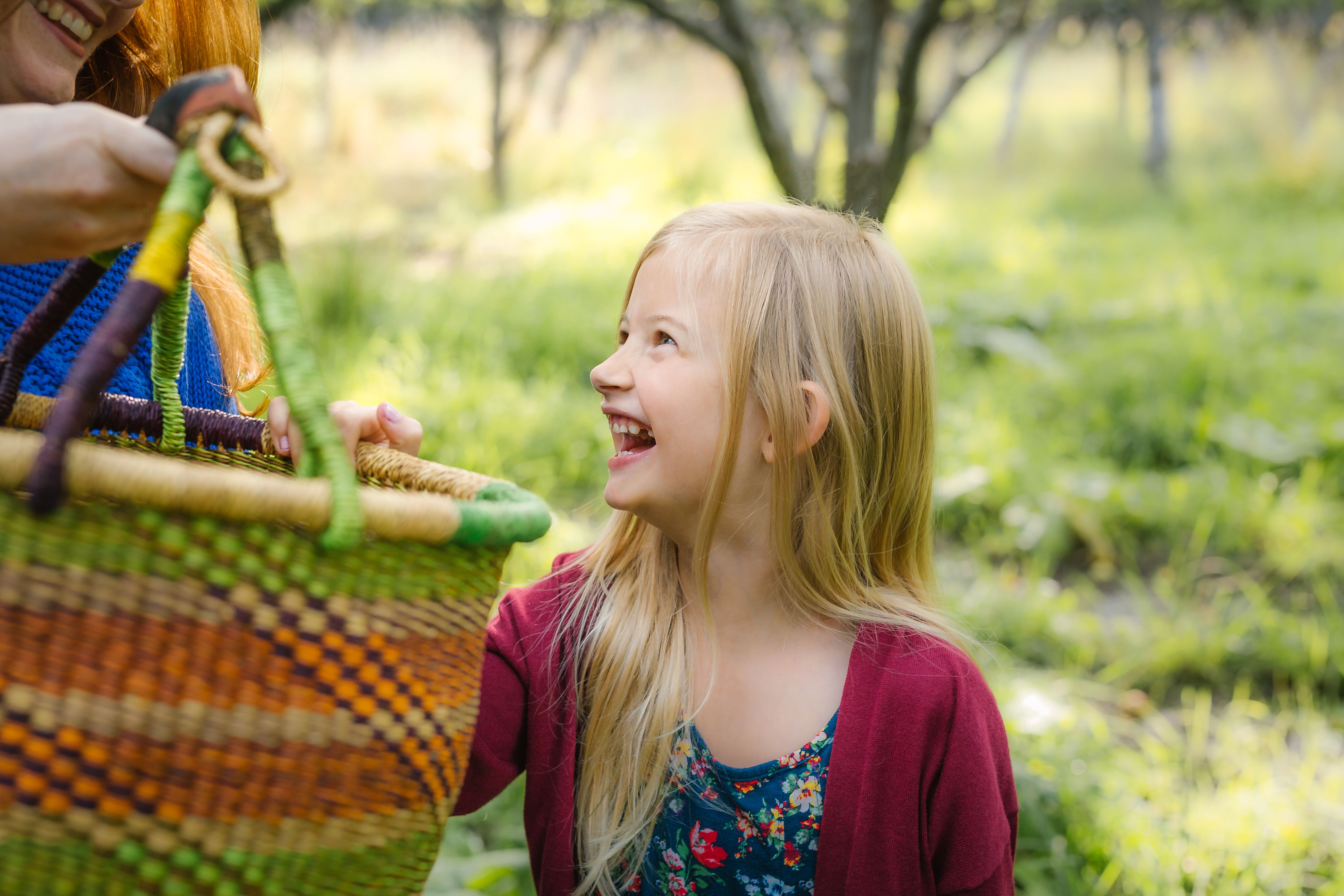 If you're lucky enough to live near a u-pick orchard, and haven't yet made a trip: call a crew of favorite people, and get it on the schedule, stat.
Whether you go with a gaggle of GF's, tote along your kids, or make it a mellow afternoon date with the love of your life, apple orcharding appeals to everyone.
Before You Go
Make the best of this autumn activity by prepping ahead of time. Call your local orchard to find out how they run their u-pick program. A few good things to know before you go:
What are the hours and dates of operation?
Do you walk?
Ride a tractor?
Do you need to check-in upon arrival?
Does the orchard offer snacks or food?
How and where do you check out, once you've picked your bushel?
Do they take cash only?
Should you bring your own bags or baskets?
Regardless the answer to the last one, make the eco-conscious choice to bring your own tote. We're in love with Blessing Baskets, which supports impoverished countries by paying "prosperity wages." Each basket comes with a story and photo of the artisan who created your basket. The baskets come in a variety of colors and sizes. We love that there is a mama sized one, and teeny handled totes that can be easily carried by little tots, too.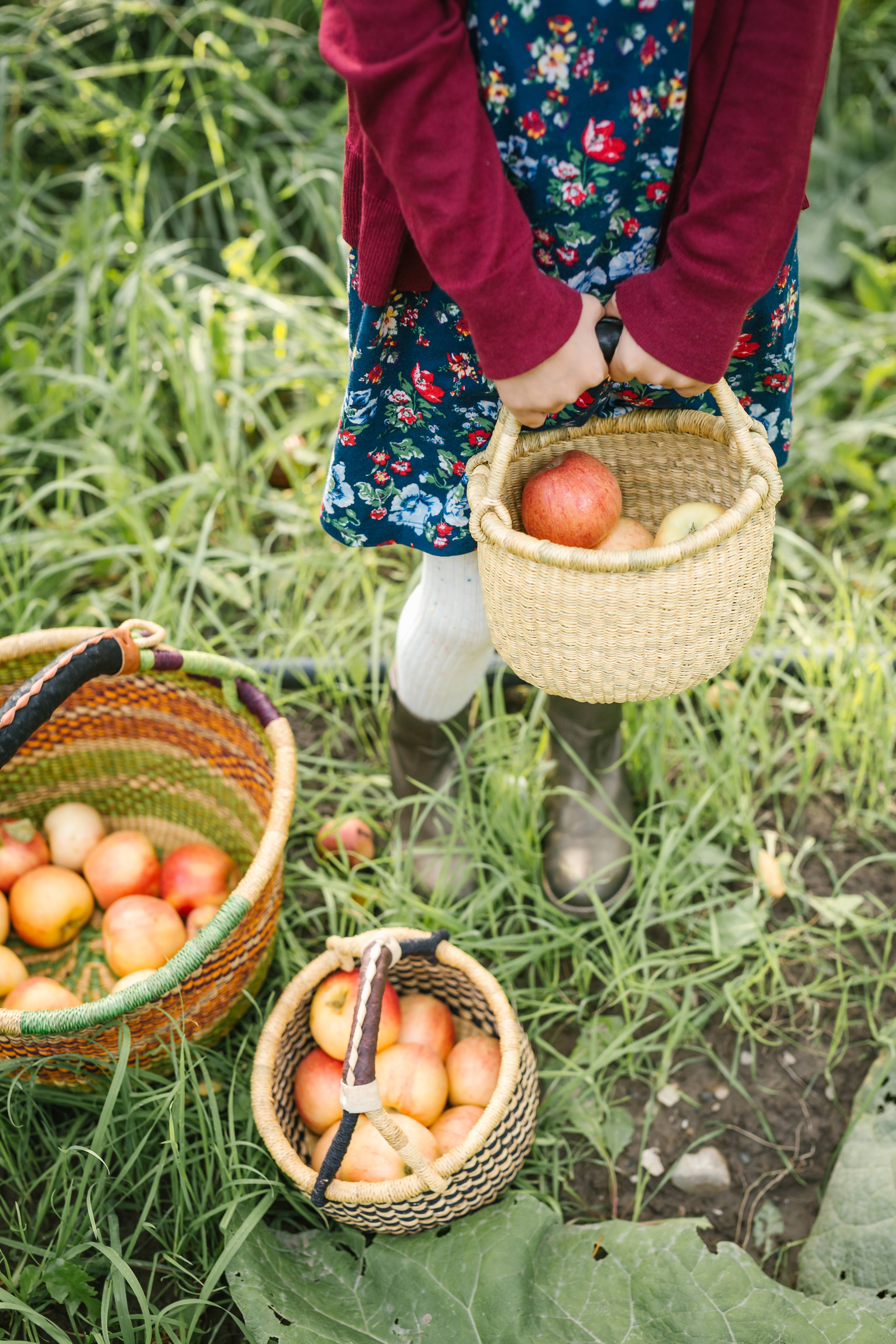 With answers in hand, check the weather, then pack up anything you need the night before. This will ensure you don't miss anything in the frantic rush to get out the door.
Water bottles, snack bags or a picnic lunch, and extra layer of clothes, a blanket (which can be used for warmth, or for sitting on). We love packing a small tub of peanut butter, some plastic knives and honey. The kids will eat apples all day, especially if they can slather it with a bit of protein and drizzle with sweet honey.
A Bushel and a Peck
Since u-pick prices are generally far cheaper than the grocery store, now's the time to stock up! Gather a big box or two of apples. And don't panic about what to do once you get home. Because we've got a giant Buttermilk Apple Skillet Pie that calls for 30 just-picked apples. So you can pick all day, bake all night. And enjoy the most beautiful homemade apple pie all day Sunday. (#bestweekendever).
Perfect Apple Pie
Perhaps you're an old pro at pie making. If so, we bow down. Because pies have always been that one pastry that is hard to get right. Either the filling is too runny. Or there is not enough fruit. The crust isn't quite flaky enough. Or the lattice top looks like it was made by a basset hound.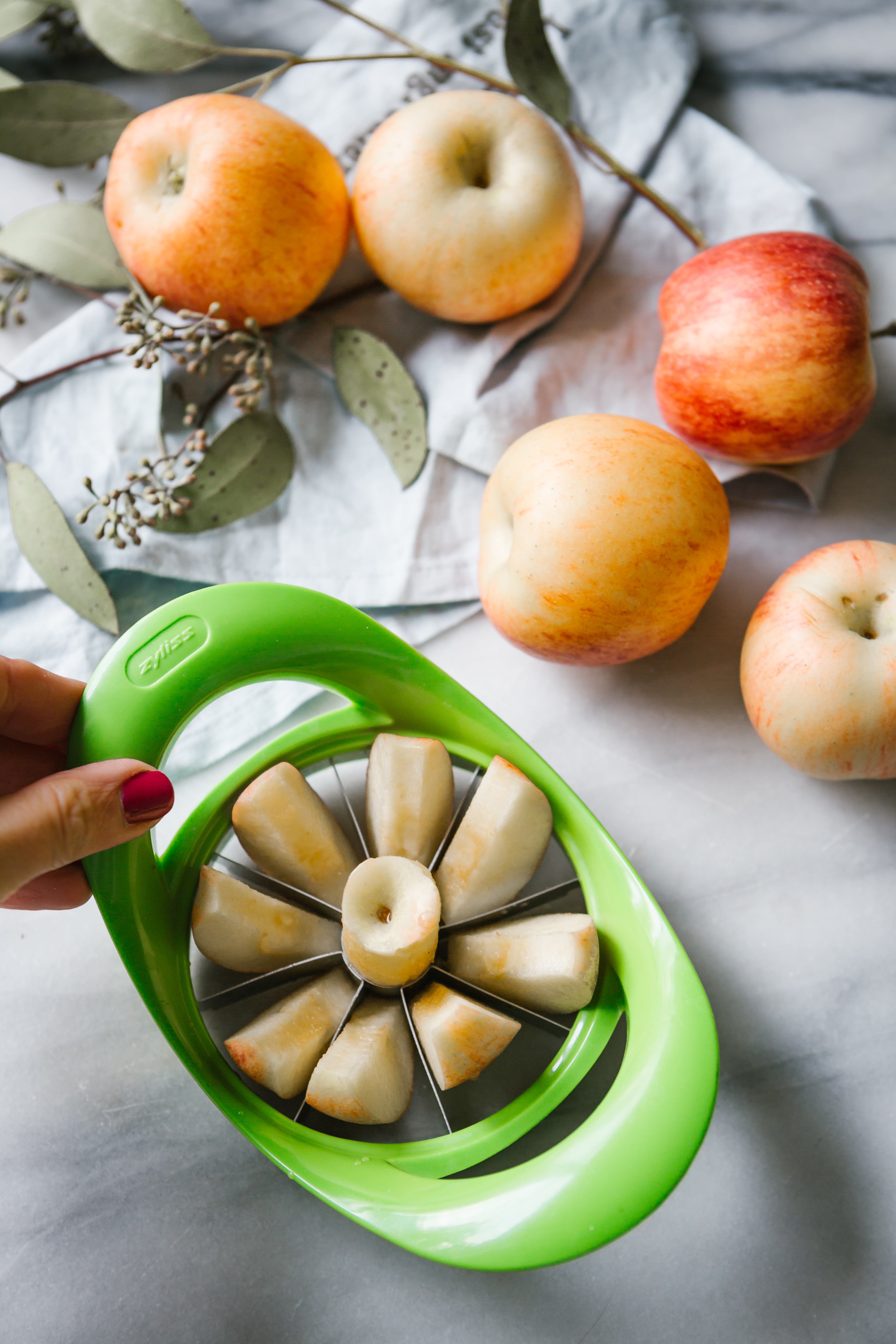 And while basset hounds are lovely for hanging out with on a cozy couch. Their skills are not particularly cherished in the kitchen. So we set out to create a pie recipe that even a novice could nail. A recipe so easy and exactly right, even a newbie could take first place with it at the county fair.
After a fair amount of chopping and mixing, tasting and testing, we've quite happily conjured what we are certain is the most delicious, most foolproof, most perfect apple pie recipe you will ever make at home.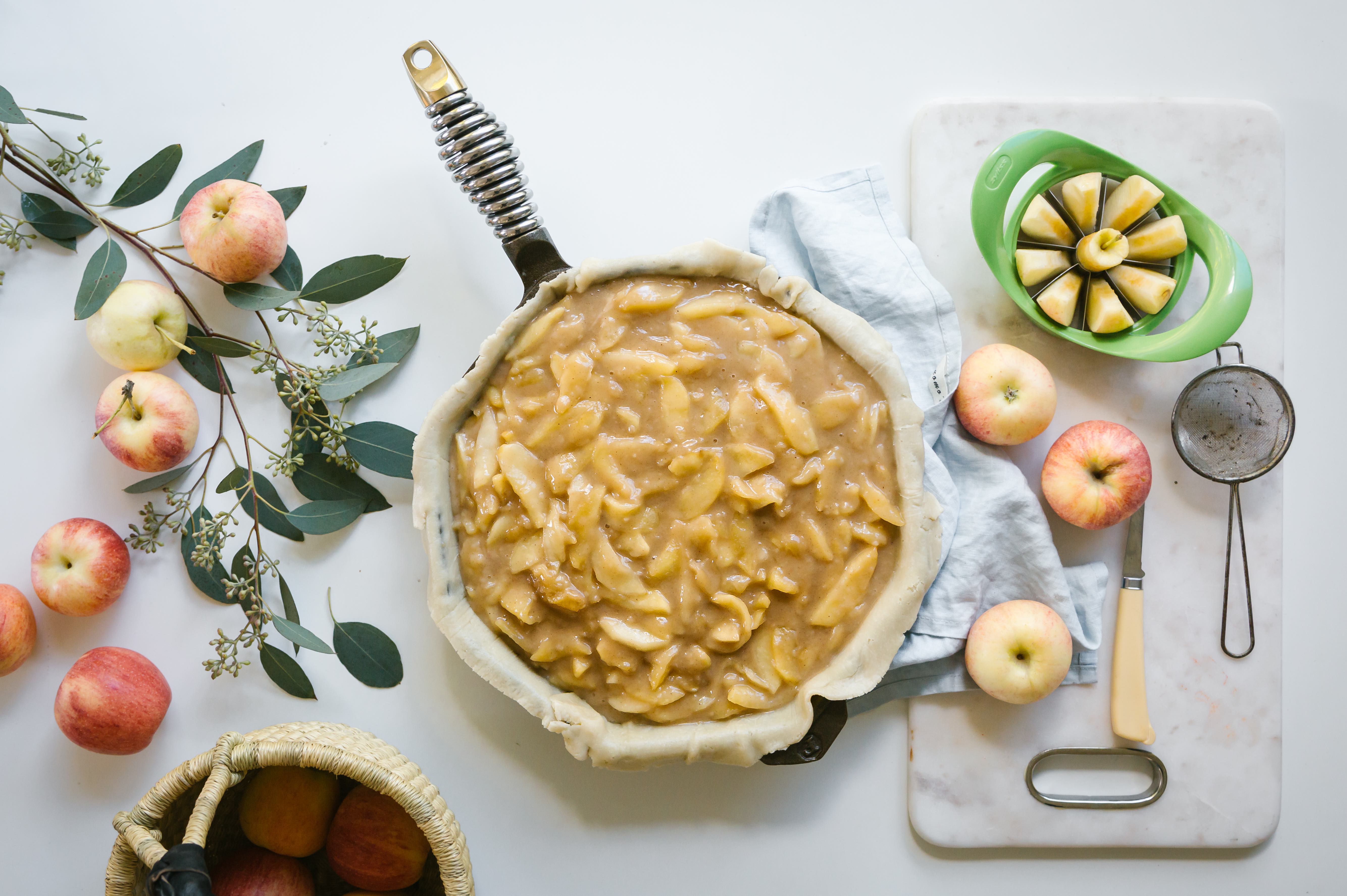 Based on an old Utah pioneer recipe for Buttermilk syrup, your bushel of fresh apples are cooked and softened in a creamy white caramel before they're ever baked. This allows the pie filling to be rich and compact. Once baked and cooled, the sliced are sky high, tangy and tender. Absolutely everything you want from an apple pie.
The crust here is storebought. We found that passing on the usual package of premade pie crust, and hunting out a crust from specialty food stores (like Trader Joe's) makes for a better pre-made crust. However, feel free to make your own, or use whatever you can locate in your local grocery store.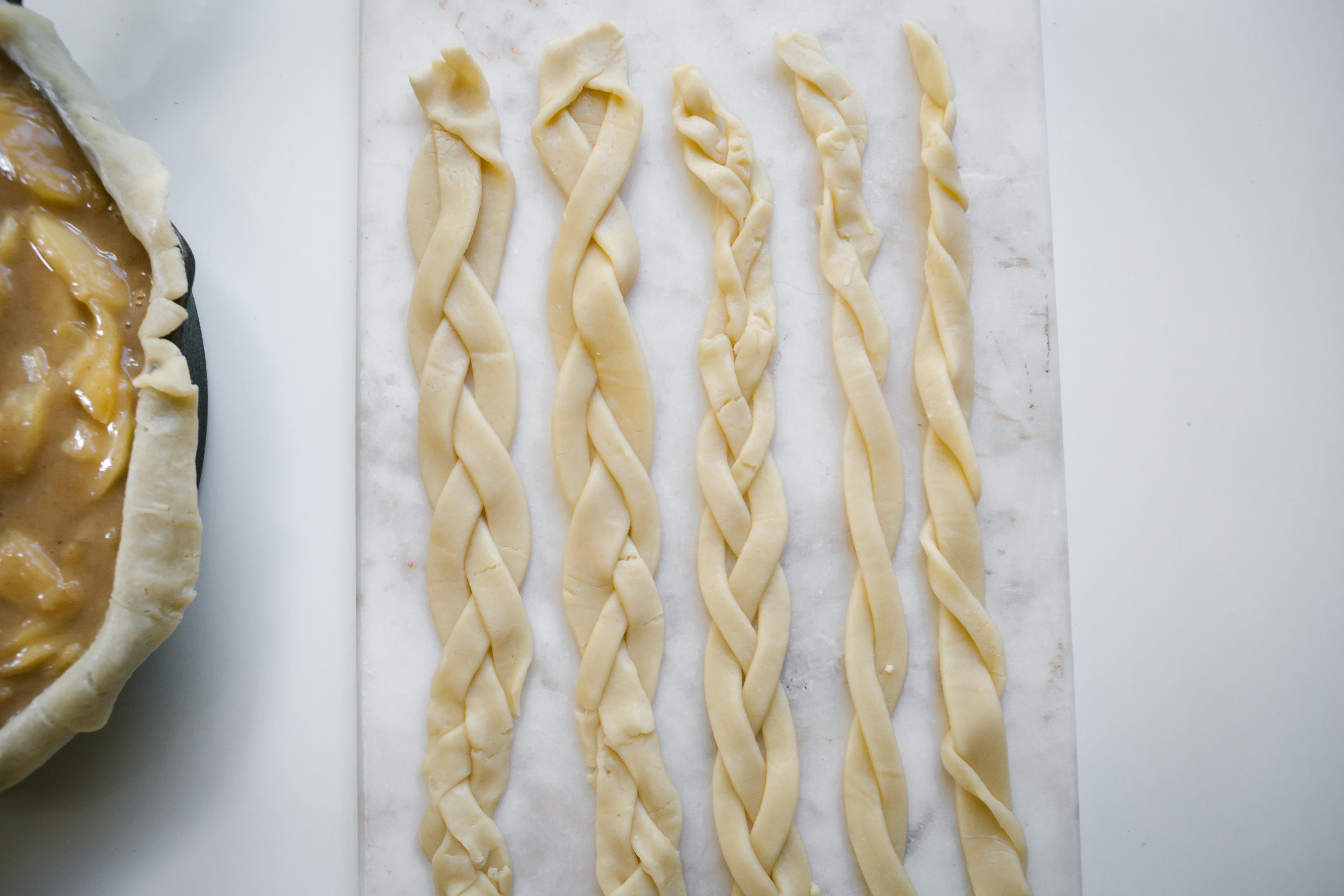 Once the filling is cooked and poured into the crust, it's time to top your pie. We played with a quilted lattice look, at is was surprisingly simple (if a little time-consuming). The end look is quite worth the added minutes of prep.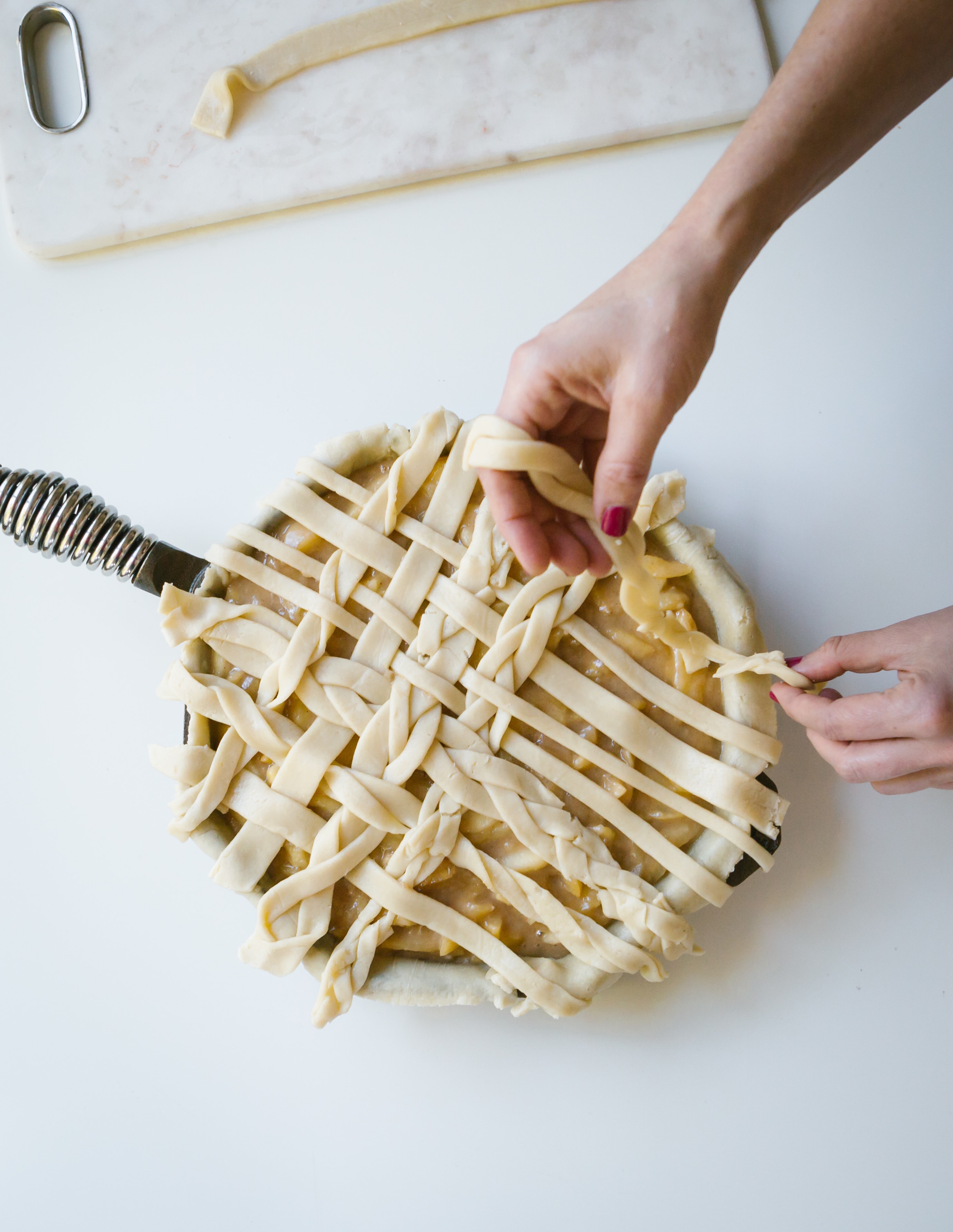 To create a quilted lattice atop your pie, slice 2 pie rounds into varying strips. Braid some of the strips, twist a few others together, and leave some as simple strips. Then weave together, with varying sizes and shapes tucked up next to each other. Though braiding the dough takes a bit of careful handiwork, we ultimately love this idea, because it's easy to hide novice mistakes. A broken bit of dough here, a poorly shaped braid over there. Once it all comes together, the imperfections are hidden. The final work of art is ready to be egg-washed, sugared and baked to golden perfection.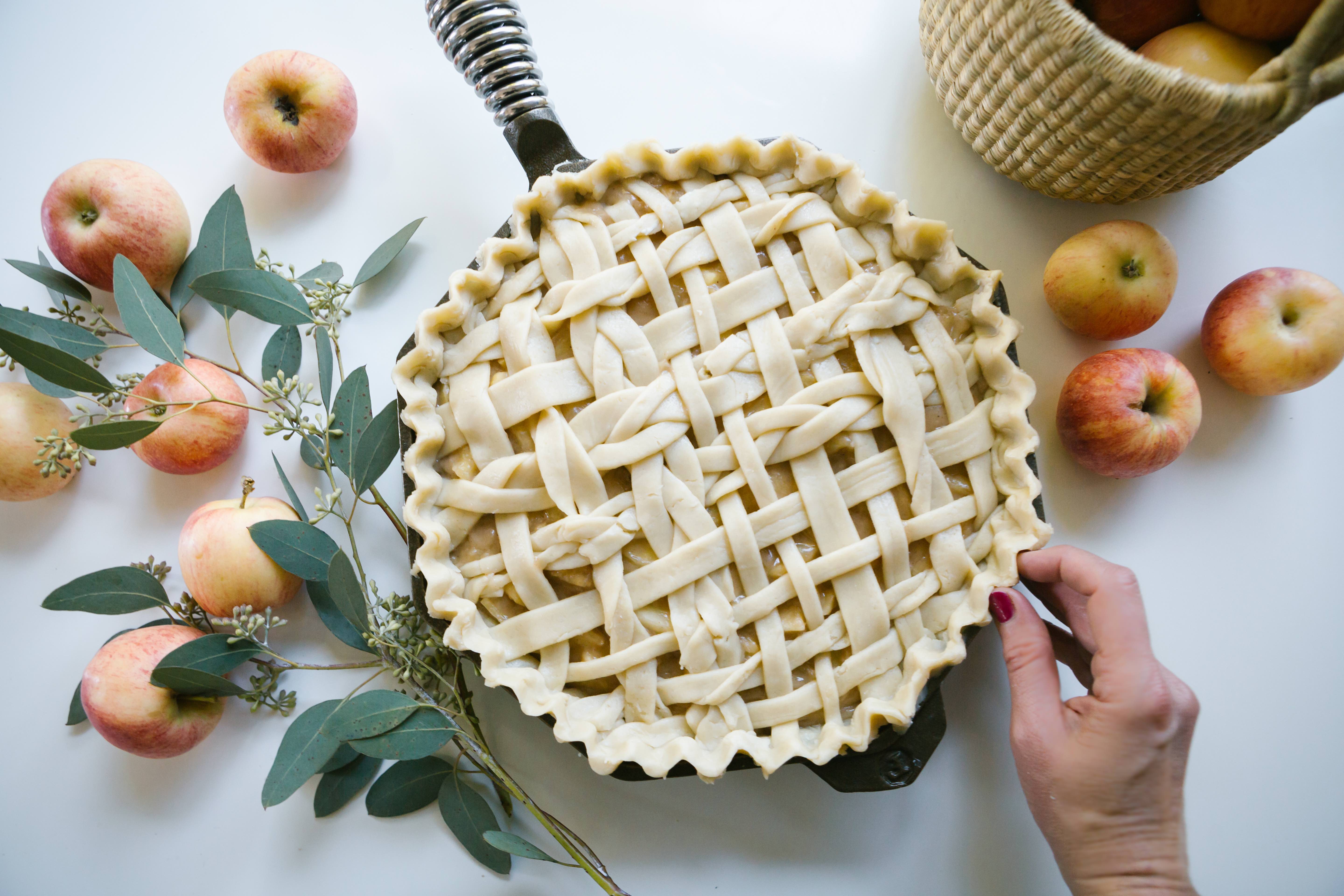 An absolutely giant, perfect apple pie in a skillet. Inspired by my pioneer grandmothers buttermilk syrup recipe, it is one of the best slices of pie in the world. Each bite is well balanced with tangy sweetness, the tartness of apples, and the buttery bite of crumbled crust. Cooking the apples ahead of time makes for thick slices, chock full of apples in every bite. Enjoy!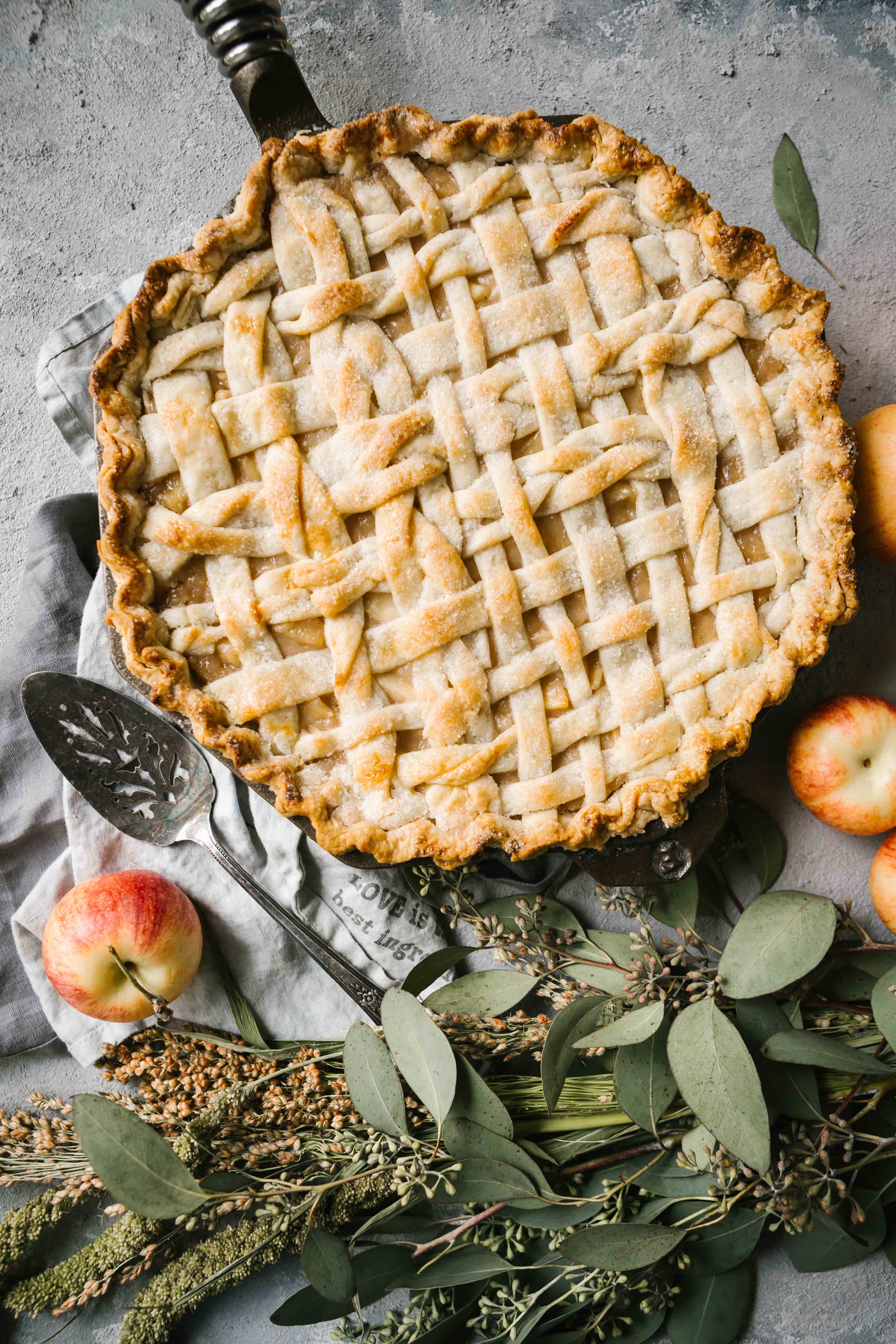 Buttermilk Skillet Apple Pie Recipe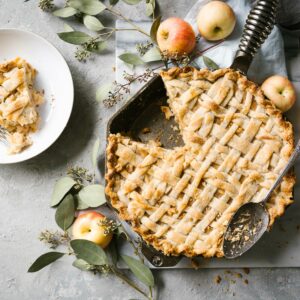 INGREDIENTS
1 cup salted butter
30 apples, peeled, cored and wedged
2 cups sugar
1 cup buttermilk
1 tsp baking soda
1 tablespoon apple pie spice
Pinch salt
1 cup flour
4 prepared pie crust rounds
1 egg, well beaten
¼ cup sugar or sparkling sugar
Nonstick baking spray
INSTRUCTIONS
Heat oven to 350°F.
Melt butter over medium-high heat in a large (7-9 quart) Dutch oven pot.
Add apples, sugar and buttermilk. Cook until mixture begins to boil, then add soda, apple pie spice and salt. Stir until well combined. Sprinkle with flour, stir quickly and cook just until mixture thickens.
Spray a 12" cast iron skillet generously with nonstick baking spray. Line with one crust, making sure the crust hangs over the edge of the pan slightly. Spoon apple filling into crust.
Cut the remaining dough rounds into varying strips with a pizza cutter. Braid some, twist some, then weave together in a lattice atop the pie.
Brush crust with egg. Sprinkle with sugar.
Bake for 50-60 minutes, just until crust turns medium golden brown around the edges. Remove and cool. For best results, cool overnight before slicing.
Tried this apple pie recipe? We'd love to see how it looks in your kitchen. Snap a photo, share to Instagram and be sure to tag us #INSPIREDhome.