Burnt Honey Turmeric Cocktails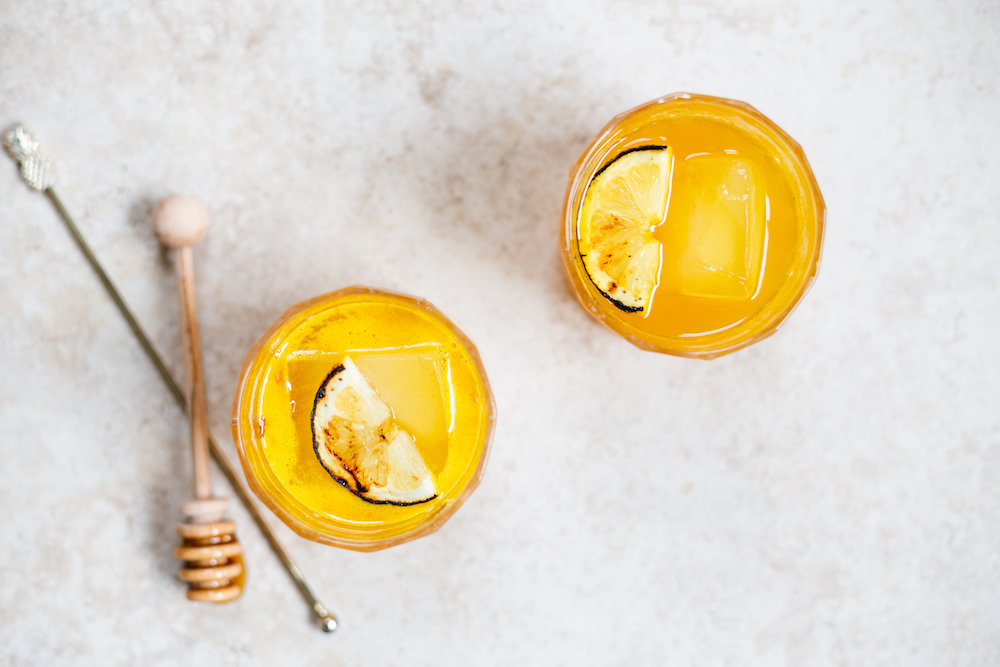 Scotch, burnt honey, turmeric. Brilliant color and bold flavor, perfect for fall.
This recipe is for all of you who love a bitter, almost tannic profile — the black tea drinkers of the world. It's a take on Sam Ross's modern classic, the Penicillin. Swapping ginger for turmeric and lightly burning the honey syrup creates a bracing, refreshing sip in a shade of orange so vibrant it almost glows. Since Halloween is just around the corner, and it could be considered an elixir of sorts (much like the OG Penicillin), I'm calling it the Witch Doctor.
Burnt Honey Syrup is incredibly easy to make — it's just honey and water, and takes only a few minutes — but be warned, it bubbles violently like caramel and requires a close watch. You're looking for a color change from gold to amber, and a caramelized, lightly burned aroma. If you overdo it and REALLY burn it, you'll end up with an unpalatable, sticky mess. It helps to use a heavy, high quality pan, like this one from All-Clad, so you can ensure even heating all over and a consistent temperature.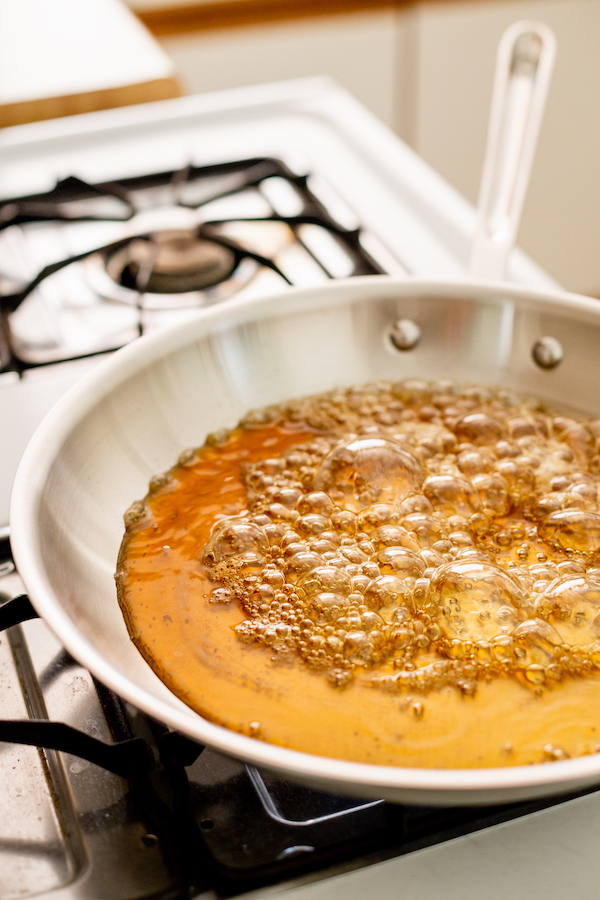 Aside from this cocktail, burnt honey syrup is also fantastic in your morninglatte and an incredibly fun cocktail ingredient to play around with. Try it in a Bee's Knees with a barrel aged gin, which is increasingly easy to find. It's also great in a classic Old Fashioned in place of simple syrup. Predictably, the caramelized flavors of the burnt honey play very well with oaky and smoky profiles (mezcal, anyone?).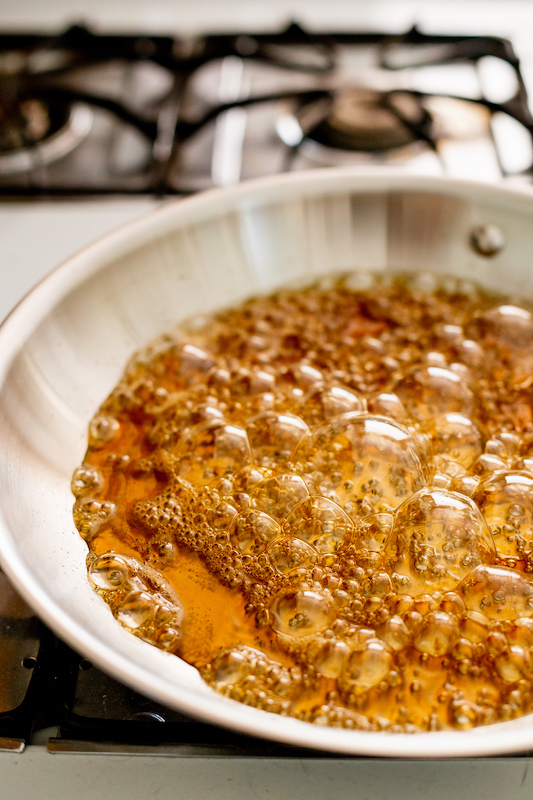 To up the smoke and peat factor for this cocktail, do a Laphroaig "rinse" of the glass beforehand — pour out a small splash of Laphroaig into your glass, swirl it around rapidly so it touches all the sides, then dump it out. A tiny bit of the notoriously peaty scotch will cling to the glass, lending a punch of smoke that won't throw the cocktail out of balance.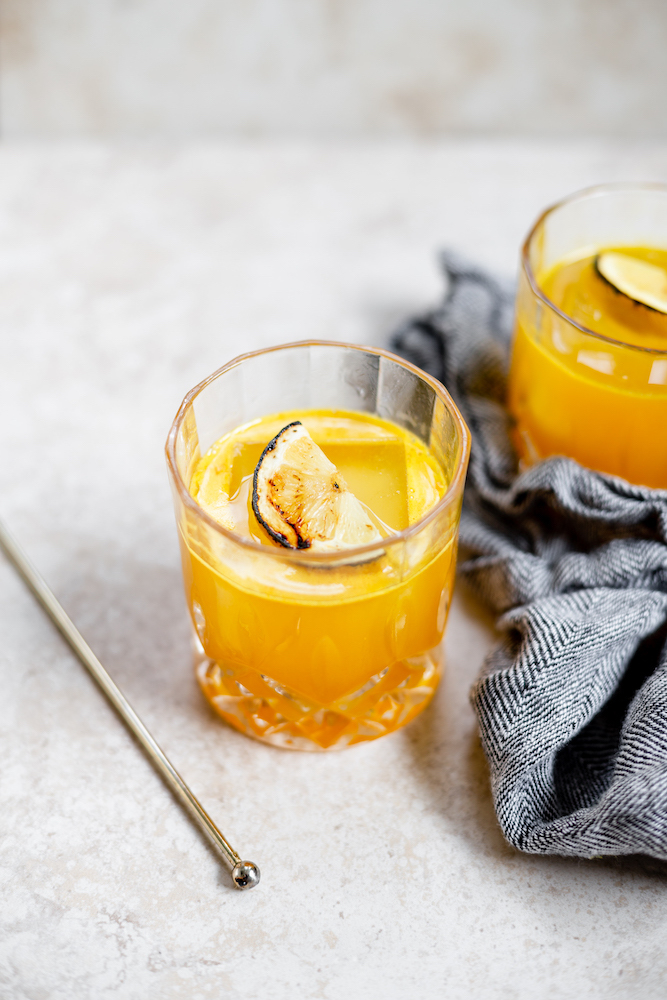 A final word to the wise — turmeric's vibrant hue is also a notorious stainer of cutting boards and fingers. If you don't want yellow fingertips and splotchy boards, use gloves and slice on plastic wrap. It's also better to use a plastic or metal muddler for this one, though I personally don't mind a little color on my wooden ones (kind of a hazard of the trade for muddlers, which are frequently stained with berry juice anyway).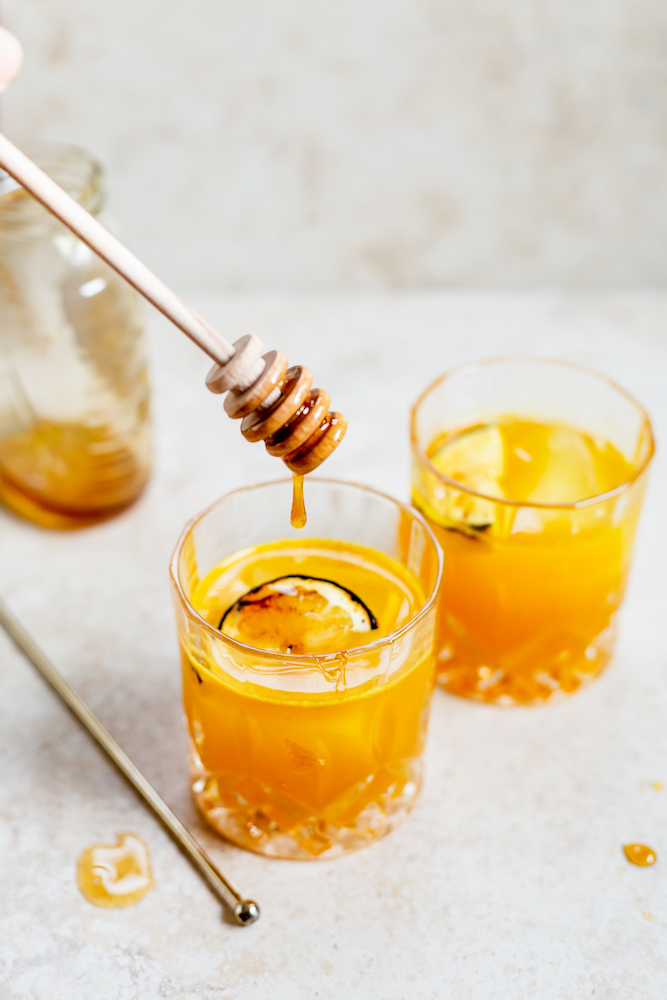 Scotch, burnt honey, turmeric. Brilliant color and bold flavor, perfect for fall.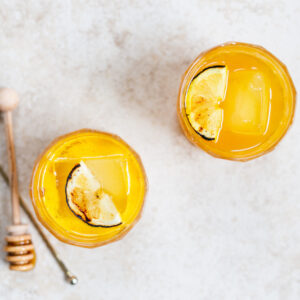 INGREDIENTS
For the Witch Doctor:
2 oz blended scotch (or rye if you aren't a scotch fan)
.75 oz fresh squeezed/strained lemon juice
.75 oz burnt honey syrup (recipe below)
3 slices fresh turmeric
For the Burnt Honey Syrup:

200 grams honey
125 grams + 1 tbsp water
[Note: it's best to use a kitchen scale for this recipe, because honey's density varies widely]
INSTRUCTIONS
For the Witch Doctor:
(1) In a cocktail shaker, add the turmeric and scotch. Muddle the turmeric until completely pulverized, then add remaining ingredients and ice.
(2) Shake hard for 15 seconds and pour into a chilled rocks glass over one large ice cube. Optional: garnish with charred lemon slice.
For the Burnt Honey Syrup:

(1) Add 1 tbsp of the water and all of the honey to a heavy saucepan or skillet. Pre-weigh the 125 grams of water and set aside.
(2) Heat the honey over medium high heat. When the honey is bubbling and changes from its original color to a darker amber shade and smells like lightly burned caramel, remove from heat and add the 125 grams water immediately. The mixture will boil violently, so pour the water with care. Stir until all of the honey is fully dissolved.
(3) Strain through a fine mesh sieve and store in the fridge.