This Fall-Inspired Mushroom, Leek, and Ham Mac and Cheese Is Everything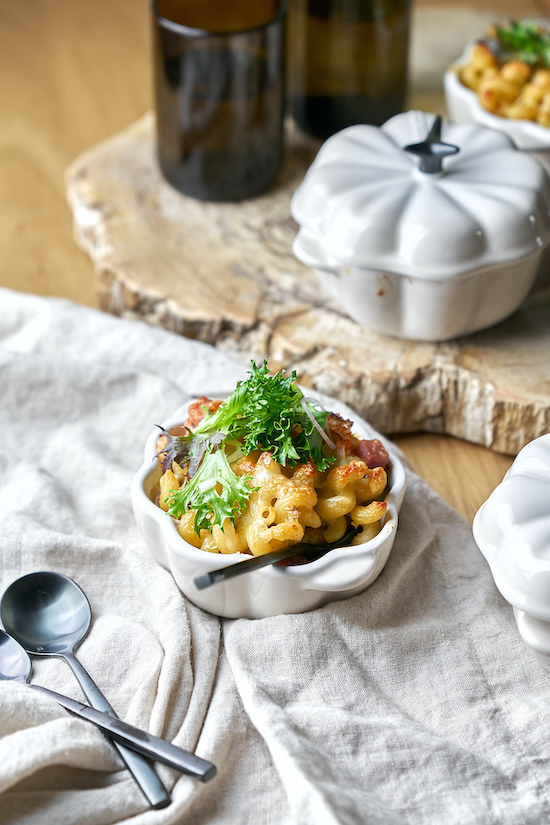 When it comes to seasonality in the kitchen, there are a few produce items that can weather all four seasons. Mushrooms are not only always in season, with a vast variety available, there's a different kind to pair with everything from spring garlic to summer BBQ and beyond. If you don't think you're into mushrooms, there's a good chance you haven't had them cooked properly. Gone are the days of the poorly seasoned "mushroom steak" vegetarian meal. It's time to bring this year-round, sustainable, healthy item to your table.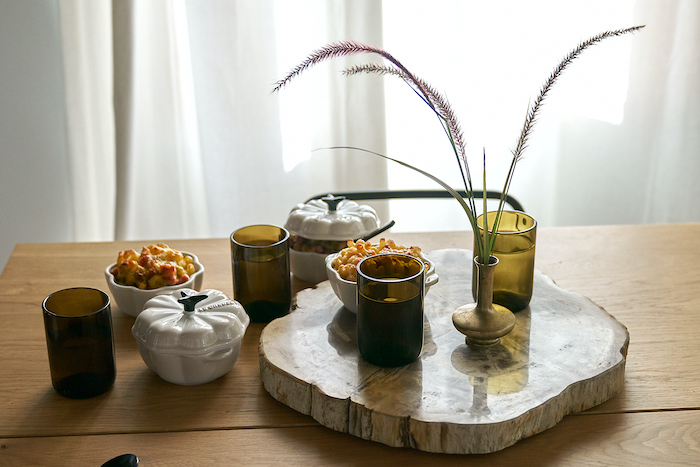 Vintage Water Glass

By D&V by Fortessa

Shop Now
In terms of health, mushrooms are also the leading source of selenium. Selenium can help protect cells from damage and strengthen the immune system. They also boast the claim to being one of the only non-fortified vitamin D foods available. As we approach winter, this is especially important to note since many of us could use more of the "sunshine vitamin". On a side note, there are even some mushroom varieties that have higher levels of vitamin D since growers can use UV light to up the numbers.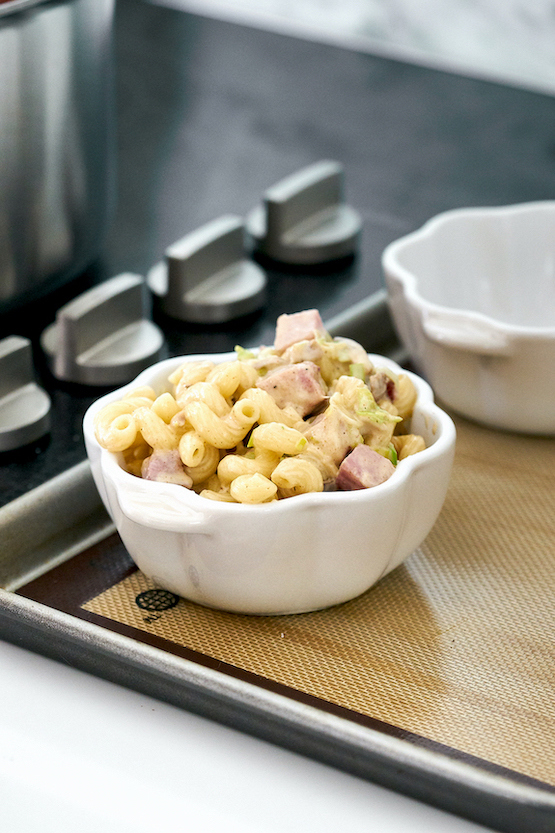 If you're looking for more ways to use mushrooms at home, you'll have fun experimenting with what mushroom aficionados call "the blend". The blend uses the technique of adding chopped mushrooms to ground meat to boost nutrition and sustainability. It works for tacos, burgers, lasagna, and more!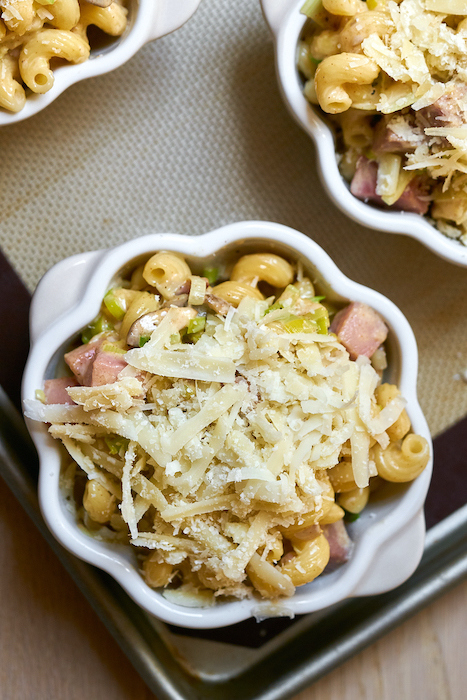 Petite Pumpkin Cocotte

By Le Creuset

Shop Now
Now on to this soon to be fall favorite. As a dietitian, one thing I know is – when it comes to introducing new foods to people of all ages, they're more likely to enjoy the experience when the new food is paired with a favorite stand-by. Mushrooms add a rich, woodsy, autumnal flavor to mac and cheese with ham and sautéed leeks. In this recipe, we're using shiitake mushrooms which have a meaty texture and a rich woodsy flavor as well as baby portabella mushrooms which are super hearty.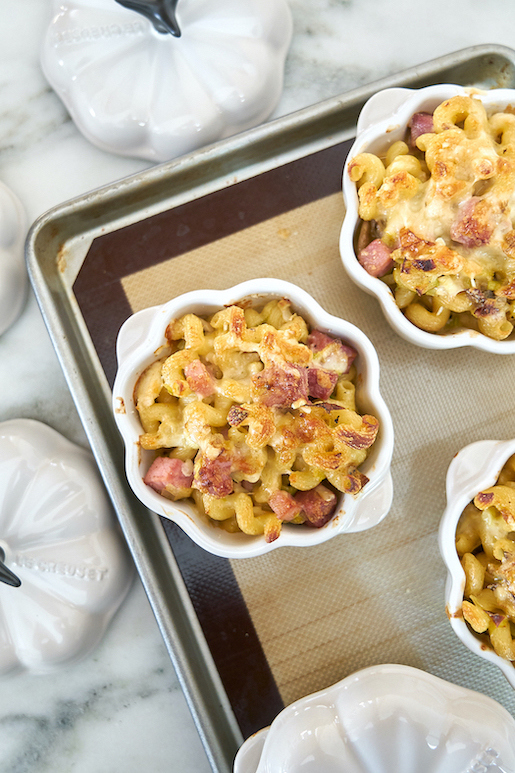 This mac and cheese recipe also serves as a great make-ahead meal since you can store it in individual containers to heat and bake as needed. With three kids of cheese that all have different meltability and flavor attributes, there are lots of layers of sharp and gooey. While it may be tempting to buy pre-shredded cheese, make sure you check the label, as additional starches are often added to keep the cheese from sticking together. This may cause your sauce to be thicker than intended.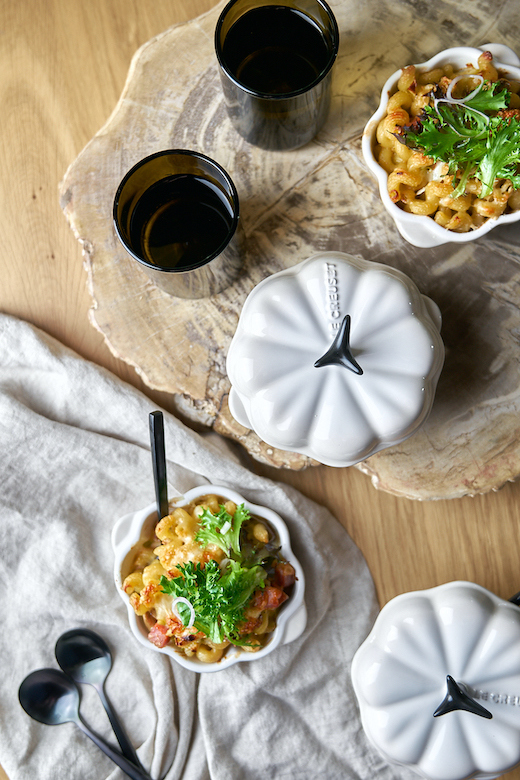 Petrified Wood Platter

By D&V by Fortessa

Shop Now
You'll also see a maybe 'new to you' ingredient in this recipe: ultra filtered milk. It contains 50% more protein and 50% less calories than standard milk and in my personal opinion, tastes better than many milks on the market. You can swap in whatever milk is in your fridge, but this is a great simple nutrition hack to have in your fridge.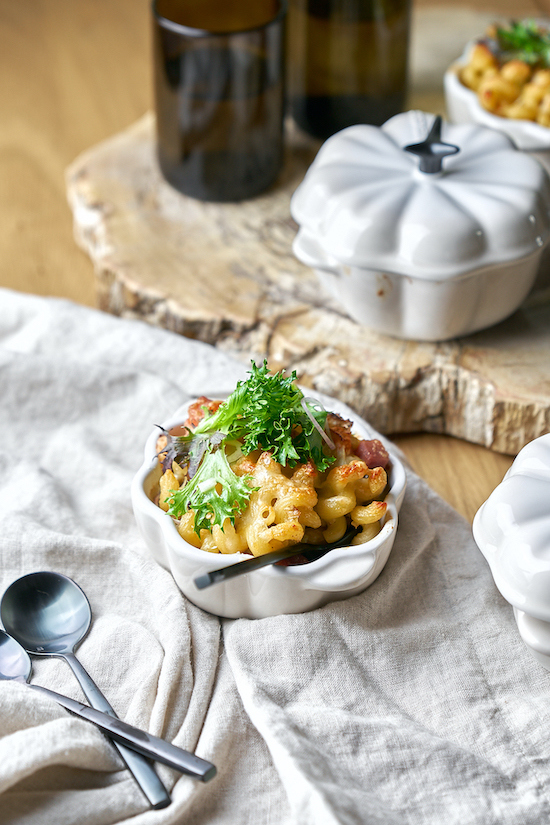 Arezzo Brushed Black Bouillon Spoon

By Fortessa

Shop Now
Topping off this hearty and satisfying mac and cheese is a simple salad with bright vinaigrette. It's a good way to balance out the meal with more vegetables, but it also provides a good flavor contrast to the creamy, rich dairy. Serve it on the side, or straight on top!
Mushroom, Leek & Ham Mac and Cheese (with a Simple Side Salad)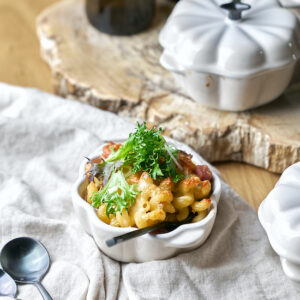 INGREDIENTS
Mac and Cheese Ingredients:
1 pound of dried cavatappi pasta
8 oz grated gruyere cheese
8 oz grated sharp white cheddar cheese
4 oz grated parmesan cheese
1 cup heavy cream
1 cup 2% ultra-filtered milk (Fairlife)
2 teaspoons paprika
1 Tablespoon butter
3 cups sliced leeks (about 3 large leeks)
1 ½ cup cubed cooked ham (center cut ham steak)
1 cup sliced and chopped baby portabella mushrooms
1 cup sliced and chopped shiitake mushrooms
Salt and pepper to taste
Salad Ingredients:
2 Tablespoons minced shallot
2 Tablespoons sherry vinegar
1 Tablespoon fresh lemon juice
1 teaspoon Dijon mustard
7 Tablespoons extra virgin olive oil
Salt and pepper
Frisee lettuce
INSTRUCTIONS
Bring a large pot of water to a boil. Salt. Add pasta and cook for 7 minutes until al dente. Drain.
While water is heating and pasta is cooking, grate cheeses and set aside.
Cut mushrooms, leeks and ham. In a large saucepan, add butter, leeks, and mushrooms. Cook over medium high for 5-7 minutes until leeks are soft. Remove from pan and add ham in a single layer. Cook on each side for about 4 minutes.
Once pasta is drained, return to large pot and add ¾ of the cheese. Add the milk and heavy cream, paprika, salt and pepper. Stir to combine. Add the ham, leeks and mushrooms. Fold in using a silicone spatula.
Preheat oven to 350 F with a rack in the middle. Dish mac and cheese into individual ramekins on a baking sheet.
Top with remaining cheese. Cook 20 minutes until browned and bubbling.
While mac and cheese bakes, whisk dressing together. Toss lightly with greens.
Serve greens on top, or on side.