Slow Cooker Boeuf Bourguignon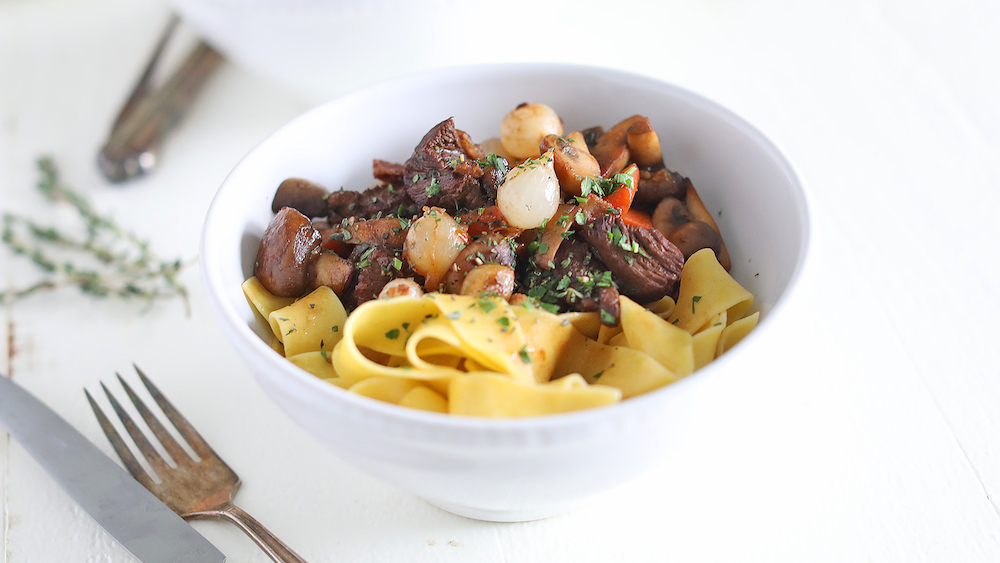 Probably the most fun part about making boeuf bourguignon is constantly repeating it in your head and out loud until it drives either you or a family member crazy. In this case, it was my wife who was ready to seriously bash me over the head with some tongs. It's actually been quite a while since I last made boeuf bourguignon and man have I waited way too long to make it. My house smelled glorious throughout the entire cooking process and the rich flavors sat on my tongue all day. And thanks to my new Crock-Pot slow cooker it has made the cooking procedures even easier to prepare.
Boeuf bourguignon is a recipe that takes about 3 hours to make and most of it is sitting time in the slow cooker cooking. Whenever it comes to recipes like this, or any recipe for that matter, I find it extremely important to prep everything ahead of time so that the cooking process goes smoothly. The French actually have a saying for this food prep process, it's called "mise en place," which translates to "everything in its place." This means that everything is completely ready when it comes time to cook. It doesn't mean partially ready or I can cut onions right before I need to throw them in. NO, it means everything for the recipe is ready to go. To make a long story short, just prep it all out so that cooking is smooth sailing.
One of my favorite things about using slow cookers is the set it and forget it mentality that comes with it. It's really cool to see slow cookers evolve to where they are today. Back in the day it was high or low, but now they come with all sorts of settings like roast, steam, sear, etc. The Crock-Pot that I used for this boeuf bourguignon recipe really came in handy, as I could do just about everything right in it.
The sear function gets extremely hot, making it perfect for crisping up the bacon as well as browning the beef. Make sure to take the time to sear the beef to get it to that nice golden brown before removing it from the slow cooker. I've change my stance in the past few years on over caramelizing up vegetables because everything just tastes the same when caramelizing. I think if you cook them on the lighter side you will still be able to taste so much more of the vegetable instead of the sear.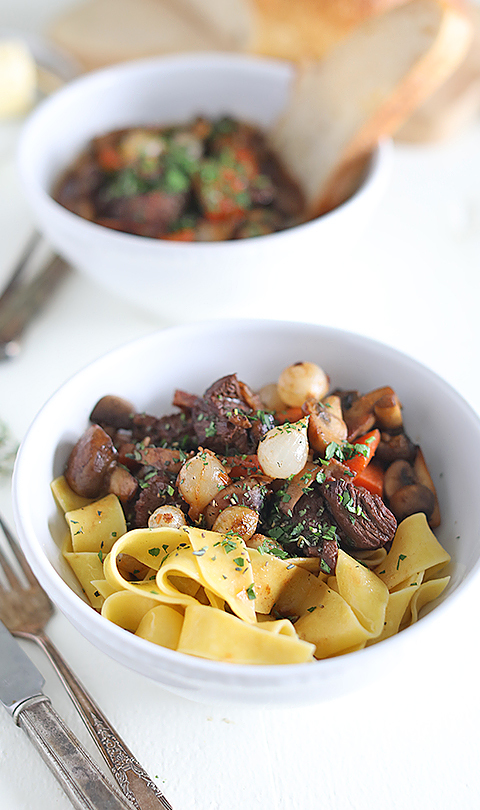 When cooking with wine, I always say that it better be good enough to drink, as there is nothing worse than bad wine. If you won't drink it, then don't you dare cook with it. After you pour in the wine for braising, be sure to pour yourself a glass so that you can enjoy the process even more. Cooking should be therapeutic, it shouldn't be a job. It will take time to enjoy every step of the cooking process, but once you get to a place where your food is starting to taste really good, then it will become a love.
Happy cooking you guys!
Slow Cooker Boeuf Bourguignon Recipe
Probably the most fun part about making boeuf bourguignon is constantly repeating it in your head and out loud until it drives either you or a family member crazy.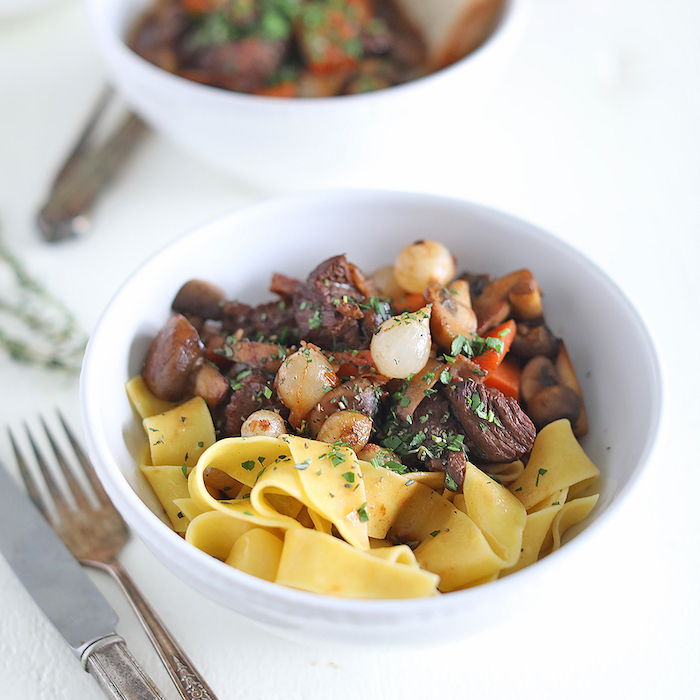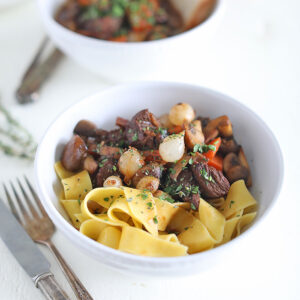 Ingredients
8

chopped slices of bacon

2

lb

timed beef chuck roast, cut into 1" squares

6

carrots cut into 1" pieces

1

peeled and julienned yellow onion

6

cloves of finely minced garlic

3

tbsp

all-purpose flour

2

cups

red wine, pinot noir or Côte de Rhône

3

cups

beef stock

2

tbsp

tomato paste

8

sprigs each of fresh parsley and thyme + 2 tablespoons finely minced

1

oz

unsalted butter

4

cups

sliced button mushrooms

2

cups

peeled pearl onions

Kosher salt and fresh cracked pepper to taste

Cooked pappardelle pasta and sliced sourdough bread for serving
Instructions
Preheat the slow cooker to sear/high.

Add the bacon to the slow cooker and cook until browned and crisp. Set aside.

Add the beef into the slow cooker. Season with salt and pepper and sear until golden brown on all sides.

Remove the beef and add the carrots, onions, and garlic to the slow cooker and cook until lightly browned, about 4 to 6 minutes.

Next, add the beef back in and sprinkle in the flour. Mix until combined.

Add the red wine, beef stock, tomato paste, crispy cooked bacon, and parsley and thyme sprigs into the slow cooker and change the setting to slow cook/high for 2 hours.

With 30 minutes left in the cooking process add a large saute pan to a burner over high heat.

Add the butter to the pan and once melted add the mushrooms and cook until golden brown, about 5 to 7 minutes. Add the onions in and cook for 3 to 4 more minutes.

Once browned pour the contents from the pan into the slow cooker and mix in. Serve the boeuf bourguignon with the cooked pappardelle pasta, sliced sourdough and chopped herbs.
Nutrition
Serving:
1
g
Calories:
528
kcal
Carbohydrates:
15.1
g
Protein:
46
g
Fat:
26.1
g
Saturated Fat:
10.3
g
Cholesterol:
149
mg
Sodium:
877
mg
Fiber:
2.5
g
Sugar:
5.7
g