Boozy Honey Lavender Sorbet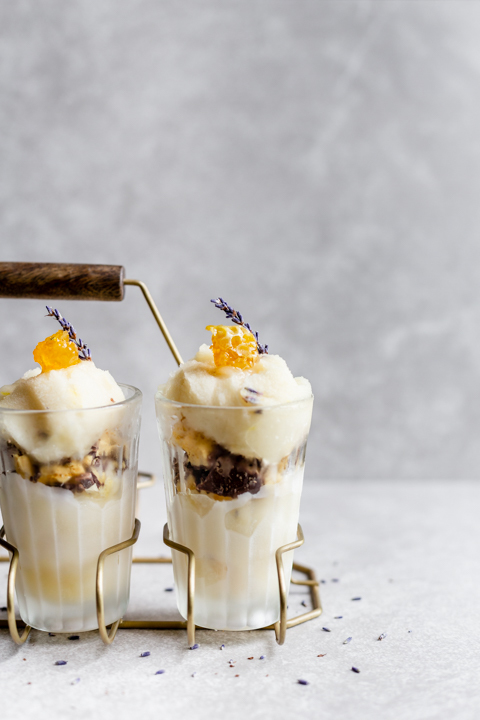 Put your ice cream maker to good use with this grown up treat guaranteed to steal the show at any summer party.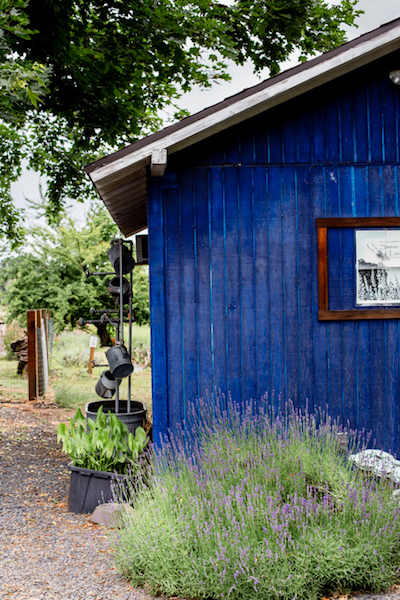 There are few desserts as refreshing on a hot, sunny day as homemade sorbet. The best sorbets melt in your mouth — light, smooth, and almost creamy in texture (without using actual cream), these fruit-forward confections are best when a short ingredient list lets the season's natural bounty shine through.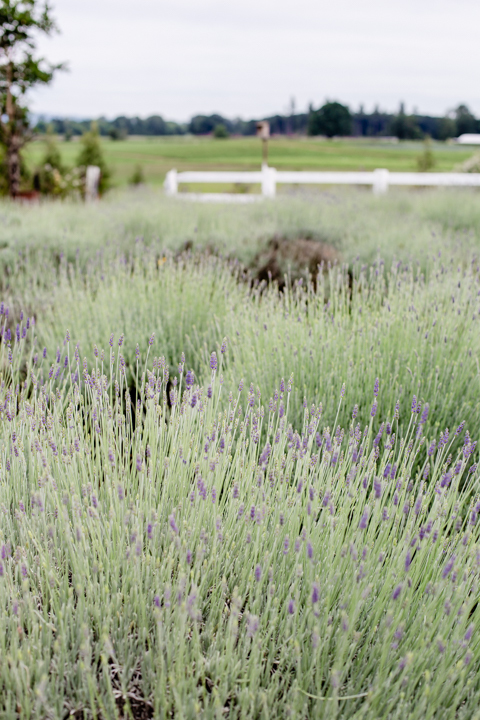 But getting that perfect texture starts with a strong recipe — if the ingredients don't have what it takes to give the sorbet structure, the mixture can freeze like solid ice or melt into a sad, drippy puddle as soon as you start scooping. Though it's just as easy to make as ice cream (I would argue easier, since you don't have to heat anything or make a custard base), sorbet is a little less forgiving — its lack of fat and eggs means you have to look elsewhere for viscosity.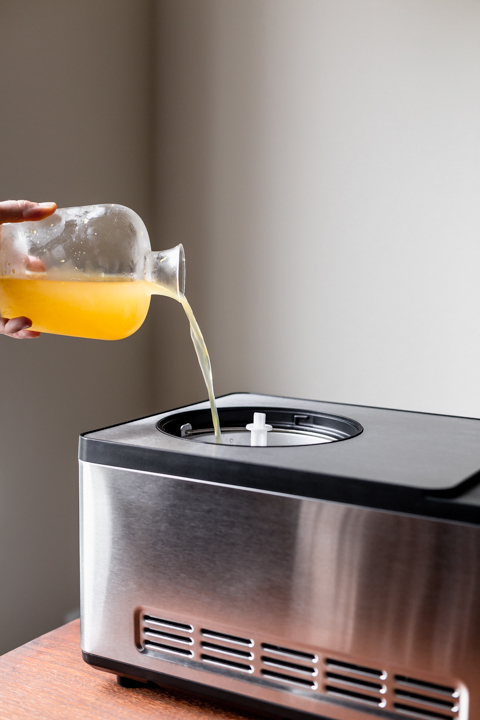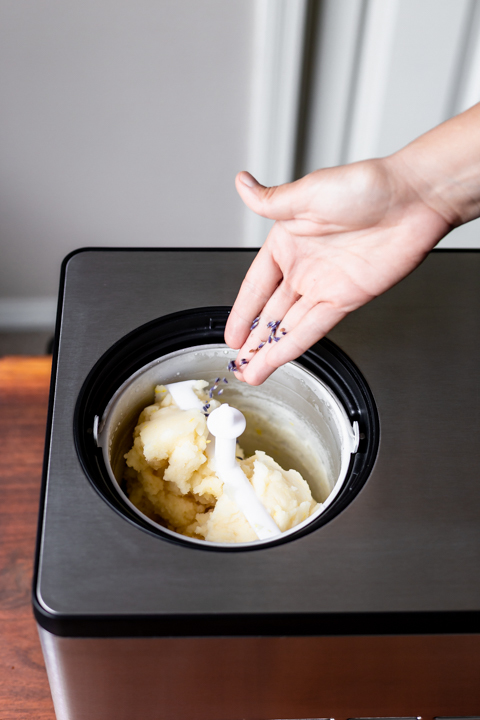 Here, we're bringing honey and alcohol to the textural table. Honey is highly viscous, so it adds plenty of creaminess and body. Alcohol reduces a sorbet base's freezing point, making the sorbet softer and easier to scoop. Be forewarned, though: too much alcohol will make the sorbet too soft, and it won't set. You can do this intentionally to make an alcoholic slushy, but that's a recipe for another day.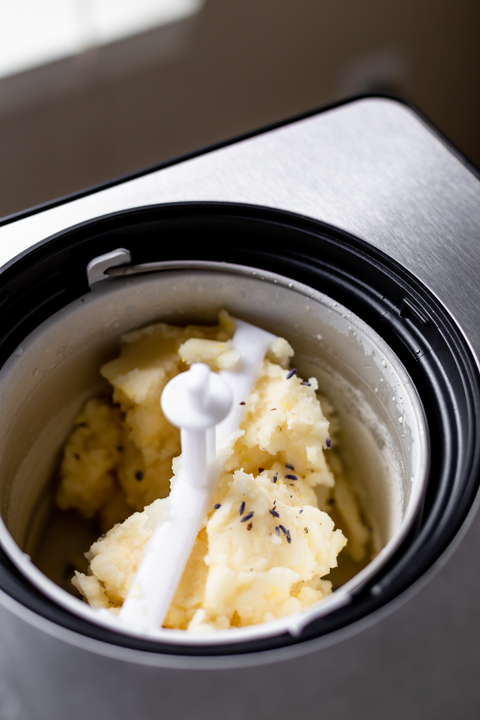 I'm obsessed with this Whynter Ice Cream Maker for sorbets, ice creams, and yes, slushies, because you don't need to freeze the bowl in advance or the mixture after churning. It couldn't be easier to use — you just pour your mix into the machine, press the button, and wait for your perfectly textured treat to emerge some 40-60 minutes later, ready to be scooped and served.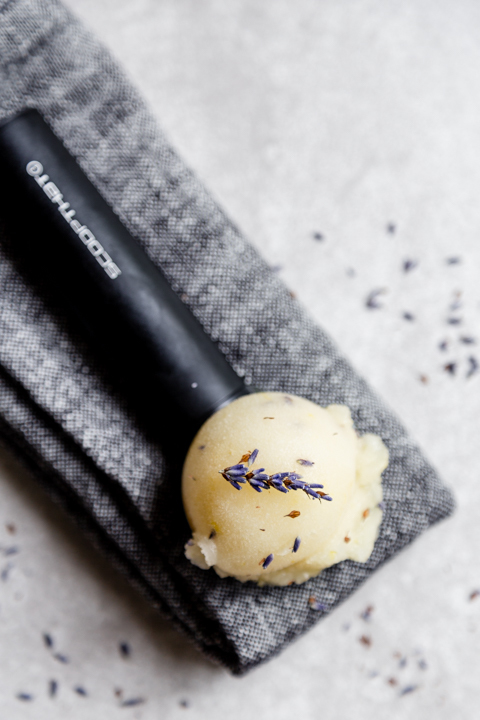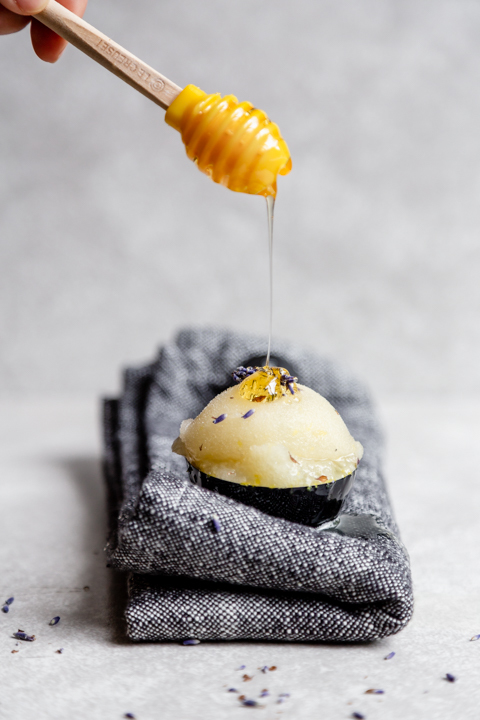 I love serving these as sorbet parfaits, with some honeycomb candy layered in and extra honey drizzled on top, but you can also present a scoop in a pre-chilled coupe. Whatever glassware you're serving in, just make sure to freeze beforehand — alcoholic sorbets do like to melt quickly, so you don't want your treat to dissolve on contact with a room temperate glass.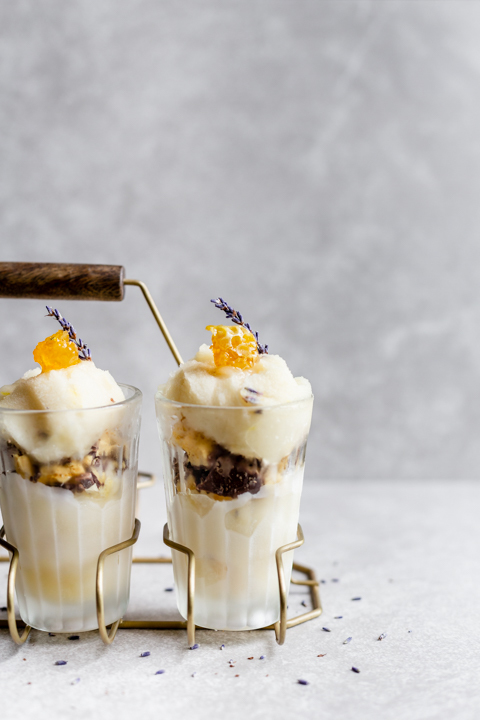 Honey Lavender Gin Sorbet
Put your ice cream maker to good use with this grown up treat guaranteed to steal the show at any summer party.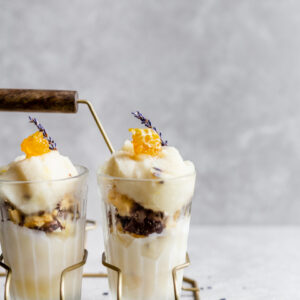 Ingredients
1

cups

hot water

.75

cups

(to 1 cup) honey

1

cups

fresh squeezed and strained lemon juice

1

tbsp

lemon zest (from about one large lemon)

.5

cups

gin

.5

tsp

salt

2

tbsp

lavender buds
Instructions
In a large bowl, combine the honey and hot water (about as hot as your faucet runs). Stir until the honey is completely dissolved.

Add remaining ingredients except the lavender and stir until combined.

Churn in ice cream maker according to package instructions, adding the lavender when the mixture has started to solidify but isn't fully solid.

Chill glassware in freezer before serving.
Nutrition
Serving:
1
g
Calories:
271
kcal
Carbohydrates:
53.8
g
Protein:
0.3
g
Fat:
0.1
g
Sodium:
294
mg
Fiber:
0.3
g
Sugar:
53.7
g