No Bake Lemon Meringue Cheesecake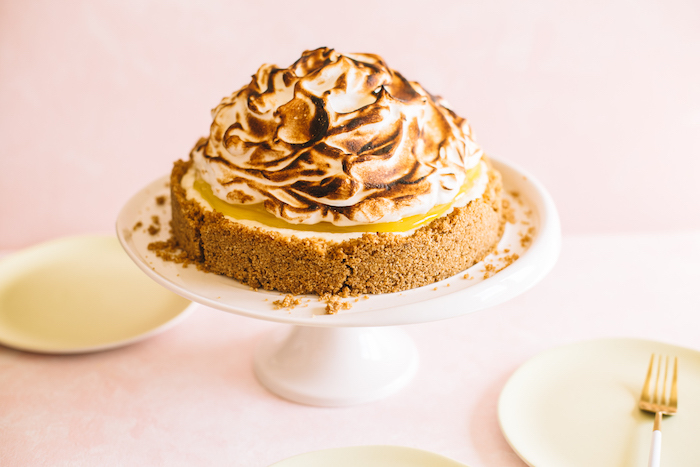 This No Bake Lemon Meringue Cheesecake recipe is filled with a lusciously creamy cheesecake filling made with sweetened condensed milk, slathered with store-bought lemon curd, and topped with a homemade marshmallow meringue. But the best part? Toasting the meringue with a blow torch for the ultimate show stopping dessert!
Soooo… it's summer! And I can't tell you how excited I am! Well, I can, but it would just be me going on and on about the warm weather and the beach and summer parties and all things summer entertaining.
It's just the perfect time of year to get together with all your fraaands and have a summer celebration! Which leads me into this no bake cheesecake recipe.
My assistant, Abby and I, have been attempting to play around with a blowtorch in the kitchen. Why? Because it's fun! And because when you blow torch food, it makes everything smell toasty and roasty and delicious. Like your whole kitchen will smell like an outdoor summer picnic.
And because it is the season for all things grilling and s'mores, I wanted to make a dessert that was like roasting marshmallows over a fire pit with all the bright flavors of summer.
Which brings me to this No Bake Lemon Meringue Cheesecake. No bake because, hey, it's hot over here in California and I can't imagine turning the oven on. And lemon, because, yum! We are taking some shortcuts by using one of my favorites, store-bought lemon curd, and an ingredient that I feel is very underrated – sweetened condensed milk.
That's what gives this cheesecake the no bake part by adding a sweet, creamy flavor. The longest part is setting the cheesecake in the fridge for a few hours (or overnight) to chill. But once it's chilled, topping and toasting are a piece of (cheese)cake!
No Bake Lemon Meringue Cheesecake Crust
This graham cracker crust recipe is a classic. Most recipes call for regular granulated sugar in the crust, but I find the brown sugar adds so much more flavor with a sweet, molasses kick. You can buy graham cracker crumbs pre-ground in the supermarket, but if you have whole grahams, you will need about 14 full-size graham crackers to get 2 cups.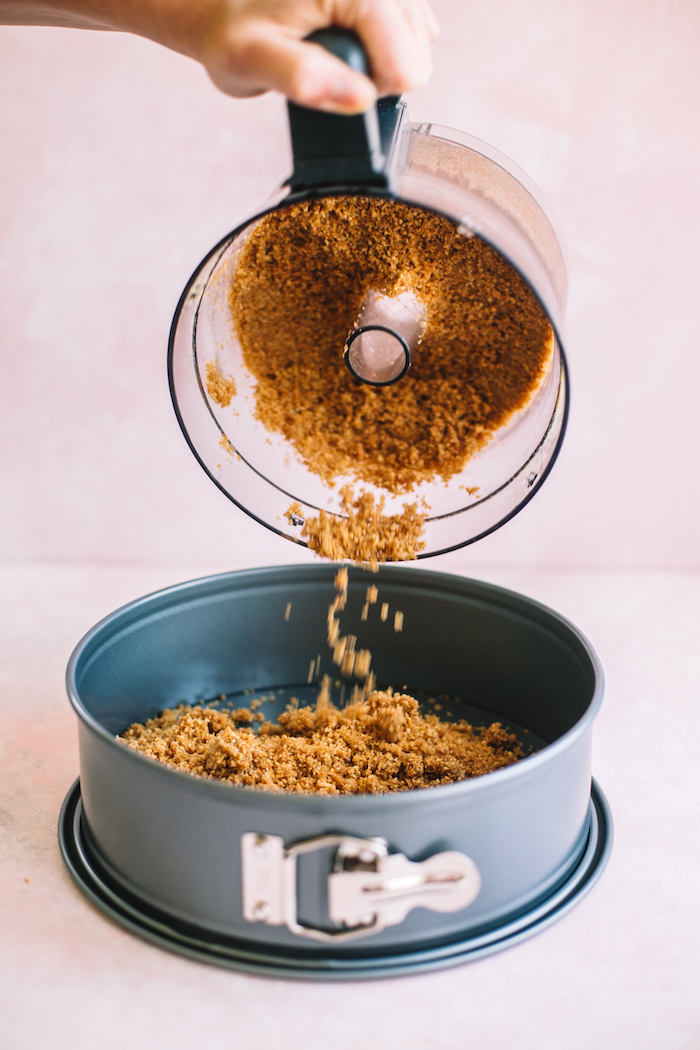 Blitz all the ingredients in your food processor and you're good to go! To make sure it is a nice, even crust all around, press the crust down into and up the sides of a springform pan with a flat bottom – this could be anything from your water glass to a measuring cup to the bottom of a wine glass!
9″ Springform Pan

By Nordic Ware

Shop Now
And make sure to chill the crust for at least 10 minutes before filling. This will help the graham cracker crust hold up better when filling.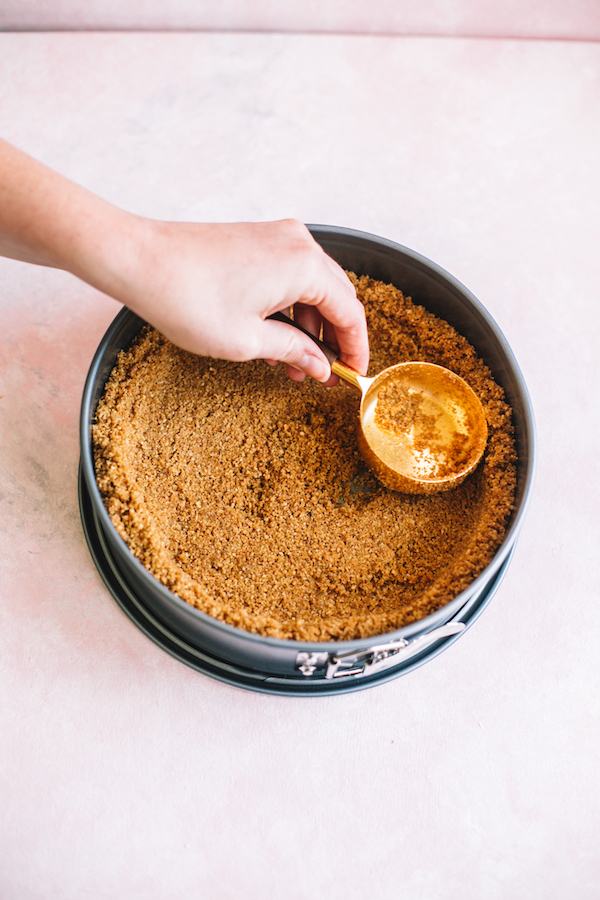 No Bake Cheesecake with Condensed Milk
Sweetened condensed milk puts the no-bake in this no-bake lemon curd cheesecake. It's basically milk that has been cooked down with sugar, turning it into a sweet and syrupy confection.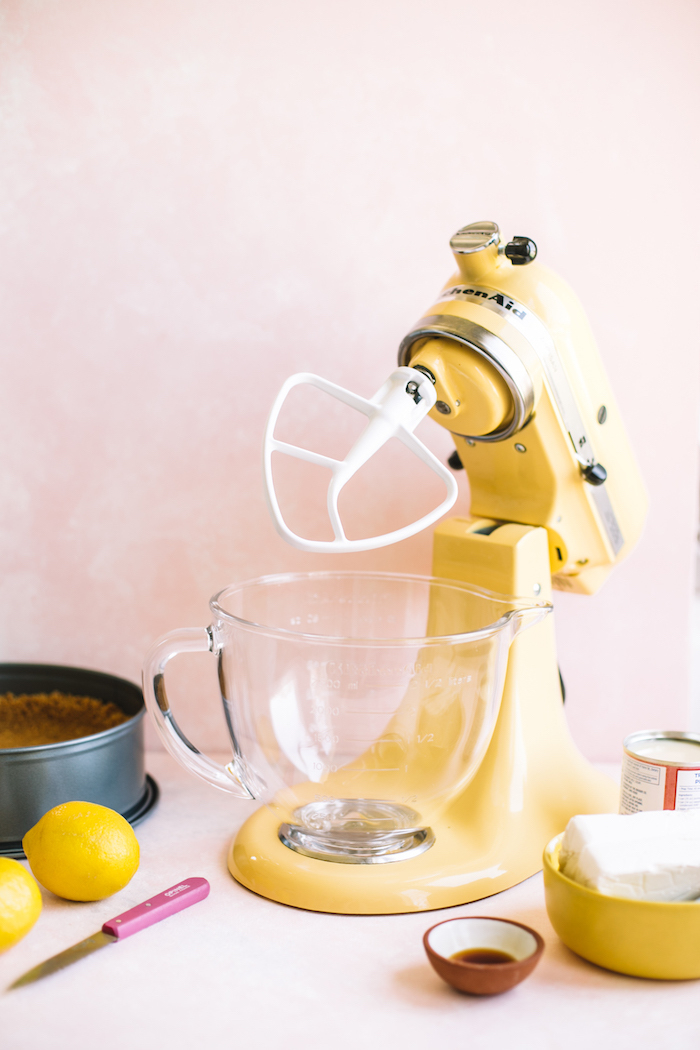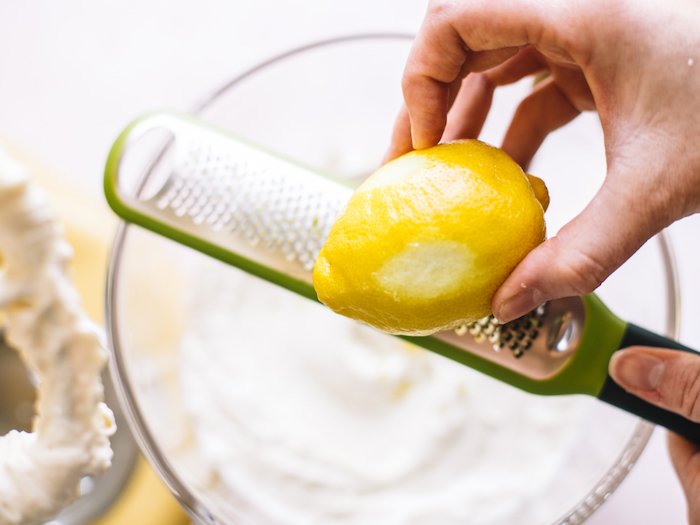 Handi-Zest Citrus Zester

By Chef'n

Shop Now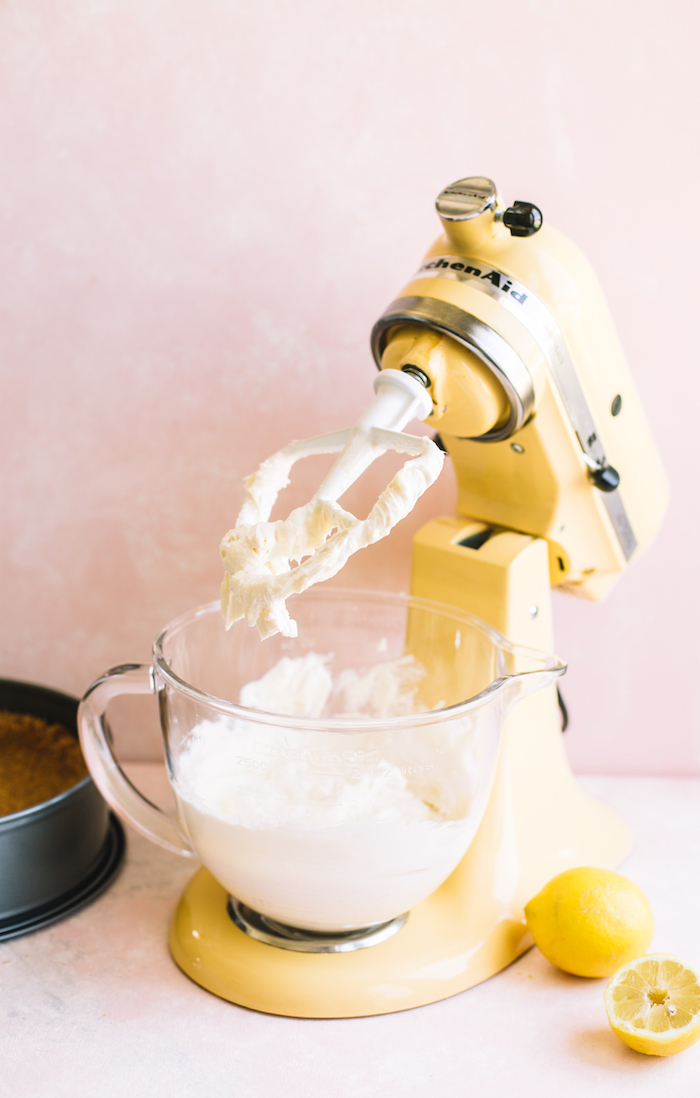 Since the milk and sugar are all-in-one and it binds the filling together, there is no need to bake the lemon cheesecake. Just make sure to add the condensed milk to the whipped cream cheese in three batches. It's luscious, but it's thick, so you'll get a smoother batter when it's slowly combined.
A Little Note on Lemon Curd
Yes, we are taking a short cut today and using store-bought lemon curd in our no bake lemon cheesecake recipe. Since I am in looovve with the Trader Joe's brand, I highly recommend it if you can find it. If not, any of your favorite homemade lemon curd will do! All you need is 1 cup of lemon curd for this no bake cheesecake, so feel free to save the rest to make Strawberry Lemon Cake, too!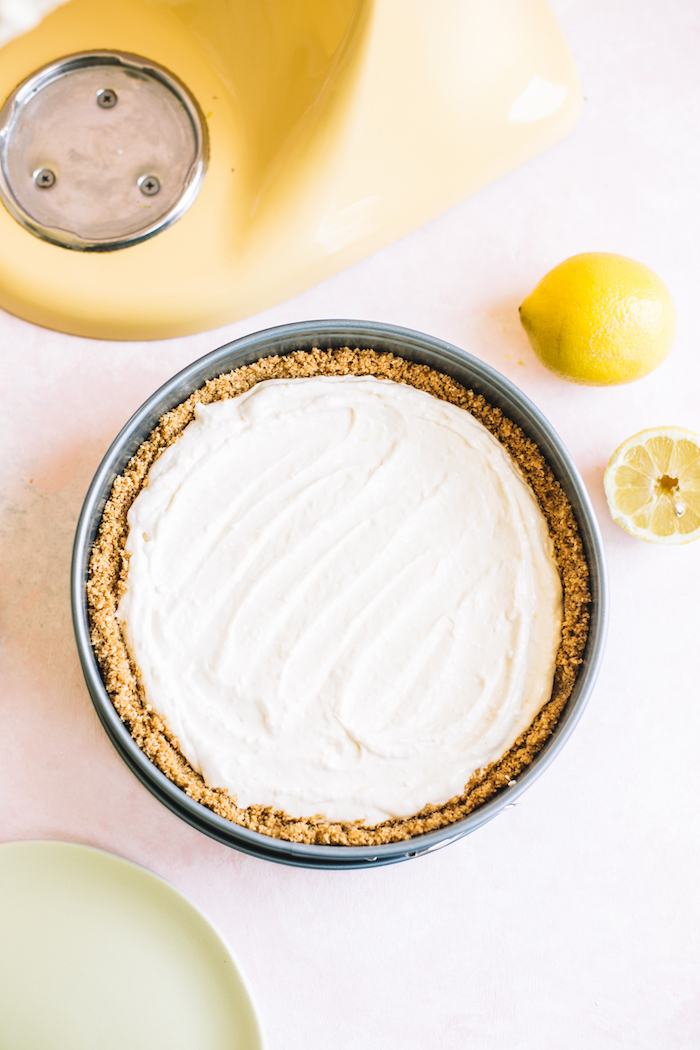 Jardin de Maguelone Plate

By Jars Ceramics

Shop Now
Toasting the No Bake Lemon Meringue Cheesecake!
Now comes the fun part! Toasting the meringue with a blow torch! (I know this is what you've been waiting for!) Abby and I learned that the real technique in using a blow torch is making sure you don't hold it in a spot for too long or the meringue will burn.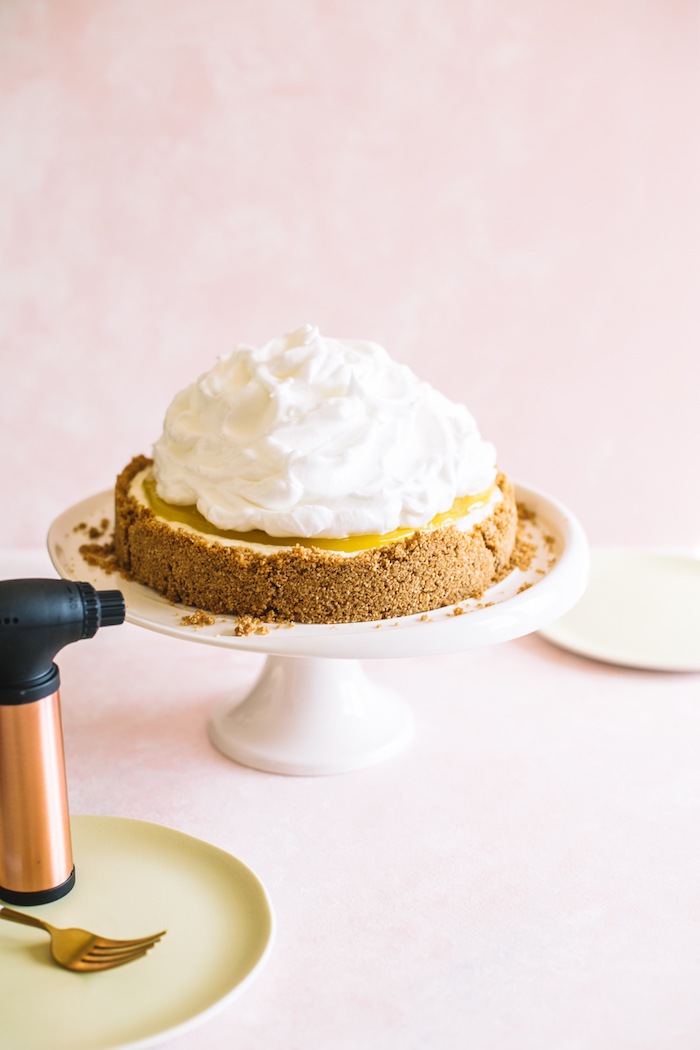 The best way to evenly brown the surface of the lemon meringue cheesecake is to move the torch in a constant, circular motion until you see the meringue start to brown.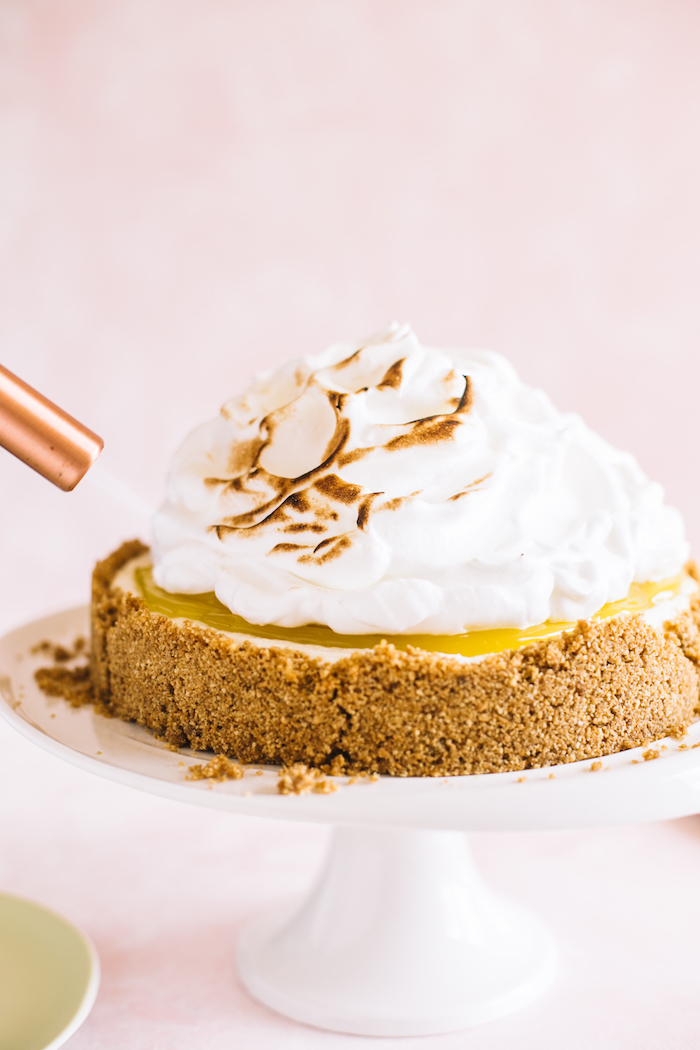 Bella Tavola Signature Copper Torch

By Wall Lenk

Shop Now
To get those gorgeous peaks, when mounting the meringue onto the cheesecake, use the back of the spoon to create peaks and divets. It creates a beautiful presentation and you'll get different degrees of charred, marshmallow meringue all over.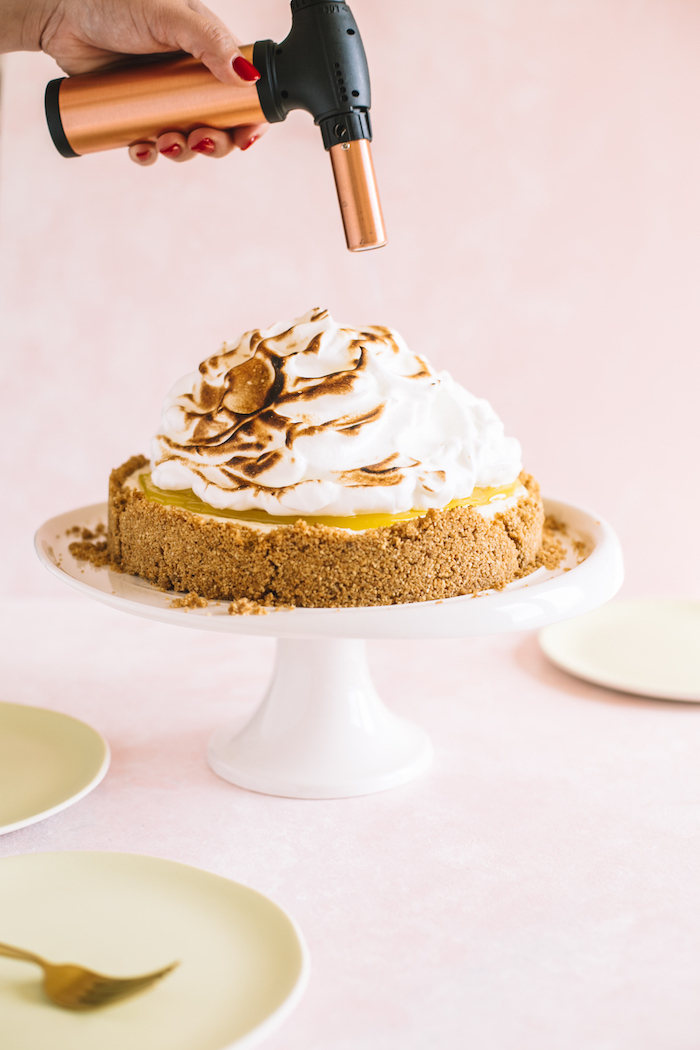 A Few Tips to Make the Best No Bake Lemon Meringue Cheesecake
Should I refrigerate my No Bake Lemon Meringue Cheesecake?
Yes! The cheesecake must be refrigerated for the crust and filling to set, making sure you can cut it into slices. Two hours is the minimum, but overnight is much better. To make sure the cheesecake doesn't form a skin on the top, place a piece of plastic wrap directly on the filling before storing in the fridge.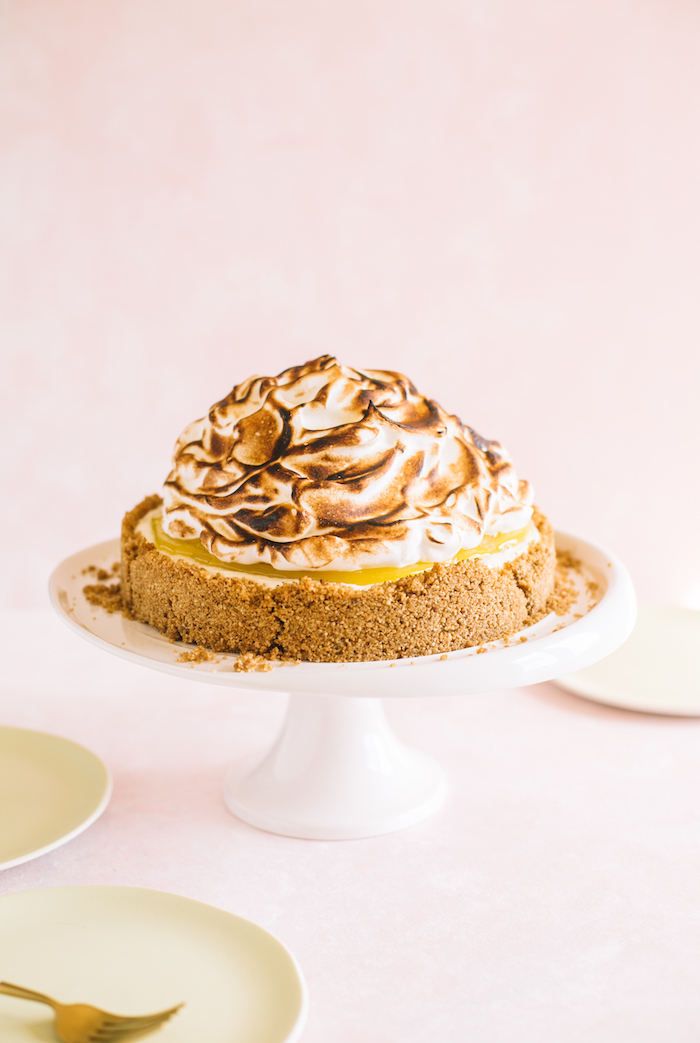 Can you set a No-Bake Lemon Meringue Pie Cheesecake in the freezer?
Yes and no. Setting the no bake cheesecake with condensed milk in the freezer will make the filling and crust too hard. But, if you are short on time and making this the day of, to speed up the chilling process, placing it in the freezer for 30 minutes should help it set without sacrificing it's creamy, dreamy texture.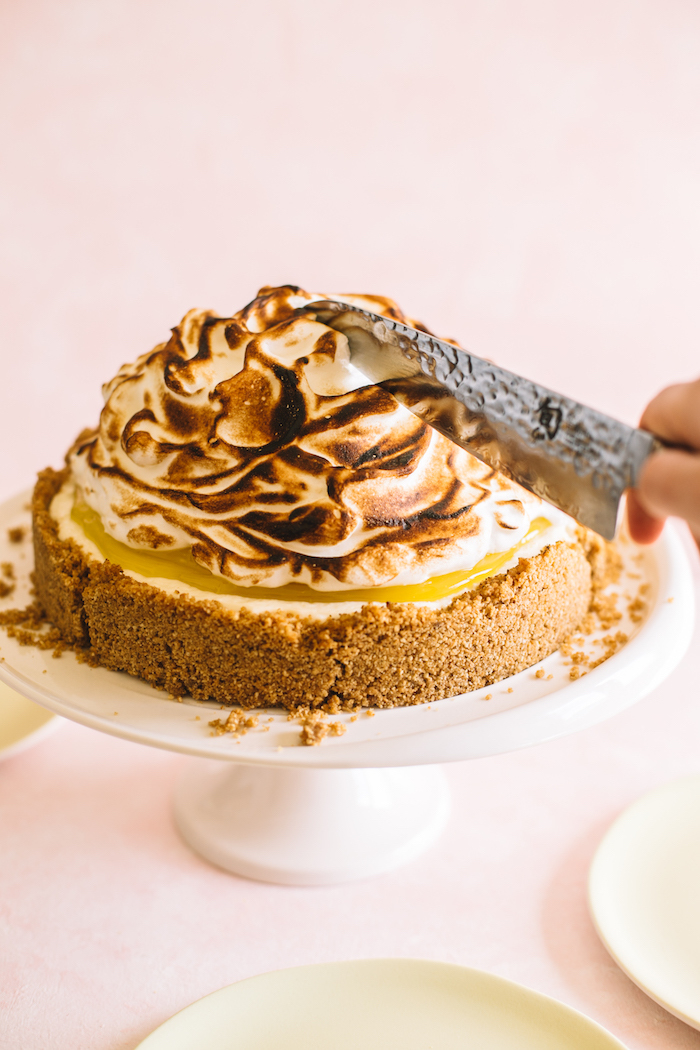 Premier 5-Piece Starter Set

By Shun

Shop Now
Don't have a blow torch?
Preheat your broiler to HIGH and set an oven rack in the highest part of the oven, making sure there is enough room for the lemon meringue cheesecake to fit. Place under the broiler for 30 seconds – 1 minute and watch it closely! (You could even do this with the oven door open.) The meringue will go from brown to burnt in a matter of seconds!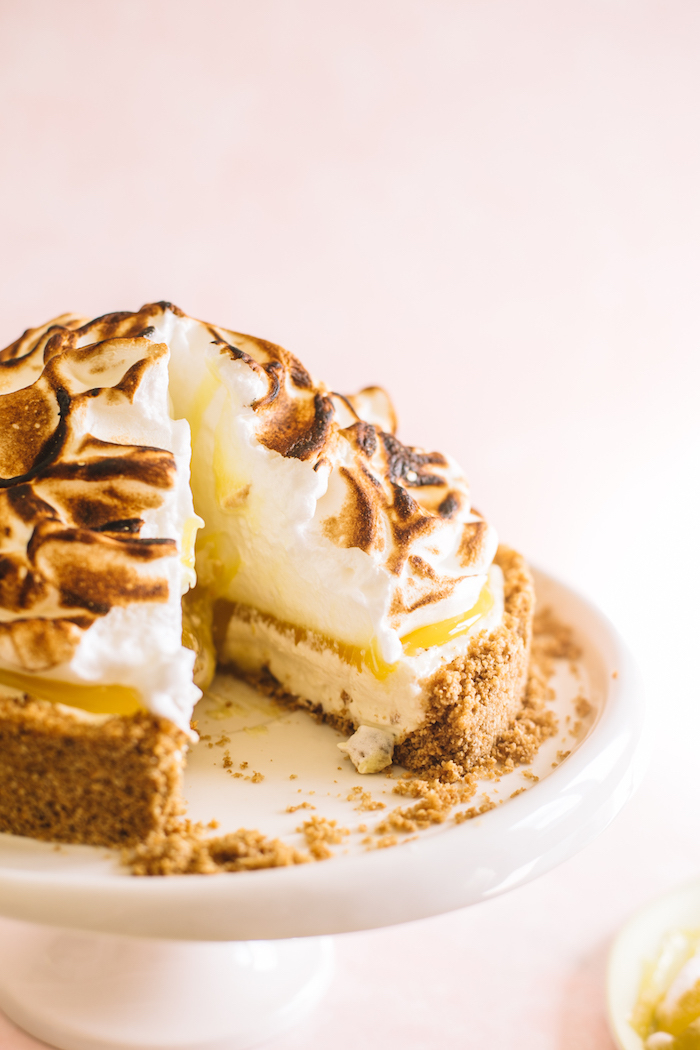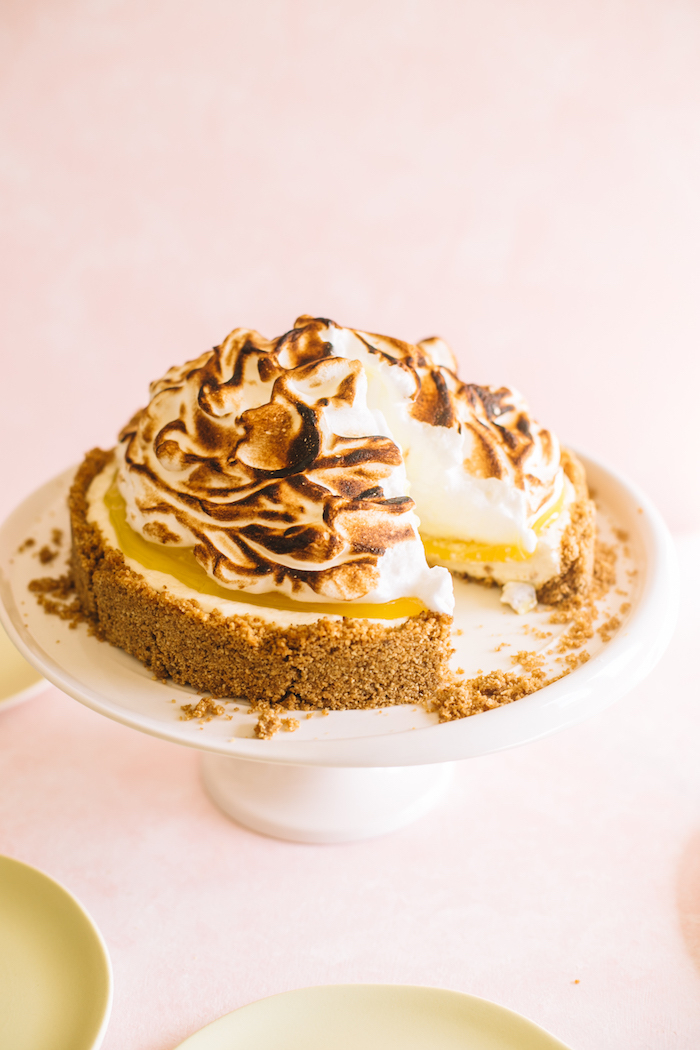 No Bake Lemon Meringue Cheesecake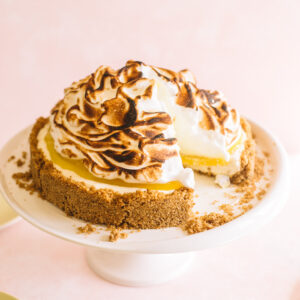 INGREDIENTS
For the Graham Cracker Crust:
2 cups graham cracker crumbs
½ cup melted unsalted butter
1/3 cup brown sugar
1 teaspoon Kosher salt
1 teaspoon vanilla extract
For the Cheesecake Filling:
2 (8 ounce) blocks full fat cream cheese, softened
1 can sweetened condensed milk
2 teaspoons lemon juice
1 teaspoon vanilla extract
1 teaspoon Kosher Salt
For the Meringue:
4 egg whites, room temperature
1 teaspoon vanilla extract
1 teaspoon cream of tartar
1 jar lemon curd
INSTRUCTIONS
For the Graham Cracker Crust:
In a large bowl, add graham cracker crumbs, melted butter, brown sugar, kosher salt, and vanilla until well blended into a coarse, sand texture.
Press graham cracker mixture evenly into a springform pan on the bottom and 1-2 inches up the side. Use a glass to help build up the sides of the crust.

For the Cheesecake Filling:

In a large bowl with a stand or hand mixer, beat cream cheese until smooth and creamy. Beat in the condensed milk in three increments, mixing after each one.
Beat in lemon juice, vanilla extract, and kosher salt until combined.
Pour the cream cheese mixture into the graham cracker crust and smooth mixture evenly over the crust.
Place plastic wrap on top of cheesecake filling so that there is no air between the plastic and the cream cheese layer.
Refrigerate for a minimum of two hours, or overnight.

For the Meringue:
In a small saucepan, heat sugar and water on high until sugar is dissolved and the mixture is syrupy.
In a large bowl with a stand or hand mixer, whisk together egg whites, vanilla, and cream of tartar on medium-high speed until egg whites are fluffy and have doubled in size, about 5-7 minutes.
Add in sugar syrup very slowly while beating the egg whites on high. Beat until stiff peaks are formed, about 8-10 minutes. Egg whites should hold their shape when turned upside down.
Remove cheesecake from springform pan and top with an even layer of lemon curd. Top with a mountain of meringue and use a kitchen torch to brown all sides.