Boost Your Immunity With This Bone Broth, Turmeric & Kale Chicken Soup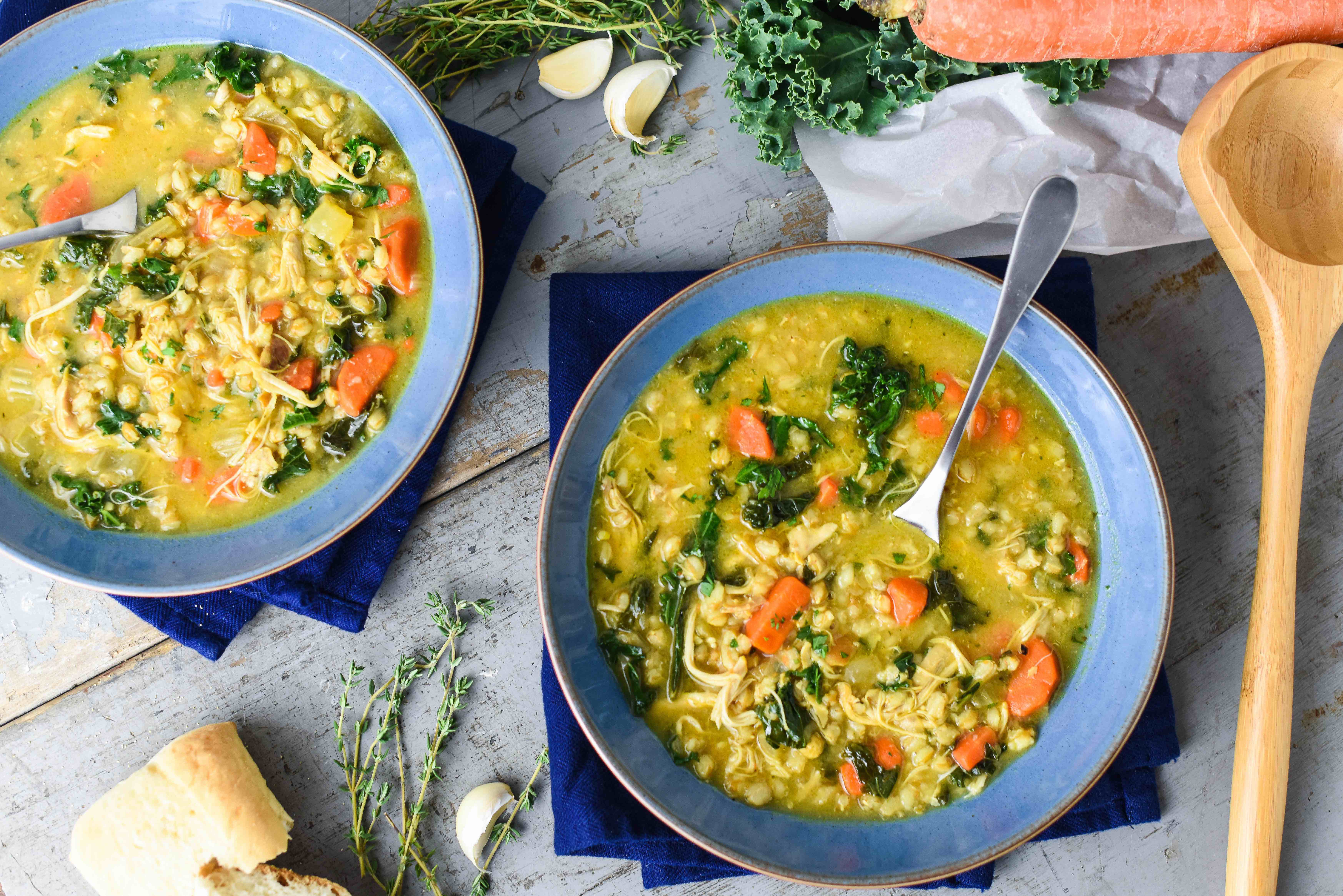 'Tis the season to get sick? Not this year! Get the jump on those wintertime sniffles by using your holiday leftovers to brew up a pot-load of nourishing bone broth. Then use it to make this incredible immunity boosting chicken soup.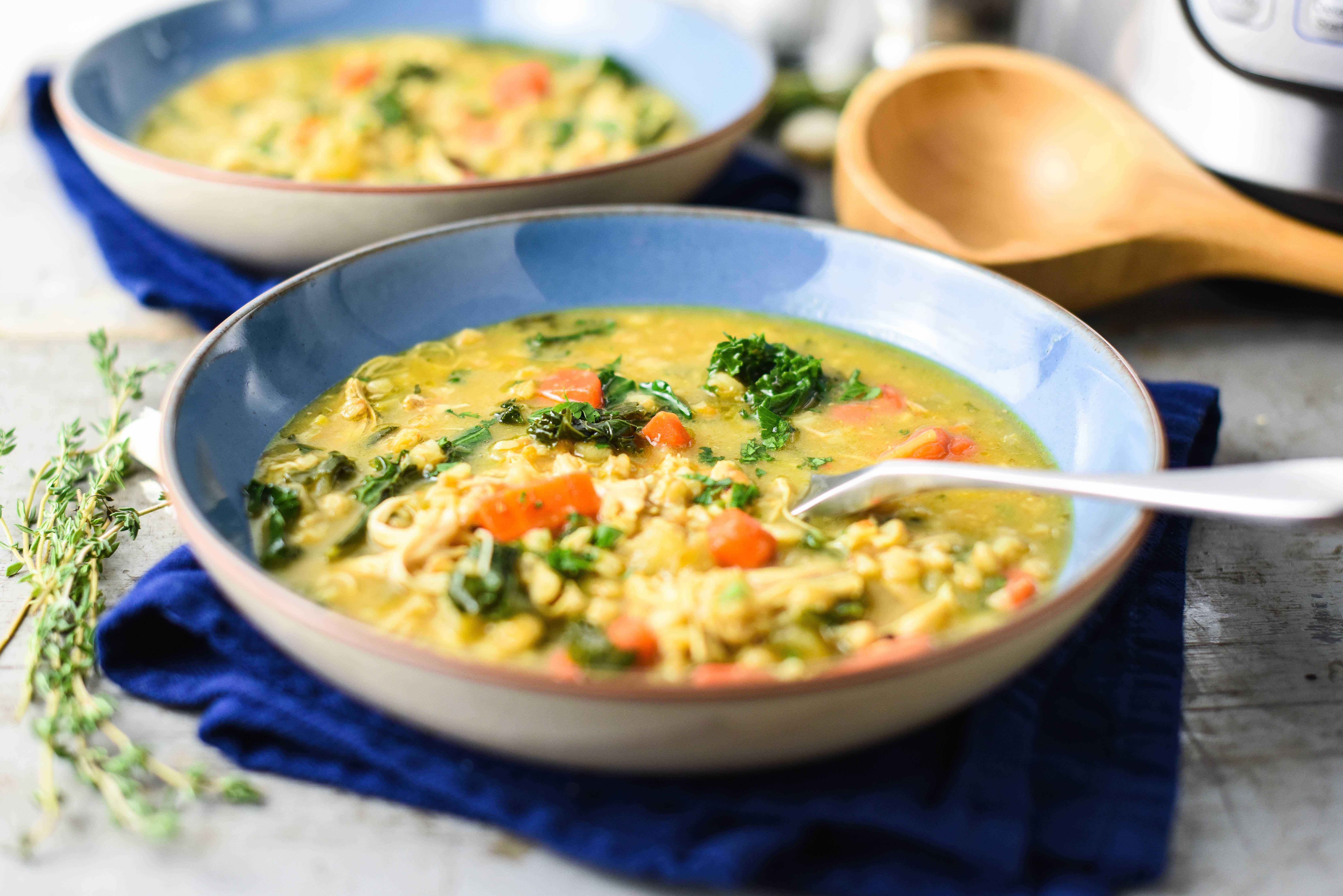 This is not your momma's chicken soup. I've swapped out noodles for hearty whole grain farro and added a helping of kale for a shot of green and extra nutrition. Finally, I added ground turmeric, which gives the soup its' warm and welcoming golden color while helping promote detoxification and fighting inflammation in the body.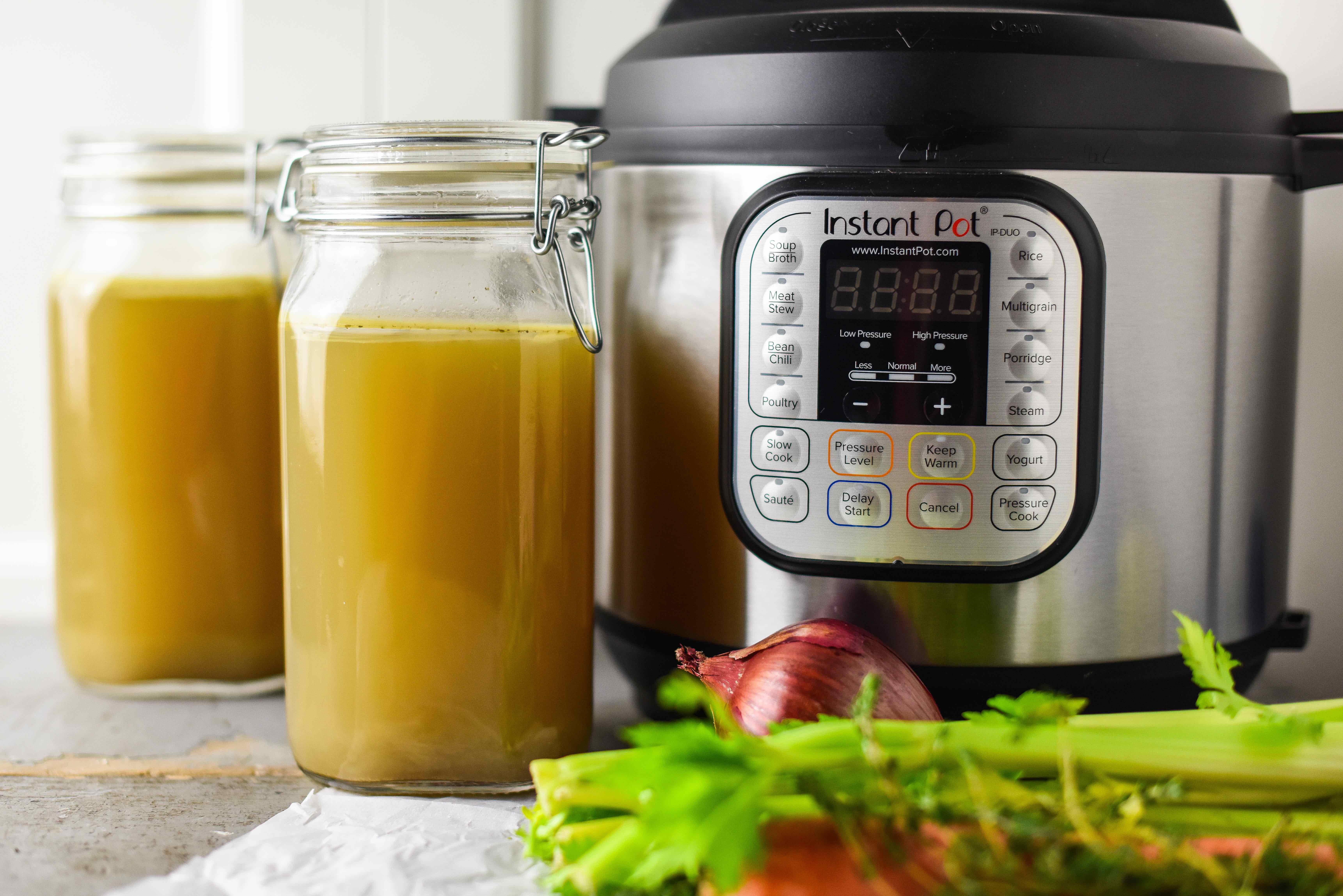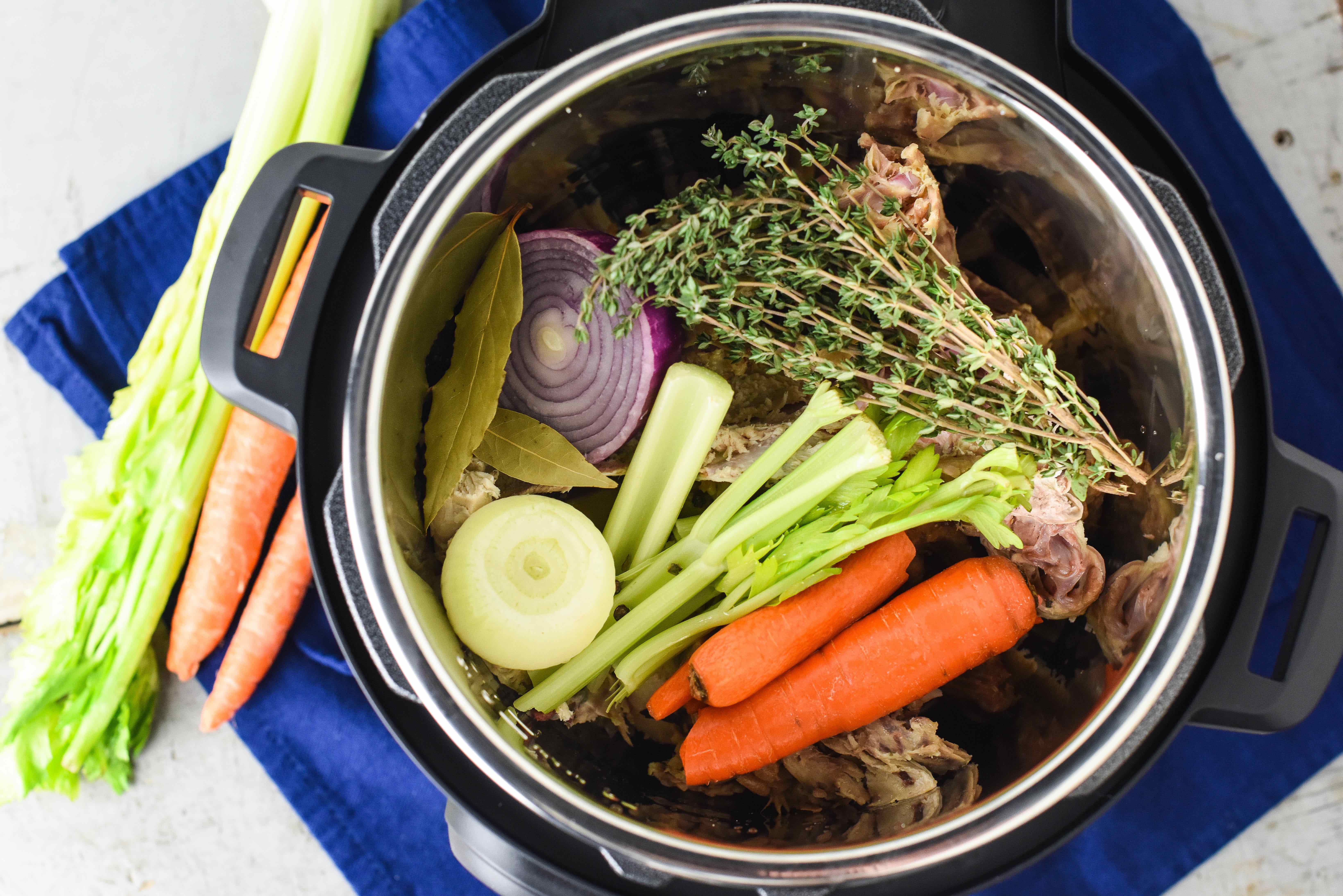 But the real key to this soup's power is in the broth. Instead of store bought chicken broth or traditional homemade stock, this soup uses bone broth. This magical broth is all the rage right now, and for good reason. Bone broth, which is made using (you guessed it) bones from roast chicken, turkey, beef or other meats, is typically simmered for a very long period, which allows the protein, glycine (promotes detoxification), and gelatin (promotes skin health) in the bones to release into the broth.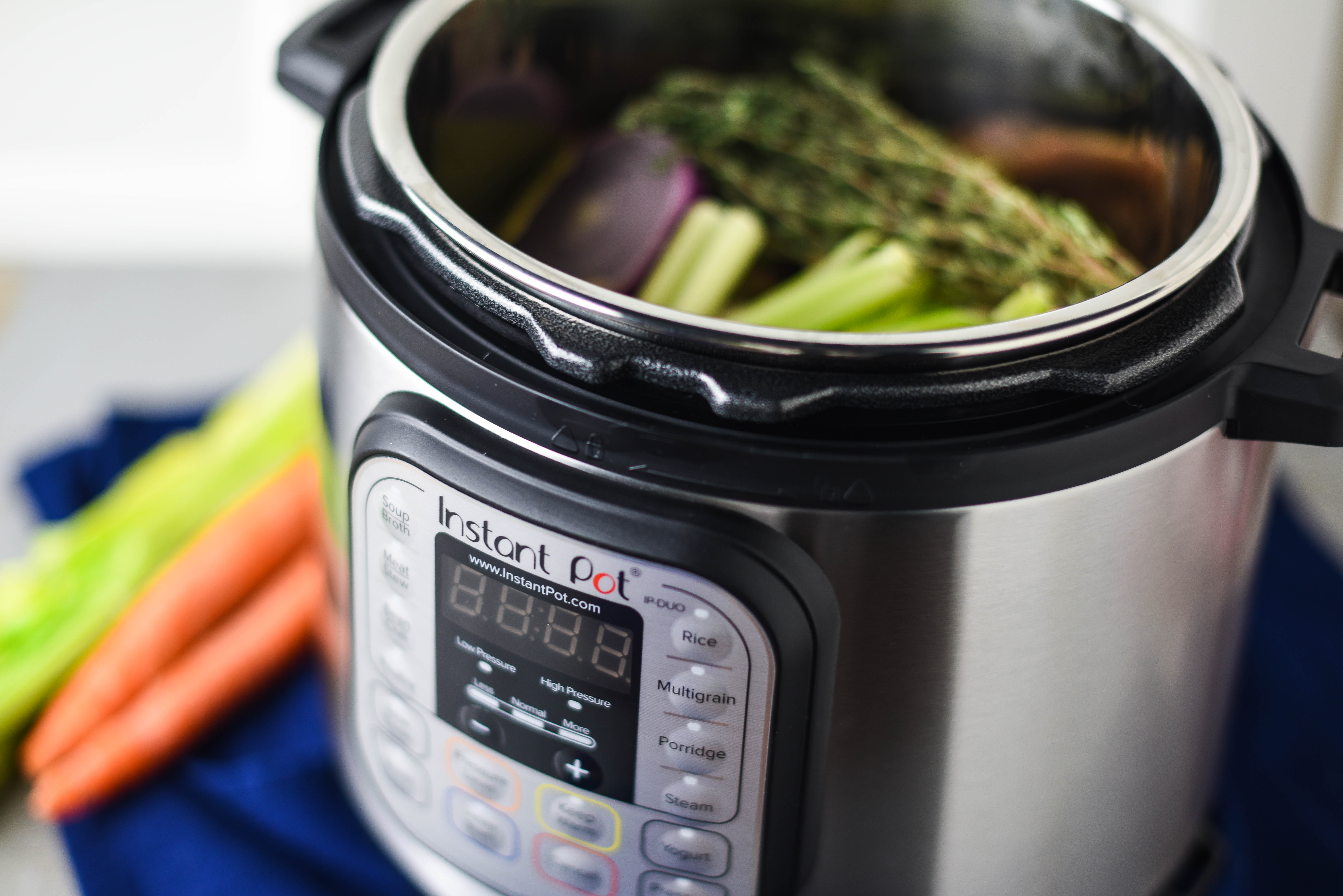 Traditionally, bone broths requires up to 8 hours of simmering, but cooking it in a pressure cooker can drastically reduce that time. Using an Instant Pot, I was able to turn a pile of leftover chicken bones and veggies into 3 quarts of beautiful, nourishing bone broth in just two hours.
Once the broth is finished, use the Instant Pot to make your soup as well. Using the pressure cooker function, you can have this hearty, warming soup on the table in just 20 minutes. And just in case you're wondering, this one passes the kid test with flying colors. My three year old started to get the sniffles the day I made this soup and slurped down three helpings before the day was over (then woke up feeling healthy enough for school the next morning). This stuff is like magic in a bowl!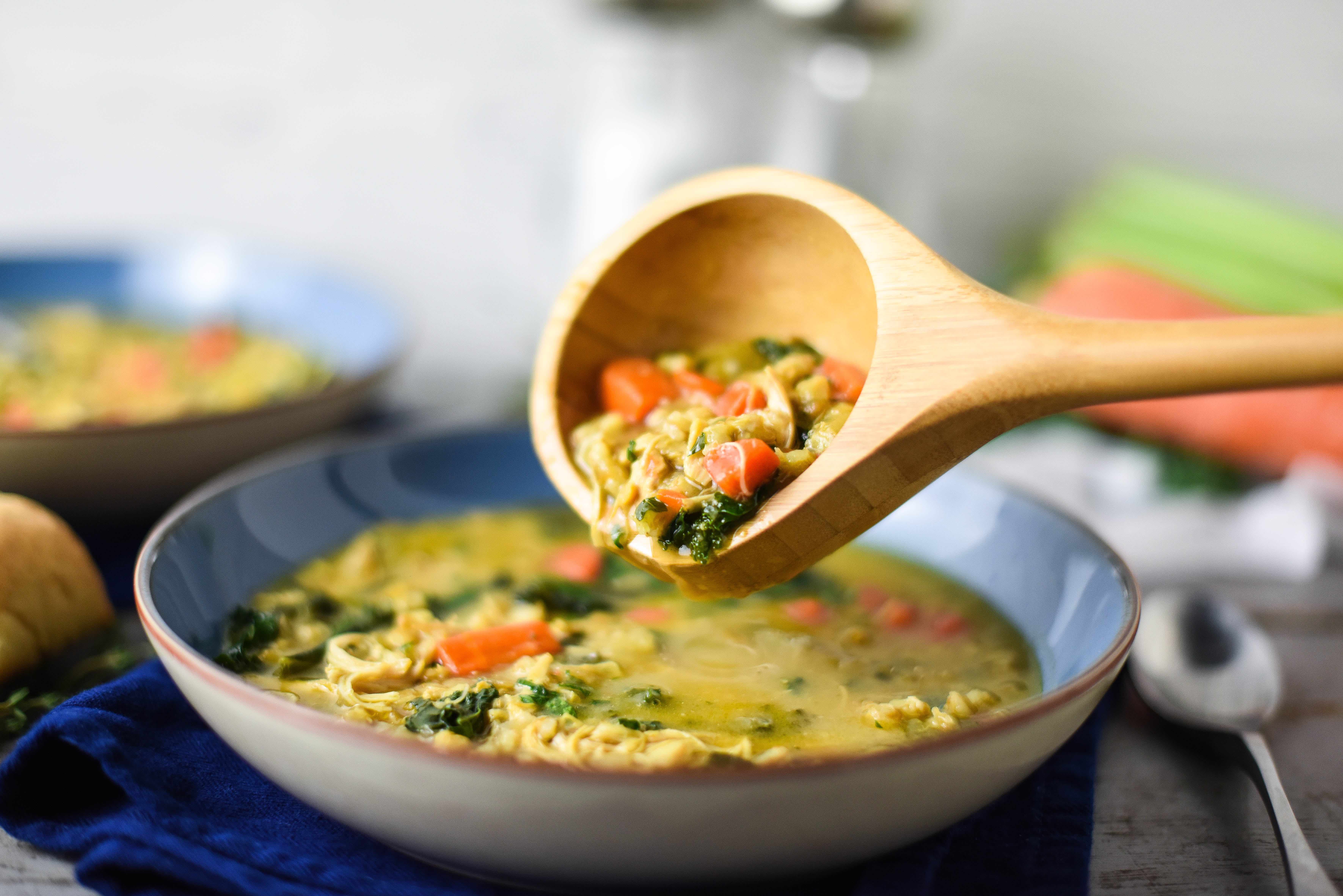 Immunity Boosting Bone Broth Chicken Soup with Turmeric and Kale
Keep your immune system happy and healthy with this magic in a bowl recipe!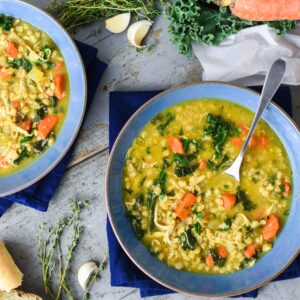 Ingredients
2

tbsp

extra virgin olive oil, divided

1

lb

boneless, skinless chicken thighs or breasts

1

medium onion, chopped

2

medium carrots, peeled and chopped

2

celery stalks, chopped

4

cloves garlic, peeled and minced

.5

cups

pearled farro

6

cups

roast chicken bone broth (see Instant Pot recipe here)

.5

tsp

fresh thyme

1

1×1 inch piece of rind for good quality parmesan cheese (optional)

.5

tsp

ground turmeric

2

loosely packed cups kale, stemmed and chopped

Salt & pepper to taste
Instructions
Set Instant Pot to "Sauté" and add 1 tablespoon olive oil. Add chicken and sauté in pot for until browned on both sides (does not need to be cooked through).

Remove chicken from pot and place on a plate.

With Instant Pot still on "Sauté" add the second tablespoon of olive oil and sauté onions, celery and carrots until soft, about five minutes. Stir in garlic and cook for one minute more.

Add chicken back into pot along with farro, bone broth, parmesan rind and turmeric. Lock the lid in place and cook soup on high pressure for 12 minutes.

When cooking time ends, natural pressure release for 5 minutes, then quick release.

Set Instant Pot to "Warm." Remove lid and discard parmesan rind. Use a fork to shred chicken into bite sized pieces. Stir in kale and allow the soup to sit for 2 minutes to allow the kale to soften. Season with salt and pepper to taste. Serve immediately.
Nutrition
Serving:
1
g
Calories:
322
kcal
Carbohydrates:
14.3
g
Protein:
41.1
g
Fat:
11.1
g
Saturated Fat:
1.8
g
Cholesterol:
76
mg
Sodium:
254
mg
Fiber:
2.5
g
Sugar:
2.8
g