This Black Bean & Mango Salad Is Perfect for Outdoor Entertaining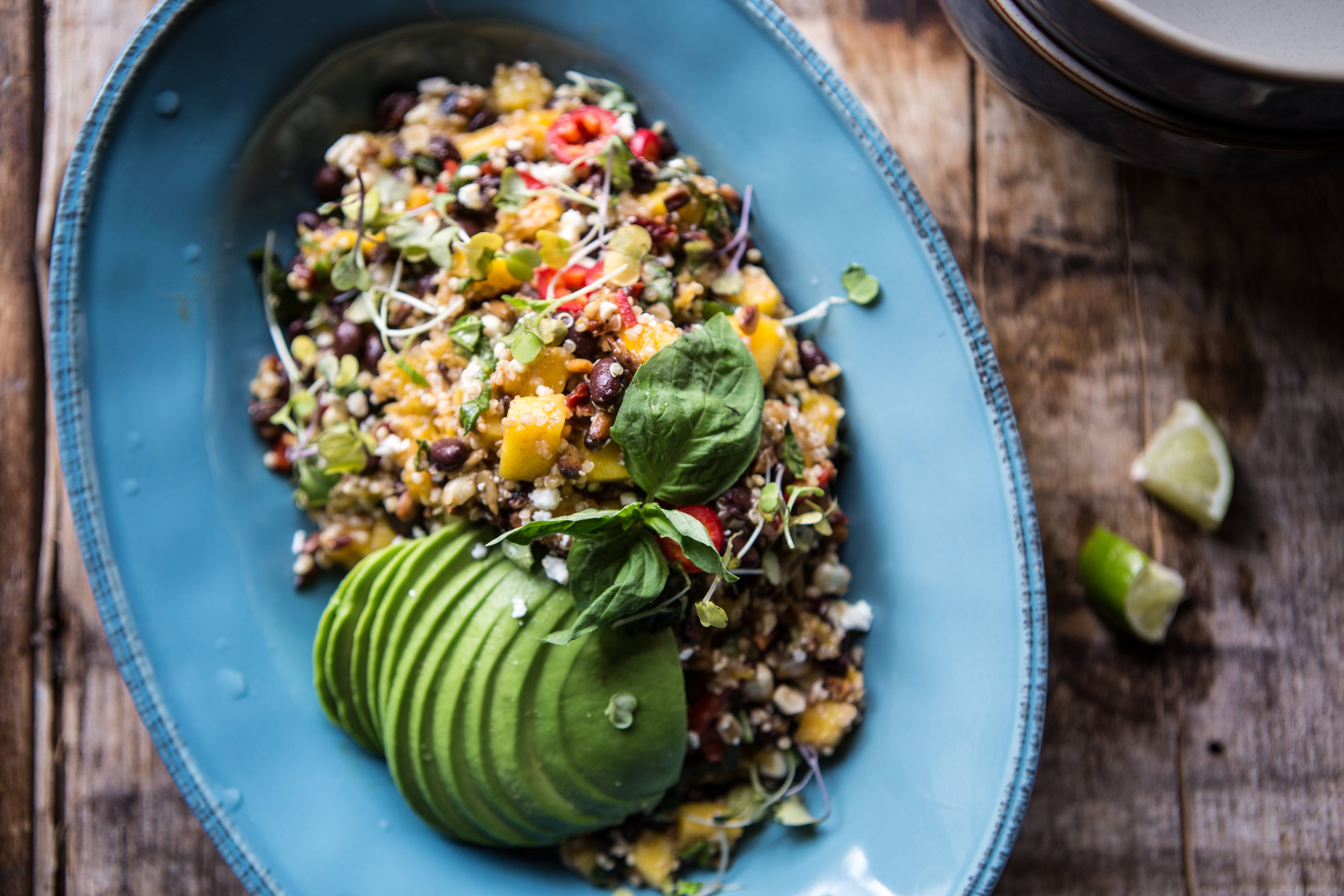 There's nothing I love more than a BIG summer salad full of all my seasonal produce favorites.
This Black Bean and Mango Salad recipe is light and healthy, quick and easy and perfect for outdoor entertaining! This summer salad is great for everything from Father's Day to Labor Day and all those special days in between! It's perfect for a deliciously simple (and pretty) lunch with the girls, an enjoyable light dinner or even a spontaneous Friday night dinner party!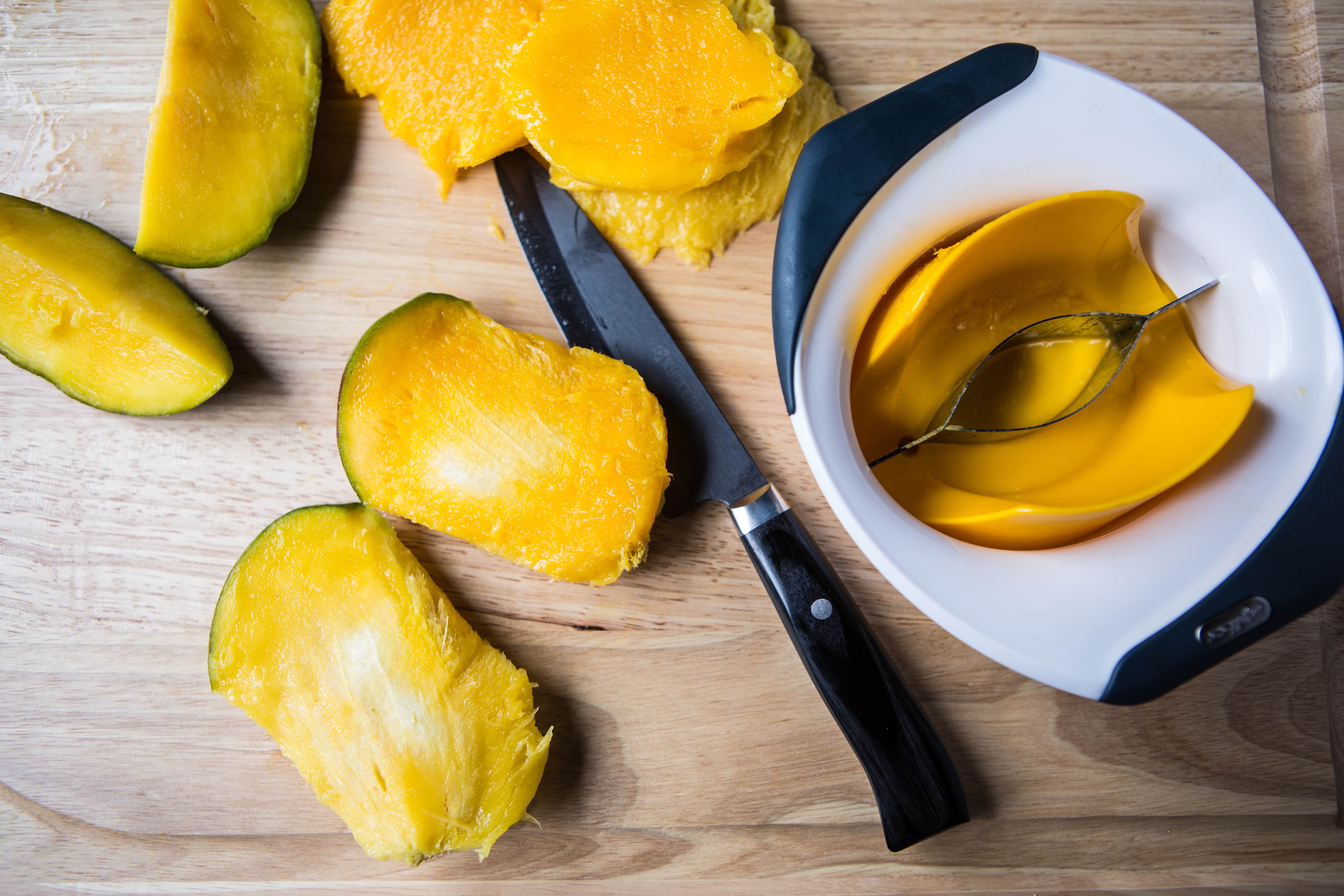 This Black Bean and Mango Salad recipe requires very little effort, plus it's loaded with tasty summer produce & healthy ingredients! It would be terrific to serve this weekend at your upcoming Father's Day get-together. You could even double the recipe and have the leftovers as a quick lunch throughout the week!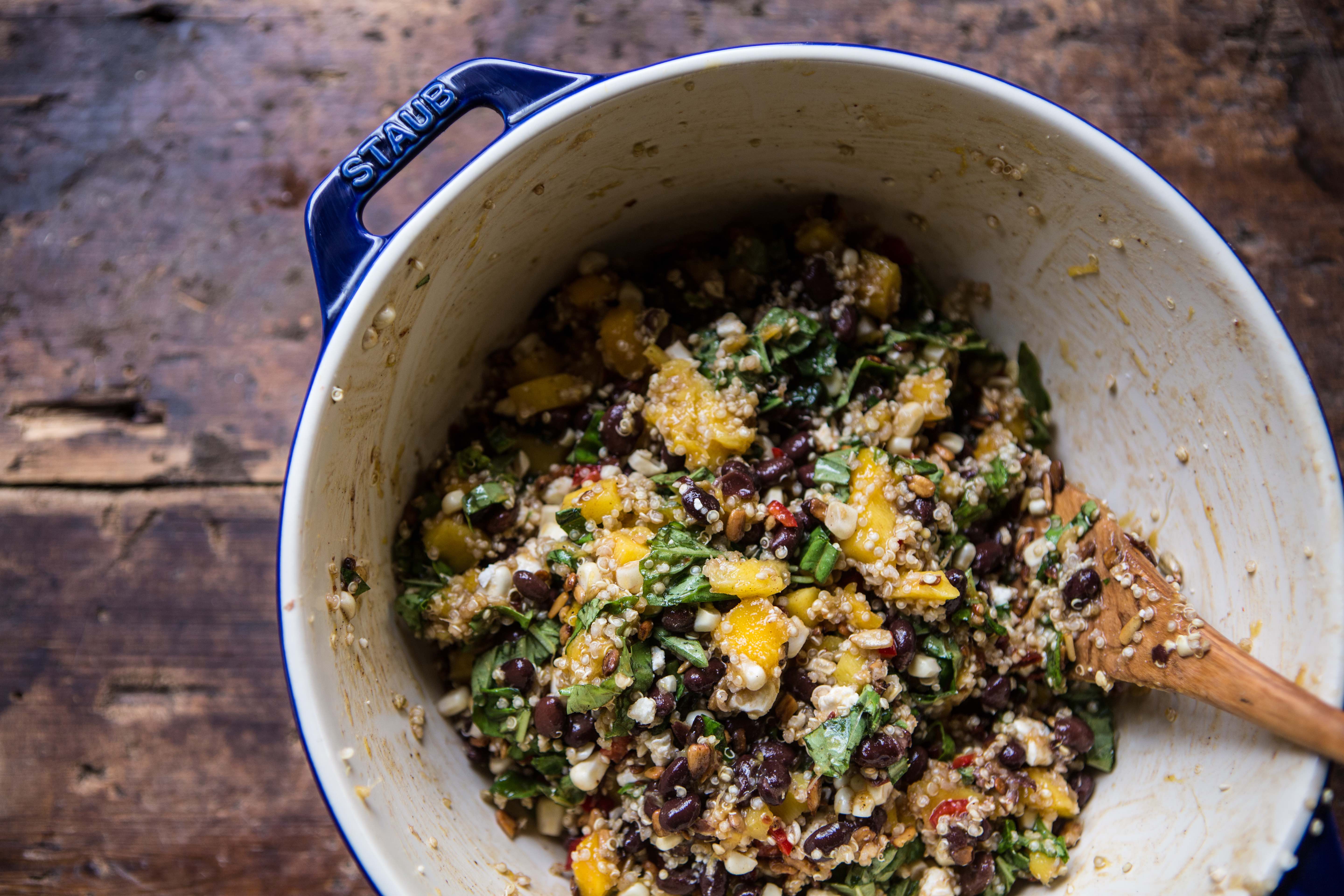 So, this recipe is filled with all of my favorite things, quinoa, basil, mangos, a little spice from some Fresno peppers, fresh lime juice, feta cheese, avocado and toasted sunflower seeds.
I know, I know, what a salad!! The best part is that you simply throw everything together in one big bowl, toss and DONE. Simple as that! The salad can be eaten warm or cold and is great to make in advance for easy entertaining. Just be sure to wait to add the avocado until just before serving.
Hope you guys love this healthy and color packed salad as much as I do! I'm hoping it may just become a staple in your summer diet! 🙂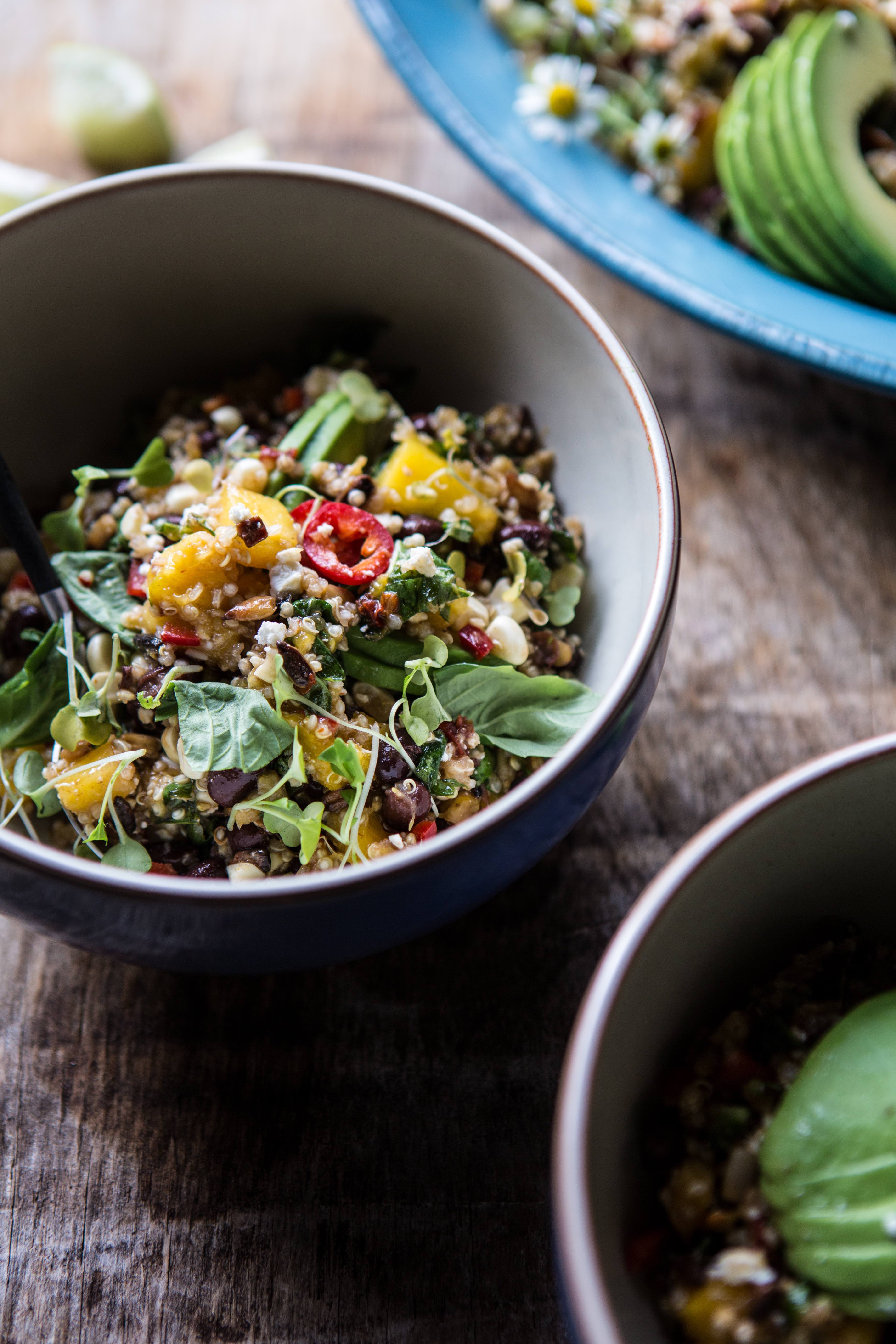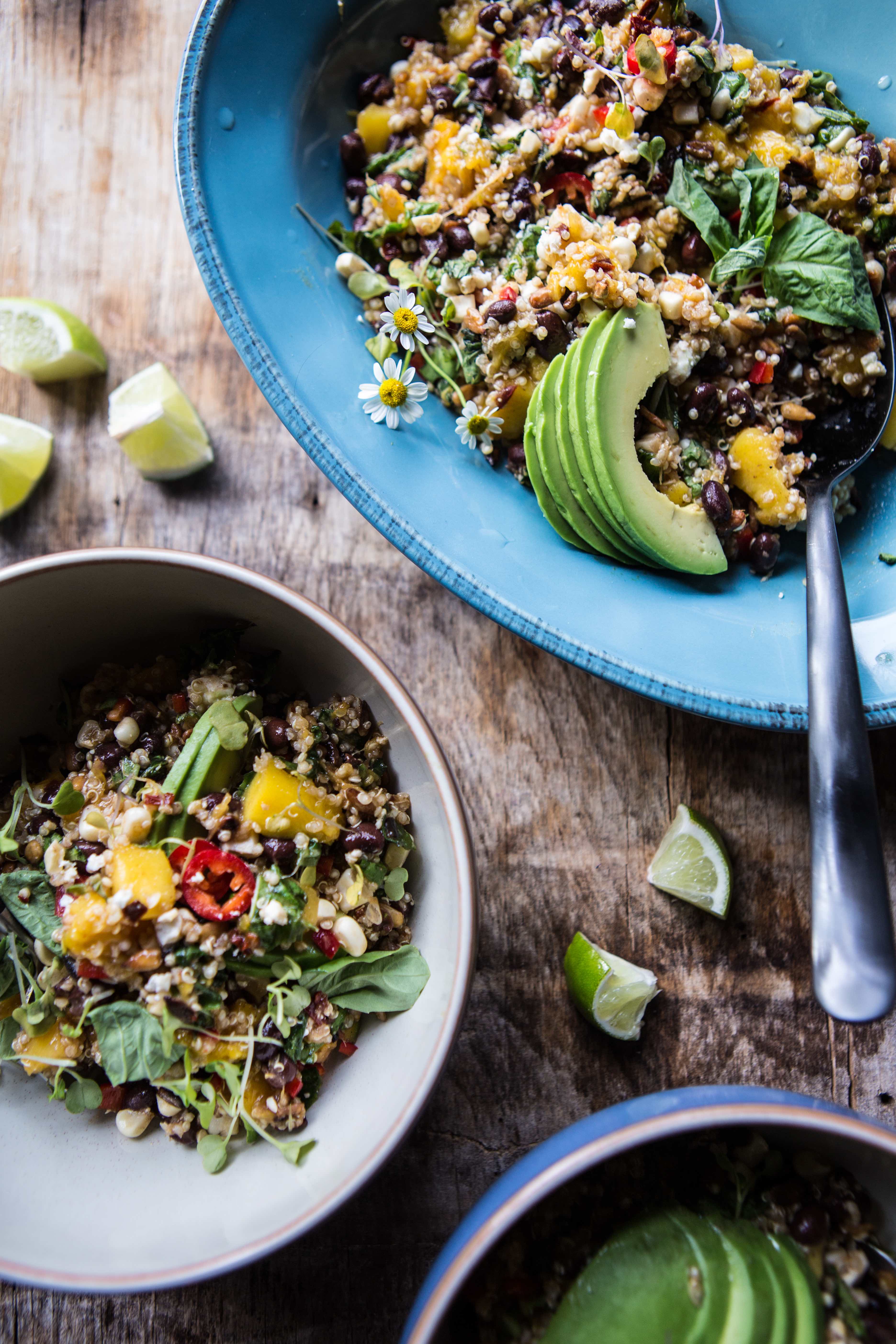 P.S. How cool is that mango peeler? It worked SO well and left me with a perfectly peeled mango all ready for dicing. Yes, please
Black Bean and Mango Salad Recipe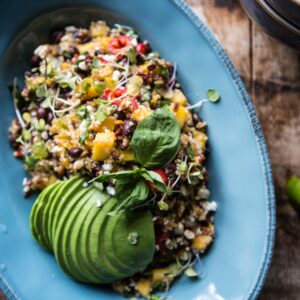 INGREDIENTS
For the Salad:
1 cup uncooked quinoa
1 cup fresh basil, chopped
½ cup fresh cilantro, chopped
2 ears fresh corn, kernels removed from the cob
4 green onions, chopped
2 mangos, peeled + diced
1 (15 ounce) can black beans, drained + rinsed
1-2 red Fresno peppers, seeded if desired + chopped
1/3 cup olive oil
¼ cup fresh lime juice
1-2 chipotle chili peppers in adobo, minced
¼ teaspoon cumin
Kosher salt + pepper, to taste
8 ounces feta cheese, crumbled
1 avocado, sliced
For the Toasted Sunflower Seeds:
½ cup raw sunflower seeds
1 tablespoon olive oil
½ teaspoon smoked paprika
Kosher salt, to taste
INSTRUCTIONS
For the Salad:
Cook the quinoa according to package directions and then add the cooked quinoa to a large salad bowl. To the quinoa, add the basil, cilantro, corn kernels, green onions, mangos, black beans and Fresno peppers. Give that all a good toss to combine.
In a small bowl, whisk together the olive oil, lime juice, chipotle chili peppers, cumin and a good pinch of both salt + pepper. Pour the dressing over the quinoa and toss well until the quinoa + veggies are moistened. Top the salad with sliced avocado, crumbled feta and toasted sunflower seeds (recipe below). Salad can be serve warm or cold and made up to 2 days in advance.
For the Toasted Sunflower Seeds:
Heat a large skillet over medium heat; add the sunflower seeds, olive oil and smoked paprika. Toss to combine. Cook the seeds, stirring often until lightly toasted and fragrant, about 2-3 minutes. Watch close as the seeds can burn fast. Remove from the skillet and sprinkle generously with salt. Add the seeds to the salad.