Banana Poppyseed Bundt Cake with Cream Cheese Lemon Zest Glaze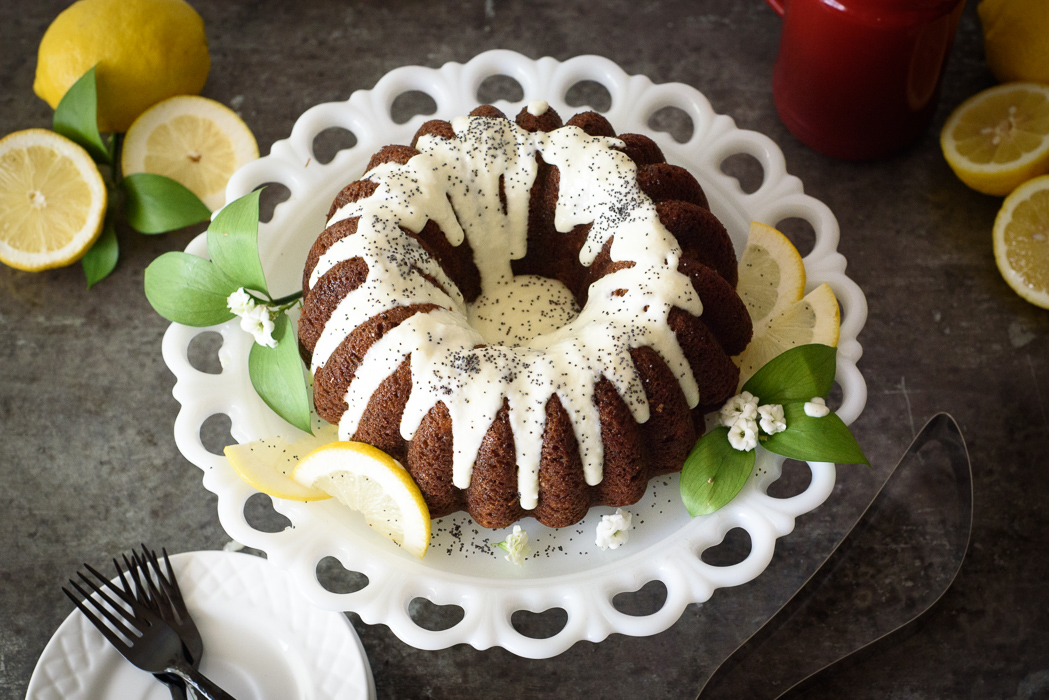 Whether you need a perfect coffee cake, housewarming gift, a bake sale winner or a birthday cake this Banana Poppyseed Bundt Cake recipe is a sure fire choice every time.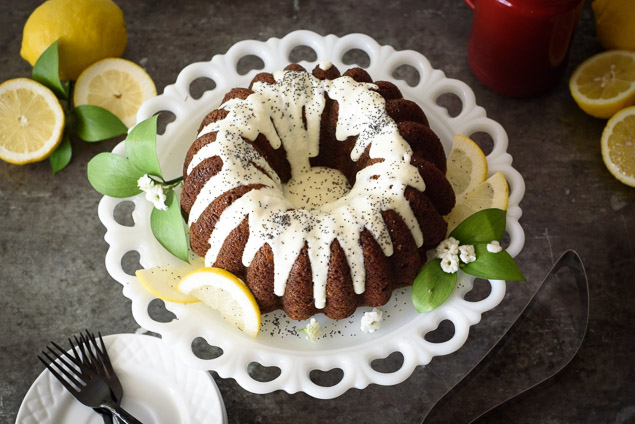 My husband has declared this Banana Poppyseed Bundt Cake with Cream Cheese Lemon Zest Glaze the "best cake ever." We've made it 6 times in the past week and seriously have to keep giving it away because it just keeps magically ending up on a plate with my morning, mid morning and afternoon cup of coffee. Oops!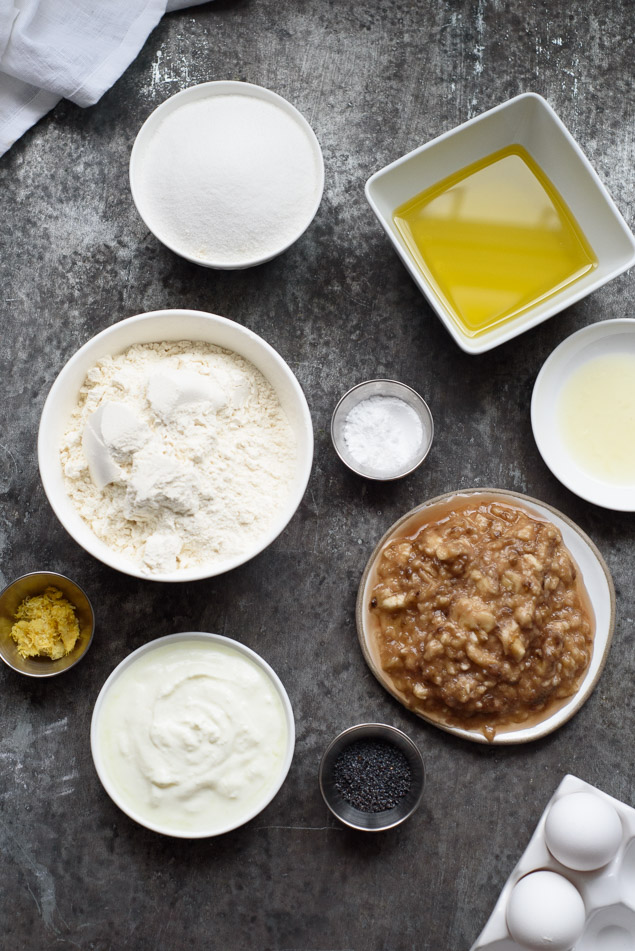 Yogurt and bananas combine with plenty of lemon and crunchy poppy seeds for a delicious moist cake. If you like it super light and tender, bake it just for 40-45 minutes. But if you like a little bit drier cake (coffee cake-esque), cook it for a full hour and the crust magically turns into this crispy sugar crust that crackles in your mouth as you break through it. Heavenly.
Making cake is therapy, friends. It's rhythmic and grounding at the end of a long day or the start of an early Saturday morning to mix this together.
Start with flour and sugar.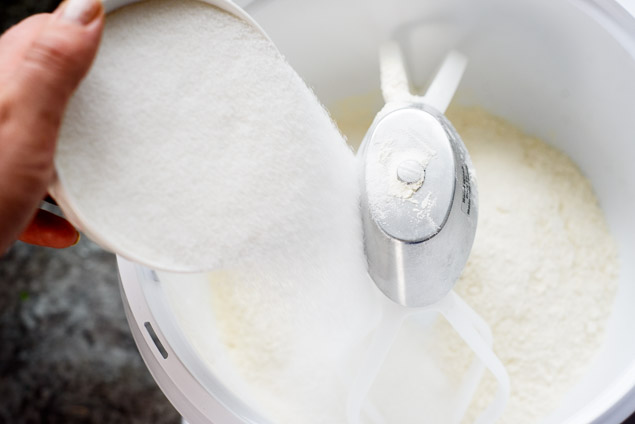 Add the yogurt.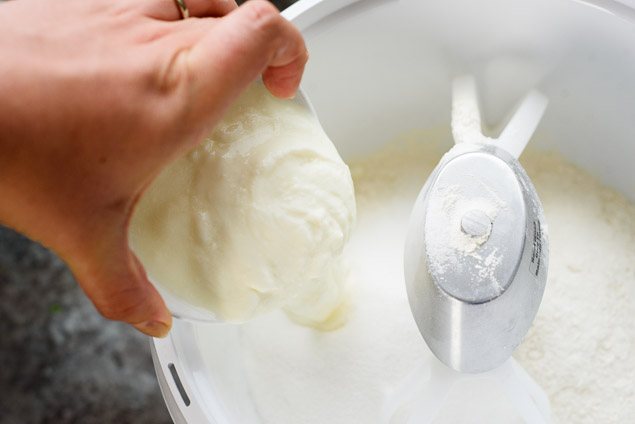 Grab a lemon and zest it and then juice it. Breathe it in.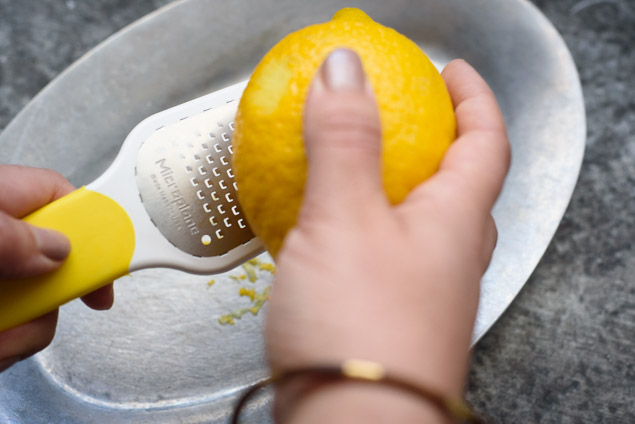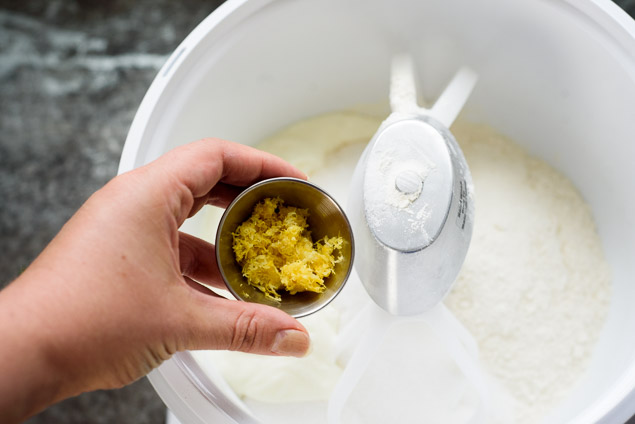 Mash your bananas with a potato masher and add in.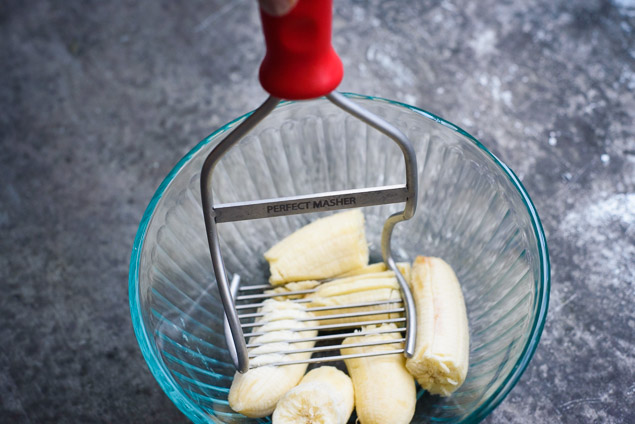 And add in all the eggs, poppy seeds and olive oil.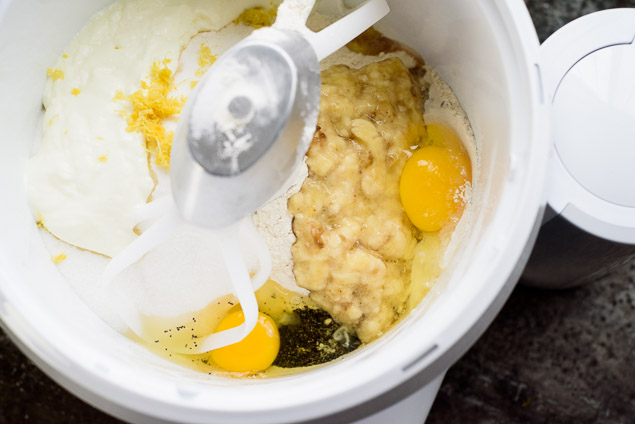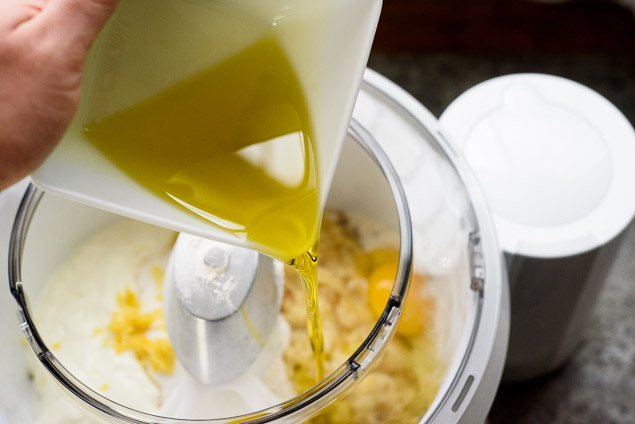 Blend on low until combined, do not overmix.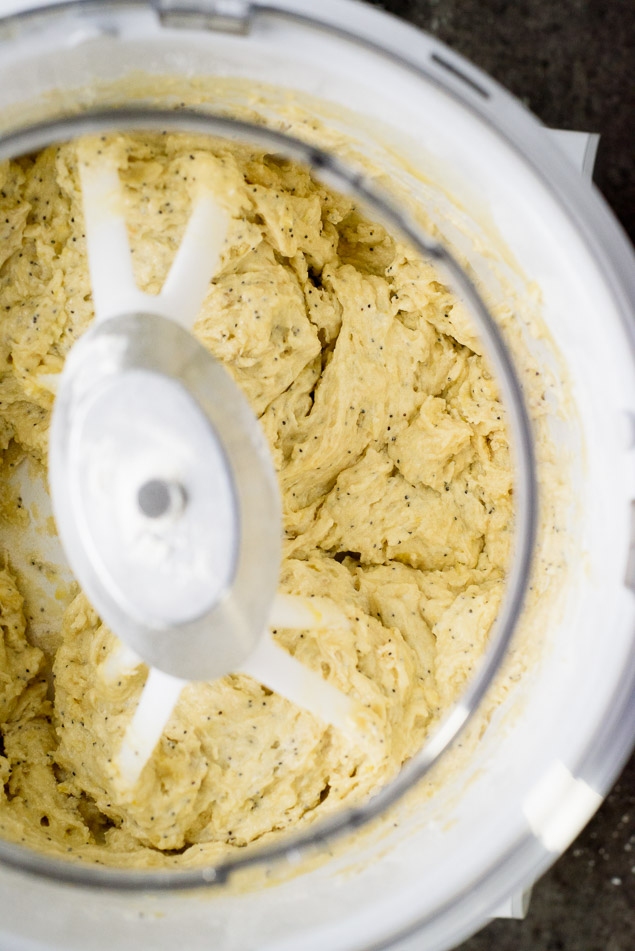 Pour into a greased bundt pan.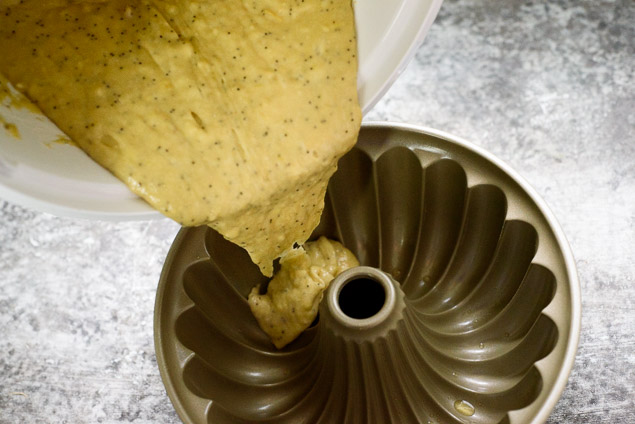 And stir it out to make sure no air bubbles have been trapped and it is evenly distributed.
We are ready to bake!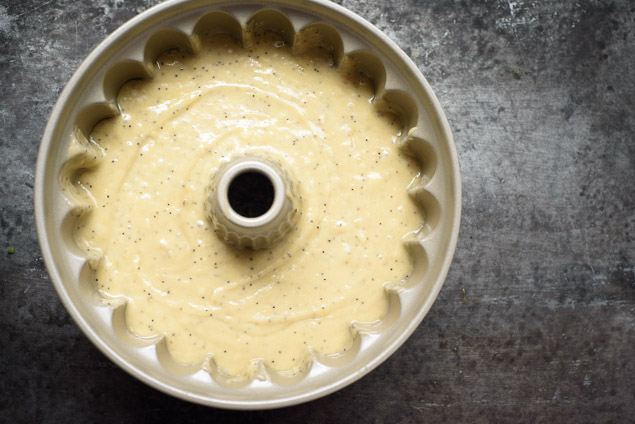 Let it cool completely and it will easily release from the pan sides. Then whip together icing and drizzle over the cake.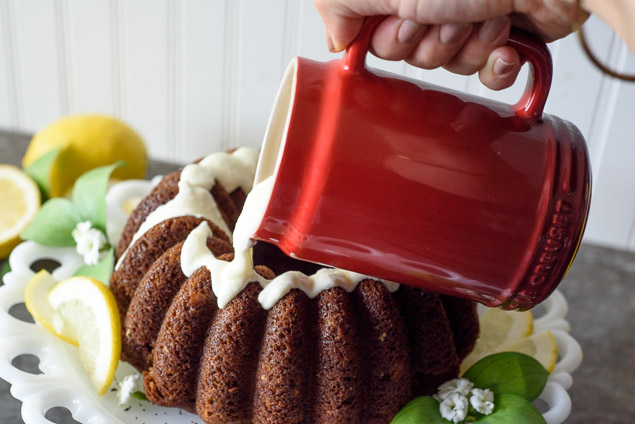 Sprinkle with poppy seeds.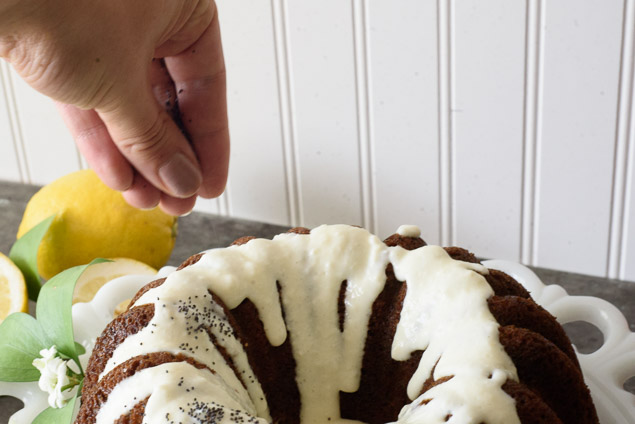 Beautiful!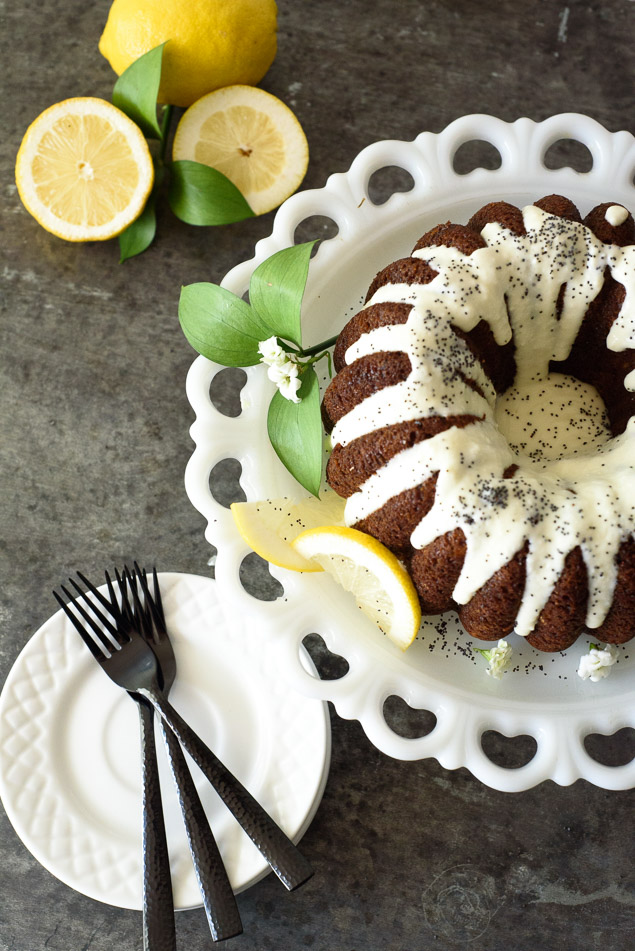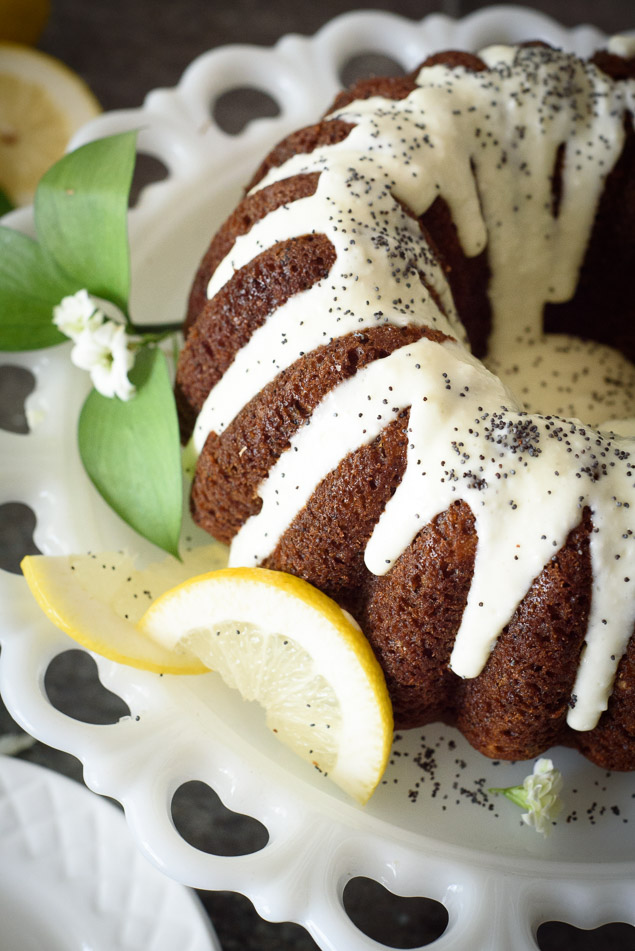 Slice, serve & enjoy!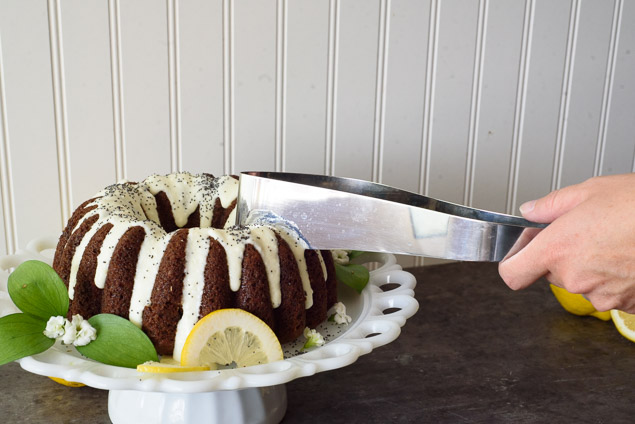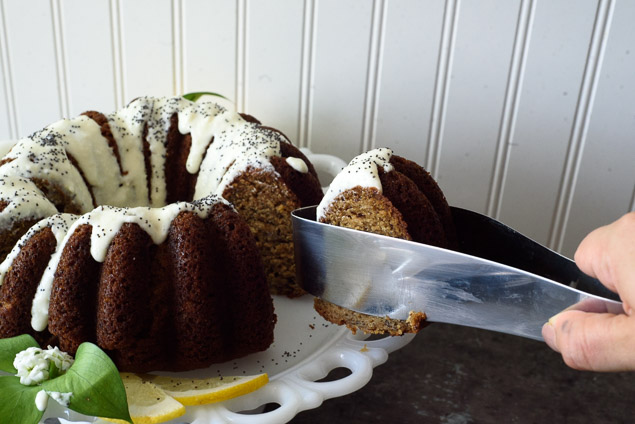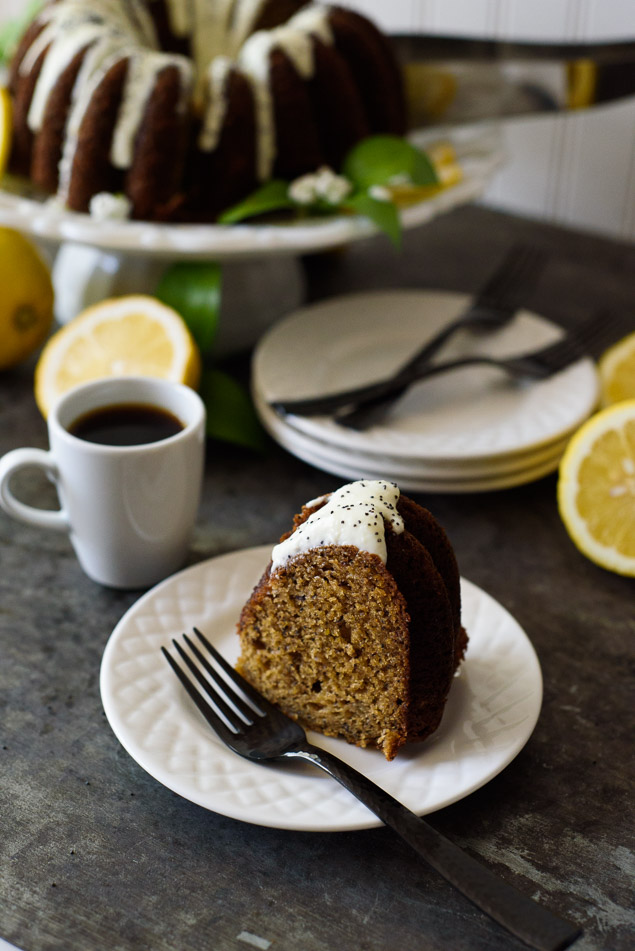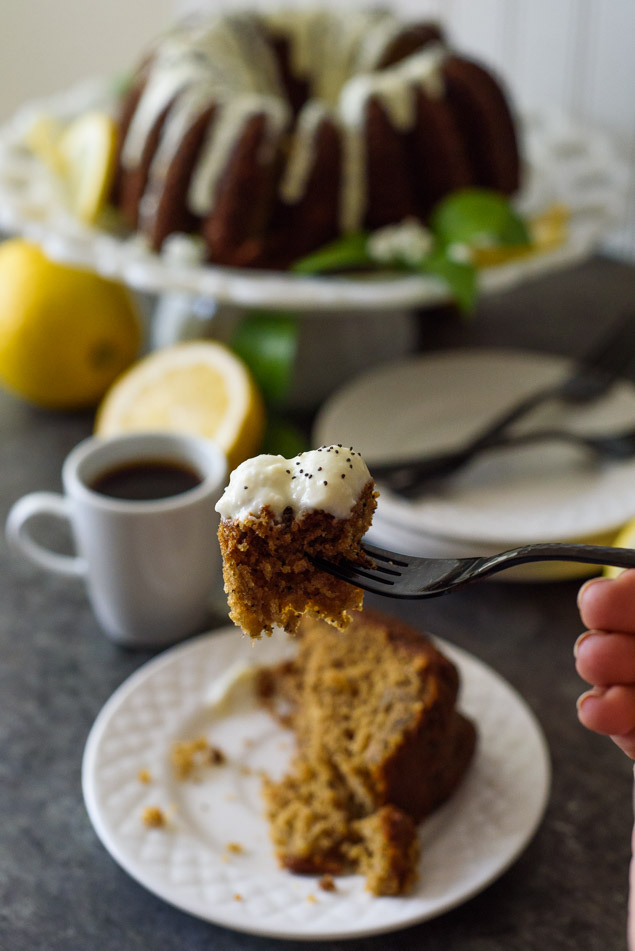 Banana Poppyseed Bundt Cake with Cream Cheese Lemon Zest Glaze Recipe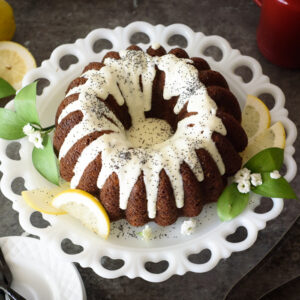 INGREDIENTS
For the Cake:
¾ cup olive oil
2 eggs
1 tablespoon finely grated lemon rind
2 tablespoons lemon juice
½ cup yoghurt
2 mashed bananas
1 ½ cups granulated sugar
2 cups flour
1 tablespoon poppyseeds
1 tablespoon baking soda
For the Glaze:
1 package cream cheese, room temperature
¾ cup powdered sugar
¼ cup lemon juice
INSTRUCTIONS
Mix all cake ingredients together until just combined.
Pour into a greased bundt pan.
Bake at 350 for 40-45 minutes for tender cake, 50+ minutes for drier cake with crispy exterior.
Allow to cool completely.
Whip icing together. If lumps occur place in microwave for 30 second increments stirring vigorously until lumps are gone.
Pour over cake and top with poppy seeds.
Serve with steaming hot coffee.