Baked Vegan Black Bean Burgers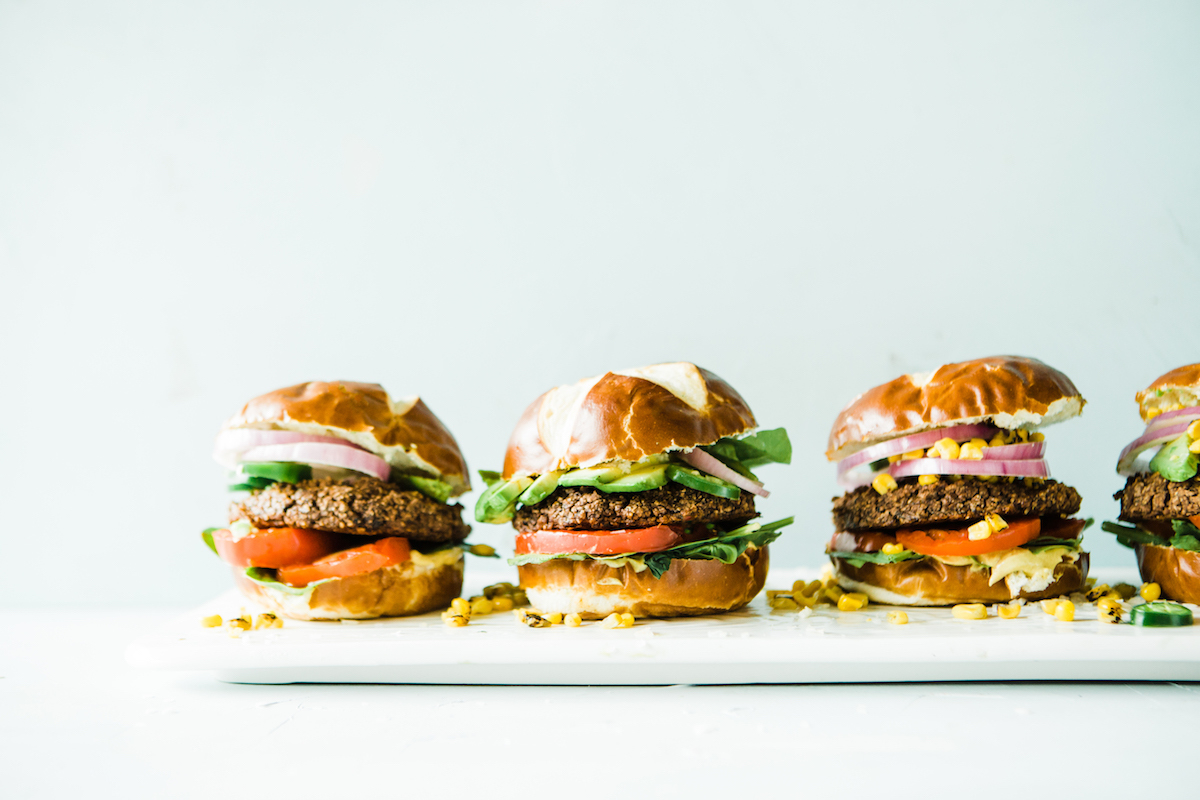 A few summer's back, I challenged my kids to 8 weeks of no-sugar, 100% plant-based eating. Was sure they'd crack after a week, but figured we'd give it our best shot anyway.
To prepare for the challenge, we gathered healthy snacks and hunted down delicious looking recipes. First day of summer, we were ready. It was on.
The first week was hard. There were a few times we'd all start craving Otter Pops or gummy bears. So we'd hit the kitchen, grab a snack. Start prepping dinner, so we knew we had something lovely to look forward to.
And that was really the thing. Having great food to look forward to.
8 weeks later, the kids returned to school having successfully completed the challenge. "It wasn't bad at all," said one of my tweens, "and now I kind of just want to keep doing it, because I know my body is glad we ate that way."
So we did. Not 100%, as we had before. But we kept some of the best plant-based recipes from the summer, and added them to our weekly family dinner routine. And that is how this lovely recipe for 3-ingredient black bean burgers is now finding it's way into your life.
Tried, true and tested time and again, these simple staples make for simple, no-fuss baked vegan burgers. If you've ever tried to hack together a black bean burger for the grill, only to end up with a crumbly mess in the grate, you'll know how brilliant this baked version it. Forms perfect patties, bakes up with tasty texture, and fits perfectly on a bun.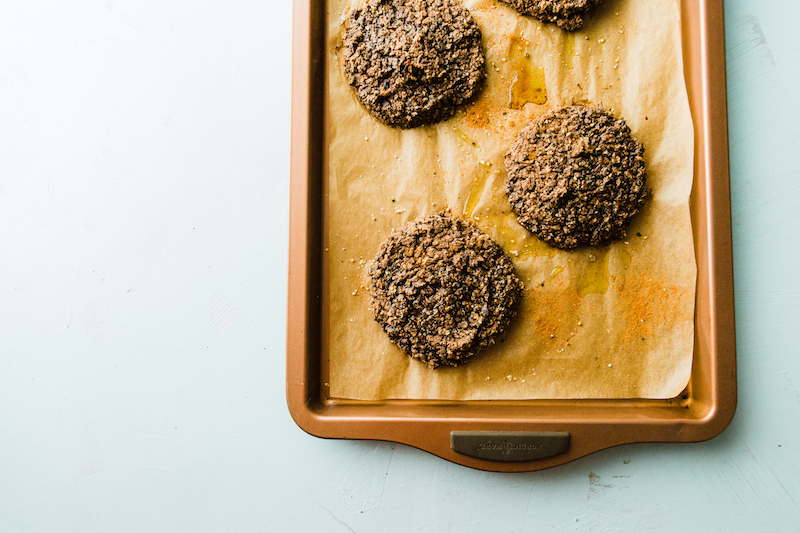 Mix and Match
We've added barbecue sauce here, but just about any sauce will do. Hit the Asian section of your local grocery store and grab a Korean BBQ sauce, teriyaki, or add in an Indian curry sauce instead. The basic burgers here make a great base for just about any cuisine flavor so get creative and make a batch according to your own cravings!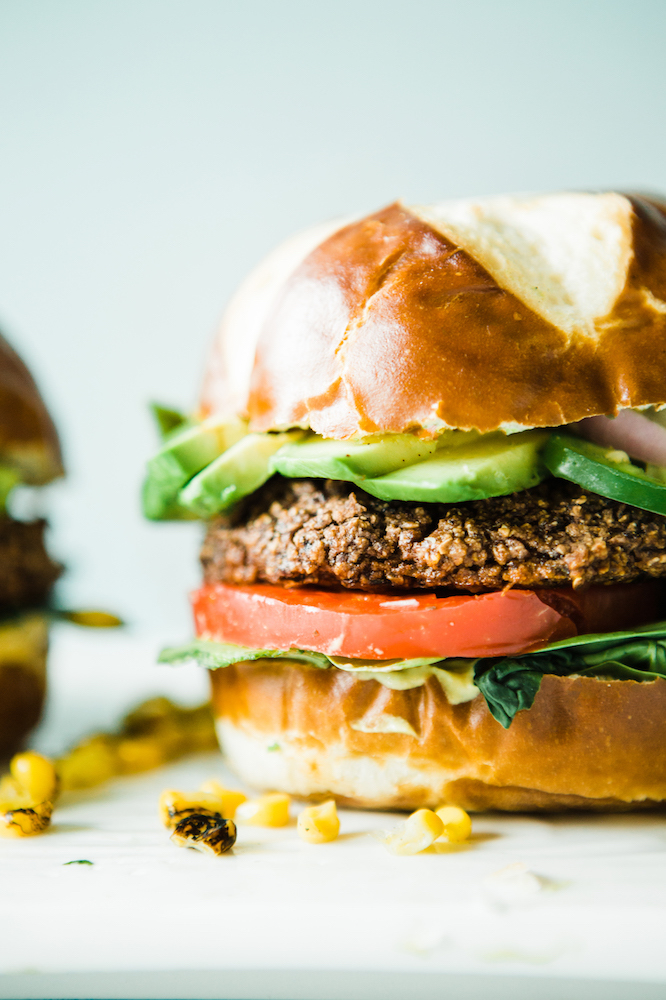 These basic vegan black bean burgers here make a great base for just about any cuisine flavor so get creative and make a batch according to your own cravings!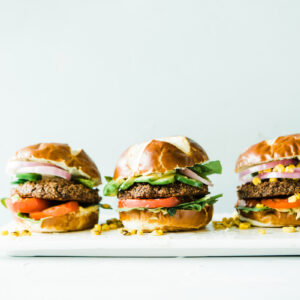 Ingredients
1

(15 oz) container black beans, drained

.5

cups

barbecue sauce

.75

cups

quick oats

.75

tsp

garlic salt
Instructions
Preheat oven to 400°F.

In a food processor, puree all ingredients together. Scoop mixture onto a parchment-lined baking sheet. Gently press mixture into patties.

Bake for 10 minutes, flip and bake 5-7 minutes more. Allow to cool slightly before placing on your favorite burger buns. Serve and enjoy!
Nutrition
Serving:
1
g
Calories:
313
kcal
Carbohydrates:
58.9
g
Protein:
16.7
g
Fat:
1.7
g
Saturated Fat:
0.4
g
Sodium:
237
mg
Fiber:
12
g
Sugar:
7.1
g
Try These Toppings
These black bean burgers taste great when topped with classic burger toppings. Or try these tasty vegan options:
Fresh sliced avocado
Kimchi
Carrot slaw
Roasted or grilled veggies
Grilled mushrooms
Corn salsa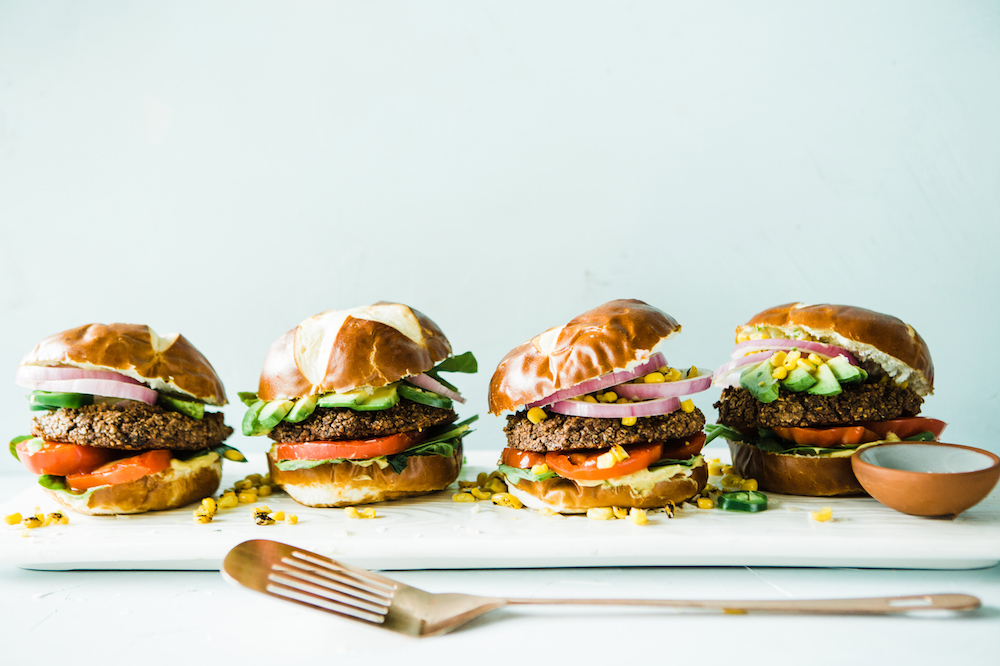 Tried This Recipe?
We'd love to see how it turned out in your kitchen! Snap a photo and upload to Instagram. Don't forget to tag #theINSPIREDhome!
For more vegetarian burger ideas, check out: Build a Better Plant-Based Burger with Beyond Burger.