Baked Beans with Pancetta & Molasses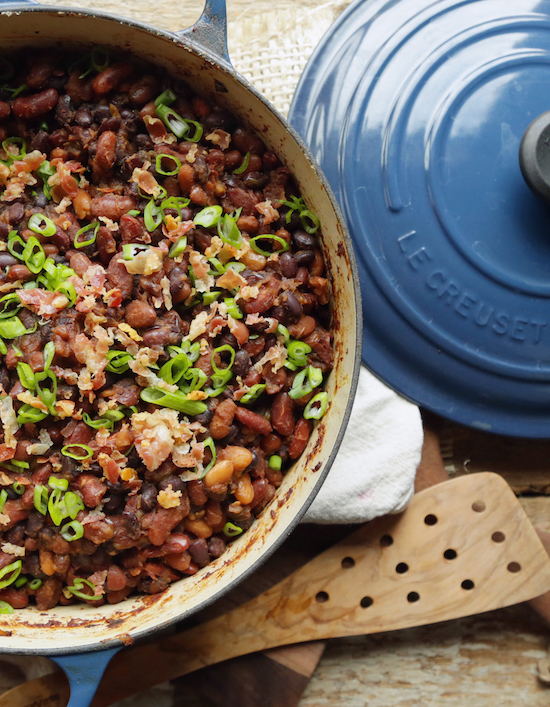 I imagine that when most people bring baked beans to a backyard barbecue or picnic, they simply pop open a few cans, heat'em up, and put them in a pot or serving dish and out the door they go. Simple of course, but after you make this Baked Beans with Pancetta and Molasses, you won't care about the few hours it takes to make them in the oven.
Baked beans, like several other recipes, have been commoditized for ease in the consumer's home, but how much better are recipes when everything is homemade? I would say 100% of homemade food is significantly better, plus it brings a certain sort of confidence to your kitchen that you can make anything 'ò∫.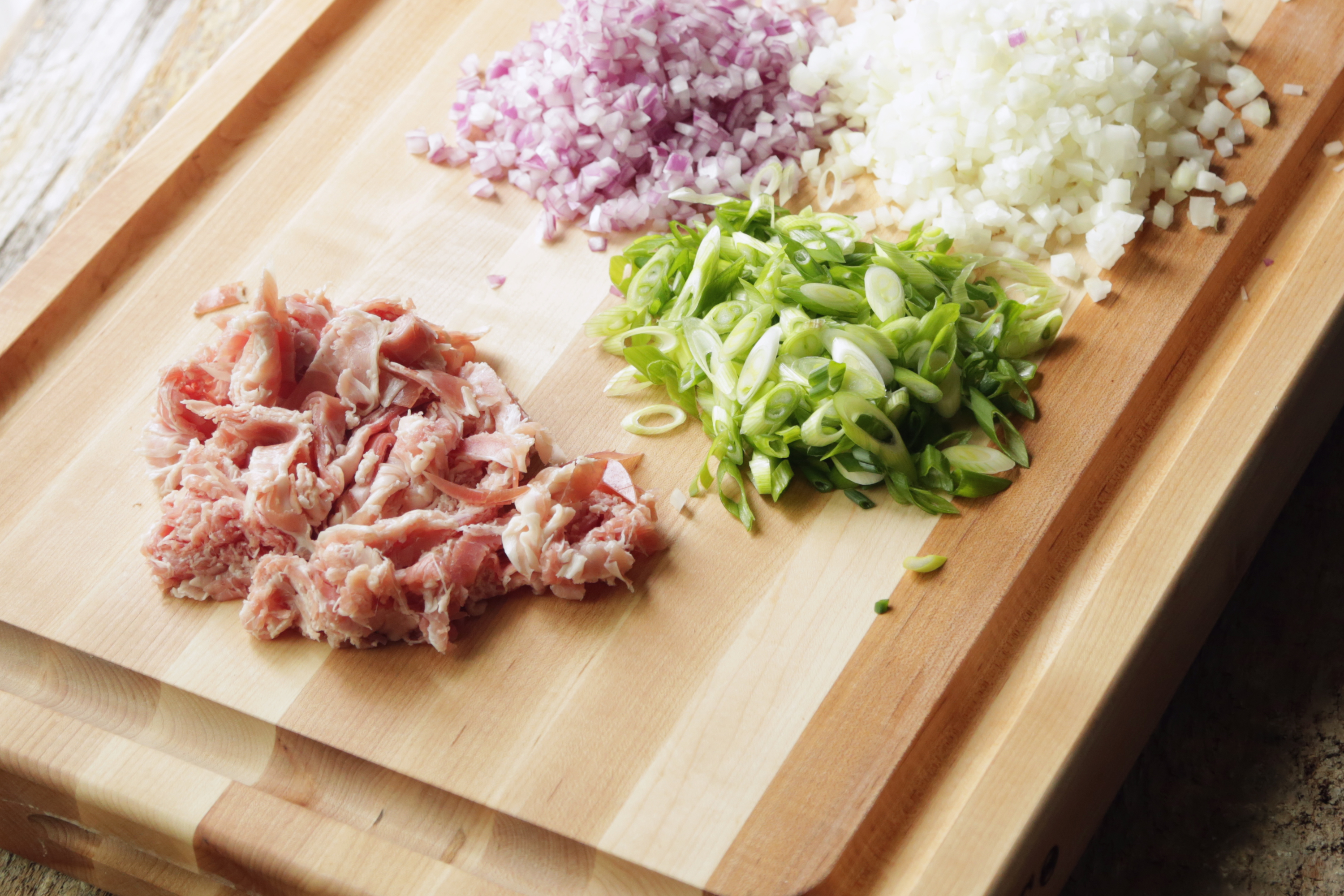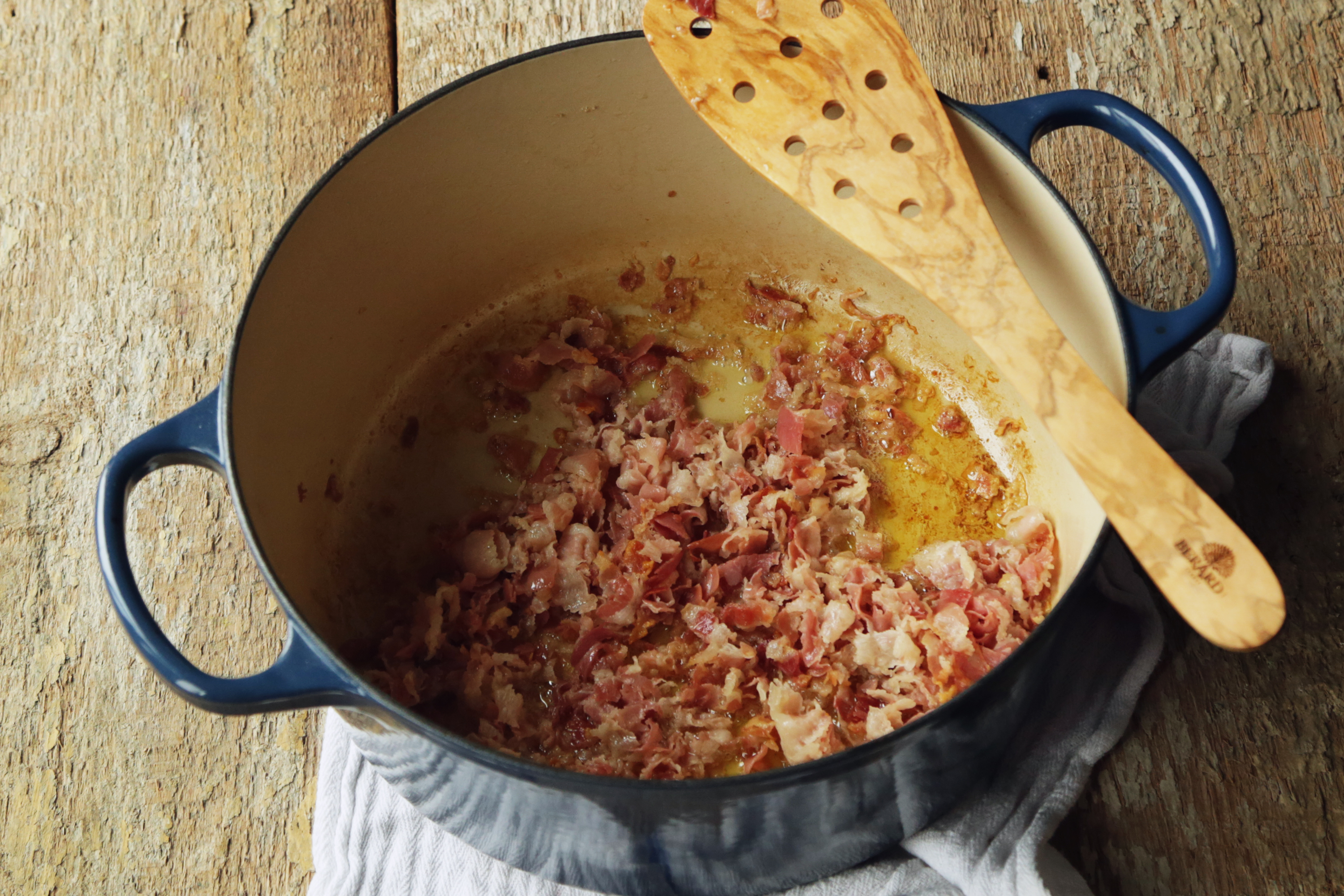 With baked beans taking a few hours to slow roast in the oven, you may be able to save some time by using canned beans, just simply strain and rinse with water. To properly make this recipe the beans should be soaked overnight, or you can pour boiled water over the dried beans and let it stand for 1 hour.
I know what you're thinking already, "Dang, I'm already into this recipe for overnight and I haven't even cooked a thing." I promise your patience will pay off when you take your first bite of these baked beans and all of your childhood memories of your grandma's kitchen come rushing back!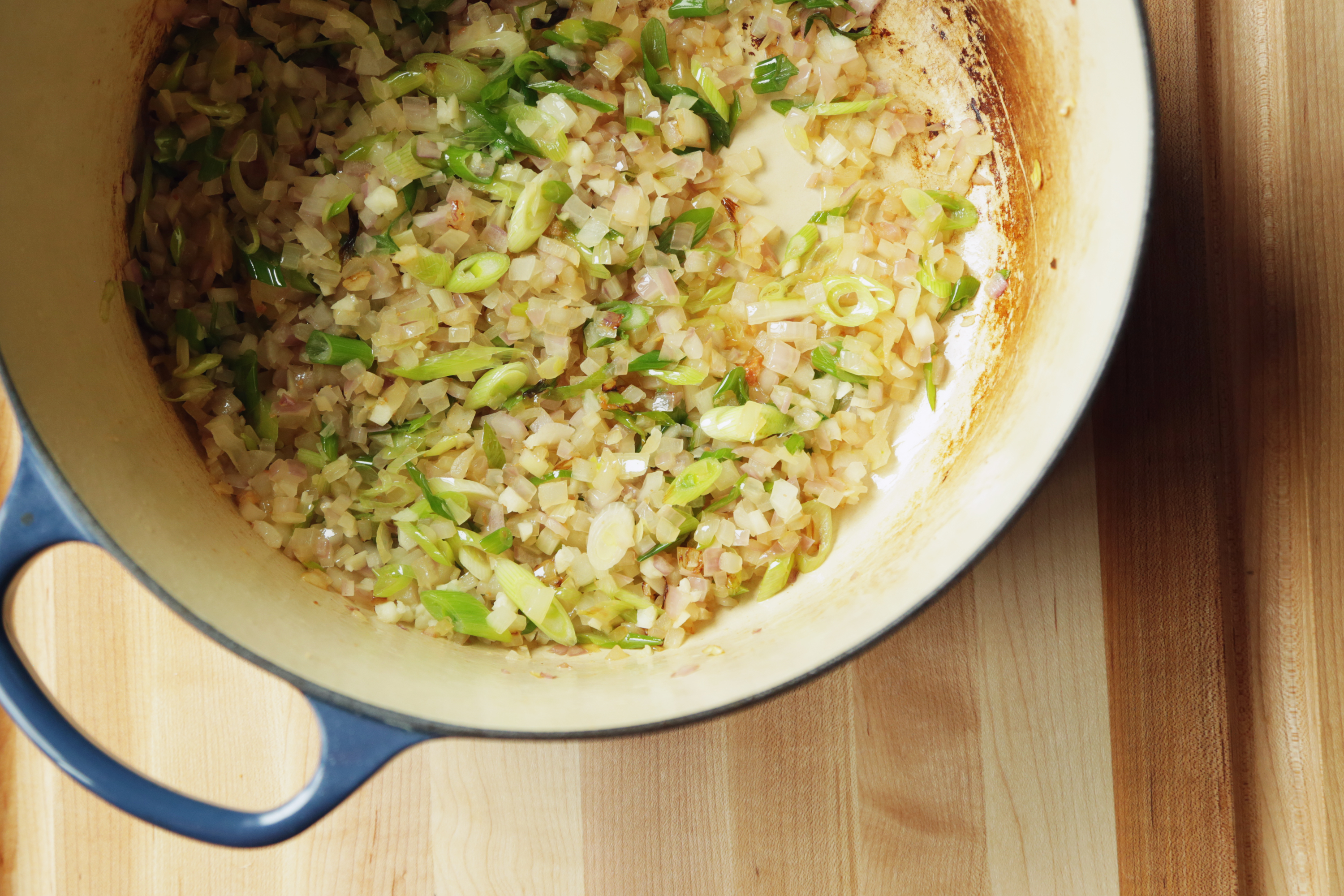 After the beans are done soaking, it's time to cook! Because I'm heading to a friend's BBQ, I want to show off a bit with my Le Creuset dutch oven, so everything I cook will be in this pot. Start by crisping of the pancetta in the dutch oven! I'm sure like me you'll have to try some of it because it's just so dang tasty, and yes, it's even better than bacon!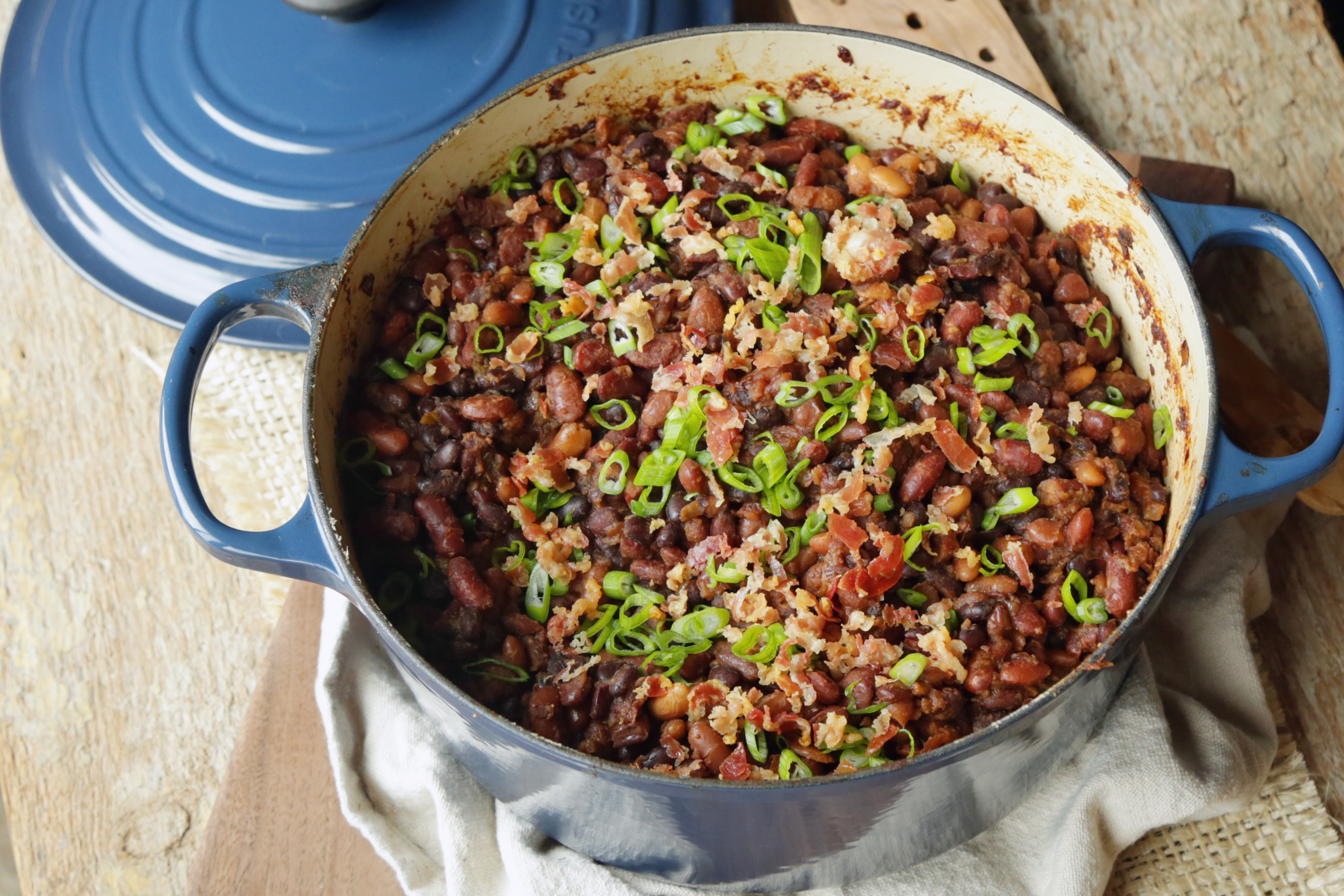 After the fat is rendered, let the onions caramelize in the dutch oven and then add in your beans and some flavor ingredients and off to the oven to slow cook. What makes these baked beans so unique is the flavor profile from the other ingredients. The use of pineapple juice to add a little tang, coupled with molasses and brown sugar and the saltiness from the pancetta is just amazing!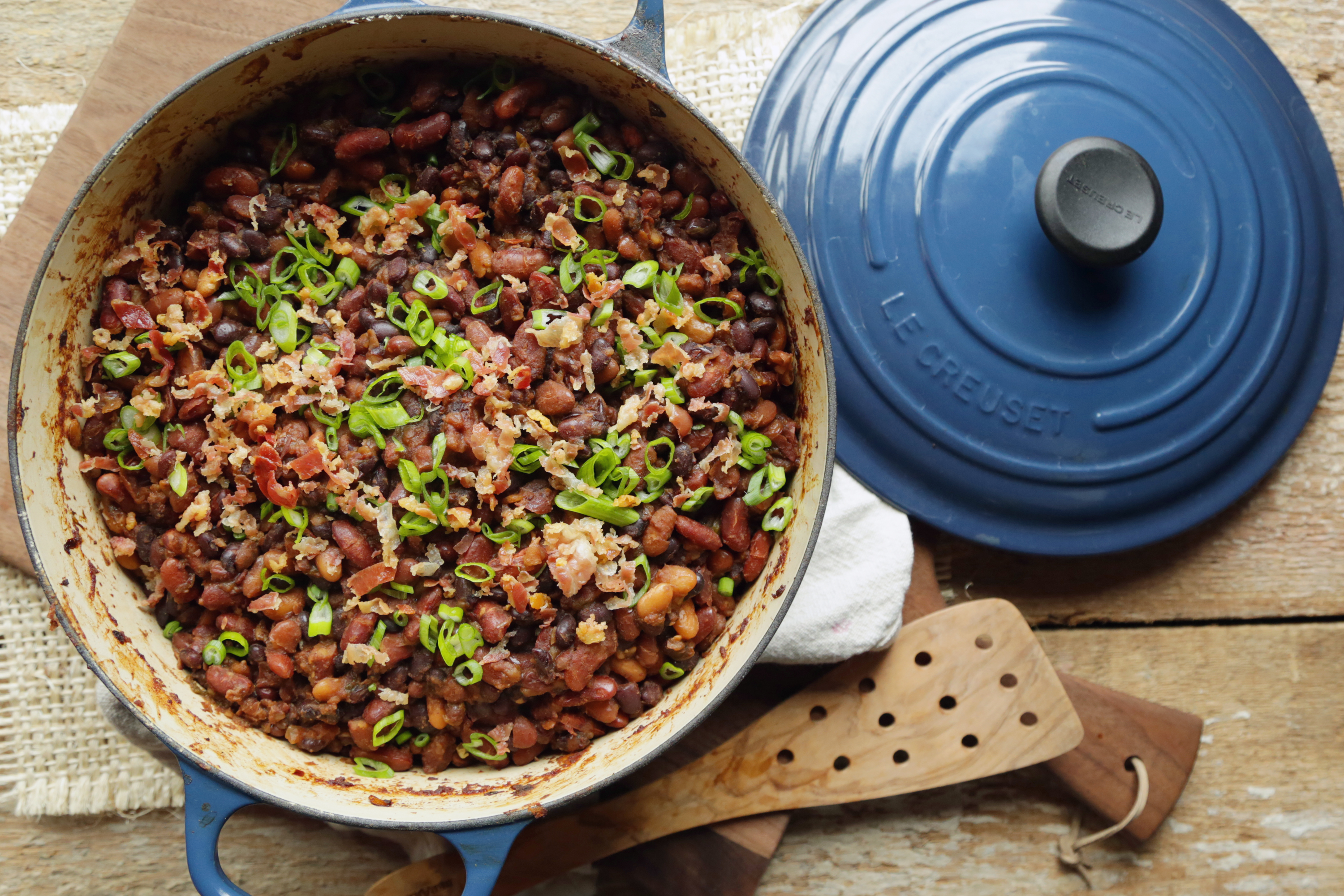 This recipe will definitely get the crowd talking!
Baked Beans with Pancetta + Molasses Recipe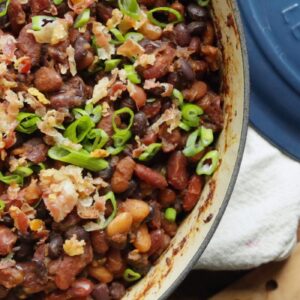 INGREDIENTS
1 pound of soaked and strained kidney beans
1 pound of soaked and strained cannellini beans
1 pound of soaked and strained black beans
8 ounces of julienne pancetta
1 small diced yellow onion
1 small diced red onion
1 cup of sliced green onions + 1/4 cup for garnish
4 cloves of finely minced garlic
1 cup of pineapple juice
2 cups of ketchup
3/4 cup of yellow mustard
1/2 cup of molasses
3/4 cup of brown sugar
1/3 cup of apple cider vinegar
2 tablespoons of ground mustard
Kosher salt and fresh cracked pepper to taste
INSTRUCTIONS
Preheat the oven to 300°.
Place a dutch oven on the stovetop on high heat and cook the pancetta until crispy.
Once brown and crispy, remove the pancetta and set aside.
Next add the onions and garlic to the pot and cook in the rendered pancetta fat until caramelized.
Once they are brown, add back in the pancetta, reserve a ½ cup of garnish, and along with the soaked beans, add pineapple juice, ketchup, mustard, molasses, brown sugar, cider vinegar, and ground mustard and stir.
Place the lid on the dutch oven, transfer it to the oven and cook for 3 hours. Stir every 30 minutes until finished.
Garnish the beans with the remaining crispy pancetta and sliced green onions.