Beet-Dressed Pasta with Golden Raisins and Poppy Seeds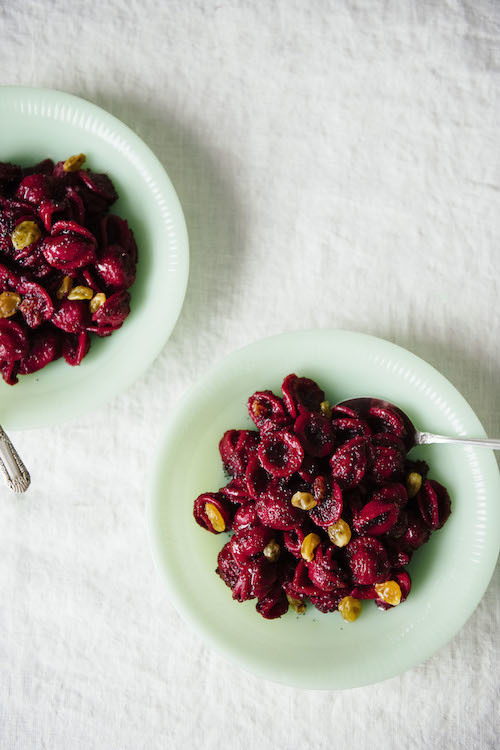 Reprinted from Ruffage by Abra Berens with permission by Chronicle Books, 2019
Generally, I use a microwave to warm up my forgotten morning coffee and for little else. But there are other uses. The beets in this recipe will purée to a significantly smoother texture if they are warm. If you have prepared a load of beets earlier in the week and want to make this sauce, simply warm them up in the micro­wave with a splash of water. Alternatively, if you are cooking loads of beets, it's smart to make the purée when they are warm out of the oven. It will store in the refrigerator for a week or in the freezer for a good long time.
This pasta salad also works as a cold salad, but often needs an extra pinch of salt, since the flavors will be muted when cold.
– Abra Berens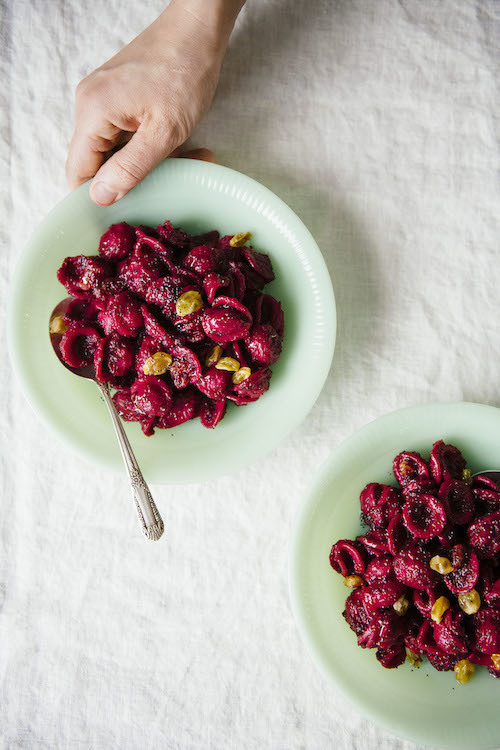 Beet-Dressed Pasta with Golden Raisins and Poppy Seeds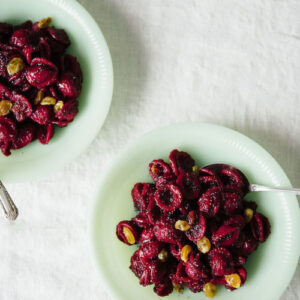 INGREDIENTS
¼ cup (35 g) golden raisins
Juice of ½ lemon (0.75 fl oz | 22 ml)
2 steam-roasted beets (1 lb | 455 g)
¼ cup (60 ml) olive oil
Salt and freshly ground black pepper
1 lb (455 g) small pasta (bow ties, orecchiette or penne)
1 Tbsp (10 g) poppy seeds
Cream (optional)
INSTRUCTIONS
Soak the golden raisins in ½ cup hot water with a squeeze of lemon for 10 minutes or until they are plump. Strain the raisins, saving the water.
In a food processor, purée the beets with the olive oil, raisin water and a good pinch of salt and pepper until very smooth. If you like dairy, toss in a glug of cream.
Boil the pasta in well-salted water and drain. Toss the pasta with the beet purée (to warm and coat), soaked raisins and poppy seeds. Transfer to a serving platter or individual bowls. Drizzle with additional olive oil.

Check out more recipes, ideas and tips from Abra Berens' Ruffage Cookbook.