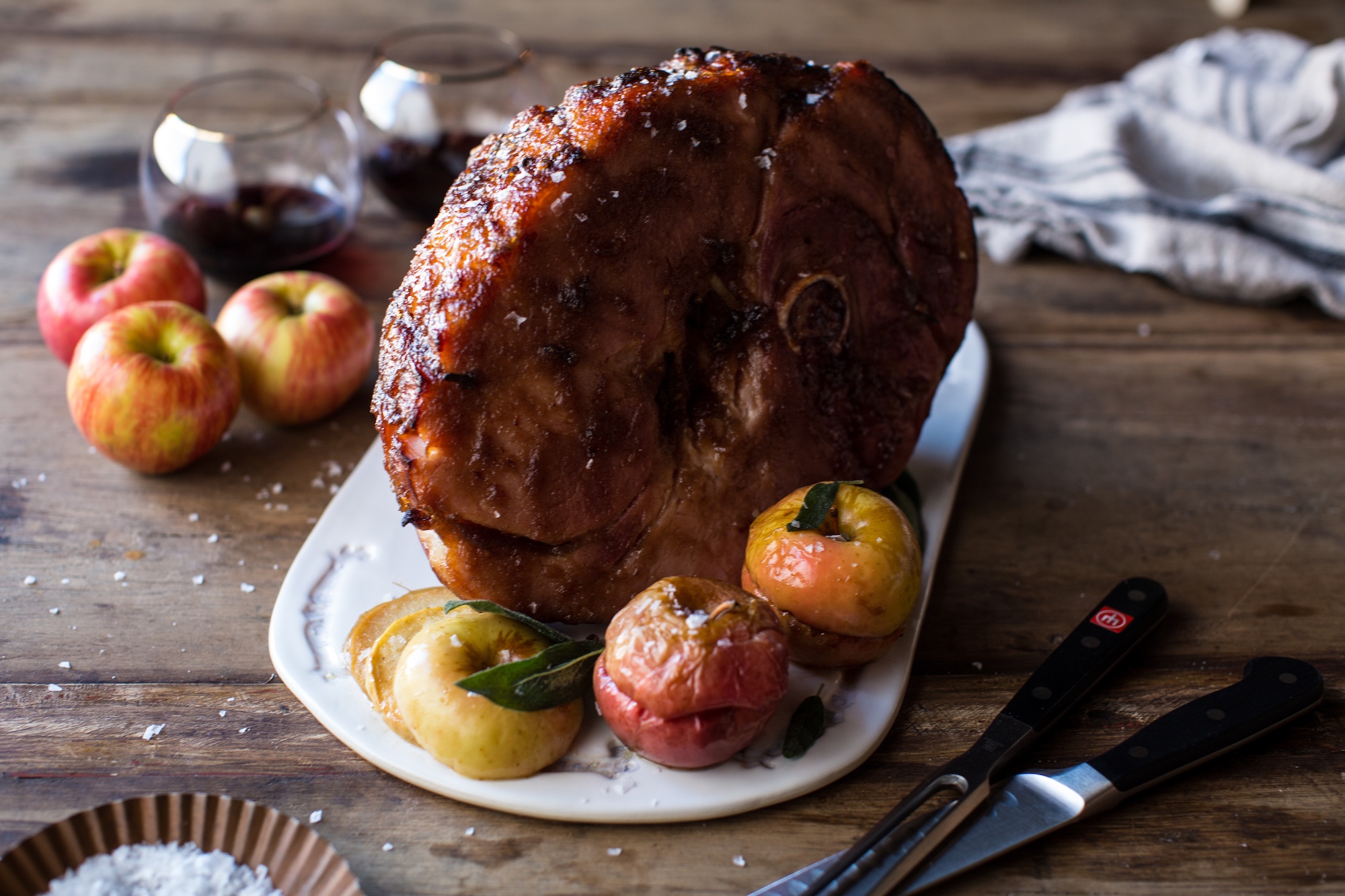 Growing up, I never thought ham was something I really liked. My parents never served it and when it was presented at holiday parties I just never went for it. Clearly, I had no idea what I was missing out on. Ham is DELICIOUS!
I made my very first ham last year and of course, I covered it full on in pineapple. If you read the blog, than you know what a huge fan I am of pineapple.
While I adore the pineapple-glazed ham I made last year, I think I love this apple butter glazed ham just as much (maybe more). It's sweet, with a touch of spice and just plain yummy. It's the perfect holiday ham!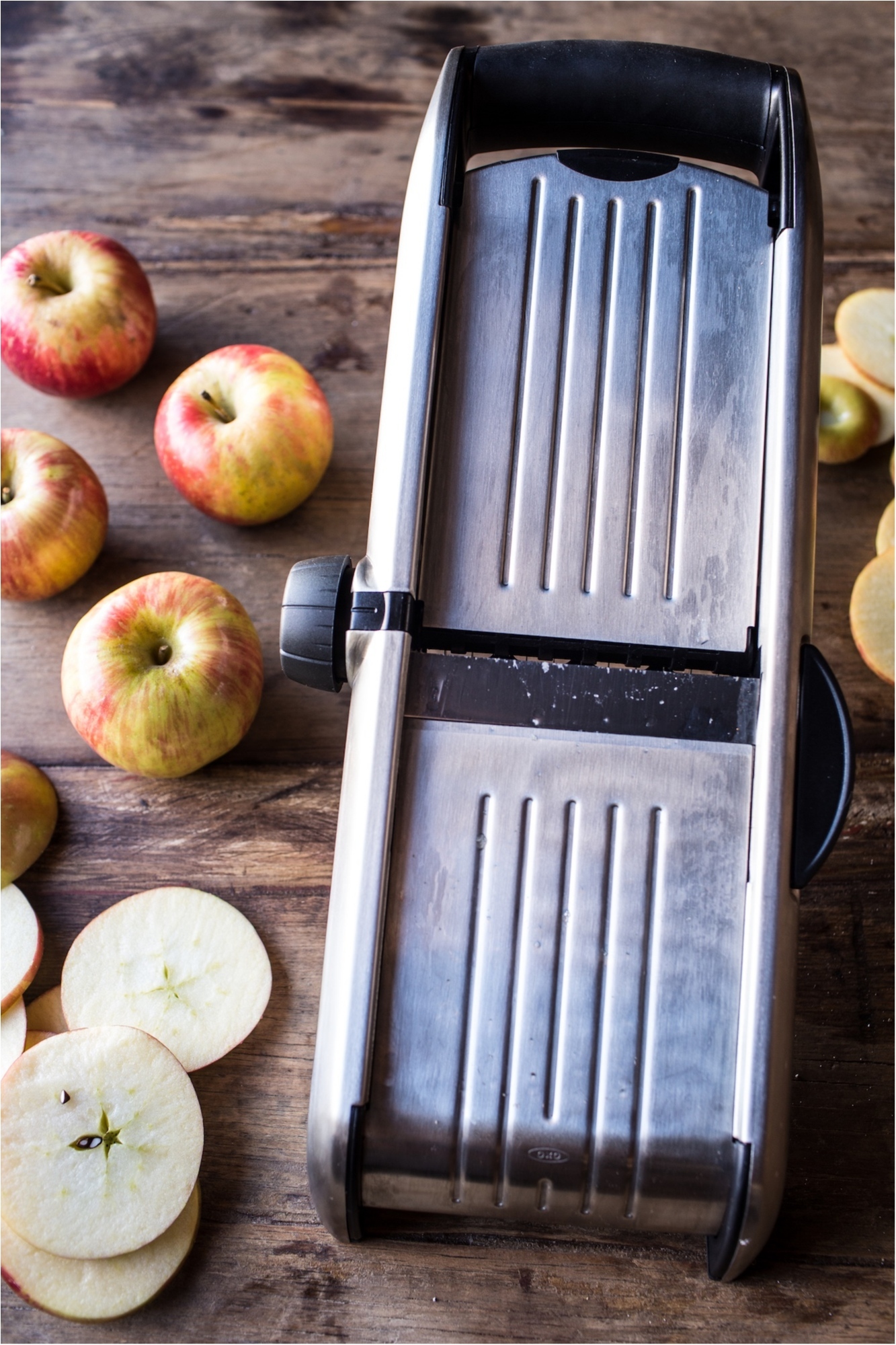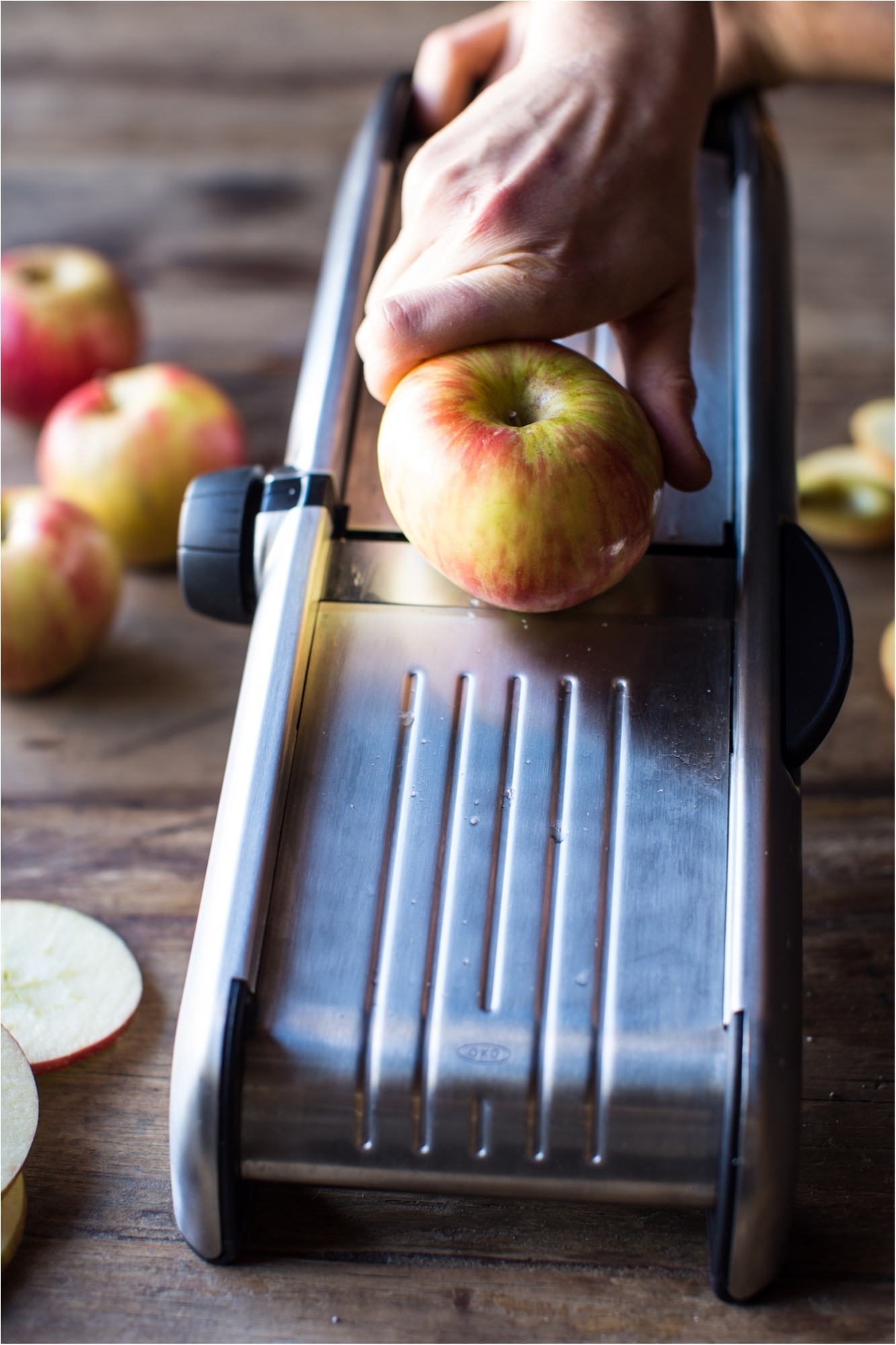 I used my Mauviel Roasting Pan to cook this ham to perfection. Not only is this pan great for roasting ham, it's equally great for roasting chicken, turkey and even beef. It's been my go-to pan all month long! To slice my apples evenly, I used this pretty little OXO Mandoline. Oh my gosh, I love this Mandoline! I never really thought I needed a mandoline, but now that I have one… well, I use it all the time! I never realized what I was missing; the mandoline makes slicing vegetables and fruit evenly a breeze… potatoes chips are so happening next!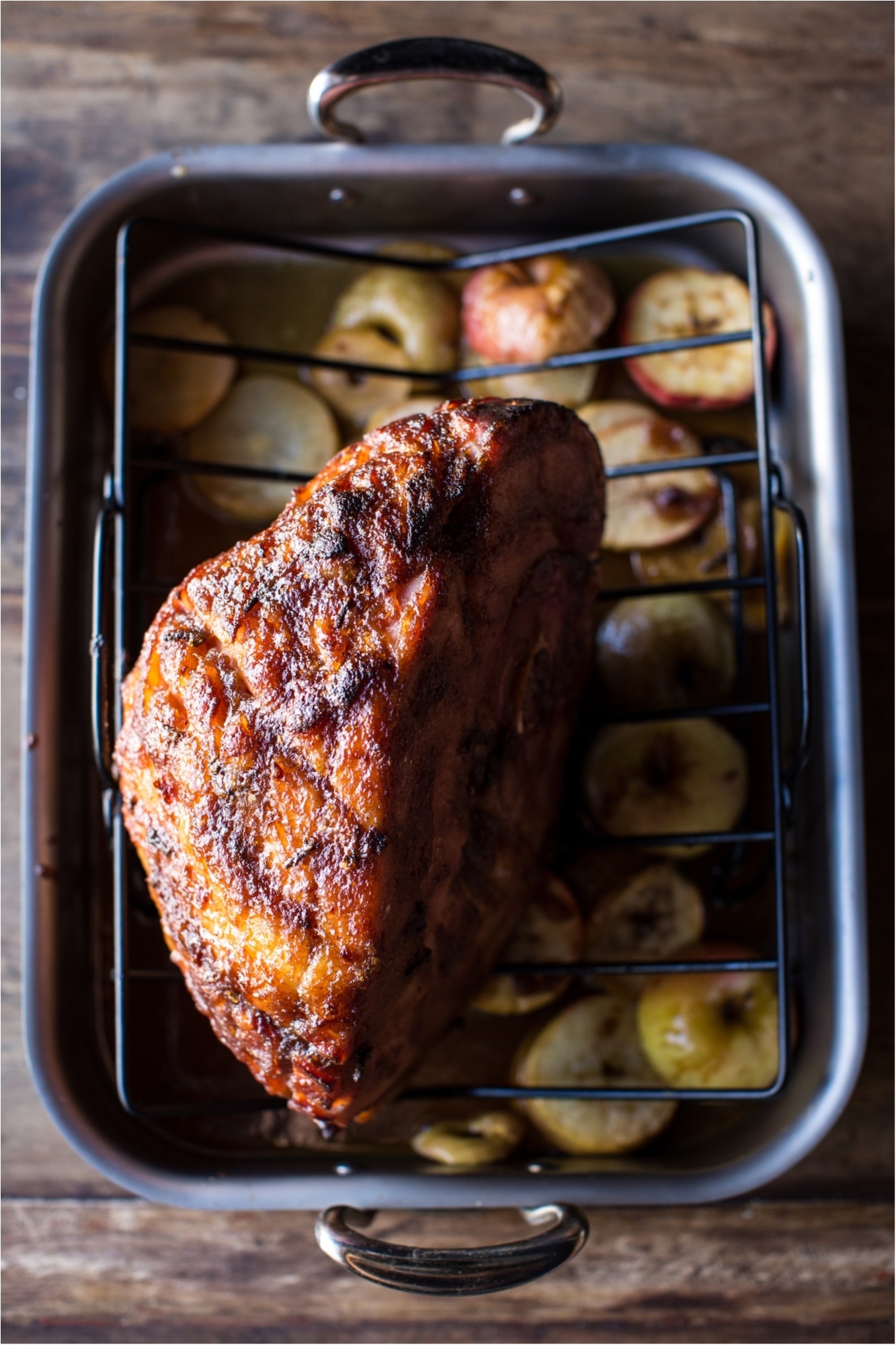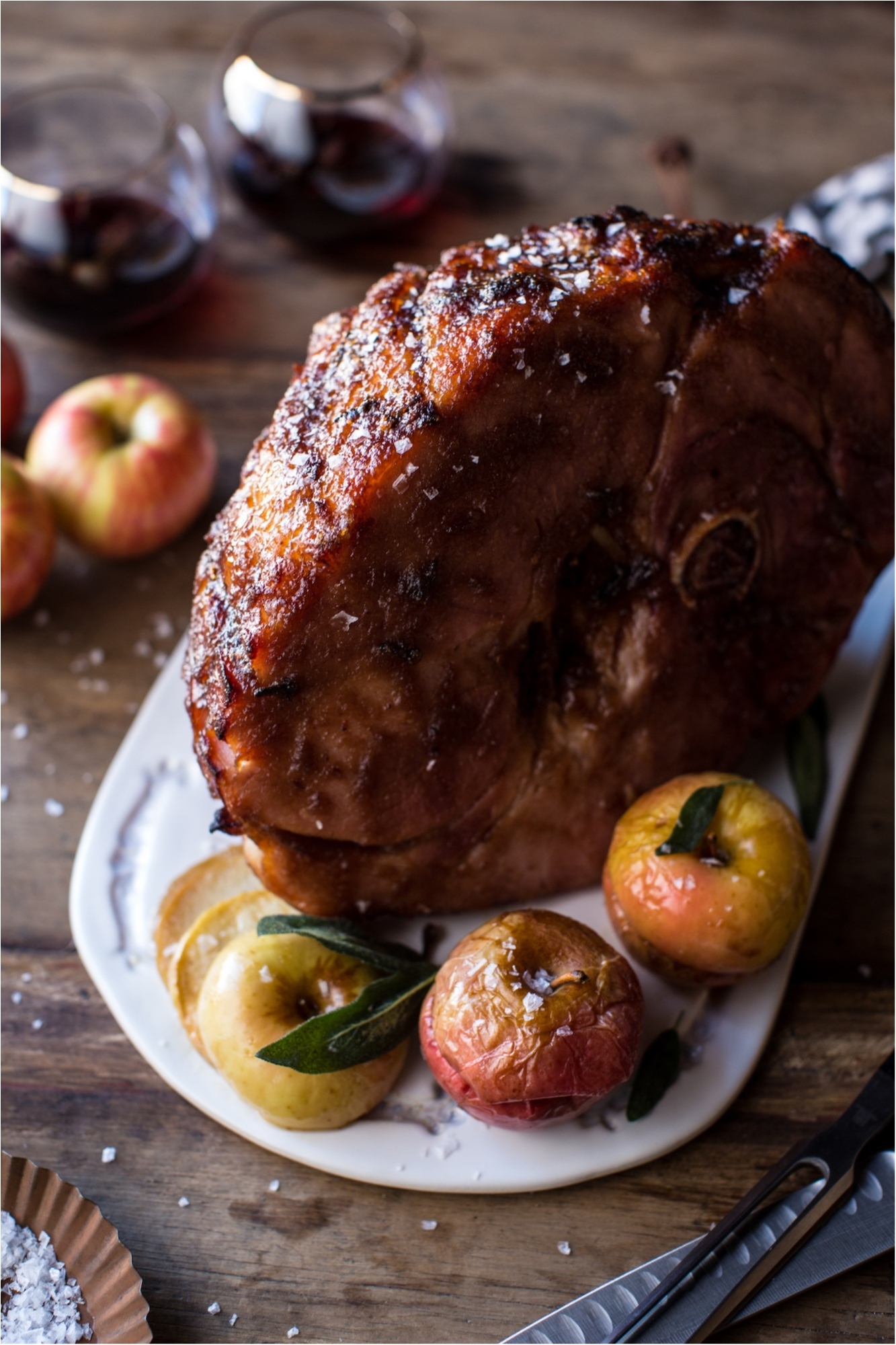 This recipe is so easy, and it's pretty much hands off. All you really need to do is mix together a quick glaze and then let the ham bake in the oven for a few hours. See? Super simple and obviously perfect for busy holidays like Christmas and Easter!!
Oh and you guys, you can't forget to use up the leftovers!! Ham sandwiches with Swiss cheese… maybe some caramelized pineapple too? Or maybe leftover roasted apples… maybe both?! Done and done.
Or you could go the ham pizza route OR maybe a ham and cheese casserole? The possibilities are endless!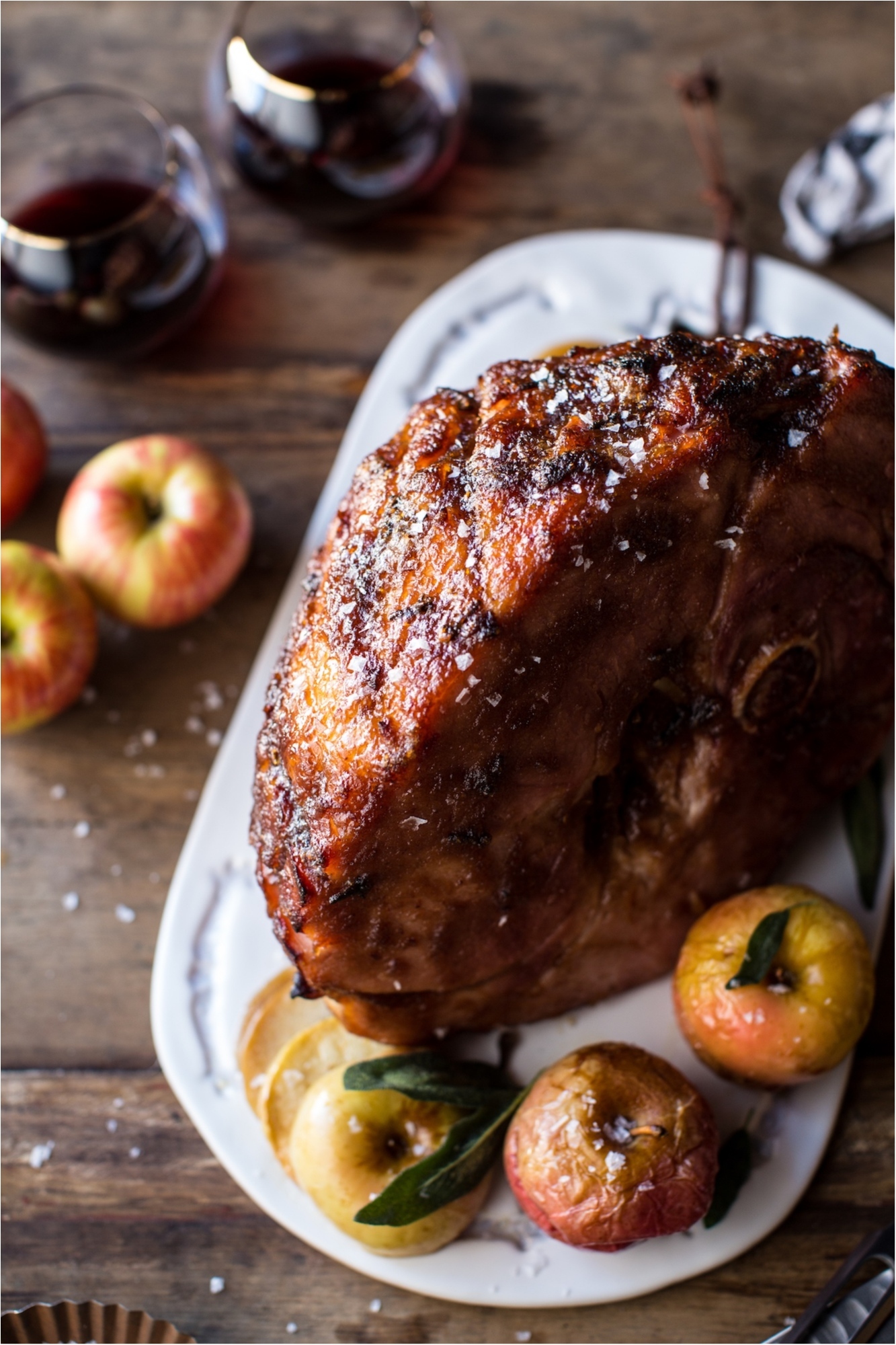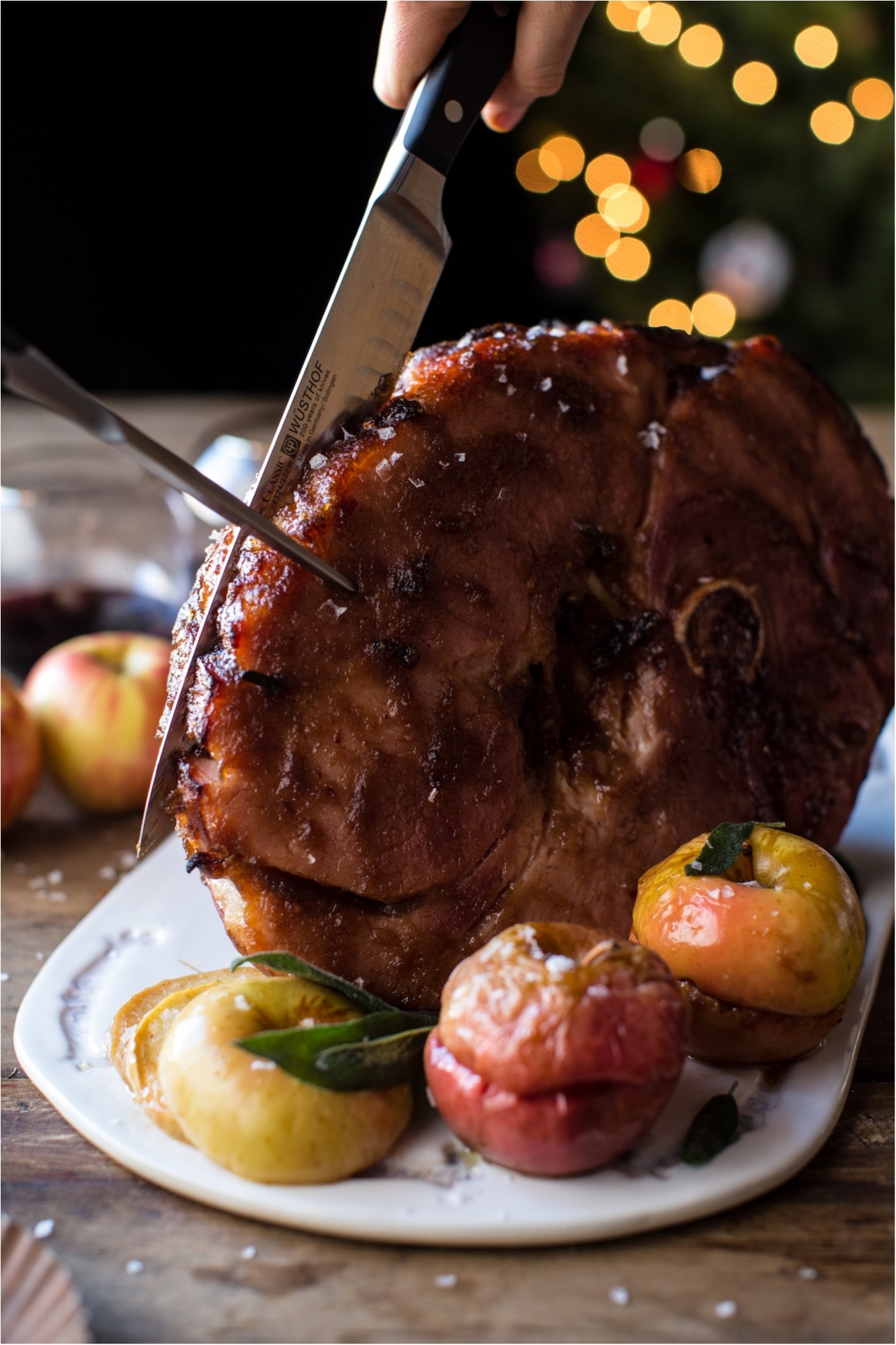 Apple Butter Glazed Ham Recipe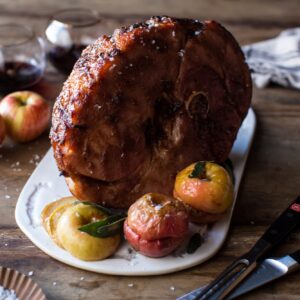 INGREDIENTS
4 honeycrisp apples, sliced into ¼ inch slices
2 cups apple cider
1 (9-11 pound) bone-in smoked ham
1 cup apple butter
¼ cup Dijon mustard
¼ cup brown sugar
¼ cup maple syrup
¼ cup apple cider
1-2 chipotle chilies in adobo, minced
¼ teaspoon ground cloves
2 tablespoons bourbon (optional)
1 tablespoon butter
1 bunch fresh sage
INSTRUCTIONS
Preheat the oven to 350 degrees F. Place an oven rack in the lower third of the oven.
Add the sliced apples and 2 cups apple cider to the bottom of your roasting pan. Add the ham and cover with foil. Bake for 1 to 1 ½ hours or until the ham is heated through.
About 20 minutes before removing the ham from the oven, add the apple butter, mustard, brown sugar, maple syrup, apple cider, chipotle chilies and cloves to a medium saucepan. Bring the mixture to a boil and then reduce the heat and simmer for 5 minutes.
Remove the ham from the oven and brush with the apple butter glaze. Place the ham back in the oven and continue baking for 25-30 minutes or until the ham begins to caramelize on top.
Melt the butter in a skillet. Add the sage leaves. Cook on medium-low for one minute, flip and cook one more minute or until the sage has darkened in color, but is not burnt. Remove from the heat and place on a paper towel lined plate.
Remove the ham from the oven. Carve the ham into thin slices and serve with the roasted apples and fried sage. Enjoy!