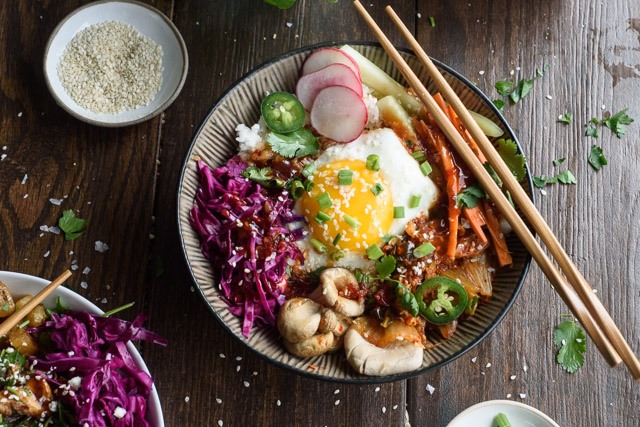 Rice bowls are one of my family's standby meals. Almost any leftover veggies and meat can be tossed together and turned into a delicious easy meal. These are five of our favorite rice bowl ideas that we use all the time.
Huevos Rancheros Rice Bowl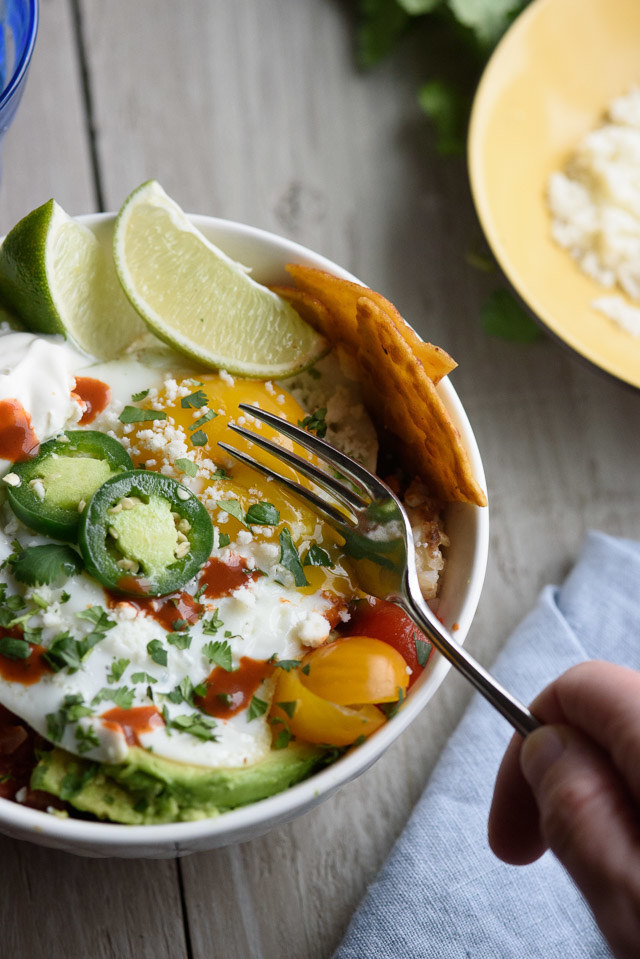 This is probably the number one bowl I fix on a regular basis because our house is always stocked with plenty of eggs and all the Mexican fixings. Super easy to whip together and if you are feeling extra fancy, you can top it with our famous guacamole salsa!
Get the recipe HERE.
Korean Rice Bowl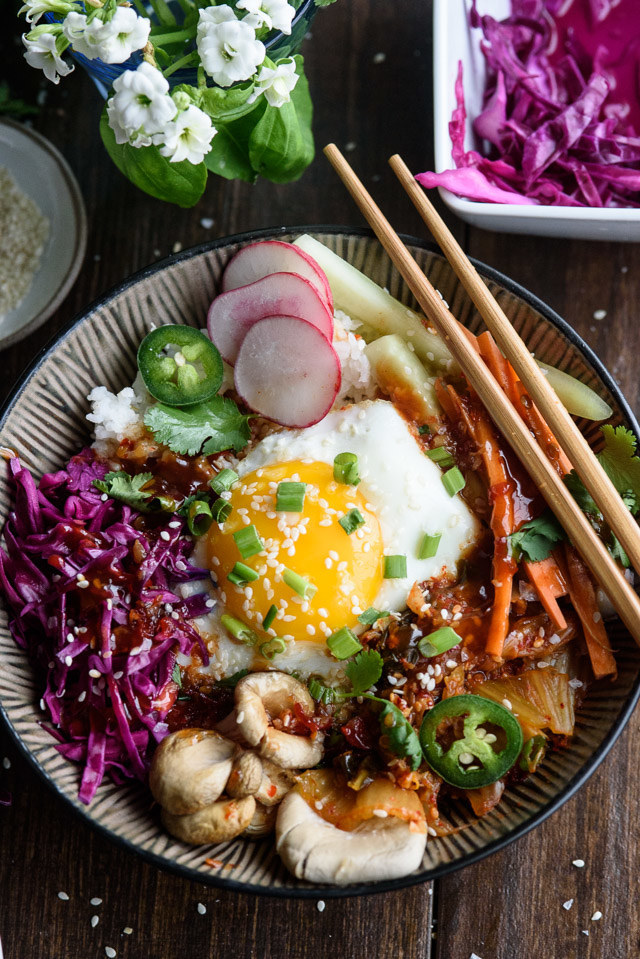 This is one of my all time favorite bowls. It's super similar to bibimbap, but we use a sweet and tangy Asian sauce instead of the spicy sauce so that it's family-friendly and easier to locate in an average grocery store. Tons of veggies, kimchi, and a runny egg. It's perfection!
Get the recipe HERE.
Shrimp Spring Roll Rice Bowl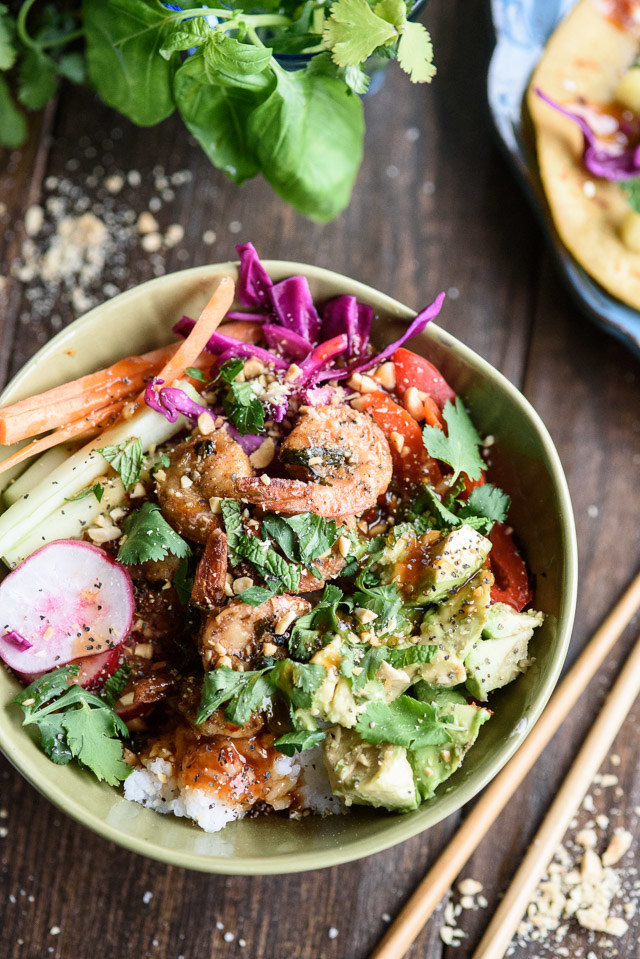 All the flavors of a spring roll packed into a fresh rice bowl. We seasoned our shrimp with a jerk seasoning for an easy, fun twist and top it with basil, cilantro, mint, crunchy peanuts and a sweet chile soy sauce.
Get the recipe HERE.
Tropical Jerk Chicken Rice Bowl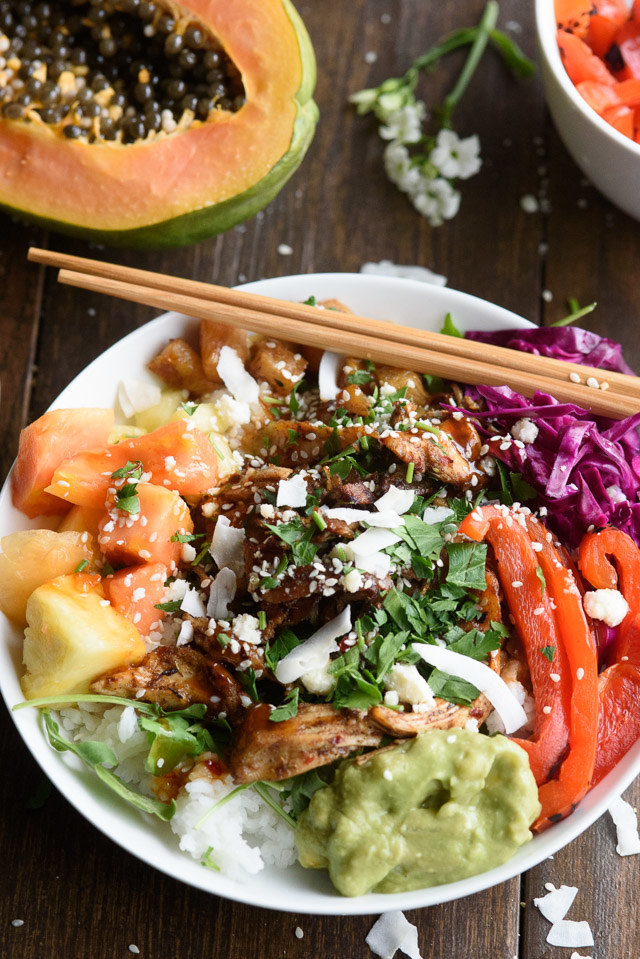 A simple rotisserie chicken is
tossed with olive oil and jerk seasoning and spiced up in a pan with some fresh
pineapple and bell peppers. Served with guacamole, a tangy sauce and some
crunchy coconut flakes.
Get the recipe HERE.
Mexican Sweet Potato Black Bean Rice Bowl
Another great mexican standby this one is perfect for tossing together when all you can find in the house is a can of black beans and a lonely sweet potato. Just being honest here, we eat this one a ton when I'm too tired to think. Great with a runny egg too or any leftover protein you have on hand.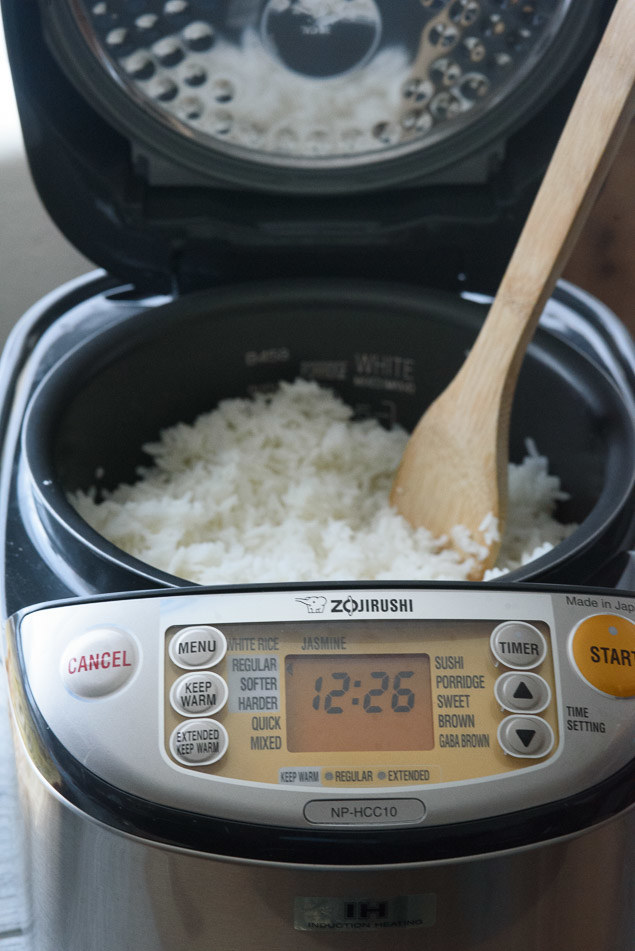 To get started with making your rice bowls we have to start at the basics….rice! Using my Zojirushi Rice Maker is my favorite way to make rice and I love that it has an extended warm feature so if I need to run out for a few minutes or the prep work ends up taking longer my rice is still warm and fluffy without a burned bottom.
Layer in your meat and cooked veggies and then you can get fancy with tossing in a good side of something moist like guacamole or kimchi or a nice scoop of sour cream. Some fresh veggies of some kind are always my favorite and then finally your sauce.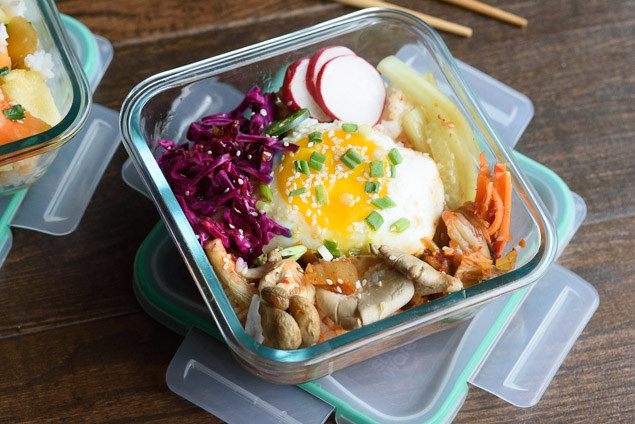 I love taking my rice bowls to work for lunch too! These Snapware to-go containers are my all time favorite. Glass on the bottom so no microwaving in plastic and the tops stay nice and secure all day.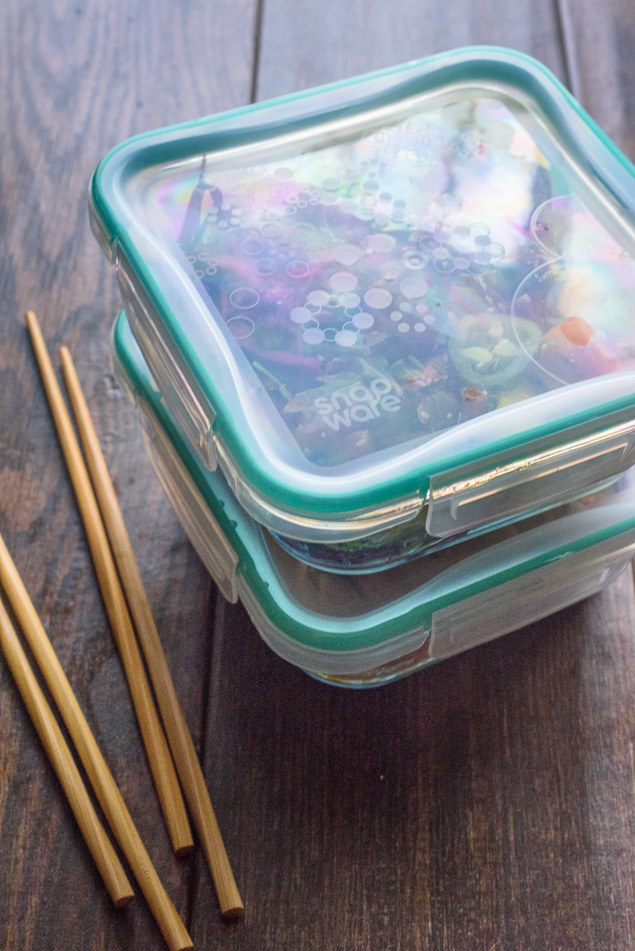 I also really love that the tops are transparent. It makes
it so much easier to grab the rice bowl I want instead of ending up with just a
bunch of leftovers that I just thought was my rice bowl. Ha!
Pro Tip: if you are packing lunches several days in advance,
pack your sauce separately. Also consider packing any kimchi or pickled cabbage
in a baggie, it tends to discolor everything around it and make it look
sketchy.
Mexican Sweet Potato Black Bean Rice Bowl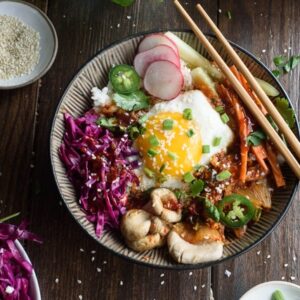 INGREDIENTS
2 cups cooked white or brown rice
1 large sweet potato
½ cup fresh pineapple, small diced
1 jalapenos, sliced
1 red bell pepper, sliced in strips
1 tomato, diced
Chopped cilantro
Cotija cheese
Sliced radishes
Seasoned black beans:
1 can black beans
1 tsp cumin
1 tsp chili powder
Salt and pepper to taste
Avocado Cilantro Sauce
1 large avocado
½ bunch cilantro
½ cup greek yogurt
½ a lime (to taste)
Salt and pepper
INSTRUCTIONS
Pierce sweet potato with fork or knife and microwave on high until just fork tender (not quite baked potato stage). Allow to cool to touch and remove peel and dice sweet potato. In large saute pan add olive oil and sweet potato. Cook until sweet potatoes are crispy.
Blister your red peppers on a gas grill or broil them turning to get all sides evenly. Allow to cool and cut into slices.
Place black beans and ½ of the liquid in small saucepan and season to taste with cumin, chili powder and salt and pepper to taste.
Sauce: blend all ingredients on high. Adjust seasoning to taste.
Assembly: Portion cooked rice into two bowls and top each bowl with black beans, sweet potatoes and red bell pepper slices. Add pineapple, jalapeno slices, tomato, sliced radishes, cotija cheese, chopped cilantro and avocado cilantro sauce.