This Pan Lets You Make Two Pies At Once (For When You Have a Divided Household)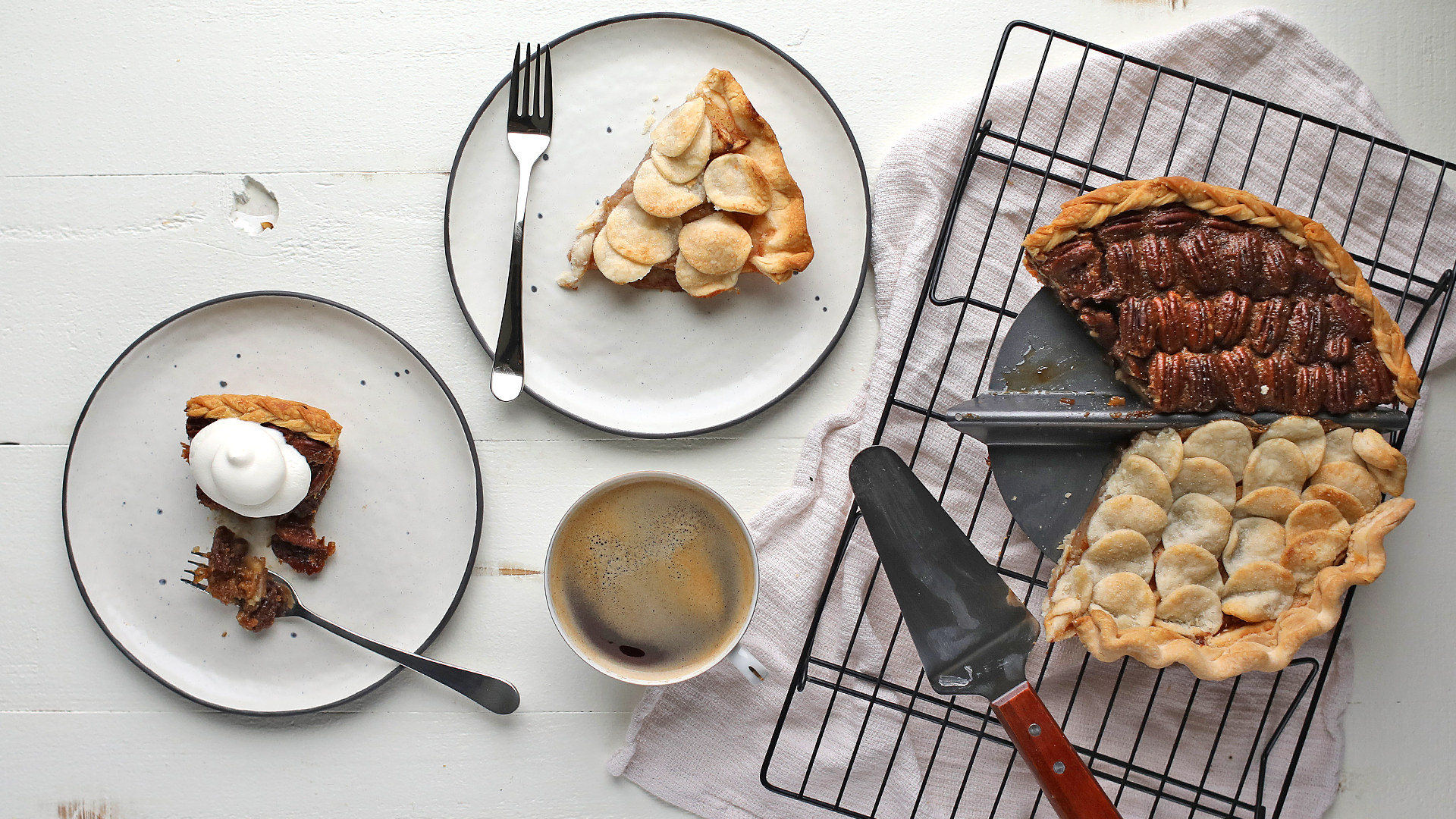 When it comes to making pies I usually just bake the one I'm craving without thinking twice… That is until I discovered that you can make two pies in one pan. Seriously, this is not a joke. There is a pan with a removable bottom which will allow you to bake a normal pie and then it also comes with an insert that splits the pie in half so you can make two. Honestly, it's the coolest thing I've seen in awhile. Now because of this genius idea, I figured I would make my two favorite pies: apple and pecan.
I like to eat really simple foods, believe it or not, and mostly just save my fancy cooking to serve others. I think it just comes down to the fact that I am cooking all day and often don't want to eat it when it's finished, that is unless it's a dessert or a plain, good old-fashioned recipe. Apple pie and pecan pie cover both of these criteria which guarantees that I'll be eating them.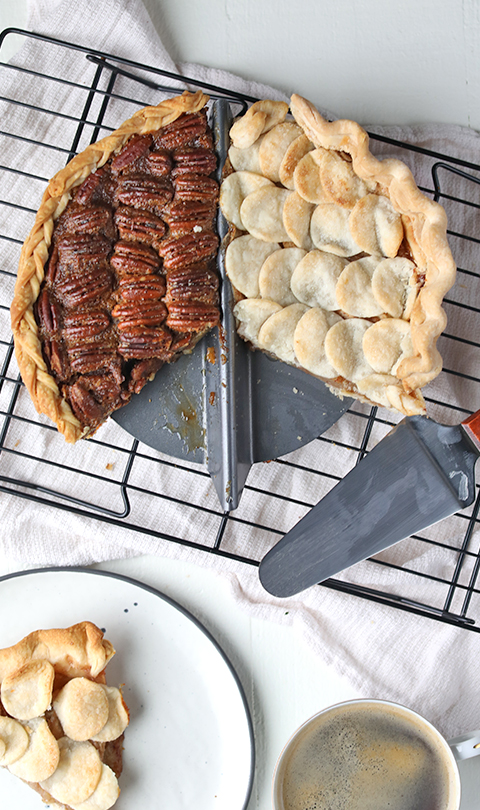 When it comes to using this Split Decision Pie Pan from Chicago Metallic, you just want to make sure that the filling isn't overly runny or else you will suffer the chance for it to leak out of the bottom. Both of these pies held well before putting it in the oven and did not leak. I only tell you this just in case you are thinking of making a cherry or blueberry pie where things can run out a little bit.
You may have noticed from the video that I had some fun with the pecan pie crust as well as the crust topping for the apple pie. You absolutely do not have to go that in depth, I just thought it would be fun to try something a little new.
For the crust. you can use pre-made dough or make your own, both will work fine. The part that may seem a little odd in this split pie pan is molding the crust to the pie pan. I first folded the pie dough over the center because I wanted to ensure there was a enough of it to cover the pan, and then before I added the filling I sliced off that portion because you have to treat the pan as if the pie is already cut in half. There isn't a magic pie crust running through the center of a pie, but in case you want to get crafty be my guest!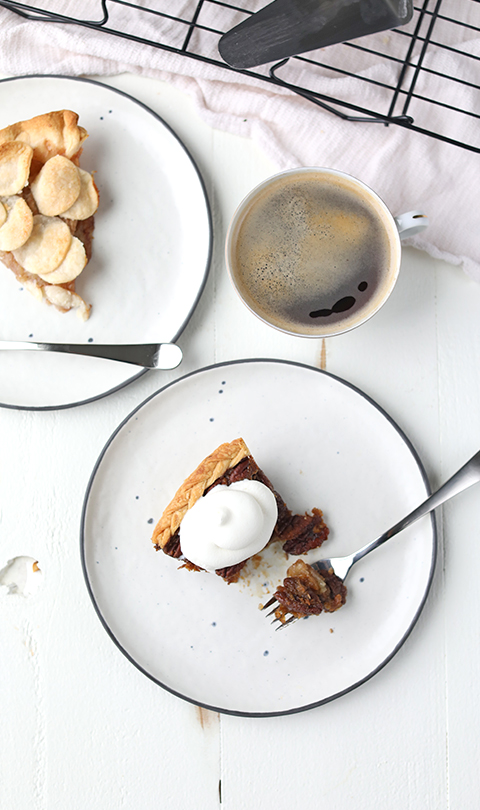 The fillings for these pies are really basic and simple making it easy and fun to cook. If you are like me and my family and love variety when it comes to eating, then this pie pan is definitely for you. Just think of the many different pie possibilities during the summer months, or even doing side by side tests of slightly different apples. Ok that last part was just me being a nerd and over evaluating way to much when it comes to pies. Happy baking guys!
Apple and Pecan Pie in a Split Decision Pie Pan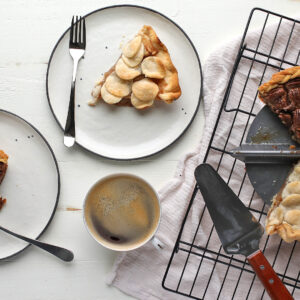 INGREDIENTS
For the Apple Pie:
1 premade pie dough, rolled out
4 peeled, cored and thinly sliced granny smith apples
½ teaspoon of cinnamon
2 tablespoons of sugar + more for garnish
Juice of 1 lemon
1 ounce of melted unsalted butter
For the Pecan Pie:

1 premade pie dough, rolled out
2 eggs
2/3 cup of packed light brown sugar
Zest of ½ orange
1 teaspoon of vanilla
1/3 cup of corn syrup
2 ounces of melted unsalted butter
1 ½ cups of pecan halves
INSTRUCTIONS
Preheat the oven to 375°.
Apple: Cut the pie dough in half and mold the pie dough to the ½ insert of the split pie pan and fold up the sides and pinch around the outside to make a wavy crust. Using a small circle round cutter, make circles using the other half of the pie dough. Set aside.
In a medium size bowl mix together the apples, cinnamon, sugar and lemon juice. Pour the mixture into the ½ pie insert with the pie dough. Top off by layering on the circle rounds. Brush with butter and sprinkle on sugar.
Pecan: Cut the pie dough in half and mold the pie dough to the ½ insert of the split pie pan and fold up the sides and trim any access. Cut 6 skinny long pieces of dough using the other half of the pie dough. Make a braid weaving 3 pieces of dough at a time and mold it to the top outside crust of the ½ insert of the split pie pan.
In a medium size bowl whisk together the eggs, brown sugar, orange zest, vanilla, corn syrup and melted butter.
Pour ¾ of the mixture into the ½ pie insert with the braided crust. Add in pecans and arrange so that they are overlapping and uniform. Pour the remaining ¼ mixture over top. Brush the outside braided crust with melted butter.
Bake the pies in the oven for 1 hour. Cover with foil after 25 minutes.
Let the pies cool completely before serving.