These Air-Fried Fish Tacos Are Beer Battered in Corona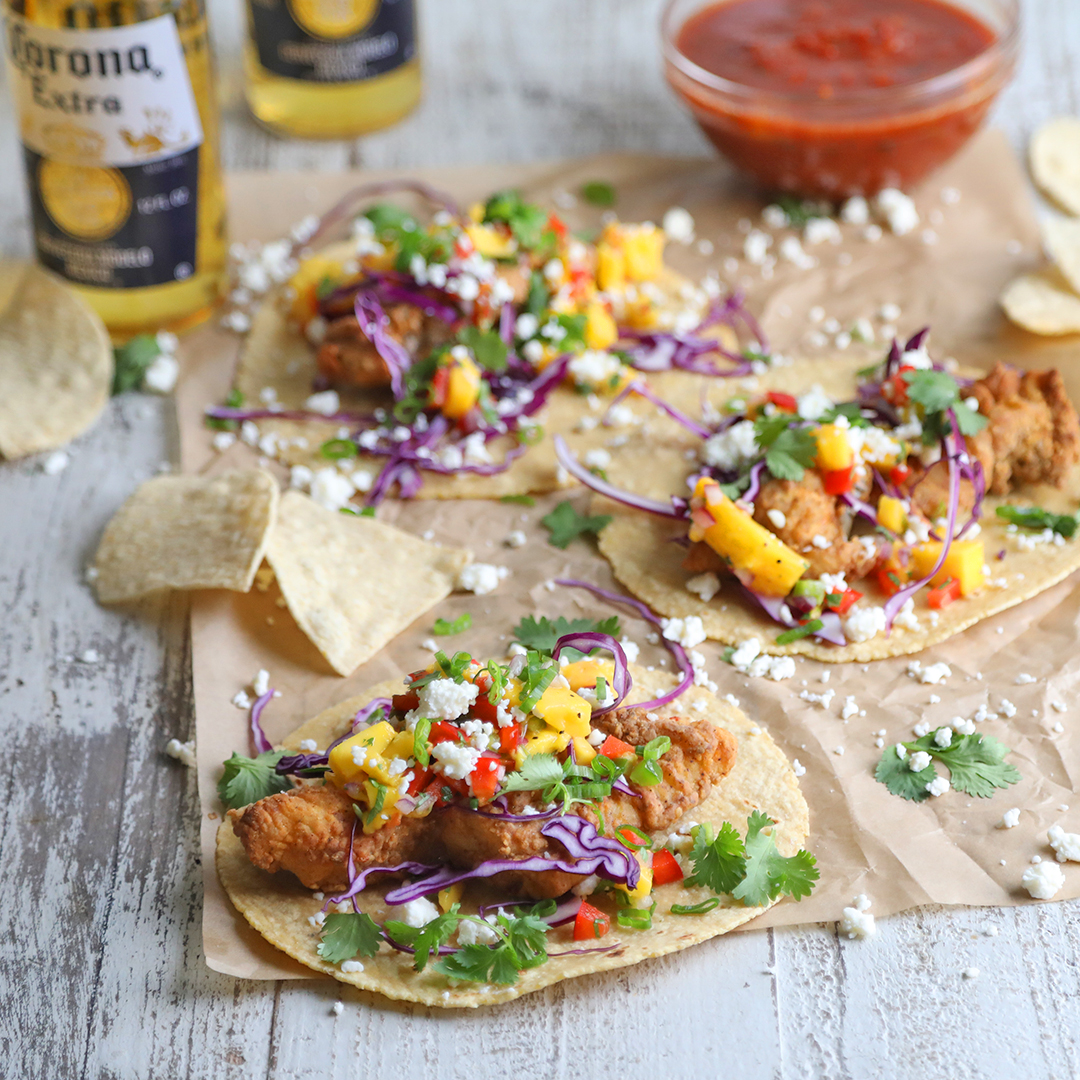 When I think Coronas and fish tacos, I think warm weather.
This recipe for Air Fryer Beer Battered Fish Tacos with Mango Salsa bring a little taste of summer to the kitchen, any time of year!
Fish tacos can definitely be made a few different ways. You can marinade the fish before cooking, you can give it a rub beforehand, or you can bread it up and cook it. You can also grill, sauté or fry the fish as well, depending on what kind of fish taco flavor you are looking for. But if you are anything like me and love rich flavor but can do without all the fat, then the air-fryer may just be for you.
Air fryers are really easy to use, you just have to remember that to get a golden-brown color to your food, you need to spray the rack and the top of the food with some non-stick spray. It works like a champ and is so dang tasty.
Check out some of our other favorite air-fried recipes: Low-Fat Air-Fried Doughnuts, Air-Fried Spicy Chicken Fingers and Healthy Patatas Bravas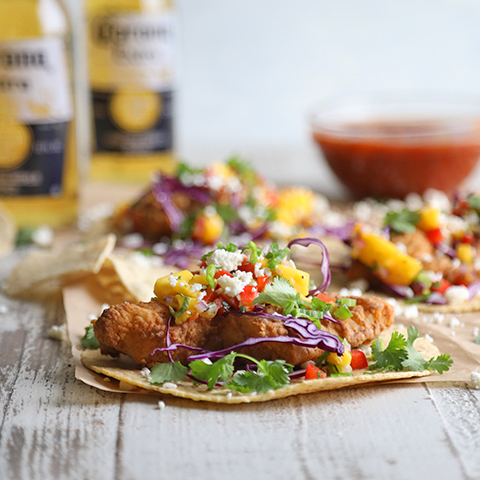 If you are looking to get into some summer goodness, these air-fried fish tacos are your next stop! Happy Air-Frying!
Air-Fried Beer Battered Fish Tacos with Mango Salsa Recipe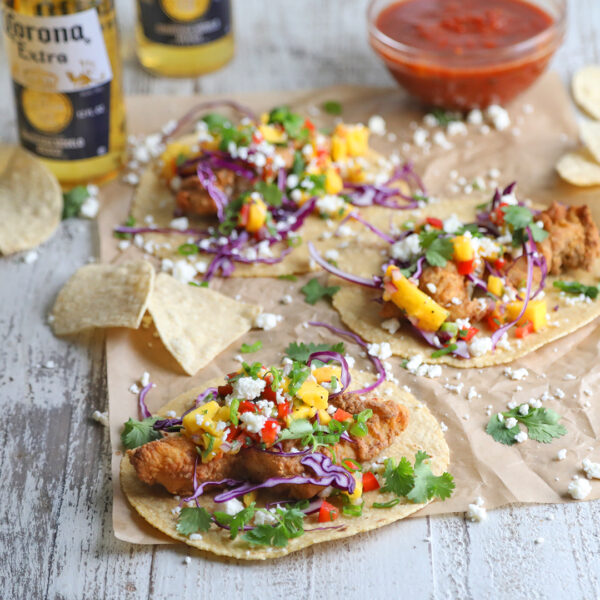 INGREDIENTS
For the Fish:

2 eggs
10 ounces of Mexican beer
1 ½ cups of corn starch
1 ½ cups of flour
½ tablespoon of chili powder
1 tablespoon of cumin
Kosher salt and fresh cracked pepper to taste
1 pound of cod cut into large pieces
Non-stick spray
For the Salsa & to Make the Taco:
3 peeled and medium-diced mangos
½ peeled, seeded and small diced red bell pepper
1 peeled, seeded and small diced jalapeño
½ peeled and small diced red onion
1 tablespoon of chopped fresh cilantro
Juice of 1 lime
Kosher salt and fresh cracked pepper to taste
½ thinly sliced head of red cabbage
Soft corn tortillas
Crumbled queso fresco for garnish
Sliced green onions and cilantro leaves for garnish
INSTRUCTIONS
For the Salsa: Combine the mangos, peppers, onion, chopped cilantro, lime juice together in a medium size bowl and mix. Refrigerate until ready to serve.
For the Fish:
In a medium size bowl whisk together the eggs and beer and set aside.
In a separate medium bowl whisk together the cornstarch, flour, chili powder, cumin, salt and pepper.
Coat the fish in the egg-beer mixture and transfer it to the flour mixture and dredge to completely coat on all sides.
Spray the bottom of the air-fryer basket with no-stick spray and place in the fish and spray the tops of the fish with no-stick spray.
Cook at 375° for 15 minutes.
To Plate: Place the air-fried fish on a corn tortilla and top off with cabbage, salsa, queso fresco, green onions and cilantro.