Add a Dash of Country Charm to Your Easter Brunch Table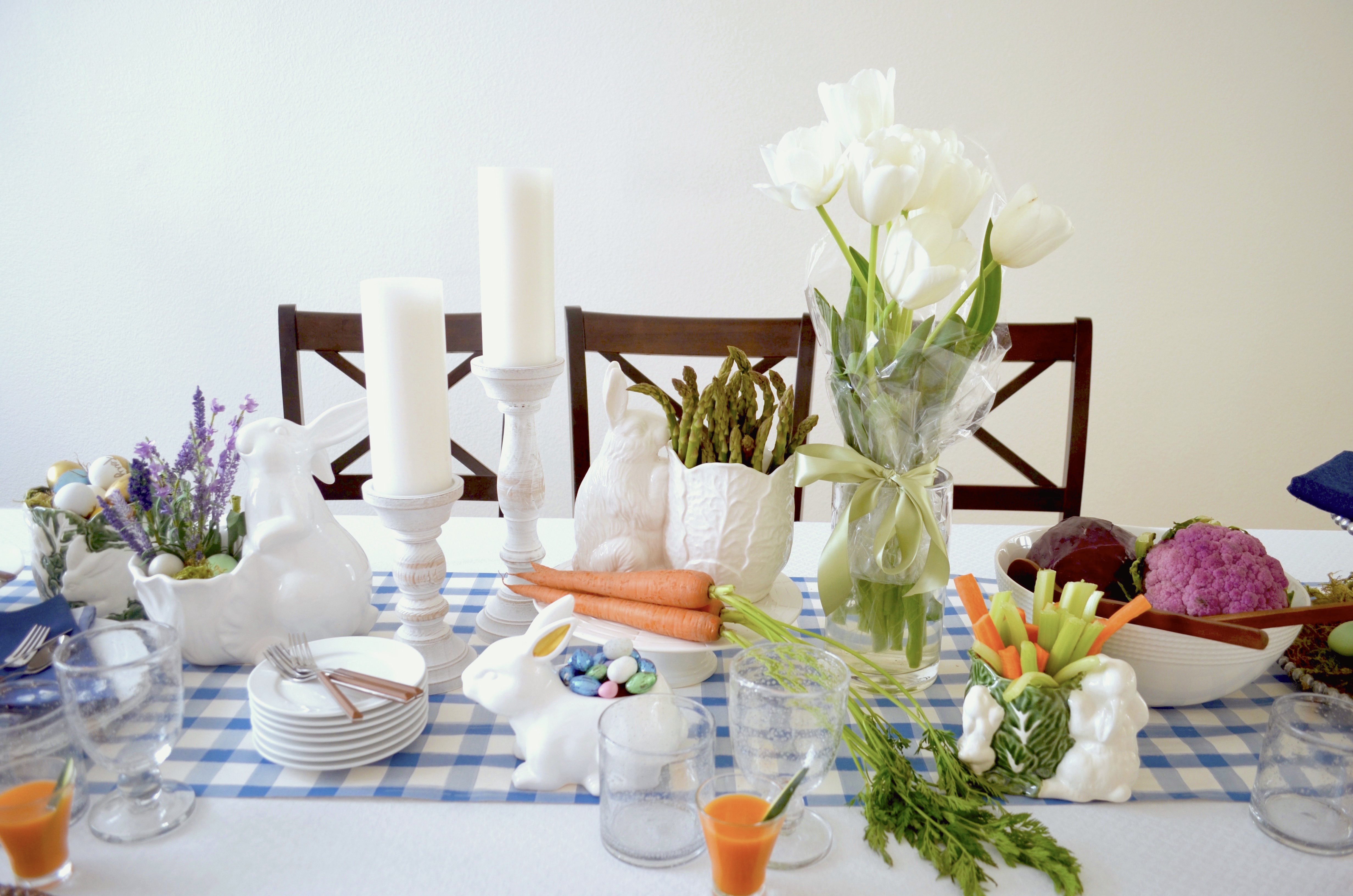 Spring is finally here and Easter is around the corner.
It's one of those holidays we enjoy celebrating for the kids, as well as the kid in all of us. With spring and pastel everything all around, Easter is just so easy to love.
Next to an Easter basket filled with chocolate, my favorite thing about Easter is hosting brunch, because… brunch! Here are a few of my tips to set the table for your spring fête.
GET INSPIRED:
I'm inspired by all kinds of things and a lot of the time, something just grabs me while I'm out shopping. Sometimes it's dinnerware, colorful linens, or it can even be a simple printed napkin I fall in love with.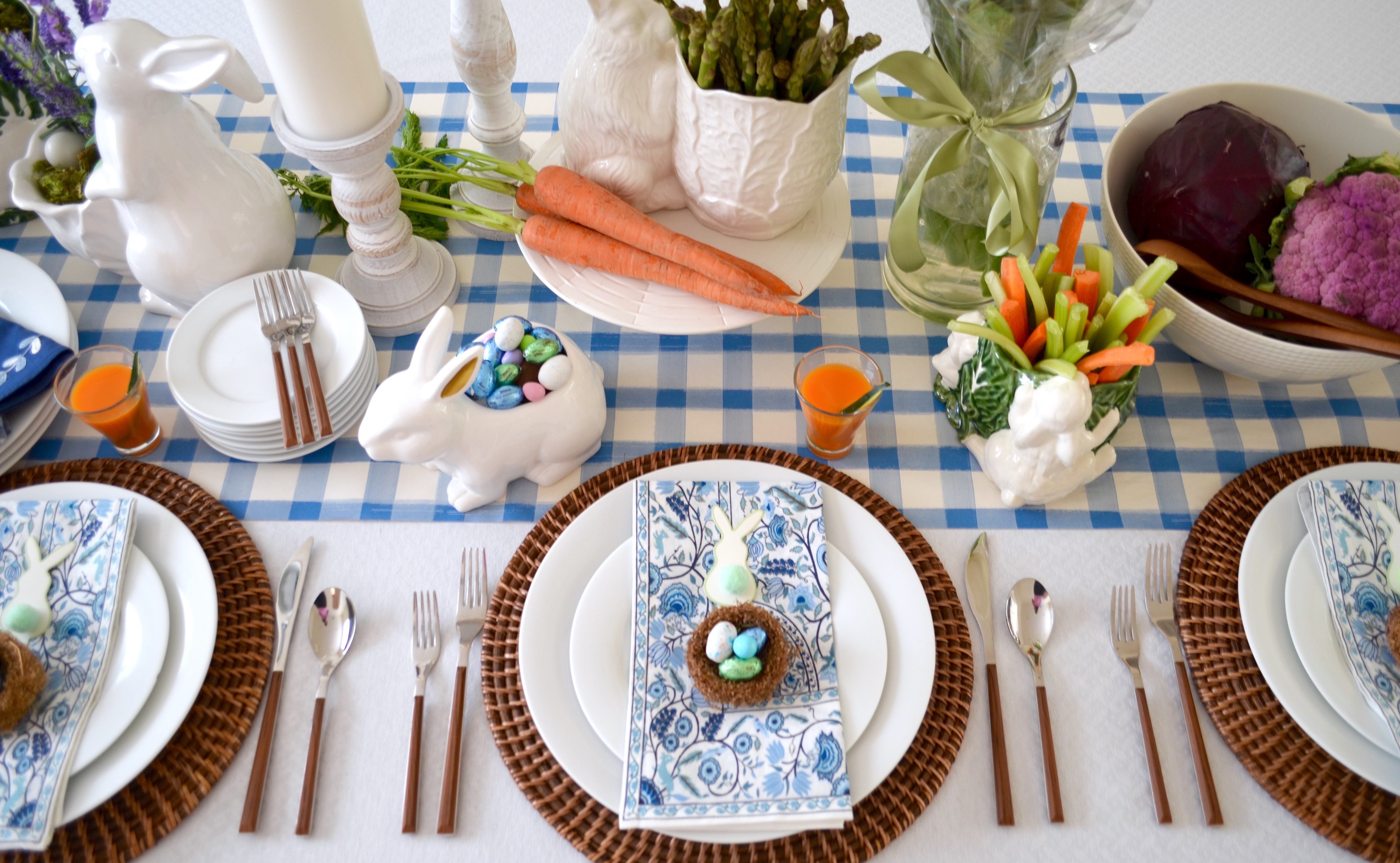 For this holiday, I was inspired by the cuteness of all the white ceramic bunnies I found, so I "collected" them for about a week from everywhere I went (you know, HomeGoods, Marshalls, Target), and used them as my focal point to add a dash of country charm to this year's Easter table. I found the adorable candy dishes with the gold ears at Target for $3. A steal! I knew I should have grabbed more because they were gone in a flash.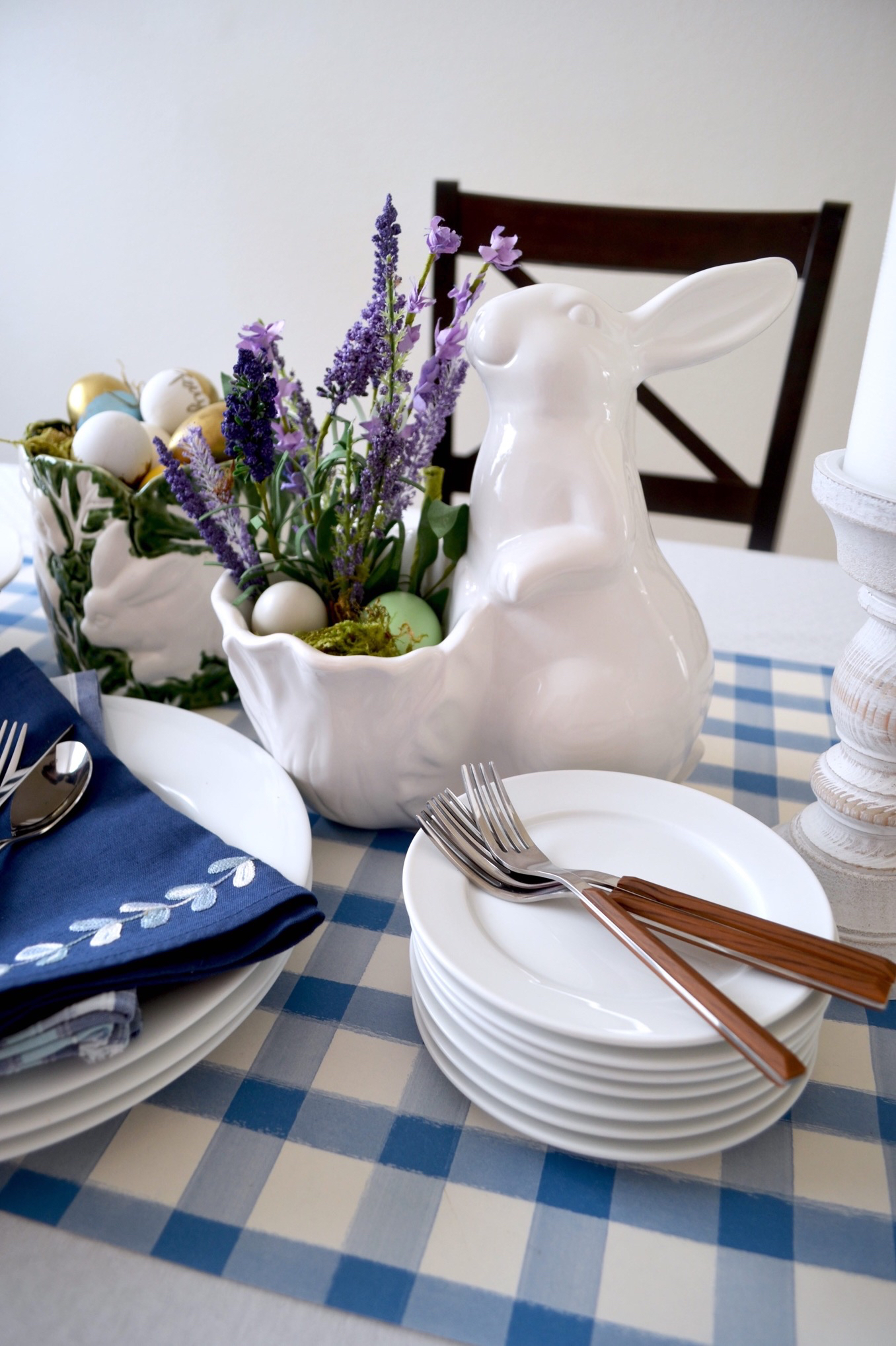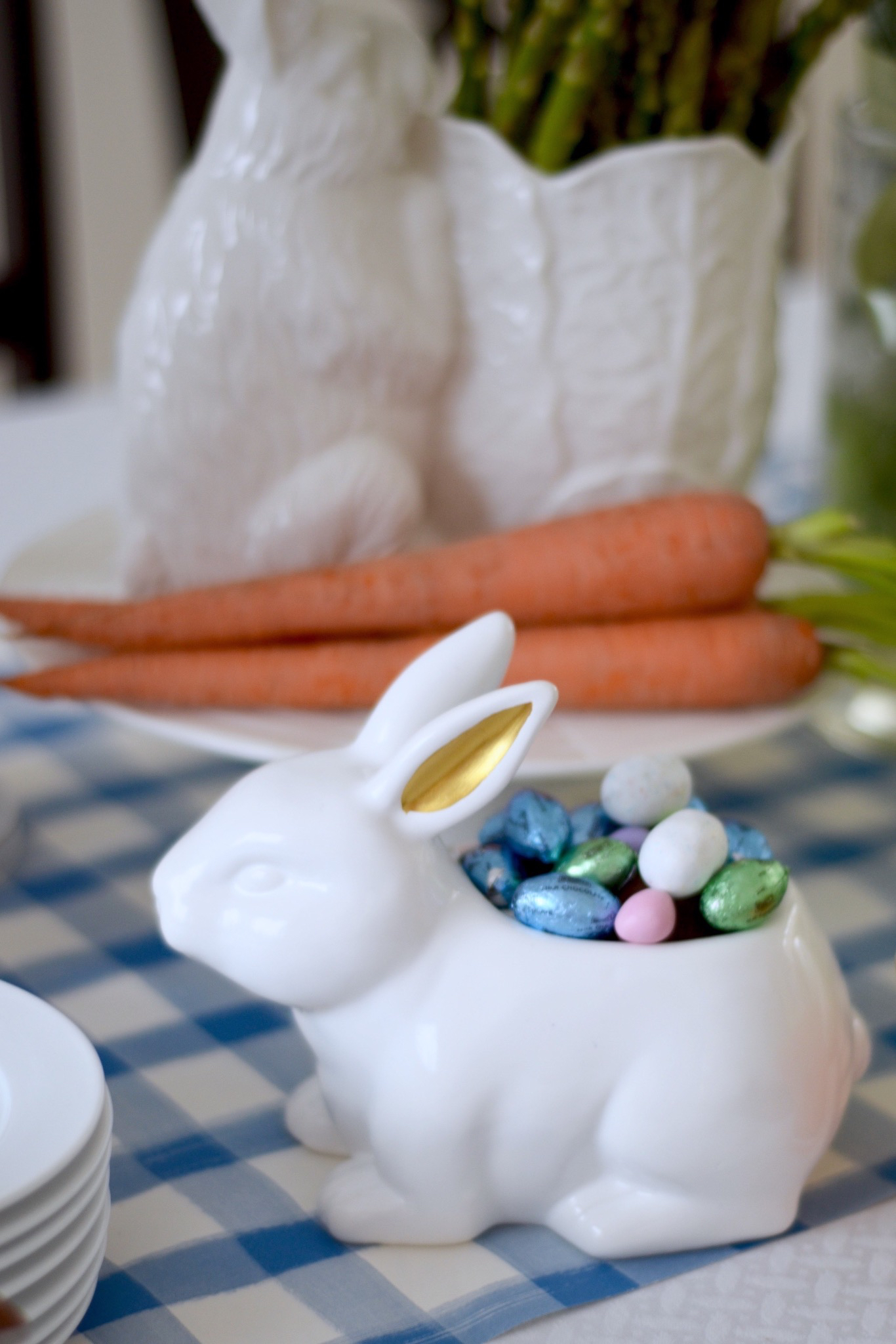 CREATE A RUNNER:
The thing about using white ceramic décor on your table is, it goes with any color dishes or flatware and you can pull in just about anything you already have at home to fill in any gaps. I like to use white cake pedestals for risers, or stack appetizer plates with extra napkins and flatware, and use bowls for crudité and scattering bowls of colored eggs down the table. And, white candlesticks are just simple magic for any table.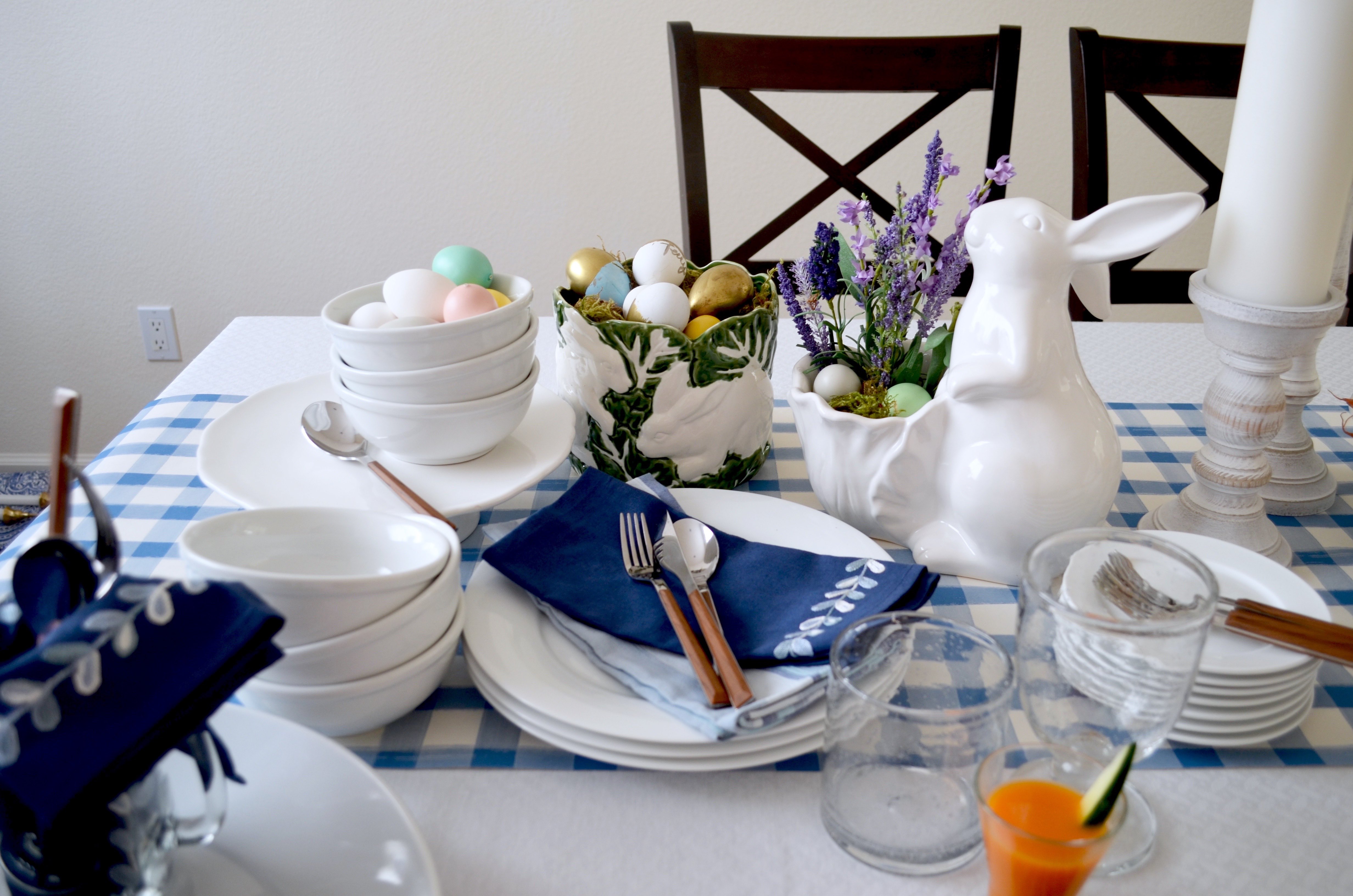 To create this country charm, I began with this blue and white check paper runner. Of course, you could use any runner that works with your color palette. From there I suggest to use your imagination and just go at it. It's such a perfect time of the year to add flowers and fresh vegetables. They speak spring and they bring such color to the table.
Sprinkle Easter eggs, chocolates and candy for a grand finale.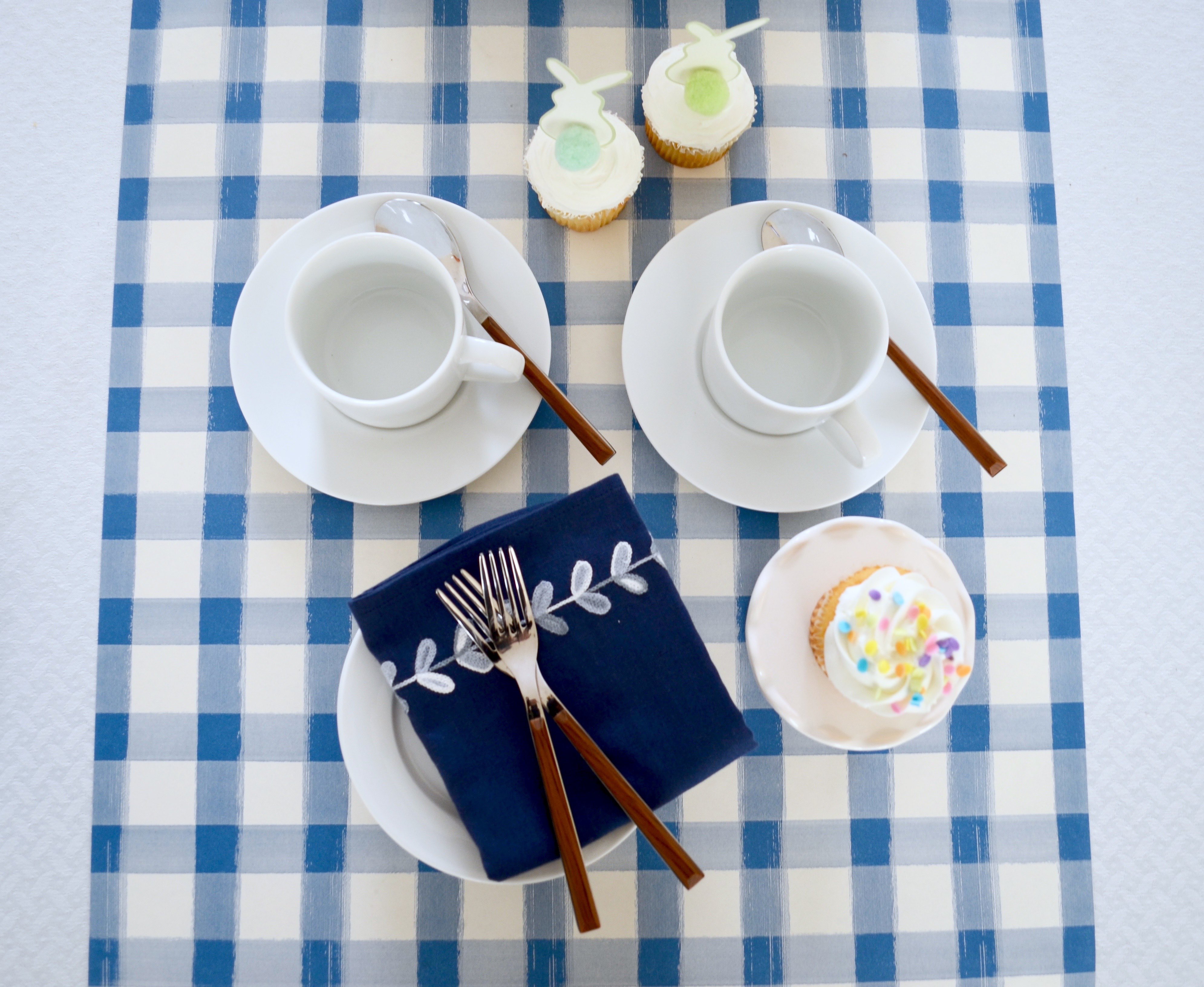 PLACESETTINGS:
Since I was working toward a rustic chic look, I added rattan placemats; wood handled flatware and let these blue paisley printed napkins be the main attraction at each place setting. For a little extra Easter cuteness, I added mini birds nests, with robin egg candies and tucked in a paper bunny with a cottontail. The bunnies could also be used for name cards, but I wanted to keep the seating open. Don't let that stop you, though. Bubble glass goblets and DOF's keep things casual and any liquid ice cold.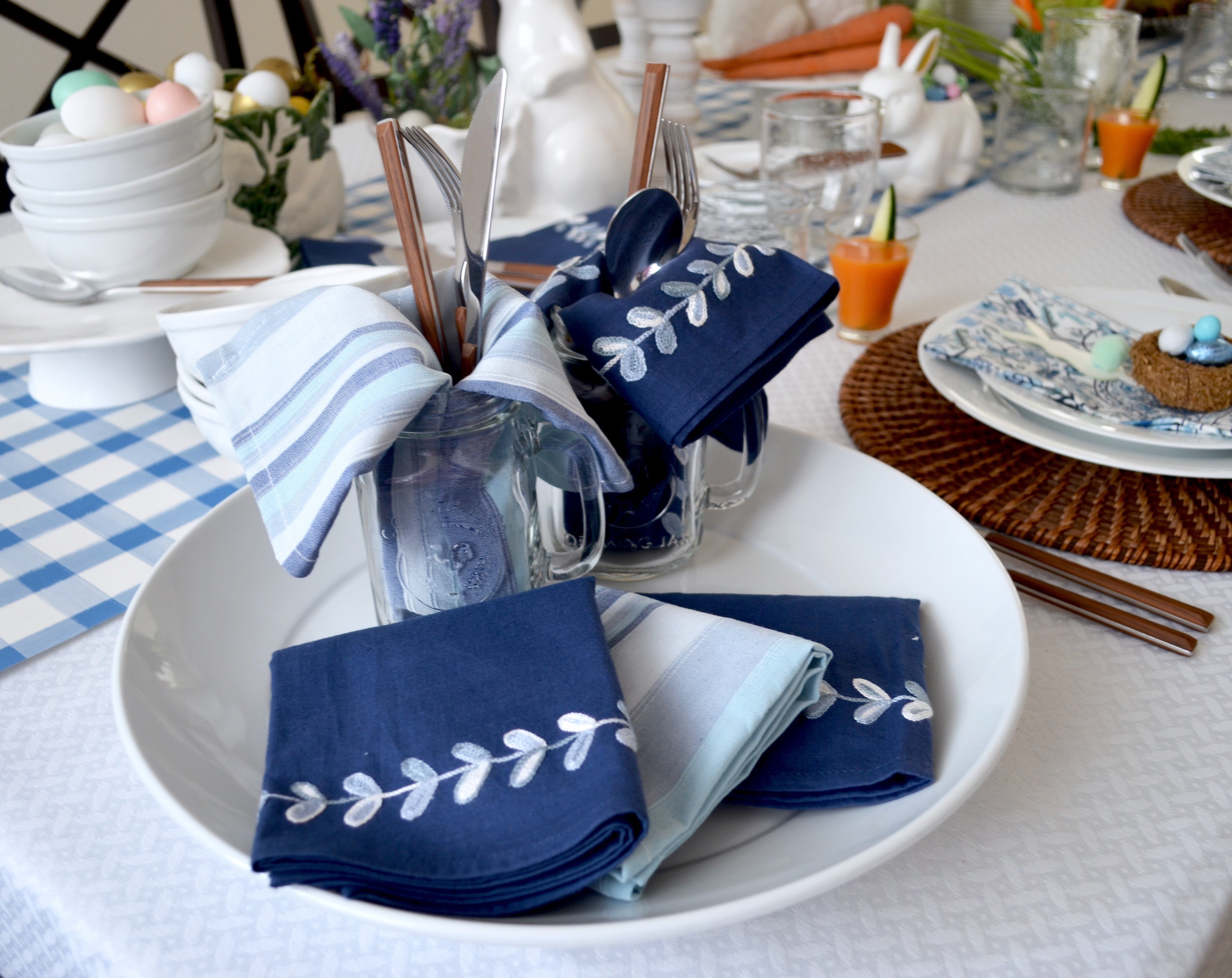 COCKTAILS:
I'm big on greeting my guests with a glass of bubbly and it has become a tradition at my house. Add a signature cocktail to the menu and you're set for some easy hosting. In my book, Carrot-Orange Cocktails are simply Easter perfection in a glass and the color is, WOW! Offer a non-alcoholic version and the original version made with Cynar, my new favorite Italian liqueur. Serve in mini-cordial tumblers and garnish with fresh baby carrots, a cucumber slice or fresh asparagus. You can prep the juice ahead and store it in Lock Eat juice jars, which are also perfect for juice bars.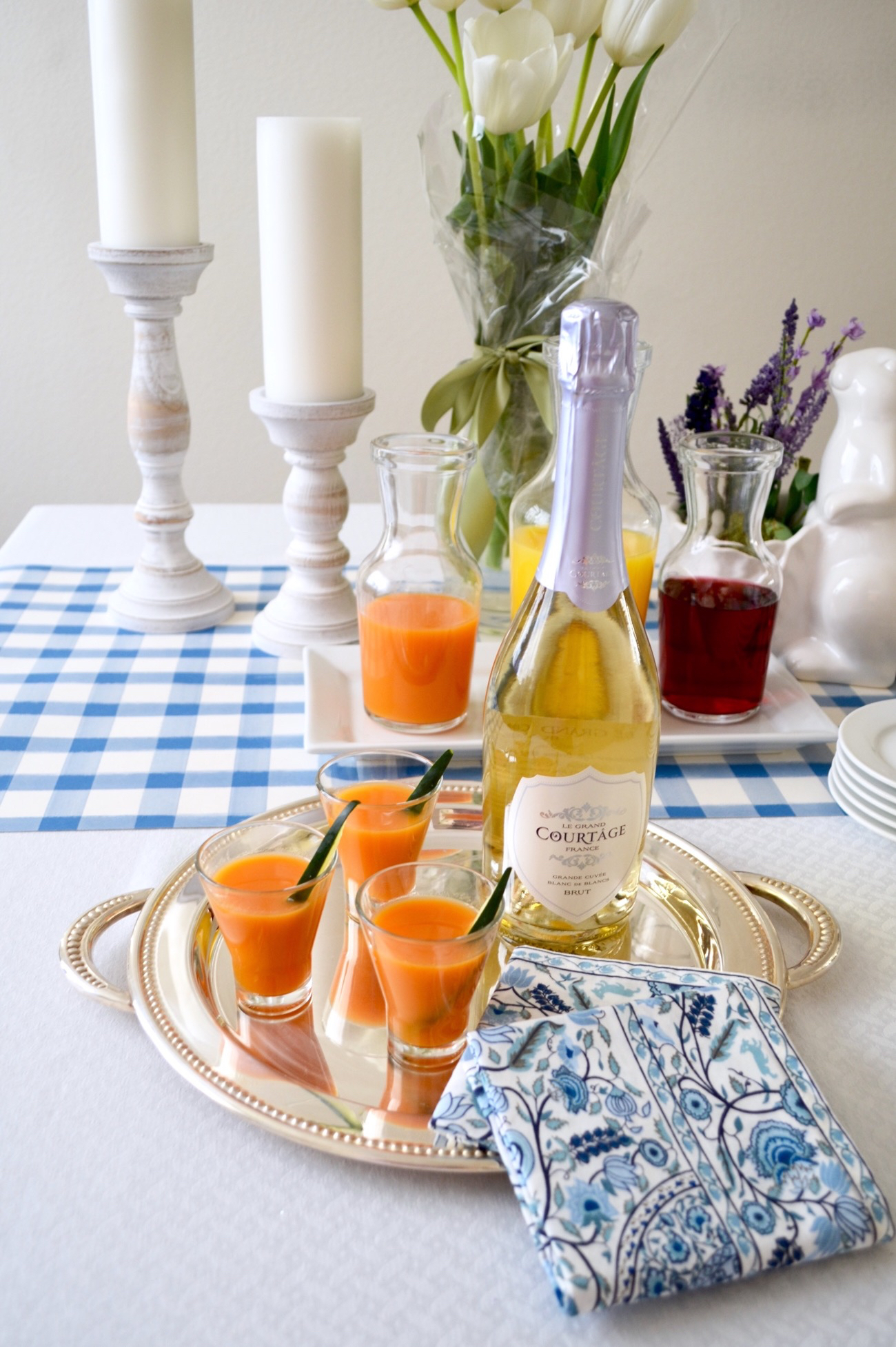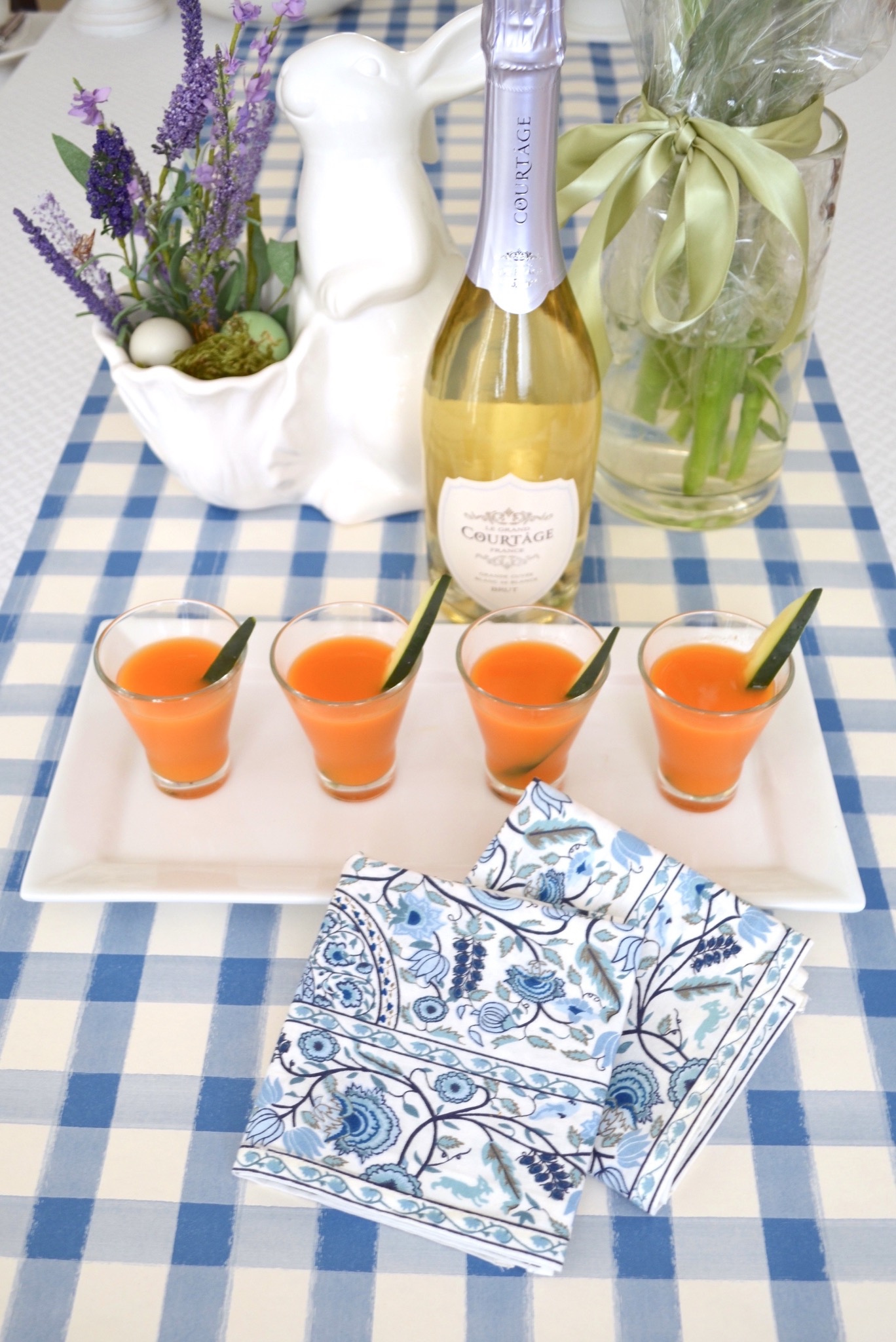 All the elements of this table are simple and there's really no right or wrong. Start with a color theme, mix and match pastels, go blue and white or think pink. Remember, flowers are an easy way to bring the magic alive and your family is really what makes your table come together.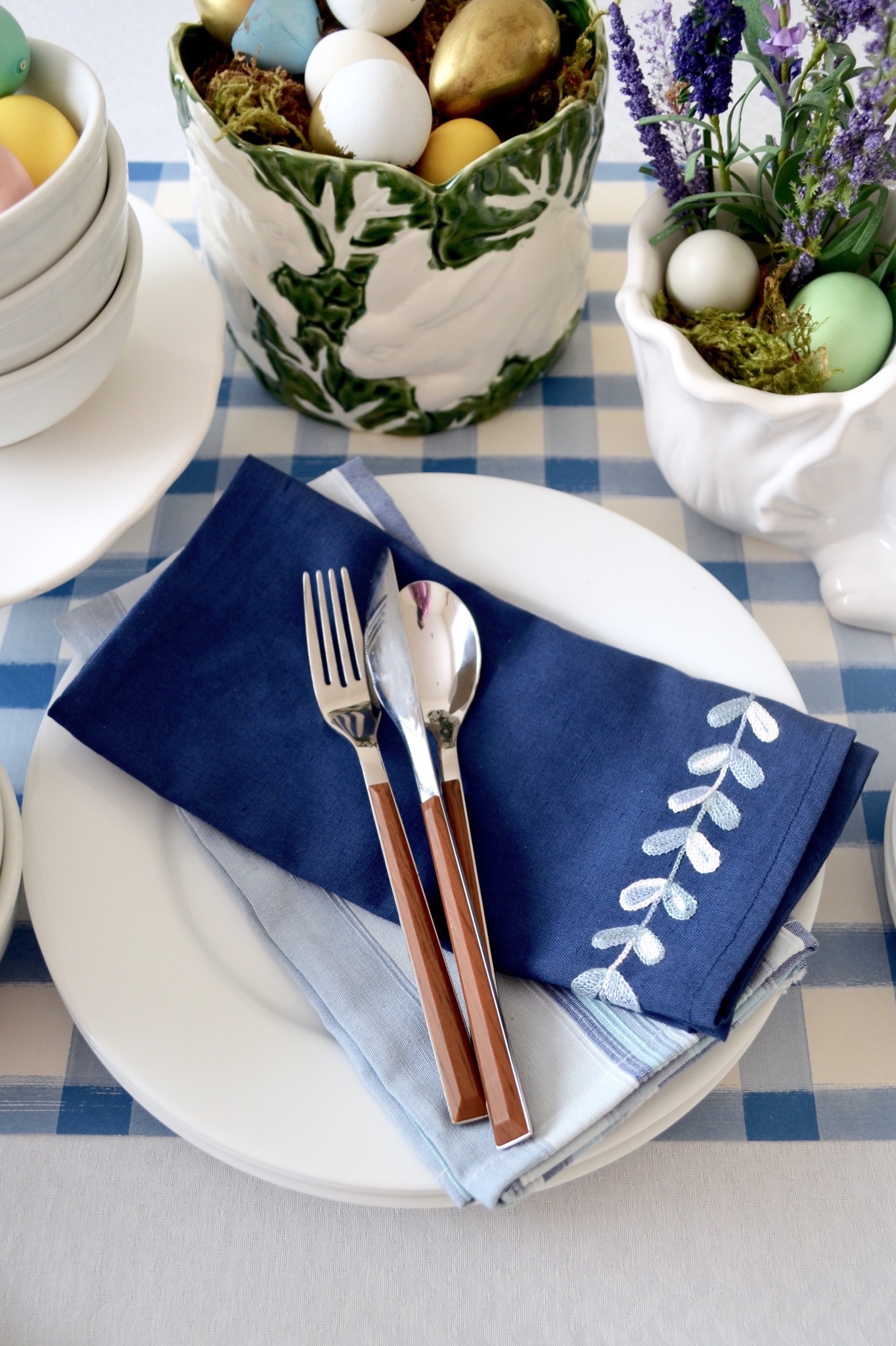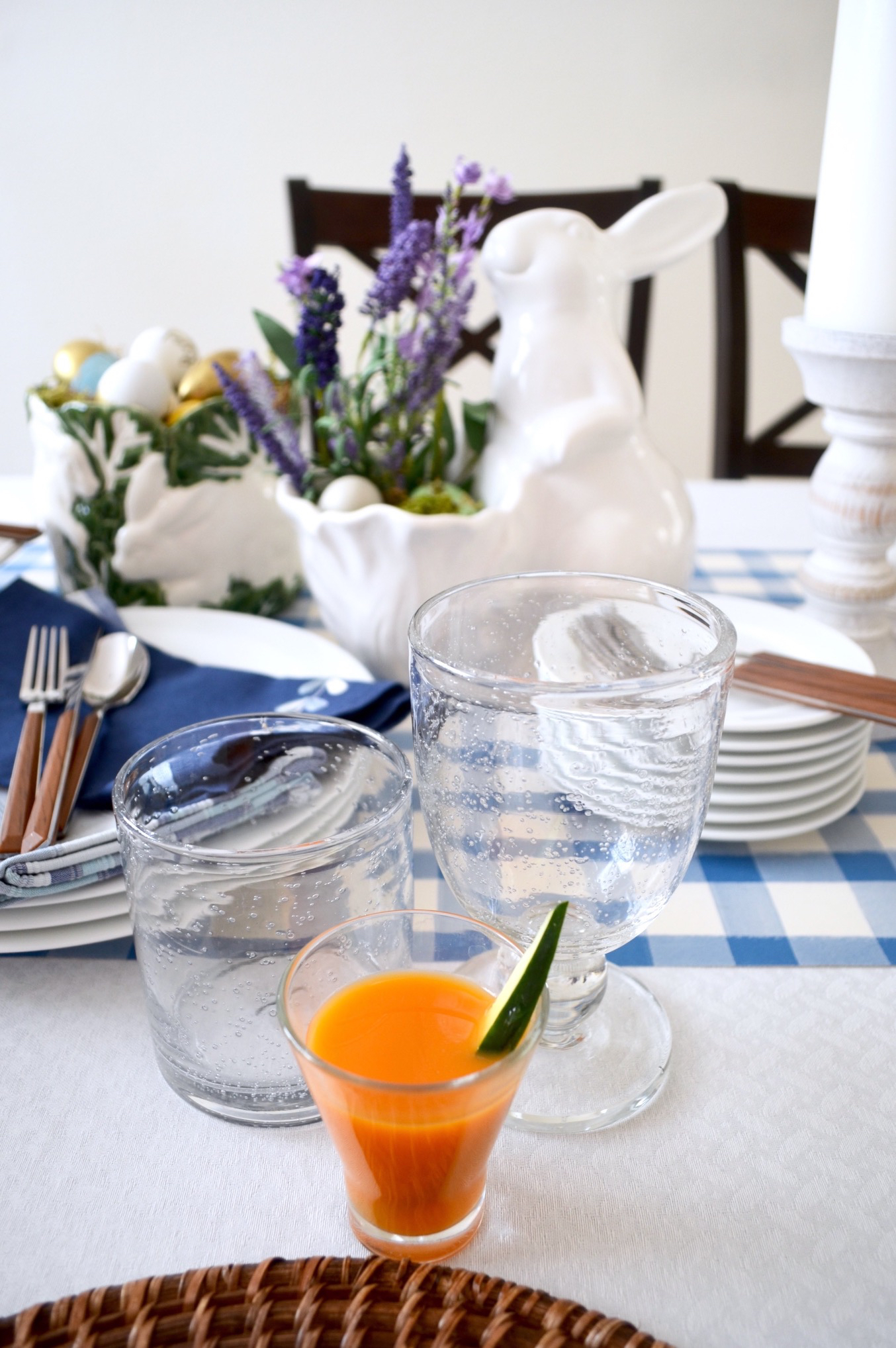 If you happen to be in the neighborhood, stop by for that glass of bubbly and in the meantime, here's the recipe to create your own Rustic Easter Brunch Table:
Bunny With Lettuce Backpack
Bunny Candy Dish
Candlesticks
Printed or floral runner
From my table to yours, Happy Easter, my little bunnies.
xx, Deborah