Take the Stress Out of Drinks with This Winter Spiced Make-Ahead Cocktail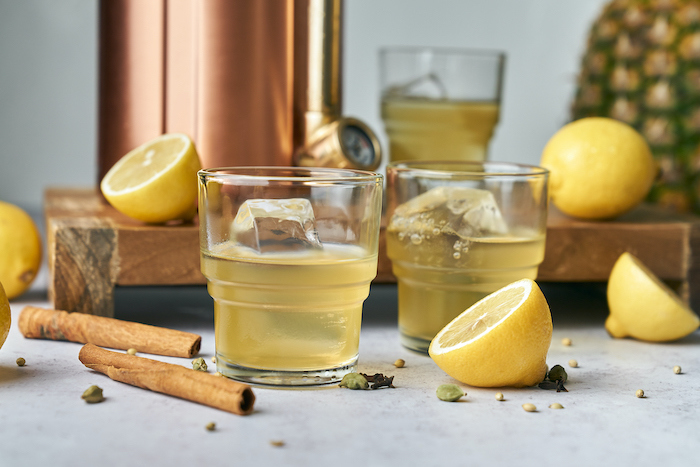 This batch, make-ahead cocktail takes sharp ingredients like lemon juice, pineapple, and tea, and rounds out the flavors to produce a spiced, clear drink with a hint of carbonation. Take the stress out of drinks for a crowd while maintaining your "Martha" status with this fascinating cocktail technique.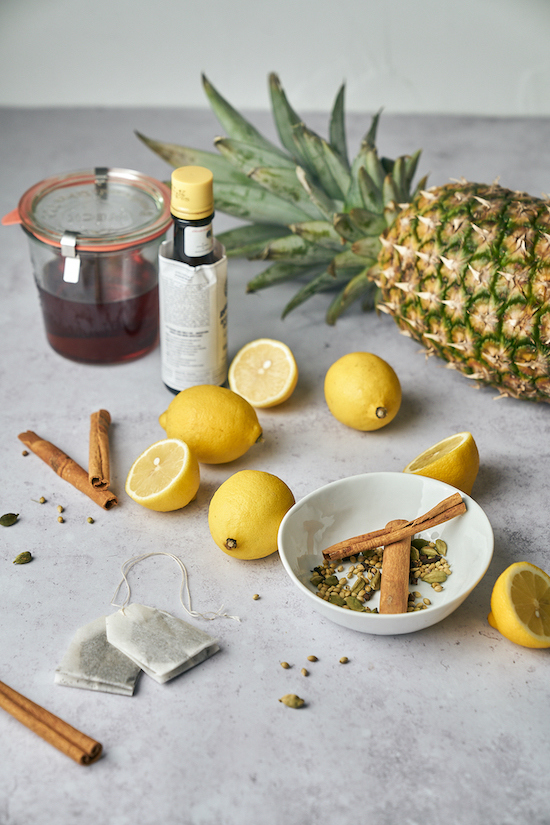 Does the phrase 'milk punch' freak you out? Don't be alarmed! This is not a thinly veiled attempt to have you passing out White Russians this winter. In fact, this recipe might be the key to unlocking ingredients you've always wanted to use in cocktails but found too sharp and astringent (like tannins in tea). It could also simply be the key to unlocking you not having to constantly bartend for four hours.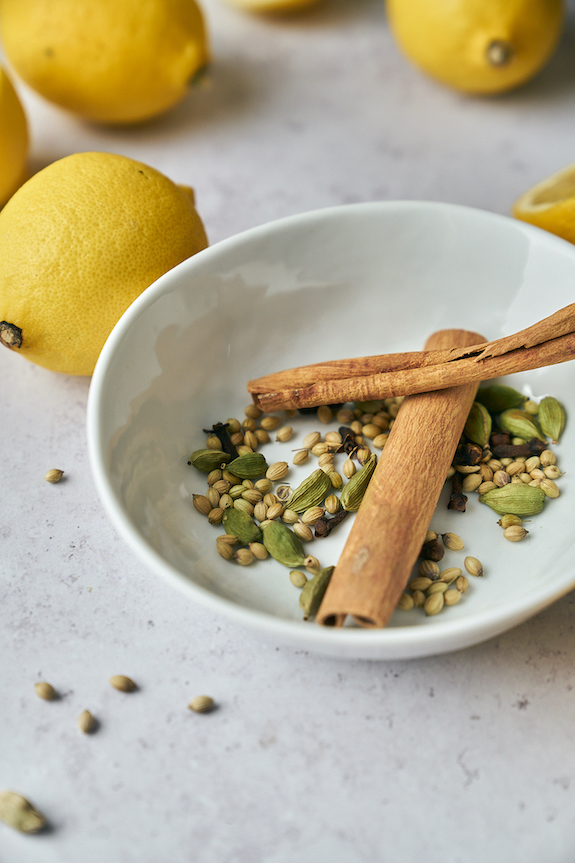 Milk punches have been making a comeback on the bar scene, but they are nothing new. In fact, there are letters from Benjamin Franklin that discuss his love of milk punch. While during Franklin's time milk was used to tone down the harshness of the liquor, today we use it to remove cloudiness as well as unwanted flavors in a drink.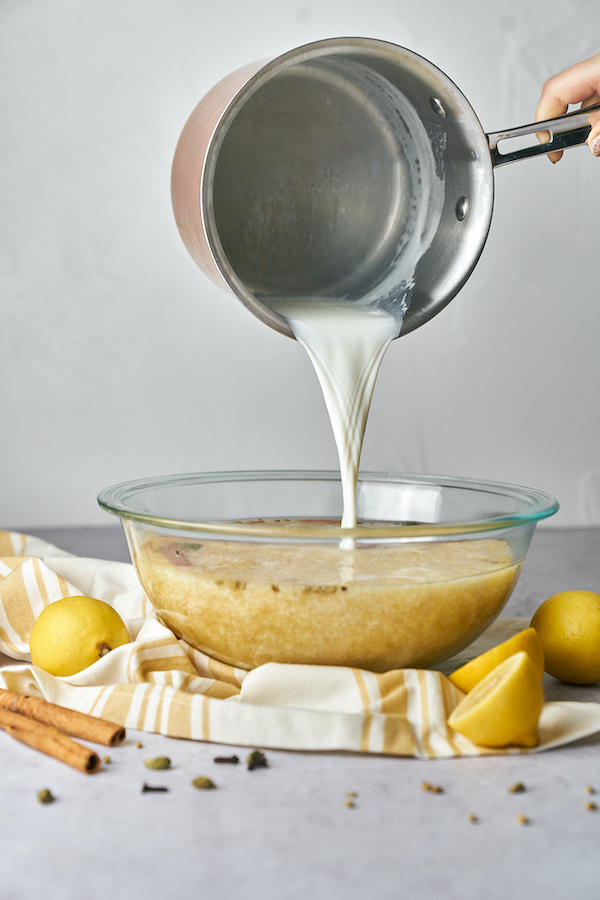 The possibilities are truly endless if you decide to start experimenting. A clarified milk punch mixes a spirit with an acid and warm milk. Once the milk meets the spirit and acid, the milk will bind to the compounds that create a harsh taste and curdle. From here, you can strain out the solids and cloudiness and be left with a clear drink with a well-rounded flavor that blends tastes together. It's like a cocktail but seemingly perfect enough to serve straight up in simple spirit form.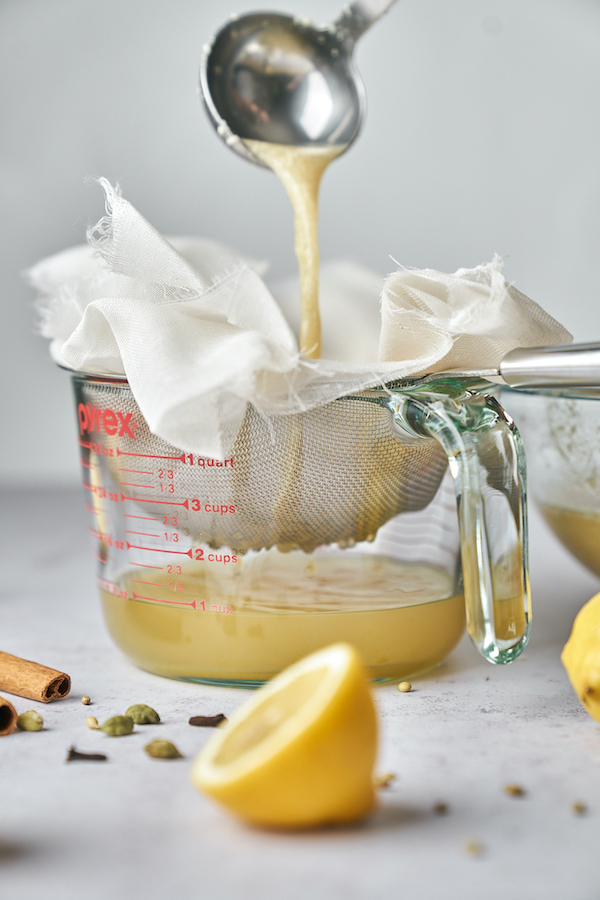 Now, this recipe does require a modicum of caution. During the step in which you combine the milk the drink, it will look-how to describe this?- downright disgusting. If it looks completely unappetizing, you're doing it right. We call this moment the "nope moment". The curdling process is important for flavor and clarity. Forget this moment.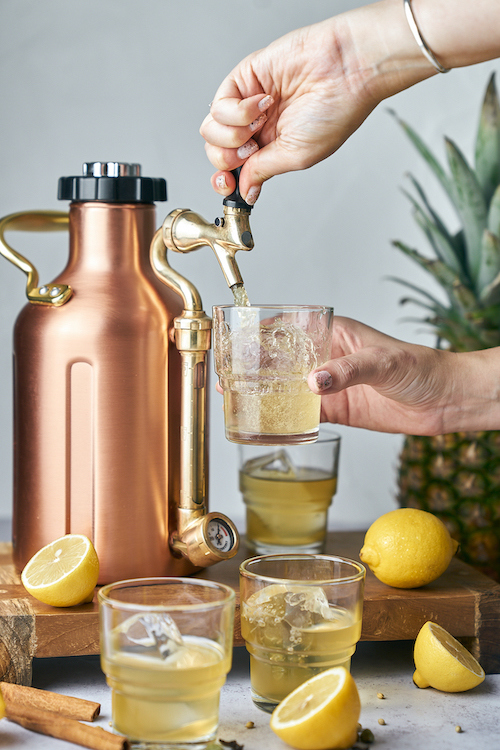 By storing this batch cocktail in a growler, it leaves you free to keep track of other things. We used this last holiday season and it was enjoyable to have a well-made cocktail without the work for anyone stopping by. A growler, besides fitting in the fridge and holding said cocktail, will also provide light carbonation like a cider.
uKeg 64 Copper Steel Growler

By Growlerwerks

Shop Now
This growler is also especially great since it has a handle to bring to your host's house if you're off the hook. A fun discussion topic during the holidays and to be honest it makes a brilliant gift for almost everyone!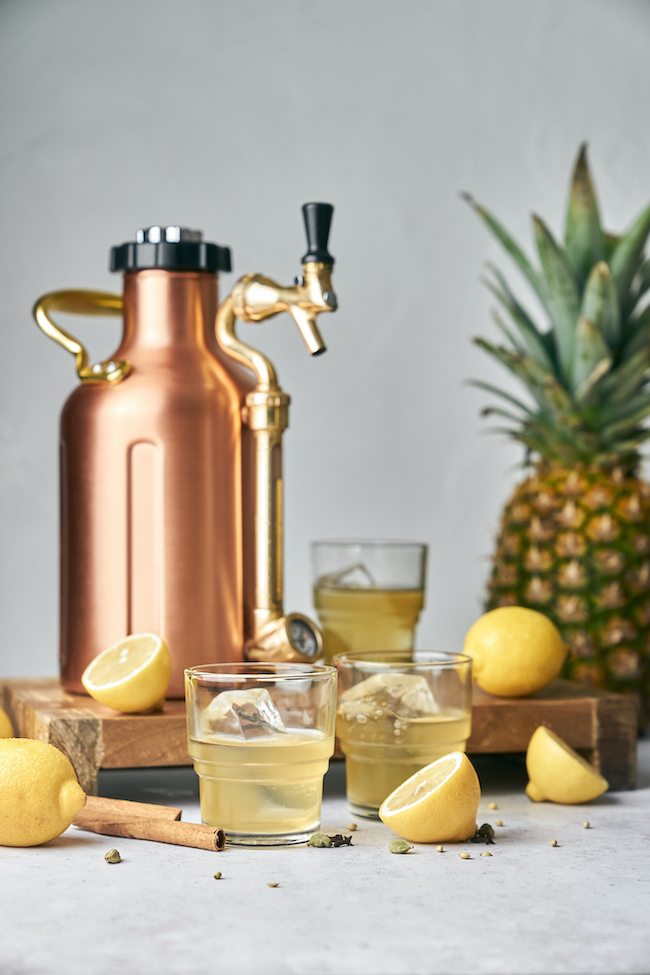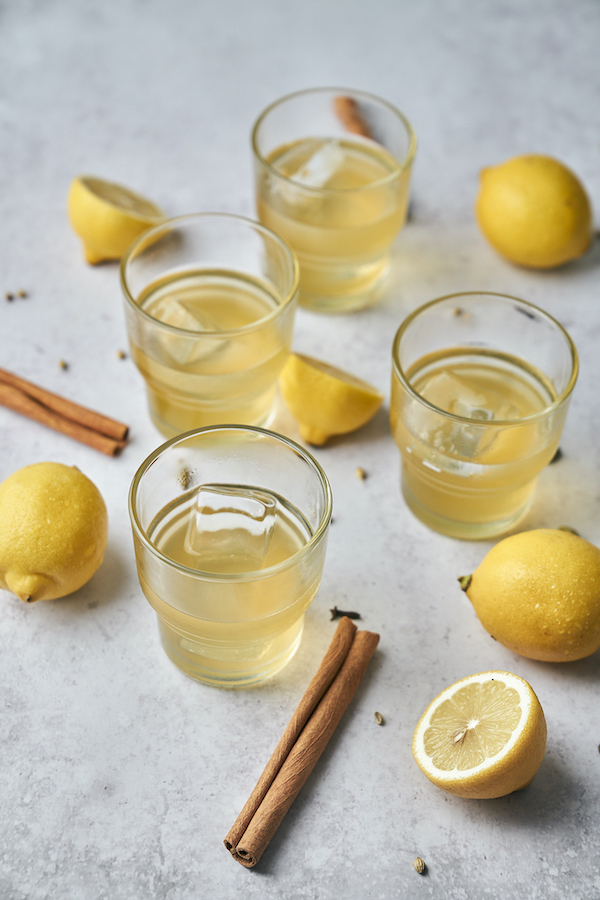 Winter Spiced Clarified Milk Punch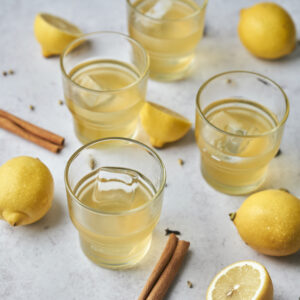 INGREDIENTS
1 cup vodka (divided in half)
2 cups spiced/aged rum
1½ cups whole milk
4 dashes bitters (24 drops)
1 ½ cups brewed Earl Grey tea
½ cup simple syrup
1 ½ cups lemon juice
1 ½ cups pineapple juice
24 coriander seeds
4 cloves
12 cardamom pods
2 cinnamon sticks
INSTRUCTIONS
Combine tea, lemon juice, pineapple juice, simple syrup, ½ cup vodka, and biters in a very large pitcher.
Toast spices in a dry medium saucepan. Add spices to the tea mixture.
Bring milk to a bare simmer in a medium saucepan over medium heat. Immediately pour milk into tea mixture. The milk will curdle immediately. Cover and chill for at least an hour or up to 24 hours in the fridge.
Place a fine-mesh sieve over a large bowl or measuring cup and line with cheesecloth. Pour mixture through cheesecloth in batches. Discard solids. Cover and chill liquid for an hour.
Strain mixture through a fine-mesh sieve lined with cheesecloth into a large bowl. Cover and chill until cold (any remaining curds will settle at the bottom of the pitcher).
Add remaining vodka and all rum to a large pitcher. Ladle tea mixture in the fridge into the liquor mixture, leaving any remaining solids at the bottom. Stir tea and liquor mixture and pour through a cone coffee filter into another pitcher for a final strain to make ultra-clear.
Add to growler and set the pressure to 15 PSI. Store in the fridge for up to four days. Serve over clear ice.