Homemade Mini Key Lime Pies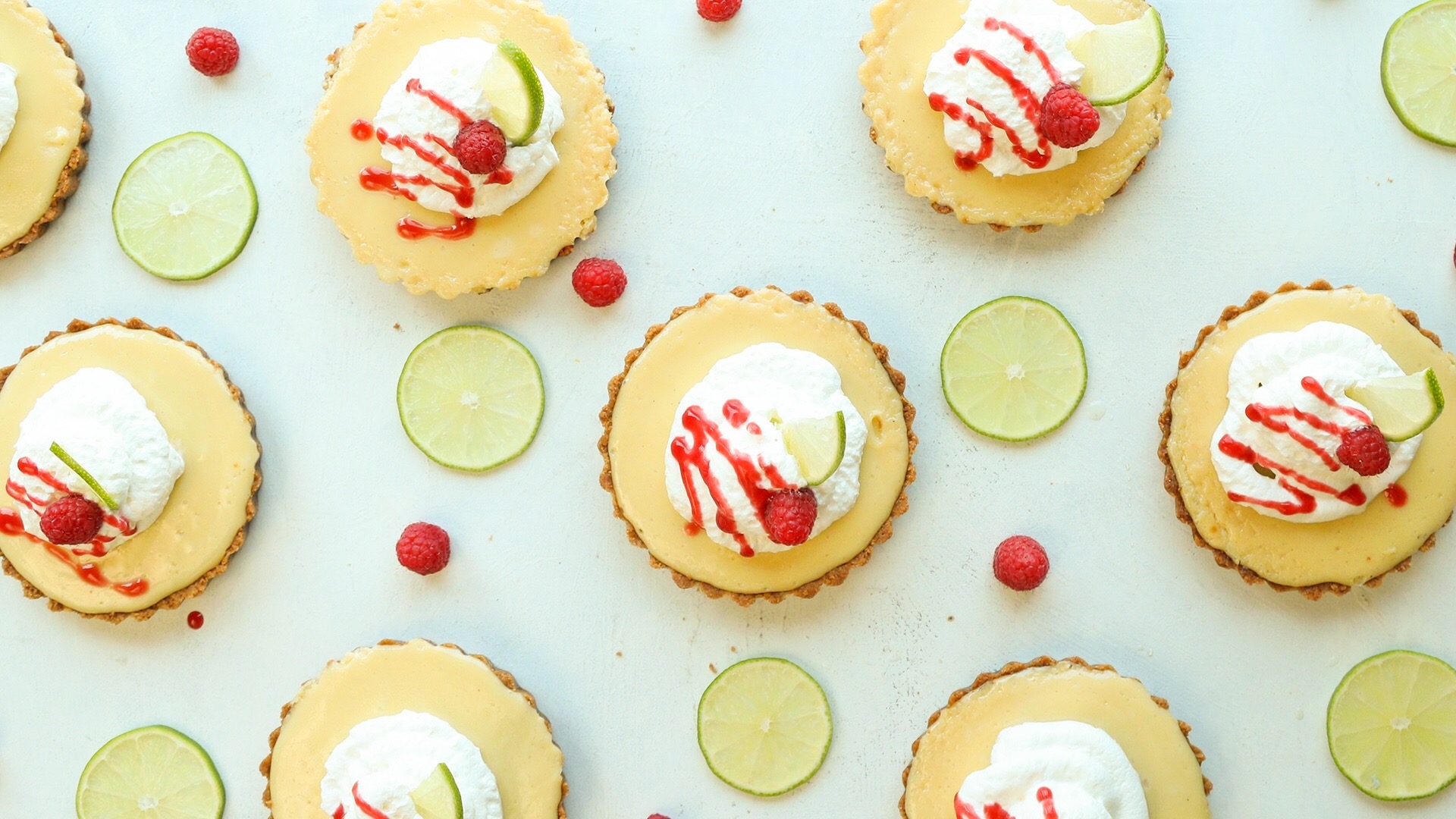 The first dessert I ever made once I stepped foot in a restaurant kitchen at the age of 13 was key lime pie. I remember the head chef asked me if I knew how to follow a recipe, and of course I responded with a yes! He told me to make a key lime pie and that it was really easy. At first I was super nervous because I was just a dish washer; what did I know about professional cooking in a restaurant? Up until that point, I had only ever cooked with grandma and my parents.
6 ingredients later, after reading, rereading and executing the written recipe, out came a delicious key lime pie! I couldn't believe how easy it was to make, and after you try out these mini key lime pies, you won't believe it either.
Key lime pie is one of those summer desserts that is just so good every single time. Bonus: it's almost impossible to mess it up. You can even skip a bunch of steps by purchasing a premade graham cracker crust for crying out loud. If I ever went back into the restaurant business, I would definitely be putting key lime pie on the menu (with some sort of twist of course). Regardless, I love eating it.
The other piece in this Homemade Mini Key Lime Pies Recipe is the whipped cream. At that same restaurant where I cut my culinary chops, we also used a CO2 whipped cream dispenser, except we used to put a little honey in there too. It just gives it that little extra touch of love that you will definitely notice.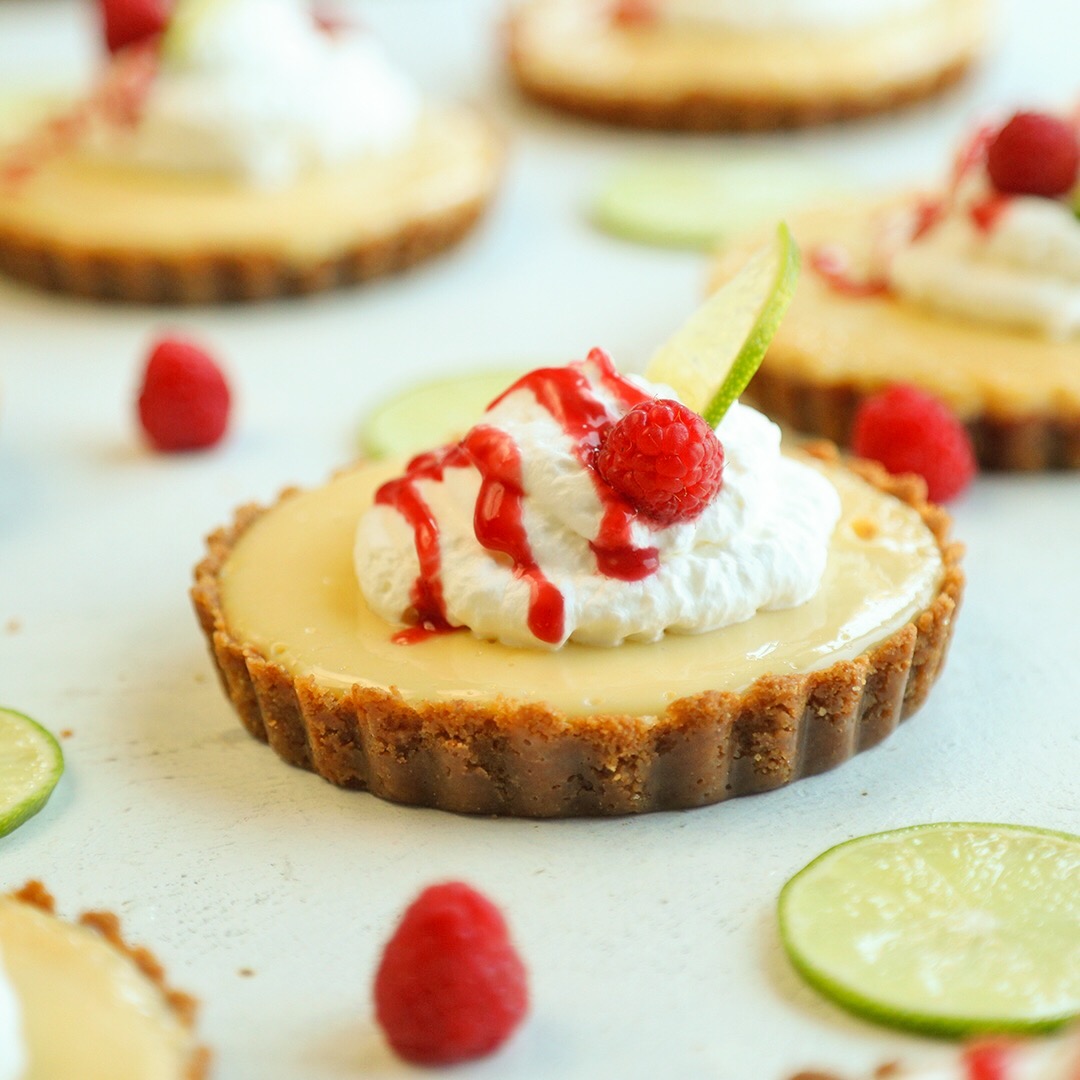 The only thing I didn't include in the video is the raspberry sauce. I didn't show it for lack of wanting to, it's just that some folks don't like it on their key lime pie so I didn't want to upset the traditionalist. Making a raspberry sauce is as simple as cooking together some fresh raspberries, lemon juice, sugar and water until it's thick. From there strain it and chill it. You can use it if you want, I definitely like the taste of it, so I say it's a go!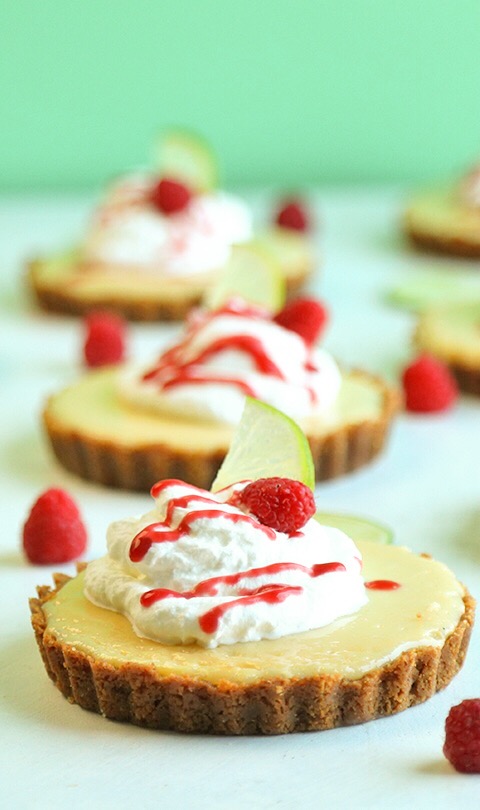 This Homemade Mini Key Lime Pie is perfect for entertaining or attempting to restrain yourself from eating a ½ of a pie, like I always seem to do. The mini single serving pies are always on trend and a wonderful way to spruce up a party. Happy baking!
Homemade Mini Key Lime Pie Recipe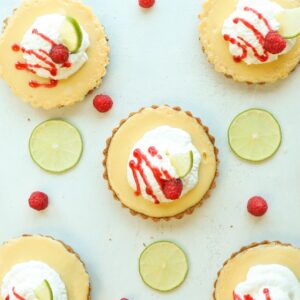 INGREDIENTS
For the Crust:
20 graham crackers
12 ounces of unsalted butter
5 tablespoons of sugar
For the Filling:
3 14- ounce cans of sweetened condensed milk
6 egg yolks
1 ¼ cup of key lime juice
For the Garnishes:
2 cups of heavy whipping cream
2 heaping tablespoons of powdered sugar
½ teaspoon of vanilla
1 tablespoon of honey
Slice limes
Fresh raspberries
Raspberry sauce (optional)
INSTRUCTIONS
Preheat the oven to 350°.

In a food processor combine the graham crackers, butter and sugar and pulse until it becomes finely chopped, like a meal.
Evenly transfer the mixture between 9 mini tartlet shells with removable bottoms and press down to mold to the shells. Bake for 5 minutes and cool to room temperature.
In a large bowl whisk together the condensed milk, egg yolks and lime juice until combined.
Evenly pour the mixture between the 9 tart crusts and bake at 350° for 12 to 15 minutes. Chill until completely cool.
Add the whipping cream, powdered sugar, vanilla and honey to a whipped cream dispenser. Screw on the lid, shake and then add the CO2 cartridge. Keep cool.
Garnish each chilled key lime pie with whipped cream, lime slice, raspberry and raspberry sauce.