A Spring Pea Mushroom Risotto to Take You Into the Season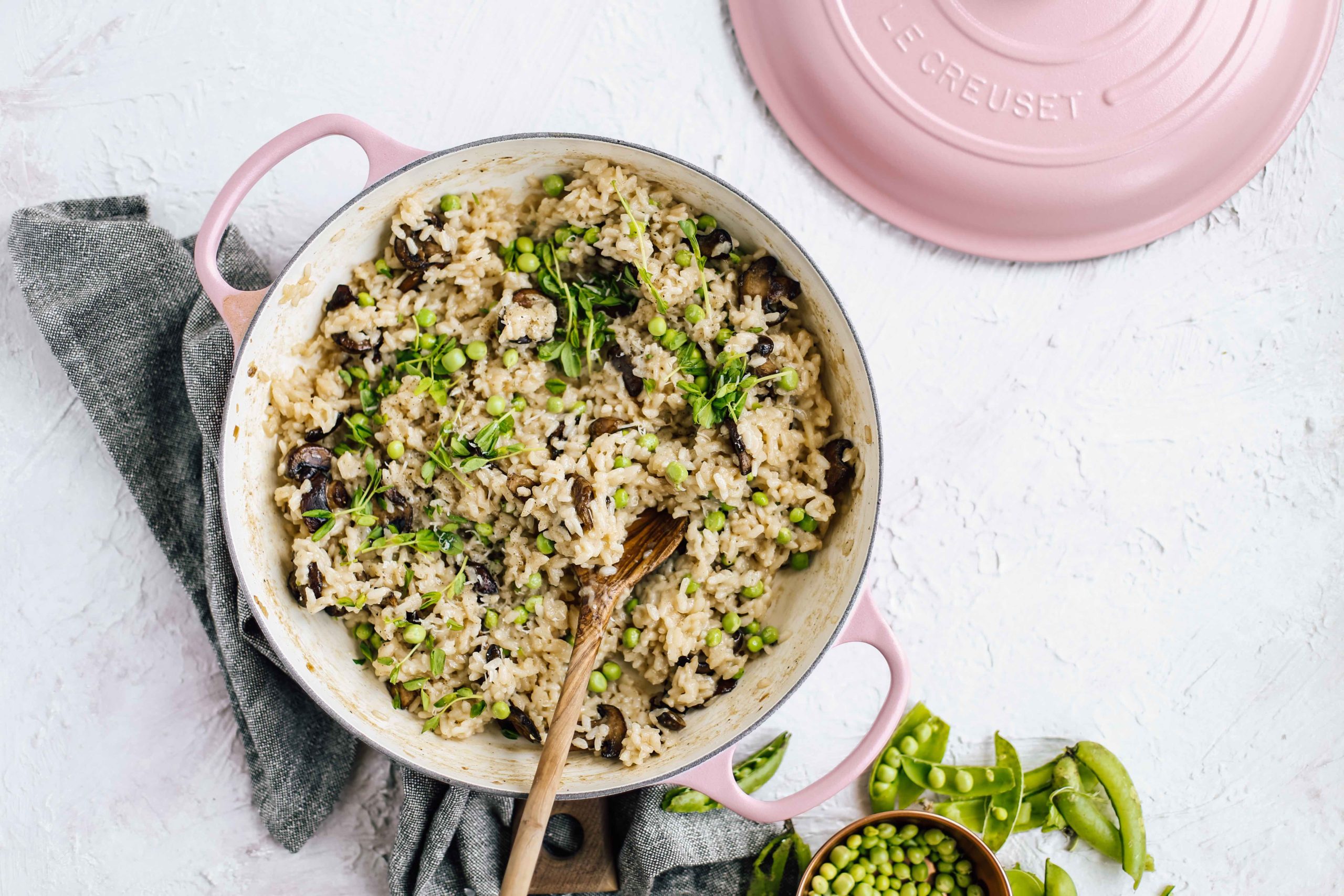 The first time I ever had risotto was in my college's dining hall. This is probably a really random place to have risotto, but I will never forget it! I'm a California girl through and through and going to a school in Colorado with a 'real' winter took a bit of an adjustment period.
One of the first really cold nights I ventured off to the dining hall for a cozy meal. I went to an extremely small college in Northern Colorado and we had an amazing dining hall (lucky, I know!). I marched straight to the pasta station because I knew I needed some warm carbs to help curb the 30-degree temps. The option that evening was butternut squash risotto. I took one bite and had no idea what I was eating but I was completely obsessed with it.
That creamy risotto got me through quite a few cold and blistery nights. To this day I always break out a risotto recipe when I'm in need of something a little wholesome. If this dish were an object it would be your coziest and fluffiest throw blanket, or at least that's how it makes me feel!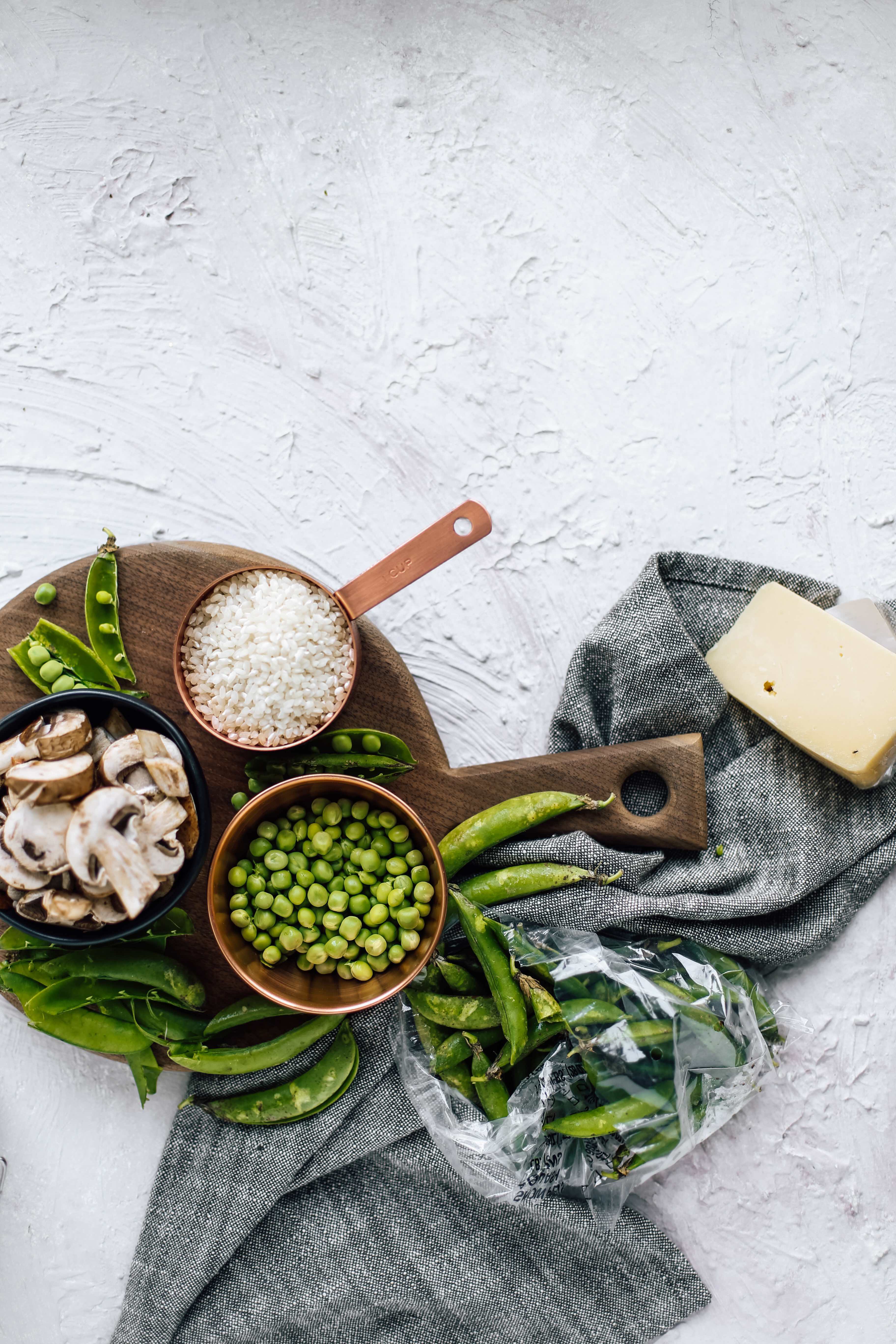 I know most of the country is still experiencing some cold nights. This dish embodies wholesome pasta but packs some great spring flavor. Laced in between these creamy pasta grains are tender spring peas and hearty mushrooms.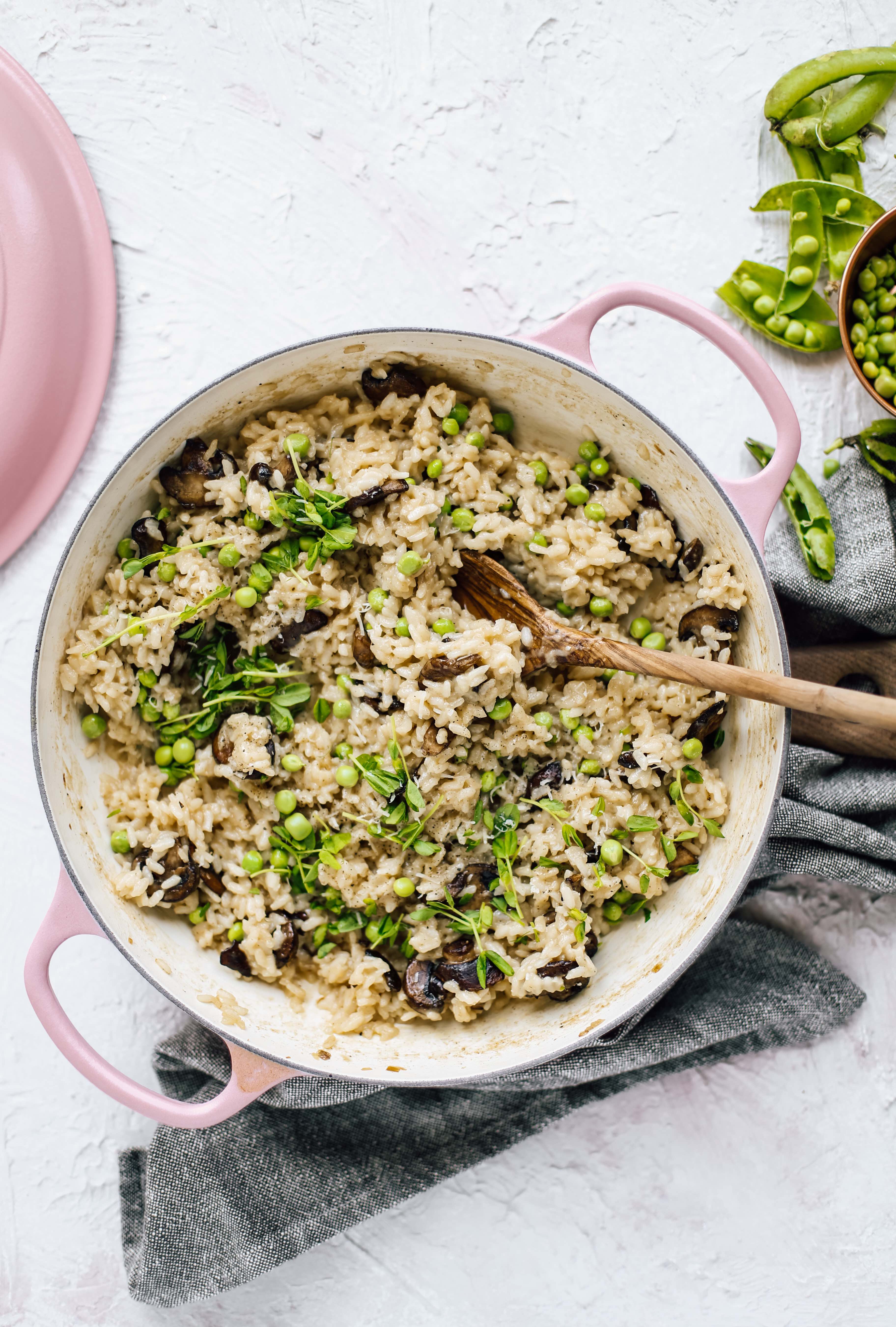 We have been heading to the farmers market every weekend and each time I pick up a bag of fresh peas. To be honest I bought fresh peas because they are beautiful to style photos with, but I was so pleasantly surprised at just how much tastier they are than frozen peas. They embody this fresh sweetness that makes you feel like you're really cooking with 'spring' rather than just another vegetable.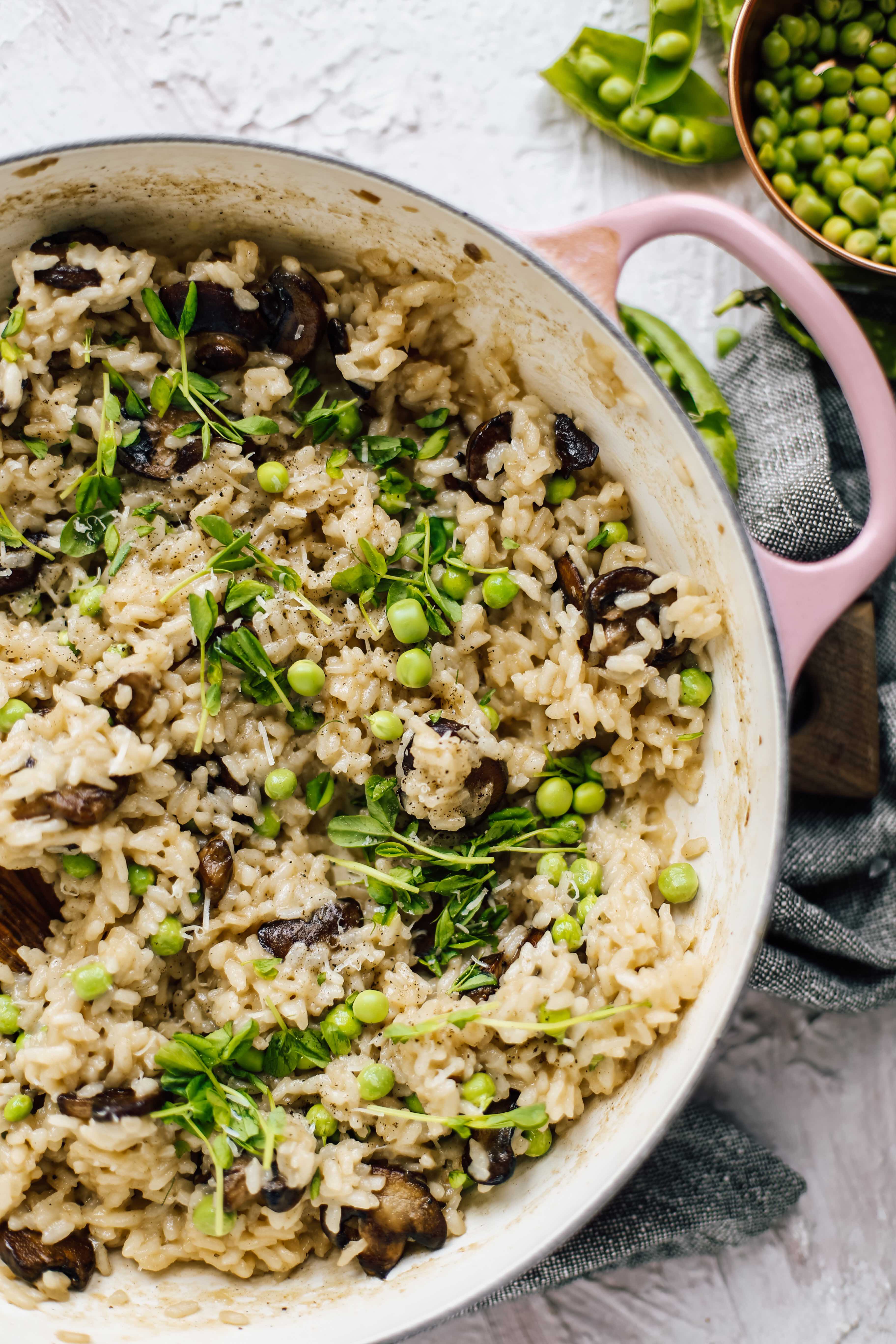 If you're a vegetarian or love to do Meatless Mondays, this is a fantastic dish to add into your weeknight rotation. This spring pea and mushroom risotto is also sophisticated enough to serve at your next dinner party! Risotto takes a little bit of patience but my large Le Creuset braiser makes all the difference! The braiser's large surface keeps the risotto cooking evenly and the sugar pink color is a dream for serving this bright green risotto in!
Spring Pea Mushroom Risotto
If this dish were an object it would be your coziest and fluffiest throw blanket! Enjoy!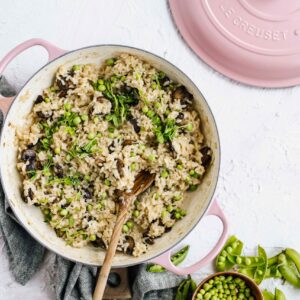 Ingredients
4

tbsp

olive oil

10

oz

brown mushrooms, sliced

5

tbsp

butter

1

Shallot, minced

1.5

cups

Arborio rice

2

tsp

kosher salt

.5

tsp

ground black pepper

.5

cups

Pinot Grigio or dry white wine

6

cups

vegetable stock

1.5

cups

shredded parmesan cheese

1

cups

fresh English peas, blanched for 1 minute
Instructions
Heat olive oil on medium heat in a shallow sauté pan. Add sliced mushrooms and cook for 5-10 minutes or until golden brown. Remove from heat and reserve for risotto.

In a large pot bring vegetable stock to a simmer.

In a large sauté pan or braiser heat butter on medium-low heat until melted. Add in shallots and cook for 5-10 minutes. Add in arborio rice and coat with butter to toast for 1-2 minutes. Stir in white wine and cook for 1-2 minutes. Add two ladles of vegetable stock to rice along with and salt and pepper.

Stir consistently until most of the stock has absorbed but not dry. Add in another two ladles and repeat until absorbed again. Continue to stir and add in 2 ladles full stock until all of the stock is incorporated. This process should take you about 25-30 minutes.

Remove from heat and stir in Parmesan cheese, browned mushrooms and blanched English peas.

Garnish with parsley, fresh pea tendrils or sprouts.
Nutrition
Serving:
1
g
Calories:
1120
kcal
Carbohydrates:
94
g
Protein:
48.9
g
Fat:
63.1
g
Saturated Fat:
31
g
Cholesterol:
131
mg
Sodium:
2972
mg
Fiber:
7.9
g
Sugar:
7.2
g