A Beautiful Spring Table That Will Make You Want to Throw a Party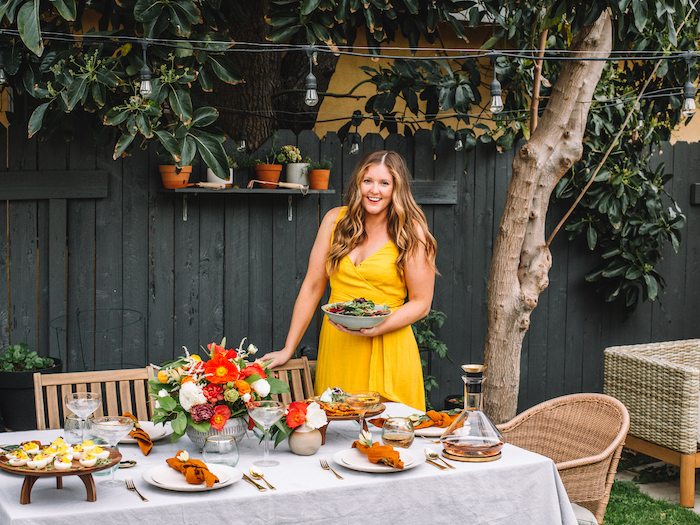 Hiya! We're talking about tablescapes today! Gorgeous, colorful spring table settings! I am SO excited!
Building a tablescape is one of my favorite things to do! I think it's the look on a guest's face when they walk up and find out they will be dining at a gorgeously, crafted table. I also love making people feel special so I'm sure my love stems from this as well. Creating a tablescape also fuels my creativity and artsy side. I love that not only do I get to create something beautiful but it's also going to be used for something! It's a win-win in my book.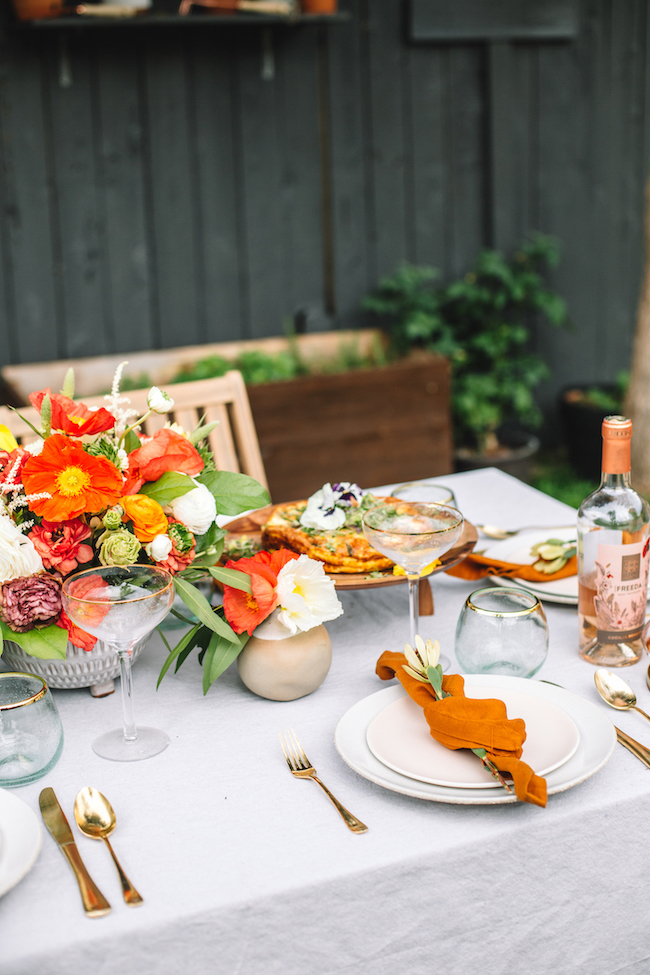 Today I am excited to welcome in fresh florals and bright colors! I have officially and totally put away my Christmas decor in the garage (yes, Marie Kondo would not be proud). It feels like a re-birth in my home.
I'm bringing out all my pastel colored dishes and putting away blacks and metallic for the season. There are a few simple things that can tie together a spring table super easily!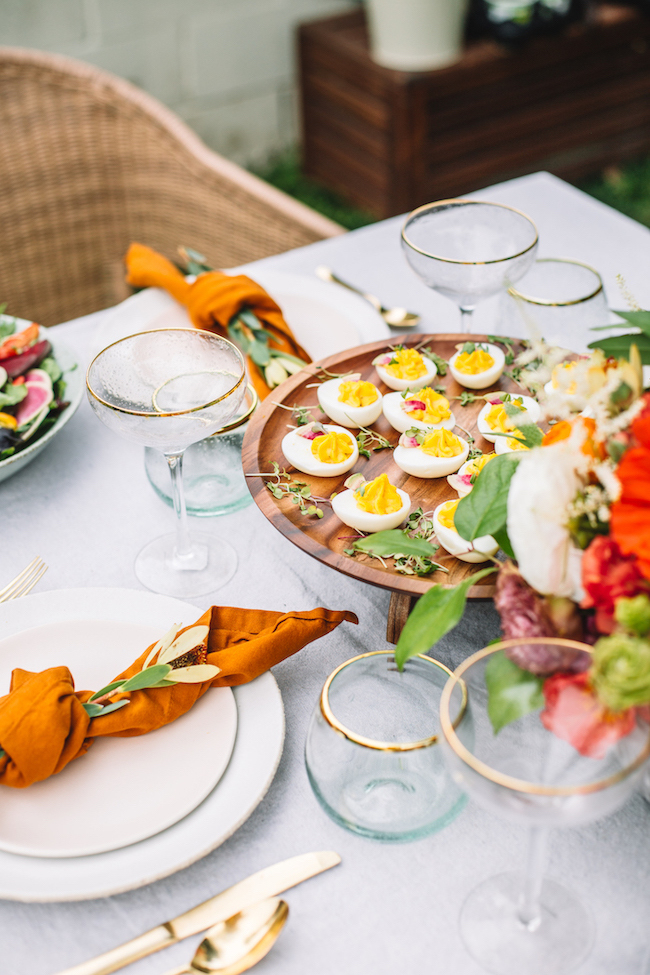 Find out below how we created this crafted look for out colorful spring table setting! I love that the table has an overall spring vibe that could be used for any spring-themed brunch!
Pastels
When all else fails, pastels will never steer you wrong with an spring tablescape. No matter Easter, Mother's Day, or any spring gathering, pastels are like the red and green of Christmas when it comes to spring.
Jardin De Maguelone Plate in Cream Peach

By Jars Ceramics

Shop Now
My favorite are light pink, pale blue, mint green, and yellow. One of my favorite new ceramic brands for plates is a gorgeous French brand called Jars Ceramics. They carry the most gorgeous pastel colors and the texture will make you swoon!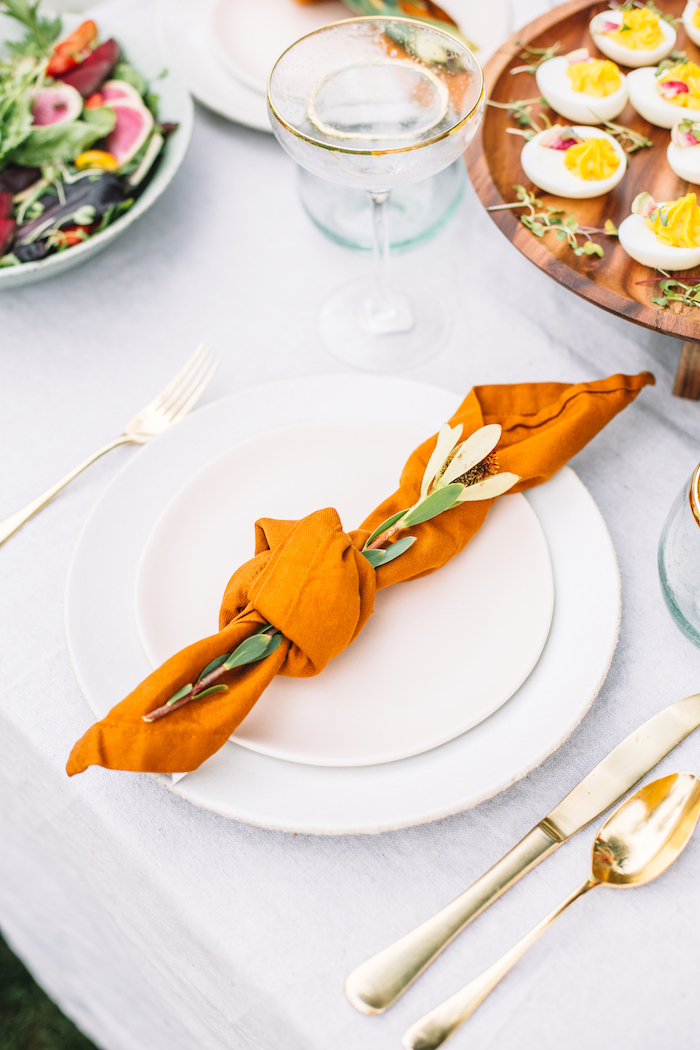 Wabi Deep Plate in Blanc

By Jars Ceramics

Shop Now
Aside the plates we also have a pop of green with these classy gold rim bubbled wine glasses.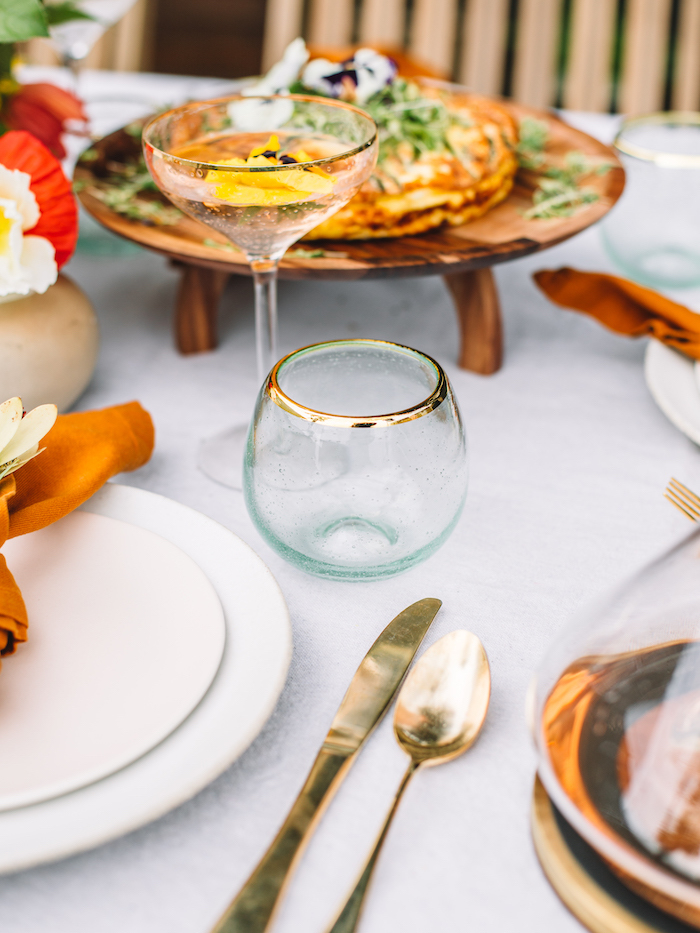 Seaside Gold Rim Bubble Wine Glass Set

By TRUE

Shop Now
Sometimes I'll incorporate one darker color for a pop like the orange in each napkin. This color reminded me of colorful carrots that are often seen as spring decor.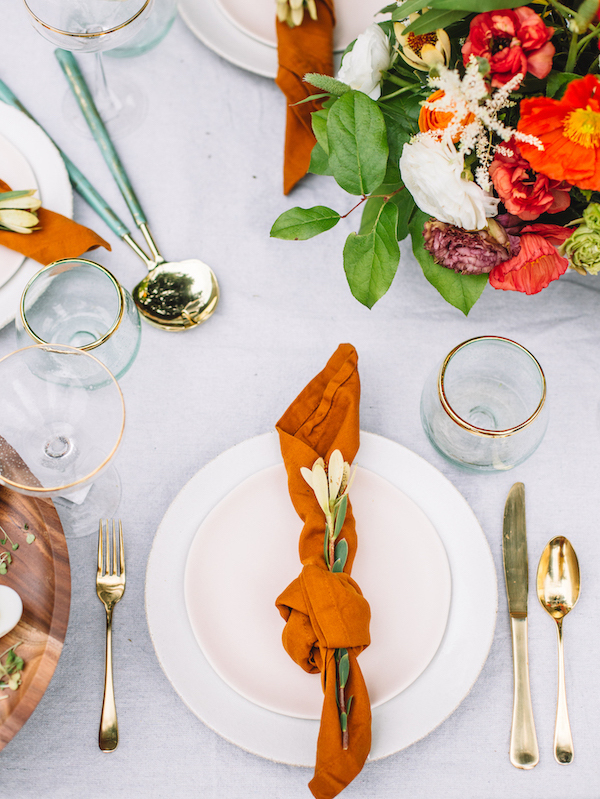 When all else fails you can always fill a nice decanter up with rosè for an added pop of color!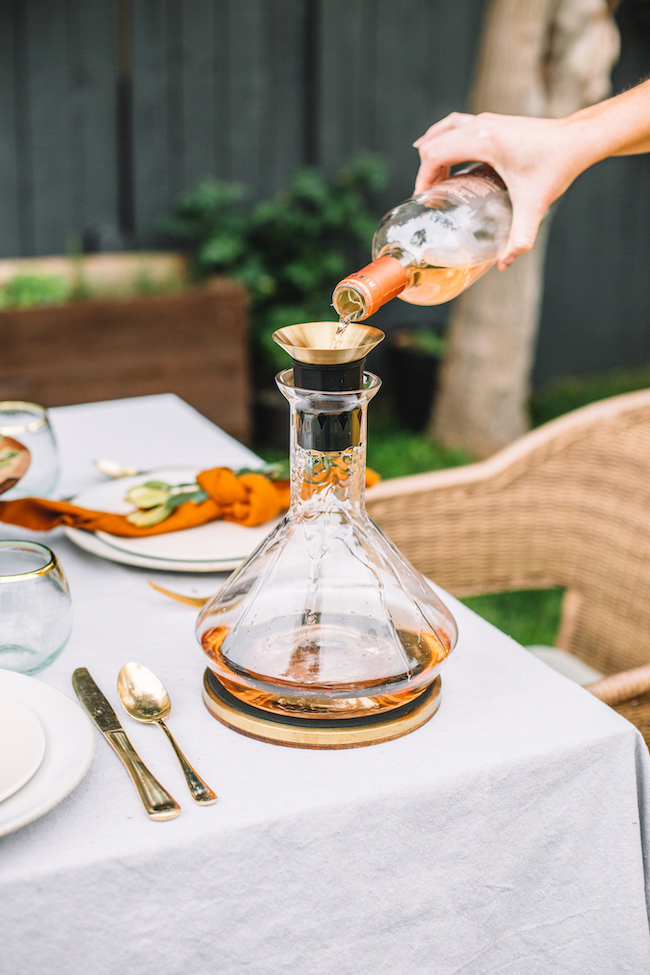 Floral & Herbs
I always go a little crazy around spring with the florals. Everything is blooming and there is inspiration everywhere. I love heading to the flower market for bigger table projects but when I'm in a pinch, Trader Joe's is my go to quick spot for flowers! This time of year they have tons that you can mix and match to create a gorgeous centerpiece.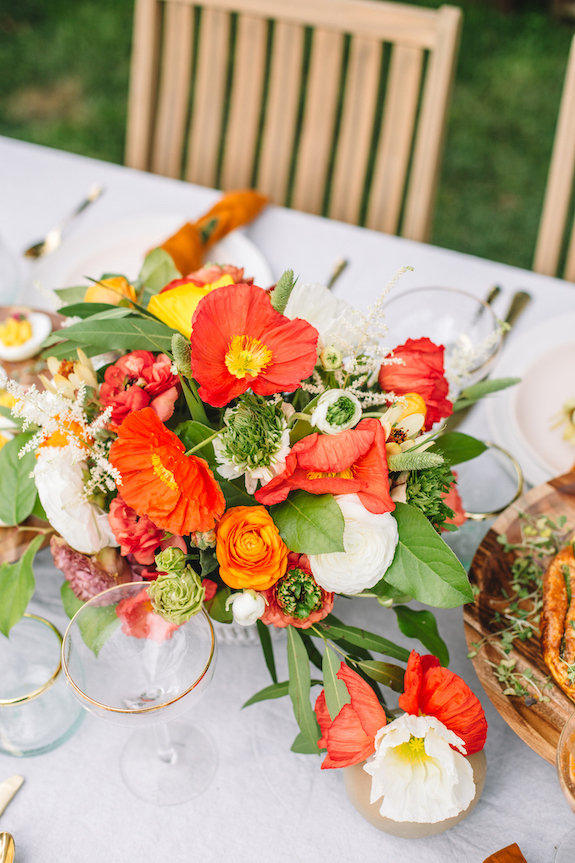 Try swapping out your normal vase for a fun bowl or pitcher. For today's creation I just used a little bit of flower foam at the bottom to hold everything in place. Works like a charm and your flowers will last so much longer. If you're an entertainer like me, a small stash of this stuff is totally necessary!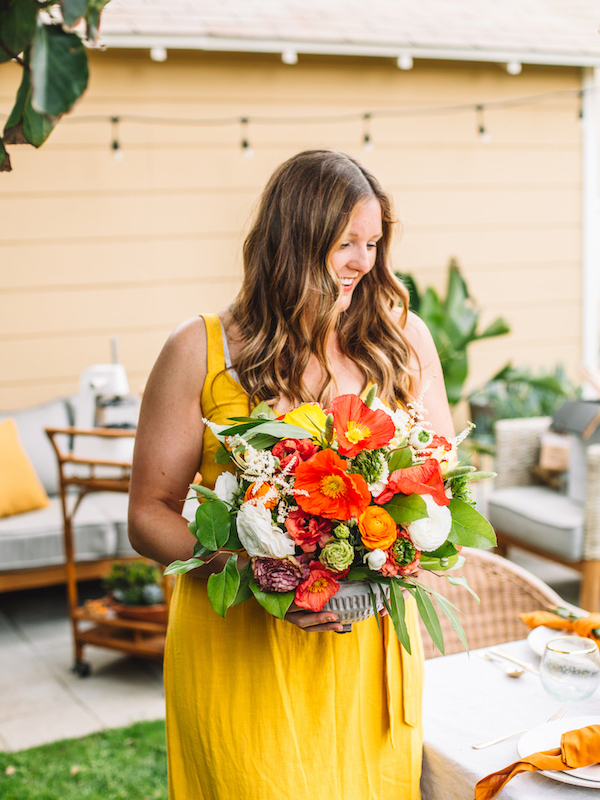 Natural Ingredient
Using small natural elements like wood, wicker, rattan and burlap can make your whole look feel more 'spring'.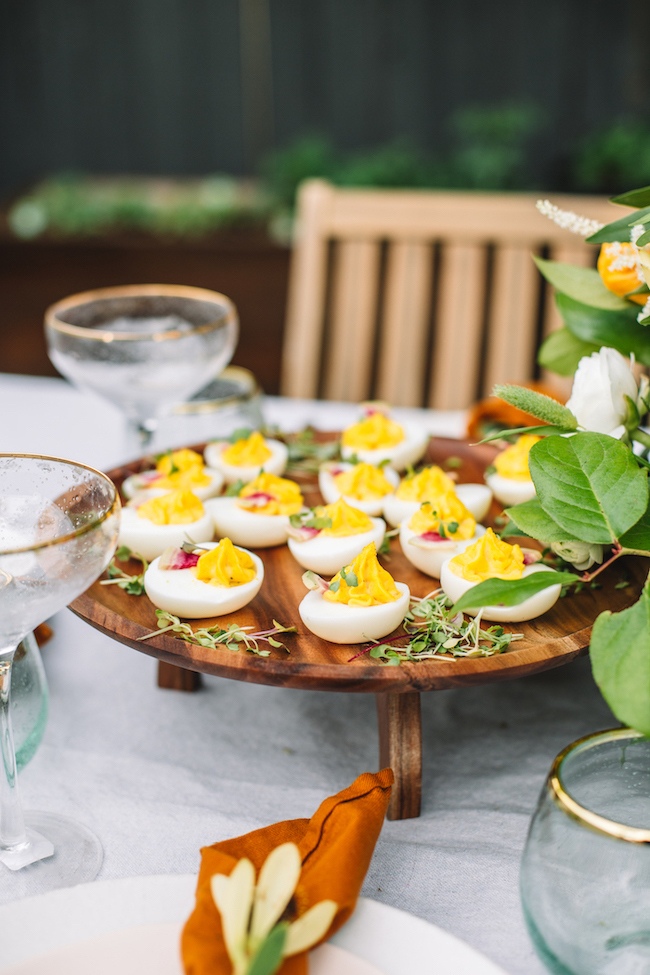 For this colorful spring table setting, we opted for wooden serving pieces to help compliment these bright spring colors!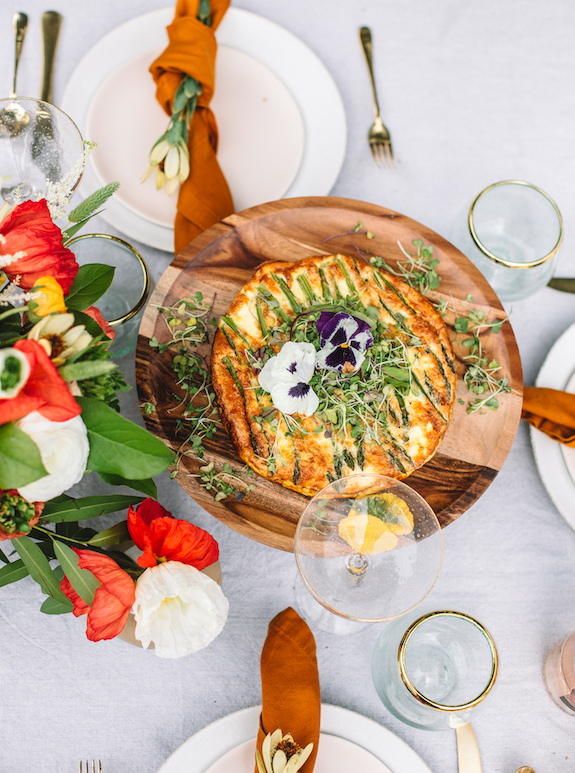 Artesano Original Footed Plate

By Villeroy & Boch

Shop Now
Whatever direction you decide to go in for spring, be sure to give it your own personal touch somewhere! Happy decorating!