A Chocolate Mini Cadbury Egg Cake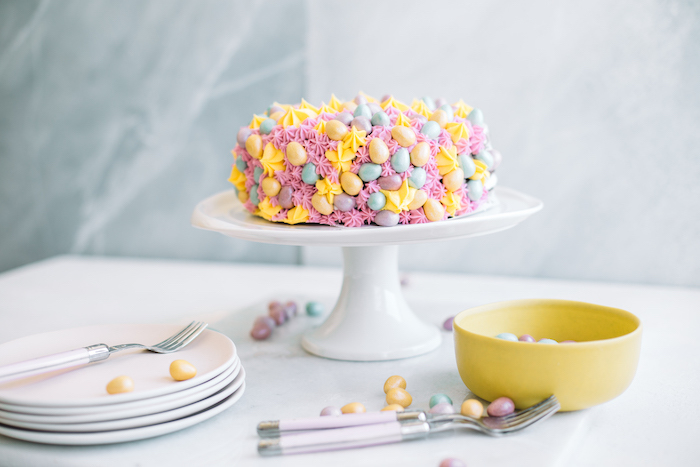 We are officially down to five days until Easter! I'm rolling out the big guns today with this Chocolate Mini Cadbury Egg cake!
I think the holidays are a fun time to try something a little bit whimsical and very Charlie and the Chocolate Factory-esque, ya know?! Plus, I think kids would absolutely go crazy for something like this. I also think adults would go equally as crazy.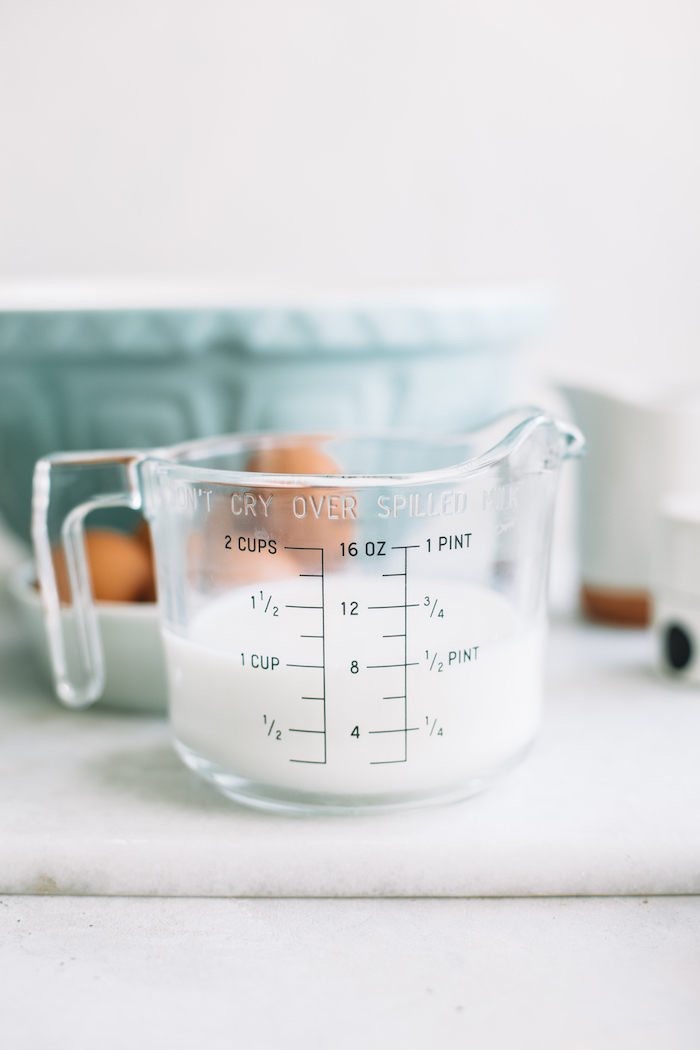 My dad came over for a surprise visit last week after we made this crazy cake and he LOVED it. There is something so rich and decadent that leaves you wanting for more! Plus, it's probably the most Instagrammable Easter dish that you will see at any party. I mean just look at her!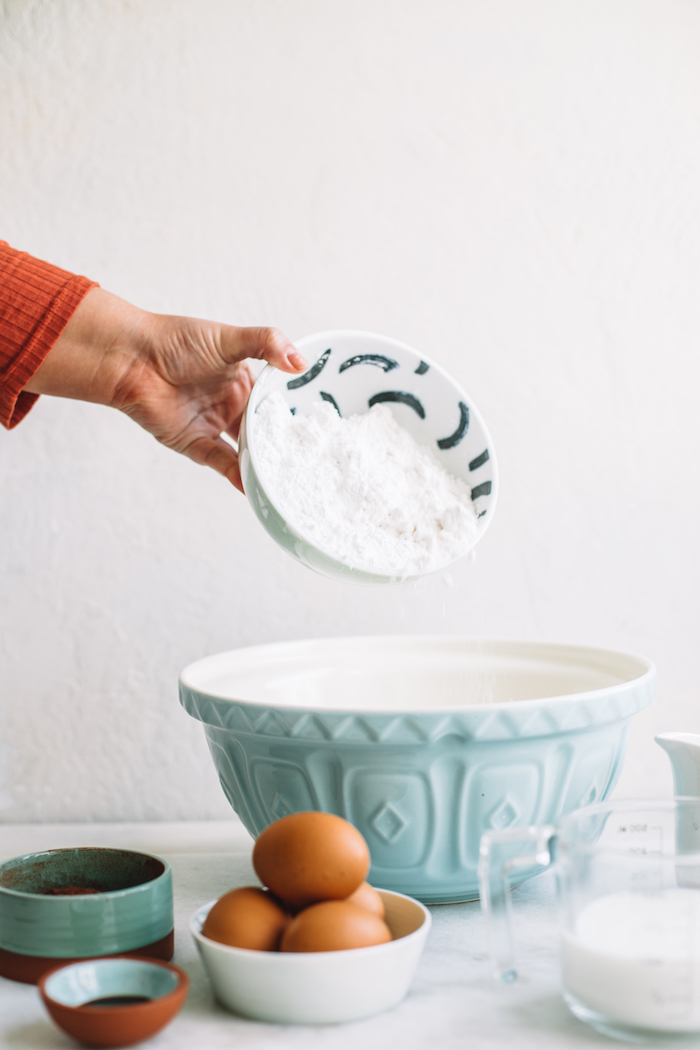 While the almond buttercream and chocolate layer cake are perfection simply on their own, I think we need to spotlight the insane Cadbury creme ganache filling inside. I never thought I would melt down eight large Cadbury creme eggs and turn it into a ganache, but it had to have been one of the best choices I have ever made.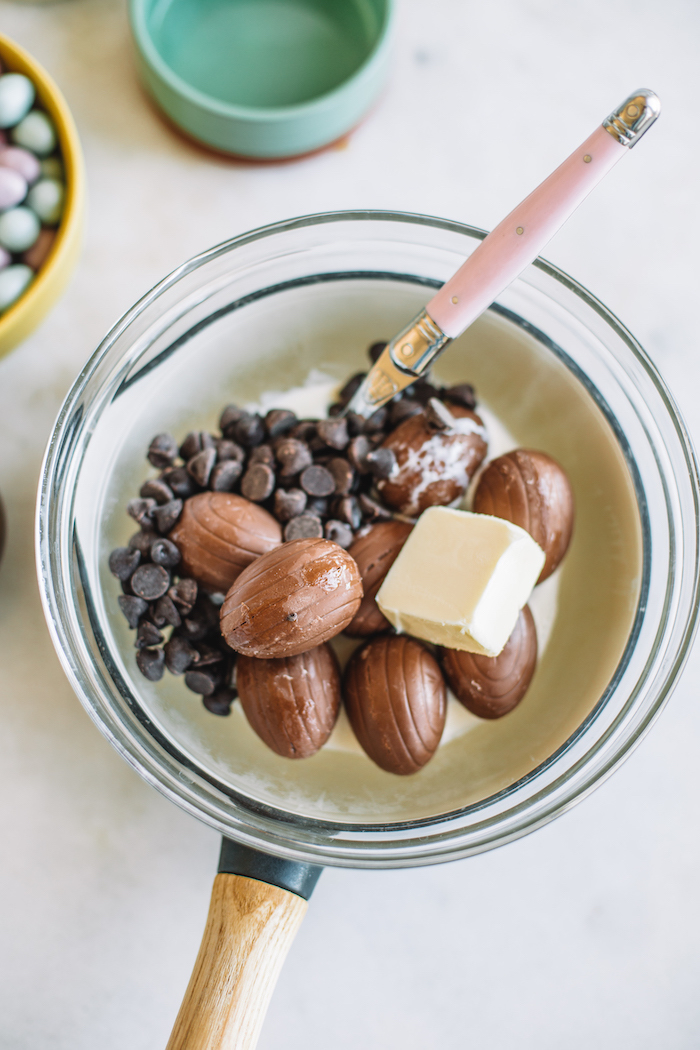 I'm not huge on big Cadbury creme eggs on their own. Mostly because I can never finish them because they are just so rich ya know?! When you melt them down and add in heavy cream it creates the most luscious, silky unique filling. Paired with cake it is beyond wonderful.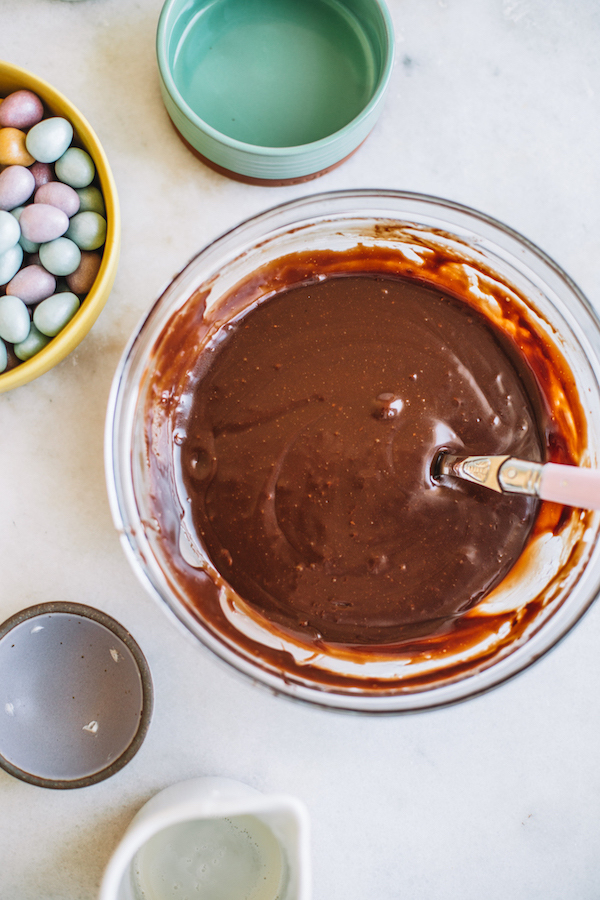 I wanted to keep the actual cake flavor super simple so it's filled with basics like butter, eggs, milk (in this super cute Kate Spade measuring cup of course!) and my secret ingredient: coffee! I always add a cup of coffee to my chocolate cakes. This adds an unbelievable depth to the flavor and if you don't like coffee, not to worry because you can't even taste it! Seriously, try the coffee. It's life changing.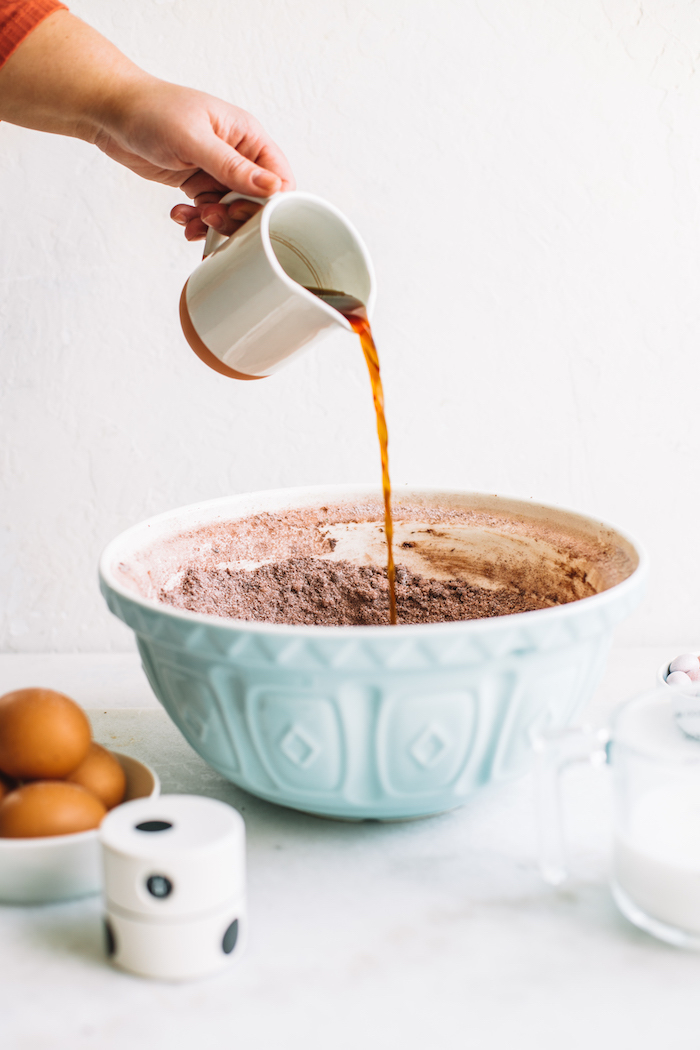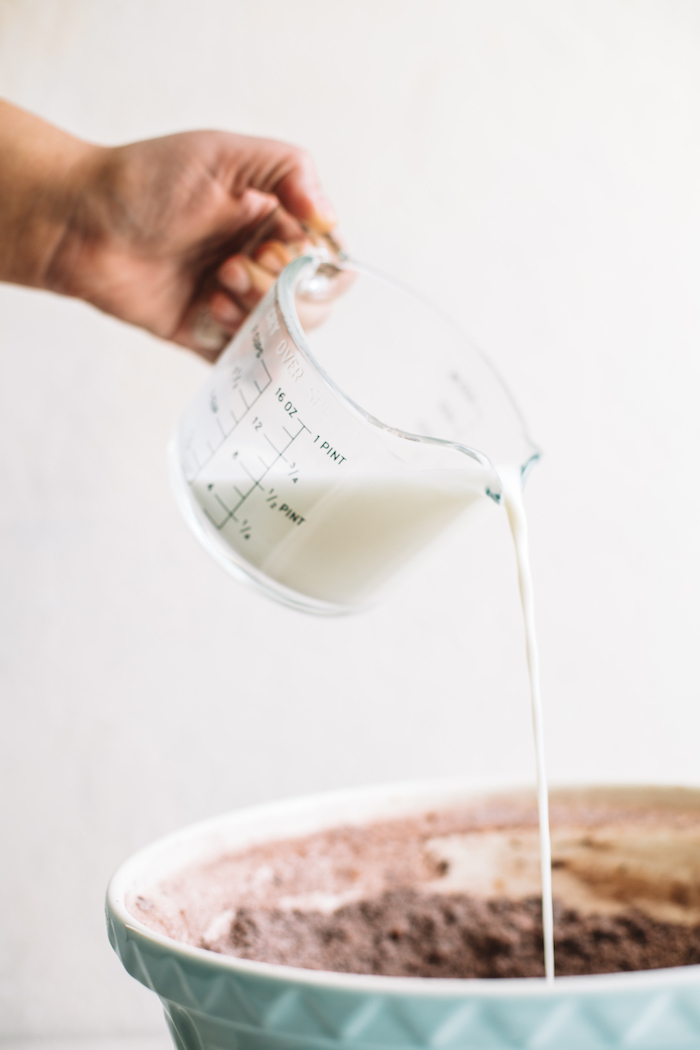 To hold everything together I made a simple almond buttercream that is perfect for frosting the cake as well as the piping decorations seen. My little secret ingredient for this buttercream was a few teaspoons of almond extract.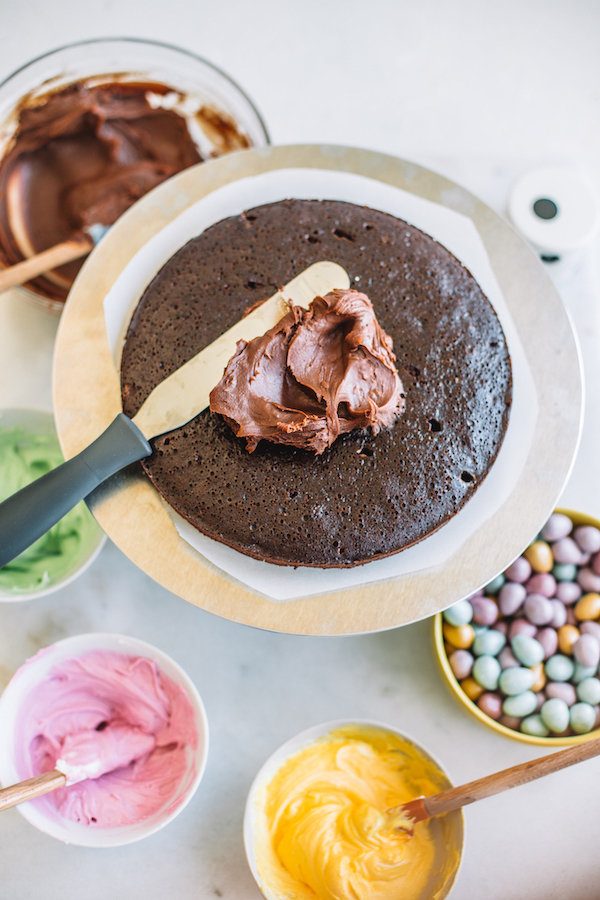 I usually use vanilla, but I think the almond really helped cut the 'sweetness' that this cake exudes. To make these decorations (I promise they're simple) grab yourself a piping bag and star tip. You can really use any size for this piping technique or even a few different ones with different pastel colors.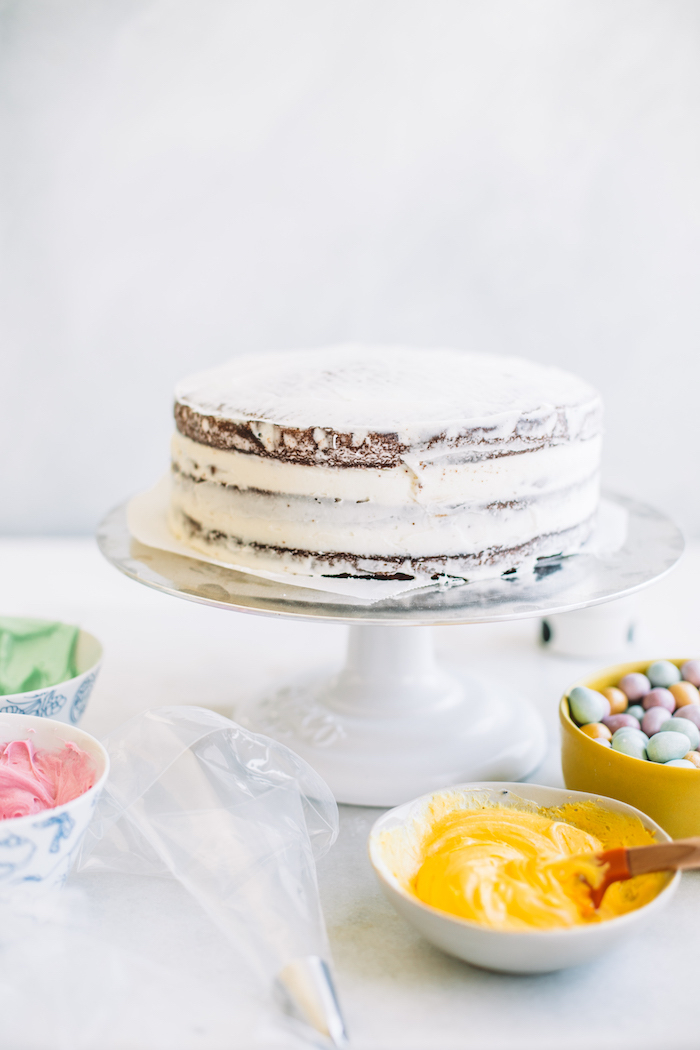 The trick to a piping bag decoration like this is the pressure of your hand. Practice a few stars on some parchment paper before you get going on your cake. Simple apply pressure straight down and once you have created the size start you like, release your pressure and your hand. If you try and remove the bag while still squeezing you will end up with a MESS! Pressure is key!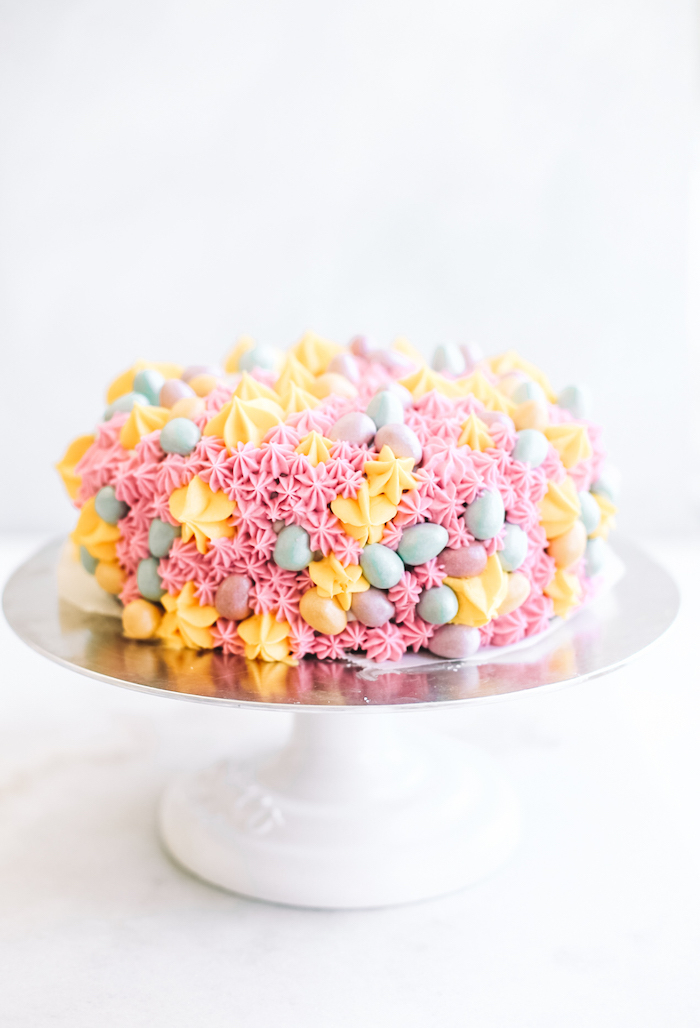 To finish this Chocolate Mini Cadbury Egg Cake I had to add lots of… minis! The mini Cadbury eggs are my favorite and they look so darling on a cake. I popped them in wherever I saw a crack through the frosting. Note to self: buy four bags instead of three because we definitely ate one of the bags during the making of this cake!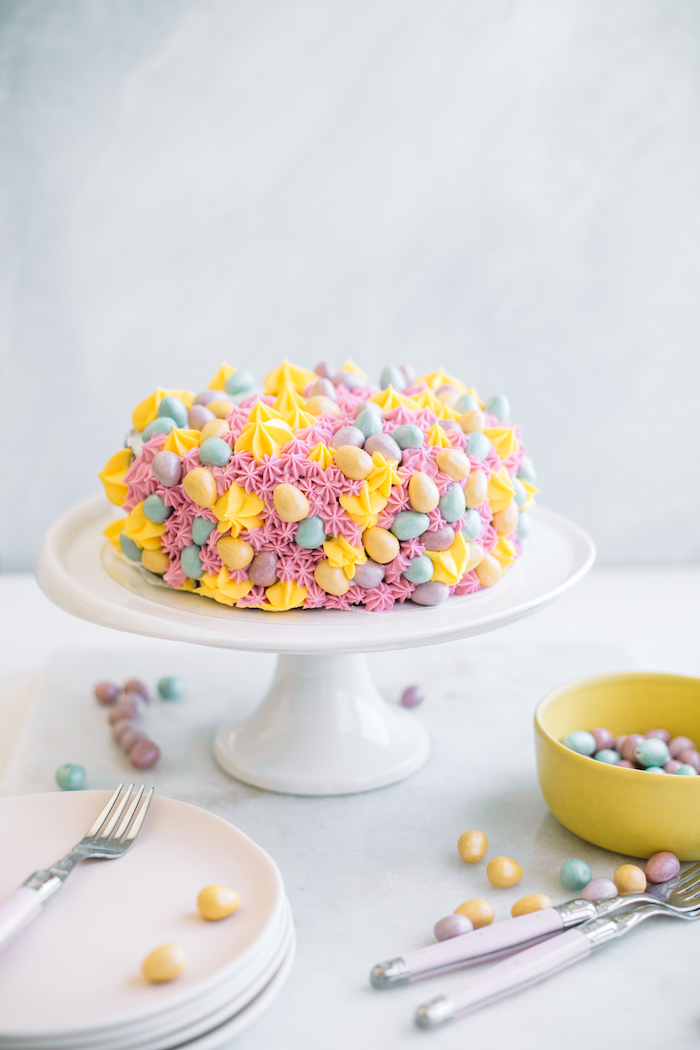 I served this extravagant cake on a simple cake stand to really let it shine through! For a fun added pastel touch I love using these plates from Jars and this pink flatware from Jean Dubost.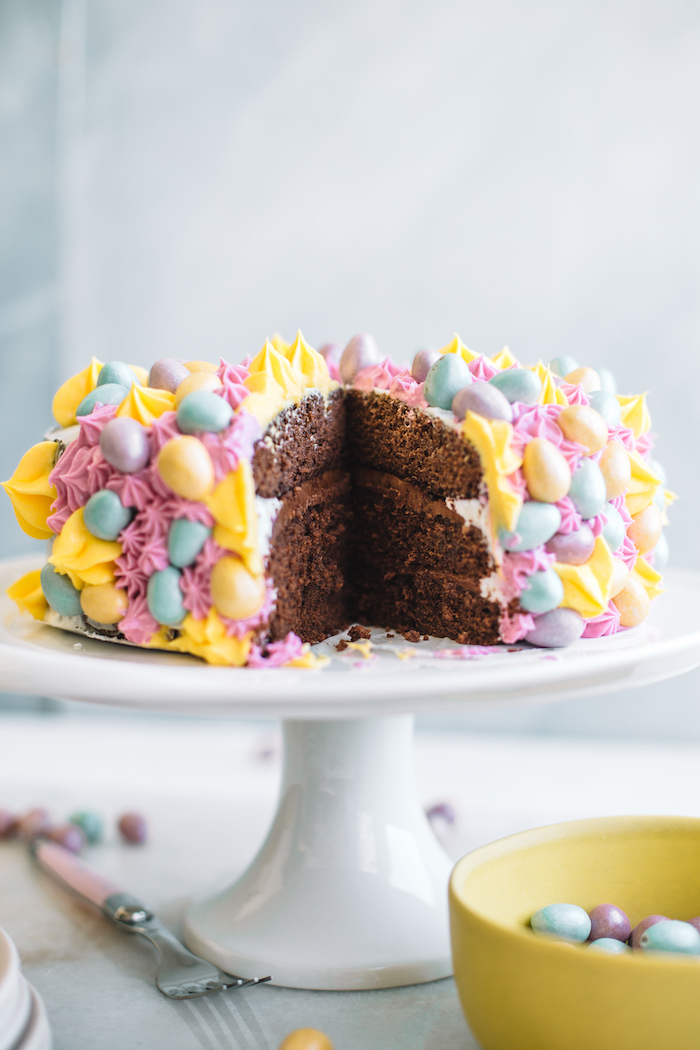 A slice of this on a peach plate is as Easter as it gets for me!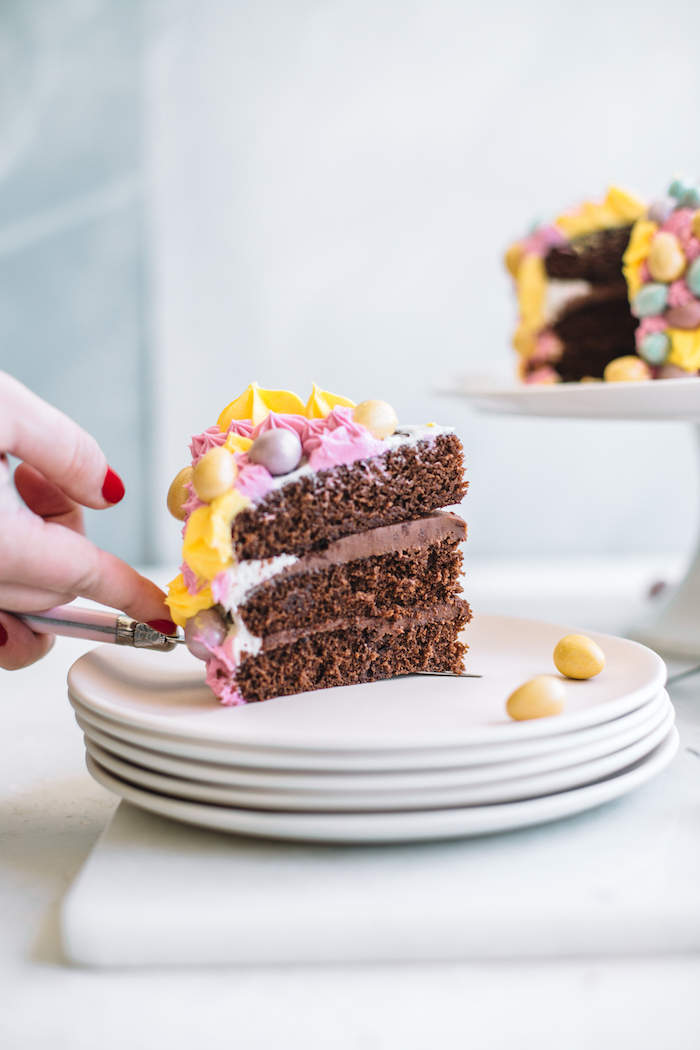 Chocolate Mini Cadbury Egg Cake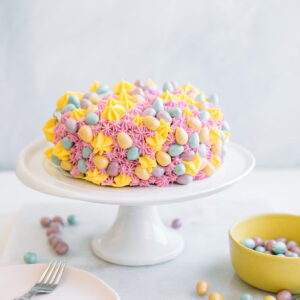 INGREDIENTS
For the Chocolate Cake:

2¼ cups cake flour
1½ teaspoons baking powder
½ teaspoon baking soda
½ teaspoon salt
¾ cup unsweetened cocoa powder
1¾ cups granulated sugar
½ cup unsalted butter, at room temp
1/3 cup vegetable oil
2 teaspoons vanilla extract
1 cup milk
½ cup coffee or water
4 large eggs
For the Cadbury Egg Cremè Ganache:
12 regular-sized Cadbury cremè eggs
6 Tbsp heavy cream
2 Tbsp unsalted butter
½ cup chocolate chips
For the Vanilla Almond Buttercream:
2 sticks/1 cup of unsalted butter, at room temp
4 cups powdered sugar
¼ cup milk or half and half
2 teaspoons almond extract
1 teaspoon Kosher salt
INSTRUCTIONS
For the Cake:
Preheat the oven to 350°F. Lightly grease and flour three 8″ round cake tins.
In a medium mixing bowl whisk together the flour, baking powder, baking soda, salt, cocoa, and sugar.
Add the butter and mix at low speed for one minute. Add the oil and continue mixing until the mixture looks pale.
In a large measuring cup, combine the vanilla with the milk and coffee (or water), and add two separate increments to the dry ingredients. Mix for one minute at low speed, stop and scrape the sides and bottom of the bowl, then mix for 30 seconds more.
Add the eggs one at a time, beating well at medium-high speed between additions. Scrape the sides and bottom of the mixing bowl, and mix for 30 seconds more. The batter will be thin.
Transfer the batter to the prepared cake tins. Smooth out the tops of the layers with an offset spatula. Bake for 24 to 26 minutes for 8″ layers.
The cake is done when the top springs back when very lightly touched in the center, and the edges just begin to pull away from the edge of the pan. A cake tester inserted in the center will come out clean.
Remove the cake from the oven and let cool completely in the tins on a rack before turning out of the pans to frost.
For Cadbury Egg Ganache:
Place all of the ingredients in a glass bowl over a pot of simmering water, ensuring that the bowl does not touch the water. Stir with a spatula continuously until the chocolate is melted and the mixture is smooth.
Transfer to a container, and press a piece of plastic wrap directly against the surface of the filling.
Refrigerate for about an hour, stirring occasionally, until the ganache has firmed up to a spreadable consistency.
For the Frosting:
In a large bowl, add in room temp butter, almond extract and salt. Beat for 2-3 minutes or until light and fluffy. Add in 1 cup of powdered sugar at a time to incorporate.
After each powdered sugar addition mix in a bit of milk of half and half. Depending on how dry or moist your climate is you may use more or less milk.