Almond Joy Coconut Butter Cups Are the Ultimate Keto Fat Bomb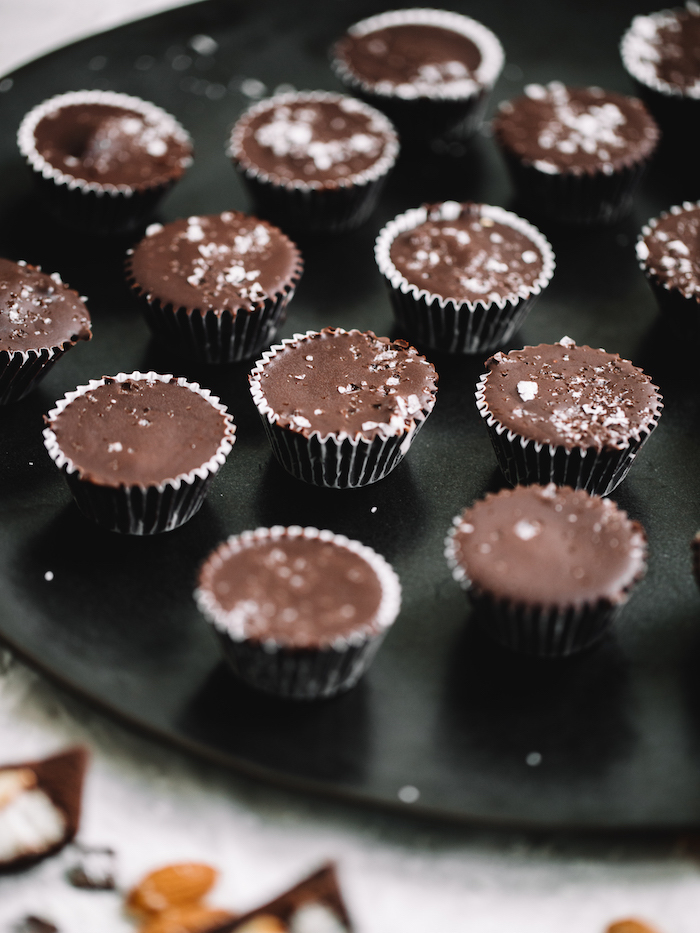 Extra almond butter or avocado, I'm listening…
The 'fat friendly' keto diet is HUGE this year and arguably the 'Atkins' diet of the 20-teens. By now you've probably have had a friend, family member or taken yourself for a spin in the Keto diet driver's seat.
My best friend Alex gave me a little summary of how Keto has changed up her lifestyle. She summed it up with these basic facts: at first it's tough and you even develop a sluggish 'keto flu' as your body adjusts. She also ate A LOT of cheese… and eventually started to feel lighter, healthier and more energetic after a week or two.
I was instantly intrigued at the amount of healthy fats (hello cheese and avocado!) you're allowed to have on the diet. And the occasional Keto fat bomb! Like these Almond Joy Coconut Butter Cups.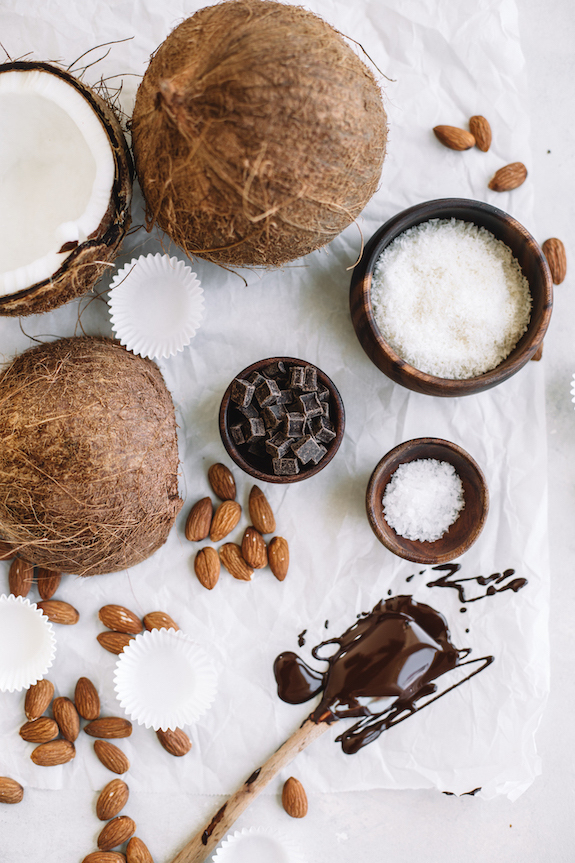 You might be wondering, what the heck is the keto diet? I felt the same…
A ketogenic diet is basically an extremely low carb, high fat diet. A keto diet usually consists of 75% more of healthy fats and the rest is made up of protein and carbohydrates. By replacing your carbohydrate intake with fats, your body engages in 'ketosis' which basically means your body becomes extra good at burning fat for energy.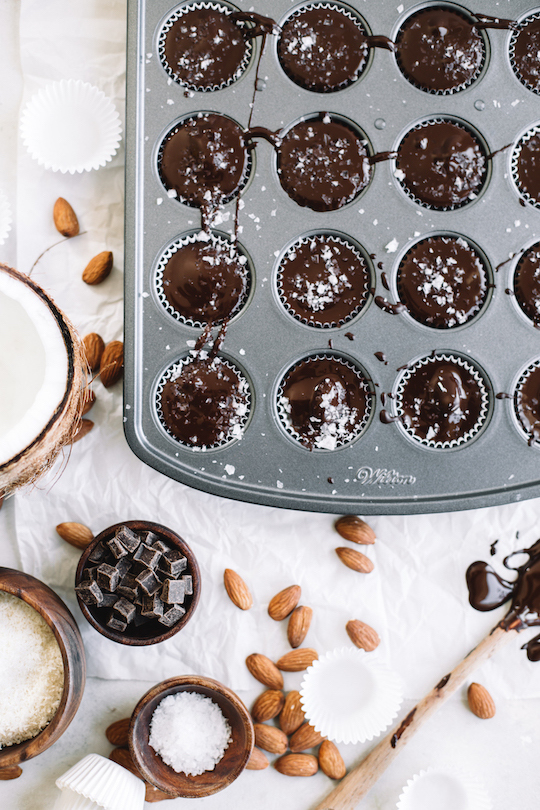 Perfect Results Mini Muffin Pan

By Wilton

Shop Now
What are the benefits of a keto diet?! Does it help you lose weight?
Yes and yes. A keto diet will help you burn more fat than a traditional low fat diet and provide you with longer lasting energy which helps dieters rev up their workout routines. A keto diet can also help improve brain function and increased concentration.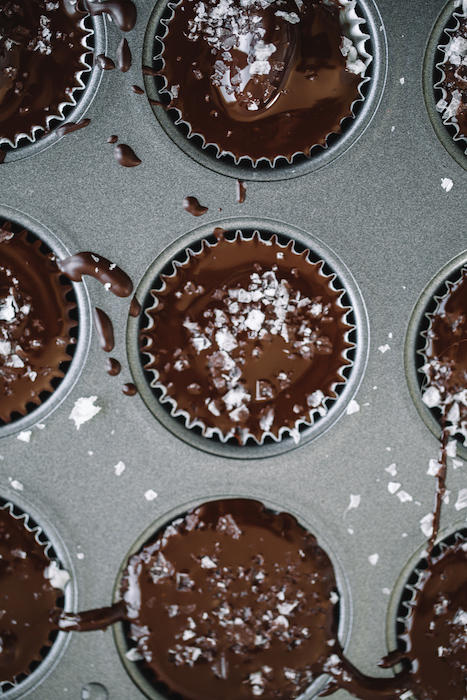 So… what can I actually eat on the keto diet?
If you're like me I always dive DEEP into my food choices on a particular diet. I want to know what exactly I can eat while I'm out and about and different recipes I can make at home. It's important to me that a diet is somewhat flexible. If you love Mexican food, stick to things like asada platters with grilled veggies, extra avocado and sour cream and salsas. Bunless burgers with veggie based sides and salads are another great dinner option. Now… let's talk about dessert.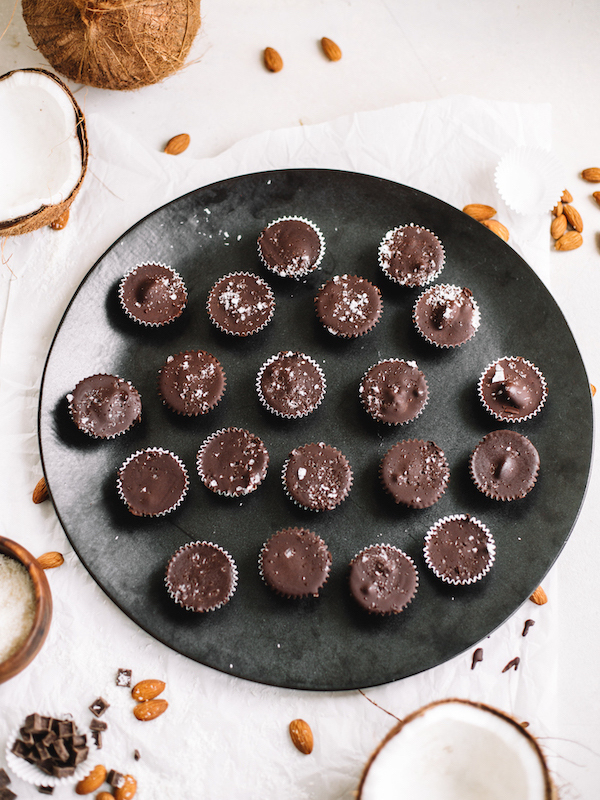 Your sugar and carb intake is greatly reduced in keto so most pastries, cookies and pie were out. Which left me with ingredients like coconut, almond butter, nuts, cocoa, and cream. On my search for 'keto dessert options' I stumbled upon things like berries and whip cream and many even suggested a cheese plate. These weren't really doing it for me, until I stumbled across a 'keto bomb'.
Drift 2-Piece Platter Set

By Prologue

Shop Now
What is a 'keto bomb'?
A keto bomb is a super high fat dessert 'treat' usually made with almond or peanut butter and cocoa. Sort of like a reese's peanut butter cup, but way healthier. As soon as I saw these my mind turned straight to 'almond joys'. I love almond joys and I knew that they had a great foundation to turn into a keto friendly treat.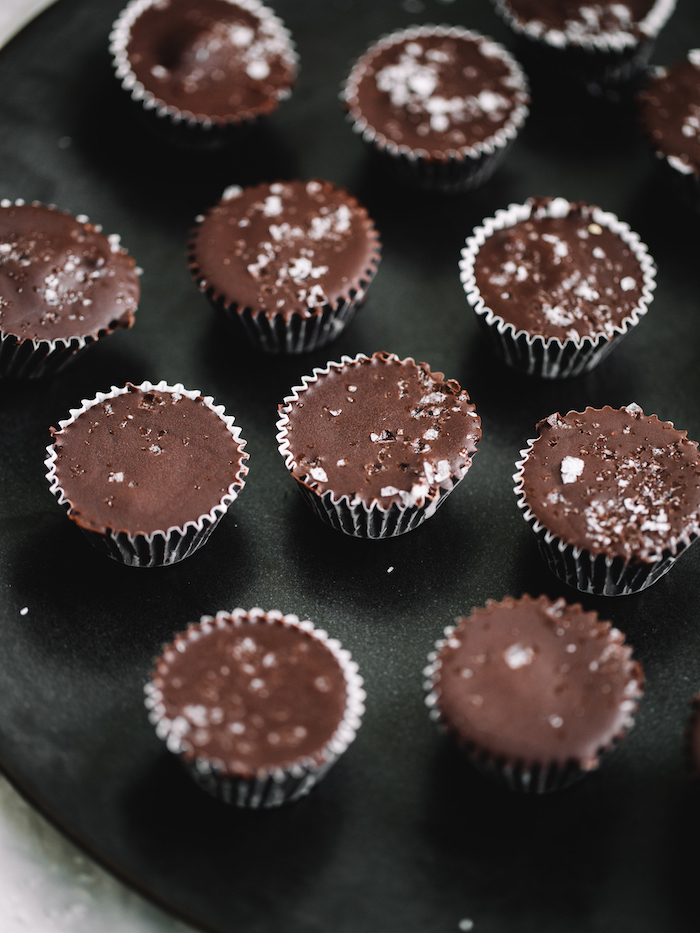 These almond joy keto fat bombs are simple to make and only require a few ingredients. Be sure to stock up on small cup liners, Wilton always has a great selection! And a coordinating cupcake pan, I love using a mini cupcake pan because they turn out the same size as Reese's peanut butter cups!
How do we make these almond joy keto fat bombs?
These cups come together in three easy layers: a melted chocolate layer, coconut center (don't forget the raw whole almonds!) and another chocolate layer to seal everything. Freeze the platter up to solidify everything and serve!
I like to keep these in the refrigerator so they stay fresh and don't melt on the counter. Just pull them out a couple of minutes before you want to eat one and they are the most perfect consistency. For extra decadence don't forget the maldon sea salt on top, my fav!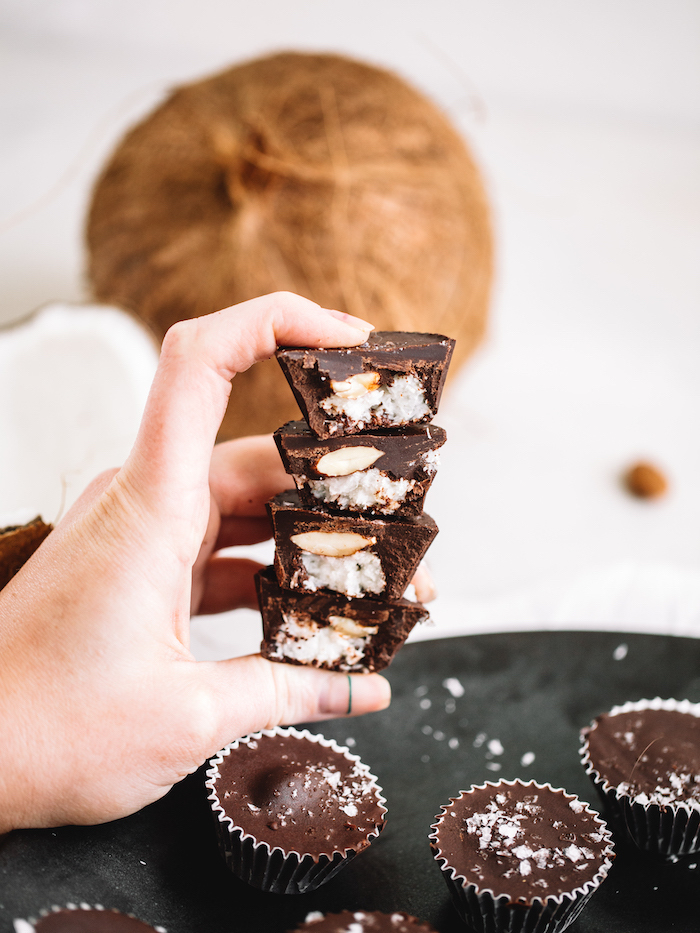 Almond Joy Keto Fat Bombs
These Almond Joy Keto Fat Bombs are the perfect keto bomb. Simple to make, and only requiring a few ingredients, these are extra decadent and delicious.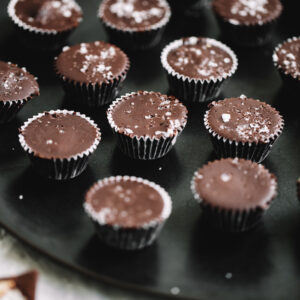 Ingredients
1

cups

unsweetened shredded coconut, chopped finely

3

tbsp

coconut milk

3

tbsp

coconut oil (liquid form)

.5

tsp

almond extract

6

oz

low sugar chocolate (90% cocoa or more)

small pinch of kosher salt

.25

cups

maple syrup or keto-friendly sweetener like stevia or splenda

15

raw, whole almonds

flaky sea salt
Instructions
In a large bowl, add unsweetened coconut, coconut milk, sweetener, vanilla & almond extracts, salt and 2 tablespoons of coconut oil. Mix well until combined, set aside.

Line a large mini cupcake pan with 15 paper liners (may need more or less depending on pan size).

In a large glass bowl, melt down chocolate with remaining tablespoon of coconut oil for 30 seconds at a time, mix well after each increment until melted.

Add in about 1 teaspoon of chocolate to the bottoms of each cup. Add in a teaspoon of coconut mixture to first layer of chocolate. Top coconut mixture with one whole, raw almond.

Top coconut tops with chocolate until covered. Sprinkle with flaky salt and freeze for 15-20 minutes or until set.
Nutrition
Serving:
1
g
Calories:
211
kcal
Carbohydrates:
12
g
Protein:
2.4
g
Fat:
17.2
g
Saturated Fat:
12.5
g
Cholesterol:
1
mg
Sodium:
98
mg
Fiber:
2.6
g
Sugar:
8.1
g