8 Things Every Bathroom Needs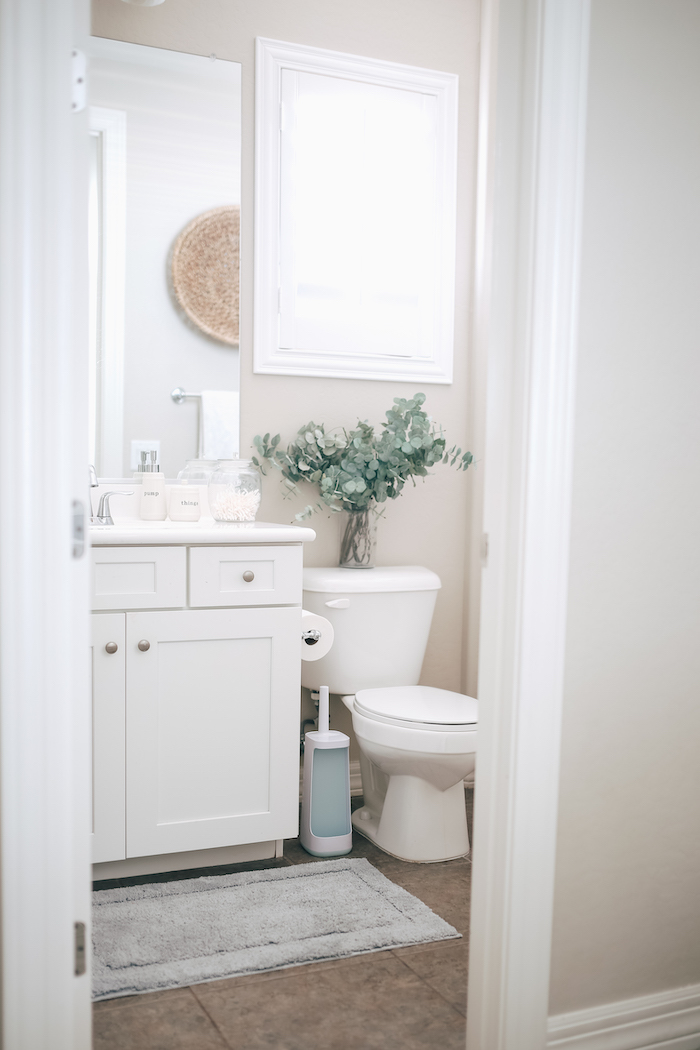 If you are moving into your first apartment, first home, or just need a fresh start, I have the perfect list for you when it comes to setting up your bathroom! There are a ton of things you can do to make your bathroom look and feel special but here is a list of bathroom essentials to get you started.
1. Bath Towels
Every bathroom needs a set of bath towels. A set of 6-10 towels is a perfect start. This should include bath towels/sheets, hand towels, and washcloths. Fast-drying towels are great for reducing odor and mildew and Everplush towels do just that. They feel like cotton, but perform like microfiber and dry quickly. Plus, they last longer than regular cotton towels. I've had mine for almost two years and they still look and feel great.
Diamond Jacquard 10-Piece Bath Towel Set

By Everplush

Shop Now
2. Shower Curtain
When choosing your shower curtain, make sure you choose something that goes with your style and something that is functional. Every shower curtain should have a liner. The liner sits on the inside of your shower so that no water leaks out; the other side gives you privacy while you take a shower. Use shower curtain hooks to add even more detail to your curtains.
Waffle Fabric Shower Curtain

By Moda At Home

Shop Now
3. Hand Soap
On your bathroom counter, you will need to have soap for washing your hands. You can use a dispenser to match your décor, your favorite seasonal scent, or even a battery-operated or rechargeable soap dispenser. If you're sharing your bathroom with guests instead of having one guest towel, use disposable guest towels you can throw in the trash.
Rechargeable Sensor Pump Soap Dispenser

By simplehuman

Shop Now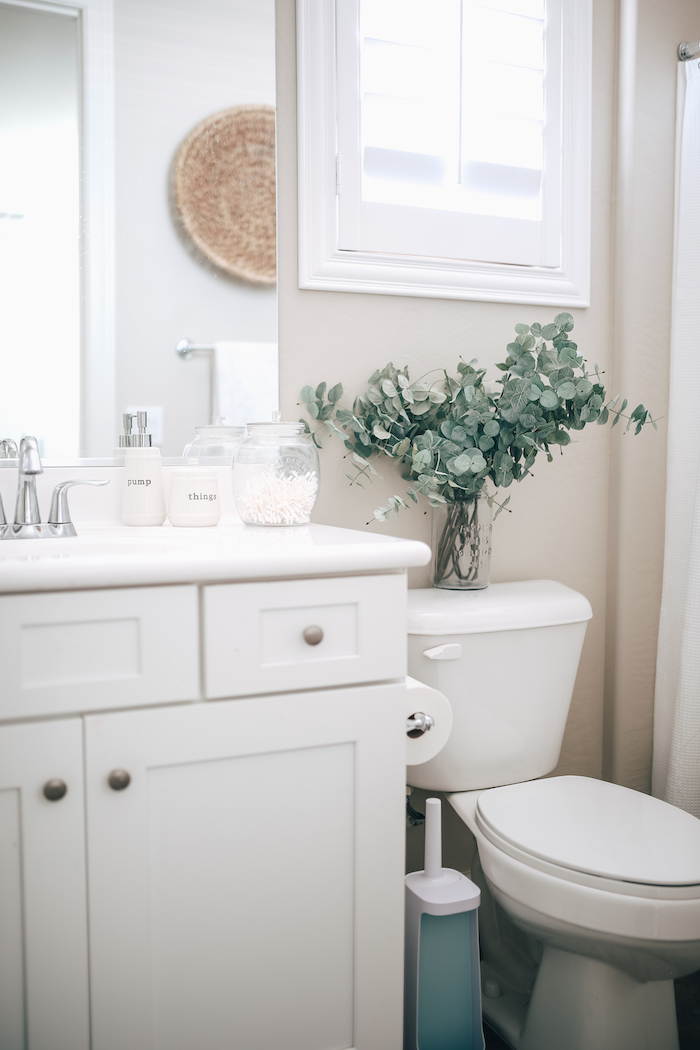 4. Toilet Bowl Cleaner
Whether you choose to store it under the sink or behind the toilet, the toilet bowl cleaner is another essential you can't live without. This toilet brush from Joseph Joseph is both stylish and functional. You can store your cleaner right below your sink for even more convenience. Along with a toilet bowl cleaner, you should also store a plunger.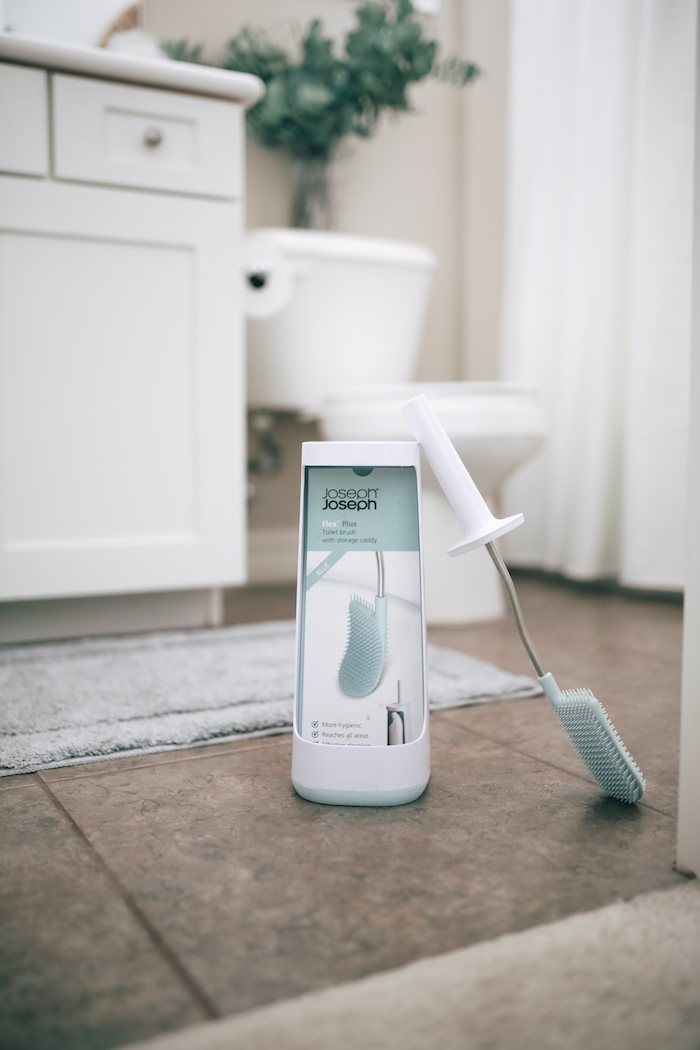 Flex Brush Toilet Brush with Caddy

By Joseph Joseph

Shop Now
5. Storage
If this is your first bathroom, odds are that it is going to be on the small side, so storage is very important. Use wall space, rolling bins, or the space under the sink to store makeup, shampoo, etc. Keeping things stored away helps the bathroom remain uncluttered.
6. Poo-Pourri
Poo-Pourri is becoming more and more of a genius essential for every bathroom. Help guests hide embarrassing moments by leaving out a bottle or two of Poo-Pourri. This stuff REALLY works, friends. Just spray it in the toilet before you go and the essential oils make a barrier so that the smell is canceled. Keep it right next to or behind the toilet for easy access.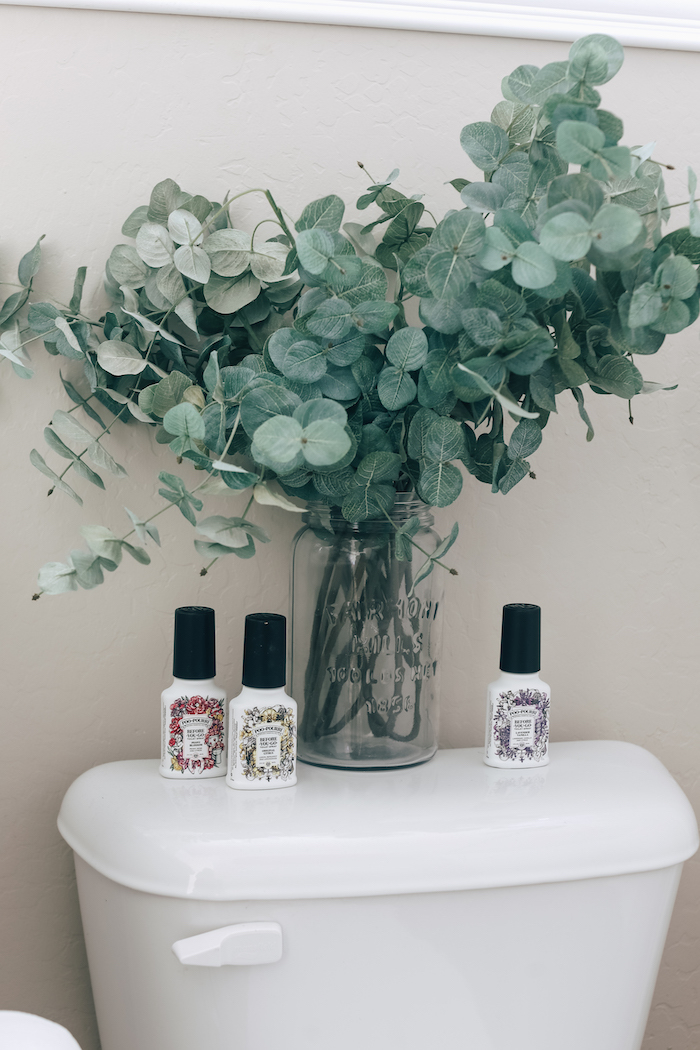 Tried-and-True Set

By Poo-Pourri

Shop Now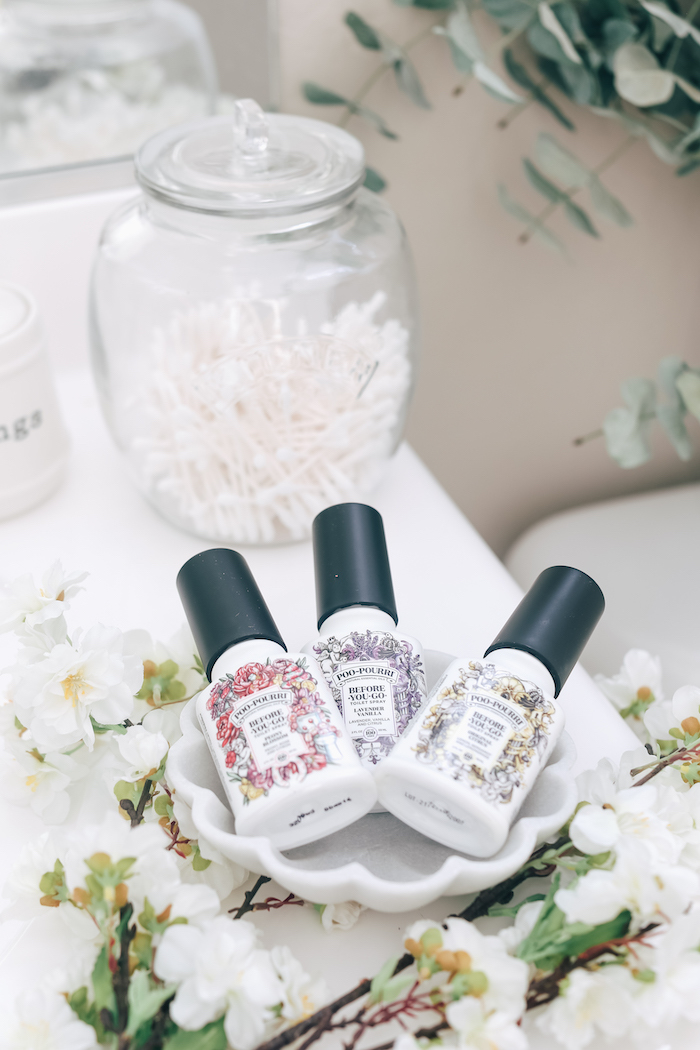 7. Trash Can
Every bathroom should have a trash can as well. This trash from TOWNEW changes and seals itself. Once it's full, you simply press a button to have it self-seal the bag and then auto-line the bin with a new one. Pretty cool and pretty sanitary! It fits perfectly in a small bathroom.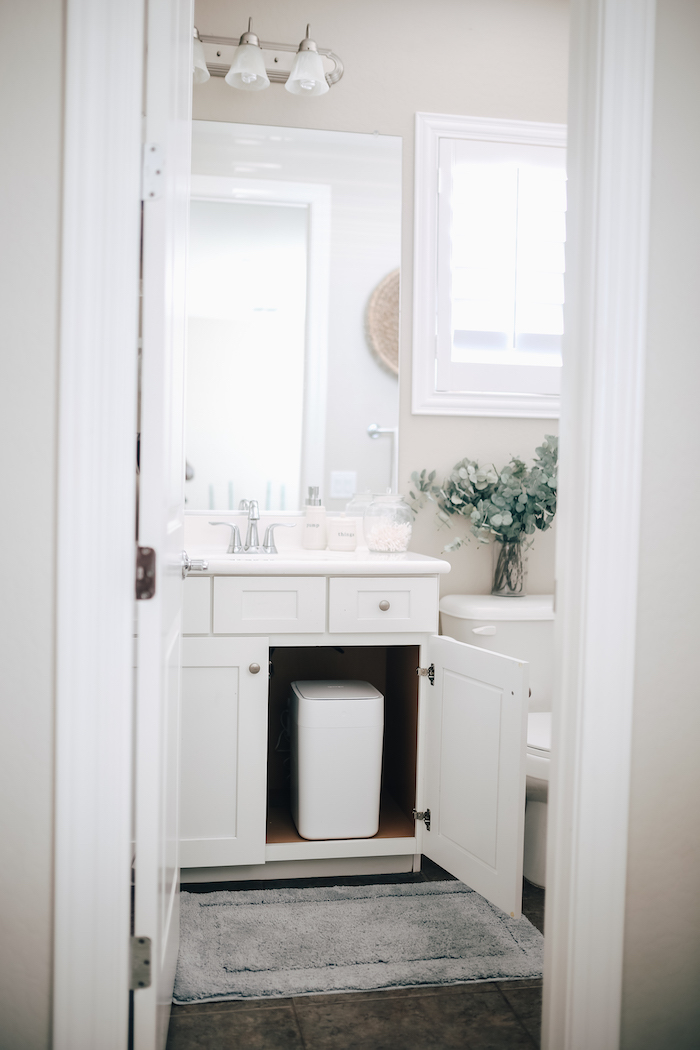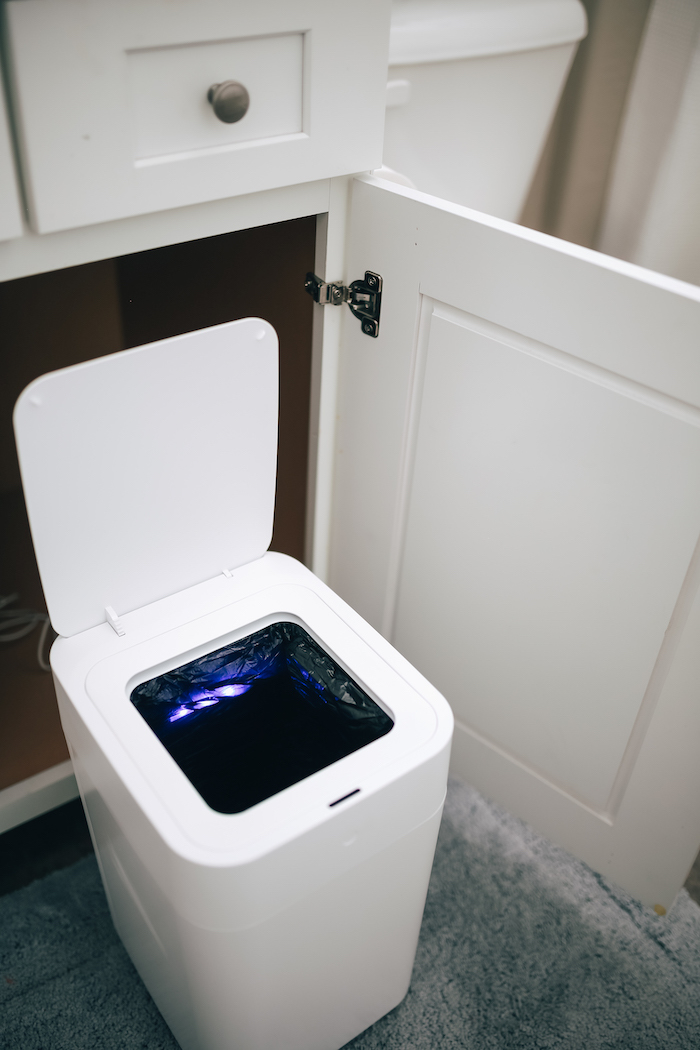 8. Something You Love
Lastly, make sure your bathroom has something you love. Whether it's a bath mat in your favorite color, a funny piece of art, or a vase full of fresh flowers. Having something you love in your bathroom will always give it that personal touch.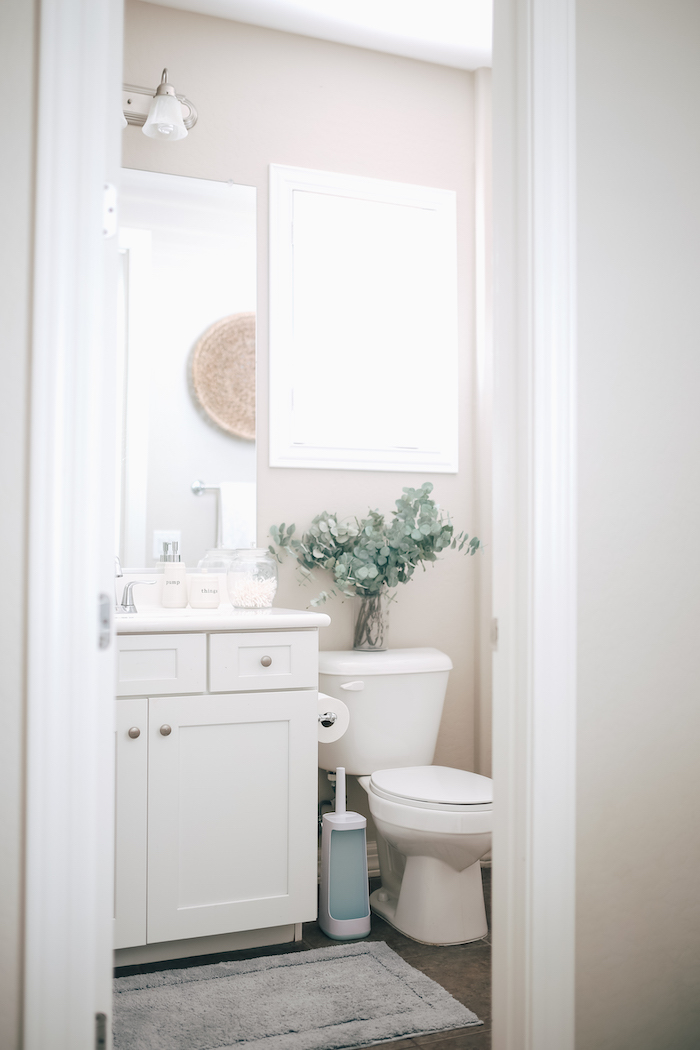 Microfiber Non-Slip Bath Mat

By iDesign

Shop Now