4 Fun Foodie Gifts for Everyone on Your List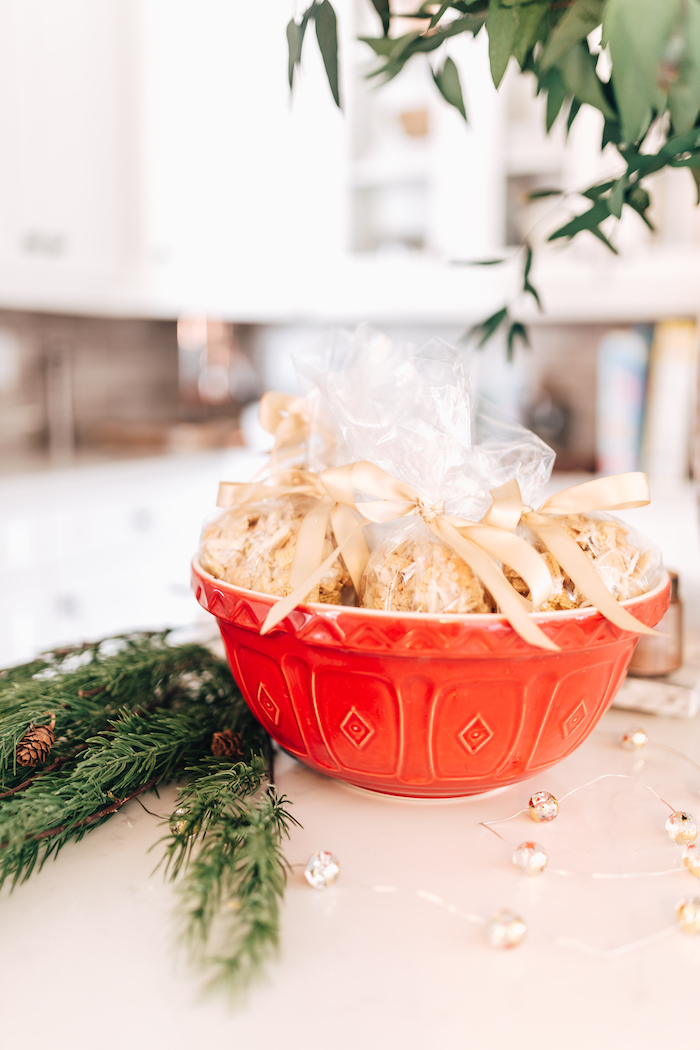 If you're looking for some fun gifts you can make at home, then look no further! I'm bringing you a few ideas you can make straight from your kitchen. These are great for edible (and one fun non-edible) gifts for those foodie friends of yours!
Christmas Chex Mix
This might be one of my favorite foodie gifts to make for the holidays. My neighbor made this one year and I have been hooked ever since! This is great to hand out to crowds of friends you love. Just put them in food safe baggies, tie them with a ribbon and you've got yourself a gift!
For this recipe you're going to need a big bowl. So I love to get out my Mason Cash bowls. This red one just gets you in a festive mood right?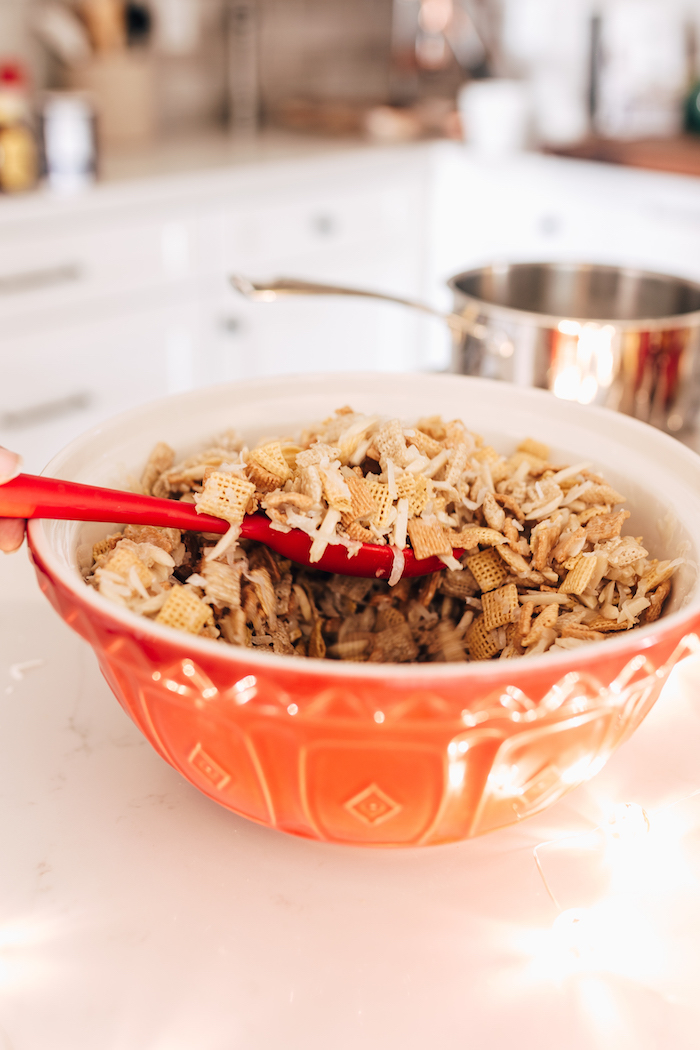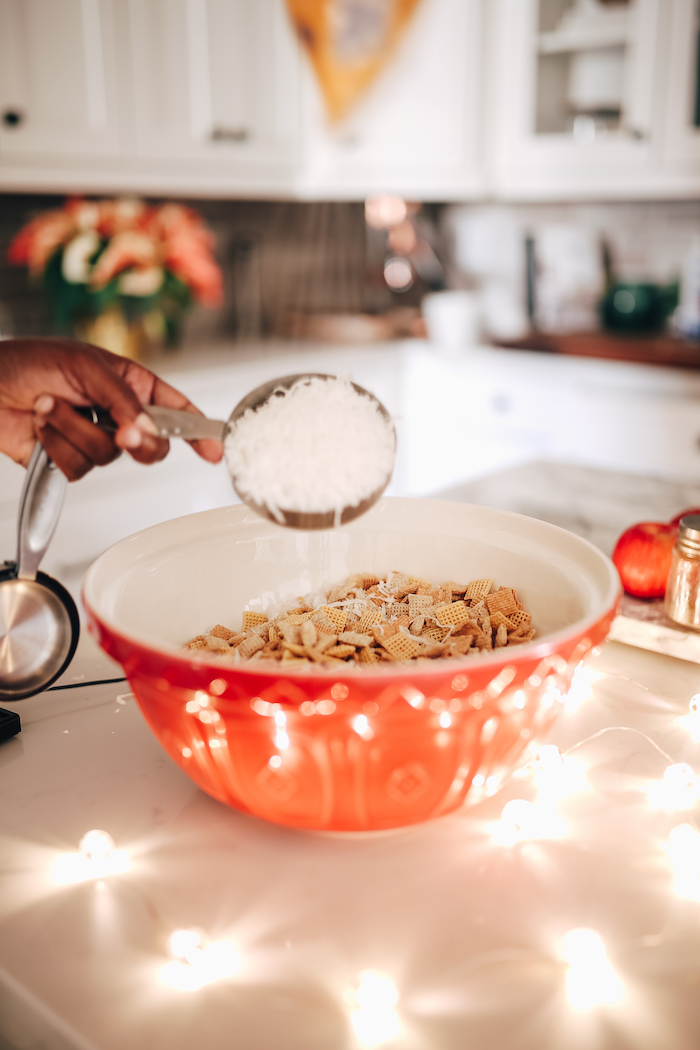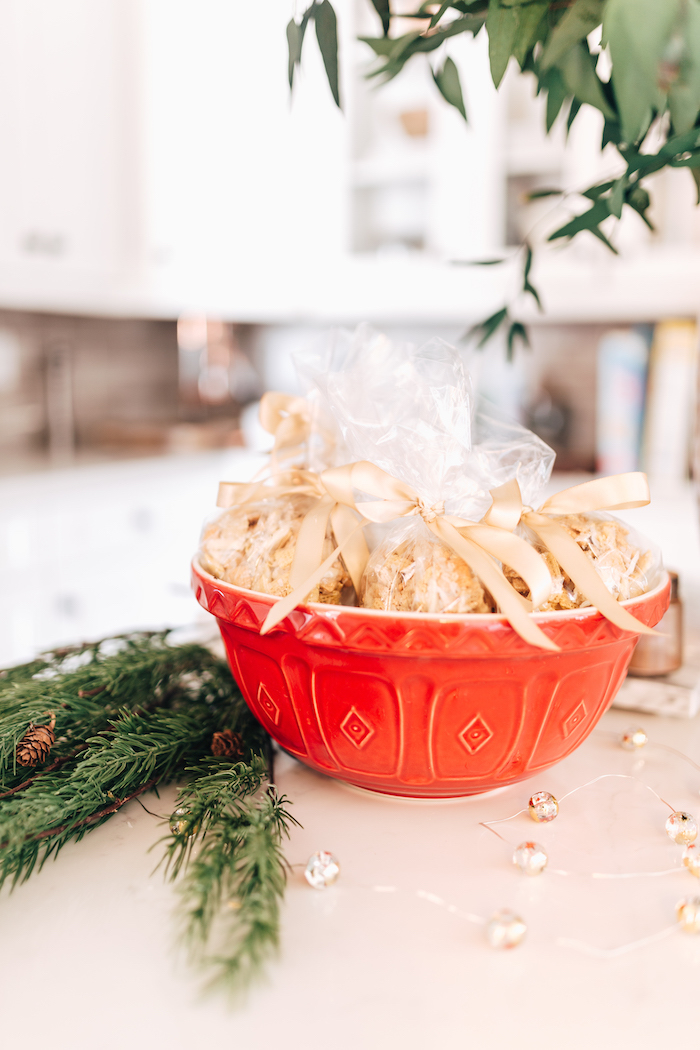 Essential Silicone Red Utensils

By Core Kitchen

Shop Now
You are going to get a ton of flavor with this mix that include almonds, coconut, and crunch cereals like Chex and Golden Grahams. Not to mention there is butter. We know that butter makes everything better! Check out the entire recipe below!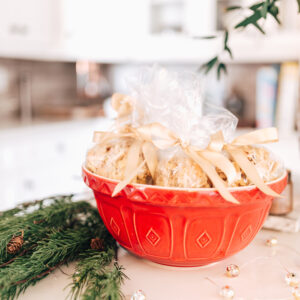 INGREDIENTS
3 cups Corn Chex Cereal
3 cups Rice Chex Cereal
6 cups Golden Grahams Cereal
2 cups coconut
1 ½ cups slivered almonds
1 ¼ cup light corn syrup
1 ¼ cup sugar
1 cup butter
INSTRUCTIONS
In a large bowl, mix both Chex cereals, Golden Grahams Cereal, coconut, and almonds. Set aside.
In a medium saucepan, over medium high heat, combine the corn syrup, sugar and butter. Bring to a boil for two minutes. Remove from heat and let cool for about two minutes.
Pour over the cereal mix and mix well until the cereal is coated.
Homemade Chocolate Fudge Sauce
Who doesn't love a little bit of fudge on top of their ice cream sundae? This gift is simple to make and pair up. Simply add all the ingredients in a saucepan, then stir until you have a delicious sauce! (See the full recipe below.)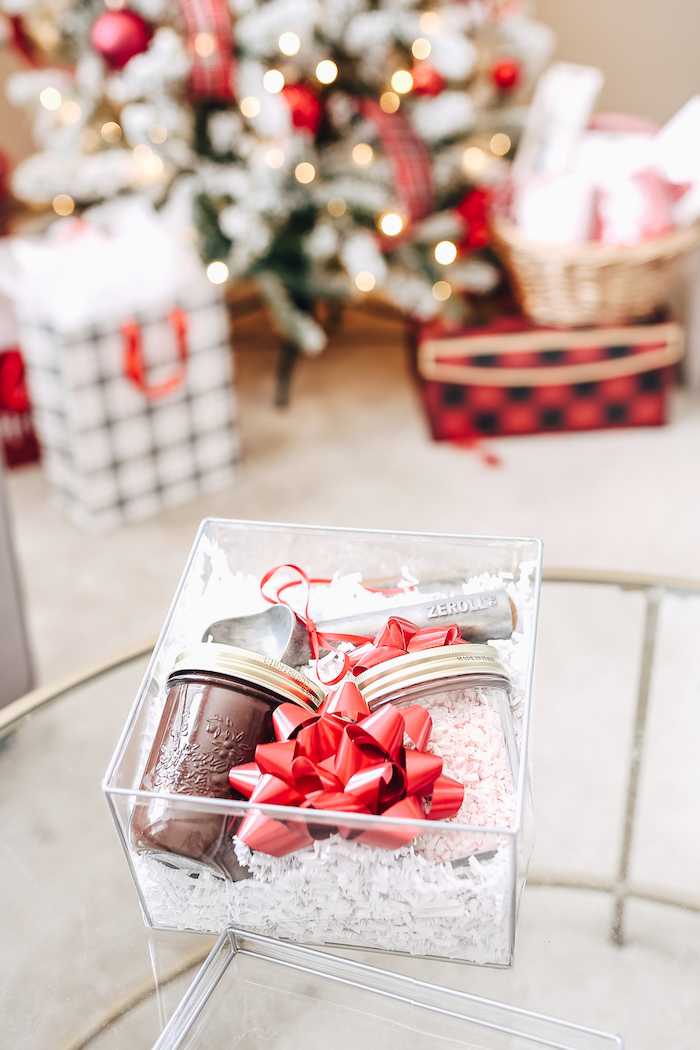 Then place the fudge in a glass jar and seal tightly. Add crushed peppermint in another jar for a Christmas-themed presentation! Leave space for an ice cream scoop in a clear box from Design Ideas and you've got yourself a gift perfect for neighbors and friends!
Homemade Chocolate Sauce Recipe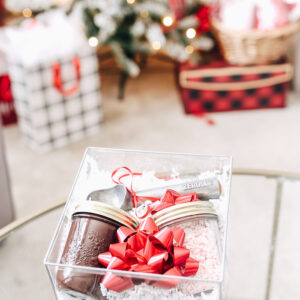 INGREDIENTS
1 can (12 oz) evaporated milk
1 bag (12 oz) semisweet chocolate chips (2 cups)
½ cup sugar
1 tablespoon butter
1 teaspoon vanilla
INSTRUCTIONS
Heat sweetened condensed milk, sugar and chocolate in a heavy saucepan over medium-low heat until chocolate is melted, stirring often, about 5 minutes.
Remove from heat. Add butter and vanilla and stir until melted.
Peppermint Bark
Another classic food gift, peppermint bark can be made in bulk and be gifted out to the masses! Plus it's really easy to make.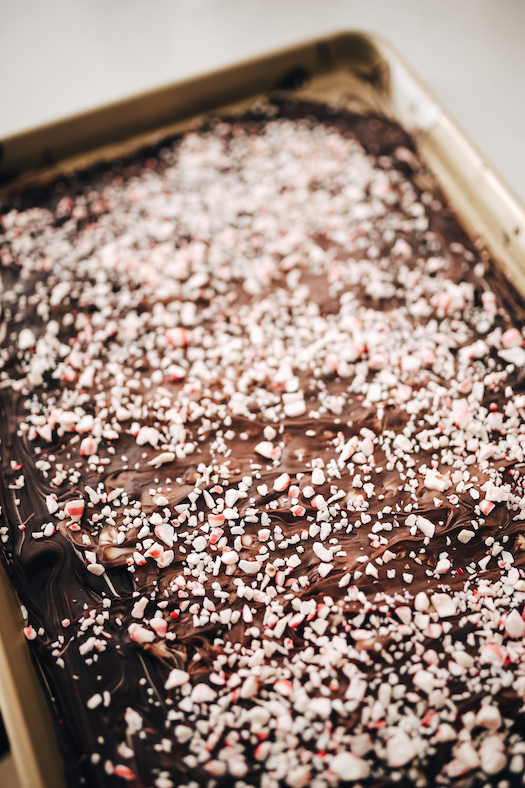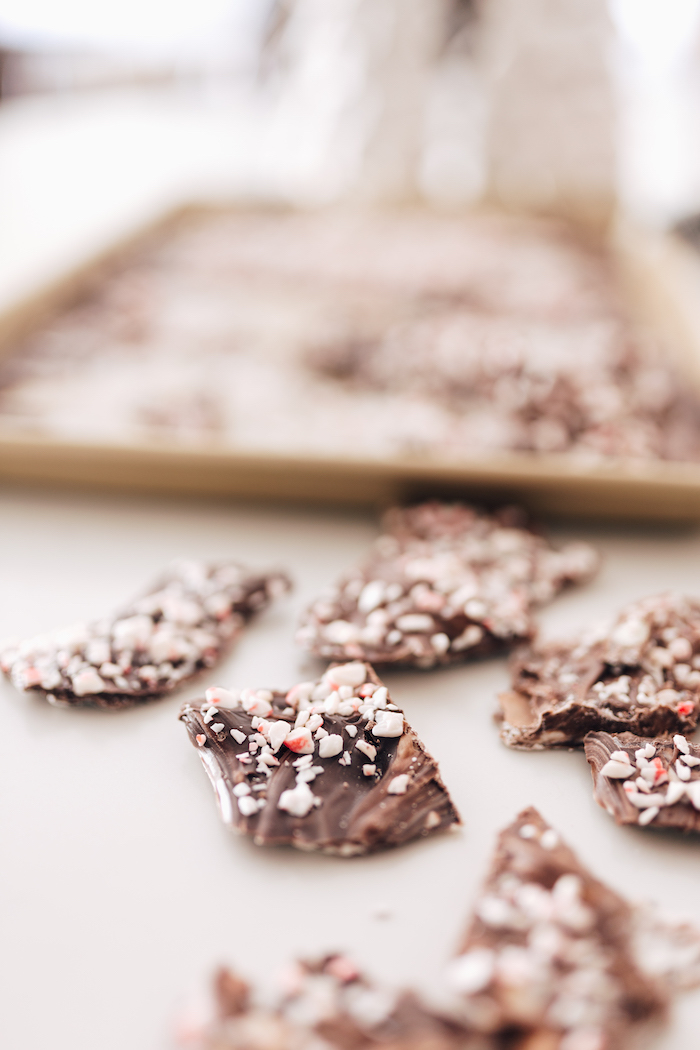 Melt two different types of chocolate (my favorite is dark chocolate and white chocolate) and pour it onto a 13×9 baking sheet in layers to create a peppermint candy crunch that is hard to put down! Wrap it up in cellophane or in small glass jars!
Quattro Stagioni Canning Jars

By Bormioli Rocco

Shop Now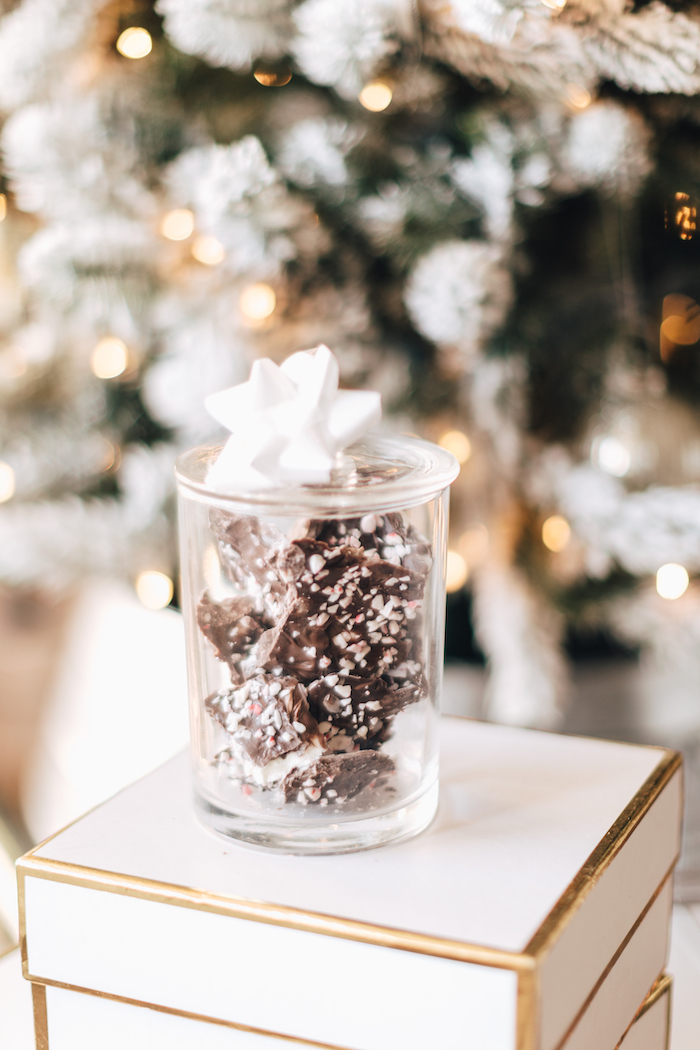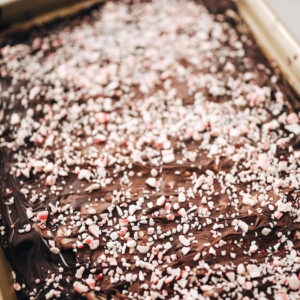 INGREDIENTS
30 crushed peppermint hard candies, divided
1 ½ pounds dark chocolate candy, chopped
1 ½ pounds white chocolate, chopped
1 teaspoon oil-based peppermint flavoring
INSTRUCTIONS
Spread 1/3 of the peppermint candy over a 9×13-inch baking pan lined with wax paper.
Melt the dark chocolate in the top of a double boiler over simmering water, stirring frequently and scraping down the sides with a rubber spatula.
Pour the melted chocolate over peppermint candy in the prepared pan. Sprinkle another 1/3 of the candy on top of the milk chocolate. Refrigerate until the chocolate hardens, about 30 minutes.
Melt the white chocolate using the same technique and add peppermint flavoring.
Pour the white chocolate over the dark chocolate, then spread the remaining 1/3 peppermint candy on top.
Refrigerate until the white chocolate hardens, about 30 minutes. Cut or break into pieces to serve.
Gingerbread Playdough
This one you can't technically eat but it's made in the kitchen and tons of fun for any kids on your list this year! Gingerbread play dough smells and looks like the real thing! Little chefs and bakers will LOVE rolling out the dough and making their own gingerbread creations.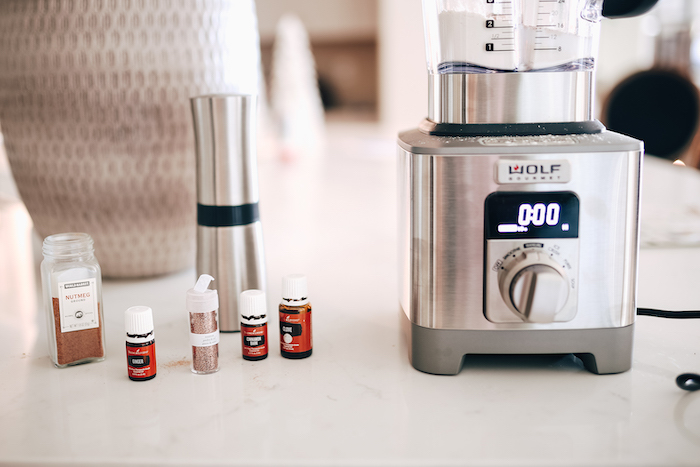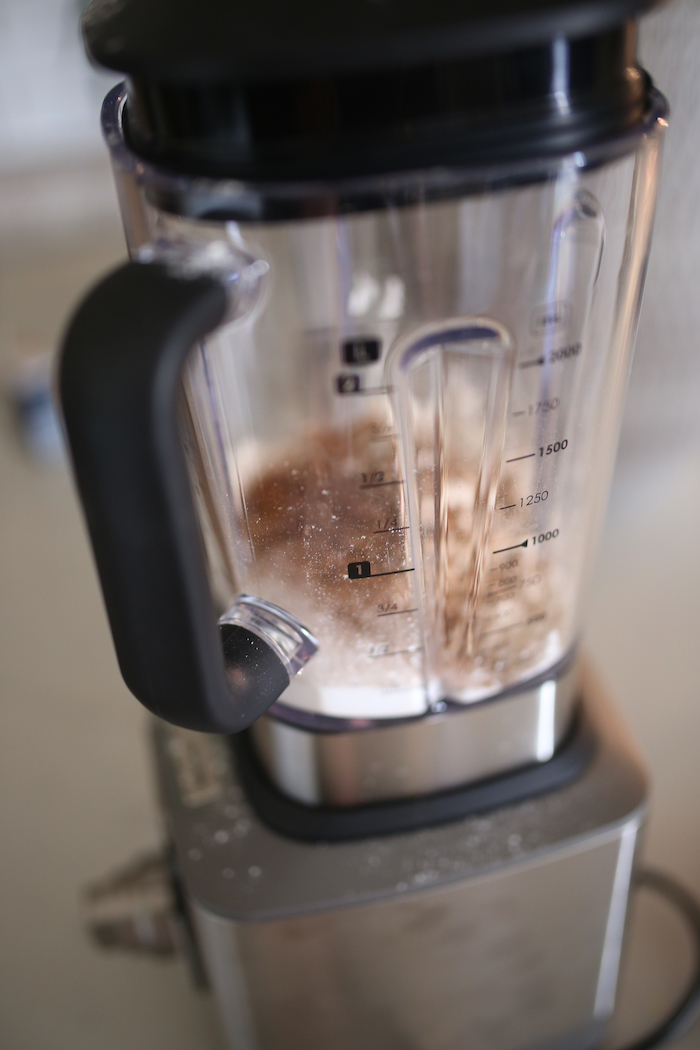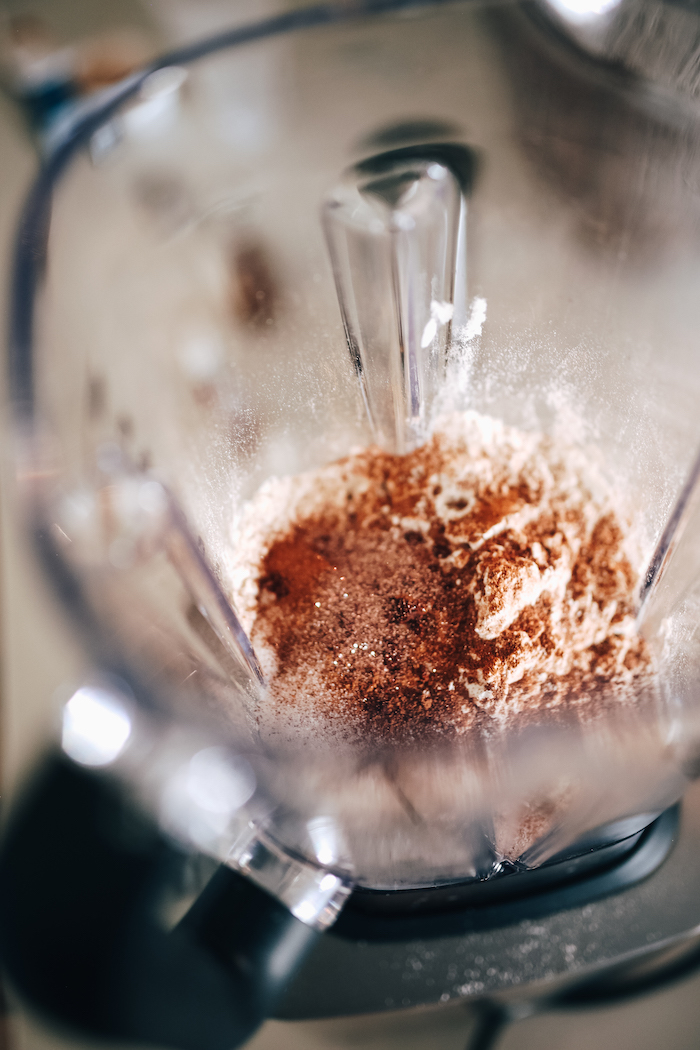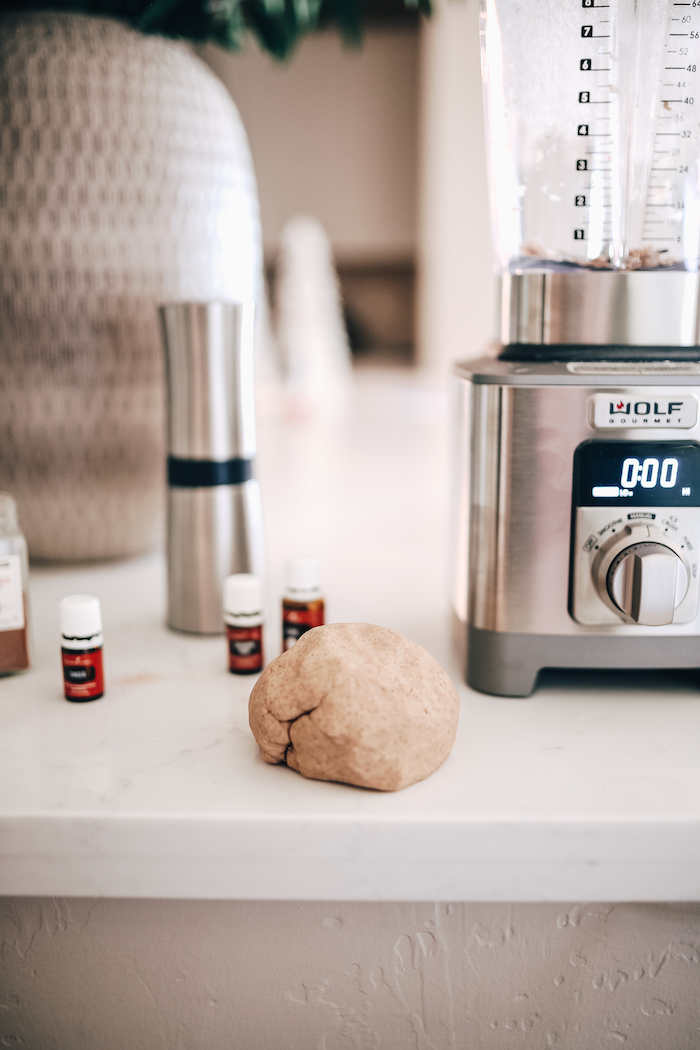 I made the entire dough in my Wolf blender, the machine that can do all the things including making a soft dough! Using a few essential oils, spices, and GLITTER, I was able to mix together a whimsical gift.
Gourmet High-Performance Blender

By Wolf

Shop Now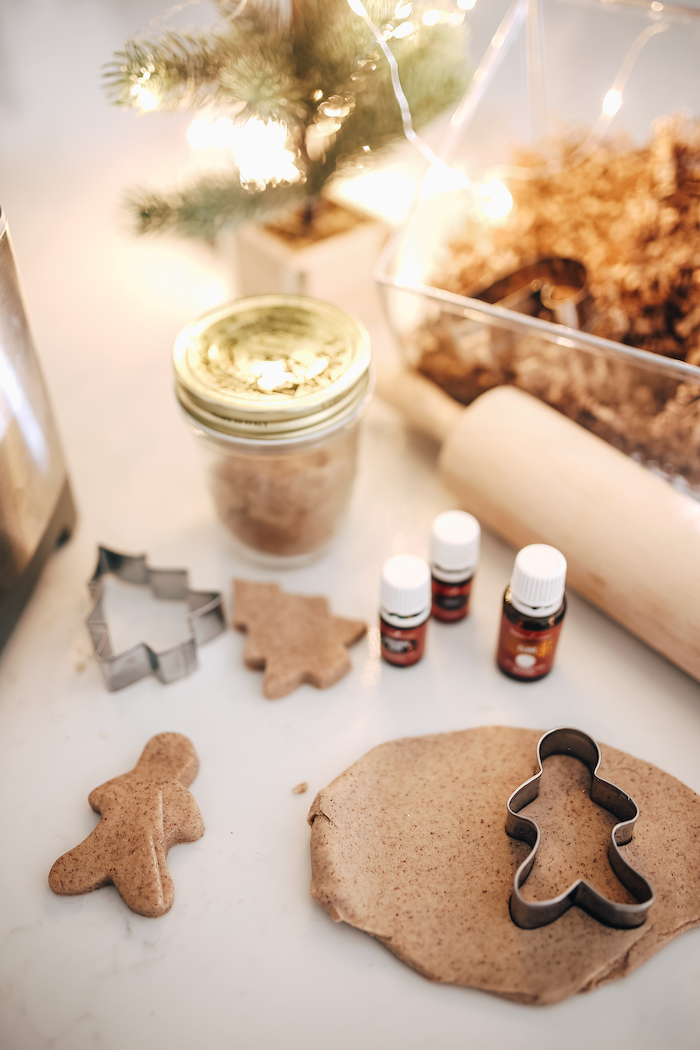 Just add all the ingredients in the blender and watch the magic happen! I started off with a pulse and just mixed the dough until it was one solid piece. Then I made a cute little gift box using the clear boxes again. I think it gives such a fun presentation! Just use a jar to keep the dough nice and fresh and add playful cookie cutters to the mix!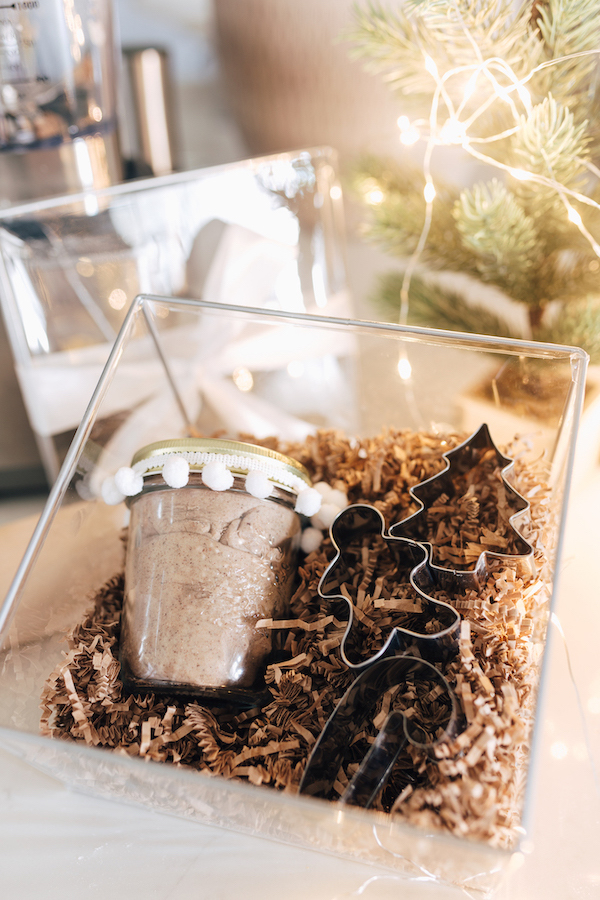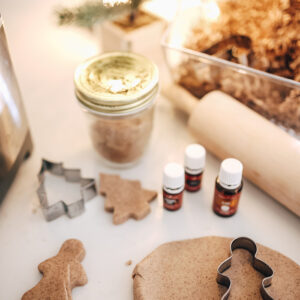 INGREDIENTS
1 ¼ cups warm water
2 tbsp. canola oil
4 drops of Cinnamon Oil
4 Drops of Ginger Oil
2 Drops of Clove Oil
1 teaspoon Nutmeg
1 teaspoon All Spice
1/3 cup salt
1 ½ tsp. cream of tartar
1 ½ cups all-purpose flour
Optional: 1 tablespoon of fine gold glitter
INSTRUCTIONS
Add ingredients to the blender and secure lid.
Start with a pulse and then blend on a medium speed for 75 seconds.
Use spatula to remove playdough from jar.
Allow to cool before handling.
Store in an airtight container.
You may need to add more flour. If your find that it's too sticky, continue to add flour a little at a time until the dough has formed together.