30-Minute Teriyaki Salmon Bowls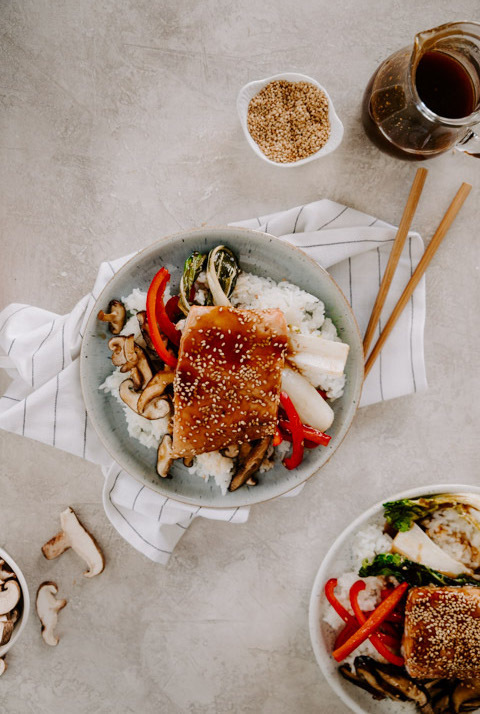 I'm all about creating meals that take little to no energy to prepare and still have the end result of a delicious home-cooked dinner. I call these meals "Easy Weeknight Dinner Wins," and these delicious, 30-minute Teriyaki Salmon Bowls just happen to be one those wins.
Easy Weeknight Dinner Wins typically involve few pots and pans — preferably just one – not a ton of prep work or make-ahead ingredients, and can be thrown together with any combination of vegetables that happen to be on hand.
This method of cooking speaks to my passion of sharing Intuitive Eating because it doesn't take a ton of brain space and can end in a really satisfying meal — both because of ease and because of the beauty of the meal itself.
I am a firm believer that the less we can think about food, the better. Not because food isn't or shouldn't be fun or satisfying, but because I think we're getting really wrapped up in pursuing "perfectness" in health through food (and movement!), which is ultimately to our detriment.
Health doesn't have to be so complicated, and it shouldn't be. We should be spending our time pressing into the things that fulfill us, whether that's through our work or art, or creating more time for our friends and family.
And science backs that up, whoo-hoo! Studies show that loneliness eclipses many of the current "go-to" risk factors we focus on for health — physical exercise, body-weight, and even smoking and alcohol consumption included. This means that social interactions are even more important to our health than the ways our culture celebrates the pursuit of health, which ironically tends to take us away from those very important social interactions.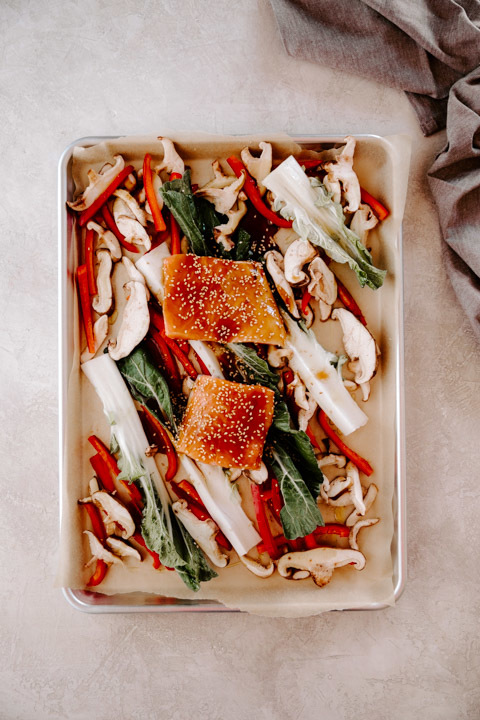 That's why I created this recipe for you all today!! My Teriyaki Salmon frees up your time in the evening so you have more of it to spend in quality, doing the things you want to with the people you love. This is basically a sheet pan recipe (with the rice cooked separately) that takes all of 30 minutes.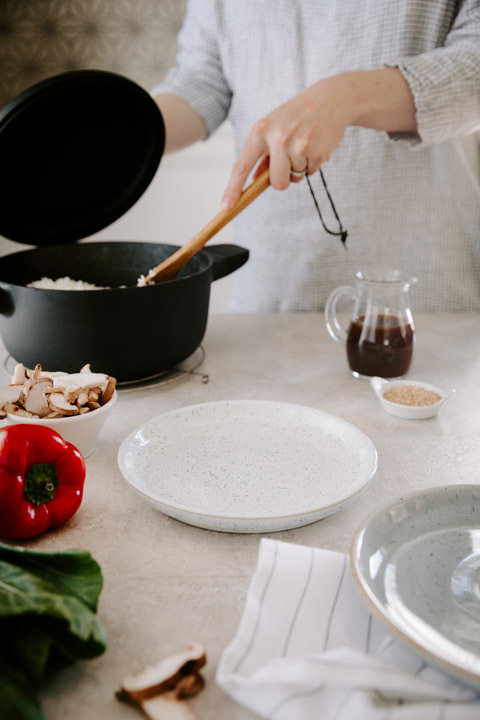 And if you don't have time to make the teriyaki yourself, you can certainly short-cut it by purchasing pre-made teriyaki sauce at the store. No harm in that!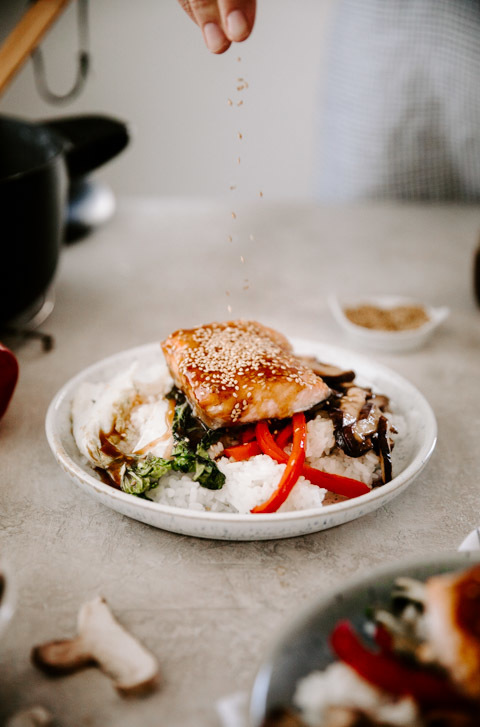 The veggies in this recipe are some of my favorite, but feel free to switch it up based on what you have in your crisper, or what you're feeling inspired by — maybe by the seasons?!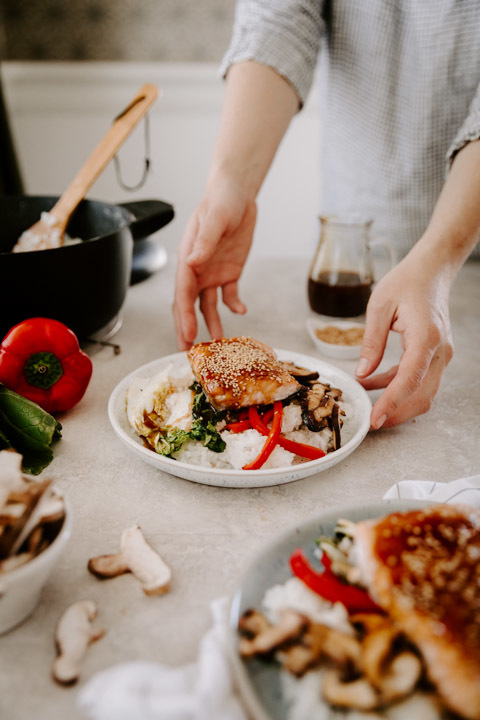 A great way to keep this recipe fresh and exciting all while still in your regular rotation is by swapping them out every once in a while, or even by trying chicken instead of fish.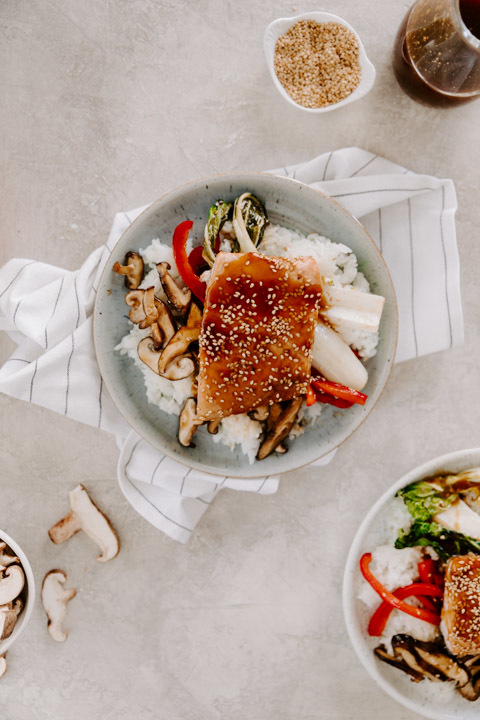 Have fun and enjoy this one, friends!
30-Minute Teriyaki Salmon Bowl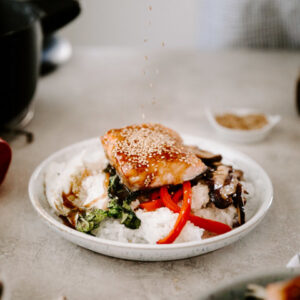 INGREDIENTS
For the Sauce:
1 cup water
¼ cup packed dark brown sugar
¼ cup tamari, soy sauce, or liquid aminos
2 tablespoons liquid sweetener like honey or coconut agave
2 large cloves of garlic, minced
½ teaspoon, or about 1
2 tablespoons cornstarch (optional)
¼ cup cold water (optional)
For the Salmon:

2-4 cuts of 6-8 oz Salmon Filets, deboned and skin-on
1 package sliced shiitake mushrooms
1 red bell pepper, cut into thin slices, lengthwise
2 baby bok choy, cut into quarters, lengthwise
½ cup teriyaki sauce
2 tablespoons oil
Sesame seeds to garnish fish
Heavy pinch of salt
4 cups of white rice, cooked to package instructions
2 tablespoons rice vinegar for the rice
INSTRUCTIONS
For the Sauce:
In a small saucepan, combine all ingredients except for optional cornstarch and water. Over medium heat, bring the mixture to a simmer for about 3 minutes.
If you like your sauce thick and need about 1.5 cups, use the cornstarch slurry to thicken it. Otherwise, simmer/boil the mixture down until you get your desired consistency (thick but drippy). Boiling down will reduce the amount of sauce.
Optional cornstarch slurry: In a small bowl combine cornstarch and water and whisk until combined. Slowly pour the slurry into the mixture, using the whisk to stir frequently as you pour. Let it come together another minute or two. If it gets too thick, add more water to loosen.
For the Salmon:
Preheat oven to 350 degrees, and if you haven't already started the rice, do so now. On a parchment lined baking sheet with walls, place salmon slices in the middle of the tray and layer mushrooms, peppers, and bok choy in all around the salmon.
Generously coat the salmon with the teriyaki sauce and sprinkle sesame seeds on top of each salmon filet.
Pour oil over veggies and sprinkle veggies with a heavy pinch of salt. Gently mix, careful not to disturb the salmon.
Place sheet pan in the oven, for about 12-15 minutes, stirring veggies halfway through. Feel free to mix some of the teriyaki sauce to lightly coat the veggies at the halfway point. Bake until the center pieces of salmon have turned fully opaque up the sides. You can gently poke/squeeze the salmon and it should feel bouncy and tender.
Fluff the rice and add the rice vinegar for flavor and a little sticky texture.
In 4 individual bowls, layer 1 cup of rice, ¼ of the veggies, and 1 piece of salmon. Drizzle teriyaki sauce and garnish with another sprinkle of sesame seeds if you so desire and top with sliced green onions.