3 Ways to Freeze Fresh Herbs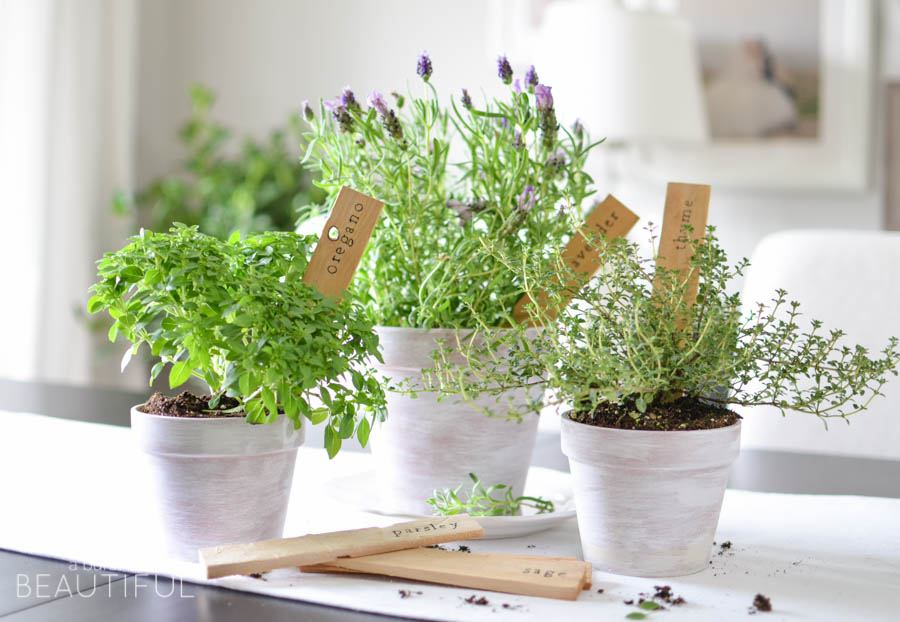 Every year I plant a row of herbs in my container garden. And every year the plants shoot up – then bolt or spoil before I can use them all.
This year, I was determined to preserve those plants and all my hard work, but didn't have the patience for drying them. But turns out, just like frozen summer berries, fresh herbs preserve well in the freezer too.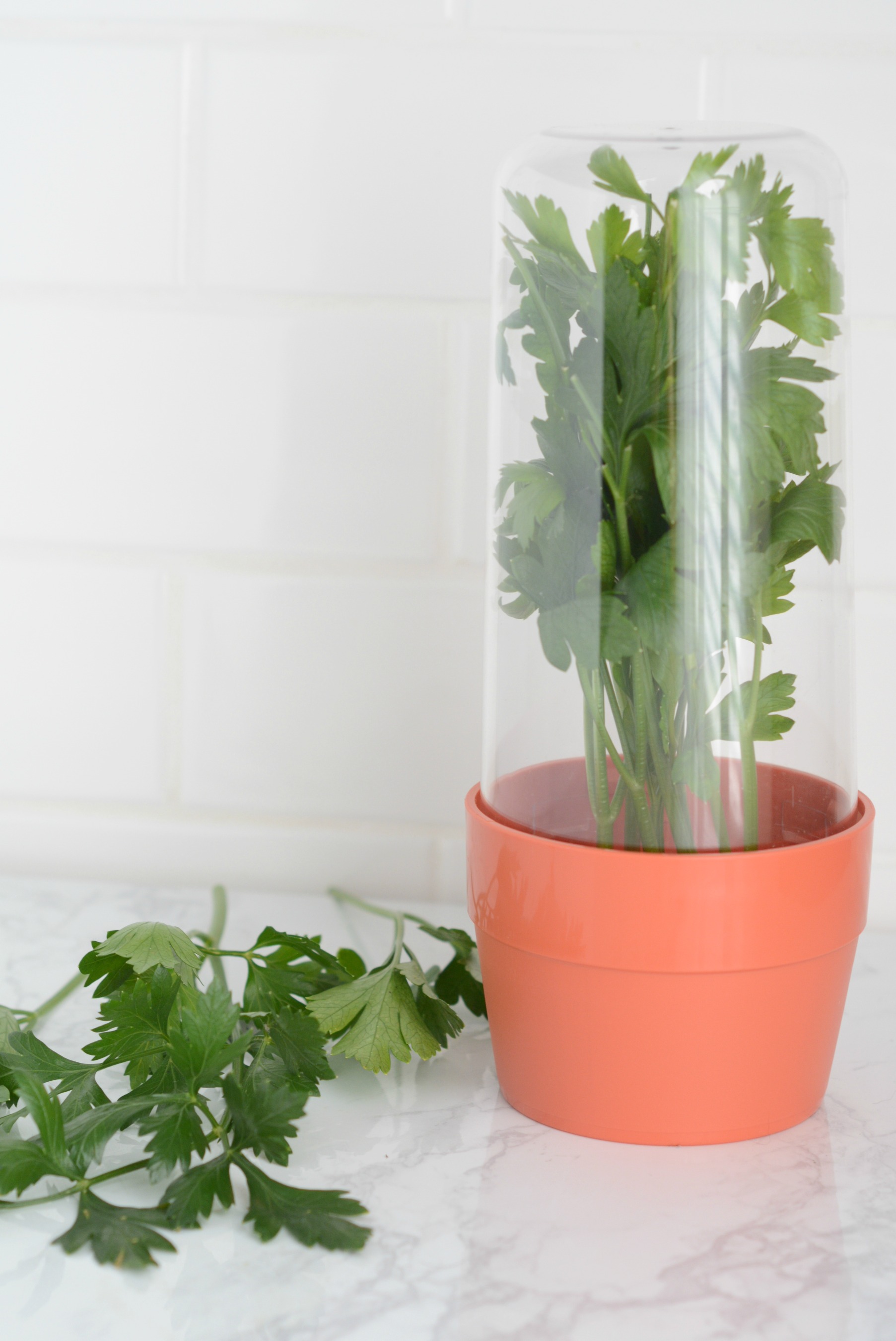 The first step is to store herbs the right way when you bring them in from the garden (or home from the grocery store!). Herbs such as basil, parsley, and cilantro should be set upright in water like you would with a bouquet of flowers and covered loosely with a plastic produce bag. You can use a simple jar for the job or a tool like the Hutzler Herb Saver, which keeps herbs at the right level of humidity. You'll want to keep basil on the counter (or it will turn black) but put the others in the fridge. Herbs with woody stems like rosemary, thyme, and oregano can be wrapped loosely in a paper towel and kept in a plastic bag in the crisper drawer.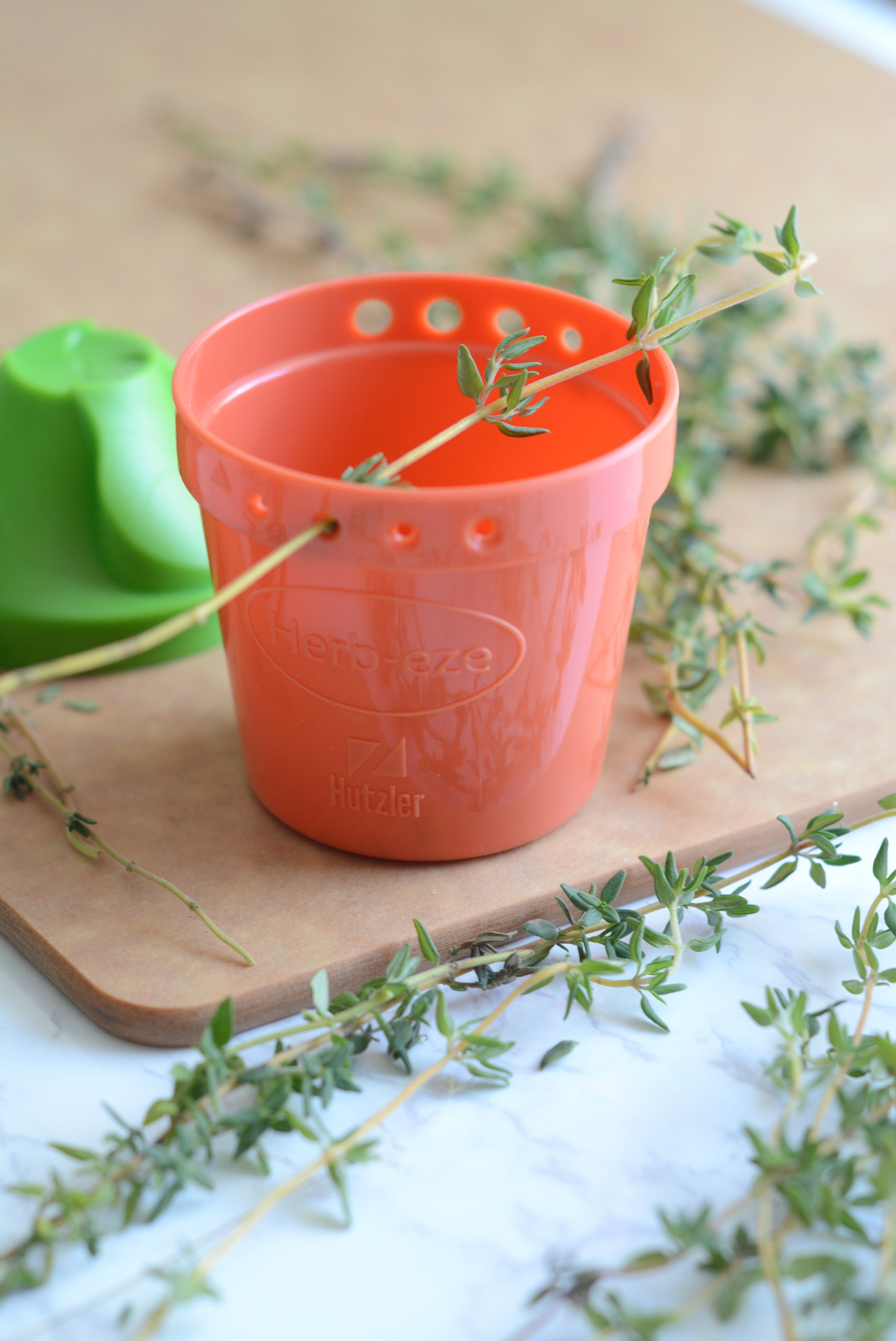 When you're ready to freeze them, here are three options:
Freeze herbs whole.
Herbs like thyme, rosemary, and even parsley can be frozen right on their stems. Rinse and dry them well, then place on a baking sheet lined with parchment paper and freeze for about an hour. Then put the frozen stems in a zip-top freezer bag and take them out as needed.
Freeze herbs in cubes.
Herb cubes make the perfect portion, and you can pop them right into your recipes. Rinse and dry the herbs then chop (an herb stripper makes quick work out of this sometimes-tedious job!). Put about a tablespoon of chopped herbs in each compartment of an ice cube tray. Cover with either water or olive oil and freeze until firm, then remove cubes and place in a plastic freezer bag until you need them.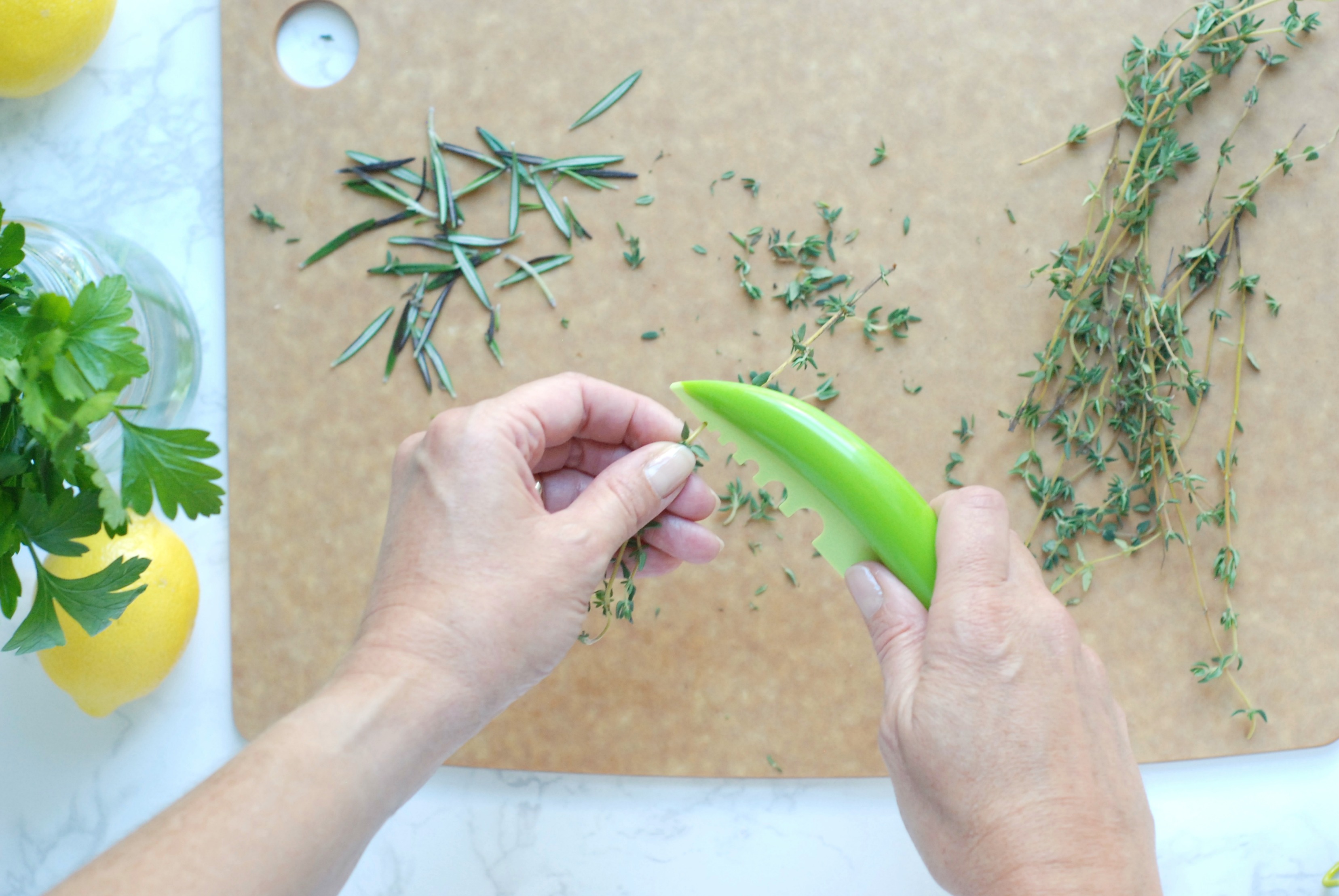 Another option is to freeze the herbs in cubes without any liquid at all. Fill the compartments of the Chef'n Spice Cube Herb Freezer Tray with fresh herbs and push the lid down to seal out air. Once they're frozen, you can pop them out and add to soups and sauces.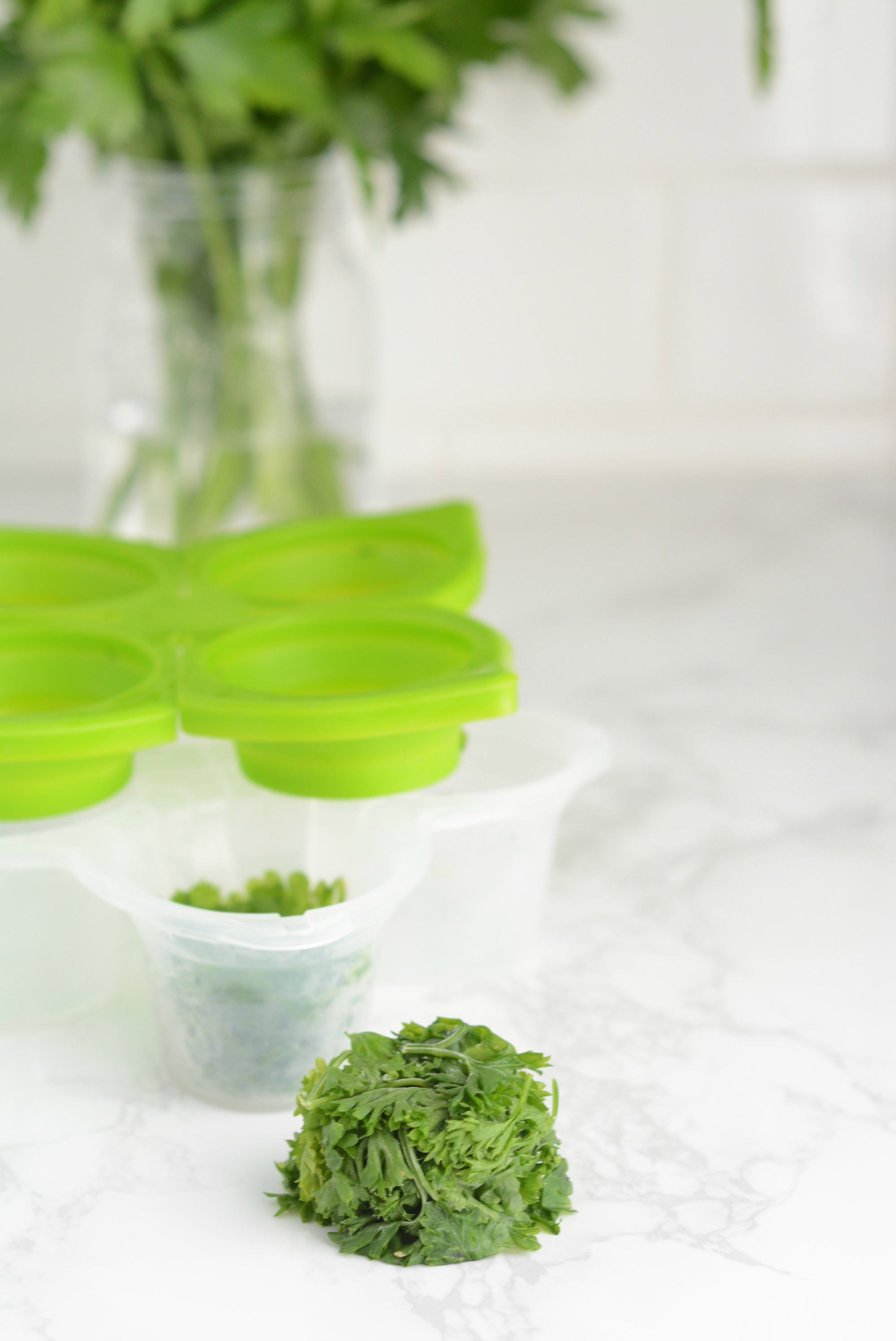 Freeze herbs in compound butter.
Compound butter is a fun upgrade for a baguette, but it can also serve as a quick sauce and flavoring for meats, pasta, and fish. It also makes a pretty gift. And you can stash it in your freezer until you need it. To make compound butter, you simply blend softened butter with fresh herbs and seasonings, shape it, and freeze it. My recipe for garlic butter is below, but for even more flavor, try this recipe for Sage Roasted Garlic Compound Butter!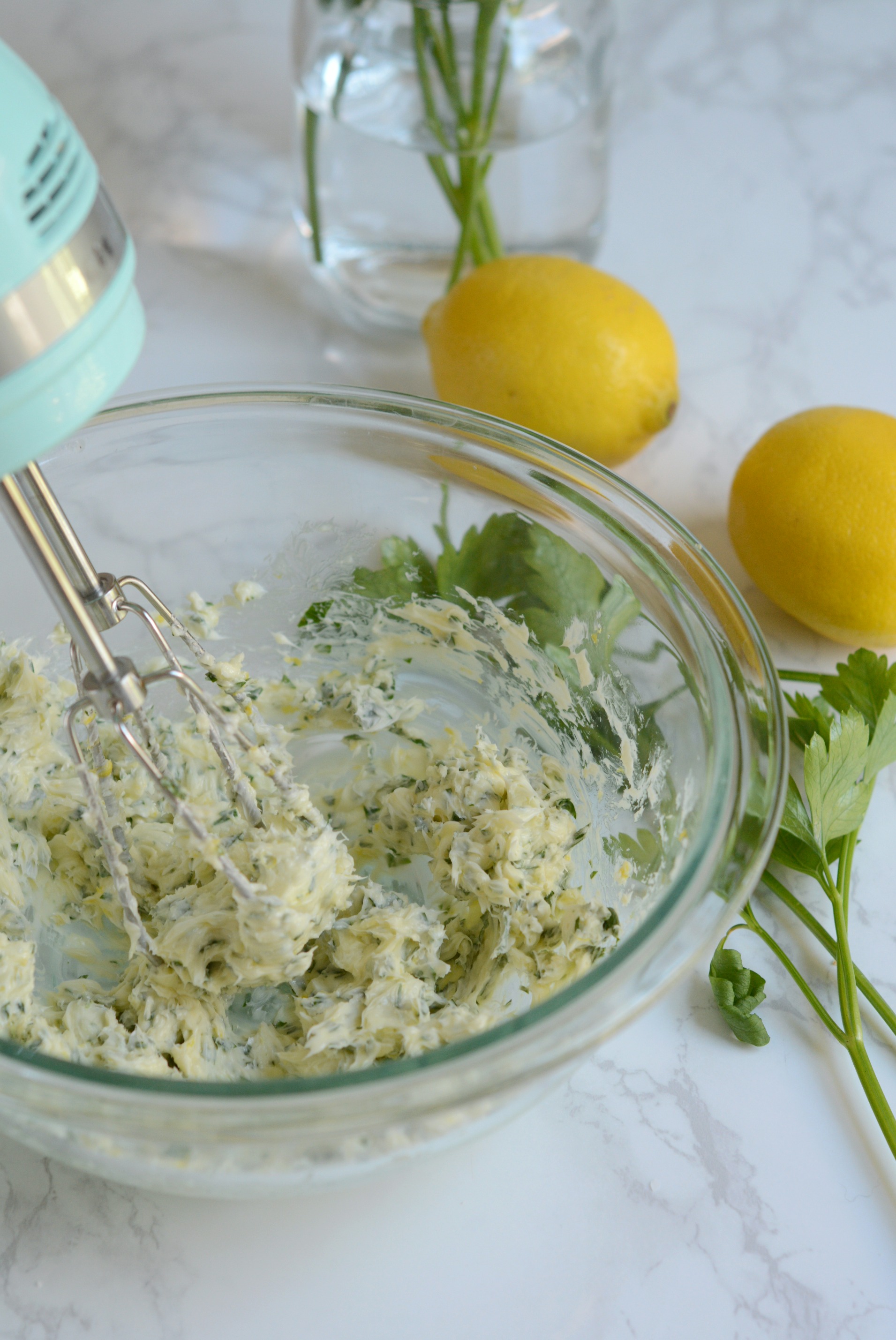 Garlic Compound Butter Recipe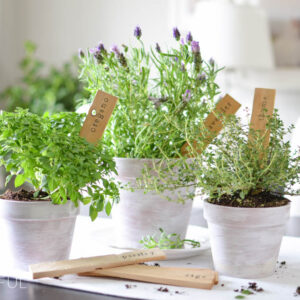 INGREDIENTS
1 stick unsalted butter, room temperature
1 medium clove garlic, minced or pressed
1 tablespoon chopped fresh parsley
1 tablespoon chopped fresh basil
2 teaspoons chopped fresh oregano
½ teaspoon kosher salt
INSTRUCTIONS
Cut butter into smaller pieces and place in a medium-sized mixing bowl. Add garlic, fresh herbs, and salt, and beat with a mixer on low speed until combined (you can also do this by hand).
When the herbs and seasonings are fully combined, turn butter out onto the center of a piece of plastic wrap.
Fold one end of the wrap over the butter and use your hands to form the butter into a disc or log. Twist the ends of the plastic wrap closed and seal tightly.
Then wrap tightly in a piece of foil or parchment and store in the freezer.
Other variations:
Herb Butter: Add 1 tablespoon rosemary + 1 tablespoon thyme to 1 stick of butter and a pinch of salt and pepper
Lemon Butter: Add 1 tablespoon parsley + 1 teaspoon lemon zest + 1 teaspoon lemon juice + 1 minced garlic clove to 1 stick of butter and a pinch of salt and pepper