3 Bento Lunch Box Ideas For Your Best Lunch Ever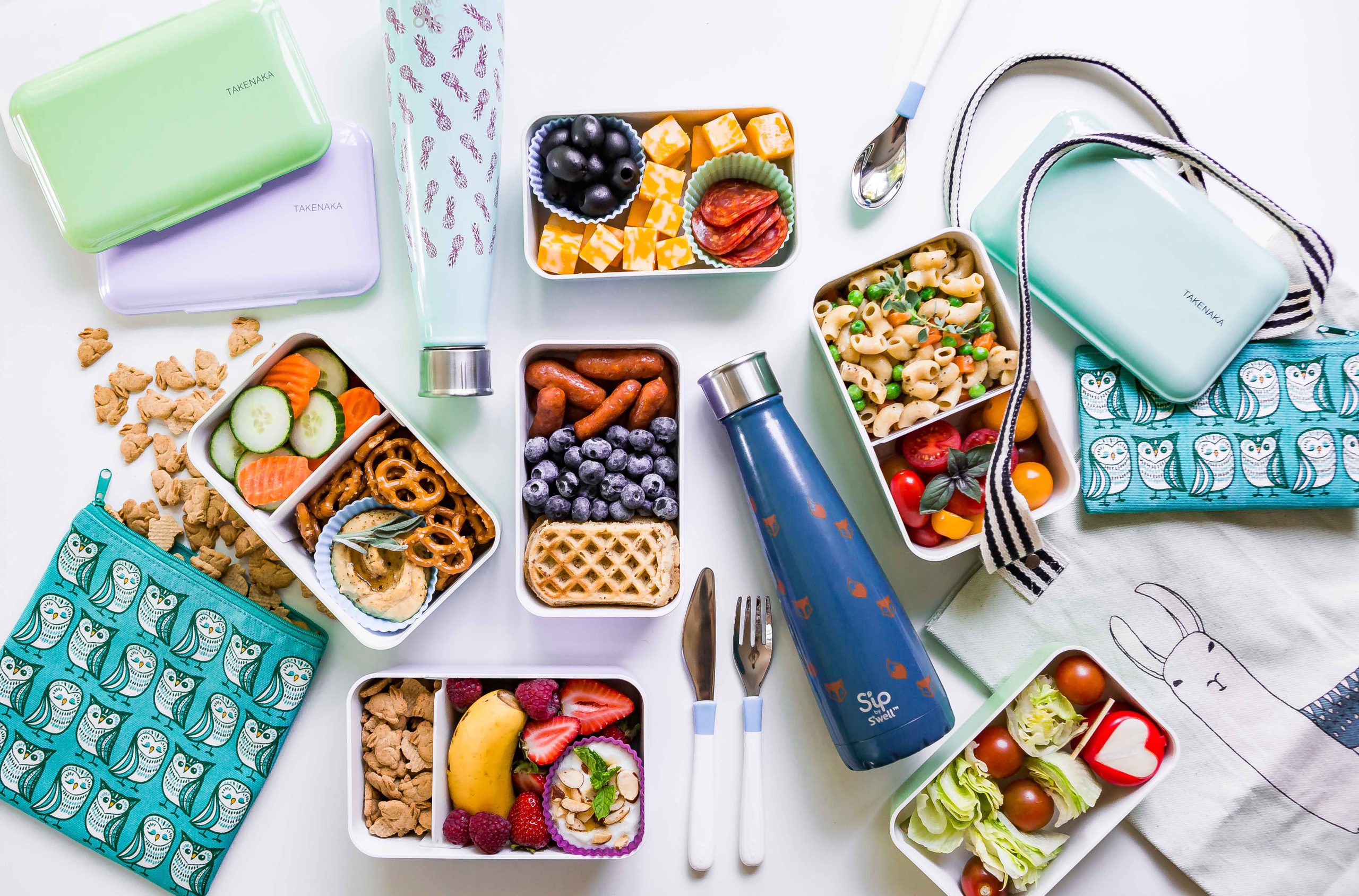 When bento boxes first started rising to popularity a few years back, I was the first to be a fan. They were so cute! So colorful! Wouldn't my kids be proud to unpack those pretty, organized squares in front of all their lunchroom friends?
Fifty-two dollars and fifty-two minutes later, I was standing in the kitchen… frazzled. Looking at a list of bento ideas on Pinterest was so easy. Putting actual bento lunches together was exhausting and expensive. By the time items were rounded up, cooked, shaped, and styled, house had past and then kitchen was a mess. And the mommy was done.
Unfazed, I figured I could just shortcut the bento. Bought ready-to-go frozen finger foods, zapped them in the microwave. Picked up boxes of tiny nibbles, cookies, crackers. Tucked and tidied it all together until I realized, the whole bento was a stash of unhealthy, processed eats.
So there had to be a happy alternative. An easy-to-put-together lunch of healthy, low-cost options that I could pack (or better yet, that the kids could pack) in 10 minutes or less.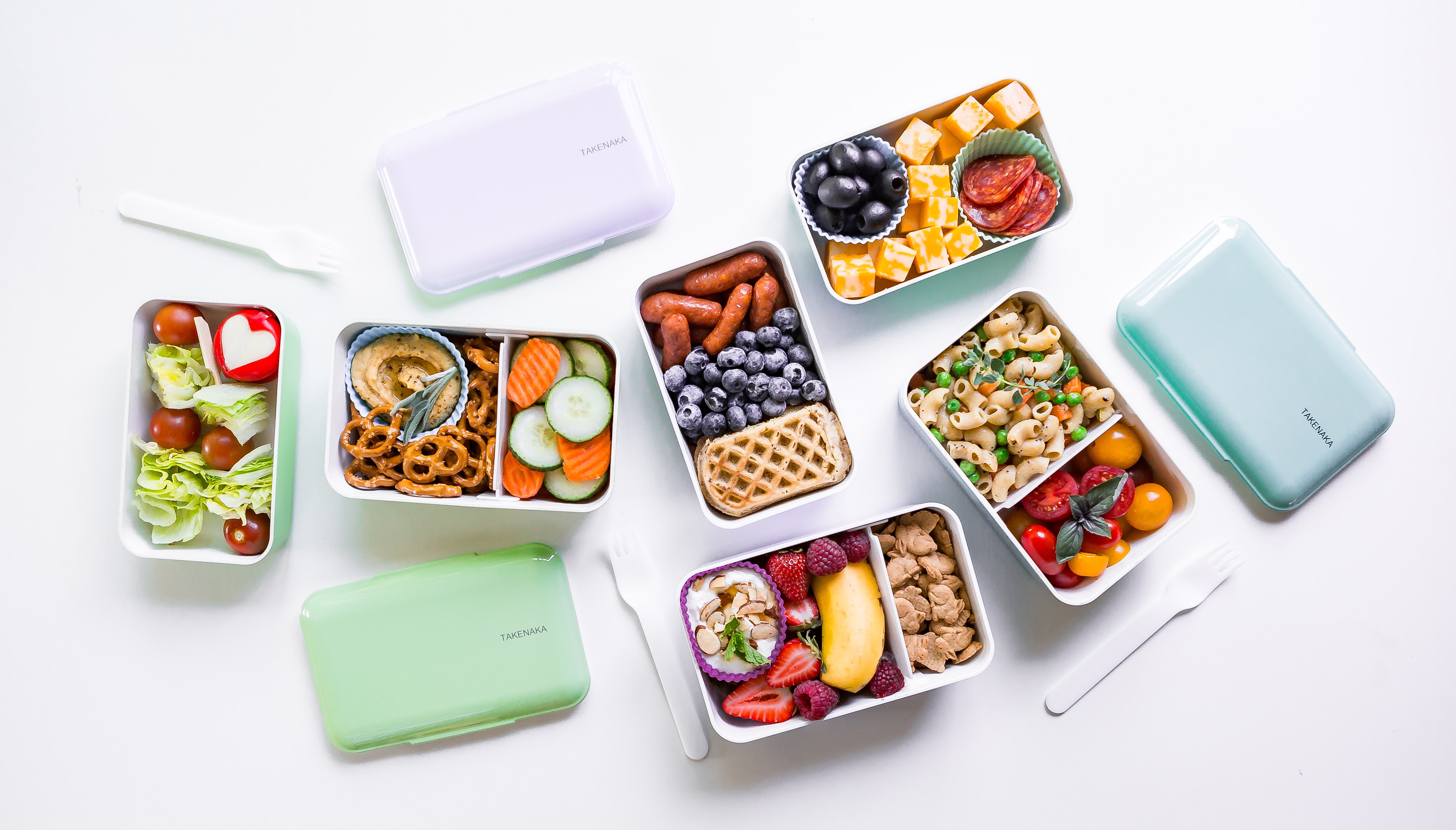 Time-Saving Lunch Ideas
There are plenty of quick and simple ideas for healthy, kid-friendly bento boxes. Food that parents will love, food that kids will actually eat. The trick was to gather a quick-list of go-to ideas. Stuff I could add to our weekly shopping list, foods that don't require much prep or which can be prepped in bulk and enjoyed all week long.
We took that list and turned our most favorite items into 3 easy-to-pack bento boxes — the Pasta Bento Box, the Veggie Bento Box and the Breakfast Bento Box. Feel free to mix and match the items in the boxes below to suit your taste.
My kids have given every item in these boxes a thumbs up. In fact, after packing these 3 boxes you see in the photos, my tween arrived home from school and said, "Oh, yeah! Can I take all of this stuff to school all week?"
Beautiful Bentos
When packing a proper bento, you need a versatile container which can hold enough food to fill a hungry kiddo up. The box should be tightly sealed and sturdy, assuming it will be tucked in a backpack or lunch bag (like this adorable llama tote bag), keeping the food cool and properly packed until it's pulled out to enjoy.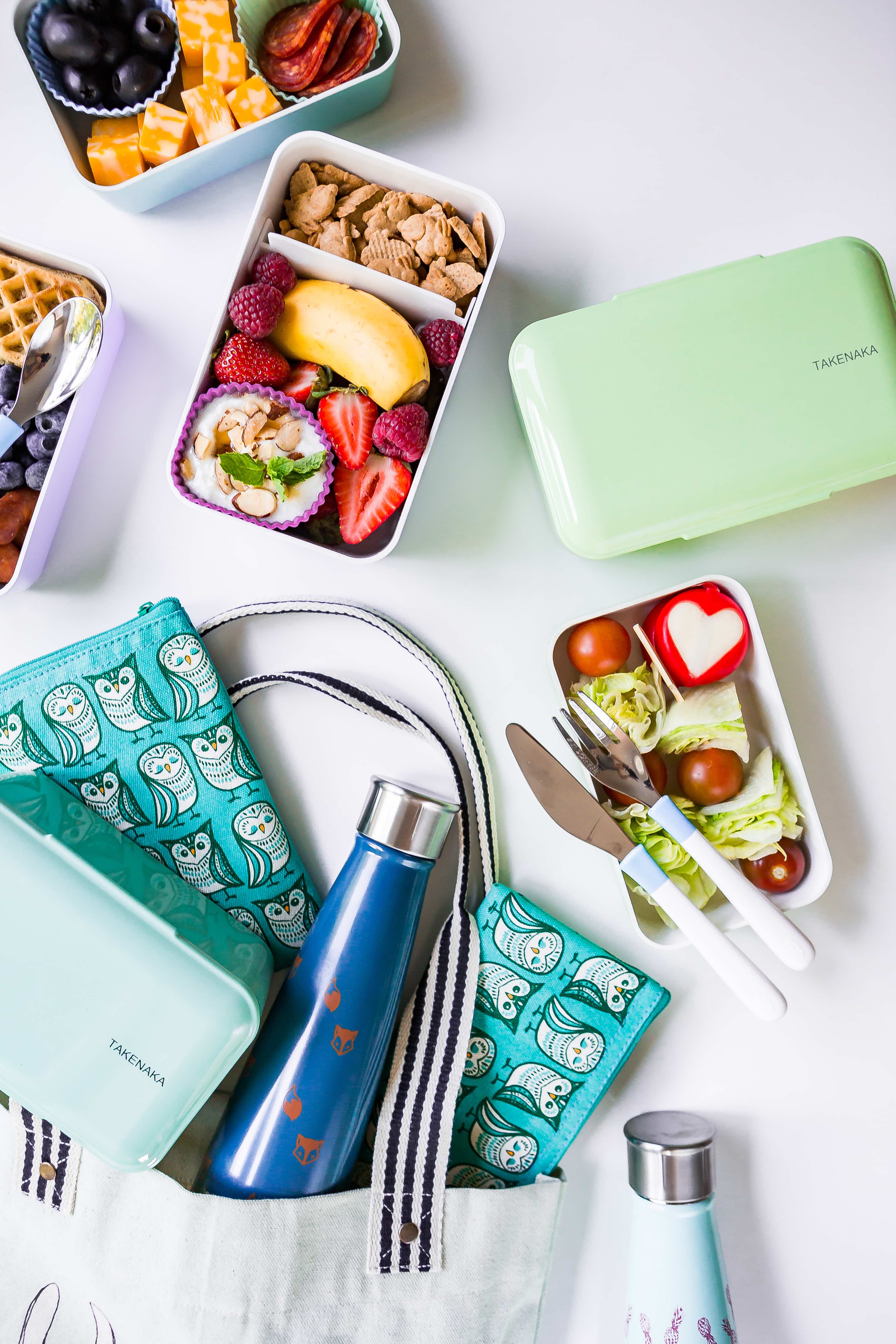 The Takenaka Double Bento is my current bento box obsession. A double-layered bento made of microwave-safe, dishwasher-safe durable plastic. You can pack both tiers at once, or use just one, depending on what you pack for lunch. Each set comes with a plastic fork which snaps cleanly into the lid, so your kids will never forget their utensils. And the larger tier has a removable partition which makes it easy to pack a variety of foods without them touching each other (because "carrots can't touch yogurt, mom" says my youngest).
And while all of these perks are nice perks, perhaps the best is the 15 stunning color options. So each kid can pick a favorite color, and no one in the house ever has to fight over whether brother touched sister's bento box. Not that this a thing in my house. (Note: it is totally a thing.) Current colors in our pantry: Peppermint, Pistachio Green, and Serenity Blue. Words so pretty, I'm thinking of changing my children's names to match their bentos.
Pack A Sack
While we're chatting packing, if your school allows for snack time, you simply most check out the reusable Hootenanny Snack Bags from Now Designs. For starters: cutest lil' snack bags ever. Added bonus: reusable. So you can be the eco-friendly parent you've always wanted to be. No more tossing plastic bags. Just tuck favorite snacks in these zip-top bags. Then wipe clean and dry before packing again and again. Love!
And of course, lunch wouldn't be complete without a drink. Send your kids off to school in style (and properly hydrated) with their own S'ip by S'well bottles.
It's Lunch Time!
With all the right gear, it's time to pack some yummy bentos. Whether you prep lunchboxes after dinner or before school, all three of these boxes can be made in 20 minutes flat. Most of the items are purchased pre-cut or simply need to be diced or zapped in the microwave. For extra quick packing, prep a big batch of pasta, dice a pound or two of cheese, use the first week as a get-ready day, then store ingredients in airtight containers so they can be quickly pulled from the fridge and popped into bento boxes.
First up, Green Lentil Pasta and other Italian flavors, packed together in one delicious bento.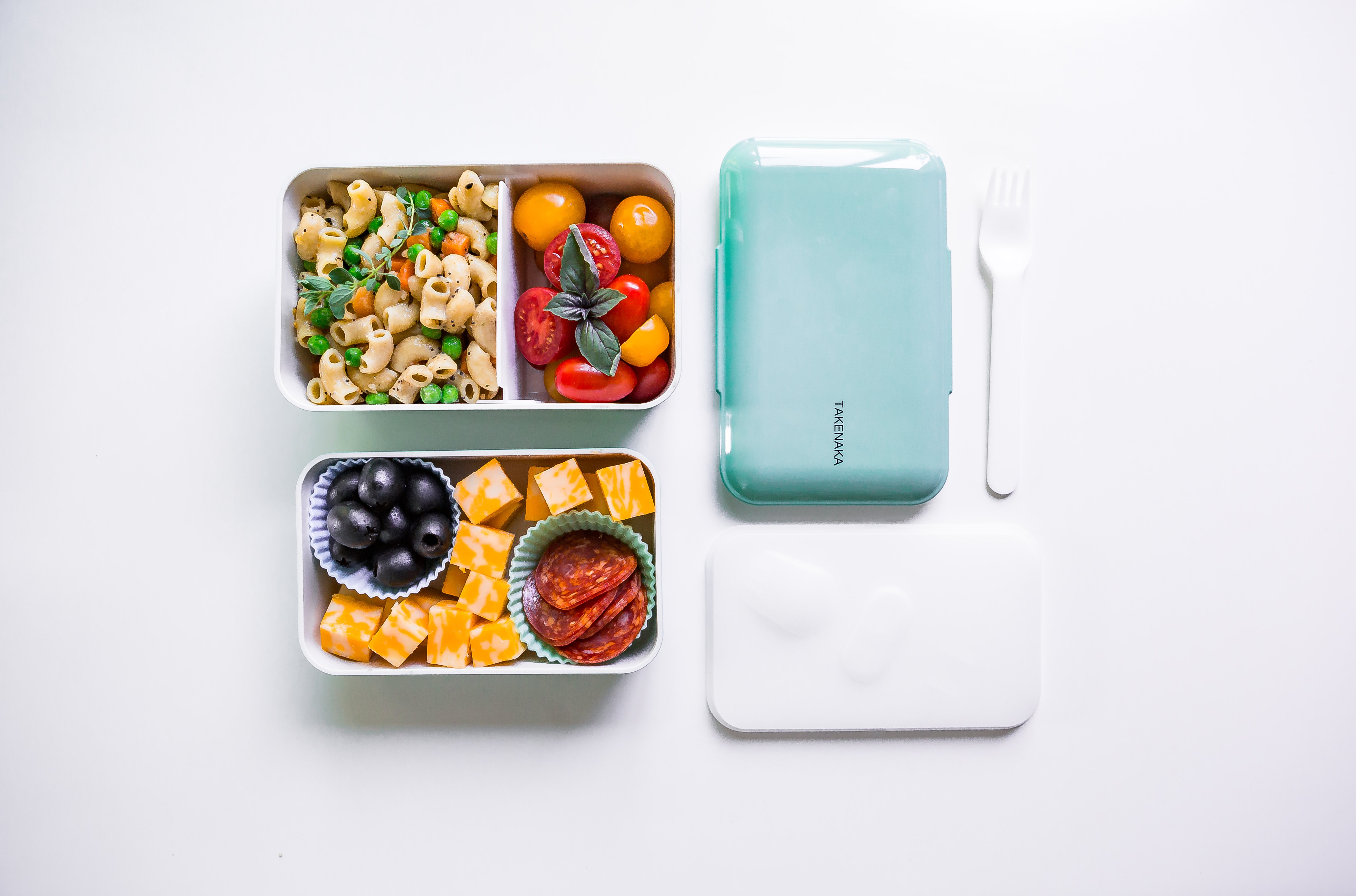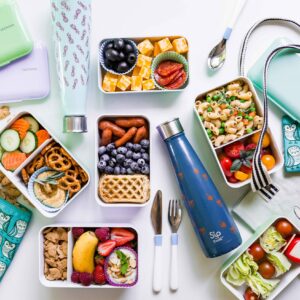 INGREDIENTS
Green Lentil Pasta with Italian Dressing
Frozen Peas & Carrots
Pepperoni, salami or turkey pepperoni
Cheese Cubes
Black Olives
Cherry Tomatoes
INSTRUCTIONS
Boil pasta until tender.
Toss in peas and carrots, drizzle with Italian dressing to taste.
Once cool, pack with other items.
For best results, use silicone muffin cups to keep portions separate.

Second, vegetarian favorites that kids love to eat!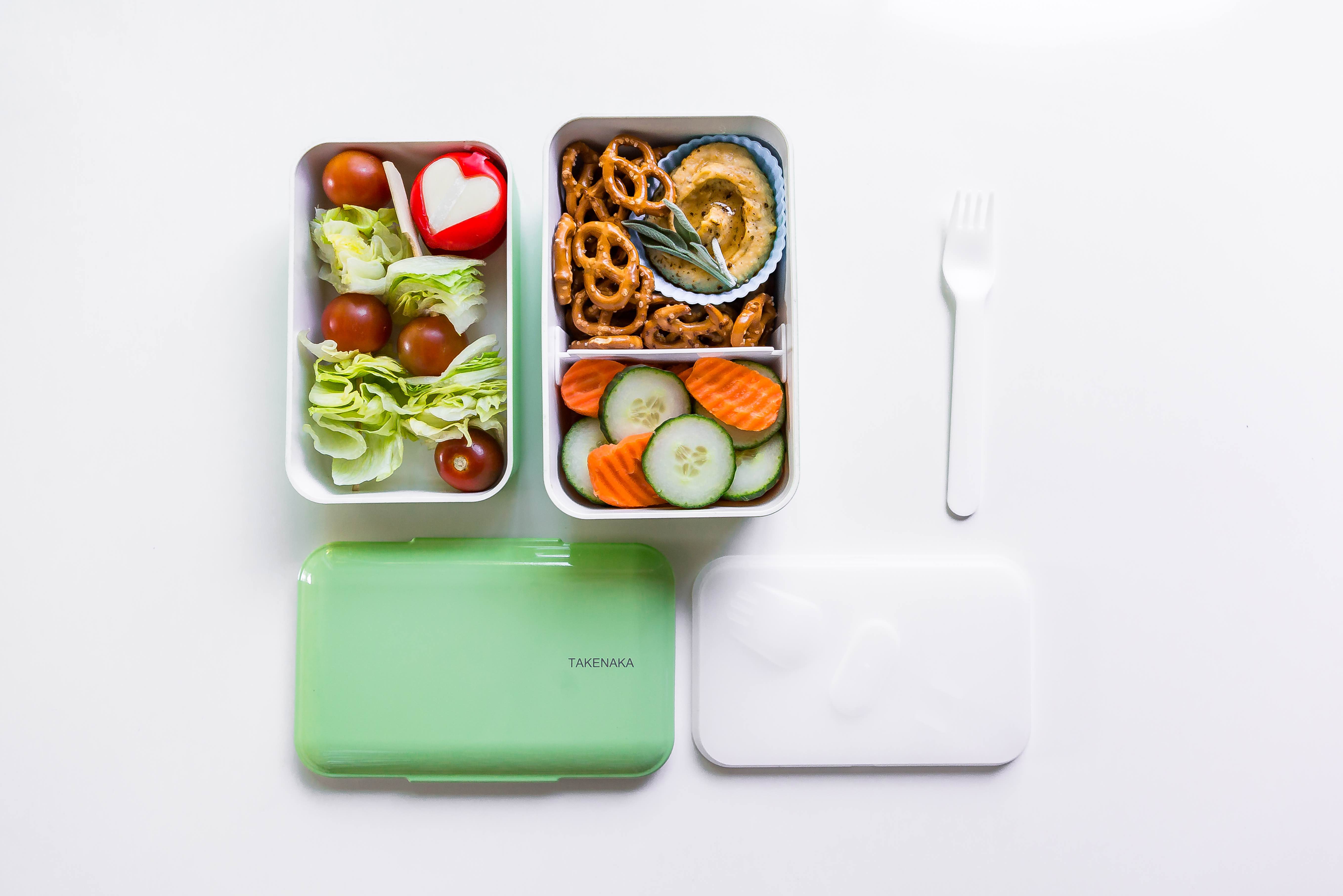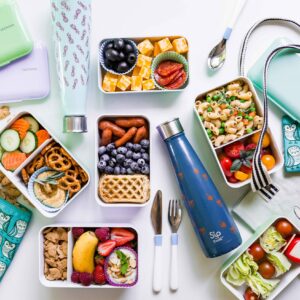 INGREDIENTS
Iceberg Lettuce
Tomatoes
Carrot Slices (or snap peas)
Cucumber Slices
Hummus
Pretzels
Babybel cheese (or hard-boiled egg)
INSTRUCTIONS
Thread 1" pieces of iceberg lettuce onto skewers with tomatoes.
Pack with carrot and cucumber slices.
Spoon hummus into a silicone muffin cup.
Fill in extra spaces with pretzels and cheese rounds (bento bonus: use a mini cookie cutter to cut a heart or start from the red wax layer on the cheese).

Last but not least: waffles and berries and sausage… oh my!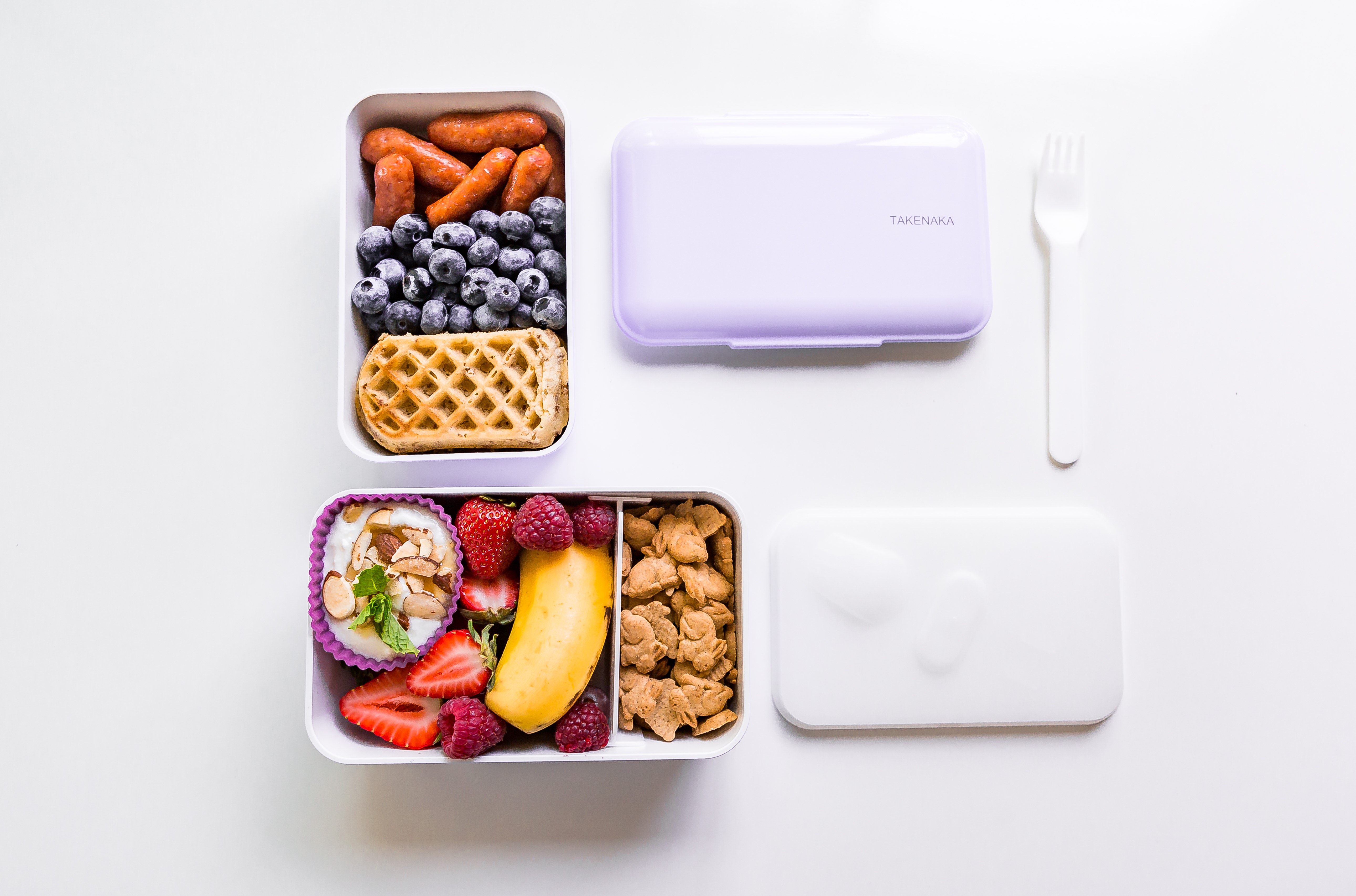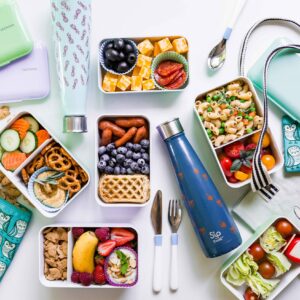 INGREDIENTS
Frozen waffle sticks
Mini Sausages
Blueberries
Berries
Banana
Snacking Cereal
Yogurt topped with a drizzle of honey & granola or nuts
INSTRUCTIONS
Toast waffle sticks.
Microwave mini sausages until warm. Allow to cool.
Pack with remaining ingredients.
Spoon yogurt into a silicone muffin cup. Drizzle with honey and sprinkle with nuts or granola.

Notes
Toast waffle sticks. Microwave mini sausages until warm. Allow to cool. Pack with remaining ingredients. Spoon yogurt into a silicone muffin cup. Drizzle with honey and sprinkle with nuts or granola.