3 Harry Potter Cocktails That Aren't Butterbeer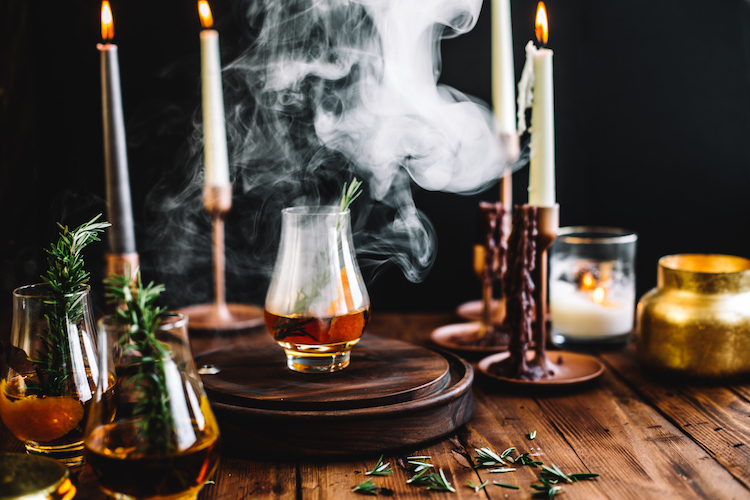 Happy Halloween weekend everyone! I'm going to cut straight to the chase today because I am just SO excited about this post! If you didn't know I am one HUGE Harry Potter geek. I'll take any chance I can get to hunker down in my comfy clothes and have a Harry Potter Marathon. Harry, Ron, and Hermione were such a huge part of my childhood. This is one of those 2000s pop culture phenomenons that I will without a doubt pass on to my children one day! Who else is with me?! I spent my teenage years going to midnight Harry Potter movie premieres and reading all of the books over summer vacation! To say these cocktails were a bit nostalgic is an understatement!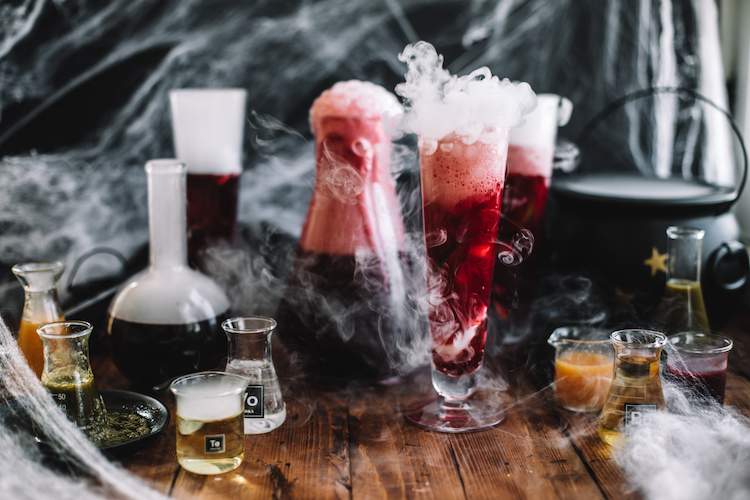 Since Halloween is just around the corner, I wanted to make sure I snuck in a few Harry Potter signature cocktails for you to recreate at your own Halloween parties! I mean who doesn't love a dramatic smoked Old Fashioned or a dry ice filled martini?! I know that these cocktails come across as magical and mystical but would you believe me if I told you they were actually SO easy to recreate?! Don't you worry; I'm going to give you the REAL magic tricks so you can be Professor Snape at your next spooky party!
To give your cocktails a smoke-infused and ultra Harry Potter flare, pick yourself up a Fortessa Cocktail Smoking Cloche. Not only does this cool device look amazing while entertaining, it was one of the easiest kitchen devices I have ever used! Simply place whatever it is you're trying to smoke (cheese, salmon, cocktails, etc!) into the vessel and turn on the handle filled with lit wood chips. If you love to entertain then you must pick up one of these smokers!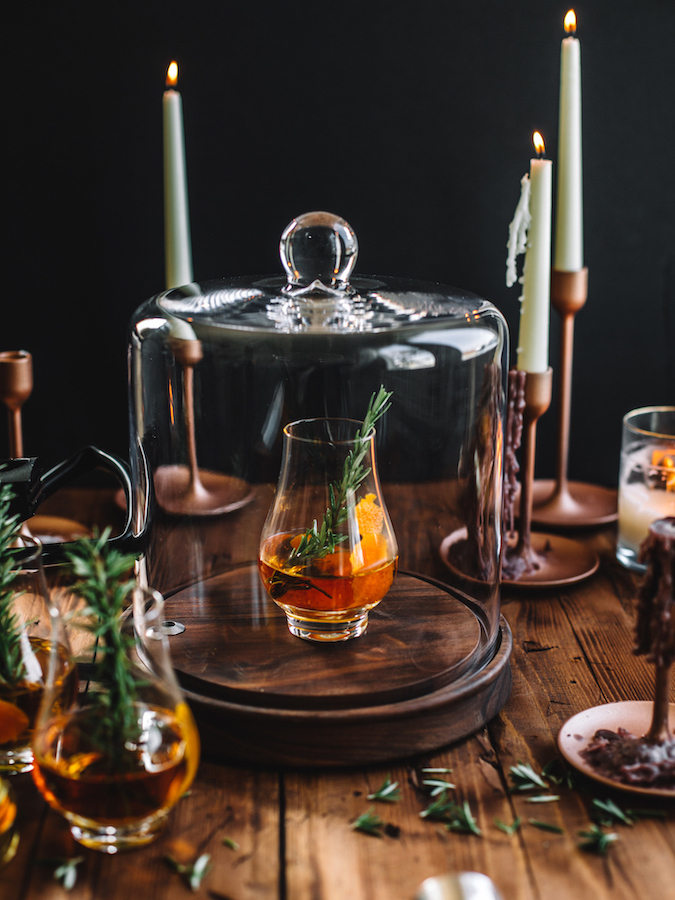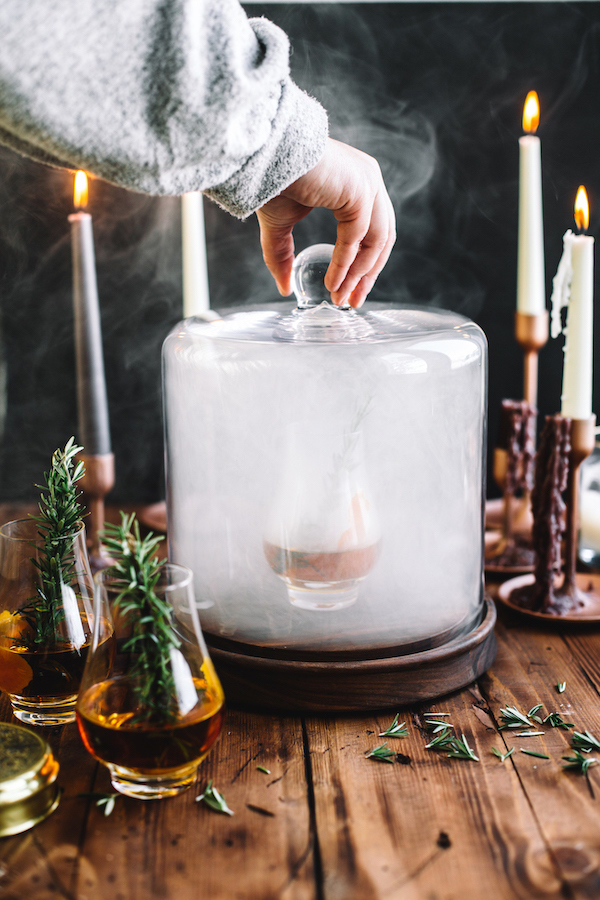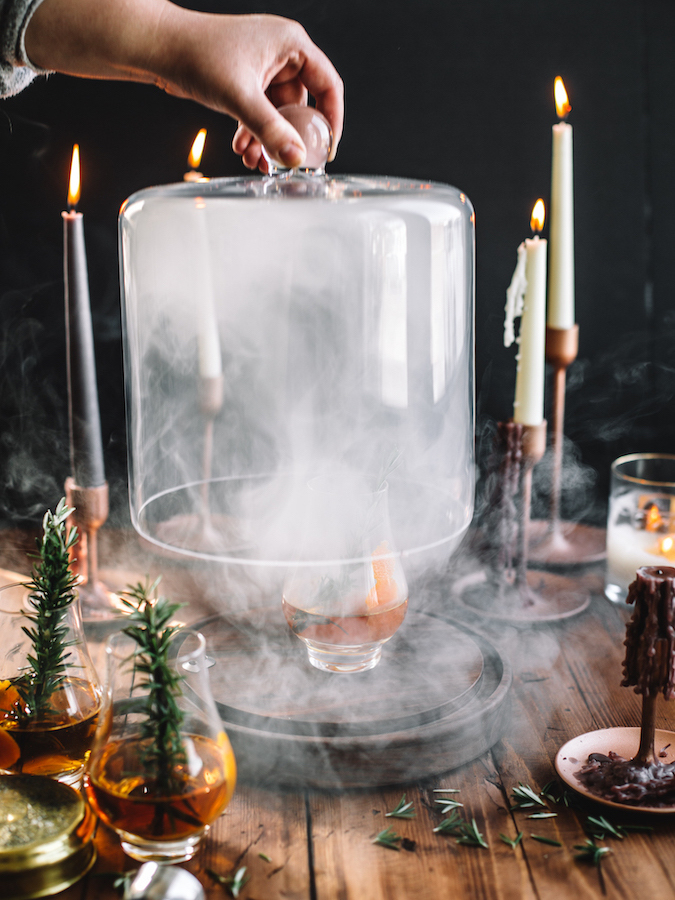 My next secret to ultra cool Harry Potter style cocktails is dry ice! I'm going to tell you a groundbreaking (and almost embarrassing!) secret: this is my first time using dry ice, EVER! Tell me it doesn't look so amazing in these photos!? I've wanted to dip my toes into this scientific foodie world for a while, but I was a little nervous! I had weird preconceived thoughts that the dry ice would explode or I would burn myself but neither of those things happened!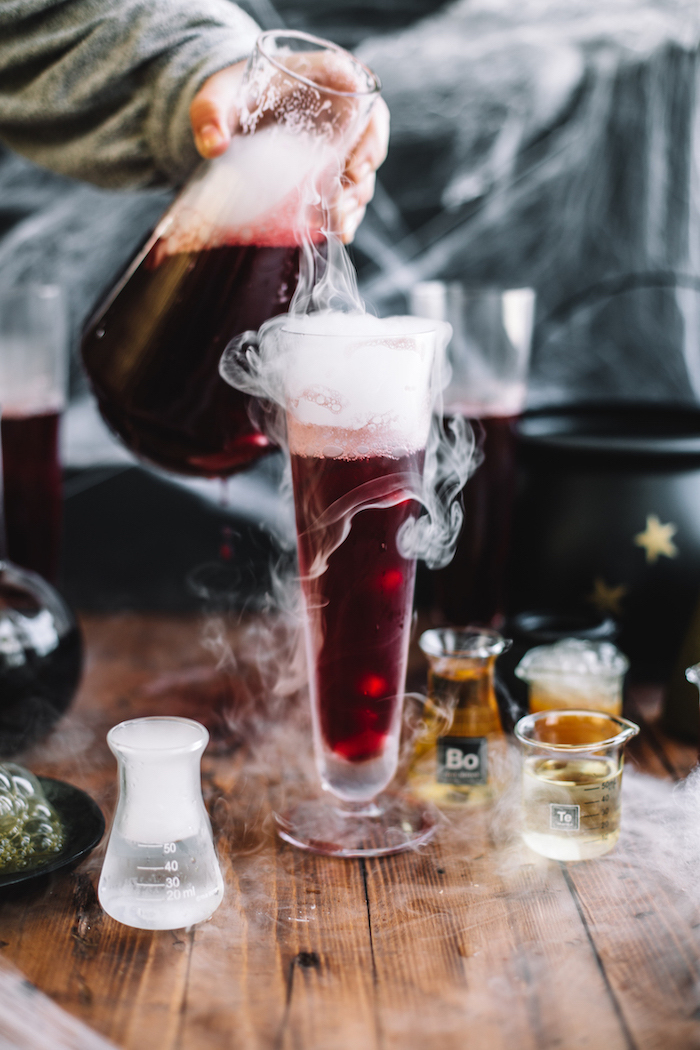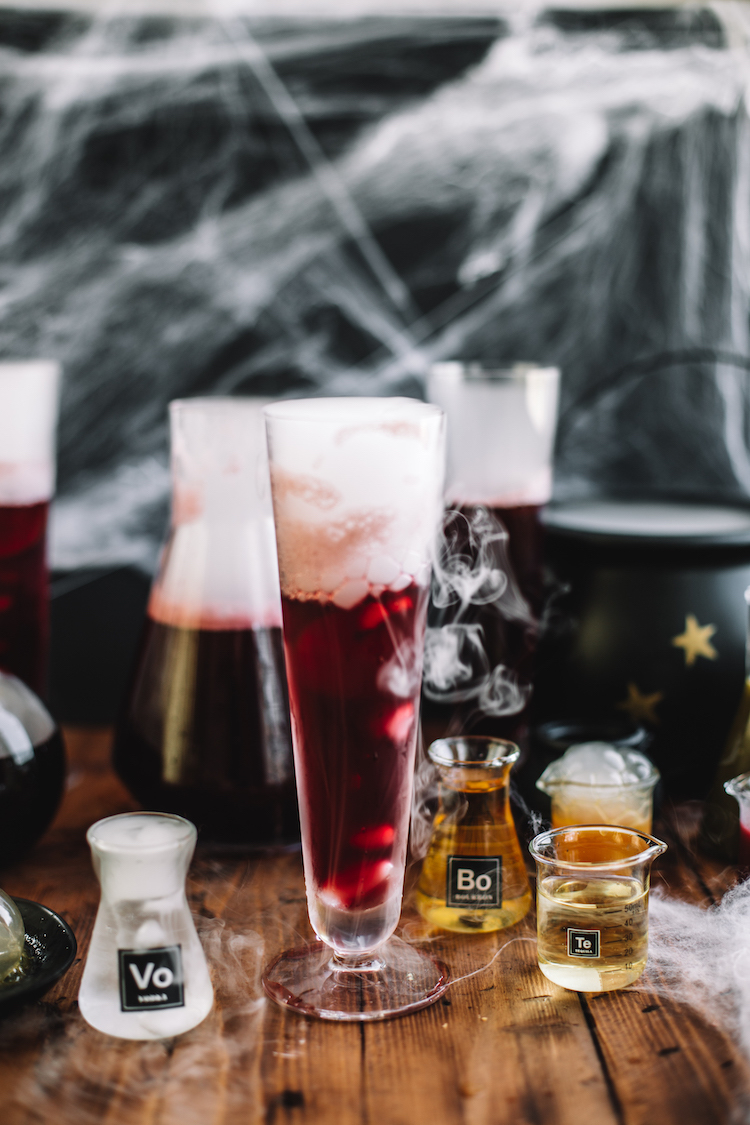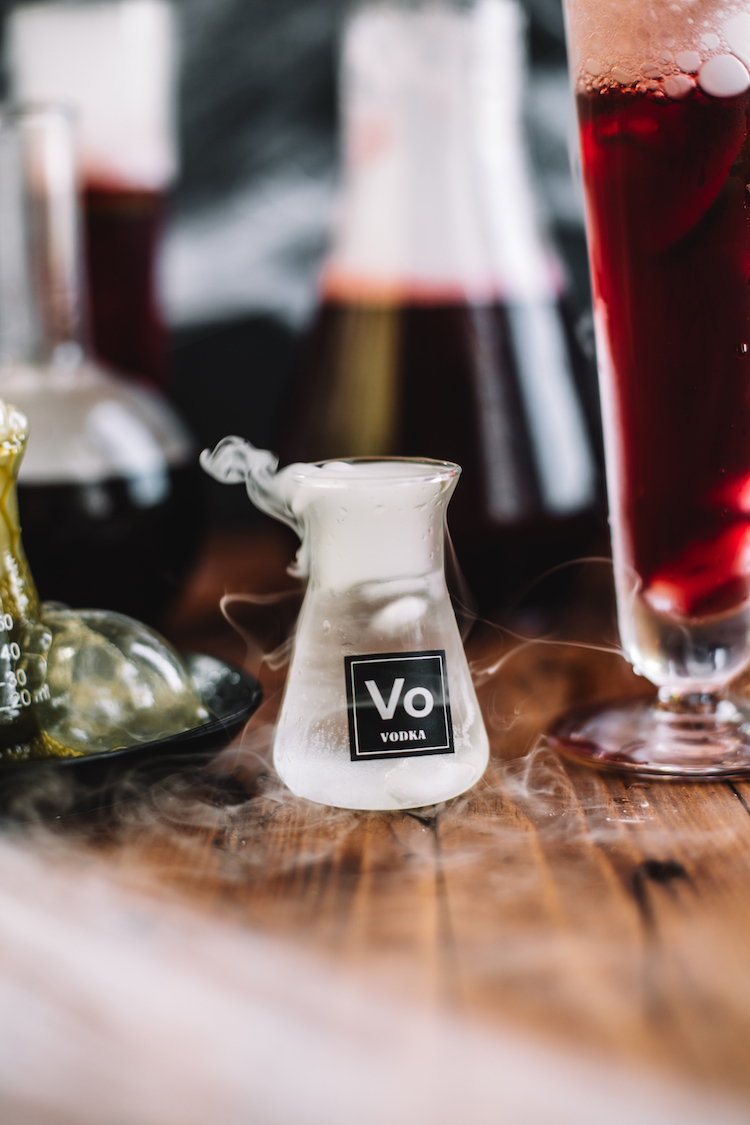 The trick to using dry ice is to have some really thick gardening gloves handy (don't handle it bare skinned!) and a little goes a long way. Each of these vessels was filled with just an ice cube sized chunk for an epic effect! And yes, you can actually drink these cocktails! Just don't put the actual chunk of ice into your mouth because it could burn you! We picked up a ten-pound block of dry ice from Smart & Final, but most grocery stores sell it! Cut off the chunks you need with a sharp knife or place the entire block in a warm water filled cauldron.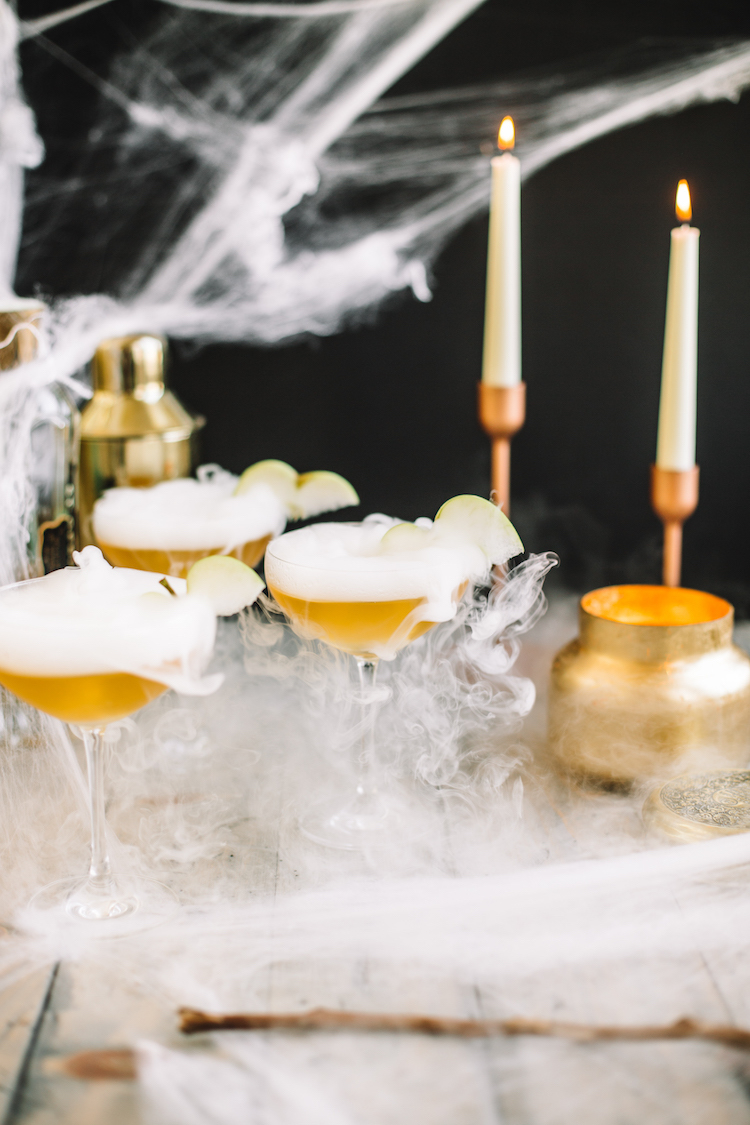 Scroll down to see each of the fun Harry Potter themed cocktails we came up with but feel free to experiment with smoking and dry ice for your Halloween themed beverages!
Use a smoking cloche to create smoky flavor and ambience in these Whiskey Goblet of Fire cocktails.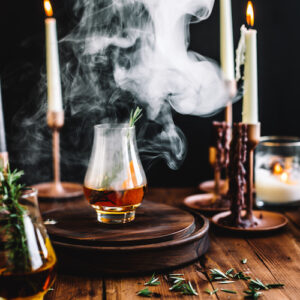 Ingredients
2

oz

whiskey or bourbon

2

dashes of bitters

1

orange peel

1

rosemary sprig

2

sugar cubes (optional)
Instructions
Run orange peel around a nosing whiskey glass.

Fill with bourbon, two dashes of bitters, sugar cube, and stir until sugar cube has dissolved.

Top off with a large rosemary sprig.

Place nosing whiskey glass into smoker machine. Turn on Fortessa Smoking Cloche and fill glass vessel with smoke for 15 seconds. Turn off machine and let cocktail infuse with smoke for 1-2 minutes.

Serve immediately.
Nutrition
Serving:
1
g
Calories:
158
kcal
Carbohydrates:
4.3
g
Protein:
0.1
g
Fat:
0.2
g
Saturated Fat:
0.1
g
Sodium:
98
mg
Fiber:
0.5
g
Sugar:
3.1
g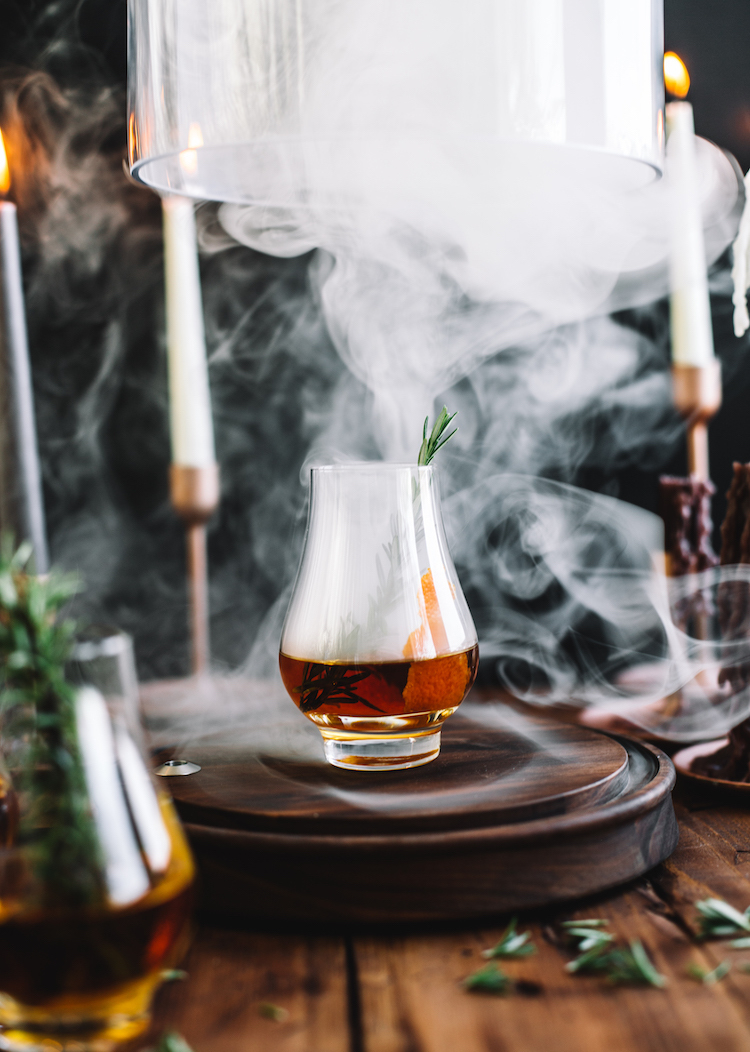 Pomegranate Polyjuice Potion
The secret to this pomegranate themed cocktails is an ice cube of dry ice for a spooky vibe.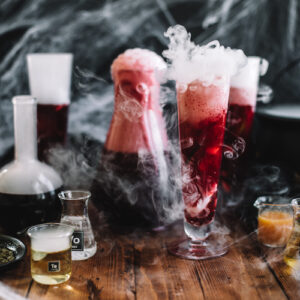 Ingredients
.25

cups

pomegranate juice

.5

lime, juiced

2

oz

tequila

Ginger Ale or Ginger Beer
Instructions
In a large pilsner glass fill with pomegranate juice, lime juice, and two ounces of tequila. Stir for 10-20 seconds.

Top off glass ¾ of the way with ginger ale or ginger beer.

Add in an ice cube sized chunk of dry ice and serve immediately.
Nutrition
Serving:
1
g
Calories:
572
kcal
Carbohydrates:
108
g
Protein:
0.1
g
Sodium:
47
mg
Fiber:
0.1
g
Sugar:
96.2
g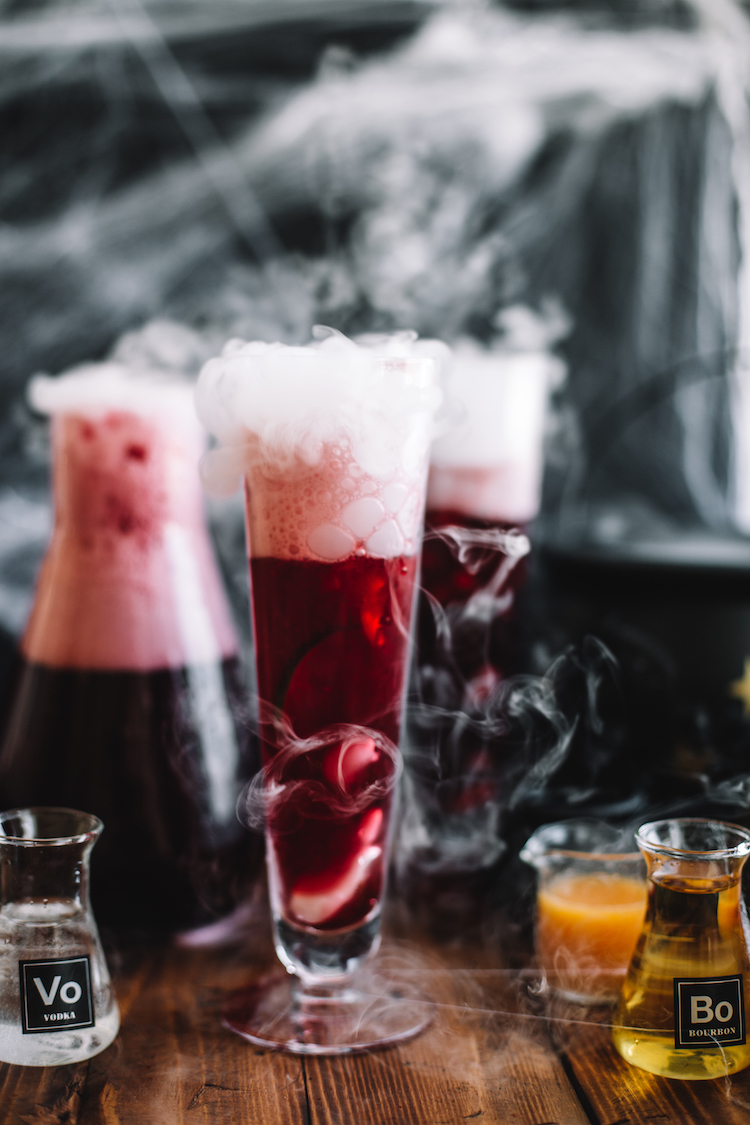 Elderflower Wand Apple Martini
This Elderflower Apple Martini that taste as good as you would feel if you were the owner of the Elder Wand.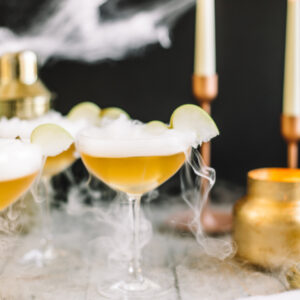 Ingredients
1

oz

Elderflower Liqueur

1

oz

vodka

1

oz

apple juice

1

tbsp

honey

Juice of half a lime

ice

green apple slices
Instructions
Fill a cocktail shaker with ice, elderflower liqueur, vodka, apple juice, honey and lime juice.

Shake for thirty seconds.

Pour into a coupe or martini glass.

Top off with an ice cube sized chunk of dry ice and garnish with a green apple slice.
Nutrition
Serving:
1
g
Calories:
309
kcal
Carbohydrates:
62.8
g
Protein:
0.7
g
Fat:
0.6
g
Saturated Fat:
0.2
g
Sodium:
15
mg
Fiber:
3.3
g
Sugar:
53.4
g